2-Ingredient Watermelon Sherbet is a light, refreshing frozen treat that comes together with just fruit and yogurt for a healthy summer snack or dessert!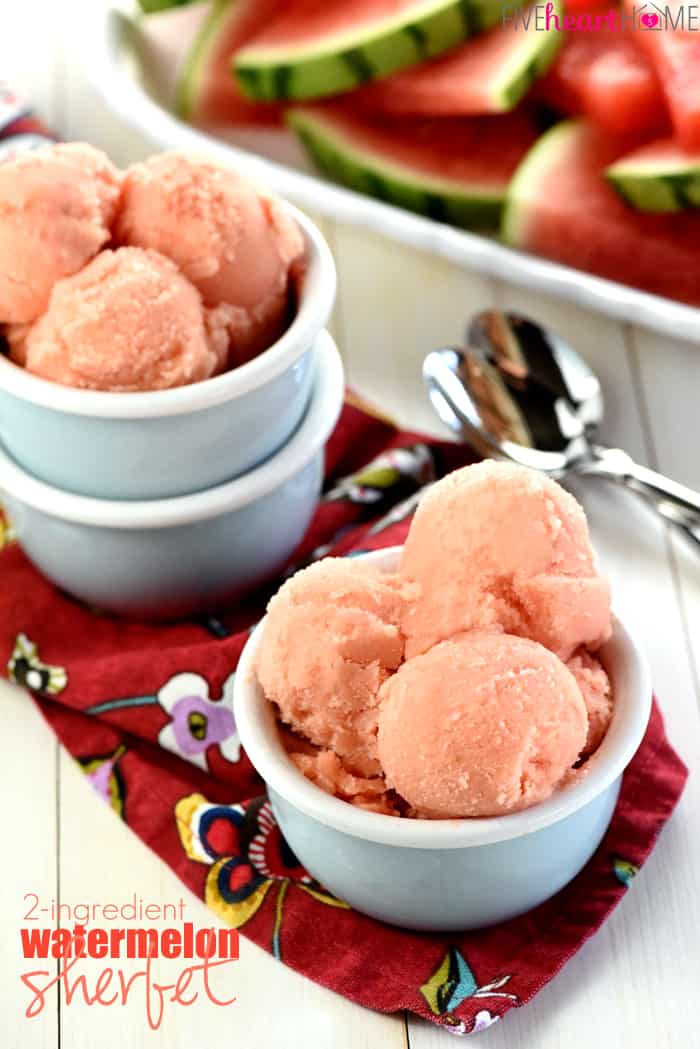 Please pardon all of the frozen treats around here lately...it's just too hot to anything, y'all. I actually wasn't even going to share this Watermelon Sherbet recipe, but it was so easy to make (only two ingredients!) and turned out so tasty that I thought y'all might be as excited about it as I was. My kids are enamored with it for sure. Because it's basically like watermelon ice cream that they don't even realize is good for them. Watermelon + yogurt...that's all, folks!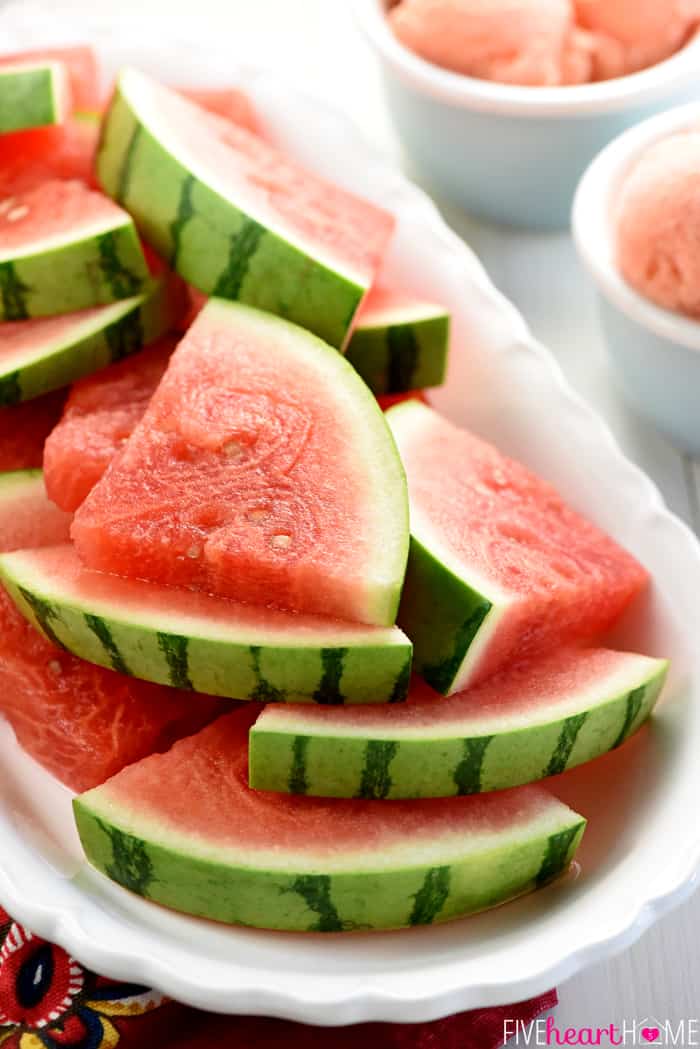 You know that "ice cream" that you can make by pureeing frozen bananas in the food processor to a smooth and creamy consistency? Well, that's essentially what you do here as well. Cut seedless watermelon into small cubes and freeze. Then blend 'em up in the food processor with a big dollop of vanilla yogurt and wait for frozen treat magic to materialize right before your eyes.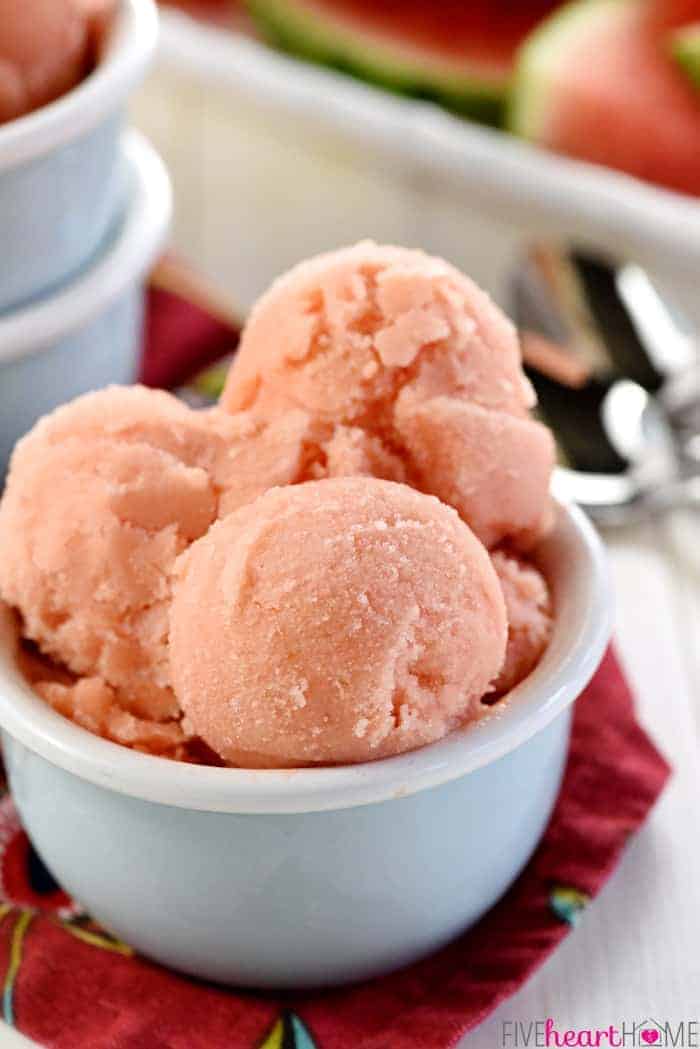 Watermelon Sherbet Texture
This 2-Ingredient Watermelon Sherbet is fantastic if you eat it right after it's made, with a creamy texture akin to frozen yogurt or soft-serve ice cream. If you prefer a firmer texture, you can transfer it to a shallow container and freeze for a couple of hours until it's scoopable. If you freeze it for too long, however, be forewarned that your sherbet will harden into a solid mass that will chip off like a granita as opposed to scoop like an ice cream.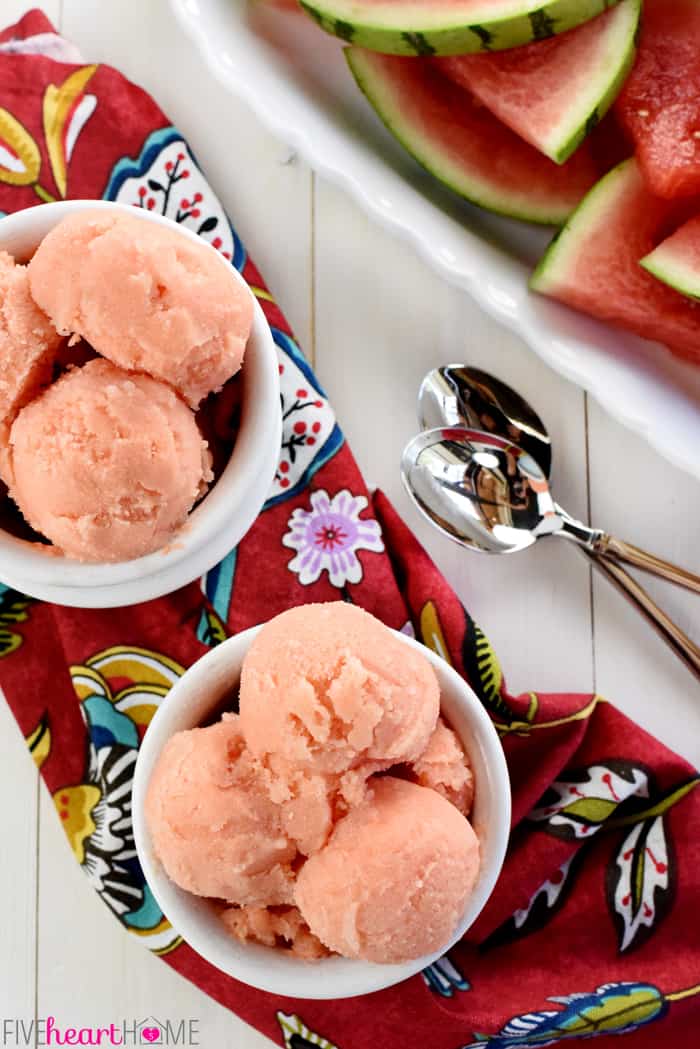 But if this does happen, don't panic...it's still salvageable! Simply put the sherbet container in the refrigerator to slowly thaw for 2 ½ to 3 hours, at which point it will be soft enough to scoop but not all melted and watery.
That's actually the route I went before taking the photos for this post...I made the sherbet, froze it overnight, thawed it for a few hours in the fridge the next morning, and then scooped and took my pics. And then my very patient kids finally got to enjoy the spoils of my labor...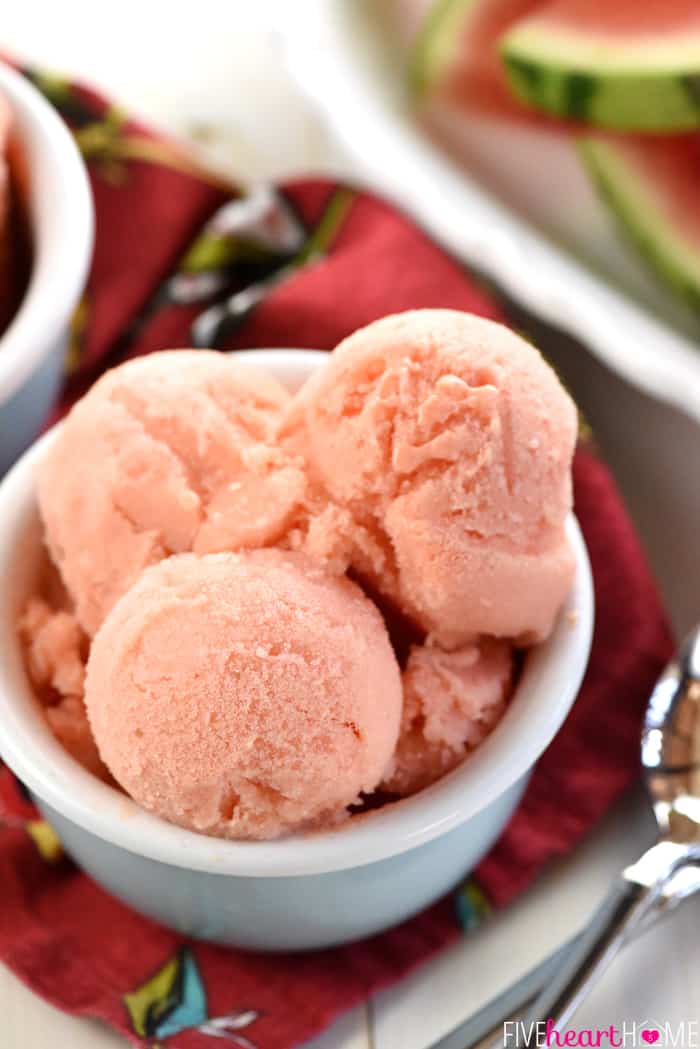 Tips for Success
In experimenting to create this recipe, one thing I learned is that if you put too many frozen watermelon cubes in the food processor at the same time, they might not all churn up.
So to make a full recipe (which equals 3 cups of cubed watermelon + ½ cup yogurt), I actually only put half the watermelon into the food processor to begin with.
I processed it until grainy.
Then I added half of the yogurt.
And finally, I processed everything until smooth and creamy.
Then I scraped the sherbet into a container before repeating with the remaining other half of the ingredients.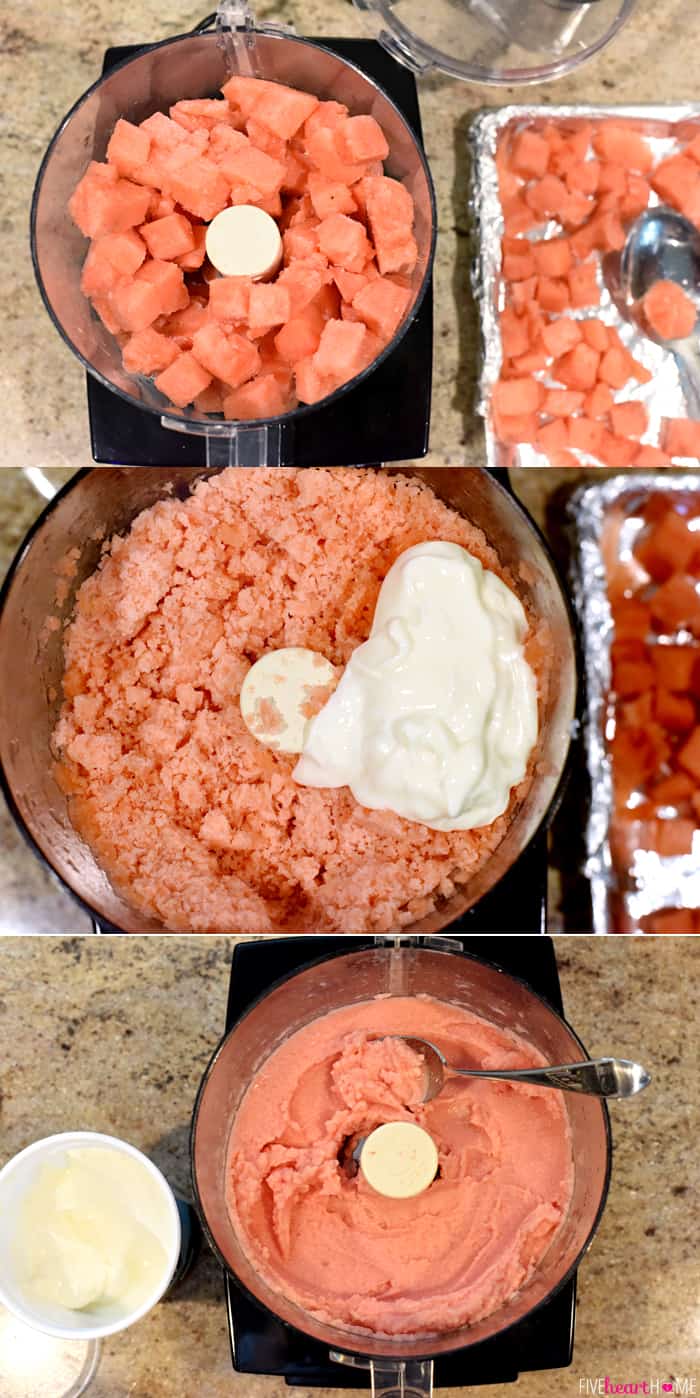 Yogurt Options
I chose to add yogurt to my frozen watermelon delight to add just a touch of creaminess to the final product. I picked vanilla instead of plain yogurt so as not to put a damper on the natural sweetness of my watermelon.
That being said, you can try making this recipe with plain yogurt instead, but you might find that you need to add a couple spoonfuls of sugar or a squeeze of honey to compensate. And if you use honey, I might recommend adding a squeeze of lime at the same time...doesn't that sound good? 😉
I also think that using regular yogurt as opposed to Greek yogurt is probably preferable, because the thinner regular yogurt helps loosen up the watermelon enough to puree it to a smooth consistency more easily. But I honestly haven't tried this recipe with Greek yogurt, so if you want to give it a try, let me know how it turns out!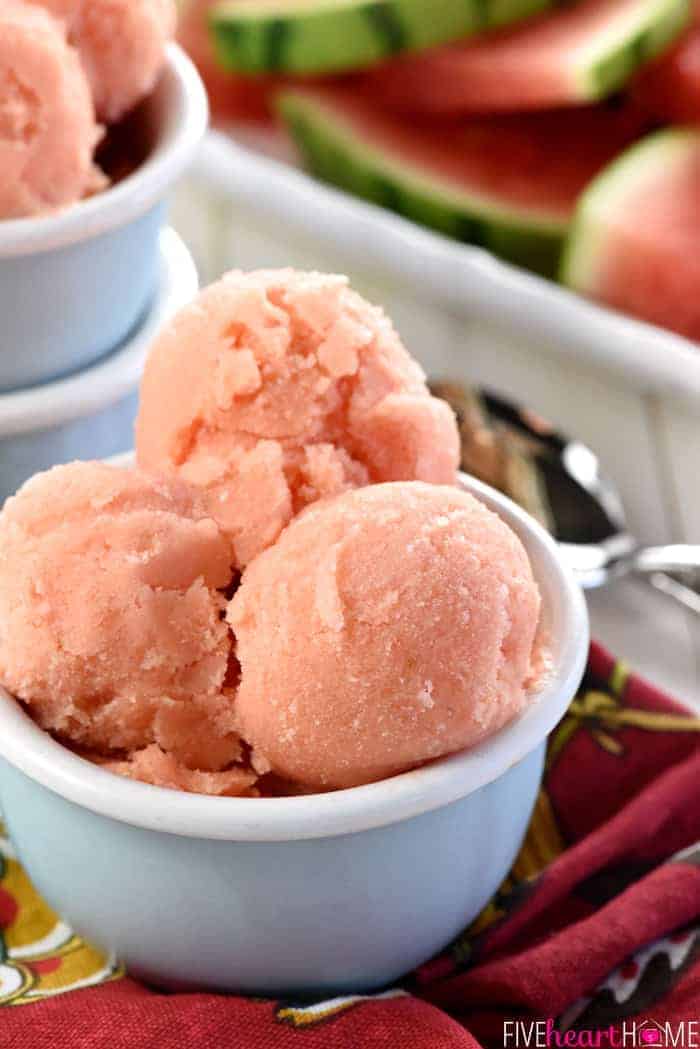 The next time you've craving a frosty dessert that's as simple and healthy as fruit plus yogurt, look no further than Watermelon Sherbet.
Heck, it's guilt-free enough to enjoy for snack time or even breakfast!
On top of that, it's a cinch to make.
And have I mentioned TWO INGREDIENTS?!
Yup, pretty much the perfect frozen summer delight. 🙂
More Frozen Treats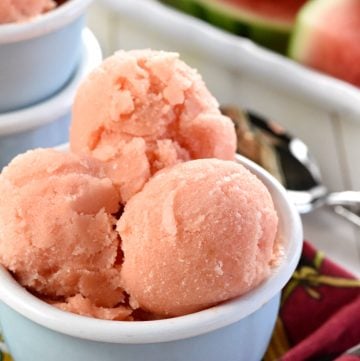 2-Ingredient Watermelon Sherbet
2-Ingredient Watermelon Sherbet is a light, refreshing frozen treat that comes together with just fruit and yogurt, the perfect healthy snack or dessert for cooling down all summer long!
Print
Pin
Rate
Servings:
6
servings (Approximately 3 cups sherbet)
Ingredients
3

cups

seedless watermelon cubes

,

cut 1 inch in size and frozen solid

½

cup

vanilla yogurt
Instructions
Add half of the frozen watermelon cubes to a large food processor. Process until the watermelon breaks down and becomes grainy. Stop the food processor and add half of the yogurt. Process until the mixture becomes smooth and creamy, scraping down the sides of the bowl as necessary. Scoop the sherbet into a separate container and repeat steps with the remaining ingredients.

Serve immediately for a frozen yogurt/soft-serve consistency. For a firmer consistency, freeze for 1 to 2 hours and then scoop. Leftovers may be frozen solid, but the sherbet will be very hard and impossible to scoop straight out of the freezer. Instead, place the container of frozen sherbet in the refrigerator to slowly soften for 3 hours before serving, at which point it should be scoopable.
Notes
A small (personal-sized) seedless watermelon will yield around 7 cups of watermelon cubes, enough for at least two batches of this recipe. I try to remove as many small seeds as possible while cutting my watermelon into cubes so that the seeds don't end up in the sherbet.
To freeze the watermelon cubes, place them in a single layer on a rimmed baking sheet and place in the freezer for at least 4 hours but preferably overnight. Make sure there's not excess watermelon juice on the pan or the cubes will freeze into a solid mass. I also prefer freezing the cubes on top of a piece of foil or parchment paper which makes it easier to release them from the pan later.
When making this sherbet, be sure to work quickly or the watermelon will start to thaw and the sherbet may become watery.
Calories:
40
kcal
|
Carbohydrates:
9
g
|
Protein:
1
g
|
Fat:
1
g
|
Saturated Fat:
1
g
|
Cholesterol:
1
mg
|
Sodium:
14
mg
|
Potassium:
130
mg
|
Fiber:
1
g
|
Sugar:
8
g
|
Vitamin A:
440
IU
|
Vitamin C:
6.4
mg
|
Calcium:
40
mg
|
Iron:
0.2
mg
Adapted from NYTimes.com
Save
Save
Save
Save
Save