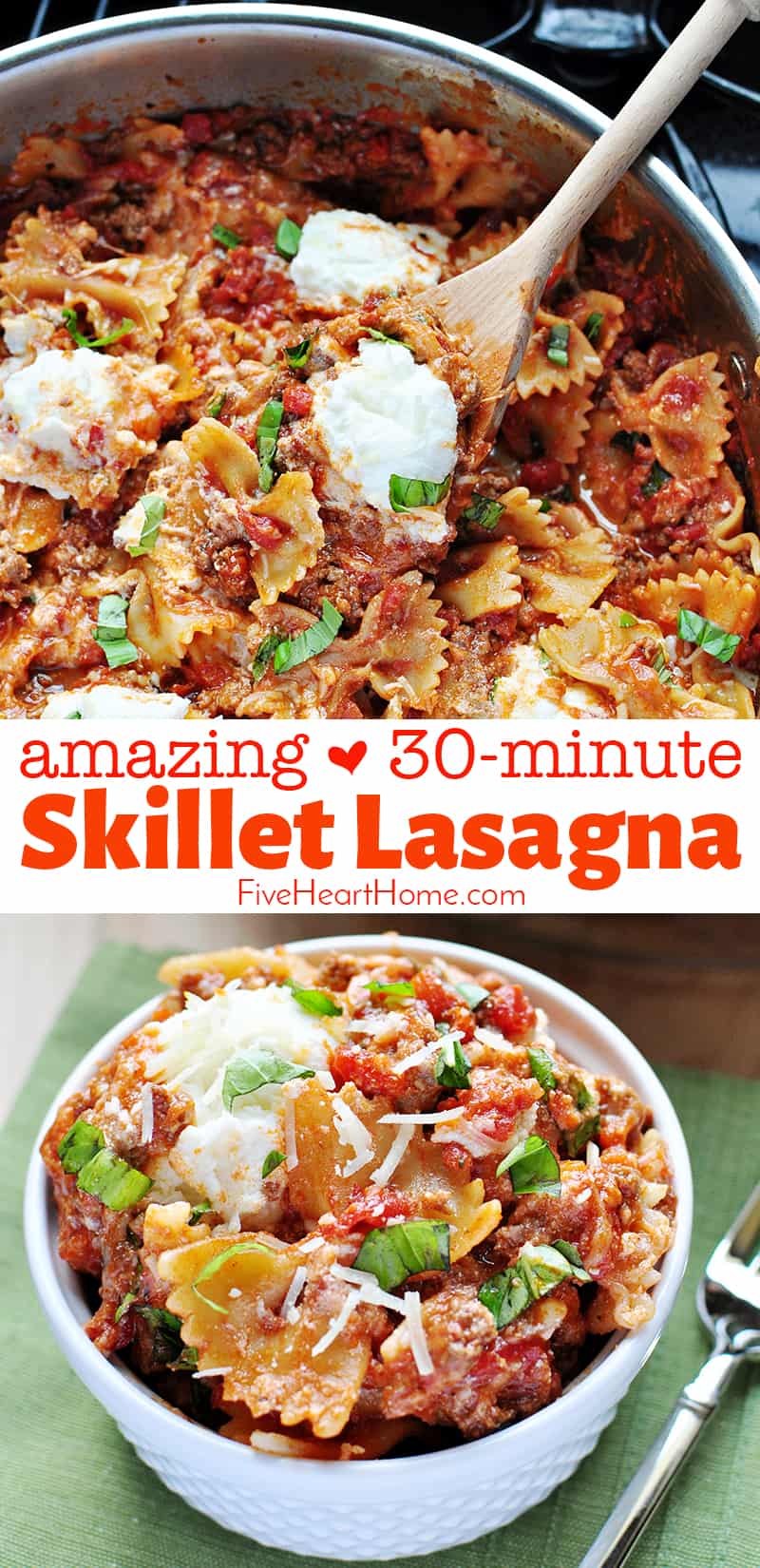 This quick, easy, and yummy 30-minute Skillet Lasagna recipe comes together in just one pan with bowtie pasta, ground beef, tomatoes, and three kinds of cheese!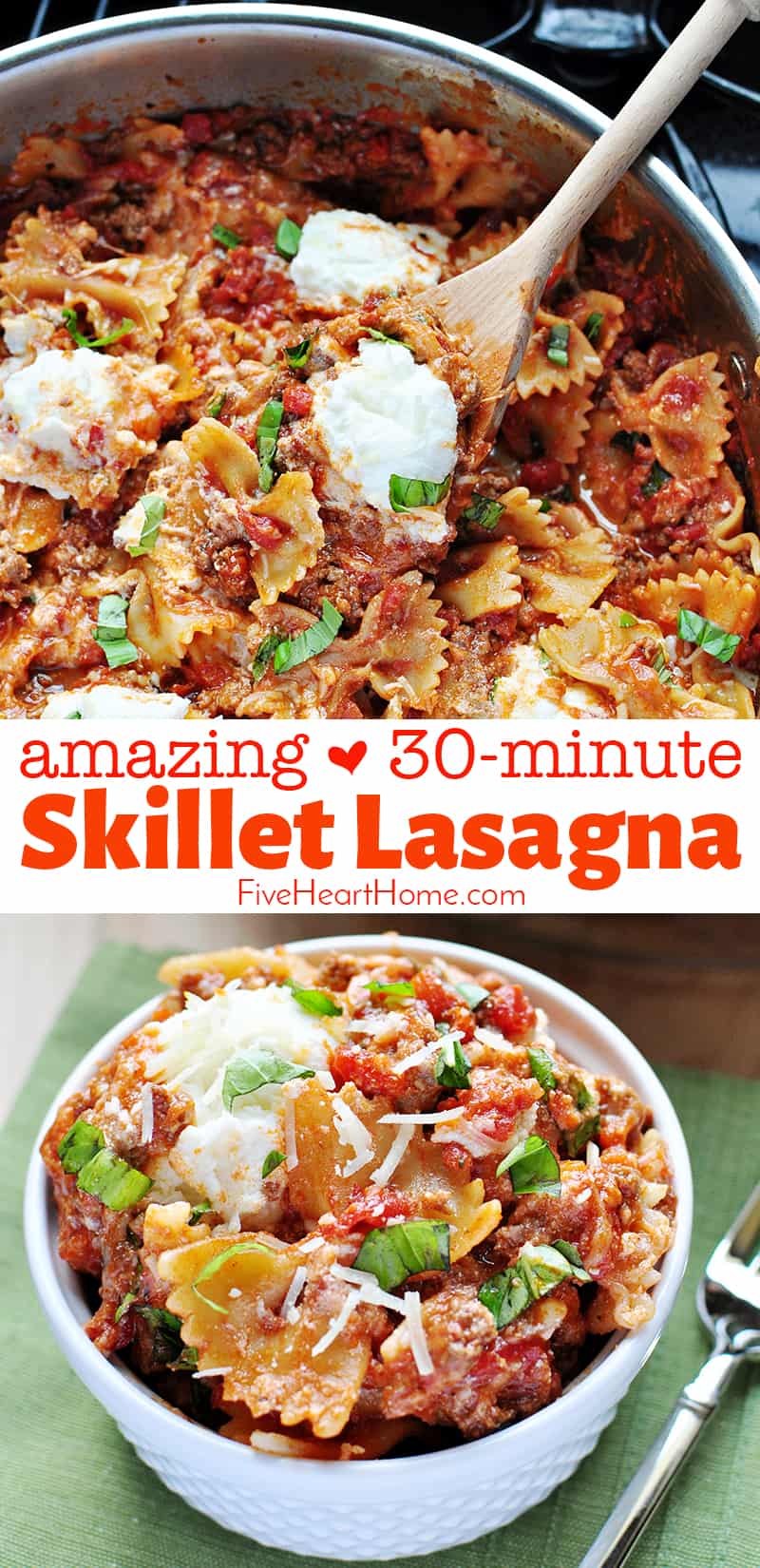 Well, the school year grind has officially begun. No more sleeping past the crack of dawn. No more leisurely, schedule-free days. And no more waiting until five minutes before 5:00 p.m. to start thinking about dinner. Because the cold hard truth is that if I don't have an organized meal plan during the school year, odds are higher than average that I'll be serving last-minute frozen pizza for supper.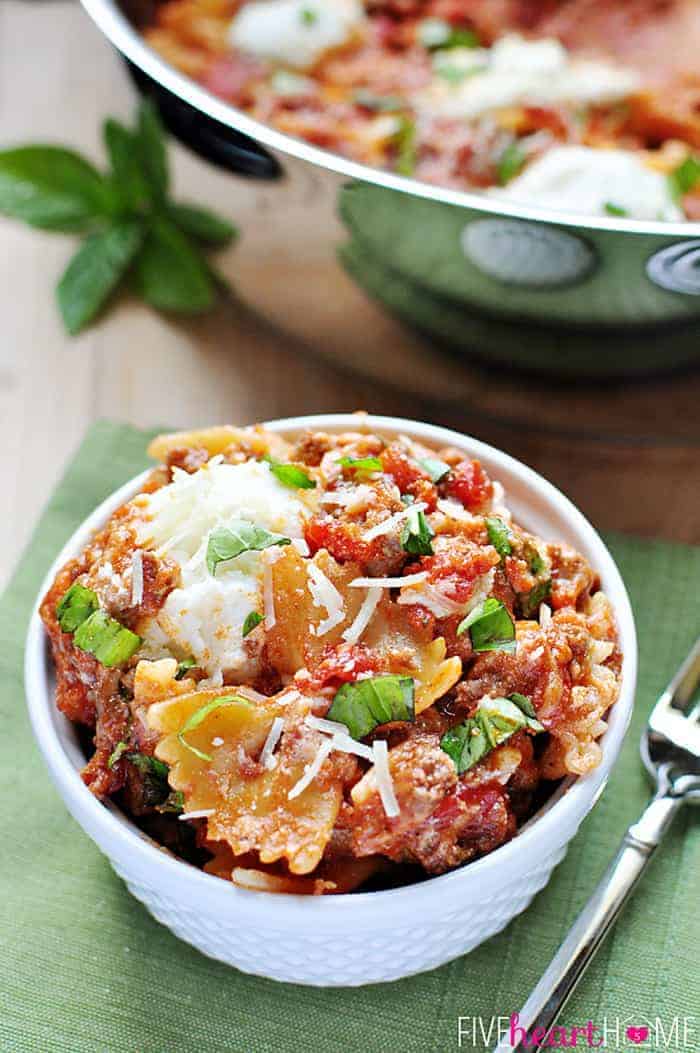 For me, however, meal planning is not a set-in-stone process. Rather, when I'm composing my grocery list, I write down a selection of dinners that I'd like to make over the next couple of weeks and buy the ingredients accordingly. But I'm not all, "We're going to have meatloaf on Monday, and tacos on Tuesday..." because at the last minute, Monday might end up being a day that we have lots of leftovers from the weekend to eat up, and our schedule on Tuesday might require a crock pot meal.
Instead, I make a loose plan to cook something like this 30-Minute Skillet Lasagna one upcoming evening when I have -- you guessed it! -- around 30 minutes to prep dinner. And boy is my family excited when that golden opportunity comes along!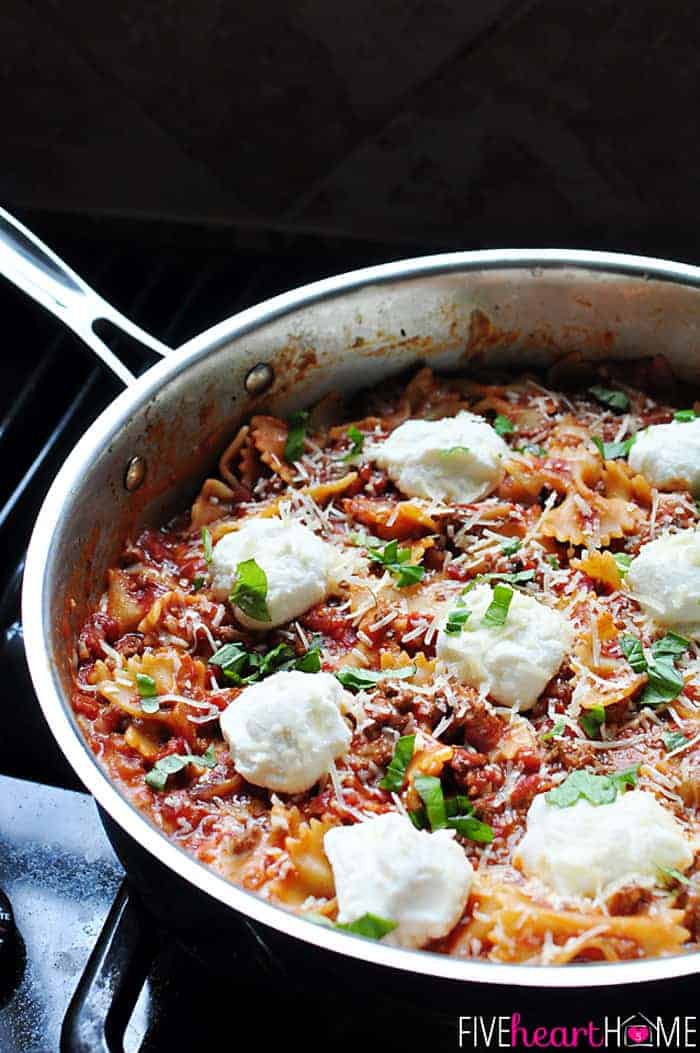 Ingredients
If you're a fan of regular lasagna, you're going to love this simple spin. All you need is...
Ground beef. Or ground turkey, if you prefer.
Garlic. The more the merrier!
Tomatoes. Namely, a big can of petite diced tomatoes and a little can of tomato sauce.
Herbs and spices. In my humble opinion, fresh herbs are what take this skillet dinner from good to great. I love incorporating whatever Italian herbs I have on hand...primarily basil, oregano, thyme, and parsley. That being said, if you don't have fresh herbs, dried herbs will work just fine. Just reduce the amount to one-third of the original measurements, since dried herbs are three times as potent as fresh.
Pasta. Bow-tie pasta (farfalle) is my favorite in Skillet Lasagna. But I think a spiral pasta like rotini would be good, too.
Plenty of cheese! Mozzarella, ricotta, and Parmesan!
Now tell me...who could argue with that combination of Italian goodness?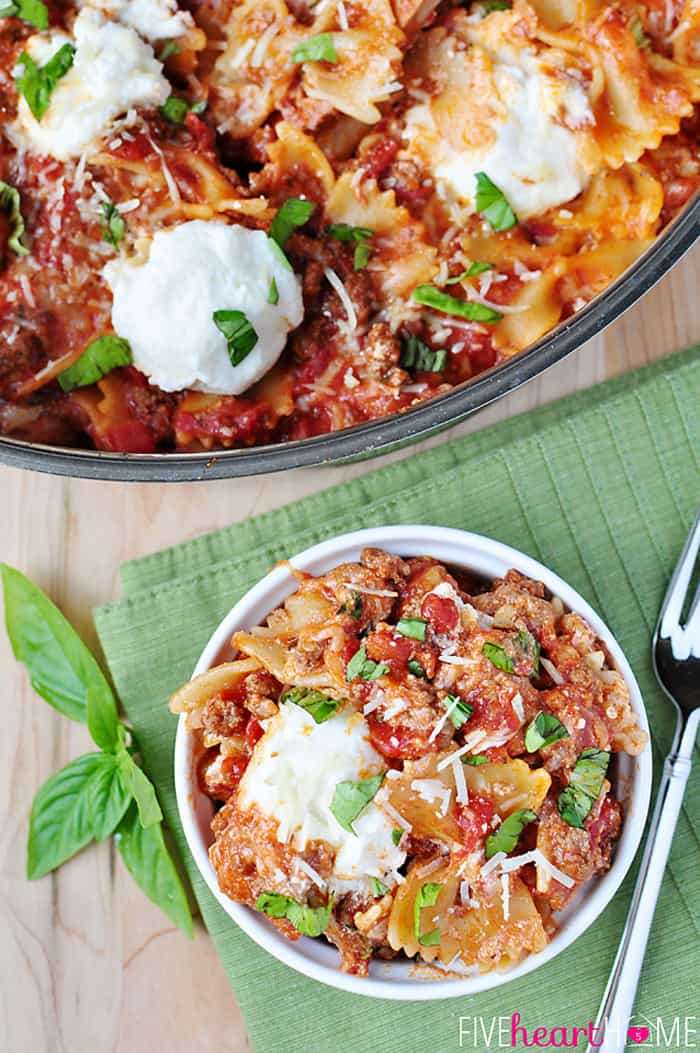 How to Make Skillet Lasagna
If you've never made it before, Skillet Lasagna boasts all of the flavor and cheesy goodness of regular lasagna without all of the layering and the lengthy baking time. Instead, you combine the ingredients in a skillet and quickly cook them using a method that can only be described as Hamburger Helper-esque.
First, pour diced tomatoes and tomato sauce into a big measuring cup and add enough water to measure 1 quart. While you're at it, stir in a little sugar to neutralize some of that tomato acidity (if you like).
In a big skillet, brown the ground beef and garlic, drain, and then season with spices and fresh herbs.
Scatter the uncooked pasta over the meat and pour the tomato mixture over the pasta. DO NOT STIR! Cover and bring to a simmer.
Reduce to a low simmer and continue to cook until the pasta is tender, stirring every 5 minutes.
Remove the skillet from the heat and stir in some cheese. Dollop with ricotta and allow to rest for a few minutes. Top with more Parmesan and herbs.
Dinner is served!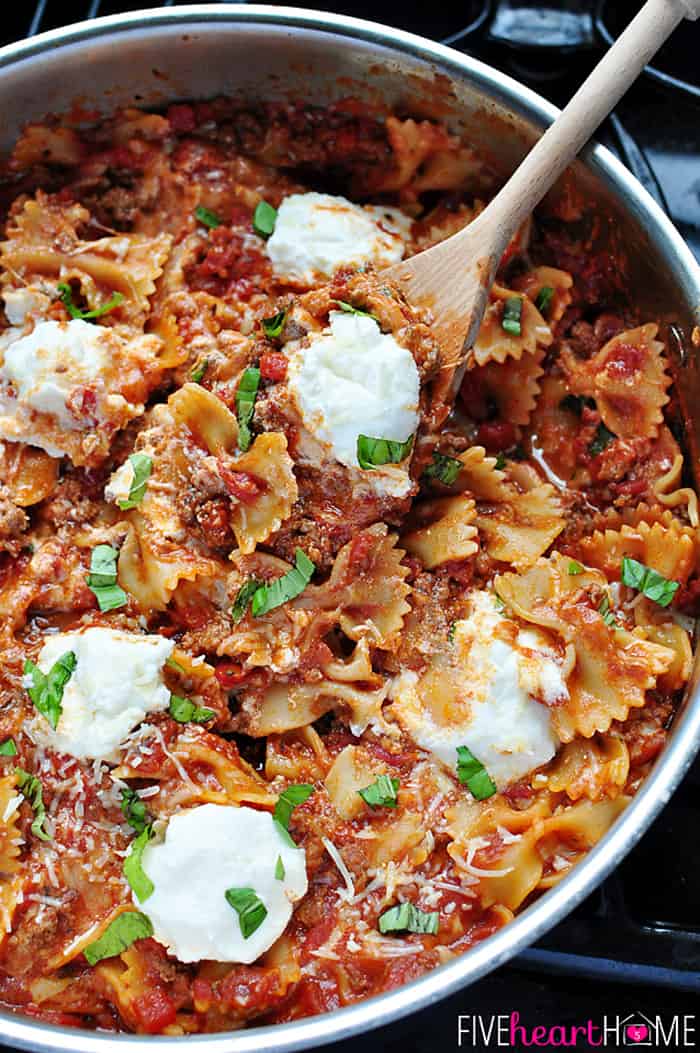 And that's it! Not only is this stovetop lasagna a perfect meal for busy weeknights, but it's so tasty (and yummy-looking) that you could happily serve it to dinner guests. It also makes a great, quick and easy, yet universally appealing meal to deliver to a friend, neighbor, or family member.
30-ish Minute Meal
Now before we get to the recipe, I have to be totally honest about something. It might take you slightly longer than 30 minutes to make this lasagna from start to finish. But 37 ½-Minute Skillet Lasagna doesn't have quite the same ring to it, does it?
So if you like to hand grate your cheese and prefer your pasta on the tender side rather than al dente, it is totally acceptable to go a bit over the half-hour mark. Even if you do, I think you'll find that this recipe is still quick, still easy, and still sooooo worth the minimal effort for maximum deliciousness!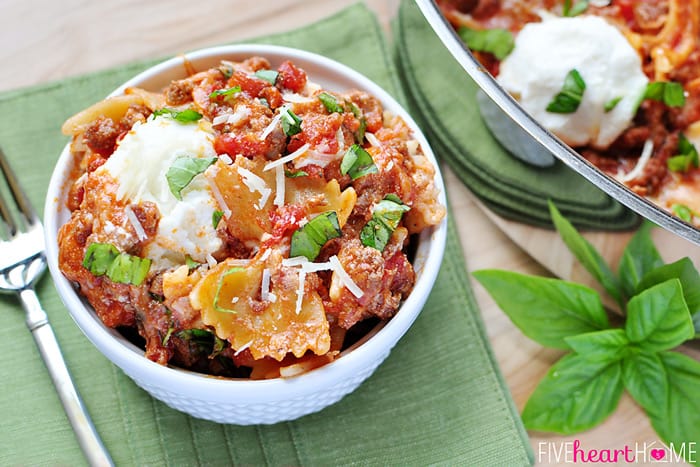 So what type of meals do you rely on when life and schedules get crazy? If I'm not utilizing my slow cooker during the week, then whatever I'm making for dinner needs to take around 30 minutes.
As a result, this yummy Skillet Lasagna is oft-requested at our house. And I'm always happy to oblige those requests...because not only is it effortless to make, but I'm quite adept at scarfing it down myself. 😉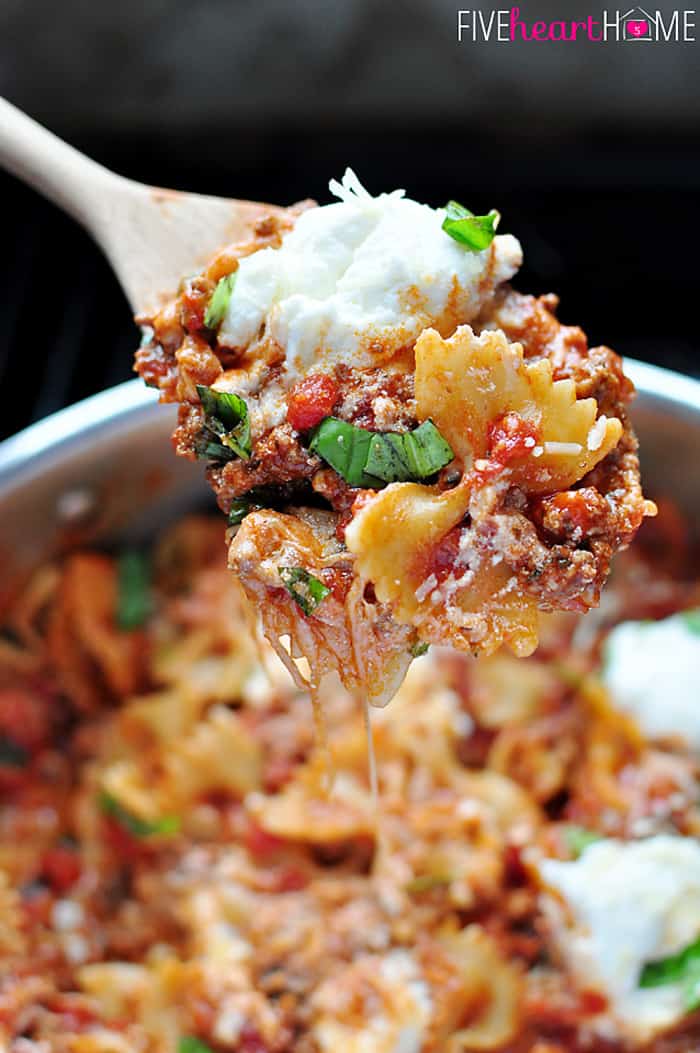 More Easy One-Pot Ground Beef Dinners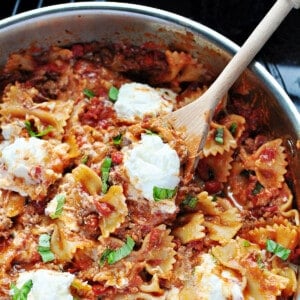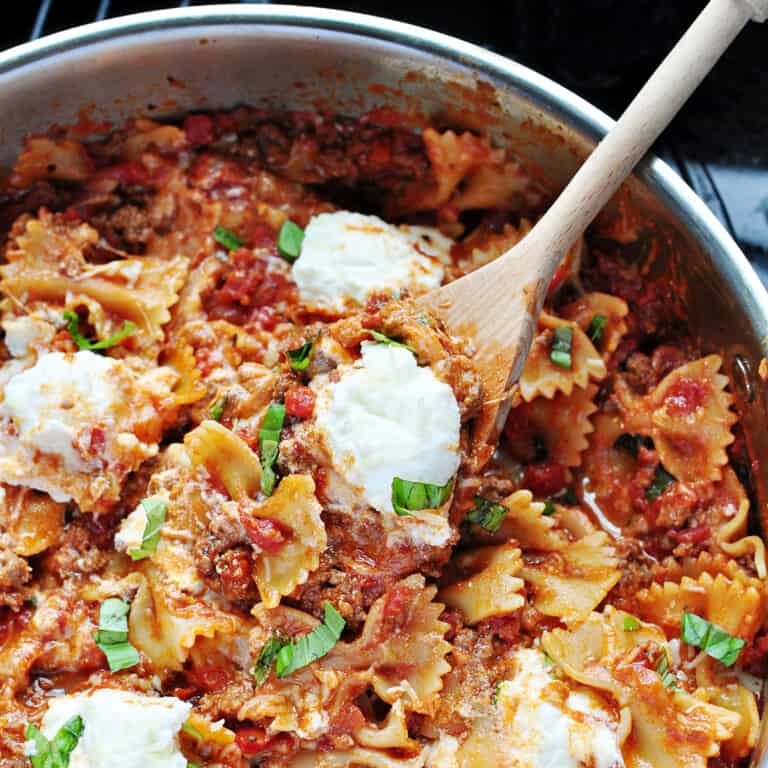 30-Minute Skillet Lasagna
This quick, easy, and yummy 30-minute Skillet Lasagna recipe comes together in just one pan with bowtie pasta, ground beef, tomatoes, and three kinds of cheese!
Print
Pin
Rate
Ingredients
1

(28-ounce) can petite diced tomatoes

Water

,

about ½ cup

1

(8-ounce) can tomato sauce

1 to 2

tablespoons

sugar

,

to taste

1

tablespoon

extra-virgin olive oil

5

cloves

garlic

,

minced

¼

teaspoon

red pepper flakes

1

pound

ground beef

Garlic salt and freshly ground black pepper

5

tablespoons

chopped fresh Italian herbs

,

such as basil, oregano, thyme, &/or parsley (DIVIDED)

8

ounces

bow-tie pasta (farfalle)

1

cup

shredded mozzarella

½

cup

PLUS 2 tablespoons grated Parmesan cheese

1

cup

ricotta cheese
Instructions
Pour can of diced tomatoes (with juices) into a 1-quart liquid measuring cup. Add water until the mixture measures 4 cups. Stir in tomato sauce and sugar; set aside.

Heat a large skillet over medium heat. Add olive oil; tilt pan to coat. Add garlic and red pepper flakes and stir for 30 seconds, or until fragrant. Add ground beef and cook until done. Drain grease, season meat with garlic salt and pepper, to taste, and stir in 3 tablespoons of fresh chopped herbs.

Scatter pasta over meat and pour tomato mixture over pasta without stirring. Cover and bring to a simmer. Reduce heat to medium-low and continue to simmer, covered, stirring every 5 minutes. Cook until pasta is tender, for about 20 to 25 minutes.

Remove skillet from heat and stir in mozzarella and ½ cup Parmesan. Taste and adjust seasonings, adding more garlic salt, pepper, and/or sugar, if necessary. Remove from heat and dollop heaping tablespoons of ricotta all over surface of pasta mixture. Cover and allow to rest for 5 minutes. Sprinkle with remaining fresh herbs and Parmesan.
Notes
I use a 5 ½-quart saute pan when making this recipe, but any large, deep skillet or Dutch oven (with a lid) should work.
Each time you stir the lasagna, push down on the pasta so that it's all submerged in tomato sauce before re-covering with the lid.
If sauce is evaporating too quickly during 20 minute simmering time, additional tomato sauce and/or water may be stirred in, as needed.
If you'd like to substitute jarred pasta sauce in this recipe, use 4 ½ cups pasta sauce in place of the diced tomatoes + tomato sauce. You will still need to add the ½ cup water and be prepared to add more liquid (if necessary) as the lasagna cooks.
Use your favorite fresh Italian herbs! You may use all basil or a combination of basil, oregano, thyme, and parsley.
If you don't have fresh herbs, you may use dried herbs instead. However, since dried herbs are more potent than fresh, you will want to reduce the amount to one-third as much. Use about 1 tablespoon dried herbs in the main recipe, plus an extra sprinkle at the end for garnish.
Be sure to taste and adjust seasonings at the end before topping with the ricotta. If the sauce is too acidic, add a bit more sugar.
Serving:
6
g
|
Calories:
493
kcal
|
Carbohydrates:
46
g
|
Protein:
36
g
|
Fat:
19
g
|
Saturated Fat:
9
g
|
Cholesterol:
88
mg
|
Sodium:
1023
mg
|
Potassium:
997
mg
|
Fiber:
4
g
|
Sugar:
13
g
|
Vitamin A:
1125
IU
|
Vitamin C:
15.3
mg
|
Calcium:
338
mg
|
Iron:
4.7
mg
Post originally published on August 17, 2014.
This recipe is one that I've been making for years, but I believe it was originally adapted from Cooks Illustrated.