Savory-sweet Apple Cheddar Crescents are perfect for lunch or snacking, with melted cheddar and tender, thinly sliced apples wrapped in golden crescent roll dough!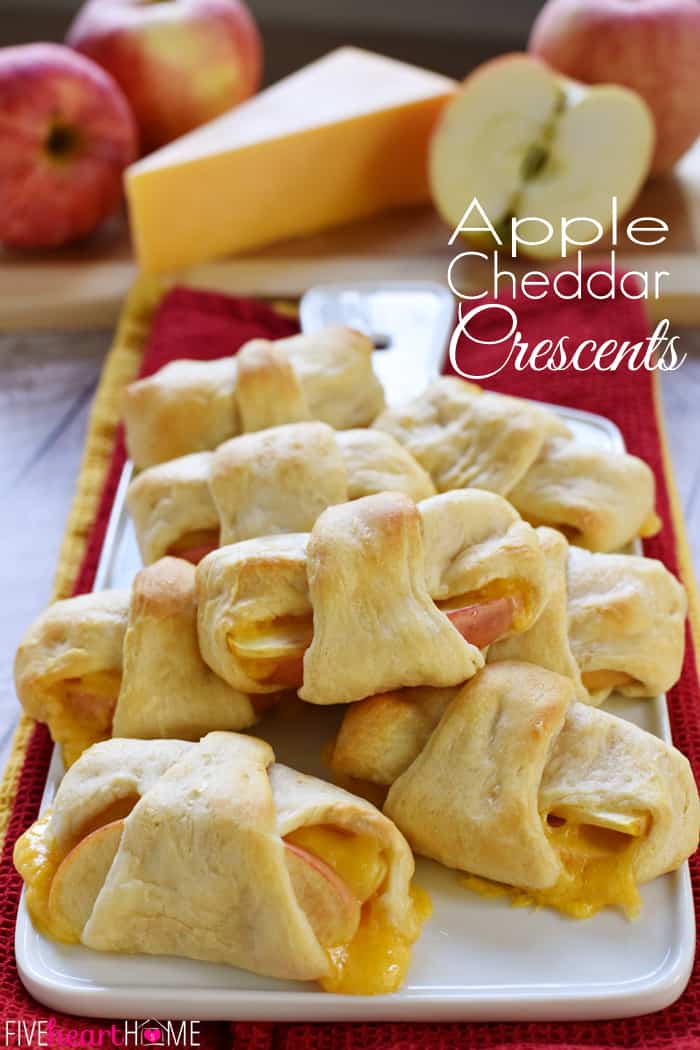 Well, it was bound to happen. We are less than a month into the new school year and I'm already so over packing school lunches. I don't exactly know why I dislike this particular daily chore above all others. I mean, I don't typically dread making lunch at lunchtime. And I am beyond thankful to have good food to feed my family, three meals a day, in the first place. But prepping a lunch box the night before or morning of school? It's simply not my favorite activity.
For this reason, my boys end up with a lot of boring sandwiches and simple sliced fruit in their lunchboxes. So to make up for their monotonous, unglamorous, school day lunches, I try to make something a bit more interesting for our mid-day meal on the weekends. Whether that's chicken salad or pizza or grilled cheese with tomato soup, at least it's not a PB&J or cold ham and cheese sandwich. (And I feel like I should clarify that they don't seem to mind those latter options, but I'm pretty tired of them myself.)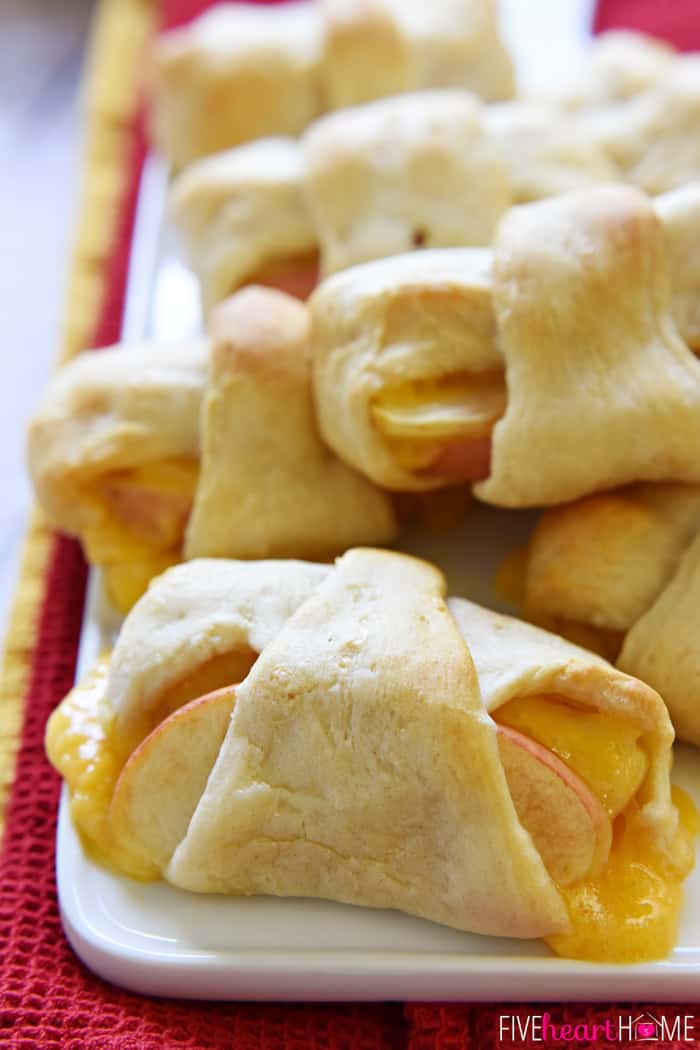 Anyhoo, that's pretty much how these Apple Cheddar Crescents came about. I try to make a lot of my kitchen staples from scratch, but I still like keeping cans of biscuits on hand for when I need to whip up a last-minute breakfast or dinner. So as we approached the noon hour a couple of Saturdays ago, I opened the fridge to spy a tube of crescent rolls in the door. And my mind got a-spinnin' as to what I could concoct out of those crescents for lunch?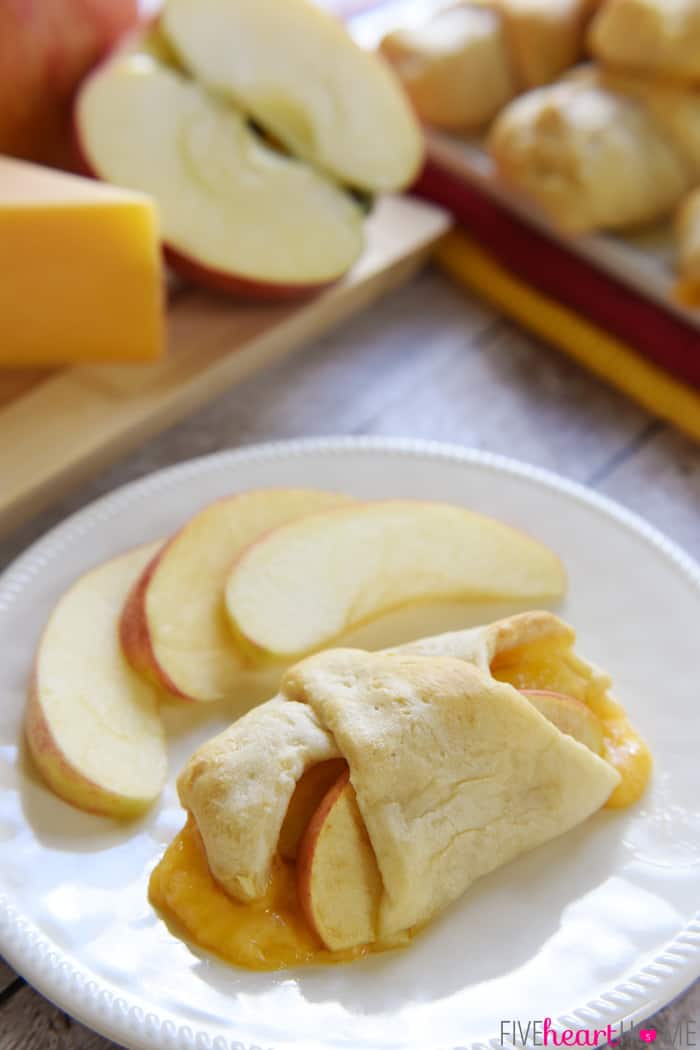 Soooo…this is what I came up with. I had apples. I had a big block of cheddar. My family members are fans of combining savory and sweet flavors. We like fruit and cheese platters. Heck, a couple of us have even been known to melt a slice of cheddar over our slabs of apple pie. So I decided to combine these three humble ingredients into Apple Cheddar Crescents…not entirely sure how they would turn out.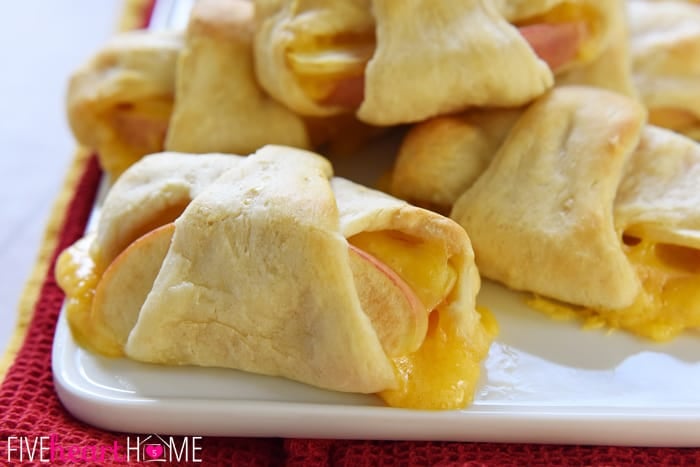 And the verdict? Everybody liked them! But then again, how can you argue with melty cheese, sweet, tender apples, and flaky, buttery crescent rolls?
Thus, for one day of the week at least, we broke out of the same ol' boring lunch routine and enjoyed munching on something a little bit different. You could try various cheeses in these crescents or even substitute pears for the apples. The point is, cheese is delicious, apples are awesome, and crescent rolls are magical. Why not combine the three into a snack-y little lunch that'll give you (and/or your kids) a break from the PB&J? 😉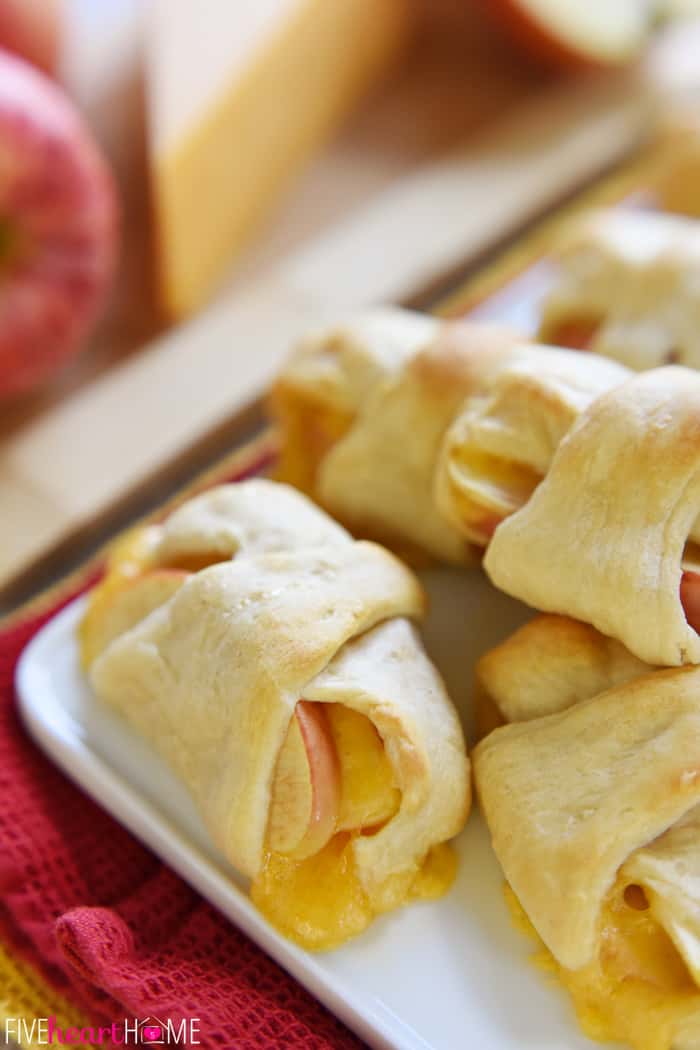 So chime in! Am I the only one who dreads packing my kids' lunchboxes each day? Do you have any secrets for making it less tedious? At what age should I turn the reigns over to my offspring and allow them to pack their own lunches? If you're out of the lunchbox trenches, I'd love to hear your wisdom from the other side. 😉 Thanks, friends, and enjoy your Apple Cheddar Crescents!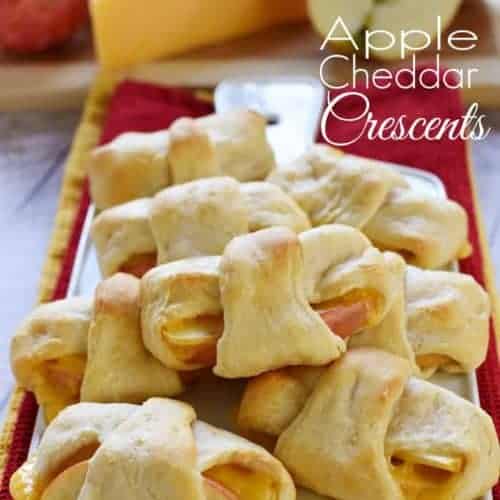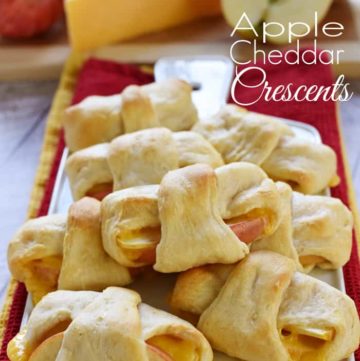 Apple Cheddar Crescents
Savory-sweet Apple Cheddar Crescents are perfect for lunch or snacking, with melted cheddar and tender, thinly sliced apples wrapped in golden crescent roll dough!
Print
Pin
Rate
Servings:
8
crescent rolls
Ingredients
1

can

(8 ounces) refrigerated crescent rolls

1

large apple

,

cut into quarters

16

thin slices of cheddar cheese

,

approximately 2" long & 1" wide
Instructions
Preheat oven to 375°F. Line a baking sheet with parchment paper. Unroll crescent rolls into 8 triangles.

Cut each apple quarter in half to total 8 pieces of apple. Then cut each of those pieces into 3 thin slices. Layer 3 apples and 2 slices of cheese (apple/cheese/apple/cheese/apple) at the long end of each crescent roll, parallel to the edge. Starting at that end, carefully roll until the apple and cheese slices are centered in the crescent roll.

Space out crescents on prepared baking sheet and bake for 12 to 15 minutes or until golden brown. Serve immediately.
Calories:
119
kcal
|
Carbohydrates:
14
g
|
Protein:
2
g
|
Fat:
7
g
|
Saturated Fat:
3
g
|
Cholesterol:
2
mg
|
Sodium:
234
mg
|
Potassium:
24
mg
|
Fiber:
1
g
|
Sugar:
5
g
|
Vitamin A:
30
IU
|
Vitamin C:
1.1
mg
|
Calcium:
16
mg
|
Iron:
0.4
mg
More Yummy Ideas for Snacks & Lunches