Avocado Egg Salad is a great use for hard-boiled eggs, lightened up with yogurt & studded with creamy chunks of avocado, yummy on a sandwich or over salad!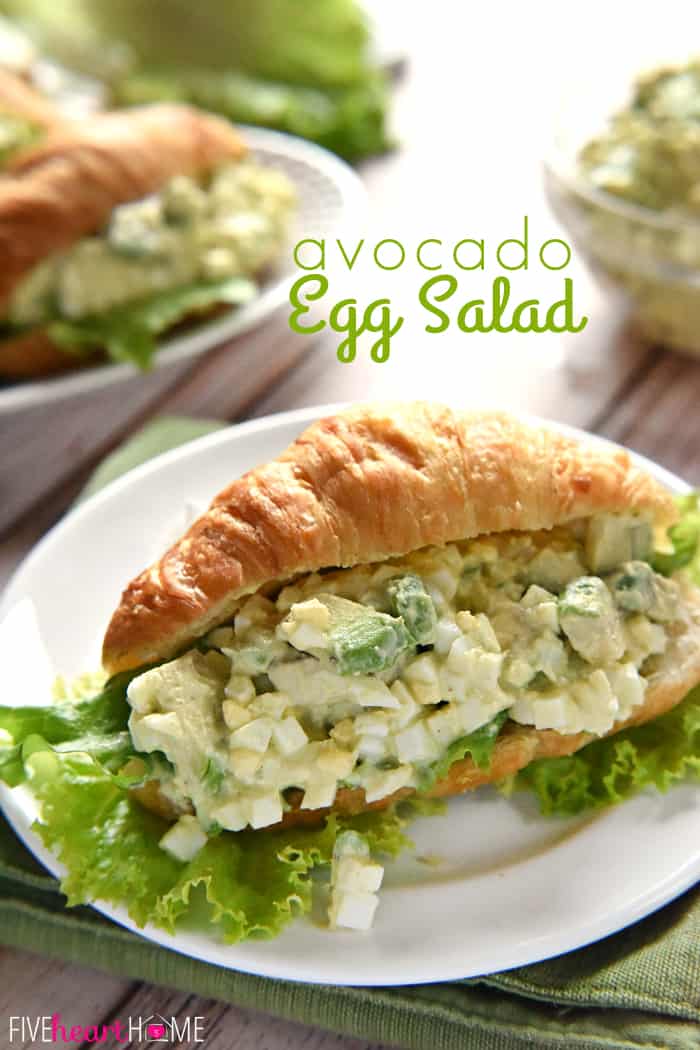 For more avocado goodness, you might enjoy creamy Avocado Dressing, Tex-Mex-inspired Corn Tomato & Avocado Salad, or BLT Avocado Pasta Salad!
Easter is right around the corner, and that always gets me a-brainstormin' ideas for how to use up all those impending, leftover, hard-boiled Easter eggs. Last year I featured a cutesy, kid-appealing idea, so this spring, I think a yummy, family-friendly recipe is in order. And while everyone knows how to make egg salad, have you ever tried taking it up a notch with healthy, decadent avocado? (As an aside, any food that can be described as both healthy and decadent in the same breath has my lifelong loyalty and adoration...)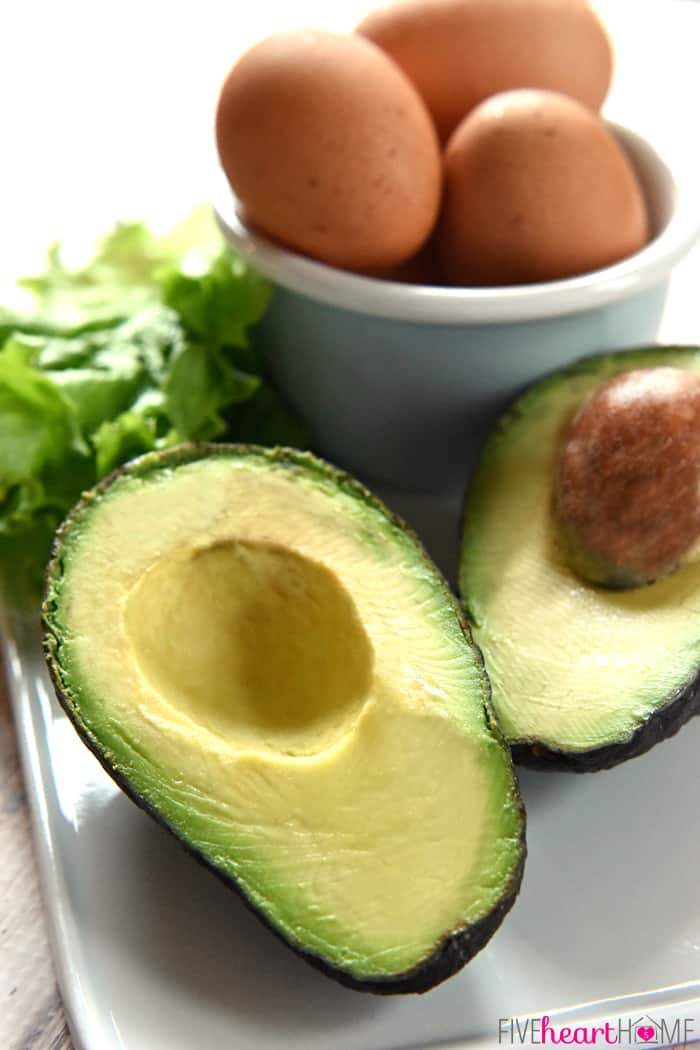 I first started adding avocado to my egg salad eight years ago when I was pregnant with my first child. But it all started with humble avocado toast! Now keep in mind that this was well before avocado toast was in vogue. In fact, I'd never even heard of it before. All I knew was that slathering toast (or a bagel, or a tortilla) with butter or cream cheese and then layering it with slices of avocado or garlic salt-seasoned smashed avocado was a weird-sounding combo that I had started to crave. I didn't really care if it sounded bizarre to most people. It had to be better than pickles and ice cream, right?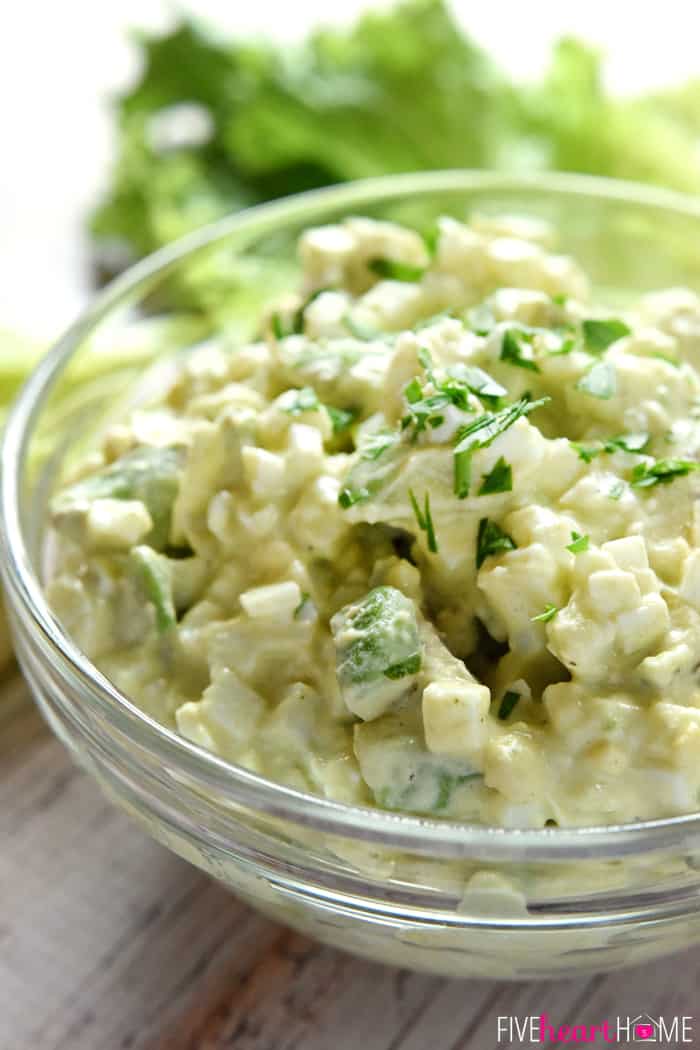 Well one day, as I was preparing my umpteenth slice of avocado toast, I remembered the half bowl of leftover egg salad in the refrigerator. And for some reason, that sounded like the perfect topping for my avocado! So I piled the egg salad on top and, sure enough, it was delicious.
I kept my odd little craving to myself, and even continued to eat it on occasion postpartum. But then a few years later, something funny happened...I started realizing that other people in this great wide world also ate avocado on toast. I even encountered recipes incorporating avocado into egg salad! Guess I should have patented the idea when I had the chance, odd preggo craving that I thought it was... 😉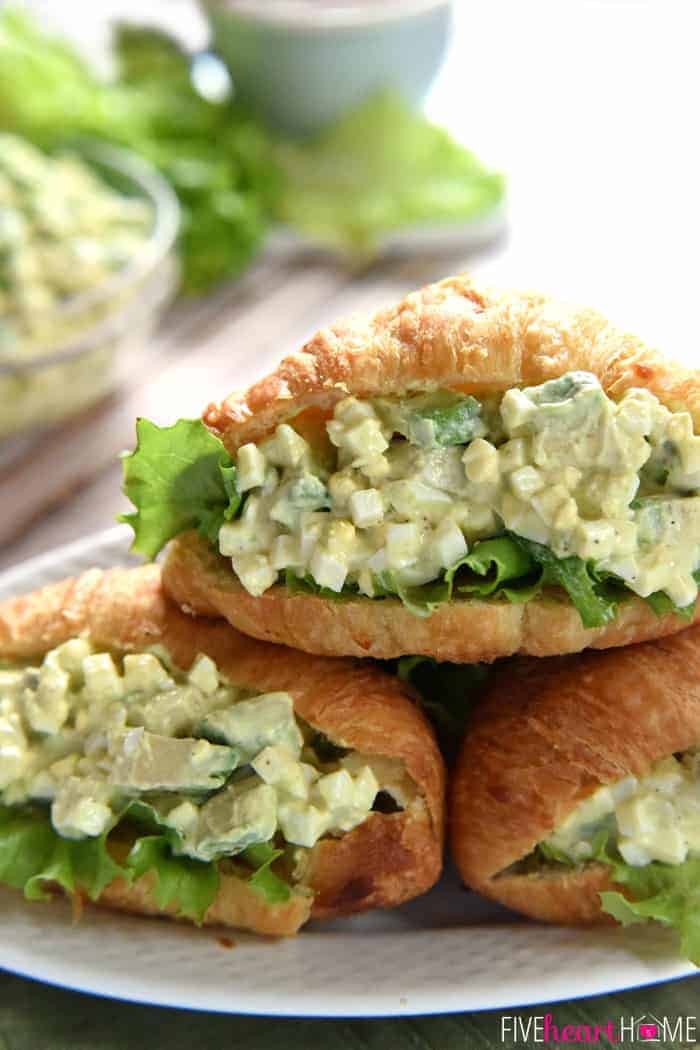 So today, since it's now socially acceptable to employ avocado in all manner of recipes aside from guacamole, I bring you Avocado Egg Salad!
Ingredients
When I make egg salad, I like to use half mayo (for flavor) and half plain yogurt (to lighten things up).
I also prefer to add a splash of apple cider vinegar for a little zing, although Dijon mustard can accomplish a similar outcome.
If I have fresh herbs on hand, I stir those in as well for a pop of fresh, bright flavor.
And all of that is exactly what this recipe entails...but with the addition of diced avocado.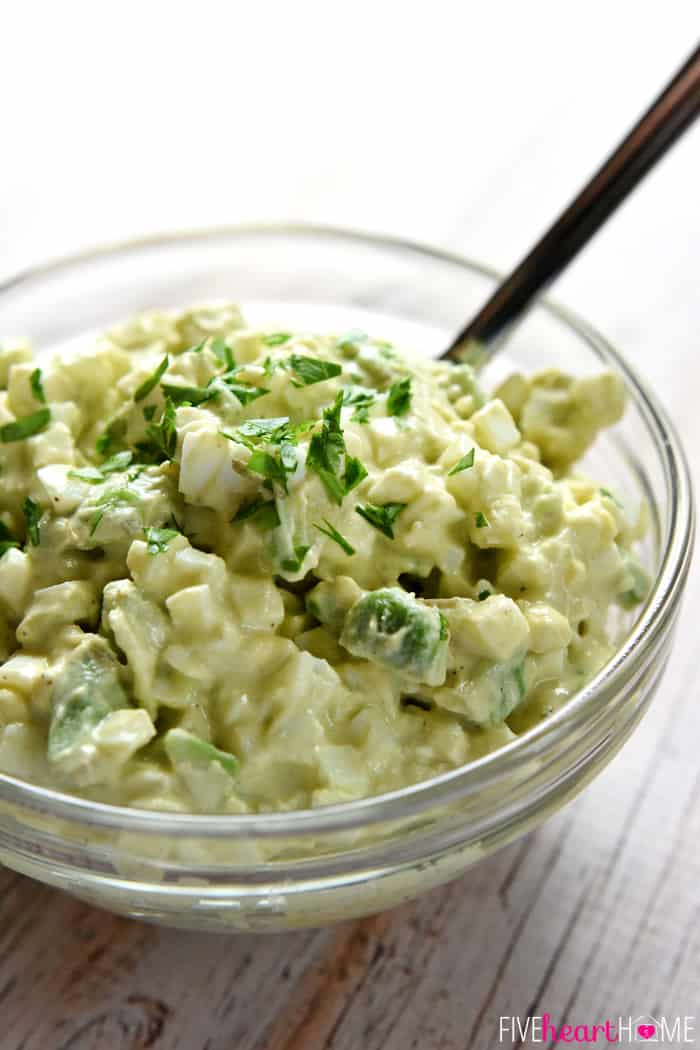 How to Make Avocado Egg Salad
Egg salad is already pretty creamy, but avocado makes it even more velvety.
I always start by mixing the dressing together in the bottom of a bowl.
Then I stir in the diced eggs. Now different people have different preferences for how chopped or mashed they like the eggs in their egg salad. However, I have always mimicked my mom's method by turning a hard-boiled egg three different directions on an egg slicer to dice it into small, neat little pieces. Dice your eggs any way you wish. If you like, you can even mash them a bit with a fork or pastry blender. But if you decide to make your Avocado Egg Salad ahead of time, I would recommend refrigerating it at this point to allow it to chill while the flavors have time to meld.
And then, just before serving (because we are talking about quick-to-turn-brown avocado here), stir the avocado into your egg salad. Again, I like to add small diced pieces of avocado. They're slightly larger than the dice of my eggs but not extremely huge. But if you want bigger chunks of avocado, go for it! If you prefer, you could even mash the avocado and stir it in, more like a dressing. They key point here is that avocado + eggs = a tasty topping for sandwich, crackers, or salad. The ultimate texture is up to you. But it will be glorious no matter how much you mash it or how chunky you leave it!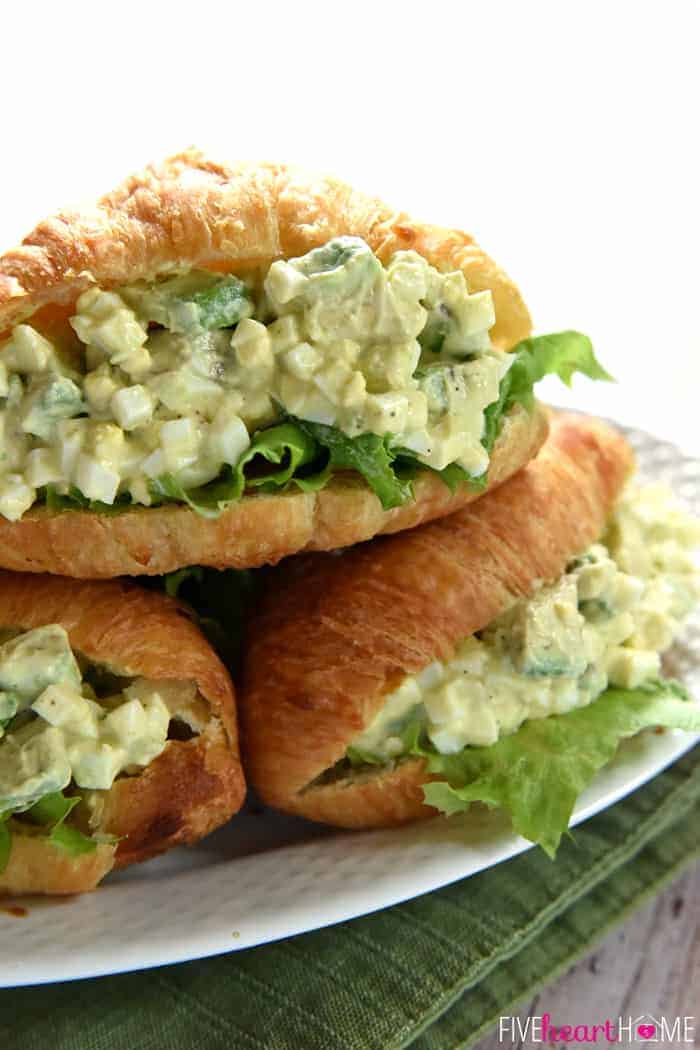 So when Easter rolls around and you have a dozen hard-boiled eggs to use up, think outside the (deviled egg) box and whip up a bowl of luscious Avocado Egg Salad! It's sure to be a hit with young and old alike. And see? Sometimes weird pregnancy inventions turn out to be not-so-weird after all. 😉

More Egg-cellent Recipes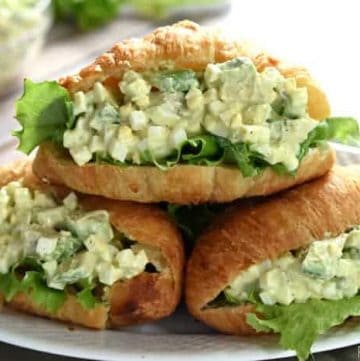 Avocado Egg Salad
Avocado Egg Salad is a great use for hard-boiled eggs, lightened up with yogurt & studded with creamy chunks of avocado, yummy on a sandwich or over salad!
Print
Pin
Rate
Ingredients
2

tablespoons

plain yogurt

,

Greek OR regular

2

tablespoons

mayonnaise

2

teaspoons

apple cider vinegar

1 to 2

tablespoons

fresh minced herbs

,

such as parsley, dill, chives, etc.

1/4

teaspoon

salt

,

plus more to taste

Freshly ground black pepper

,

to taste

6

hard-boiled eggs

,

chilled and diced

1

large avocado (or two small avocados)

,

diced
Instructions
In the bottom of a large bowl, prepare dressing by whisking together yogurt, mayonnaise, vinegar, herbs (if using), salt, and pepper. Stir in diced eggs. Taste and, if desired, season with additional salt and pepper. If not serving immediately, cover and refrigerate. Just before serving, stir in diced avocado. Serve on sandwiches, crackers, or a bed of lettuce.
Notes
If you prefer, you may make this Avocado Egg Salad using all mayonnaise or all yogurt instead of a combo of the two. Using only yogurt may require a tad more salt and/or apple cider vinegar.
You may alter the texture of this recipe but cutting the eggs/avocado into large chunks or, conversely, mashing them up a bit.
Calories:
250
kcal
|
Carbohydrates:
5
g
|
Protein:
11
g
|
Fat:
20
g
|
Saturated Fat:
4
g
|
Cholesterol:
283
mg
|
Sodium:
289
mg
|
Potassium:
338
mg
|
Fiber:
3
g
|
Sugar:
1
g
|
Vitamin A:
465
IU
|
Vitamin C:
5
mg
|
Calcium:
52
mg
|
Iron:
1.2
mg