Baked Parmesan Yellow Squash Rounds...an easy and delicious squash recipe requiring just two ingredients: yellow squash and grated Parmesan!

One of my most popular recipes every summer is my Baked Parmesan Zucchini Rounds and this summer has been no exception, as that recipe had enjoyed some viral traffic in recent weeks.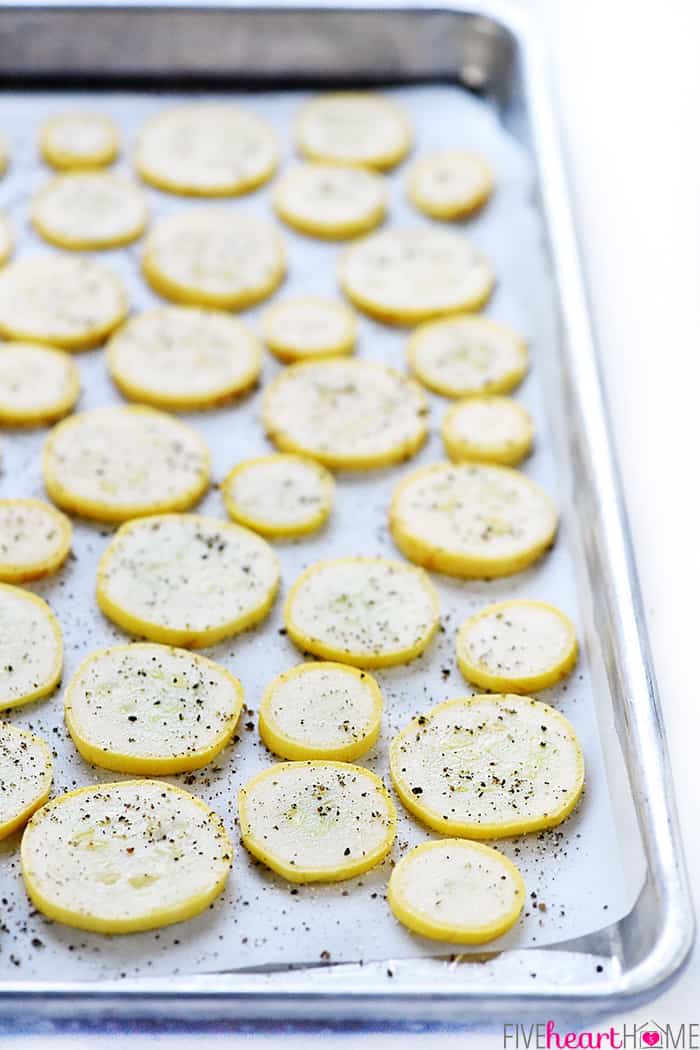 On one hand, it makes me laugh, because that recipe is SO easy (only 2 ingredients!) that it almost doesn't qualify as a recipe and I almost never posted it. On the other hand, I completely understand how the recipe goes crazy every summer, because not only is it super simple to make, but it's also completely addictive. It's seriously my favorite way to eat zucchini. In fact, I can polish off whole pan of Baked Parmesan Zucchini Rounds in no time flat! But unfortunately, my family loves 'em, too, so I'm typically forced to share. 😉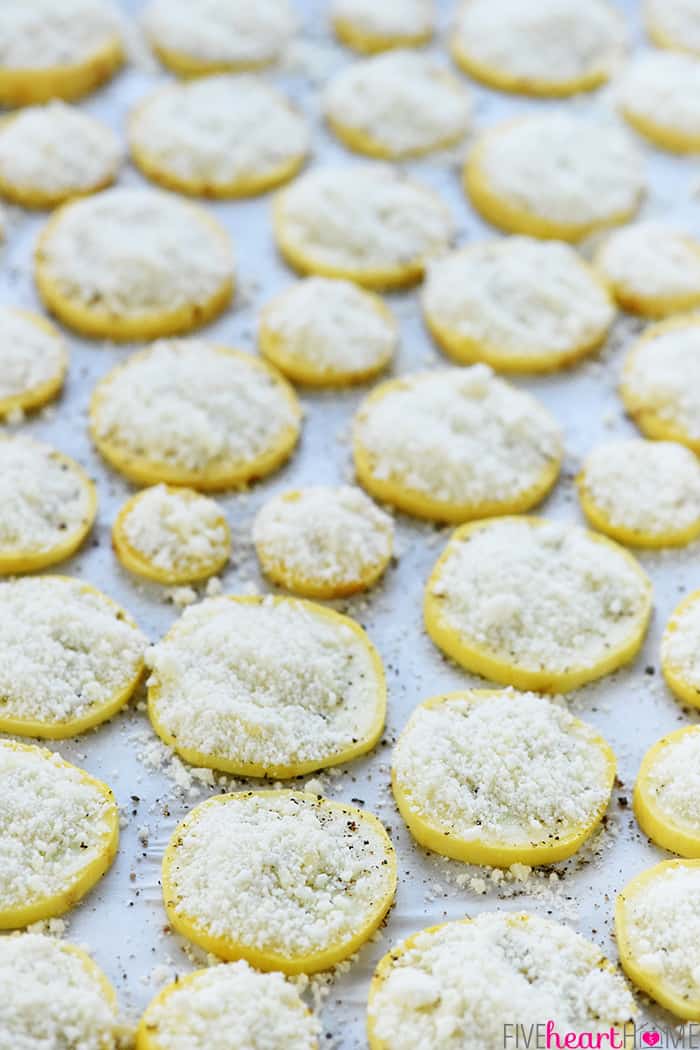 With its most recent surge in popularity, I received a few comments asking if that zucchini squash recipe could be converted into a yellow squash recipe -- AKA, summer squash. And the truth is, I'd never tried Baked Parmesan Yellow Squash Rounds before, because (1.) it's hard for me to believe that the zucchini version of this recipe could be improved upon, and (2.) I typically only care for yellow squash when it's cooked in very specific ways (think cheesy, cracker-topped, baked Southern Squash Casserole).
But the question intrigued me, and so I decided to give Baked Parmesan Yellow Squash Rounds a go. And Y'ALL...why did I never try them before??? Not only was this squash recipe every bit as tasty as its zucchini cousins, but it was equally addictive, too! As soon as I finished taking these photos, my 7-year-old, my husband, and I stood around the plate and polished off every last one of these suckers (we grabbed them with our fingers and I'm not even sorry). It was like the best kind of appetizer, and I admit to feeling just a tad smug that the three of us downed two whole, nutritious yellow squashes in a matter of minutes.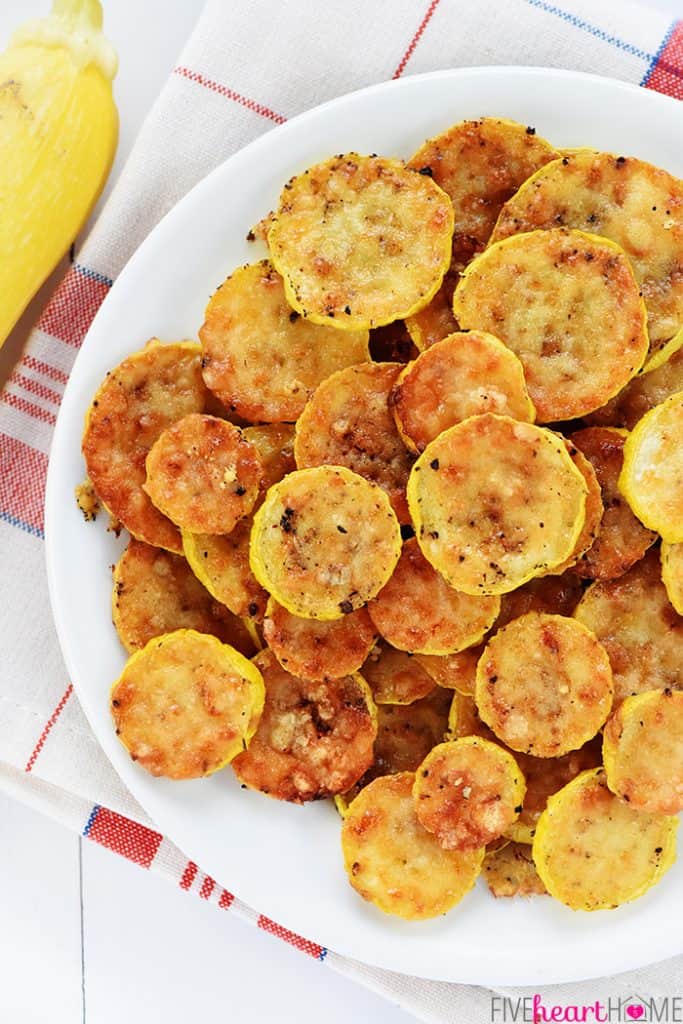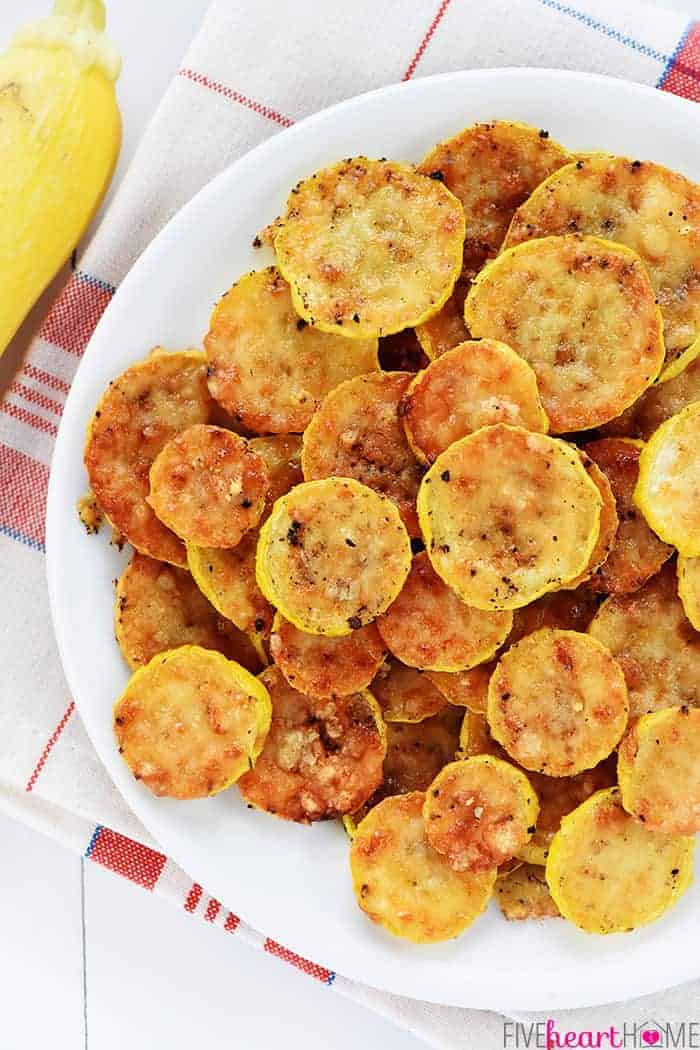 How to Cook Yellow Squash
It's hard to believe that a recipe requiring just two simple ingredients could be so yummy. But it is...and it's super easy to make, too! Just cut your yellow squash into slices that are no more than ¼-inch thick (remembering that they'll shrink in diameter and thickness as they bake), arrange them on a baking sheet, and sprinkle them with salt and pepper (I actually like to use garlic salt for extra flavor). Then use a small spoon to top each piece of squash with a mound of freshly-grated Parmesan cheese. Bake until the squash is soft and the cheese is melted and bubbly. You can even broil them for a minute or two at the end to get that cheese nice and golden brown, which is what I like to do (just watch them carefully so they don't burn!).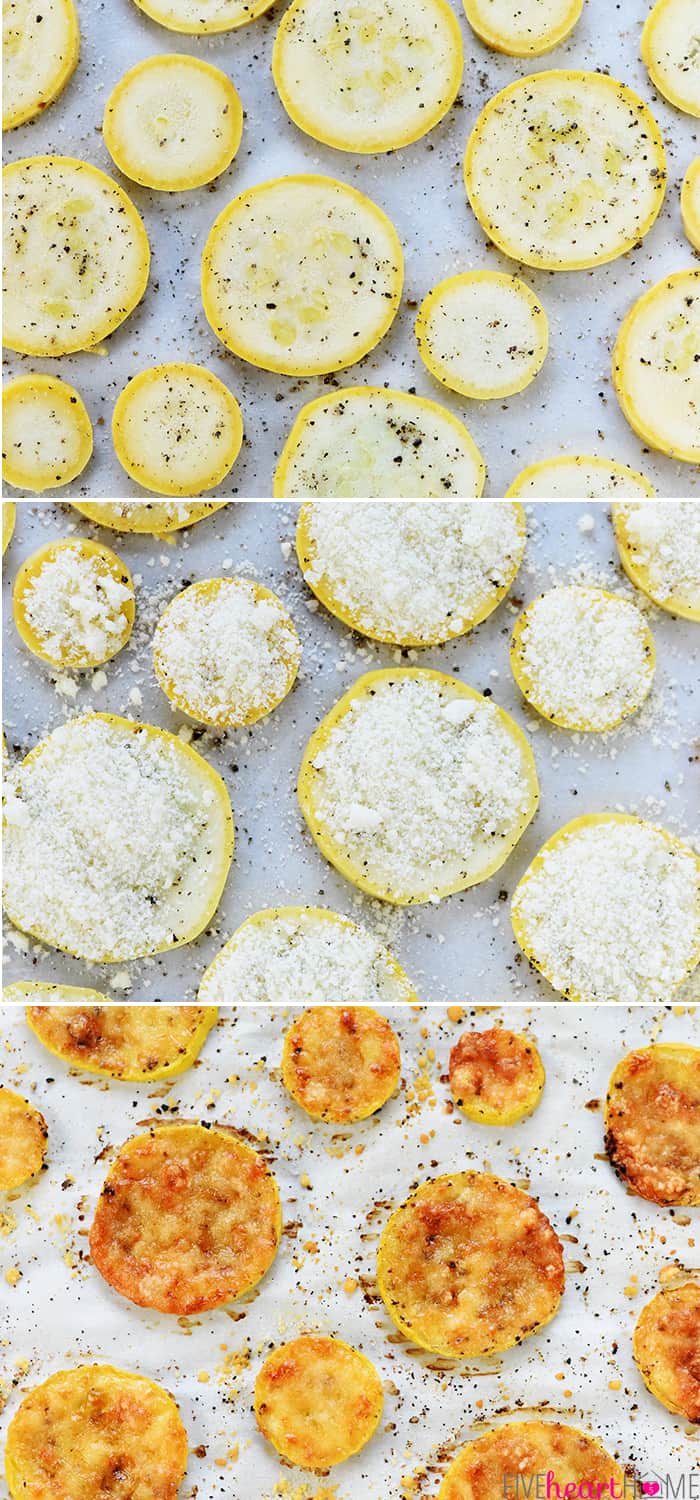 Type of Parmesan for this Squash Recipe
Now, I'm going to inevitably get questions about the Parmesan cheese that can be used for this recipe. My recommendation is to use freshly-grated Parmesan. You can either grate it yourself or buy it already-grated from the cheese counter area of your grocery store. I feel like real grated Parm is going to melt more smoothly and result in the best flavor and texture.
That being said, if you want to try using real shredded Parmesan, just be prepared for melting and browning that may look different than what you see in these pics. And if you decide to use the contents of that ubiquitous green shaker can...well, don't hold me responsible if it doesn't melt at all. 😉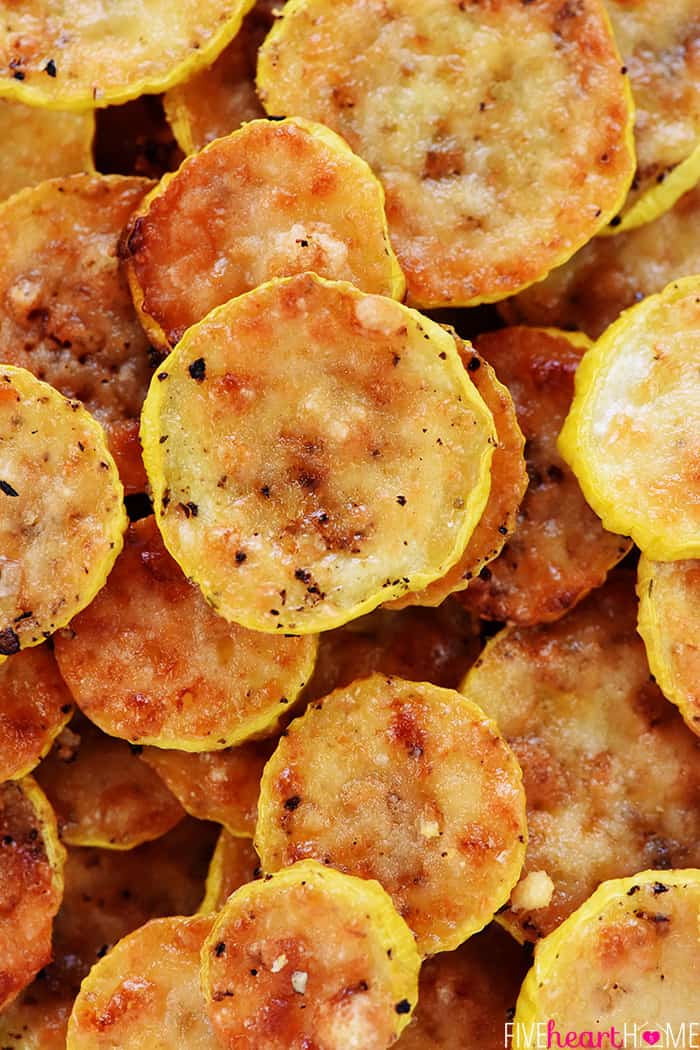 So who's ready to love yellow summer squash more than you've ever loved it before? (Or at least like it in the event that you hated it before...) 😉 These Baked Parmesan Yellow Squash Rounds are my new favorite summer side. In fact, I'm kicking myself that I never thought to try them before. But lucky for me, at least now I can make up for lost time...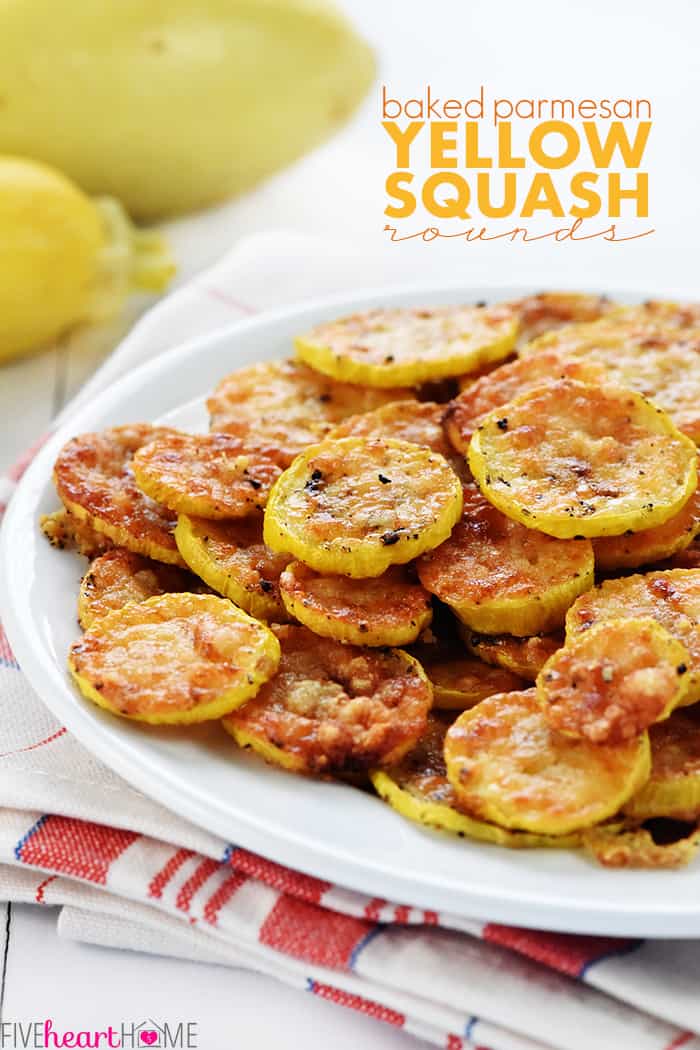 More Summer Side Dishes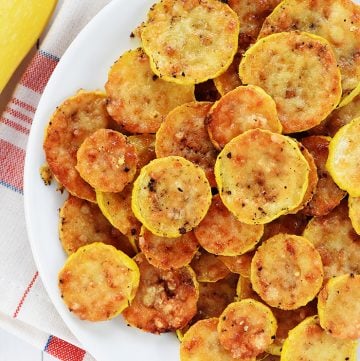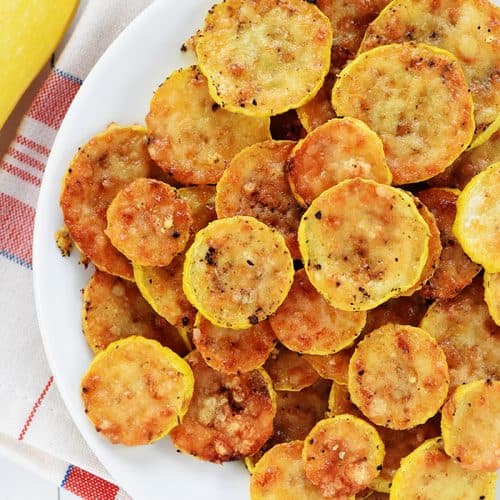 Baked Parmesan Yellow Squash Rounds
Baked Parmesan Yellow Squash Rounds...an easy and delicious squash recipe requiring just two ingredients: yellow squash and grated Parmesan!
Print
Pin
Rate
Servings:
2
to 4 servings
Ingredients
2

medium-sized yellow summer squash

Garlic salt & freshly ground black pepper

½

cup

freshly grated Parmesan cheese
Instructions
Place an oven rack in the center position of the oven. Preheat the oven to 425°F. Line a baking sheet with foil (lightly misted with nonstick cooking spray) OR parchment paper.

Wash and dry the squash, and then cut each one into ¼-inch thick slices. Arrange the squash rounds on the prepared pan, with little to no space between them. Lightly sprinkle the squash with garlic salt and freshly ground black pepper. Use a small spoon to spread a thin layer of Parmesan cheese on each slice of squash.

Bake for 15 to 20 minutes, or until the Parmesan melts and turns a light golden brown. (Watch these closely the first time you make them and pull them out of the oven early if the Parmesan is golden before 15 minutes. Alternatively, you may broil them for a minute or two at the end of the cooking time to speed up the browning.) Serve immediately.
Calories:
139
kcal
|
Carbohydrates:
7
g
|
Protein:
11
g
|
Fat:
7
g
|
Saturated Fat:
4
g
|
Cholesterol:
22
mg
|
Sodium:
386
mg
|
Potassium:
544
mg
|
Fiber:
2
g
|
Sugar:
4
g
|
Vitamin A:
610
IU
|
Vitamin C:
33.3
mg
|
Calcium:
307
mg
|
Iron:
0.9
mg
Save
Save