Sweet and tender baked apples that have been stuffed with a mixture of granola and peanut butter make a perfect breakfast, snack, or dessert!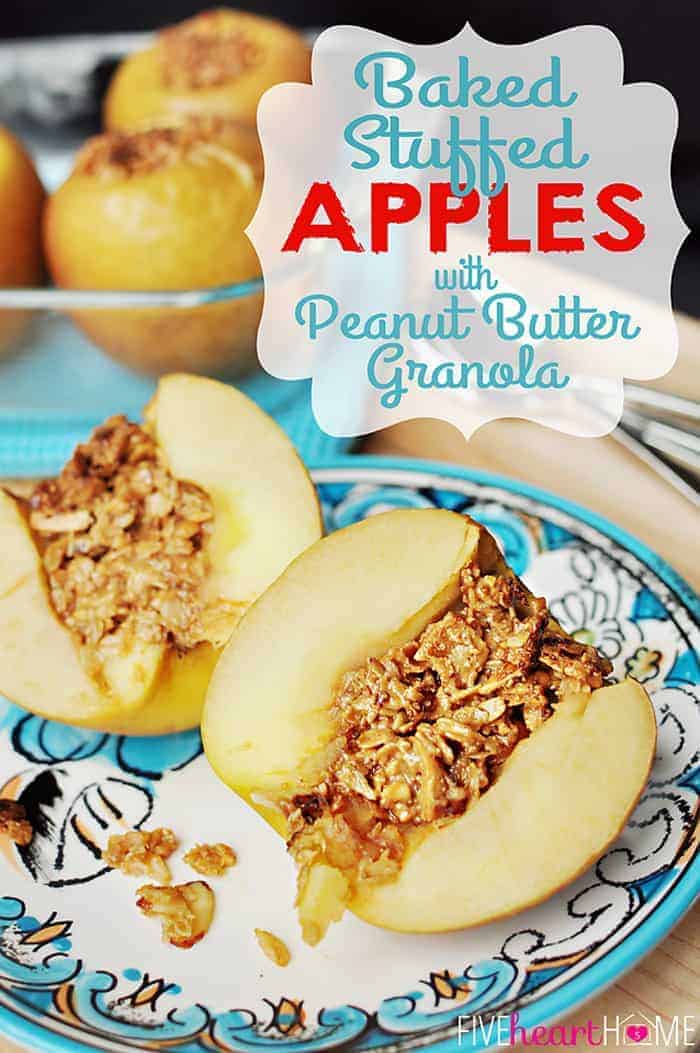 Today I bring you a post that I had originally planned on sharing next month, since apples are a rather autumn-like ingredient and, well…at the moment, we're still smack dab in the middle of a blazing hot August. I'll get to that backstory in a moment. But first, let's discuss this recipe, shall we?
If you've ever enjoyed a stuffed, baked apple, you might recall that they're typically filled with a mixture of oats, brown sugar, and spices, then topped with a pat of butter. Easy enough, right? Well, this super simple spin on the classic only calls for three ingredients…and I bet you can guess what those ingredients are!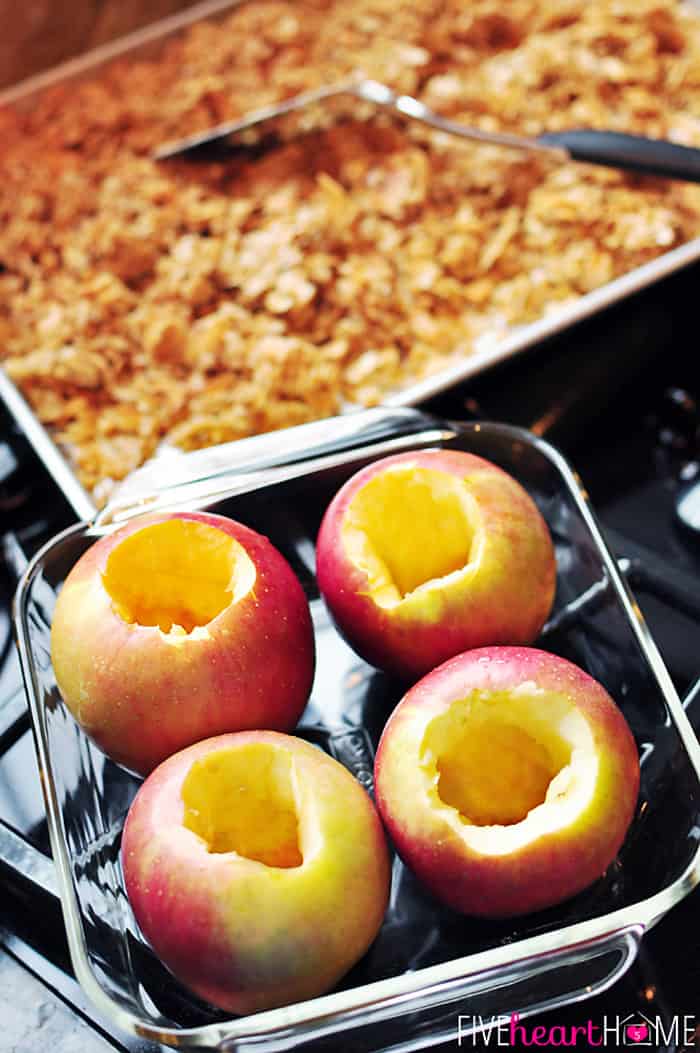 I like to keep a tub of my tried-and-true homemade granola on hand for breakfast and snacking, so that's what I typically use in my apples. However, if you have a favorite brand of store bought granola, that will work just as well! To your granola, simply stir in a few tablespoons of peanut butter, stuff the mixture into your cored apples, and then bake until the apples are soft and sweet and the granola gets chewy in the center and crunchy on top.
The final result is a nutritious breakfast, a healthy after-school snack, or a wholesome dessert, particularly if you control the ingredients in the granola by making your own (my aforementioned fave recipe is chock-full of nuts, coconut oil, and honey). In fact, since Baked Stuffed Apples fall into the "relatively good for you" category, you shouldn't feel too guilty if you decide to balance out all of that apple/oat/peanut butter goodness with a nice scoop of vanilla ice cream melting down over the top. 😉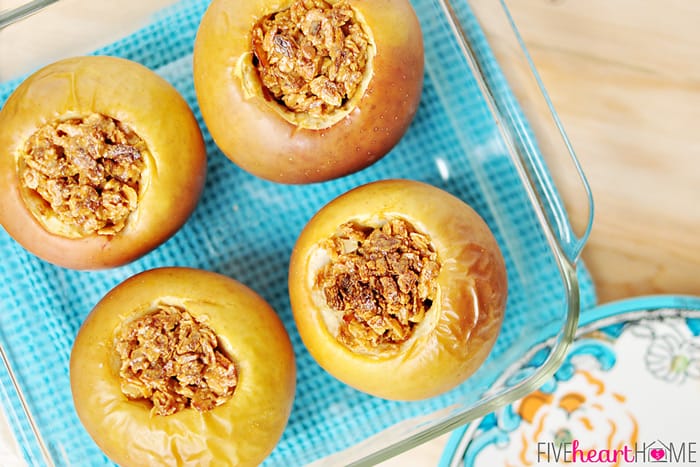 So have I convinced you to make these cozy, delicious, Baked Stuffed Apples with Peanut Butter Granola, even if fall hasn't arrived quite yet? At any rate, I feel certain that you've spent the last few paragraphs just dying to know why this recipe got bumped up in my editorial calendar. 😉 Well, I'm sad to report that last Sunday, just as I was wrapping up the photo shoot for this 30-Minute Skillet Lasagna, my trusty Nikon officially kicked the bucket. I'm sans camera at the moment, and as you can imagine, being camera-less presents a rather significant challenge to a food blogger.
While I'm excited to be upgrading my equipment, I hadn't planned on doing so quite yet. And on top of that? As a sentimental sap, I'm a tiny bit depressed that my first DSLR — the one that ignited my passion for photography, the one that's captured my kids' every milestone from the time my eldest was just a year old, the one that's carried me through my first 14 months of this food blogging journey — is irreparable. So let's all have a moment of silence for my beloved D90. 🙁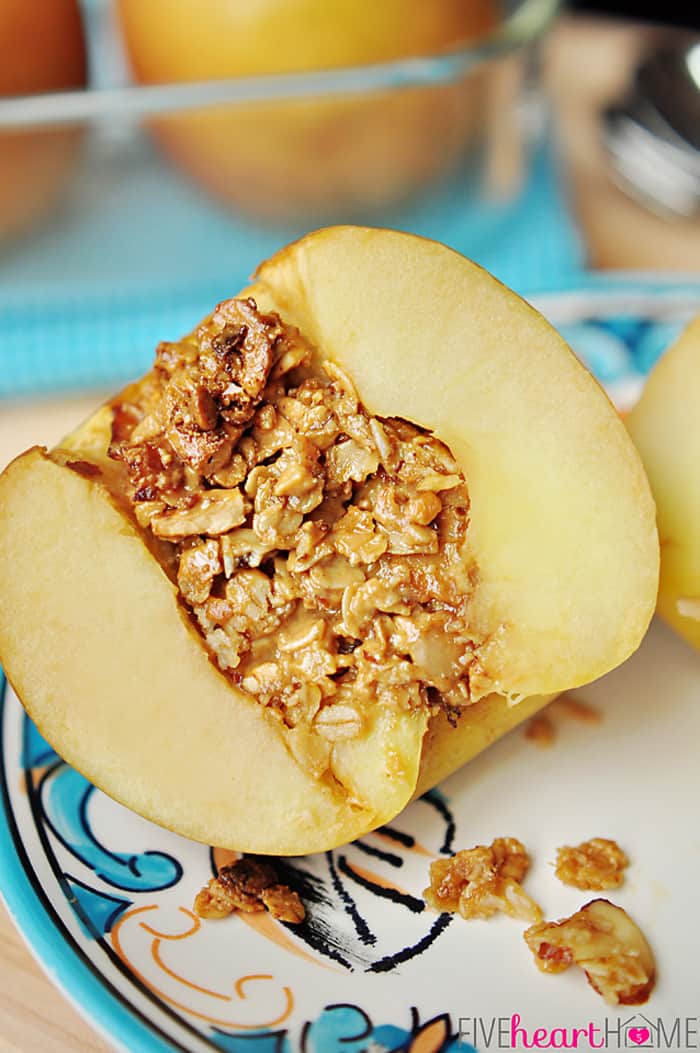 Anyway, here's the scoop: the new camera that I've decided on is currently on backorder (grrrr), but it's estimated to be on my doorstep by the middle of next week (fingers crossed!). In the meantime, a sweet friend has lent me her older model back-up camera, but I haven't had time to try it out yet in the midst of this week's back-to-school chaos and oh-my-gosh-I-need-a-new-camera hubbub. So I decided to buy myself a bit of time today by posting this previously photographed baked apple recipe, which I originally shared over at Dessert Now, Dinner Later last winter.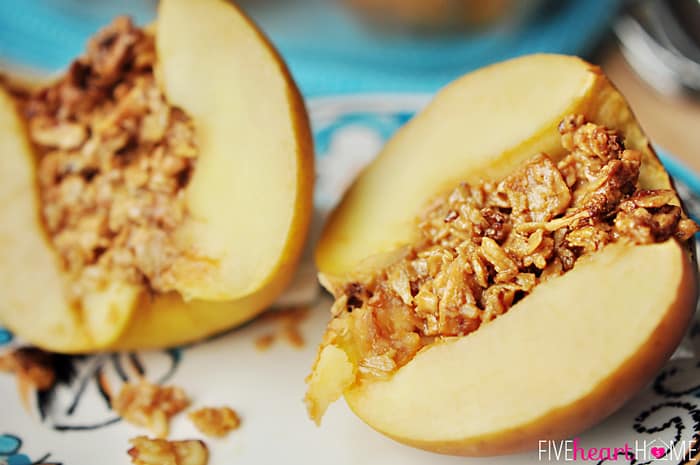 I plan on commencing with my regularly scheduled posts this weekend, shooting with my friend's camera. And then hopefully by the week after next, you'll see posts featuring photos from my shiny, new, big girl camera! In a nutshell? That's probably way more than y'all wanted or needed to know, but I just wanted to explain any inconsistencies in my photography over the next few weeks as I figure out how to navigate an old borrowed camera and then learn a new, totally-above-my-head one. Wish me luck! 😉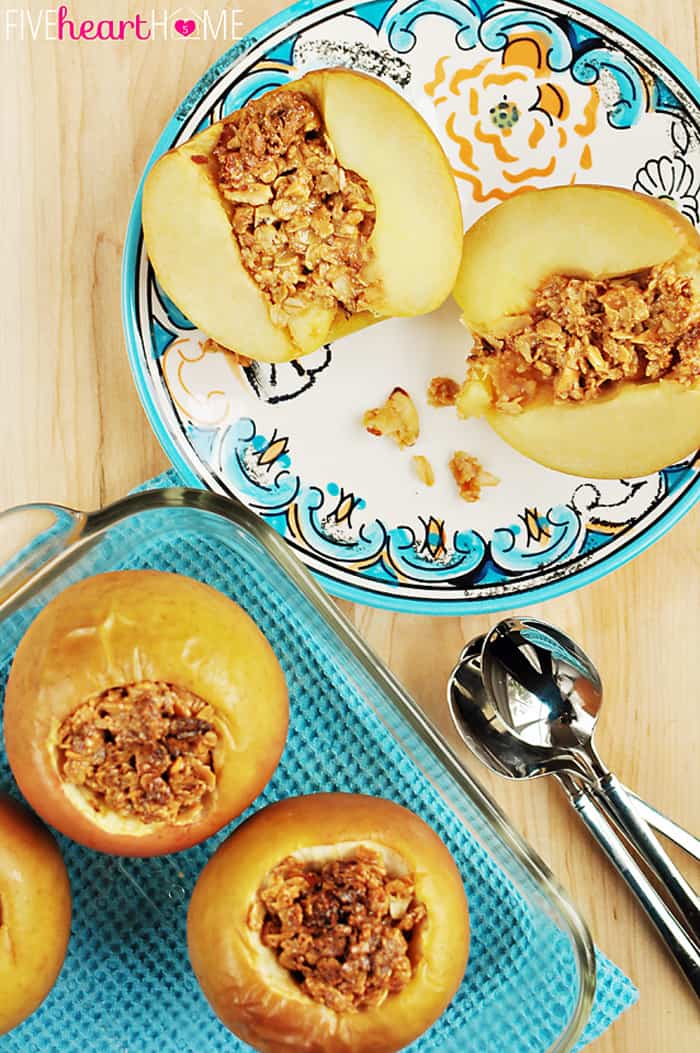 But in the meantime, enjoy some tasty, granola-stuffed, peanut buttery baked apples! Because anything that's tastes like dessert yet is wholesome enough to masquerade as breakfast is definitely worth trying, whether it's August or November. 😉
Baked Stuffed Apples with Peanut Butter Granola Recipe
Baked Stuffed Apples with Peanut Butter Granola
Sweet and tender baked apples that have been stuffed with a mixture of granola and peanut butter make a perfect breakfast, snack, or dessert!
Ingredients
4 baking apples (such as Fuji, Golden Delicious, Jonagold, Braeburn, McIntosh or Rome Beauty)
1 cup granola
2 to 3 tablespoons peanut butter (creamy or crunchy)
1 cup hot water
Instructions
Preheat oven to 350°F.
Prepare apples by using an apple corer, small knife, melon baller, and/or spoon to remove the stem and scoop out the seeds, leaving a 1/2-inch at the bottom of the apple intact and creating a hole that's a little less than 1 inch wide.
Measure the granola into a medium bowl, and use the back of a spoon to work the peanut butter in until it's evenly incorporated. Use more or less peanut butter depending on your preference (I use 3 tablespoons when I make this recipe).
Evenly divide the peanut butter/granola mixture between the apples, stuffing it down into each cored out hole. Place apples in an 8-inch square baking dish and carefully pour hot water into the bottom of the dish. Cover dish with foil and bake for 30 minutes. Remove foil and bake for an additional 20 to 25 minutes, or until apples are to your desired tenderness and skin looks wrinkly.
Notes
Test apples for doneness by inserting a sharp knife into the center of an apple where it touches the granola. There should be little to no resistance. Certain varieties of apples and larger apples will take longer to soften. If apples are still too firm at the end of the baking time, you may want to recover them with foil before cooking any longer so that the granola doesn't get too dark.
https://www.fivehearthome.com/baked-stuffed-apples-with-peanut-butter-granola/
https://www.fivehearthome.com ~ All recipes and images on Five Heart Home are copyright protected. Please do not use without my permission. If you would like to feature this recipe, please rewrite the directions in your own words and give proper attribution by linking back to this blog.
Recipe originally posted at Dessert Now, Dinner Later January 16, 2014.
More Wholesome Breakfast Recipes