This decadent Banana Coffee Cake is layered with Chocolate Pecan Streusel for a dense, moist interior, a crunchy exterior, and a sweet surprise in the middle!

Sometimes you need a really impressive dessert-masquerading-as-breakfast to impress a crowd, and today's Banana Coffee Cake with Chocolate Pecan Streusel is just that sort of recipe. Whether you're hosting a playgroup, entertaining family or friends at brunch, or you simply want to treat your co-workers to a mouthwatering morning surprise, this coffee cake has got you covered!
Coffee cake actually makes me nostalgic for my relatives in Germany. When we travel overseas to visit them, it's always a special treat to sit around the table with family, share stories, drink coffee, and enjoy fat slices of some sort of special, traditional, German cake. So if they were visiting me in America, I'd serve them this Banana Coffee Cake with Chocolate Pecan Streusel and, odds are, they'd be just as impressed with it as I am by their lovely German küchens.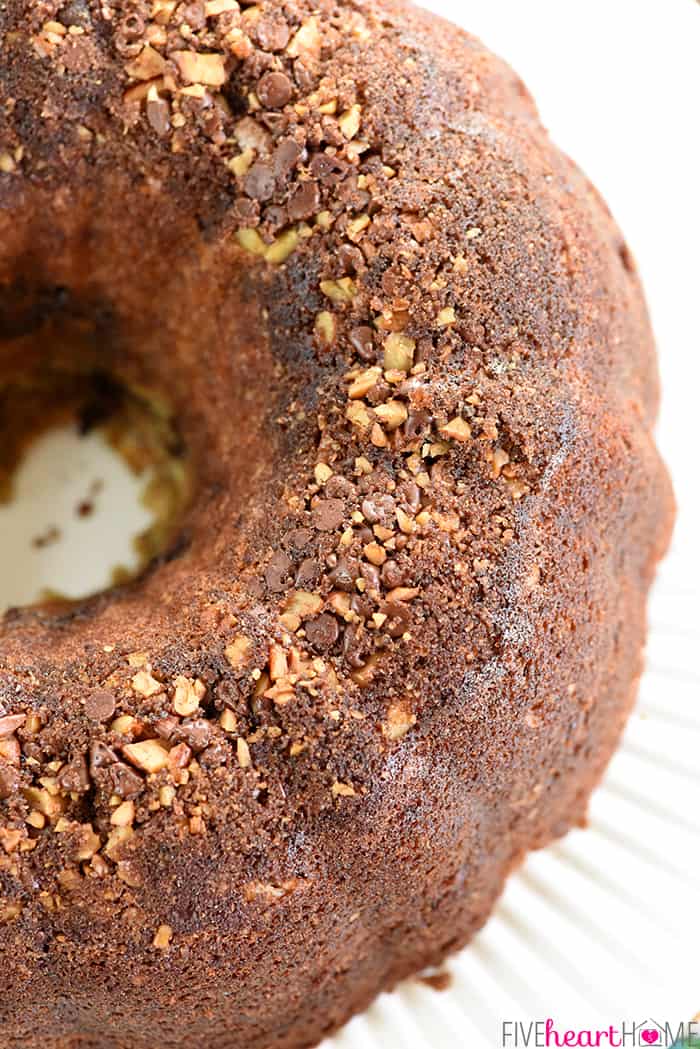 The base of this coffee cake is a variation of my all-time favorite banana bundt cake (which I love so much that I also morphed it into a delectable Pumpkin Biscoff Bundt Cake, but I digress). The bundt cake is super moist, thanks to a generous dose of Greek yogurt, and it's bursting with mashed banana and a liberal splash of vanilla. But eventually, all things merge into one, and a streusel runs through it. (Bless my 90s-loving heart…) And that streusel, my friends, is what MAKES THE CAKE.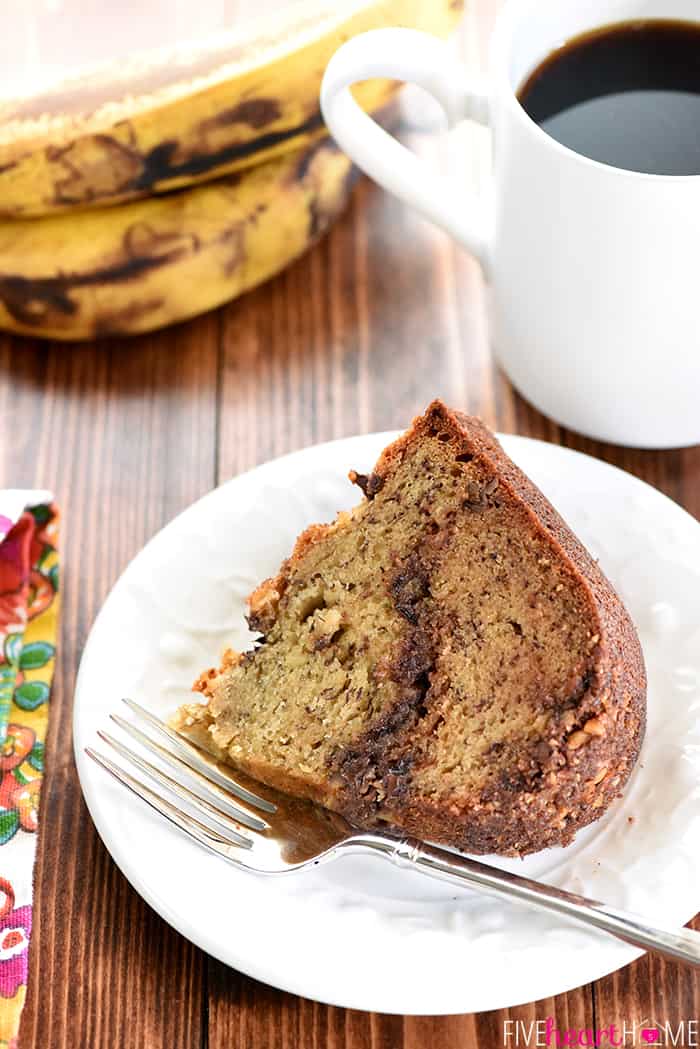 Streusel is typically some combination of flour, sugar, butter, and possibly a bit of cinnamon. Well, not this streusel. Instead of butter, this streusel boasts mini chocolate chips. Instead of flour, there are finely chopped toasted pecans. The brown sugar is still in there, and so is the cinnamon. But it's the chocolate-pecan combo that really shines. Not only is it a perfect complement to the banana, but it also adds appealing texture to the cake.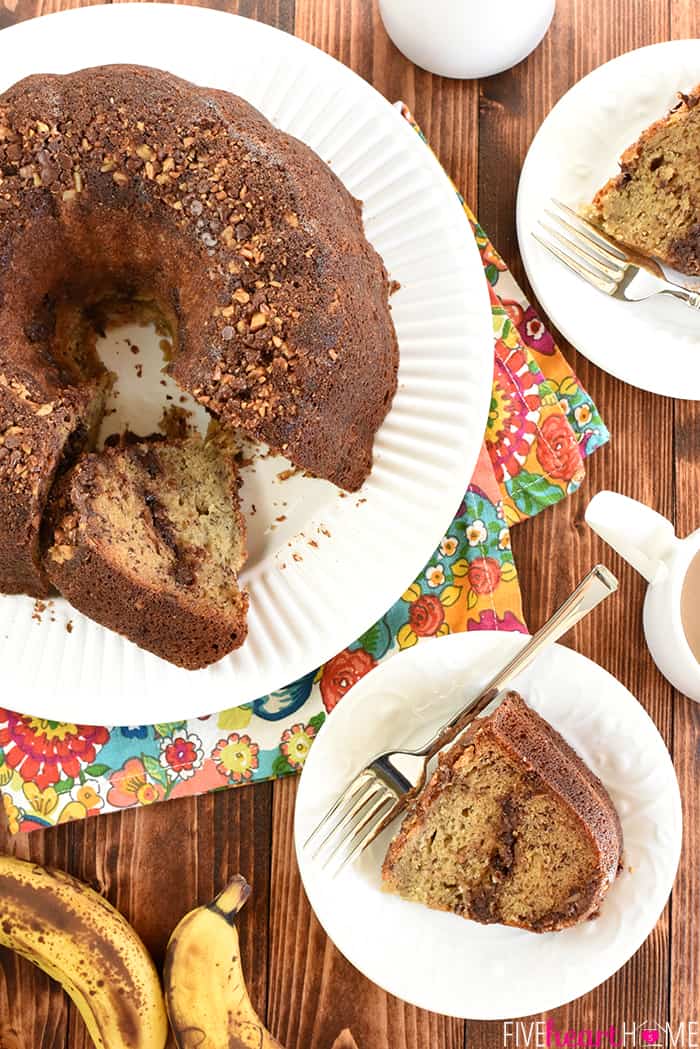 By sprinkling some streusel in the bottom of the bundt pan, the top of the cake (after it's flipped out of the pan…stay with me here) ultimately ends up with a nice, crunchy exterior. The next layer of streusel is sprinkled after half of the batter has been spread into the pan, resulting in a ribbon of chocolate-pecan goodness through the center of the cake. And finally, the remaining streusel is scattered on top once all of the cake batter has been transferred to the pan…meaning that, once inverted, the bottom of the cake will be sweet-chocolatey/pecan-crunchy as well. Does that even make sense? Or will you just follow the directions and trust me that the Chocolate Pecan Streusel layered throughout is fabulous?!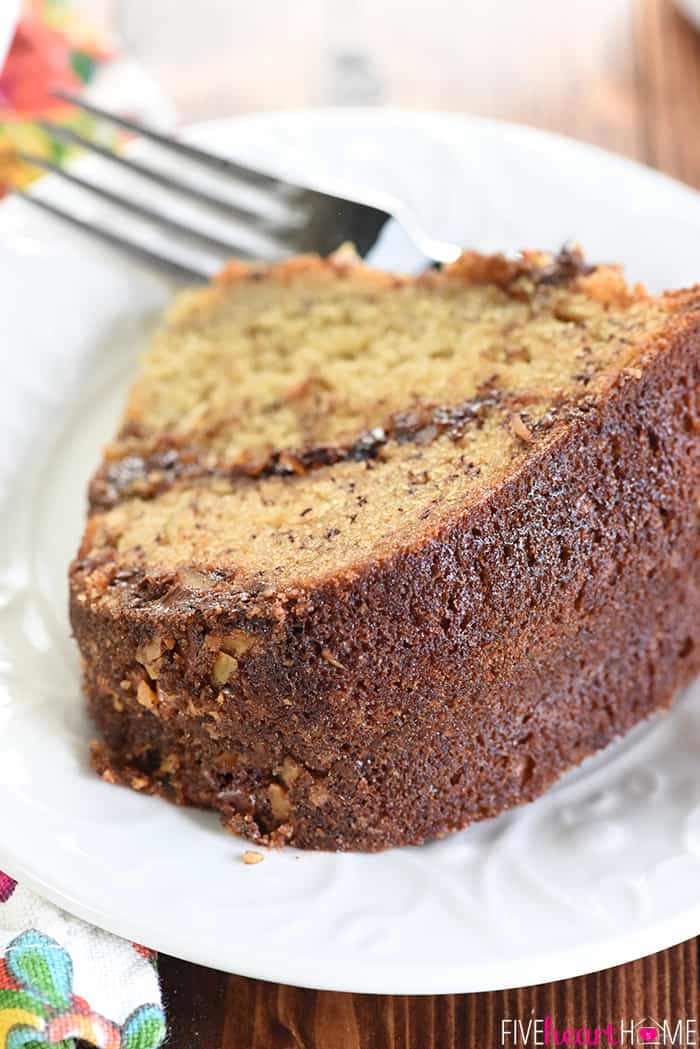 My one word of warning is to make sure the pan you use is big enough…it needs to be a bundt pan (or a tube pan) with a 12-cup capacity. I've never had this cake overflow, but it does rise right up to the top of the pan, so I always put a cookie sheet under my cake pan, just in case. And don't be surprised when your cake needs to bake for a good while. So pop it in the oven and catch up on laundry or e-mails or all of those DVRed Real Housewives episodes (I won't tell). If your cake is still a bit gooey in the center by the time the socks are dry or the inbox is empty or the third housewife this episode has succumbed to a crying jag, then simply check it with a wooden toothpick every 5 minutes until it tests done. Easy!
So those dark, mushy bananas on the counter? Don't throw 'em away. Allow them to conclude their time on this earth in a blaze of glory via a Banana Coffee Cake with Chocolate Pecan Streusel! After all, a banana never knew a happier fate and a coffee cake never tasted so spectacular.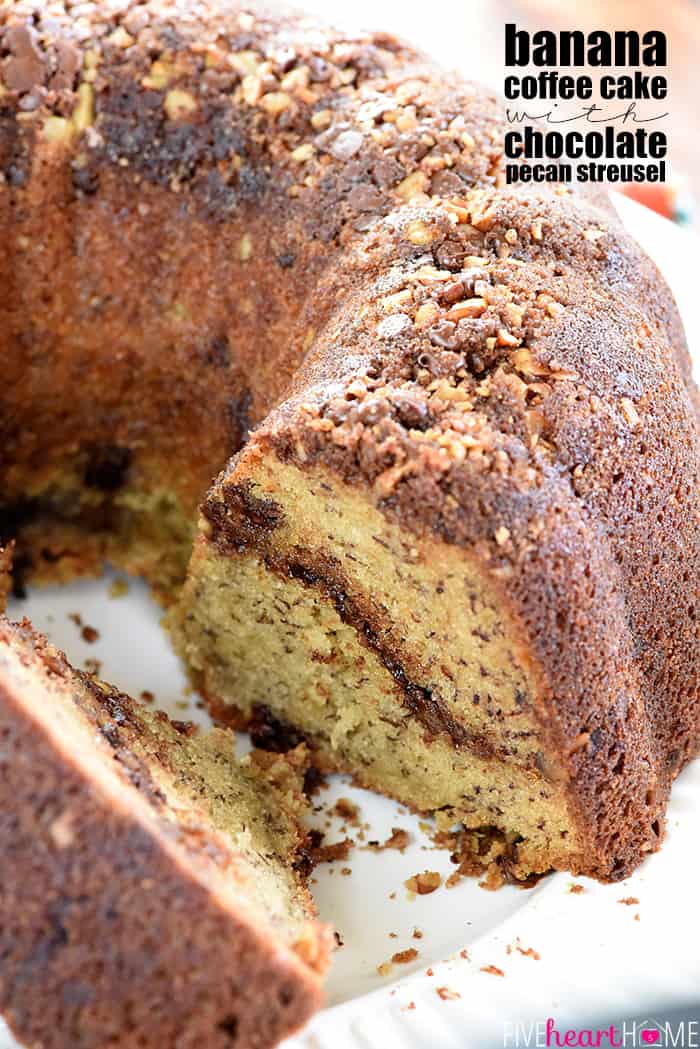 Banana Coffee Cake with Chocolate Pecan Streusel
This decadent Banana Coffee Cake is layered with Chocolate Pecan Streusel for a dense, moist interior, a crunchy exterior, and a sweet surprise ribboned throughout!
Ingredients
FOR THE CAKE:
3 cups all-purpose flour
2 teaspoons baking soda
1/2 teaspoon salt
1 cup unsalted butter, at room temperature (plus more for greasing pan)
1 cup sugar
2/3 cup (packed) brown sugar
2 large eggs
1 tablespoon pure vanilla extract
4 very ripe bananas, mashed (for a total of 1 1/2 to 1 3/4 cups)
1 cup Greek yogurt
FOR THE STREUSEL:
1 (10-ounce) bag mini chocolate chips (about 1 1/2 cups)
2/3 cup finely chopped pecans, toasted & cooled
2/3 cup (packed) brown sugar
4 teaspoons ground cinnamon
Instructions
FOR THE CAKE:
Place rack in the center of the oven and preheat oven to 350°F. Generously coat a 9- to 10-inch (at least 12-cup) non-stick Bundt pan (or tube pan) with softened butter.
In a medium bowl, whisk together the flour, baking soda, and salt.
In another bowl, use an electric mixer to beat the butter until creamy. Add sugars and beat on medium-high speed for a few minutes until light and fluffy. Add the eggs one at a time, beating well after each addition. Blend in the vanilla and the mashed bananas, mixing until everything is well incorporated.
Turn the mixer down to low and stir in half of the flour mixture, followed by all of the Greek yogurt and then the remaining flour mixture. Blend until just combined.
Sprinkle about one-third of the streusel mixture into the prepared Bundt pan. Layer half of the batter on top and sprinkle with another third of the streusel. Add the remainder of the batter to the pan and top with the rest of the streusel. Use a knife to swirl through the batter several times, taking care not to scratch your pan. Whack the pan on the countertop to remove any air bubbles.
Place the cake in preheated oven and check at the 30-minute mark. If the top is browning too quickly, carefully tent it with foil for the remainder of the baking time. Bake for a total of 65 to 75 minutes, and then use a wooden skewer to test for doneness. If the cake is still gooey in the middle, continue baking and checking every five minutes.
Remove the cake from the oven and allow it to rest on a cooling rack for 10 minutes before loosening the edges with a thin rubber spatula. Turn the cake out onto the rack and allow it to cool completely. Store leftovers in an airtight container or wrap in plastic wrap.
Notes
For best results, make sure that all ingredients (butter, eggs, Greek yogurt) are at room temperature.
It is normal for the batter to appear curdled upon adding the bananas. It will smooth out after the dry ingredients are mixed in.
My cake baked for a total of 85 minutes before it tested done, and it was still very moist when we ate it.
https://www.fivehearthome.com/banana-coffee-cake-with-chocolate-pecan-streusel/
https://www.fivehearthome.com ~ All recipes and images on Five Heart Home are copyright protected. Please do not use without my permission. If you would like to feature this recipe, please rewrite the directions in your own words and give proper attribution by linking back to this blog.
Streusel adapted from Epicurious
More banana recipes…
Banana Bread & Chocolate Muffins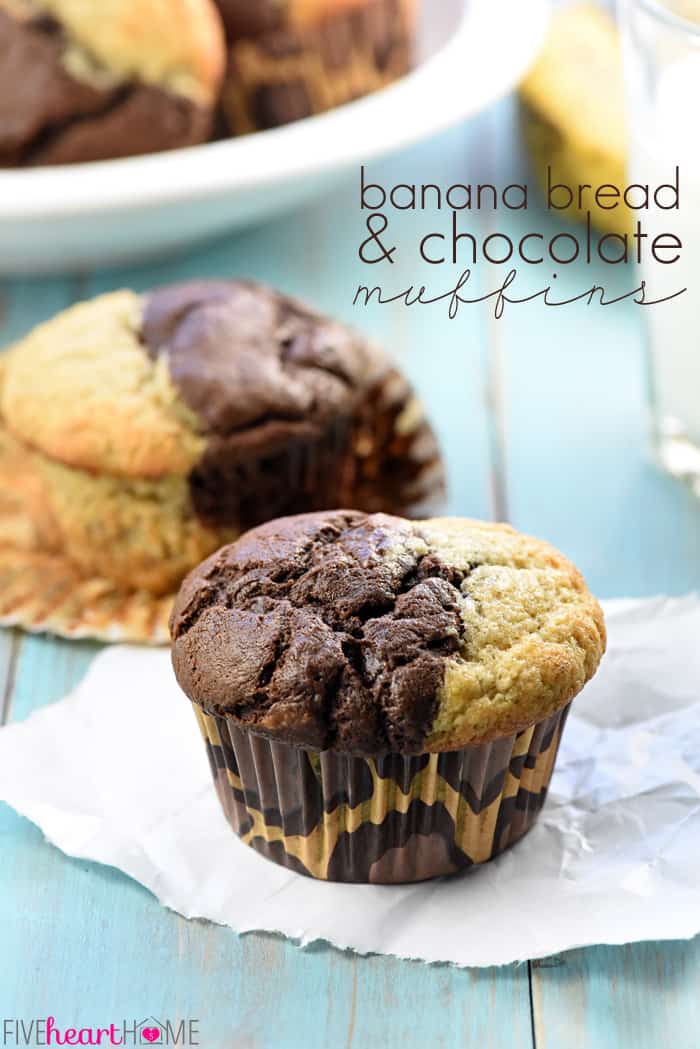 Quick Peanut Butter Banana Oatmeal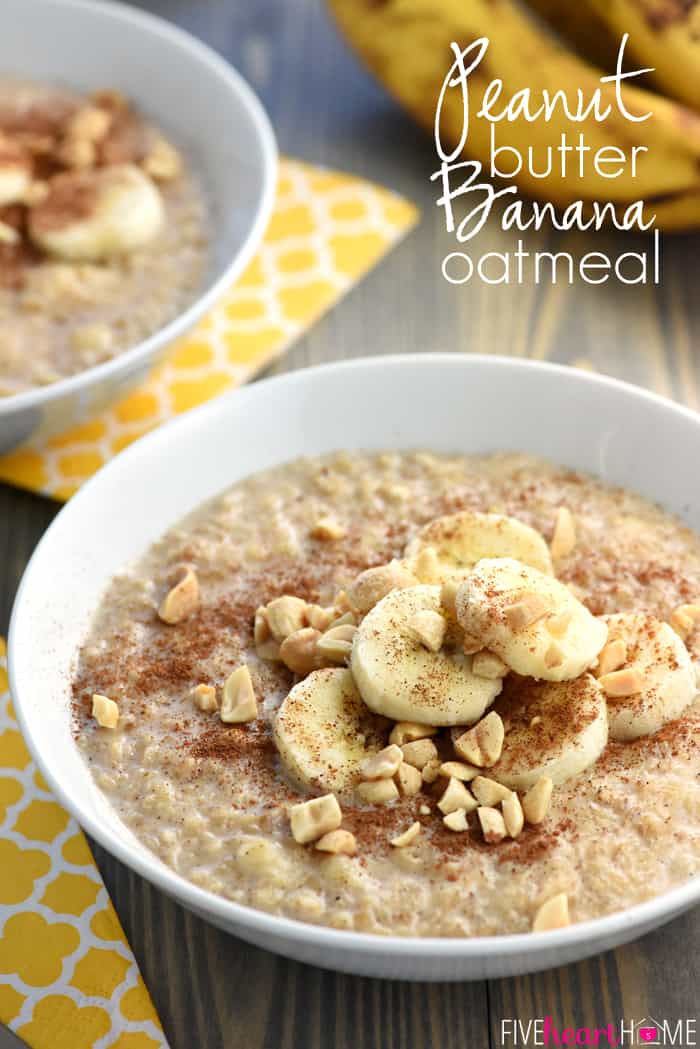 Banana Oat Snack Cake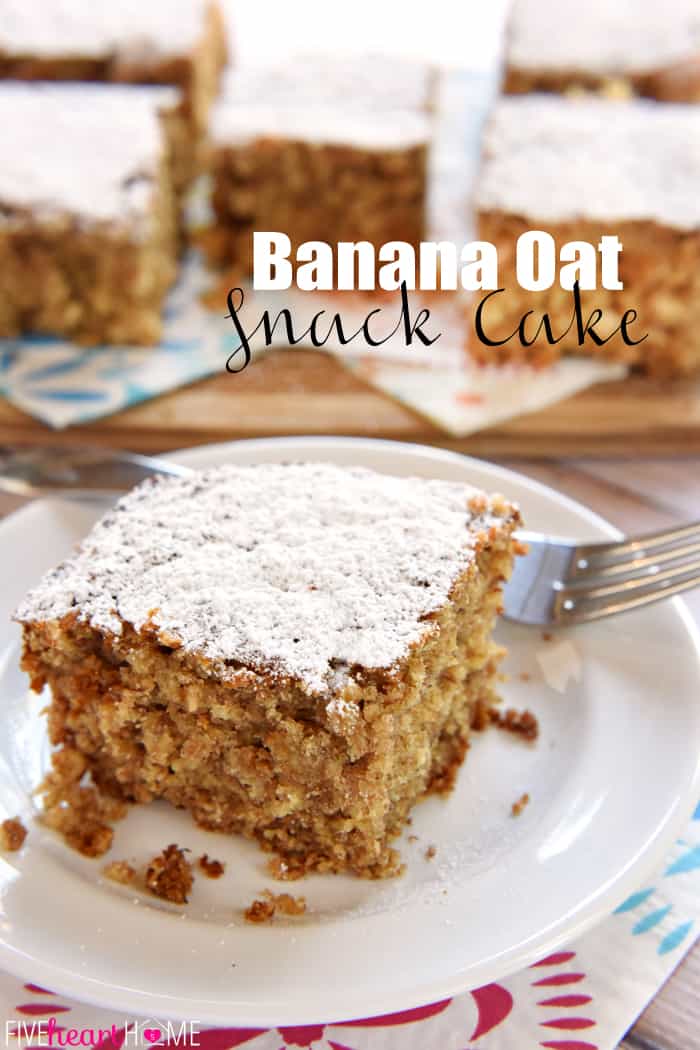 Banana Breakfast Cookies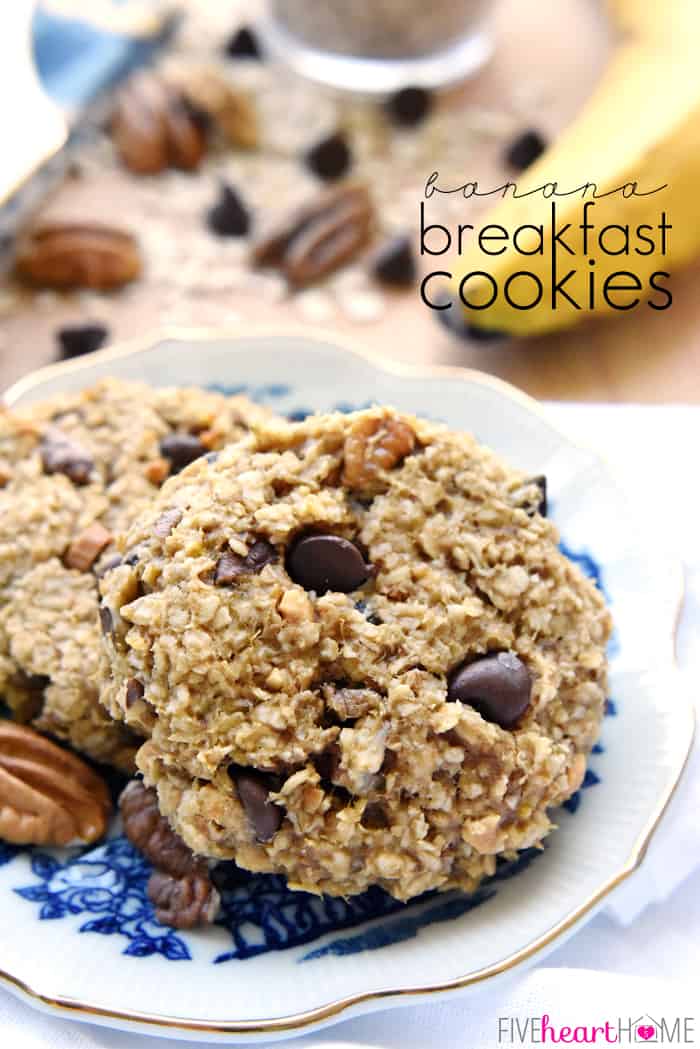 Save
Save
Save
Save
Save