Banana Oat Snack Cake is a moist, lightly sweet cake featuring chewy oats and whole wheat flour, making it a wholesome choice for breakfast or snack time.

Do you ever buy more bananas than your family can possibly eat just so you end up with overripe leftovers for baking? I have to admit that I'm guilty of this. But what can I say? I love me some banana baked goods, from banana bread to muffins to bars to cake.
Since I bake with bananas so often, I occasionally find myself itching to stray from my tried-and-true favorite recipes and experiment with making something a little bit different. And that's how today's Banana Oat Snack Cake was born! Years ago, I used to make a tasty banana snack cake recipe that I recall clipping from a Country Living magazine (old fogey alert!). Alas, somewhere along the way I misplaced that recipe…but I've never forgotten how moist and yummy that snack cake was.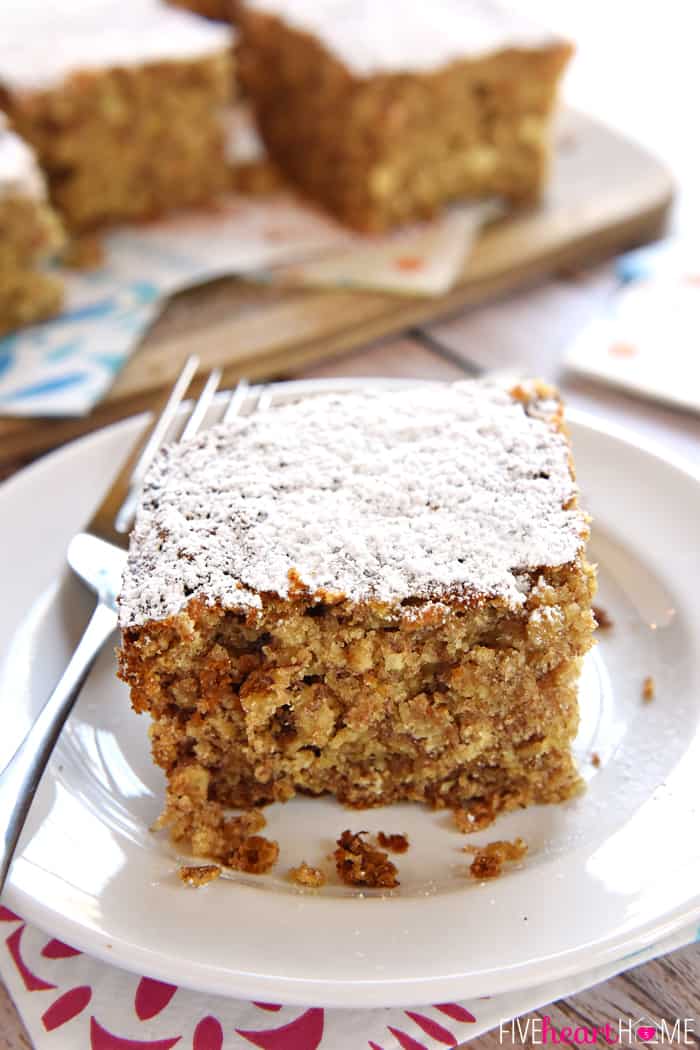 I decided that you, my loyal blog readers, deserve a scrumptious banana snack cake recipe as well…even if I had to recreate a new and improved one from scratch! I knew right off that I wanted to incorporate whole wheat flour, because I always feel better feeding my family whole wheat baked goods when possible, and I know that many of y'all feel the same way. But since I already have a wildly popular recipe here on Five Heart Home for Whole Wheat & Honey Banana Muffins, I thought it would be fun to give my snack cake a little more texture by adding some rolled oats.
So I devised my recipe using whole wheat pasty flour, bananas (of course), softened butter, and rolled oats, and I baked up the batter in an 8-inch square baking dish. It rose beautifully and filled the house with the delicious aroma of baking banana bread. I couldn't wait to try it! And then? FLOP. It totally sunk in the middle. And while it tasted fine warm from the oven, it became dense and almost soggy after sitting for awhile.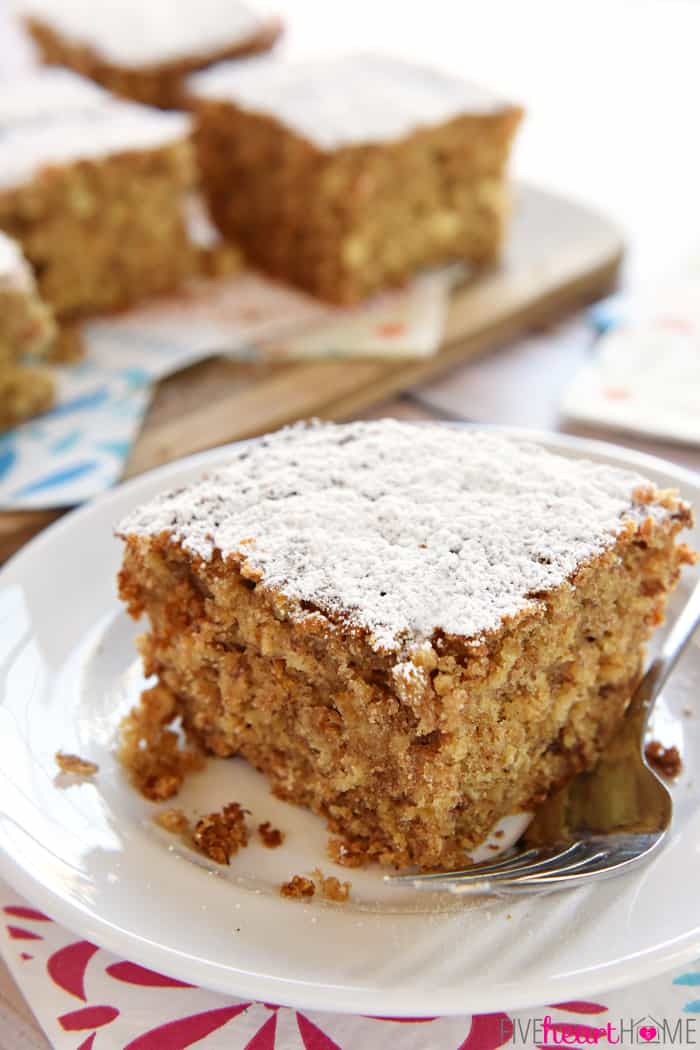 Alas, it was back to the drawing board…about four more times! Every time I tweaked the recipe, something else didn't turn out to my liking. I didn't want to give up, but I was about to. Untillll…
Success! The perfect Banana Oat Snack Cake. Moist but baked through to the center. Sweet, but not cloyingly so. Nicely textured with chewy rolled oats. And still made with half whole wheat pastry flour!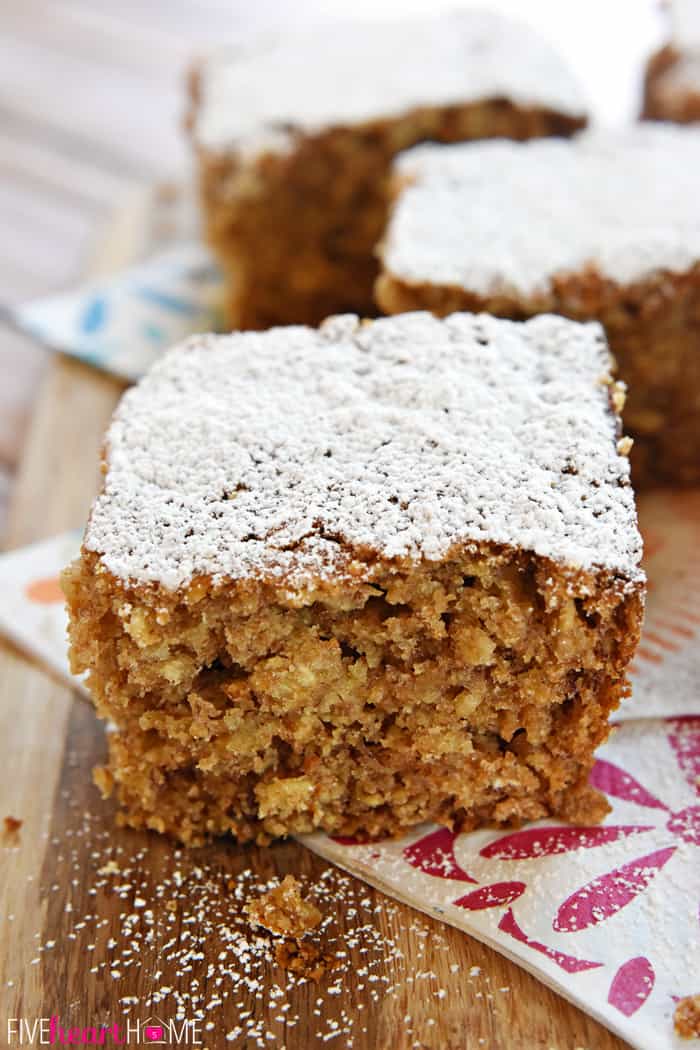 That's right, friends…I simply could not get this recipe to work using all whole wheat flour. It just turned out too heavy and dense after cooling, and typically sunk in the middle, every single time. I finally tried making it with half white, all-purpose flour, and what do you know? The texture was perfect and the center stayed aloft! Hallelu to the jah.
Since I have successfully make banana muffins using 100% whole wheat pastry flour, I'm guessing that this similar batter had a hard time cooking through to the center in an 8- by 8-inch baking dish. And therein lies the key to this recipe. Do not underbake it! It is going to be a deep golden brown when it's done, and that's okay. The center should be completely puffed up with no doughy-looking, sunken spot, and it should test done with a toothpick. The snack cake will still turn out moist thanks to those bananas, but it won't be all gummy in the middle from being underdone.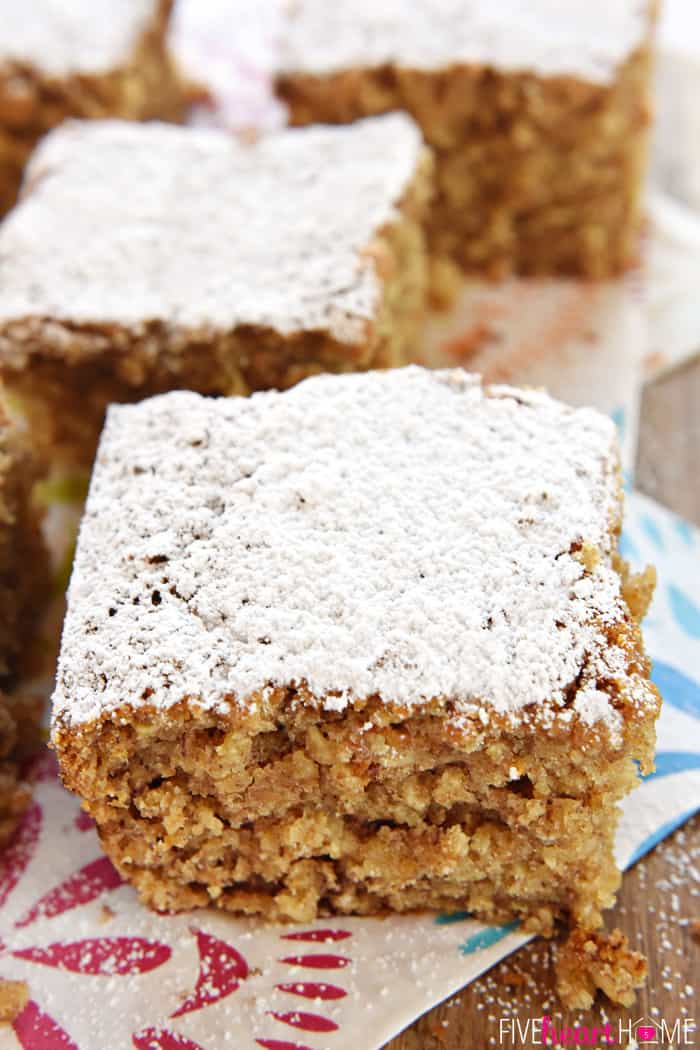 My harshest critics (ages 7, 5, and 2) didn't care for this Banana Oak Snack Cake until I came up with the final version of the recipe that I'm sharing with you today. So when my eldest child happily proclaimed, "Now that one is goooood," I knew that I could finally step away from the mashed bananas. I hope you think it's goooood, too! 😉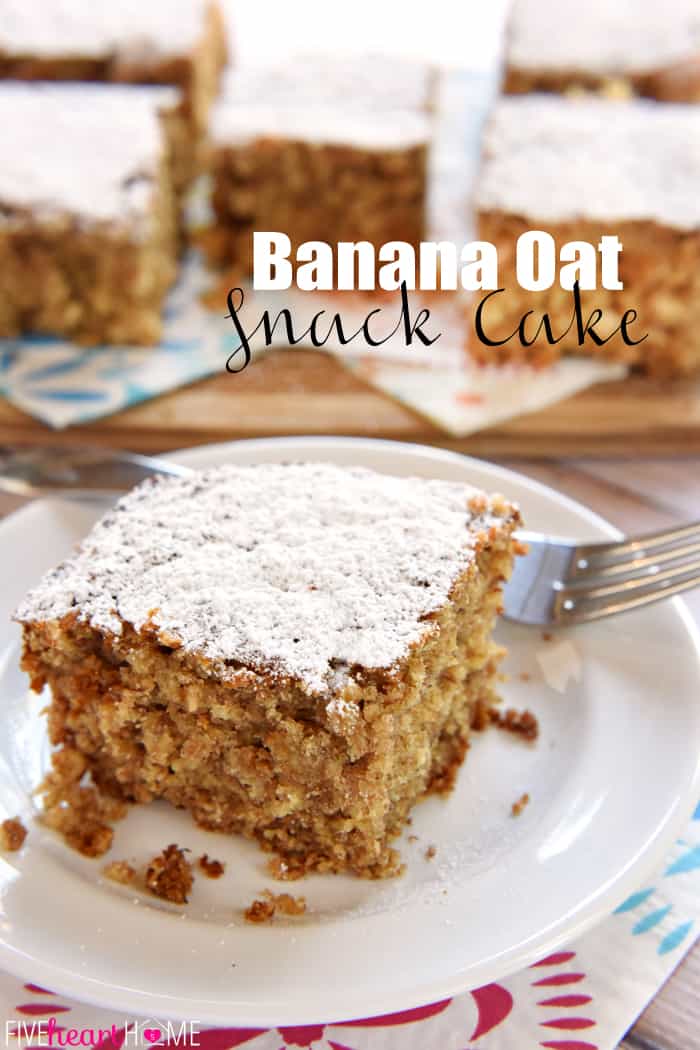 Banana Oat Snack Cake Recipe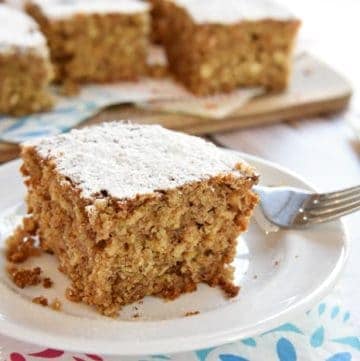 Ingredients
3/4

cup

whole wheat pastry flour

3/4

cup

white all-purpose flour

3/4

cup

old-fashioned rolled oats

1 1/2

teaspoons

baking soda

3/4

teaspoon

salt

3/4

cup

(1 1/2 sticks) unsalted butter

,

at room temperature

1/2

cup

brown sugar

2

eggs

1/3

cup

buttermilk

1

cup

mashed banana

,

about 2 large or 3 medium very ripe bananas

1 1/2

teaspoon

pure vanilla extract
Instructions
Adjust rack to center position of oven and preheat to 350°F. Use butter to grease and flour an 8- by 8-inch square baking dish.

In a medium bowl, whisk together whole wheat pastry flour, all-purpose flour, oats, baking soda, and salt. In a large bowl, use an electric mixer to beat together butter and brown sugar until light and fluffy. Mix in the eggs, one at a time, and then blend in buttermilk, mashed bananas, and vanilla.

Blend in flour mixture until just incorporated. Pour batter into prepared pan and bake for 40 to 45 minutes or until toothpick tests done, cake is puffed up in center, and color is deep golden brown.
Notes
This is not an overly sweet cake. If you use very ripe bananas, it should be sweet enough, but you may add an additional 1/4 cup brown sugar, if you wish. You may also substitute the brown sugar for whole unrefined cane sugar (such as Sucanat or Rapadura).
If you don't have any buttermilk on hand, you can make your own by measuring 1 teaspoon of lemon juice or white vinegar into a glass measuring cup. Add milk to the 1/3 cup line, stir, and allow to sit for 5 to 10 minutes, until thickened and beginning to curdle like buttermilk.
Calories:
324
kcal
|
Carbohydrates:
38
g
|
Protein:
5
g
|
Fat:
17
g
|
Saturated Fat:
10
g
|
Cholesterol:
78
mg
|
Sodium:
406
mg
|
Potassium:
212
mg
|
Fiber:
3
g
|
Sugar:
16
g
|
Vitamin A:
555
IU
|
Vitamin C:
2.3
mg
|
Calcium:
40
mg
|
Iron:
1.5
mg
Adapted from Food.com