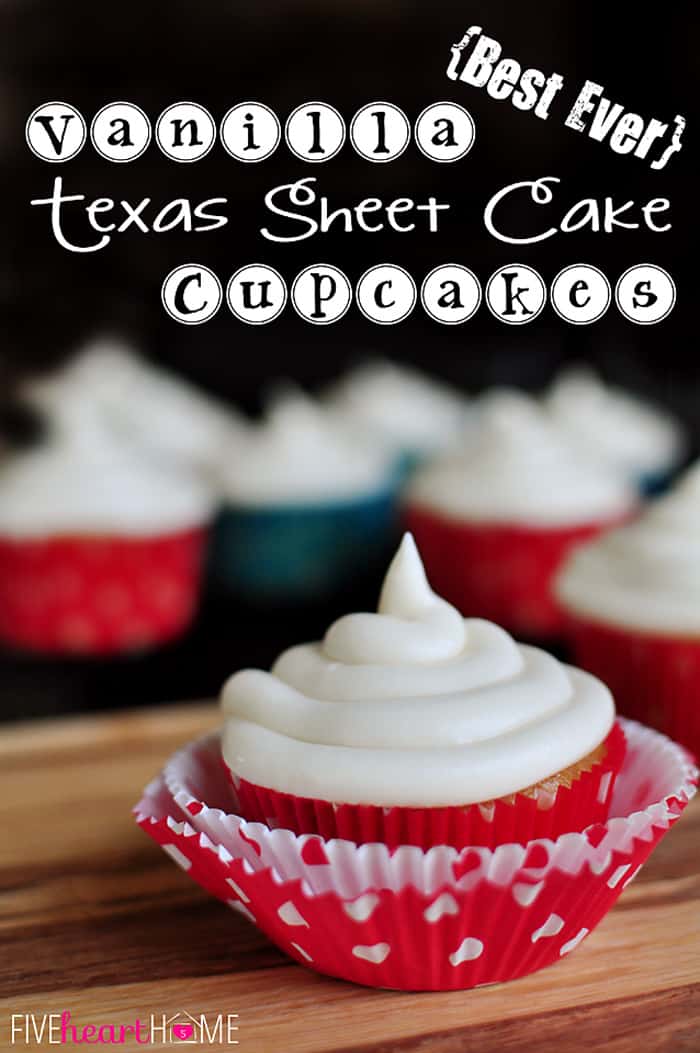 These Vanilla Texas Sheet Cake Cupcakes are reminiscent of a Texas sheet cake...extremely moist, pleasantly dense, and bursting with vanilla flavor!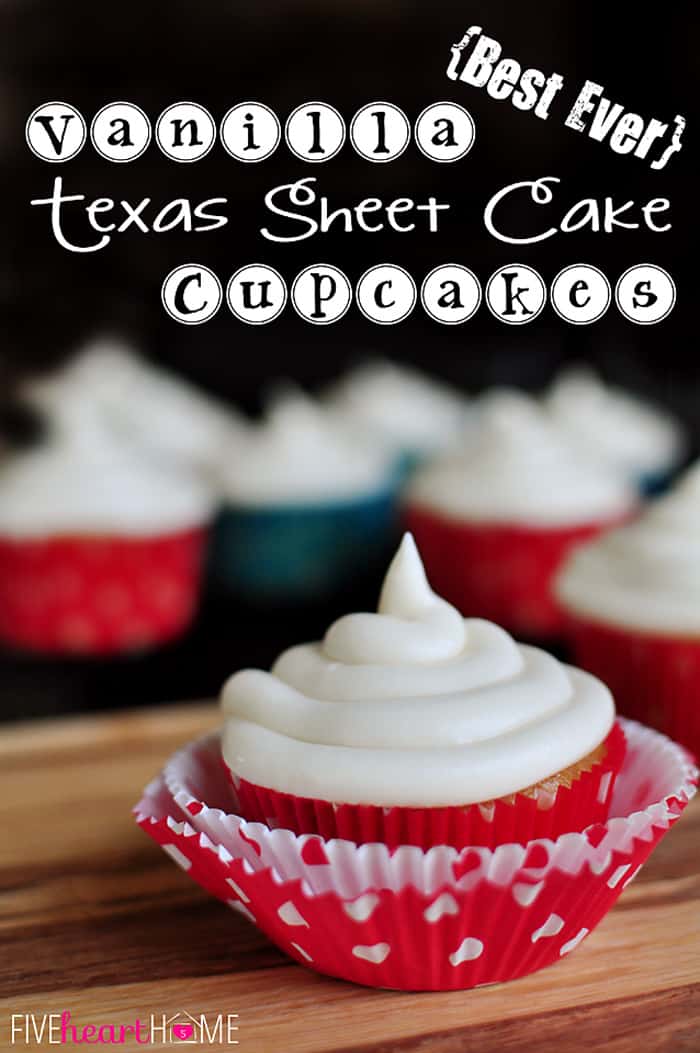 I know I'm guilty of using a lot of superlatives when I describe the recipes I share here. But these Vanilla Texas Sheet Cake Cupcakes really do take the cake...no pun intended.
I get multiple requests for this recipe every time I make it, and that's saying a lot seeing as how I make these cupcakes no less than once a month between various birthdays, holidays, and school functions. In fact, it's gotten to the point that when an event requires a baked good, I am specifically requested to bring Samantha's cupcakes.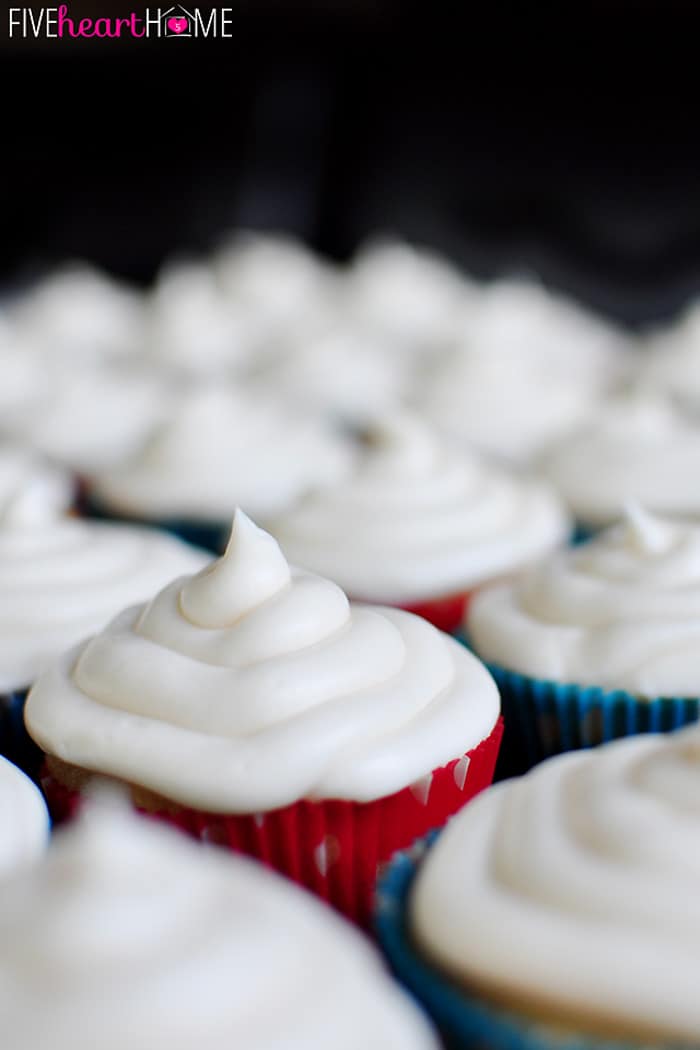 What are Sheet Cake Cupcakes?
There is just something so good, and a little bit different, about this recipe.
These are not your standard cake-mix texture, light-and-fluffy cupcakes. They don't rise a great deal and are actually somewhat dense, but not at all in a bad or heavy way.
These cupcakes are incredibly moist, and the flavor is somehow more complex than your standard vanilla cupcakes.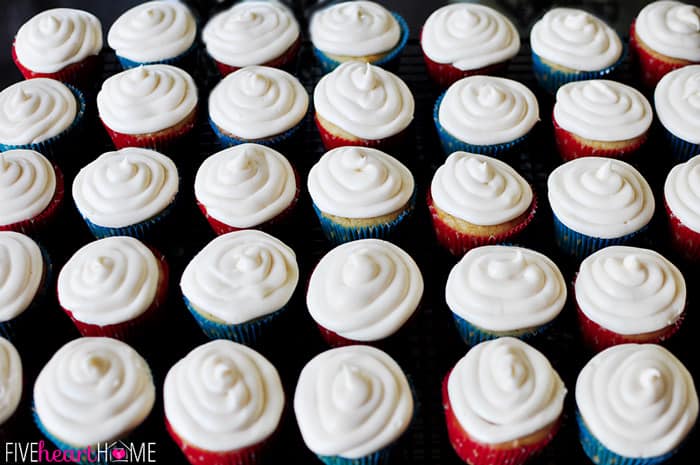 If you're familiar with the wonders of a chocolate Texas Sheet Cake, this cupcake recipe was actually adapted from a version of a white Texas Sheet Cake.
So when you bite into one of these beauties, there's an almost custardy undertone from the eggs and a slight tang from the sour cream. But most importantly, the true flavor of the vanilla shines through.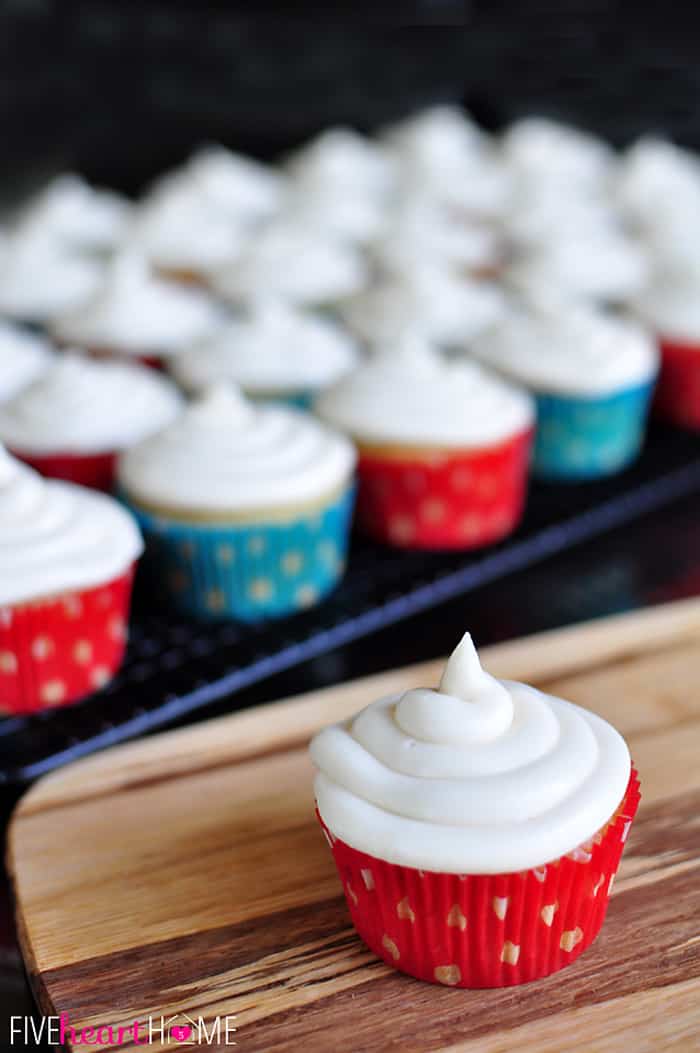 The Importance of Vanilla
Now I try not to be an ingredient snob, but I really believe it's important to use a high quality, pure vanilla extract in your baking, particularly in a recipe like this one (or sugar cookies, or chocolate chip cookies) where vanilla plays a starring role.
My favorite has always been Nielsen-Massey Madagascar Bourbon Pure Vanilla Extract. I used to order a huge, 32-ounce bottle of it off of Amazon, which lasted me at least six months. But with the skyrocketing price of vanilla in recent years, it's hard to stomach spending that much at once. So these days I buy a smaller bottle at the grocery store. 😉
At any rate, good quality vanilla makes a huge, positive difference in a vanilla-centric recipe like this. So make sure you use the good stuff!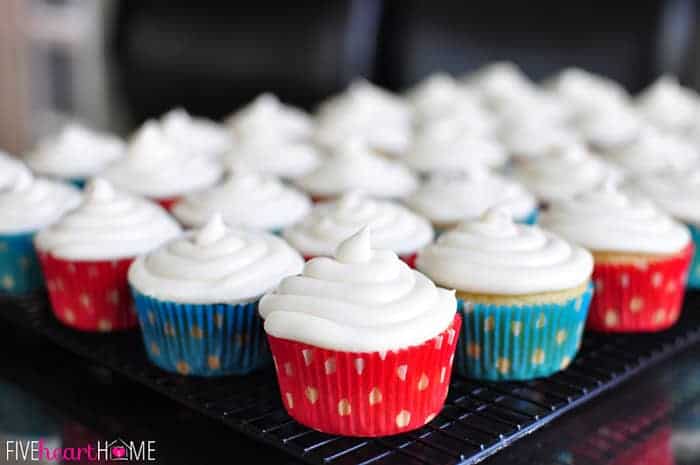 Mixing Up the Batter
The other great thing about this recipe is that it's a one-pot wonder.
There's no mixing dry ingredients in one bowl and creaming butter and sugar in another. Heck, you don't even have to have the forethought to set out the butter ahead of time for softening.
Just melt and mix in a big pot and you're ready to scoop the batter into cupcake liners and pop your pans in the oven. This recipe honestly doesn't take much longer to whip up than a boxed mix, and the final result is so much tastier that you may very well never buy a boxed mix again.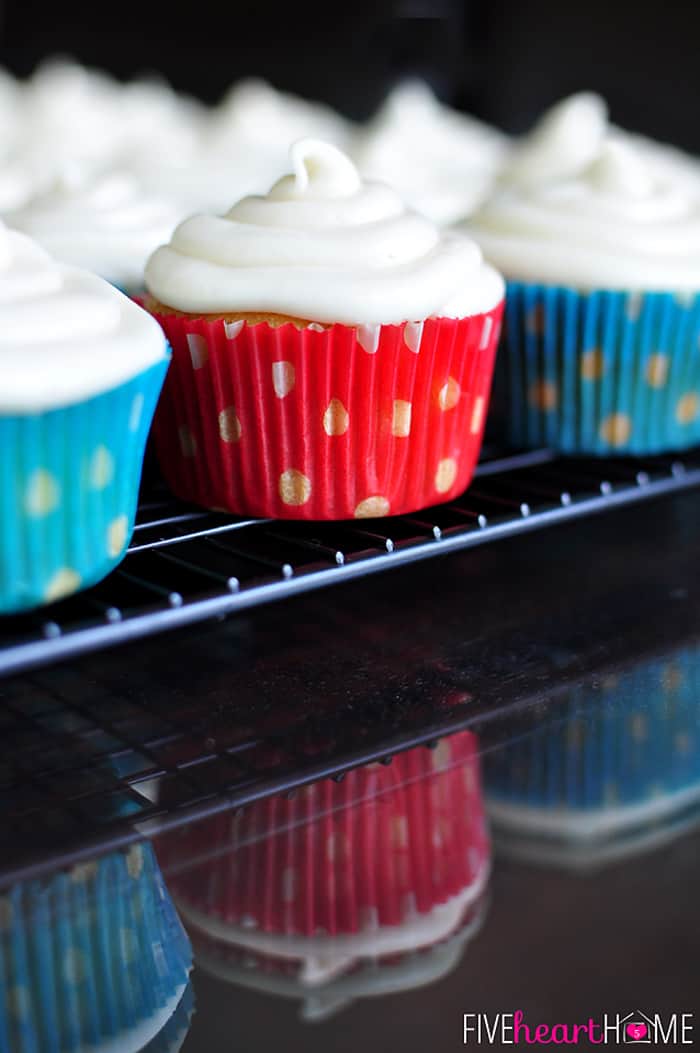 The Frosting
Lest we forget, where there is a cupcake there must be frosting. These Vanilla Texas Sheet Cake Cupcakes would be nicely complemented by just about any type of frosting, but in my humble opinion, they are unbeatable topped with Cream Cheese Frosting.
You can spread it on with a knife or, as I did with this batch of cupcakes, scoop it into a gallon-sized zipper baggie, snip off the corner of the bag, and pipe it on in a pretty little swirl from the outside perimeter to the center.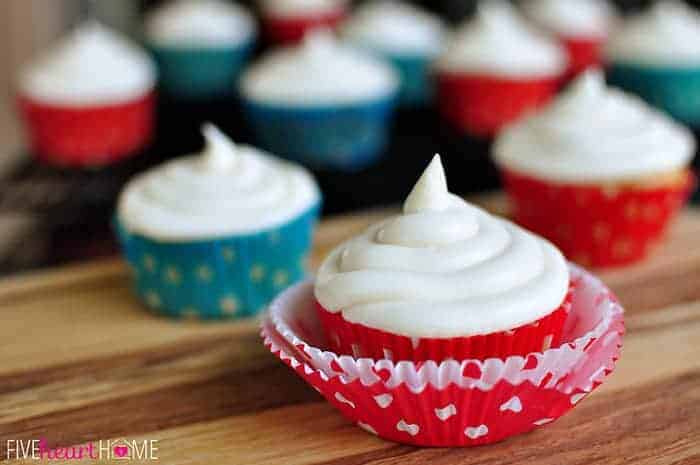 Yield
Do keep in mind that this recipe doesn't quite make two dozen cupcakes.
Because they don't rise a whole lot, you don't want to skimp on filling your cupcakes liners, and as a result, the batter should yield around 20 cupcakes. I doubled the recipe for my son's birthday party this past weekend and ended up with exactly 40 cupcakes.
Since the amount of frosting made with this recipe is enough to generously frost about two dozen cupcakes, you may have a bit of frosting left over (oh, darn!)...and if so, you have my permission to eat it with a spoon.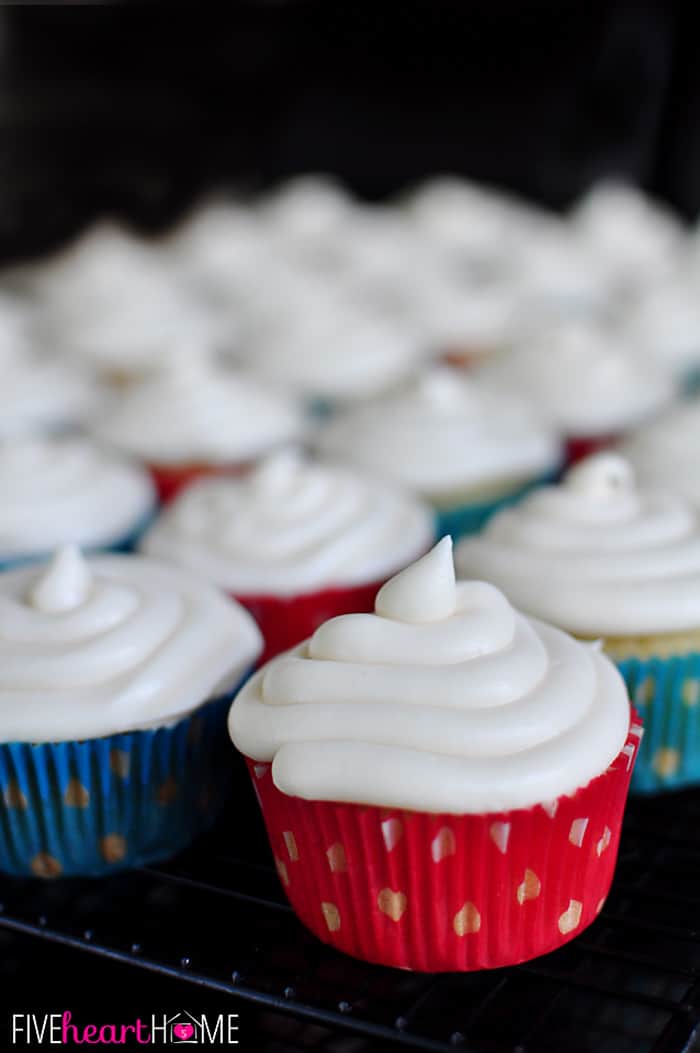 So what are you waiting for? Whether you're celebrating a birthday, a holiday, the last day of summer vacation, or the second Tuesday in September, these Vanilla Texas Sheet Cake Cupcakes deserve a permanent spot in your recipe collection.
Try them once and I think you'll agree!
More Yummy Cupcakes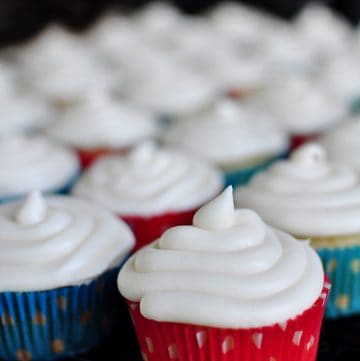 Vanilla Texas Sheet Cake Cupcakes
Vanilla Texas Sheet Cake Cupcakes are reminiscent of a Texas sheet cake…extremely moist, pleasantly dense, and bursting with vanilla flavor!
Print
Pin
Rate
Servings:
20
cupcakes (approximately)
Ingredients
For the cupcakes:
1

cup

(2 sticks) butter

1

cup

water

2

cups

all-purpose flour

2

cups

sugar

½

cup

sour cream

2

eggs

2

teaspoons

pure vanilla extract

1

teaspoon

baking soda

½

teaspoon

salt
For the frosting:
½

cup

(1 stick) butter

,

softened

8

ounces

cream cheese

,

softened

3 ½ to 4

cups

powdered sugar

,

depending on your desired consistency & sweetness of frosting

2

teaspoons

pure vanilla extract
Instructions
Adjust oven rack to center position and preheat oven to 375°F. Line cupcake pans with 20 cupcake liners.

In a large pot, melt butter. Add water and bring to a boil. Remove pot from heat and briskly stir in flour, sugar, and sour cream. Batter should now be cool enough to gradually stir in the eggs without them scrambling. Mix in vanilla, baking soda, and salt until all ingredients are well blended.

Scoop batter into cupcake liners. Bake for 15 to 18 minutes or until toothpick inserted into center of cupcake comes out clean. Cool cupcakes in pan for a few minutes before turning out onto a rack and allowing to cool completely before frosting.
For the frosting:
Using an electric mixer, beat together butter and cream cheese. Slowly blend in powdered sugar and vanilla, then beat until smooth and well-combined.
Notes
Start checking your cupcakes for doneness at the 15 minute mark. You don't want to overbake them or they'll start to become dry, but you do want the toothpick tester to come out clean.
Make sure that your butter and cream cheese are completely at room temperature before making your frosting or it will have little lumps. You shouldn't need to sift your powdered sugar. I never do and my frosting always turns out smooth, but if your powdered sugar is especially clumpy, it might not hurt to sift it first.
These cupcakes are so moist that you can get away with baking them early, if necessary. When I make them for a birthday party, I usually bake them two days ahead of time and pop them in the refrigerator in an airtight container. The day before the party, I frost them and put them back in the fridge. Then I set them out on party day and they have time to come to room temperature before everyone eats them. But don't get me wrong...they taste great cold, straight out of the fridge, too!
Calories:
373
kcal
|
Carbohydrates:
48
g
|
Protein:
3
g
|
Fat:
19
g
|
Saturated Fat:
12
g
|
Cholesterol:
68
mg
|
Sodium:
283
mg
|
Potassium:
46
mg
|
Fiber:
1
g
|
Sugar:
38
g
|
Vitamin A:
637
IU
|
Vitamin C:
1
mg
|
Calcium:
26
mg
|
Iron:
1
mg
Adapted from AllRecipes