Ripe, juicy tomatoes soak up olive oil, red wine vinegar, onion, garlic, & fresh herbs in Marinated Tomatoes, a zesty summer salad or a versatile side dish!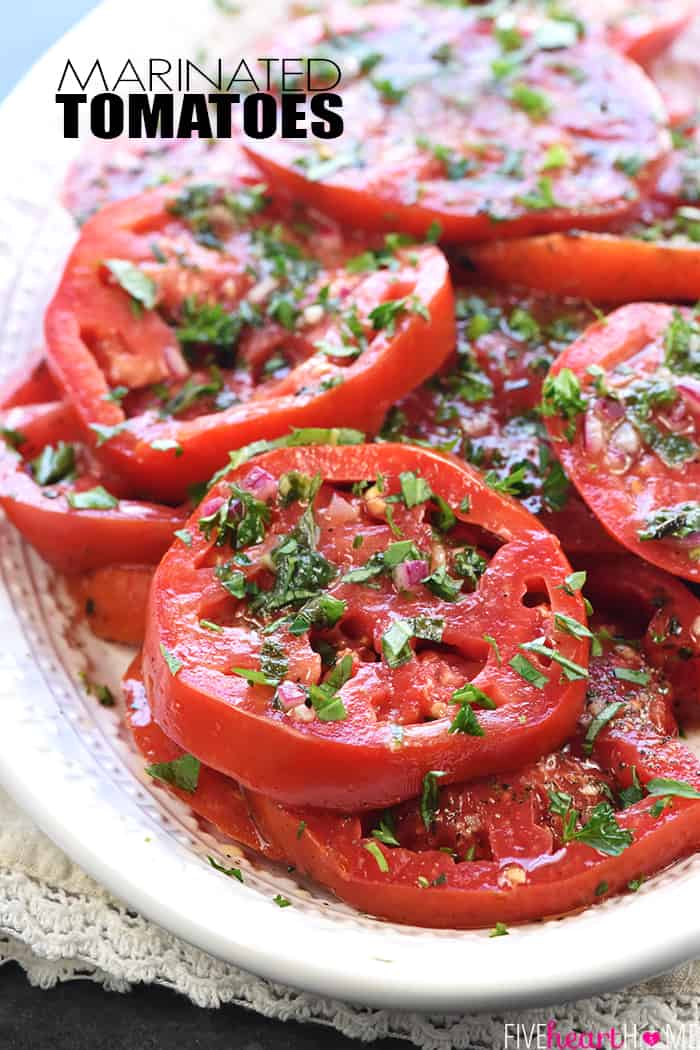 'Tis the season for homegrown tomatoes! Thanks to my father-in-law's bountiful garden, by this time every summer, we're positively swimming in big, juicy, deep red specimens of tomato perfection.
We eat 'em sliced, with salt and pepper. On bread with good mayo for a tomato sandwich. Caprese-style...drizzled with balsamic, layered with fresh mozzarella, and sprinkled with basil. Roasted. In gazpacho. On pizza. In marinara. In salads. But there can never be too many ways to enjoy garden fresh tomatoes, so why not add another recipe to the ol' repertoire?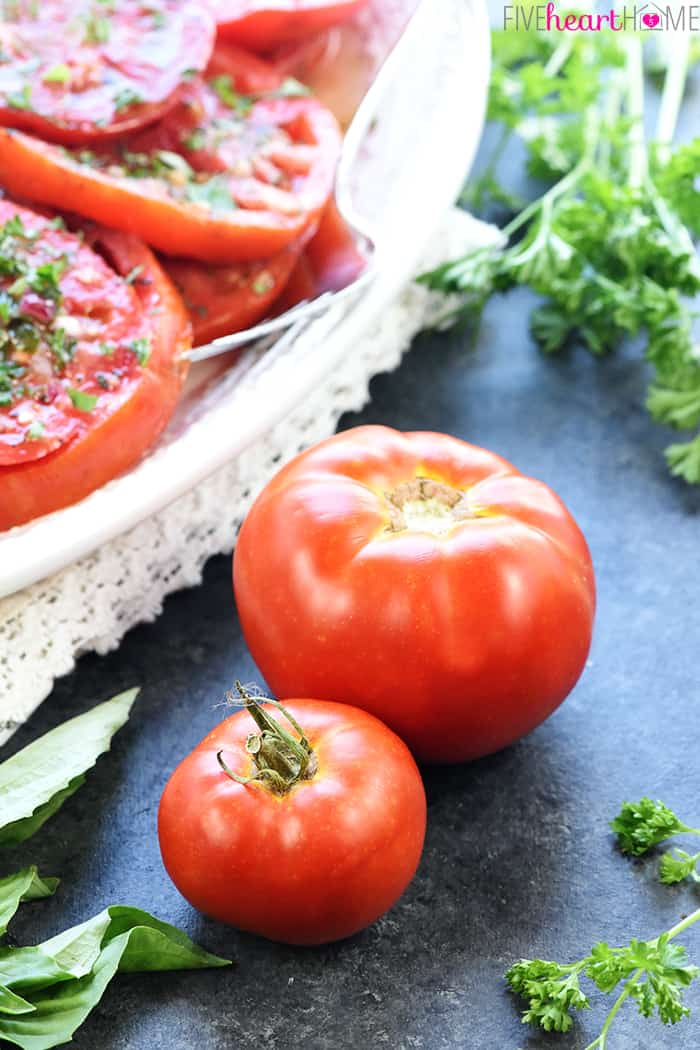 Ingredients
Marinated Tomatoes are effortless to throw together with a handful of simple ingredients. What I love most about this recipe, though, is that not only does the pure, tomato flavor shine through, but it's actually enhanced by the vinegar, aromatics, and herbs.
Tomatoes. Homegrown tomatoes have the BEST flavor, of course, but any type will work. See the "Types of Tomatoes" heading below for tips on how to slice 'em.
Extra-virgin olive oil.
Red wine vinegar. I recommend red wine vinegar for this recipe...it's zippy without being overpowering. However you could also experiment with white wine vinegar, sherry vinegar, champagne vinegar, balsamic vinegar, apple cider vinegar...each one will add a different flavor profile to the dish.
Onion. My family likes onion (and I don't), but I'm happy to make a separate batch of Marinated Tomatoes for them, throwing in a couple tablespoons of finely minced red onion. They report the red onion adds a sweet sharpness to the dish. I'll take their word for it. 😉
Garlic. On the other hand, I'm definitely a garlic gal, but I don't go overboard with this recipe. One large or two small cloves are plenty. I prefer to crush my garlic in a garlic press or very, very finely mince it.
Herbs. You can also customize the herbs for your Marinated Tomatoes. I highly recommend finely minced fresh herbs if you've got access to them -- I typically use parsley and basil. But you can also use dried herbs. Just remember that since dried herbs are stronger and more concentrated, you'll only need about ⅓ the amount as compared to fresh herbs.
Salt + pepper. Don't leave 'em out!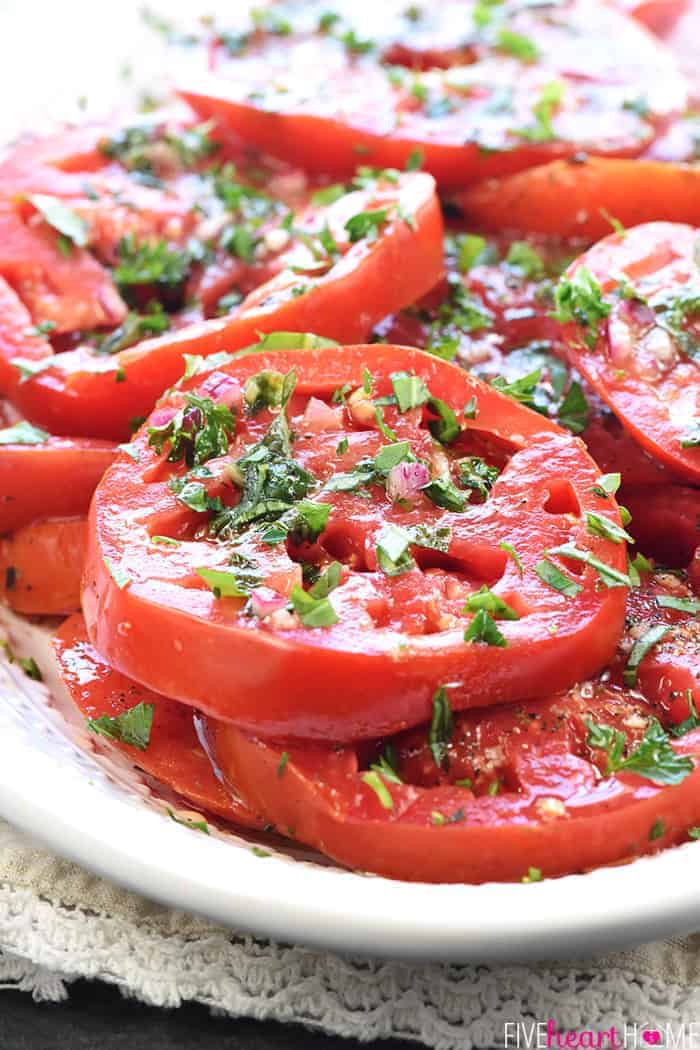 Types of Tomatoes
Another nice thing about this dish is that it's totally customizable.
I happen to have lots of giant, beefsteak-sized tomatoes right now, so I cut them into thick slices, lay them in a shallow dish, and pour the marinade over the top. The large surface area of the slices allows them to really soak up the deliciousness.
If your tomatoes are smaller, however, you could choose to cut them into wedges.
Tiny little cherry or grape tomatoes could be halved.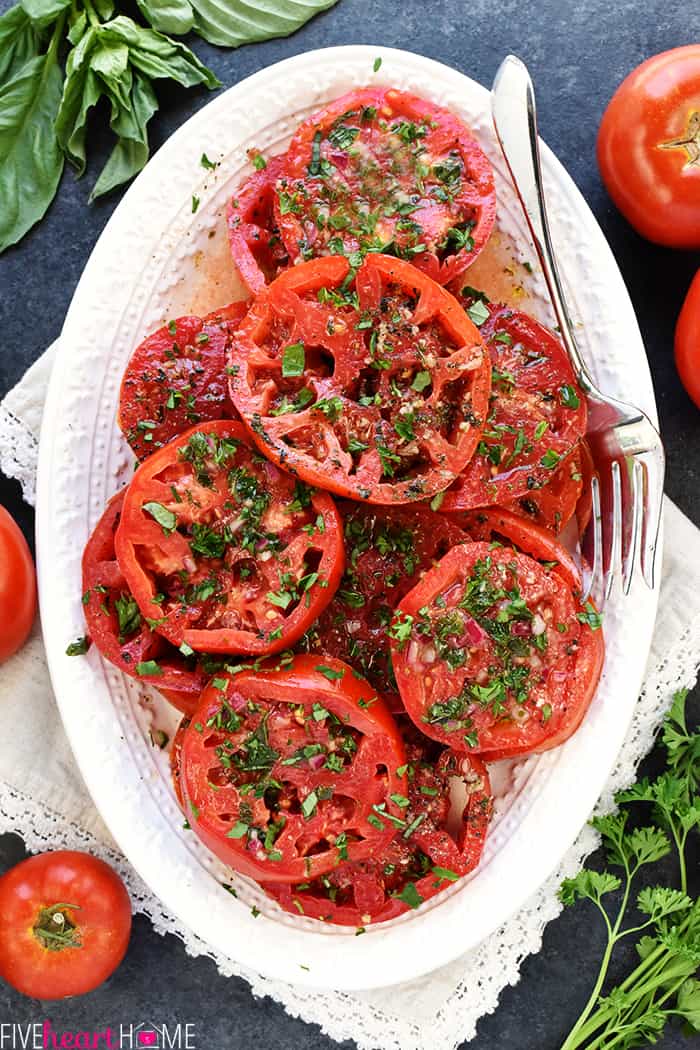 Marinating Them
How long you choose to marinate the tomatoes is up to you.
My preference is to marinate them in the fridge for 12 to 24 hours for lotsa' flavor, then bring them back to room temperature before serving.
Alternatively, if you have less time, you can marinate them on the countertop for just two or three hours. The infusion of flavor into the tomatoes will be less intense, but they'll still be delicious.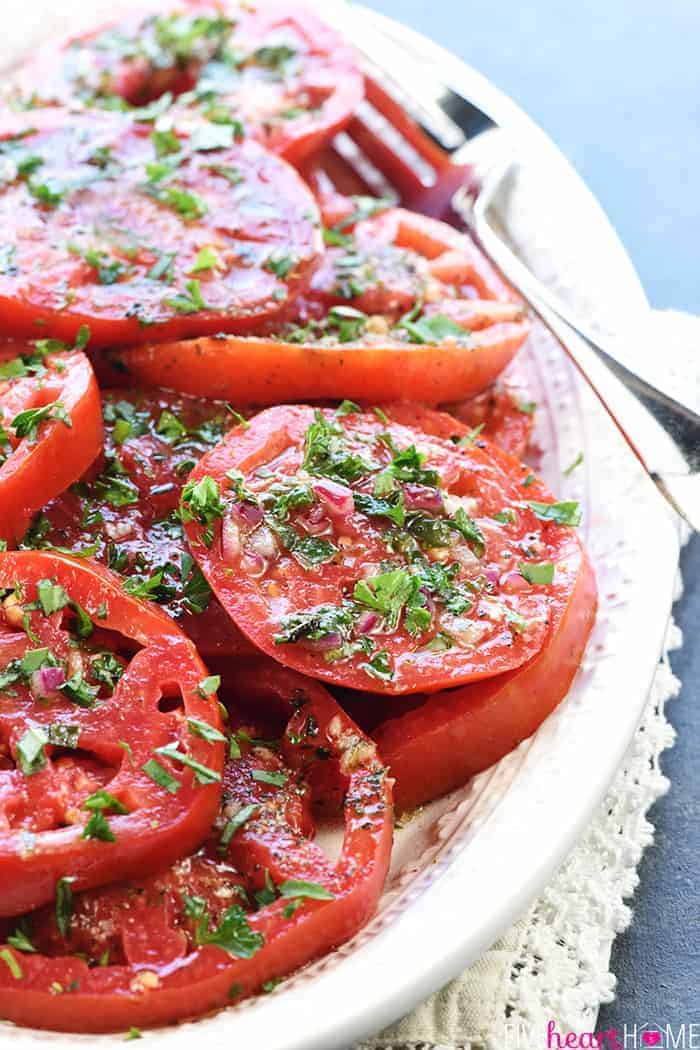 How to Enjoy Them
These Marinated Tomatoes are scrumptious on their own as a salad. Be sure to serve with crusty French bread to sop up all those magical juices!
Or you can chop the tomatoes into smaller pieces and use as a topping for bruschetta. A few shavings of fresh Parmesan on top = HEAVEN.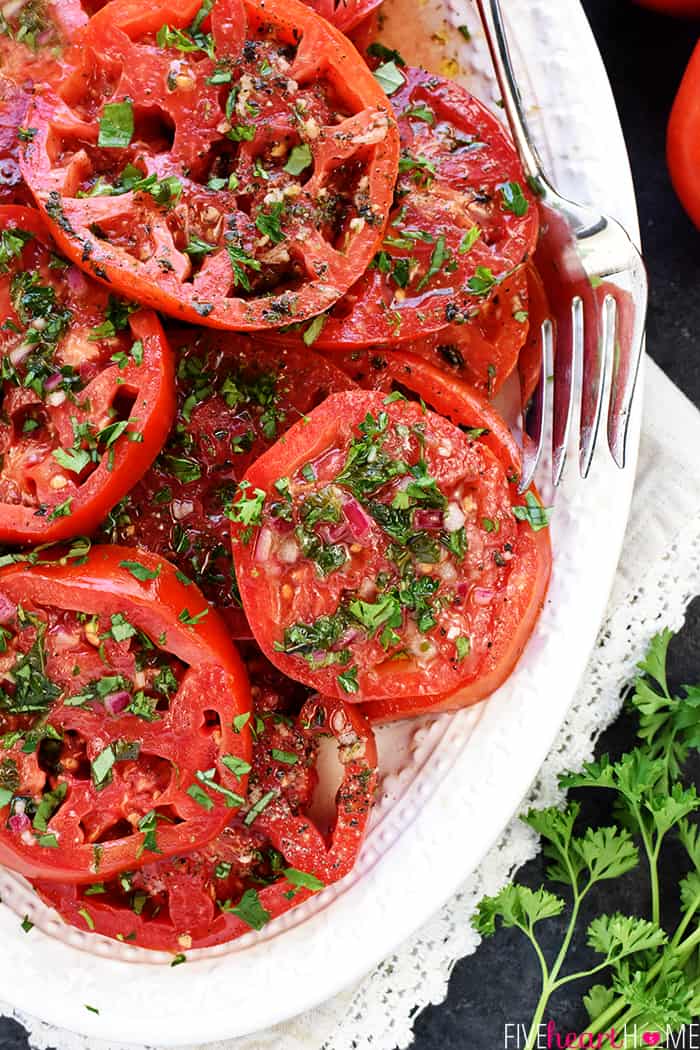 Even if you don't have a garden, the tomatoes at the grocery store are much redder and more flavorful this time of year. So take advantage of the bounty! Marinated Tomatoes is an easy, versatile recipe for enjoying one of summer's simple pleasures.♥
More Garden-Fresh Summer Sides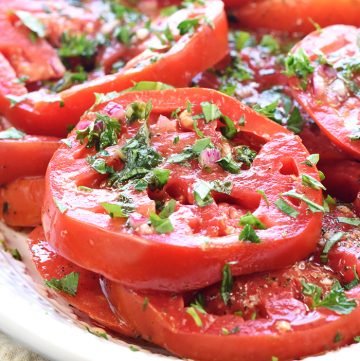 Marinated Tomatoes
Ripe, juicy tomatoes soak up olive oil, red wine vinegar, onion, garlic, & fresh herbs in Marinated Tomatoes, a zesty summer salad or a versatile side dish!
Print
Pin
Rate
Ingredients
3

extra-large tomatoes

,

about 2 pounds

⅓

cup

extra-virgin olive oil

¼

cup

red wine vinegar

2

tablespoons

finely chopped red onion

1

large clove

,

or two small cloves garlic, finely minced or crushed

1

tablespoon

minced fresh parsley

,

plus additional for garnish

1

tablespoon

minced fresh basil

,

plus additional for garnish

1

teaspoon

salt

Freshly ground black pepper

,

to taste
Instructions
Cut the tomatoes into ½-inch thick slices and arrange in a single layer in a large, shallow dish. Measure the oil, vinegar, onion, garlic, parsley, basil, salt, and pepper in a jar with a tight-fitting lid. Shake vigorously to combine and evenly pour over the tomatoes in the dish. Cover and marinate for 2 to 3 hours on the counter, or 12 to 24 hours in the refrigerator. Bring chilled tomatoes to room temperature before serving. Transfer tomatoes to serving dishes, spoon juices over the tops, and garnish with additional chopped fresh herbs, if desired.
Notes
Dried herbs are more potent than fresh, so you only need ⅓ the amount when using dried herbs. You may substitute 1 teaspoon dried parsley and 1 teaspoon dried basil for the fresh herbs in this recipe. Also feel free to switch up the herbs you use.
Calories:
94
kcal
|
Carbohydrates:
2
g
|
Fat:
9
g
|
Saturated Fat:
1
g
|
Sodium:
392
mg
|
Potassium:
145
mg
|
Sugar:
1
g
|
Vitamin A:
585
IU
|
Vitamin C:
9.7
mg
|
Calcium:
6
mg
|
Iron:
0.3
mg
Adapted from Epicurious.
Post originally published on July 11, 2017.

Save
Save