This delicious Blueberry Smoothie is loaded with blueberries, spinach, and walnuts for a creamy, filling breakfast or snack that promotes brain health!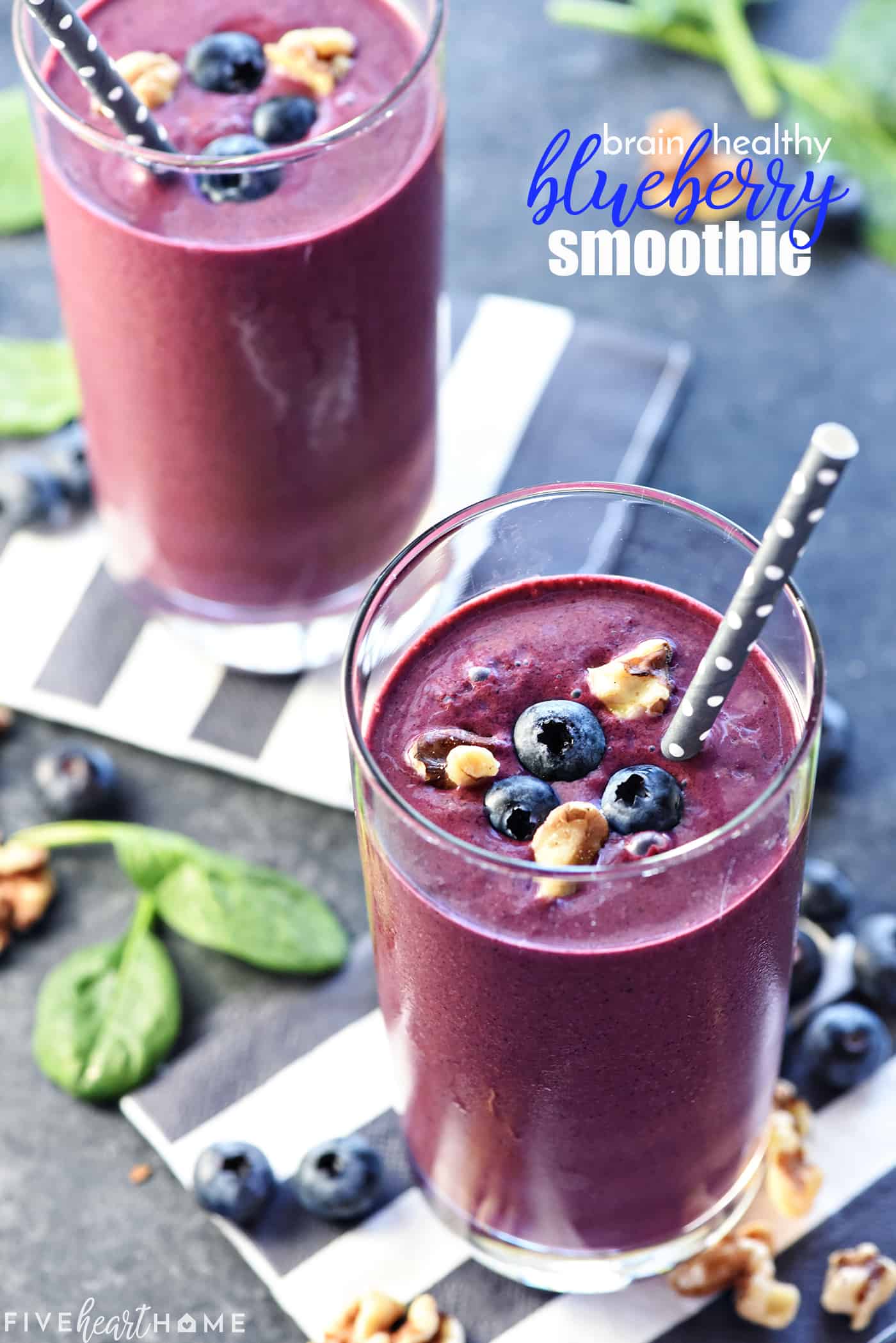 Happy New Year, friends! I hope you all had a wonderful, joyful, restful holiday season. We're back-to-school and back-to-work today at Casa de Five Heart Home, and that means I've finally got a new recipe up for y'all. Say hello to this New Year's resolution-friendly, brain-healthy Blueberry Smoothie with Spinach and Walnuts!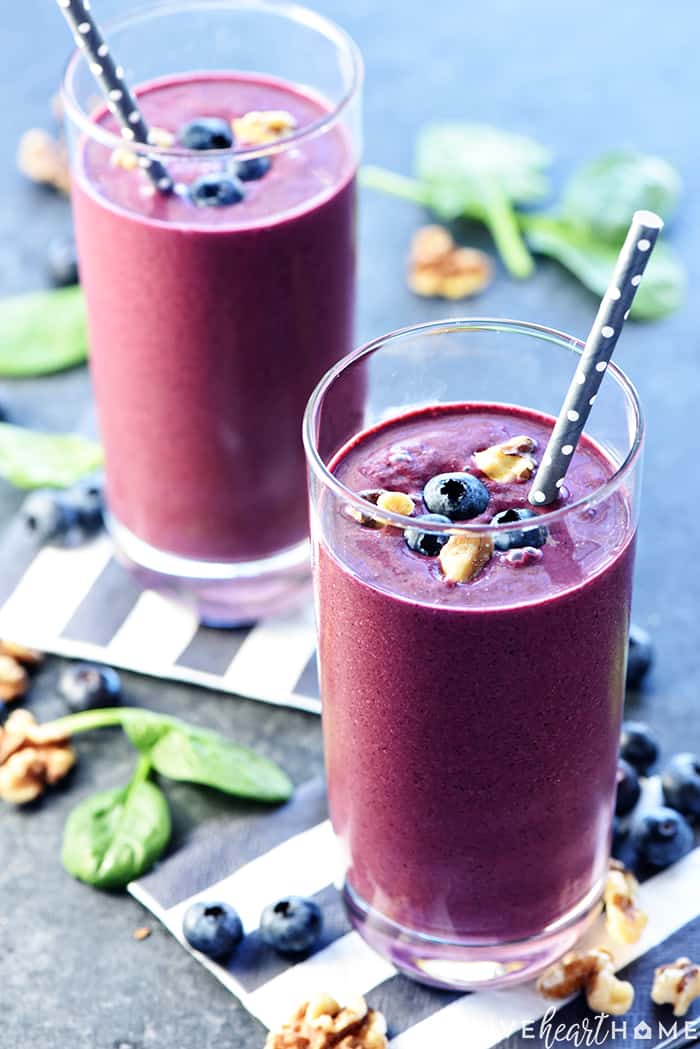 Some of my longtime readers (and real life friends) may already know that I lost my dad to Alzheimer's disease a few years ago. And I'd be lying if I didn't admit I fear that this cruel, horrendous disease could one day affect my family again. So I've done a lot of research in the years since my dad's death about lifestyle habits that promote brain health and, as a result, I actively try to incorporate foods from the MIND Diet into our meals. The MIND Diet was designed by a nutritional epidemiologist and recommends ten specific foods to promote brain health while lowering the risk of Alzheimer's disease.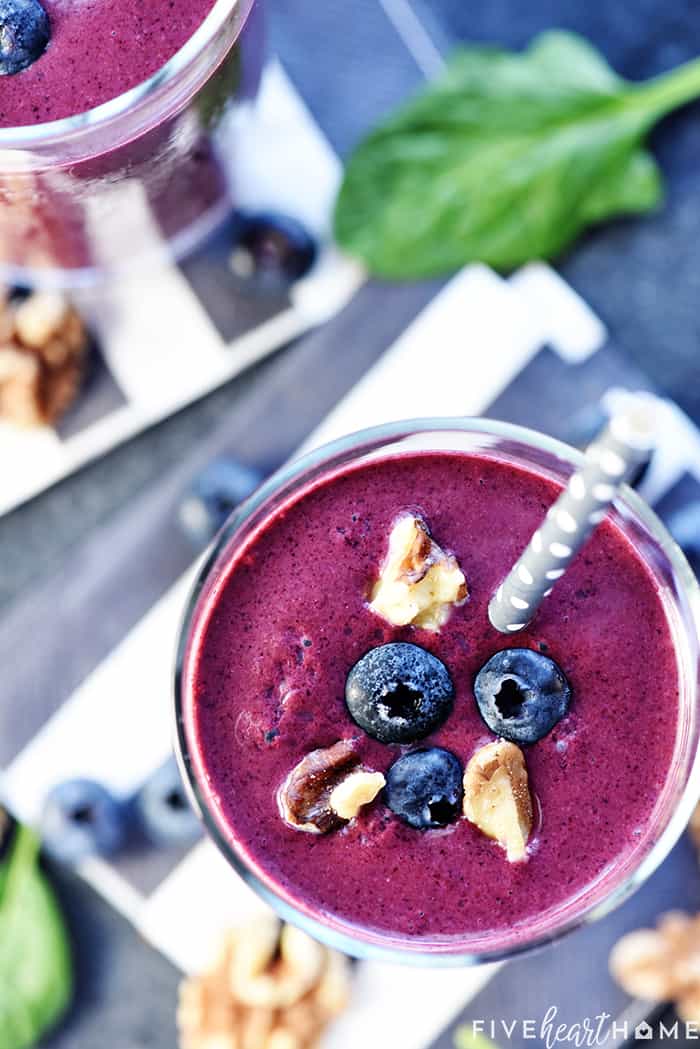 Now, remember...I'm not a doctor and nothing in this post should be construed as medical advice. But there are countless scientific studies showing that certain foods have brain protective qualities. And I figure it simply can't hurt to incorporate more of those foods into my family's diet!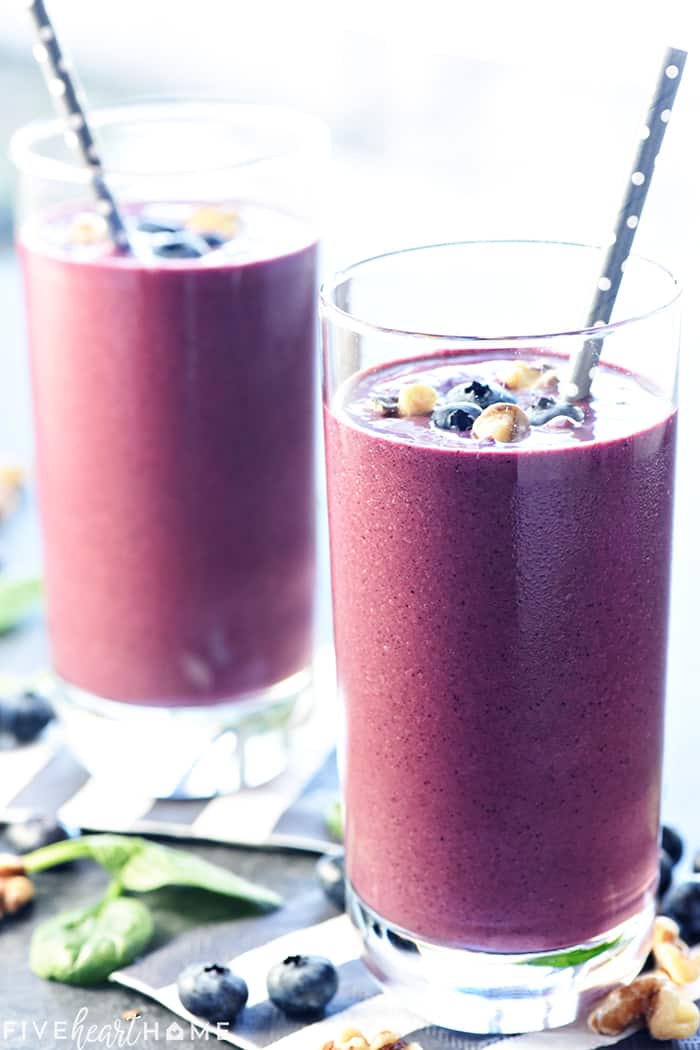 I've come to the conclusion that one of the easiest (and tastiest) ways to regularly enjoy several brain-boosting foods for breakfast (or snacktime) is with a Blueberry Smoothie that features frozen blueberries, baby spinach, walnuts, almond milk, and apple juice. It's simple and delicious!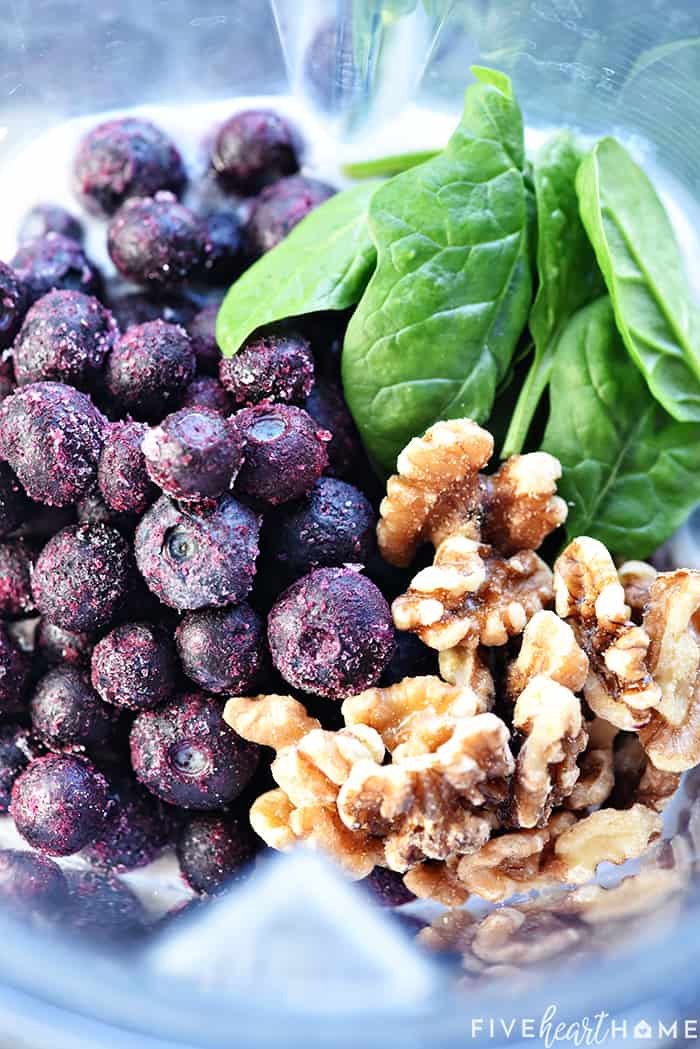 Blueberry Spinach Smoothie...and More!
Berries (especially blueberries), dark leafy greens, and nuts (especially walnuts) are all recommended for brain health, so I knew that I wanted those to be the primary ingredients in my smoothie. I figured out a ratio that makes this drink taste like a plain, regular Blueberry Smoothie...most people can't detect that the spinach and nuts are even in there. And of course, you can always tweak the ratios to your liking...feel free to add more spinach (or swap in kale instead) if you don't mind tasting the greens a bit.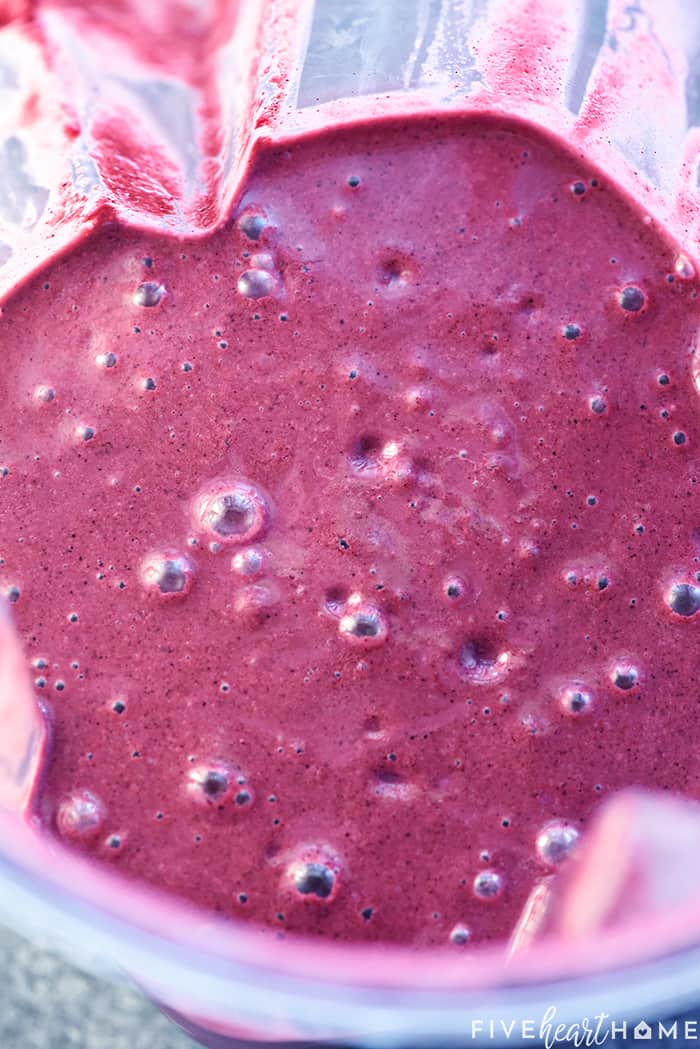 Starting with frozen blueberries means you don't have to use any ice. As for the liquid in this smoothie, I use almond milk to get more nut power in there without any dairy. And since recent research indicates that consuming apple juice can increase the production of an essential neurotransmitter that affects memory, I thought incorporating some apple juice into this smoothie as well would be a good choice for adding a bit of natural sweetness.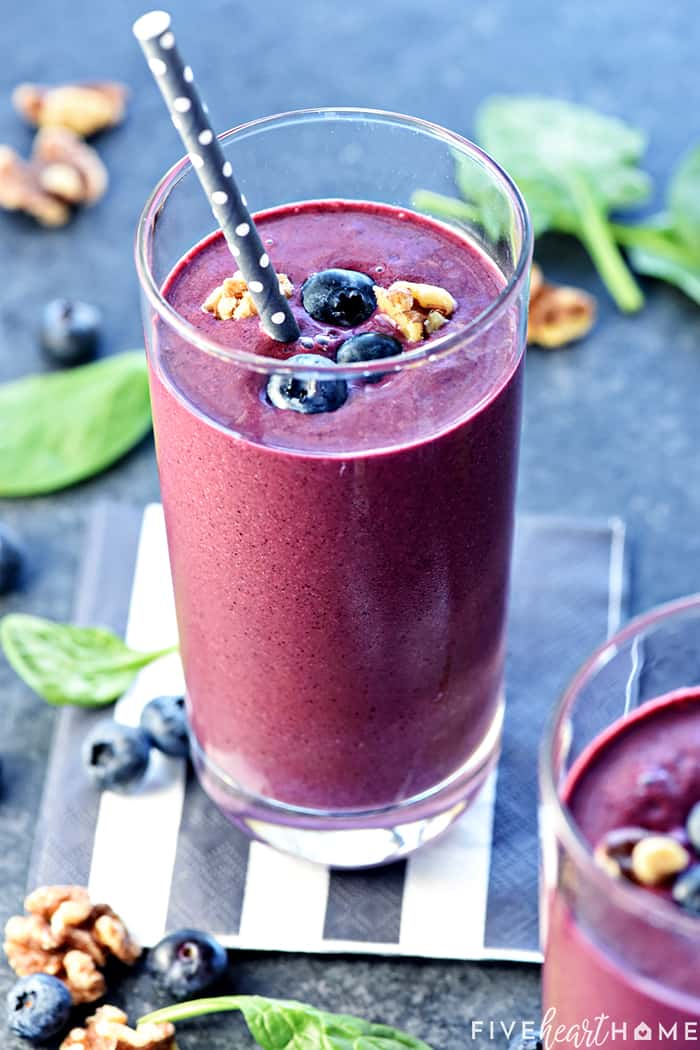 Feel free to switch up the liquids if you like. Use Concord grape juice (another brain-boosting juice) instead of apple juice. Use more or less juice to adjust the sweetness of the smoothie. Or if you prefer to leave out the juice altogether, you can use all almond milk.
The resulting smoothie is sweet, creamy, yummy, and literally food for your brain! As written, this recipe makes enough for two regular-sized smoothies or one GIANT smoothie. I typically double the recipe to get enough servings for our whole family -- two adults and three kids.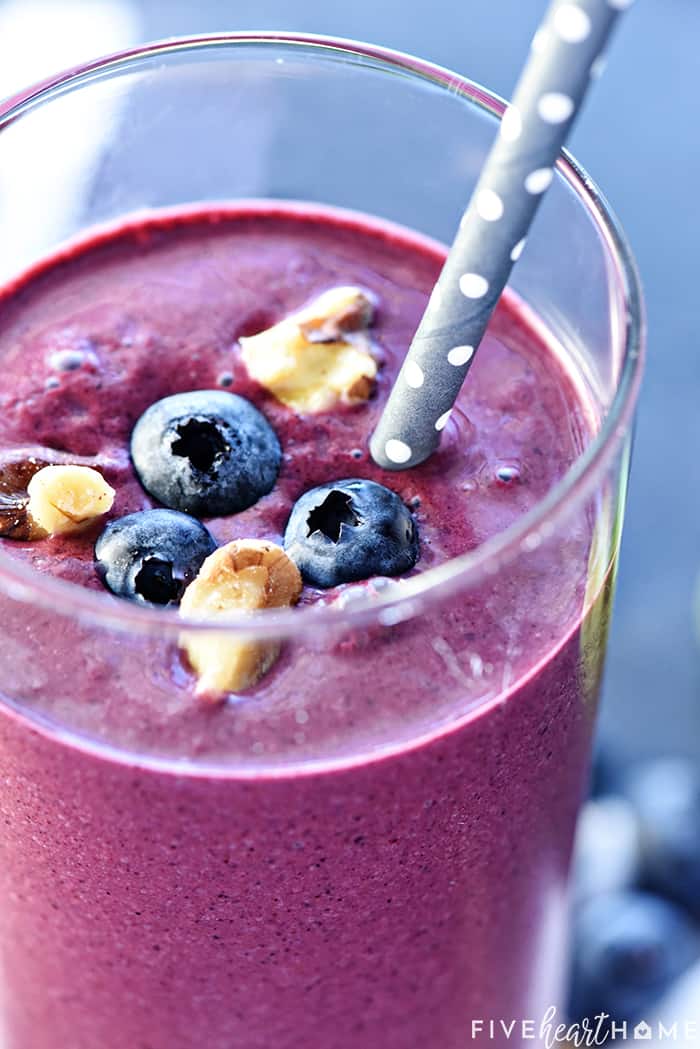 Freezer Smoothie Packs
But sometimes, I like to enjoy a Blueberry Smoothie for breakfast (or even lunch) on days that that I'm home alone working. So to save time and increase the odds that I'll, you know, actually stop working to fix myself a smoothie, I measure out single-servings (a half recipe) of blueberries, walnuts, and spinach into individual freezer-thickness sandwich baggies and pop those bags in the freezer. Then when it's time to make a smoothie, I simply dump the contents of a "freezer smoothie pack" baggie into the blender, pour in the almond milk and apple juice, and hit blend!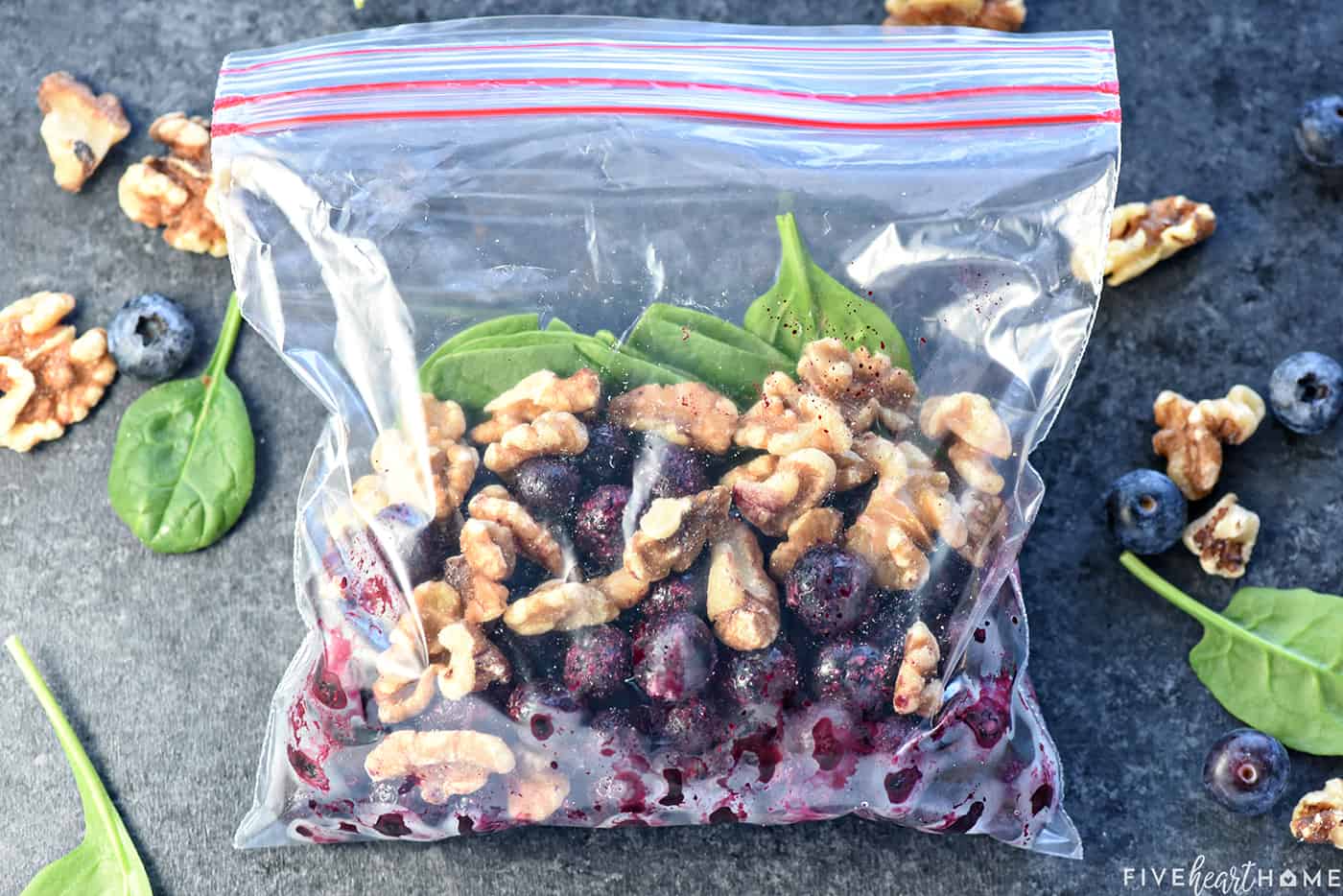 This healthy, simple, MIND Diet-friendly Blueberry Smoothie proves that it doesn't have to take a ton of effort to take care of your brain. And as a bonus, doing so can be delicious and filling as well.❤️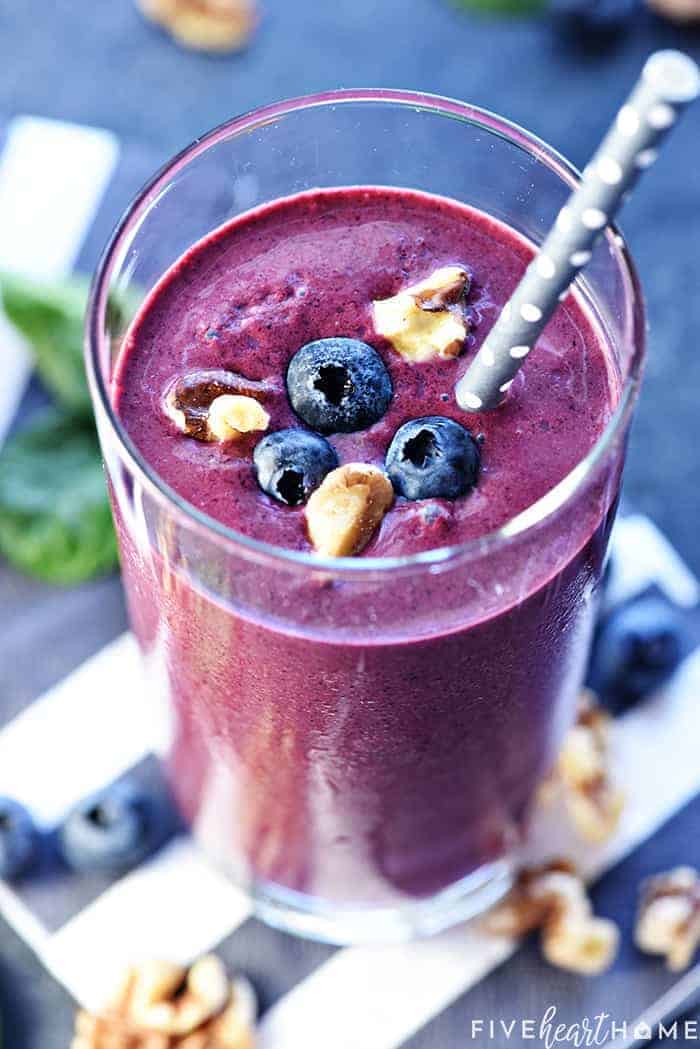 Helpful Tips, Tricks, & Equipment
(some affiliate links below)
I love my Vitamix, but any blender will work just dandy...you may just have to tweak the amount of liquid depending on the power of your blender. And if you end up adding too much liquid the first time you make this smoothie, you can always add some extra frozen berries and hit blend again to thicken things back up.
If you'd like to incorporate even more goodness into your smoothie, feel free to add a spoonful or two of flax seeds, chia seeds, and/or goji berry powder!

More Wholesome Smoothies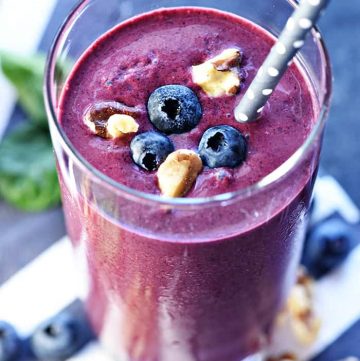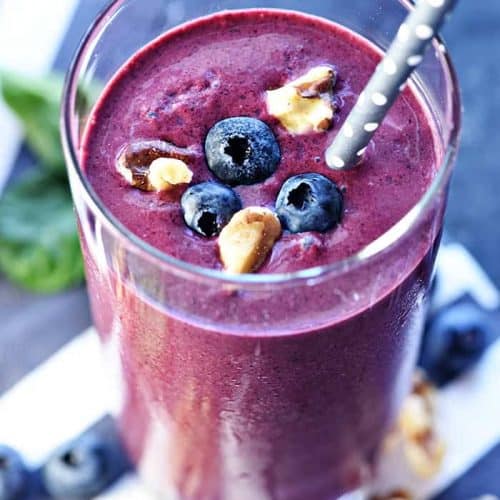 Blueberry Smoothie
This delicious Blueberry Smoothie is loaded with blueberries, spinach, and walnuts for a creamy, filling breakfast or snack that promotes brain health!
Print
Pin
Rate
Servings:
2
(10- to 12-ounce) smoothies
Ingredients
2

cups

frozen blueberries

½

cup

walnut pieces

½

cup

packed fresh baby spinach

¾

cup

almond milk

¼ to ½

cup

apple juice
Instructions
Measure all ingredients into a blender. Starting on low and working up to high, blend until completely smooth. Serve immediately.
Calories:
290
kcal
|
Carbohydrates:
26
g
|
Protein:
6
g
|
Fat:
20
g
|
Saturated Fat:
1
g
|
Sodium:
129
mg
|
Potassium:
284
mg
|
Fiber:
5
g
|
Sugar:
15
g
|
Vitamin A:
785
IU
|
Vitamin C:
16.5
mg
|
Calcium:
158
mg
|
Iron:
1.5
mg