In this caprese spin on a classic summer side dish, nutrient-packed quinoa is blended with pasta sauce, gooey mozzarella, & fresh basil, stuffed into ripe tomatoes, topped with Parmesan, and baked to perfection!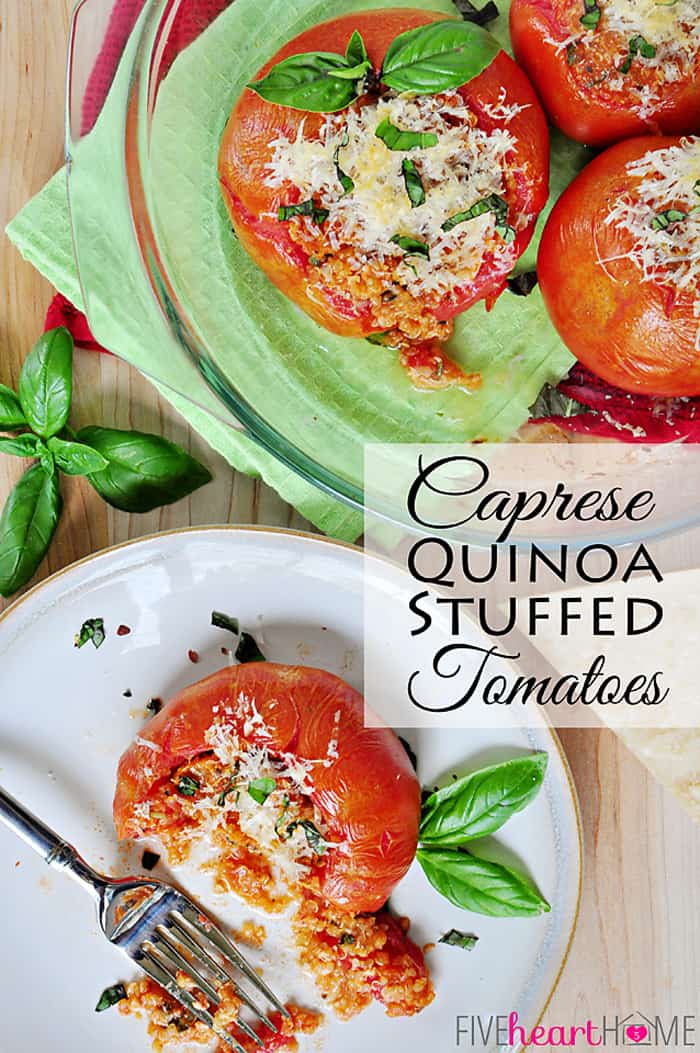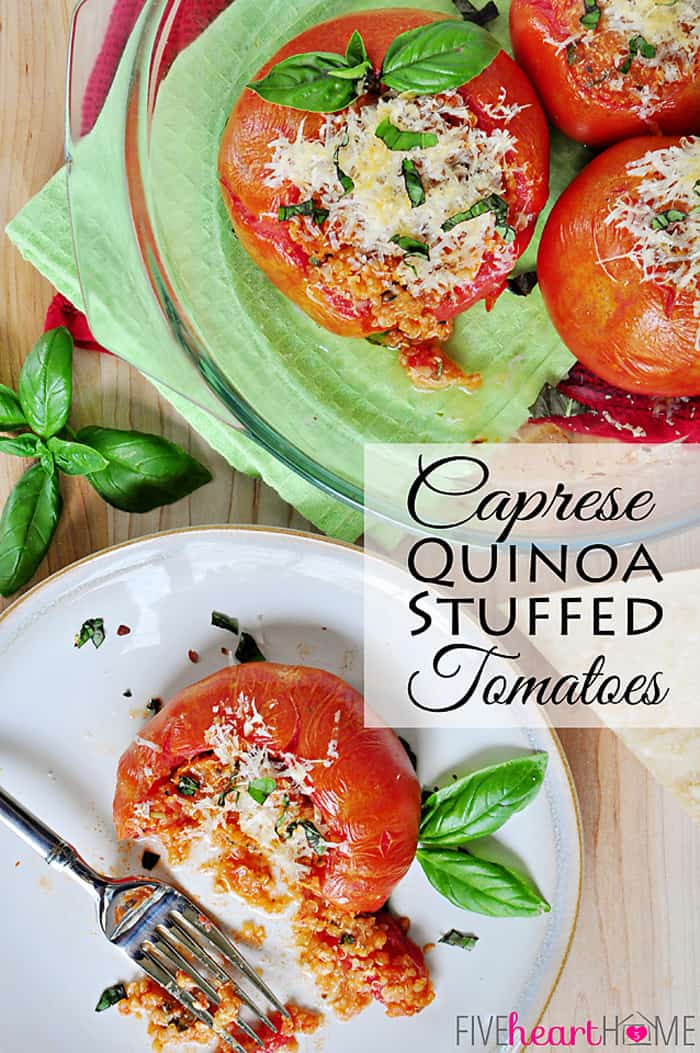 To say that I am a fan of red, juicy, garden-ripe tomatoes would be an understatement. While I have an arguably black thumb and no garden to call my own, I'm lucky enough to have nearby in-laws with a bountiful garden full of resplendent summer veggies. And my father-in-law happens to be particularly good at growing the best tomatoes this side of anywhere.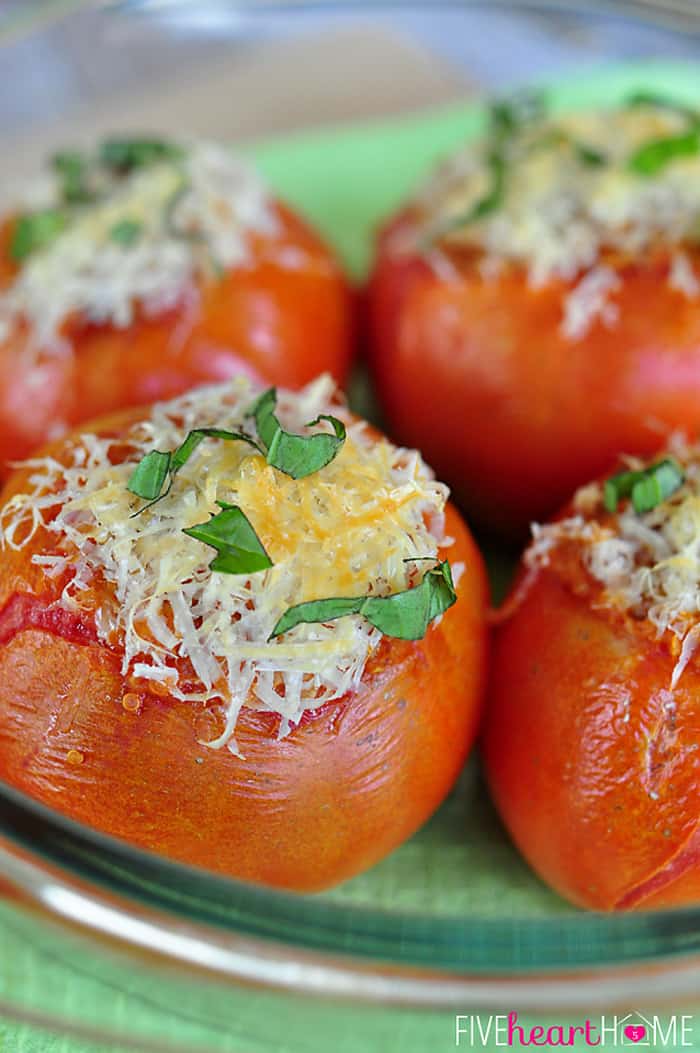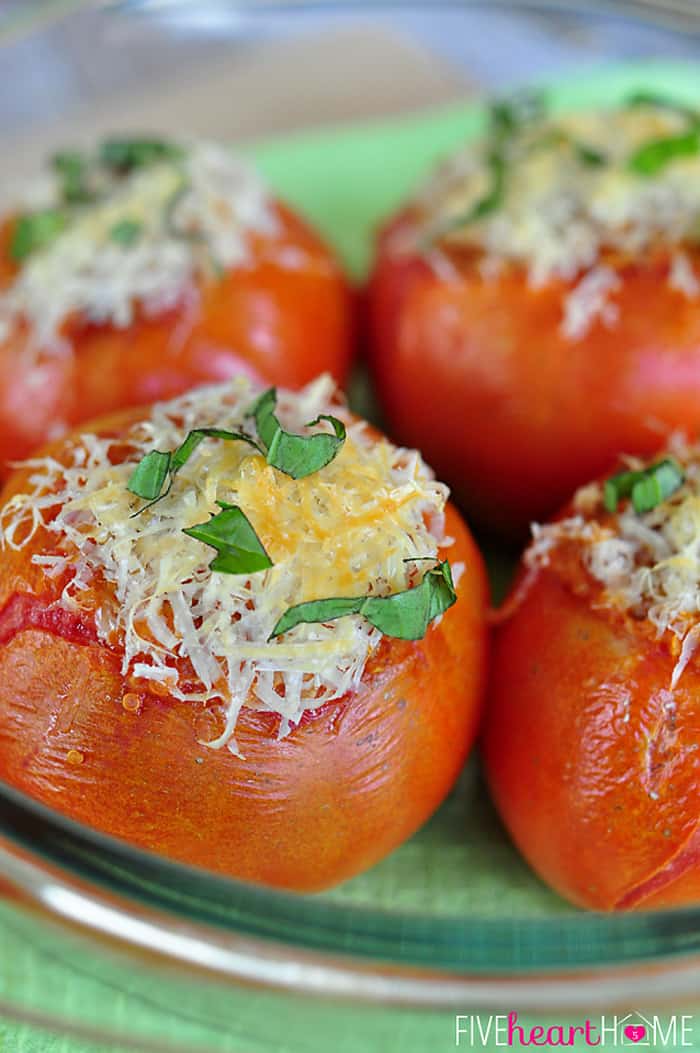 When I was pregnant with my daughter a few summers ago, I inhaled a big tomato sandwich for lunch every single day. So it's probably no coincidence that my daughter loves tomatoes now. My eldest son shares our love of tomatoes as well, and while my hubby and middle son could do without them raw (what's wrong with those people?!), they do like them cooked. So when we have a plethora of tomatoes to eat up each summer, some of them inevitably find their way into stuffed, baked tomato side dishes.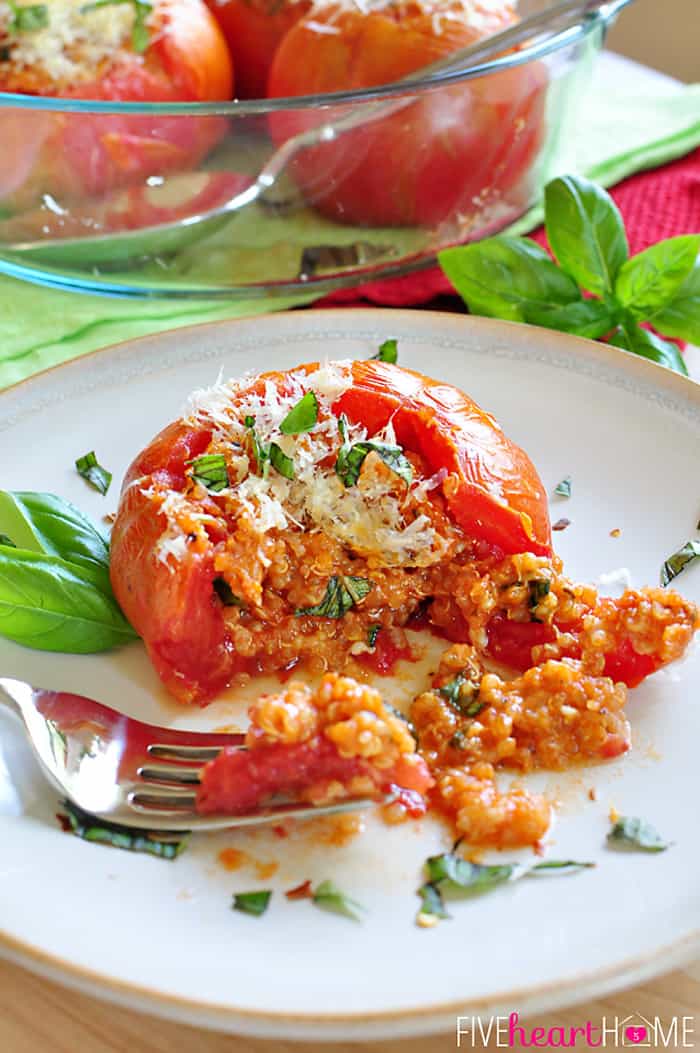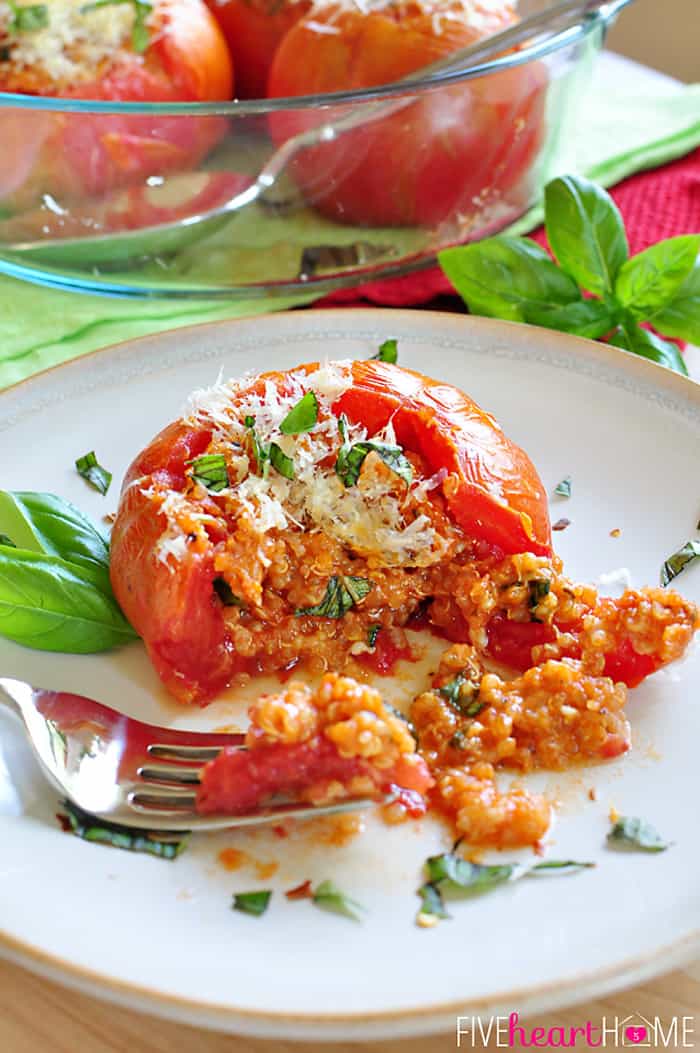 While the filling I typically concoct consists of some sort of breadcrumb/herb/Parmesan mixture, I thought it would be fun to make these stuffed tomatoes extra healthy today using quinoa. And not only that, but the quinoa is extra tasty because it's gotten a caprese treatment! If there's anything I love as much as a garden-fresh, summer tomato, it's eating that tomato with mozzarella and fresh basil.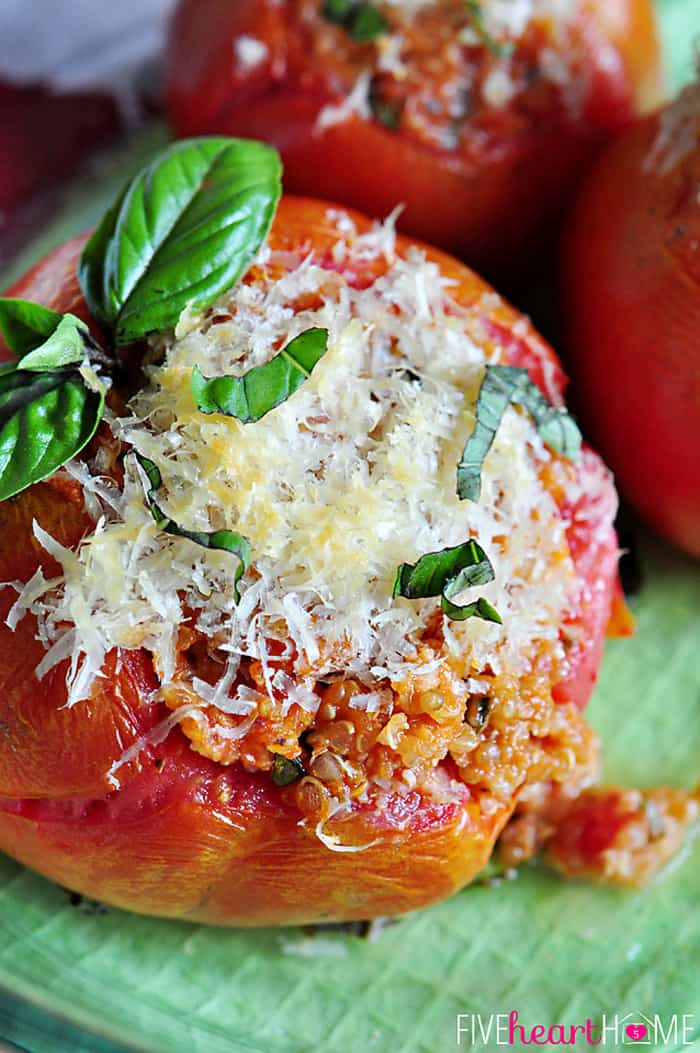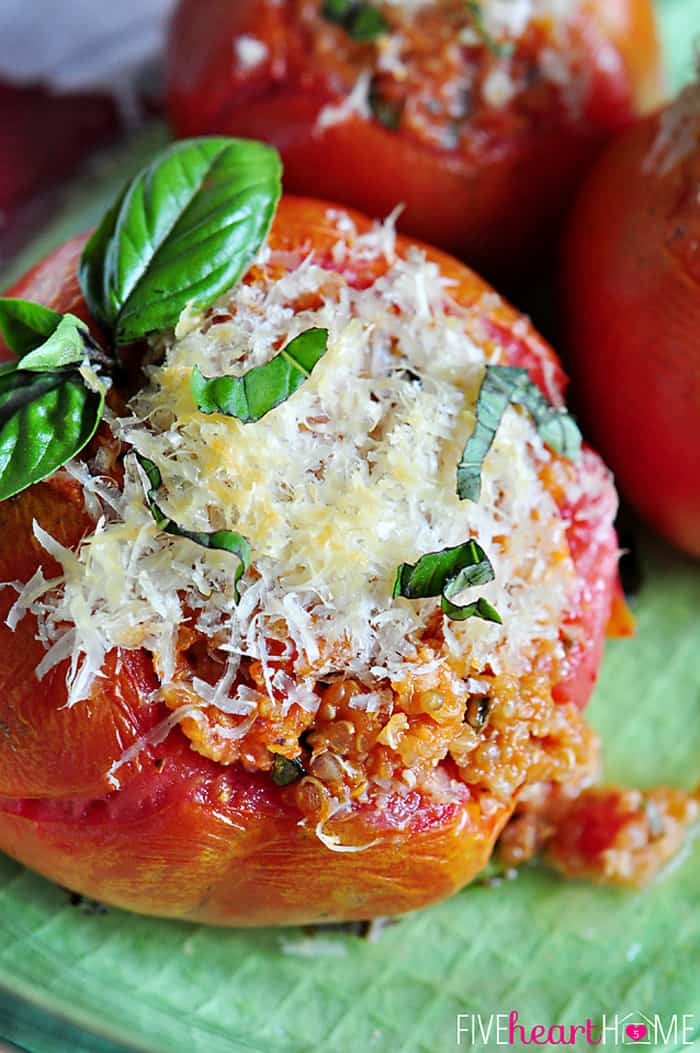 So that's what I did here. To make these beauties, simply take cooked quinoa and blend in some pasta sauce (homemade or your favorite jarred variety works just fine), shredded mozzarella, and ribbons of fresh basil. Stuff it into your hollowed out tomatoes, top with grated Parmesan, and bake until the tomatoes are soft, the cheesy quinoa is gooey, and the Parmesan is golden brown. Fresh, healthy, and delicious!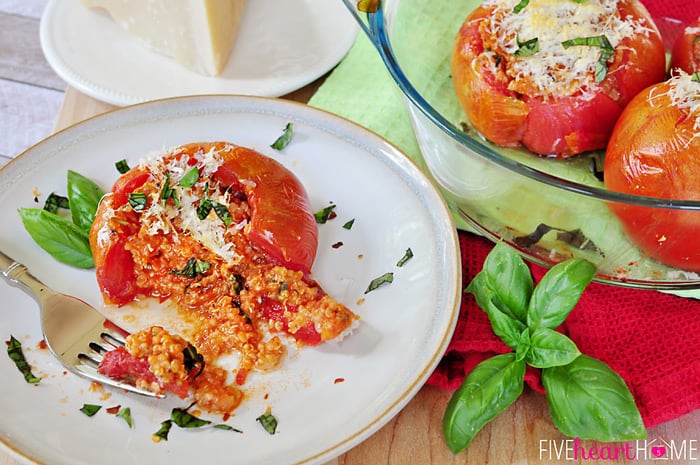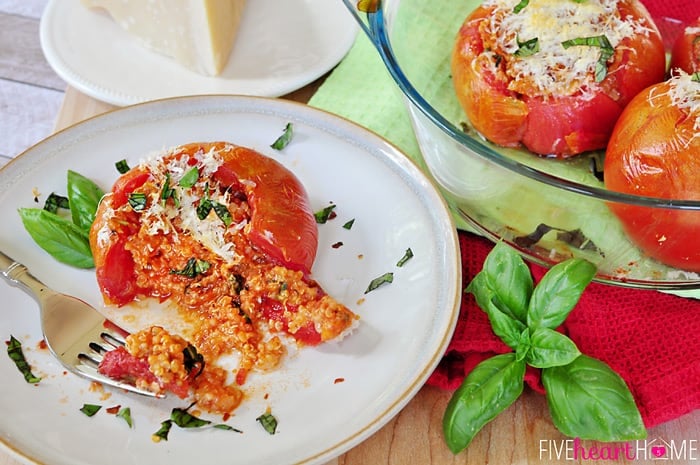 In fact, this quinoa is so delicious that my tomato-lovin' 21-month-old whined for a bite while I was putting together the filling. I gave her one…and then she wanted another. And another. So to be perfectly honest, I skimped on filling my last tomato so that I could reserve a small bowl of caprese quinoa for her lunch that day. Hey…if a picky toddler is willing — no, excited! — to eat something nutritious, you go with it.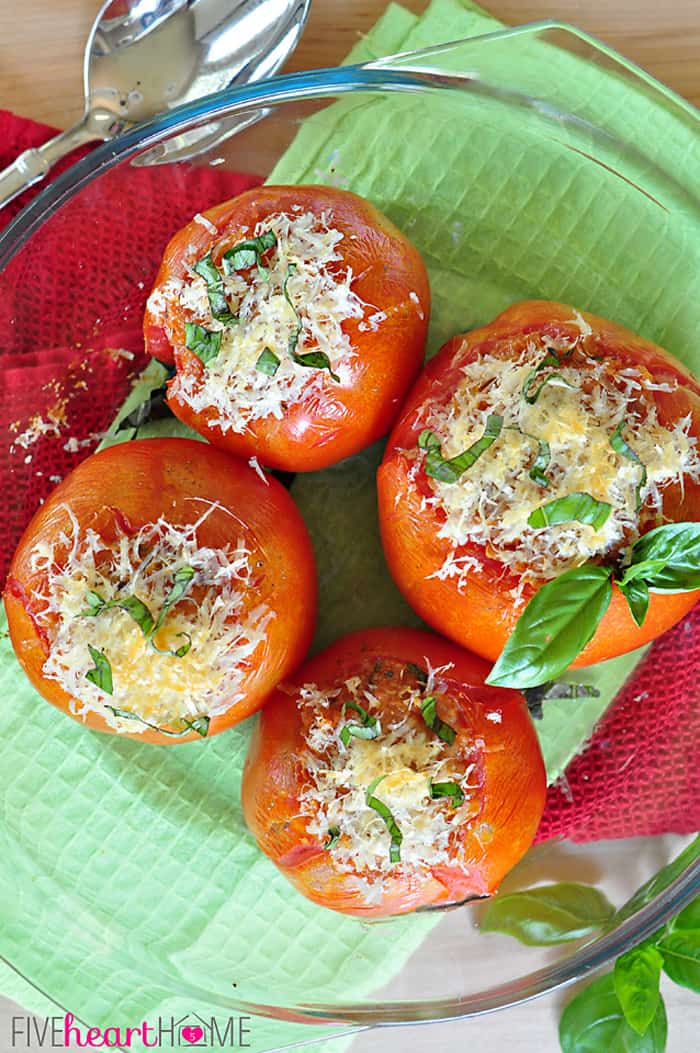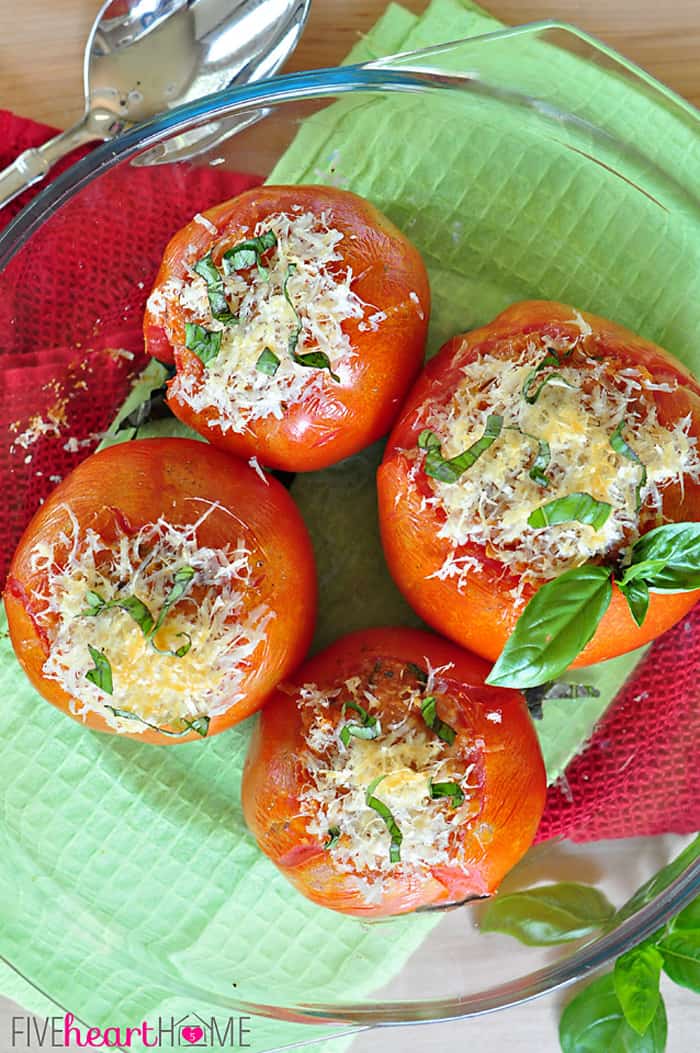 My daughter may have been my taste tester at lunchtime, but our whole family enjoyed these Caprese Quinoa Stuffed Tomatoes for dinner that night. I think you and yours will love them, too! Not only would anyone be delighted to eat such a lovely summer side dish, but the added bonus is that it's a nourishing one as well. 😉
Caprese Quinoa Stuffed Tomatoes
In this caprese spin on a classic summer side dish, nutrient-packed quinoa is blended with pasta sauce, gooey mozzarella, & fresh basil, stuffed into ripe tomatoes, topped with Parmesan, and baked to perfection!
Ingredients
4 large tomatoes
1 1/2 cups cooked quinoa*
3/4 cup pasta sauce (homemade or jarrred)
1 tablespoon tomato paste
3/4 cup shredded mozzarella
3 tablespoons chopped fresh basil
1/4 teaspoon garlic salt
1/8 teaspoon crushed red pepper flakes (optional)
1/4 cup grated Parmesan
Instructions
Use a small knife to cut a circle in the top of each tomato and begin hollowing out the center. Use a spoon to scoop out all seeds. Sprinkle the interior of each tomato with a little bit of salt and lay upside-down on a paper towel-lined plate to drain.
Preheat oven to 350°F. In a medium bowl, combine quinoa, pasta sauce, tomato paste, mozzarella, basil, garlic salt, and, if using, crushed red pepper. Place tomatoes right side up in a baking dish, and carefully divide quinoa mixture between them, carefully filling with a spoon. Sprinkle grated Parmesan over the top of each tomato. Bake for 25 to 30 minutes or until tomatoes have softened and Parmesan is golden brown.
Notes
*To yield 1 1/2 cups cooked quinoa, rinse 1/2 cup raw quinoa under warm, running water, drain, and then combine with 2 cups of water or broth in a small pot. Bring to a boil, reduce heat to a simmer, cover, and cook for 15 minutes (or follow package directions).
https://www.fivehearthome.com/caprese-quinoa-stuffed-tomatoes/
https://fivehearthome.com ~ All recipes and images on Five Heart Home are copyright protected. Please do not use without my permission. If you would like to feature this recipe, please rewrite the directions in your own words and give proper attribution by linking back to this blog.
More popular quinoa recipes…
Quinoa Pudding with Coconut Milk (like a cross between rice pudding & tapioca pudding)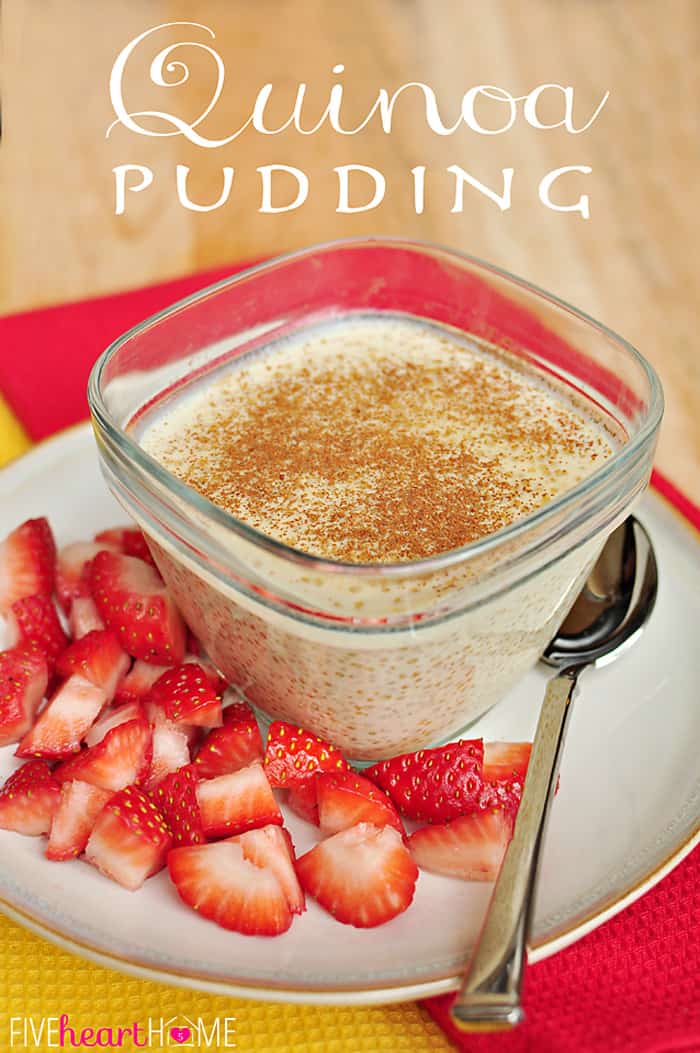 Porcupine Meatballs with Quinoa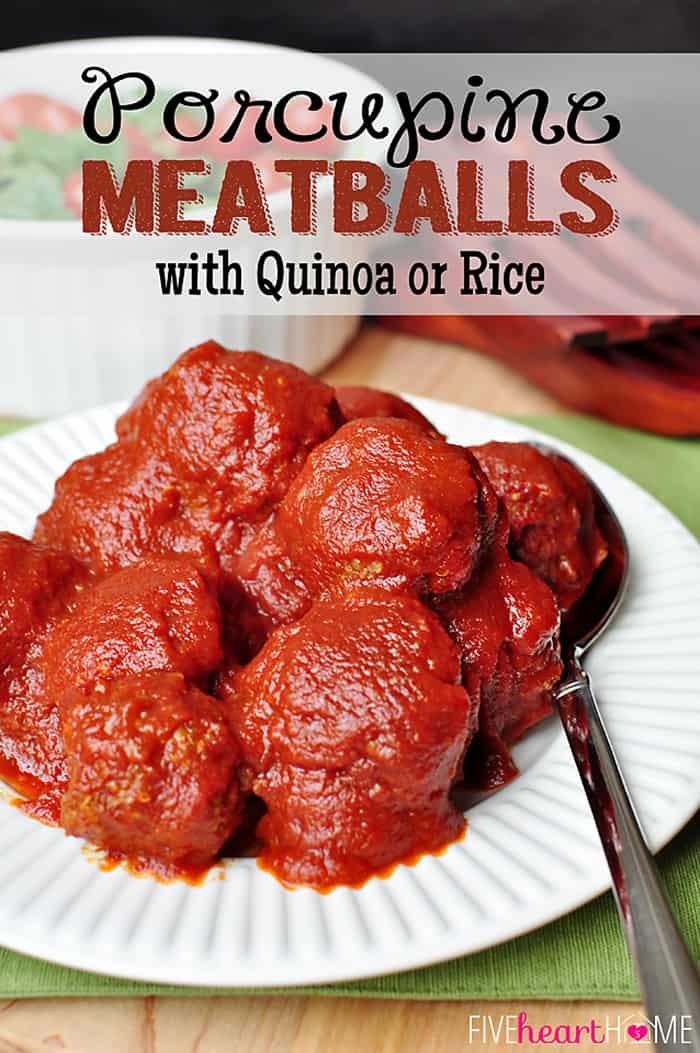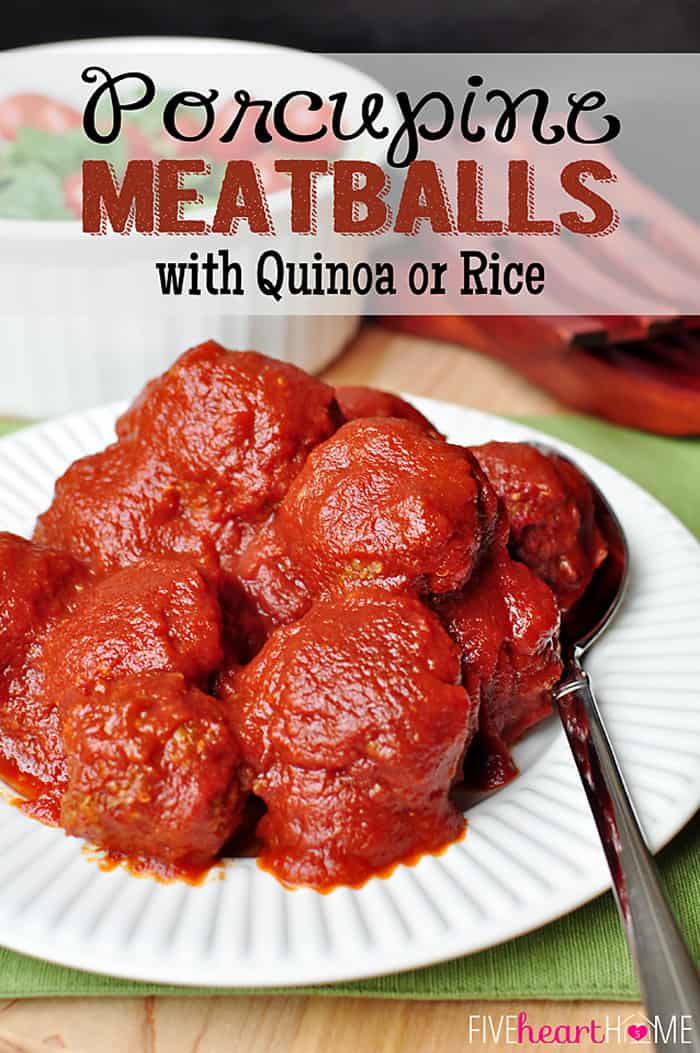 …and more popular tomato recipes!
Balsamic Roasted Tomatoes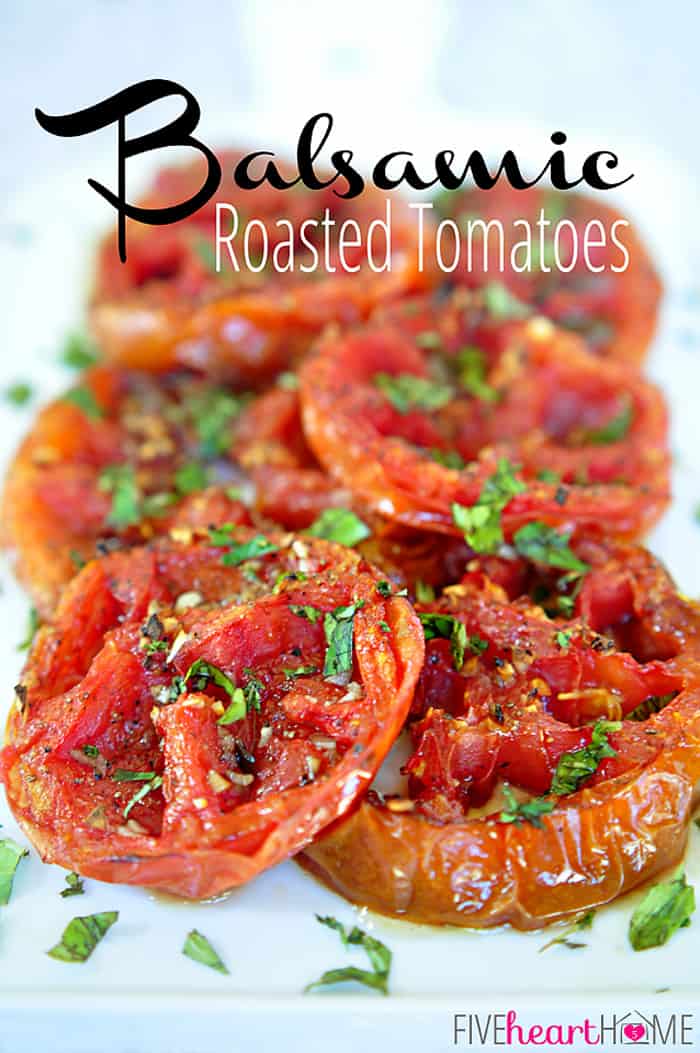 Tomato Cucumber Salad with Feta & Olives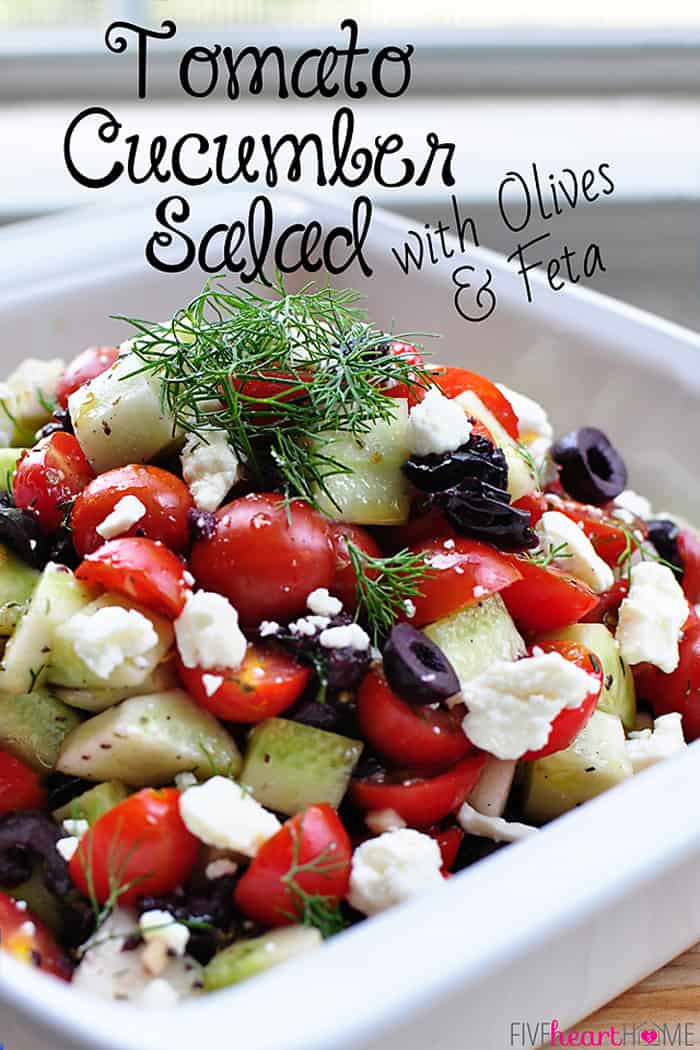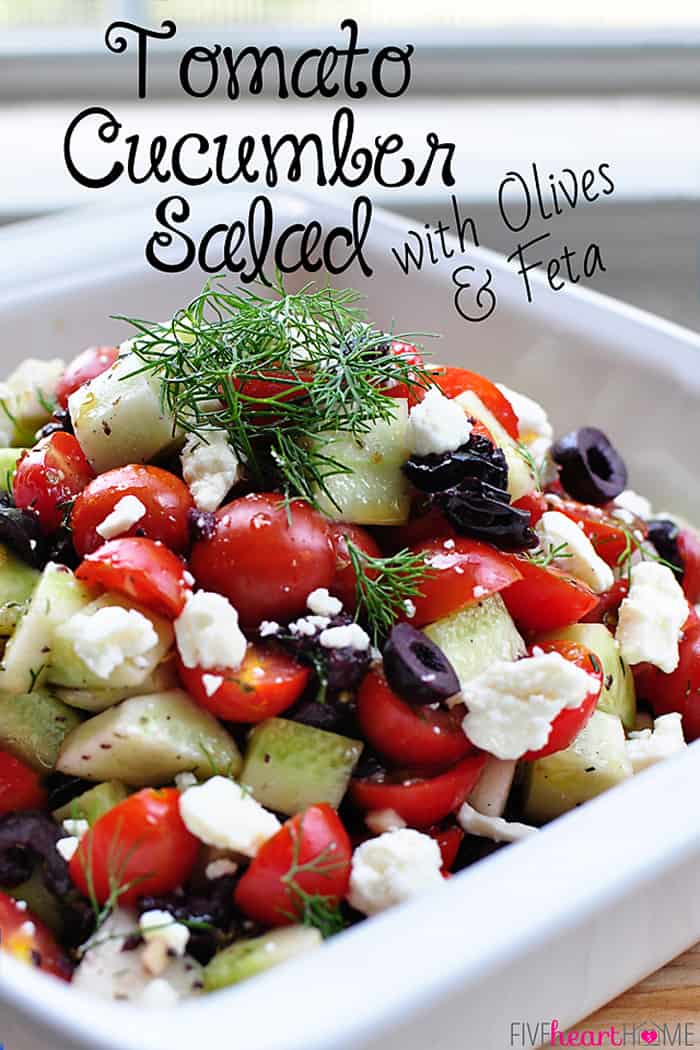 Tortellini Pasta Salad with Tomatoes, Basil, & Fresh Corn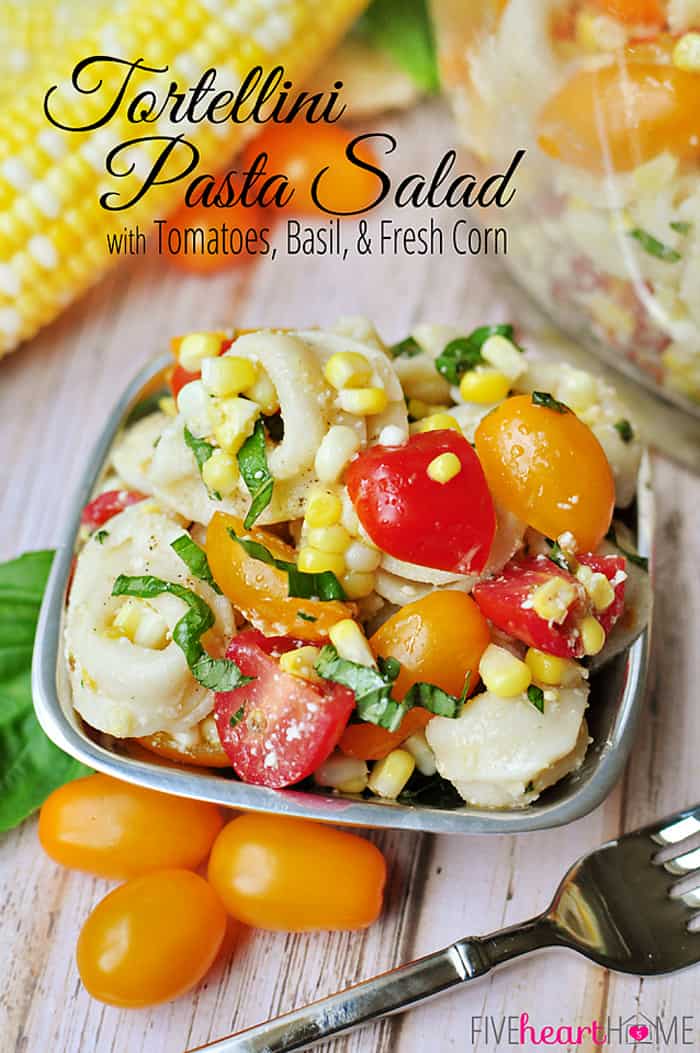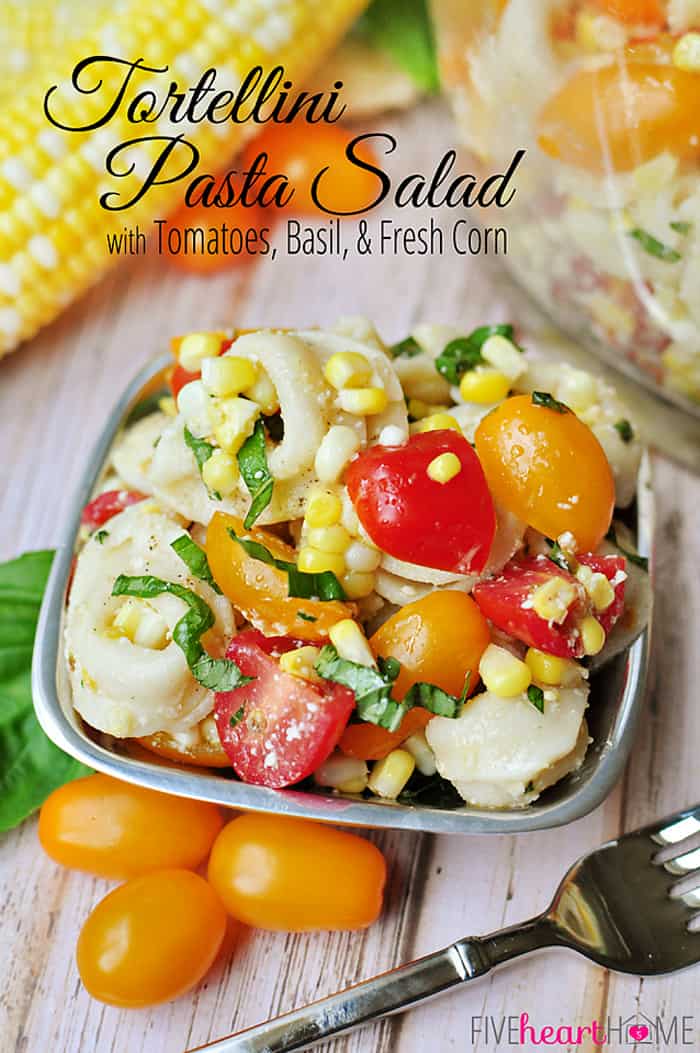 0