Zesty Cheese Spread is quick to make, delicious on pretzels, crackers, or raw veggies, and perfect for Super Bowl Sunday!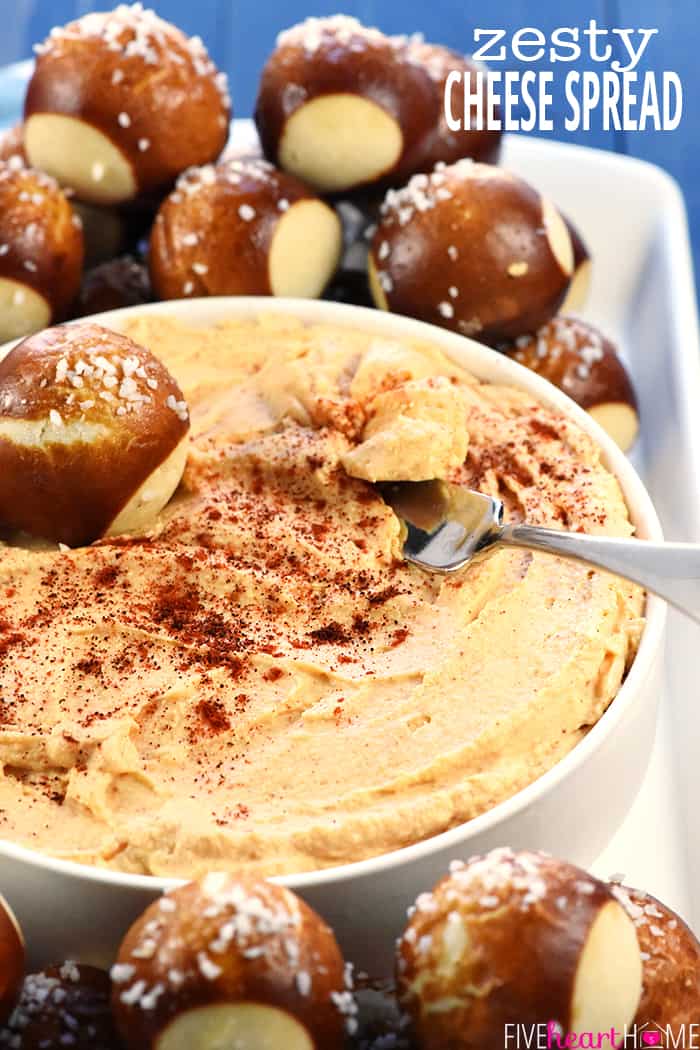 Are you ready for some football?! Super Bowl Sunday is right around the corner and I, for one, can't wait. I don't have a horse in the race this year as far as teams go, but I do love me a good football game. I also love the commercials. I love halftime. And I LOOOOVE game day grub...like this Zesty Cheese Spread!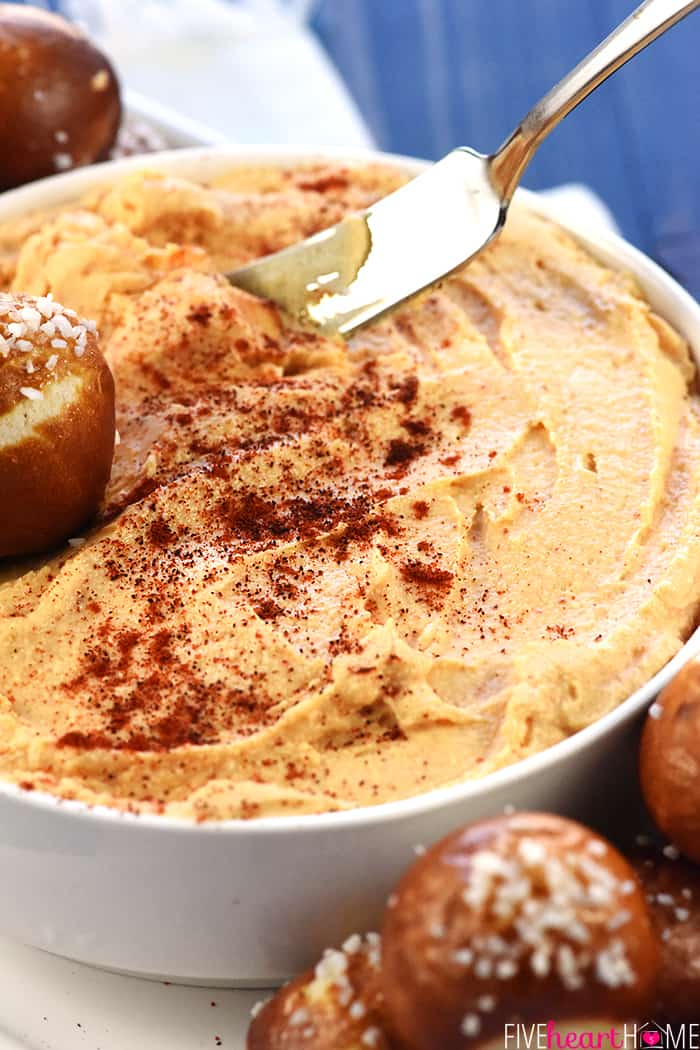 That's right, y'all...I just had to share a new recipe with y'all in time for the big game. For this year's Super Bowl menu with my crew, I've decided that we're going to do an oldie but a goodie, Slow Cooker Root Beer Pulled Pork Sliders. But along with the main dish, I always serve a big variety of appetizers and dips. And Zesty Cheese Spread just happens to be one of the dips I have planned for this weekend...because what says football better than pretzels and cheese?!
How to Make It
This recipe is super quick and easy to make in the food processor.
Simply dump in the ingredients...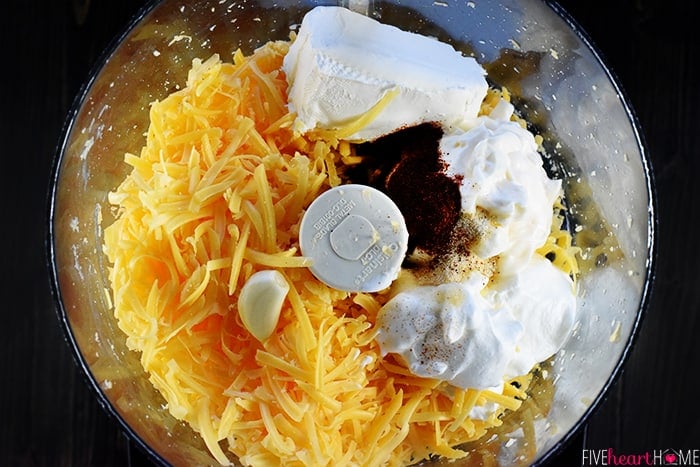 ...and let 'er rip for a few minutes until the mixture is smooth and creamy.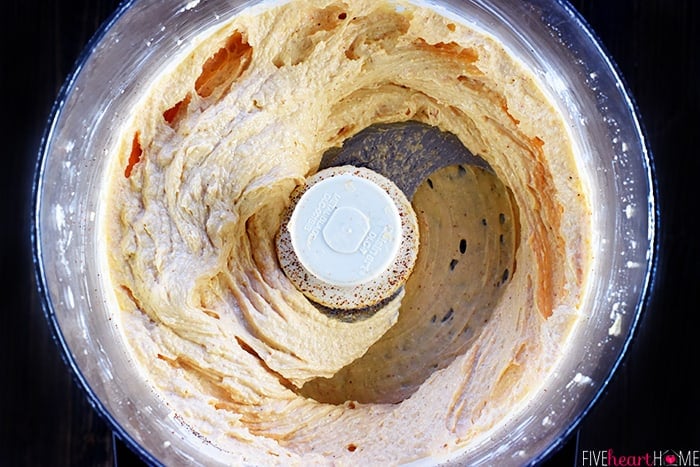 Scrape the cheesy goodness out into a shallow bowl, garnish, and set it out with your preferred dippers or spreaders.
Super Bowl snacking doesn't get any easier than that!
Make-Ahead Option
What makes this recipe particularly great for game day is that it's best served at room temperature, meaning you don't have to go to any great lengths to keep it hot or cold.
That being said, you can definitely assemble this Zesty Cheese Spread ahead of time if you like, to save (minimal, mind you) effort on game day.
Cover and pop in the fridge, but just be sure to allow it enough time to come back to room temperature before serving. I learned that this spread isn't very spreadable when chilled!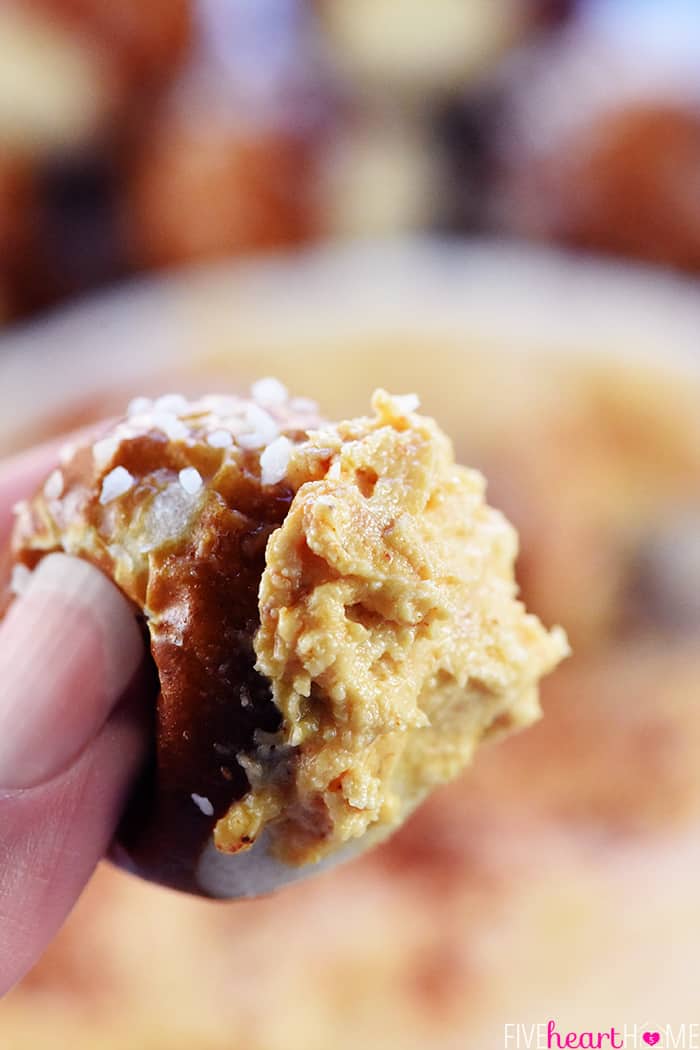 Customizing the Spices
The other nice thing about this recipe is that it can be customized to your tastes by swapping out the spices.
You can use paprika to make it mild.
Use cayenne to make it spicy.
Use smoked paprika to make it smoky.
OR use chipotle chile pepper powder to make it spicy and smoky!
Start with a little bit of your chosen spice, blend well, and then taste and adjust to your liking.
Just remember the cardinal rule of seasoning...you can always add more, but it's impossible to take it away!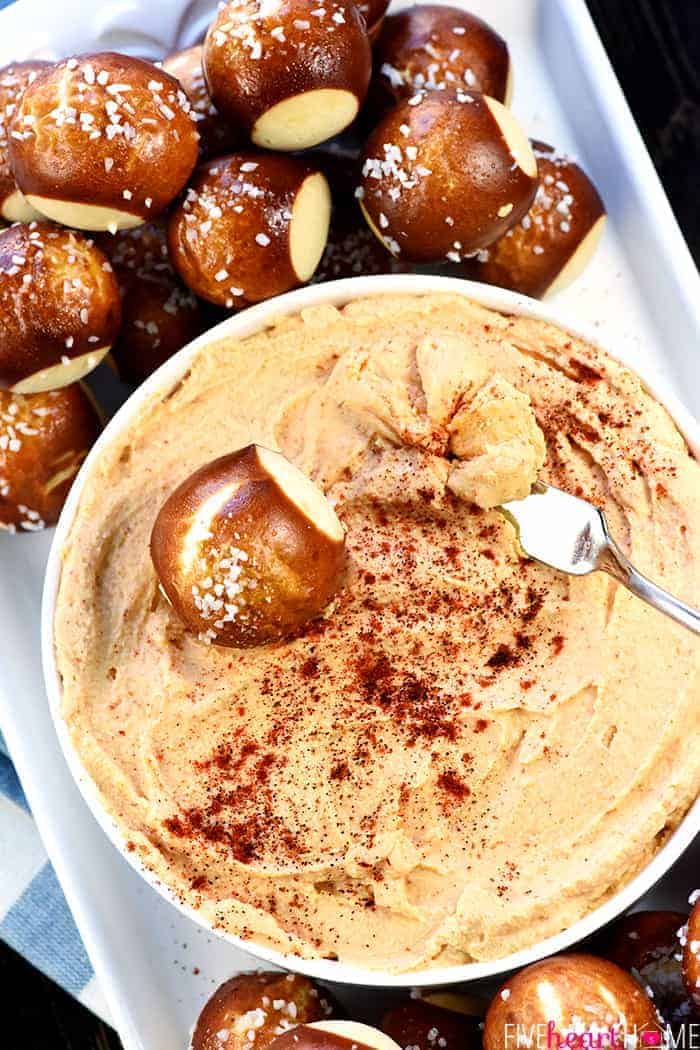 Ideas for Serving Your Cheese Spread
As far as accompaniments, I think soft pretzel bites are the perfect vehicles for this zippy, cheesy spread. You can make them homemade or perhaps pick some up at a bakery, but I snagged some pretty tasty ones in the freezer section.
Alternatively, you could set out some sturdy crackers. This is a thick dip so thin or delicate crackers won't do.
Or if you're wanting to balance out its decadence, you could even enjoy this Zesty Cheese Spread with a variety of crudités! Raw broccoli and cheese, anyone??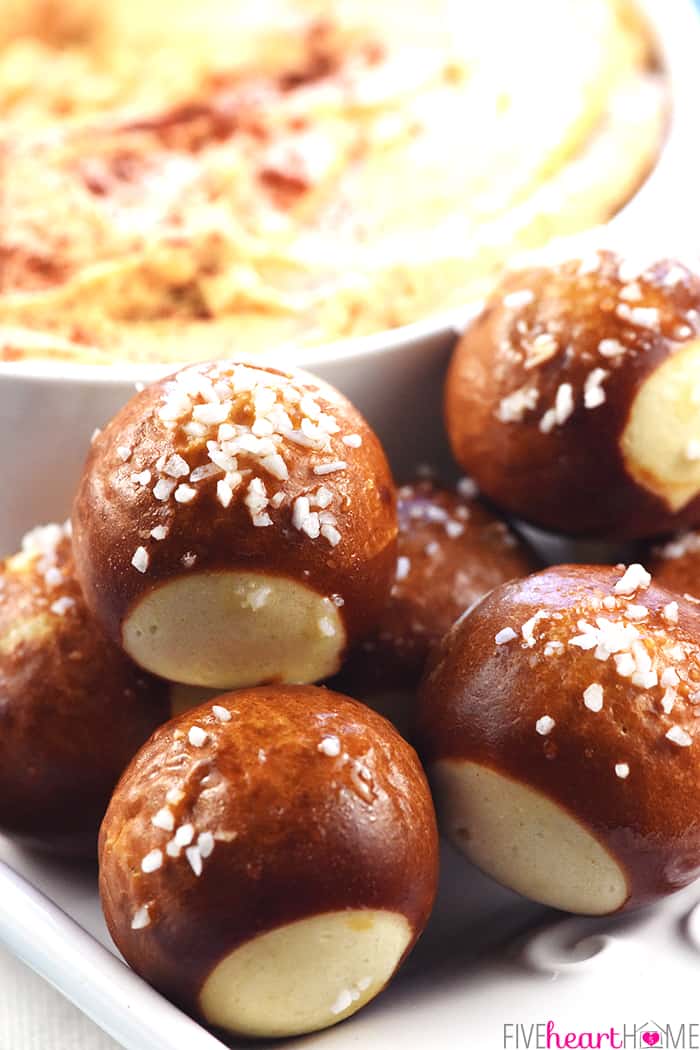 So tell me about your Super Bowl plans and predictions for this weekend! Are you going to a party or watching from the comfort of your own living room? Are the Patriots going to win again? Is Tom Brady finally going to retire? Is Janet Jackson going to surprise us with a cameo during JT's halftime performance? (I rather hope not because, unlike in 2004, I have children watching this time around...) What commercials are you most looking forward to?
But most importantly, are you going to make your Zesty Cheese Spread spicy, smoky, or both? 😉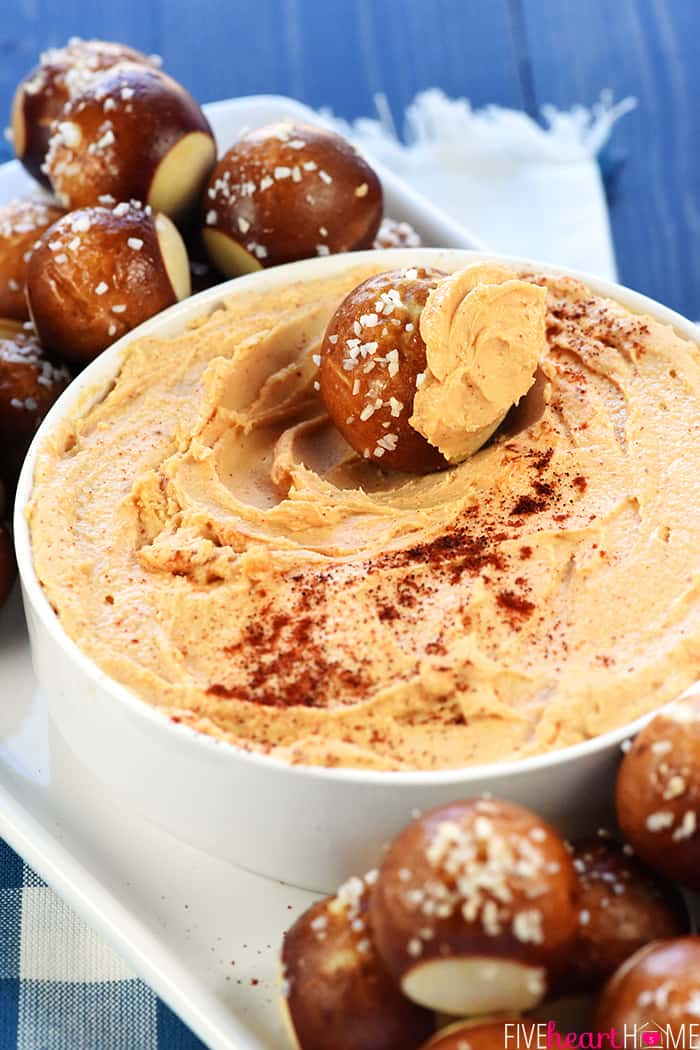 Helpful Tips, Tricks, & Equipment
I recommend making this recipe with freshly grated cheese, since a package of already-grated cheese from the grocery store typically has powdered cellulose added to prevent caking, and that can make for a lumpier spread.
I found it most efficient to first use a shredding disk in my food processor to grate the cheese. Then I temporarily transferred the grated cheese to a bowl, switched from the shredding disk to the blade attachment, and then added the grated cheese back to the food processor along with all of the other ingredients.
The spices in this recipe are just a starting point, so feel free to tweak them to your liking using some or all, depending on what you have and what you like. Just remember that paprika is mild, smoked paprika is mild and smoky, cayenne is spicy, and chipotle chile pepper powder is spicy and smoky and adjust accordingly.
I prefer making this recipe with sharp cheddar, but feel free to make it with mild cheddar or even white cheddar, if you prefer.
A little bit of garlic goes a long way in this recipe, so make sure to use a small clove of garlic.
Zesty Cheese Dip may be assembled up to several days ahead of time. Cover tightly and refrigerate, then bring to room temperature before serving.

More Gameday Dips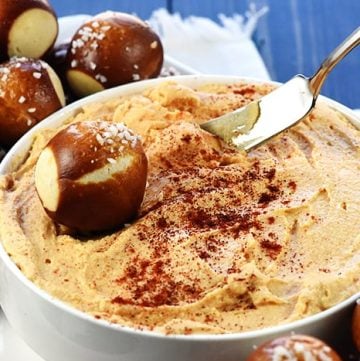 Zesty Cheese Spread
Zesty Cheese Spread is quick to make, delicious on pretzels, crackers, or raw veggies, and perfect for Super Bowl Sunday!
Print
Pin
Rate
Ingredients
1

small clove of garlic

8

ounces

sharp cheddar cheese

,

grated (about 2 cups packed grated cheese)

2

ounces

cream cheese

,

at room temperature

⅓

cup

sour cream

⅓

cup

mayonnaise

¼

teaspoon

paprika OR smoked paprika

¼

teaspoon

chipotle chile pepper powder

⅛

teaspoon

cayenne

⅛

teaspoon

onion powder

Soft pretzel bites, pretzels, crackers, and/or raw veggies

,

for serving
Instructions
Place the clove of garlic in the bowl of a large food processor and process until it's finely minced. Add the grated cheese, cream cheese, sour cream, mayonnaise, paprika, chipotle chile pepper powder, cayenne, and onion powder. Process for 2 to 3 minutes or until smooth and creamy, scraping down the sides of the bowl halfway through. Taste and adjust the seasonings, as desired. Transfer to a shallow bowl, sprinkle the top with paprika or cayenne, and serve at room temperature.
Calories:
73
kcal
|
Protein:
2
g
|
Fat:
6
g
|
Saturated Fat:
3
g
|
Cholesterol:
15
mg
|
Sodium:
88
mg
|
Potassium:
17
mg
|
Vitamin A:
165
IU
|
Calcium:
74
mg
|
Iron:
0.1
mg
Adapted from Bon Appetit