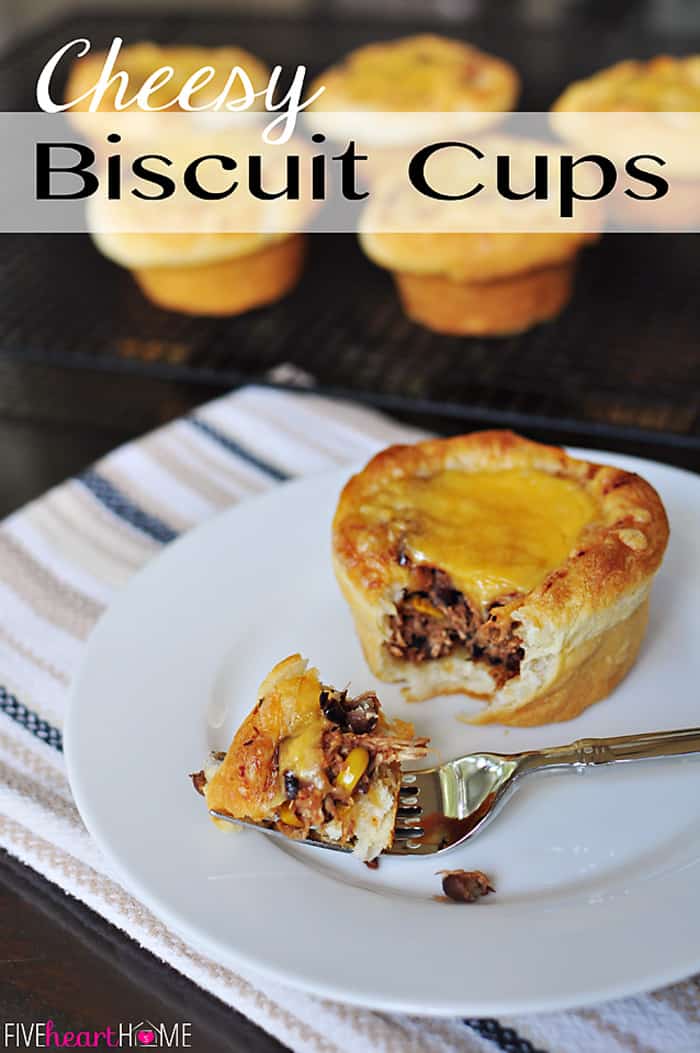 Cheesy Biscuit Cups is a quick, easy recipe that combines refrigerated biscuits and your favorite leftovers -- chicken, beef, ham, taco filling, anything -- for a versatile, tasty dinner!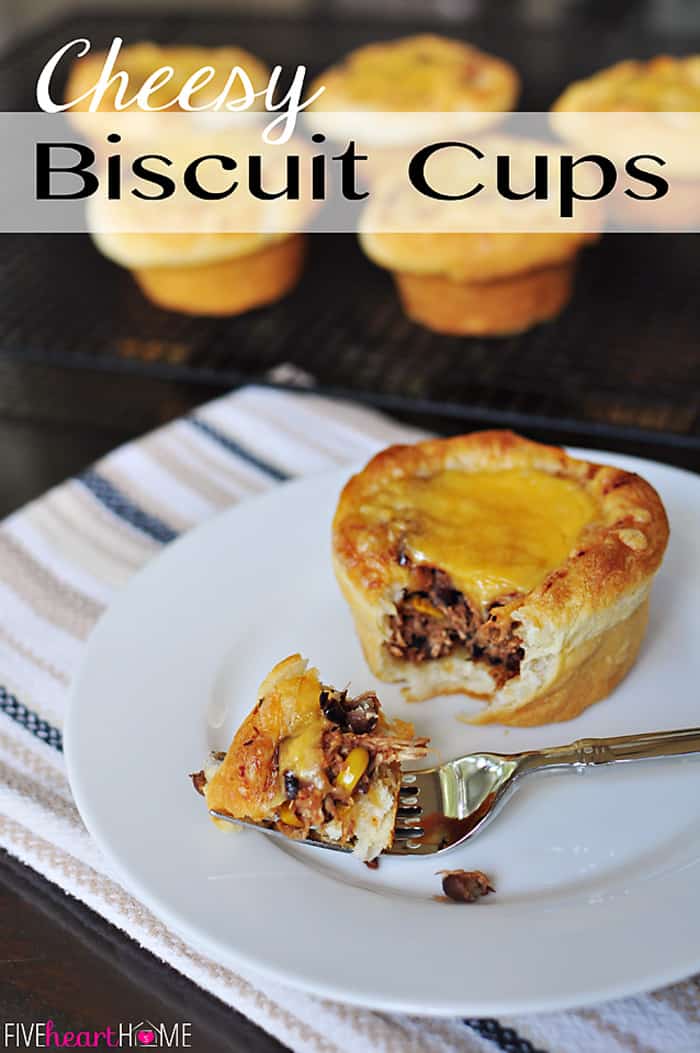 Who doesn't love "leftover recipes"...you know, those gems that can turn a small amount of leftovers into a whole new meal? These Cheesy Biscuit Cups do just that. And, despite their simplicity, don't be surprised if they quickly become a family favorite!
These little morsels save the day on busy weeknights when you don't have a lot of time or ingredients on hand. And as much as I wish it weren't the case, that's a predicament I find myself in quite regularly come 5:00 p.m. Lucky for me, with this recipe I'm just a bowl of leftover meat, a hunk of cheese, and a can of refrigerated biscuits away from a dinner that can not only be thrown together in minutes, but is also one my family absolutely loves.
Earlier this week, my little family returned from a relaxing mini vacation at the coast. (As an aside, are we Texans the only ones who call the beach the coast?) Regardless, the beach/coast/seashore is where we were, enjoying several days of absolute fun in the sun, sand, and surf. You see, as much as we're all craving some cool autumn air around here, the upside to living in a state that doesn't typically acknowledge fall-like temperatures until well into November is that you can still comfortably enjoy the beach at the beginning of October!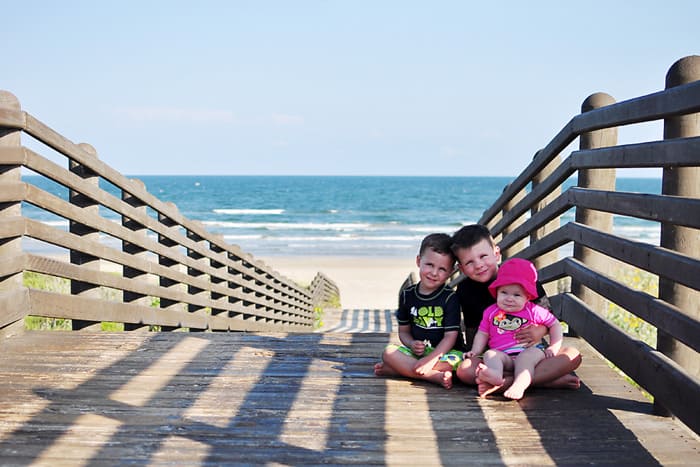 Alas, all good things must come to an end, and we've been back from our coast trip for the past couple of days now, catching up on school work, work work, blog work, about 74 loads of sand-infused laundry, and a pitiful grocery deficit plaguing our refrigerator and pantry. Is it just me, or do you typically feel like you need a vacation to recover from a vacation (especially when said vacation includes the transport and entertainment of three young children)?
When I went to fix dinner on the night we returned, my saving grace was that we had some leftovers from all of the food I cooked up last week in preparation for our trip. You see, we took a fully stocked cooler of meals to the beach house so that we wouldn't have to worry about cooking (or eating out every meal) during our vacation.
One container of leftovers that made it back with us was full of shredded chicken, spiced with taco seasoning and studded with black beans and corn. We'd eaten chicken soft tacos one evening during our trip, but there didn't seem to be enough chicken remaining for another dinner of tacos once we got back home...not to mention the fact that I didn't feel up to enduring the whining that typically ensues when my boys learn that we're having a repeat dinner. For some reason, my kids (and my husband, for that matter) are funny about eating a meal enthusiastically the first time but having a diminished appetite for it the second time around. Me? I would happily eat the same exact dinner three days in a row if it saved me the effort of cooking something new. But I've learned that my family is much more receptive to leftovers if I at least change them up a bit on a subsequent night, so that's what I usually try to do.
Thus, when I spied that leftover chicken taco filling the other night, I also noticed that I had a can of refrigerated biscuits just waiting to transform my chicken into something new...you know, one of those aforementioned leftover recipes.
Ta-daaaa! I call these tasty, muffin-esque beauties Cheesy Biscuit Cups, which is nice and generic because the filling changes based on whatever leftover meat-type filling I have on hand. Technically, the version here today could be called Cheesy Chicken Taco Biscuit Cups, but I'm not even exaggerating when I say that the possible variations are endless.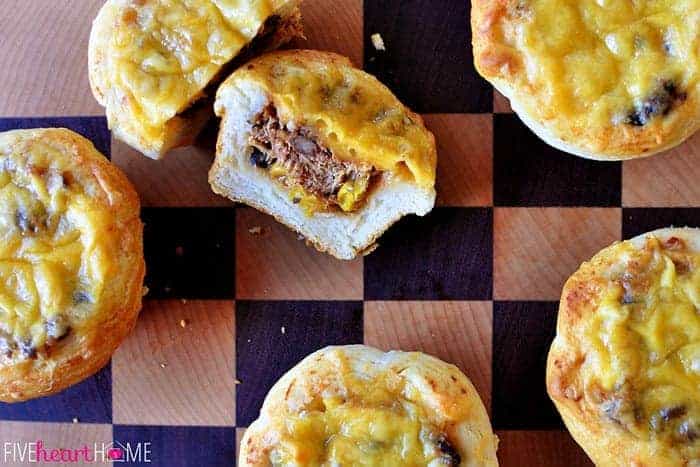 Have leftover beef taco meat? That'll give you yet another yummy version of Cheesy Taco Biscuit Cups.
Leftover sloppy joe filling? Say hello to Cheesy Sloppy Joe Biscuit Cups.
Leftover brisket or pulled pork? Chop it up and mix it with some barbecue sauce for Cheesy BBQ Biscuit Cups.
Leftover chili? Looks like Cheesy Chili Biscuit Cups are on the menu.
Leftover meat sauce when you're not in the mood for spaghetti again? Stuffed in a biscuit, topped with a plop of ricotta cheese, and sprinkled with some mozzarella gives you Cheesy Italian Biscuit Cups.
Are you catching on here? Just about any meat (or vegetarian) filling-type leftovers can be stuffed into these biscuit cups, topped with cheese, and baked up into cute little muffins for dinner!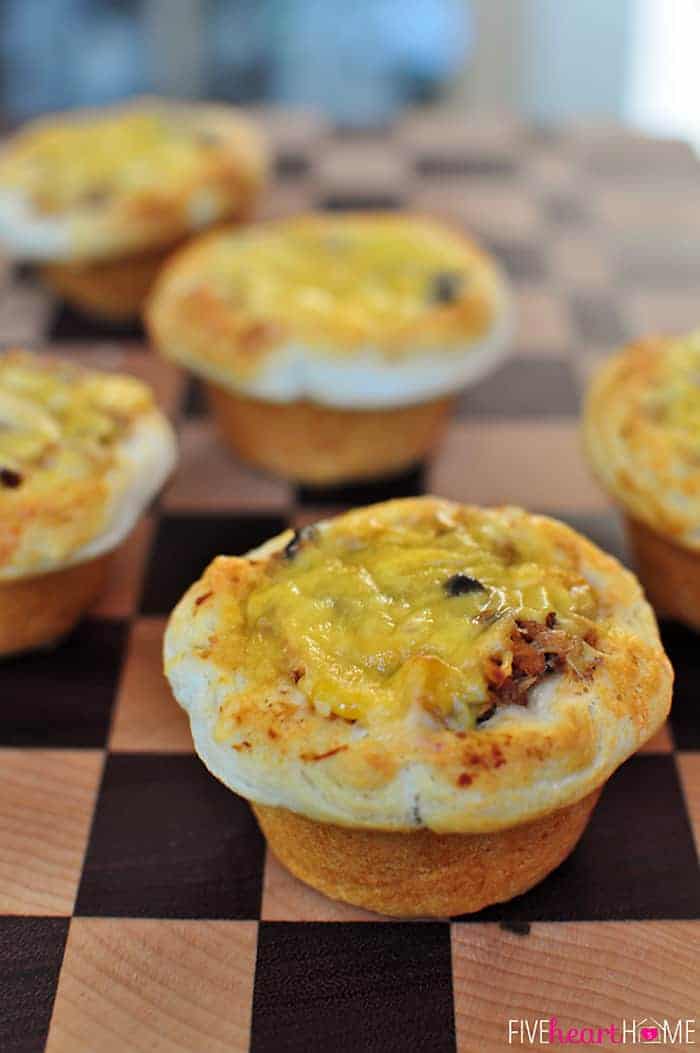 Now I'm all about giving precise measurements and specific directions when I write out a recipe, but this post is more of a concept based on your available ingredients than a set recipe. This leftovers recipe will work with whatever you have on hand, so I'm leaving the ingredients and directions vague today on purpose.
First off, different types of refrigerated biscuits will work. I prefer the large buttermilk-type biscuits that come 8 to a can, because I enjoy a nice, substantial biscuit layer and I prefer working with larger biscuits that I don't have to stretch out so thin and risk tearing. But I have made this recipe with the smaller biscuits that come 10 to a can and they work just fine, too. My favorite brand of refrigerated biscuits are by the Immaculate Baking Company, but any ol' brand would be peachy.
Secondly, how much filling you use depends on how big your biscuits are and what type of muffin pan/ramekins you use. Because I use the larger biscuits which result in a thicker biscuit layer that doesn't tear as easily, I really pack down the filling into the bottom of each biscuit-lined muffin cup. I'm not talking about a little spoonful of filling here; I pile several tablespoons full of filling into each biscuit cup, really pushing it down so that it's nice and compact and the biscuit consequently gets pushed up a little bit more around the edges. Then I do the same with a generous pinch of shredded cheese, pushing it down so that it's nicely centered at the top of the muffin cup and adding a bit more if I can make it fit.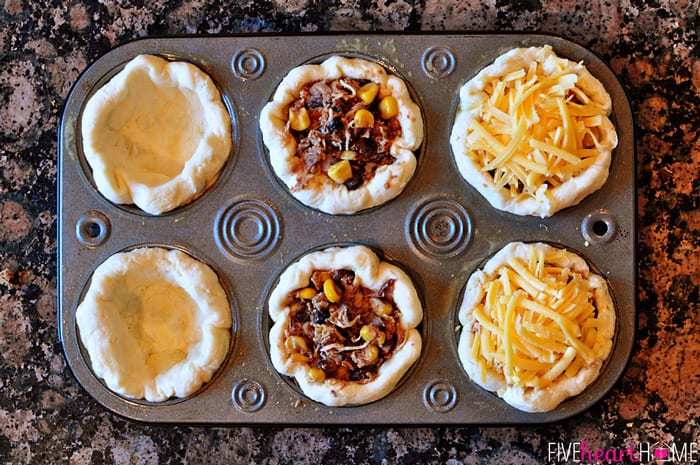 That being said, you'll want to be sure you pack down your filling and cheese so that it's pretty much level with the top edge of the biscuit. You basically want the biscuit to bake up around the edges and give you a well of cheese in the center, because if your cheese is melting everywhere, you may end up with biscuit cups that stick to your pan.
Since I was making 8 biscuit cups this time, I filled my 6-cup muffin pan and then decided to bake my last two biscuit cups in small ceramic ramekins, rather than pulling out another muffin pan. And I must say, I think I liked the way the ramekin biscuit cups turned out even better than the muffin pan ones! Since the sides of the ramekins are not angled inward, I could fit even more chicken taco filling and cheese into these biscuit cups, resulting in meatier, larger portions.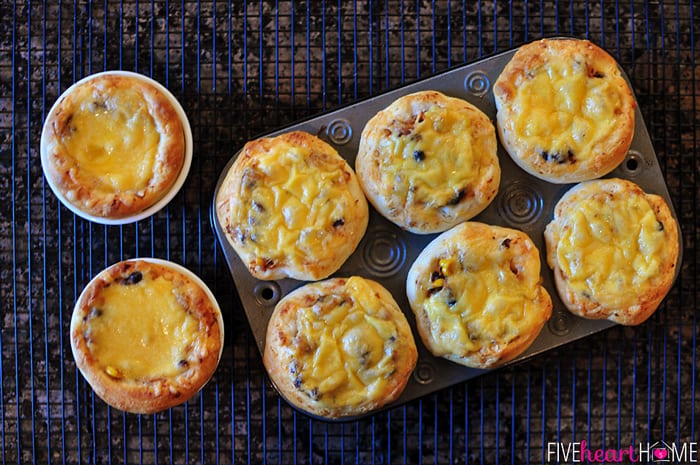 Along those lines, another consideration when making this recipe is serving size. Using 8 large biscuits, I would estimate that an average adult would probably eat two. A hungry adult, teenager, or growing kiddo might easily eat more than two. My 6-year-old ate a little more than one biscuit cup and my 4-year-old ate a little less than one. What I'm saying here is one biscuit cup does not necessarily equal one serving. Making this recipe using an 8-count can of jumbo biscuits might feed a family of 4, or it may be too much or not enough. It all depends on your family members' appetites and how much filling you squeeze into your biscuits, so keep that in mind when you're preparing this leftover recipe for supper.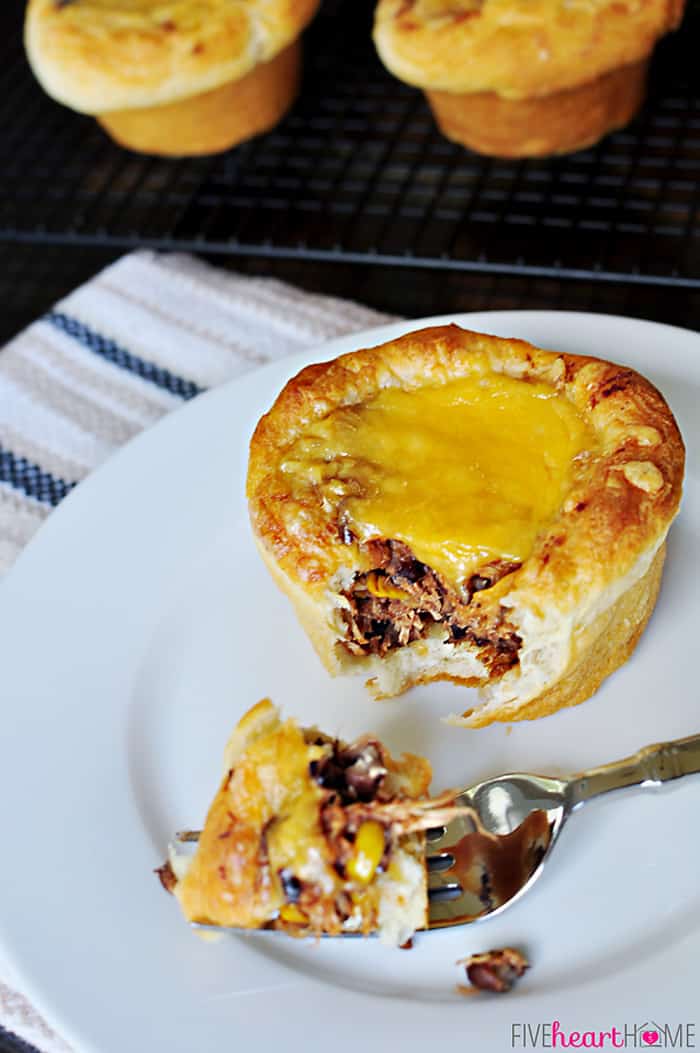 I hope you enjoy coming up with your own tasty variations of Cheesy Biscuit Cups! They're a quick, simple way to use up leftovers while simultaneously pleasing picky palates.
My kids absolutely love these, and to be honest, so do I. Are they fancy? No. But I can assure you that they make a great weeknight dinner for when your cupboards are bare and you'd rather be back at the beach. 😉
More Easy Dinners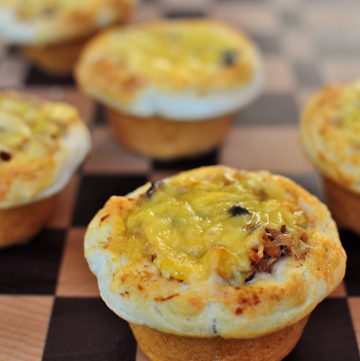 Cheesy Biscuit Cups Recipe (to Use Up Leftovers!)
Cheesy Biscuit Cups is a quick, easy recipe that combines refrigerated biscuits and your favorite leftovers -- chicken, beef, ham, taco filling, anything -- for a versatile, tasty dinner!
Print
Pin
Rate
Ingredients
1

(8-count)

can of jumbo refrigerated buttermilk biscuits

Leftover meat for filling

,

such as beef or chicken taco meat, pulled pork, chopped brisket, chili, sloppy joe filling, meat sauce for spaghetti, etc.

Shredded cheese

,

whatever kind complements the filling
Instructions
Preheat oven to 375°F.

Spray 8 cups of a muffin pan (or 8 small ceramic ramekins) with non-stick cooking spray. Flatten biscuits with your fingers (or roll out) so that they become larger and thinner, and press into bottom and up sides of prepared muffin cups.

Spoon a few tablespoons full of meat mixture into the bottom of each biscuit cup, packing it down and adding more if it will fit. Top with a generous pinch of shredded cheese, pressing down so that cheese is centered over filling and not spilling all over the edges of the muffin pan.

Bake for 18 to 20 minutes or until cheese is melted and edges of biscuits are golden. Remove muffin pan to a wire rack and gently run a knife around the edge of each biscuit to loosen. Use a spoon to carefully remove biscuit cups from pan. Serve hot.
Notes
You may use a 10-count can of smaller biscuits for less bread and more filling. Just keep in mind that the smaller biscuits have to be stretched thinner and are easier to tear.
Have fun customizing these! Add herbs, seasonings, different shredded cheeses to complement different fillings, a dollop of ricotta cheese for an Italian flair, etc.
As a starting point only, nutrition information for this recipe has been calculated as if the biscuit cups were made with one large diced chicken breast and 1 cup of shredded cheddar. The nutrition facts will be different depending on what leftovers you use (and how much).
Calories:
173
kcal
|
Carbohydrates:
13
g
|
Protein:
11
g
|
Fat:
8
g
|
Saturated Fat:
3
g
|
Cholesterol:
29
mg
|
Sodium:
375
mg
|
Potassium:
176
mg
|
Fiber:
1
g
|
Sugar:
1
g
|
Vitamin A:
103
IU
|
Vitamin C:
1
mg
|
Calcium:
85
mg
|
Iron:
1
mg
Adapted from Southern Living: What's For Supper?