Fruity wine slushies are a refreshing way to cool off when the weather heats up, and this Cherry Vanilla version is scrumptious with its juicy dark cherries, sweet Moscato, and hint of pure vanilla!

It reeeeally tried to reach 90-degrees around here last week. So I decided that Cherry Vanilla Wine Slushies would be an entirely appropriate way to embrace the rising heat while also celebrating the fact that I'm back to blogging (yaaay!) after my laptop completely kicked the bucket and was in the shop for repairs all last week. Sorry for my temporary, unforseen absence, y'all. Let's just say that if blogging didn't rely on technology, I would have absolutely no use for it at all. 😉
So have you jumped on the whole wine slushie bandwagon yet? I suppose the inspiration for this concoction should originally be credited to the clever Venetian bartender who, decades, ago, combined pureed peaches and sparkling white wine in his little bellini invention...and then to Macaroni Grill (??? -- ha) for transforming that concept into a frozen boozy beverage. Regardless, wine slushies are currently taking the internet by storm. And seeing as how I'm partial to both fruit and wine, I decided to join in on the fun with this cherry vanilla version, my nod to a flavor combination that I rather enjoyed back in college with waaaay too many Route 44 Cherry Vanilla Cokes.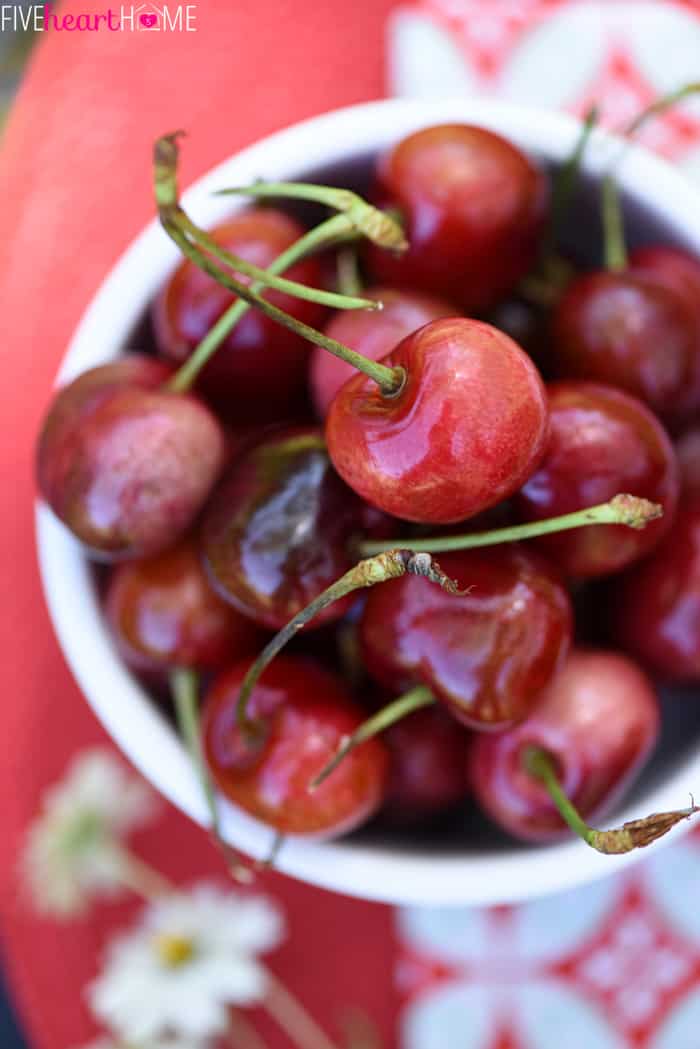 As a bonus, these Cherry Vanilla Wine Slushies are super-dee-duper easy to make. Simply puree a bag of frozen cherries with a couple cups of Moscato and a splash of pure vanilla extract. Blend until smooth and frosty and -- ta da! A frozen delight fit for a girls' night in...or a tired mom come kids-are-in-bed-time. I won't judge, friends...and I might just join ya.
I chose to make my wine slushies with Moscato -- which one of my friends fittingly refers to as "Skittles in a Glass" -- because slushies are supposed to be sweet, no? Of course, if your cherries are super sweet, or if you'd prefer your slushie to be a bit less saccharine, you can substitute Riesling instead of Moscato. But honestly, feel free to use your favorite light and fruity white wine...Sauvignon Blanc, Pinot Grigio, whatever floats your boat.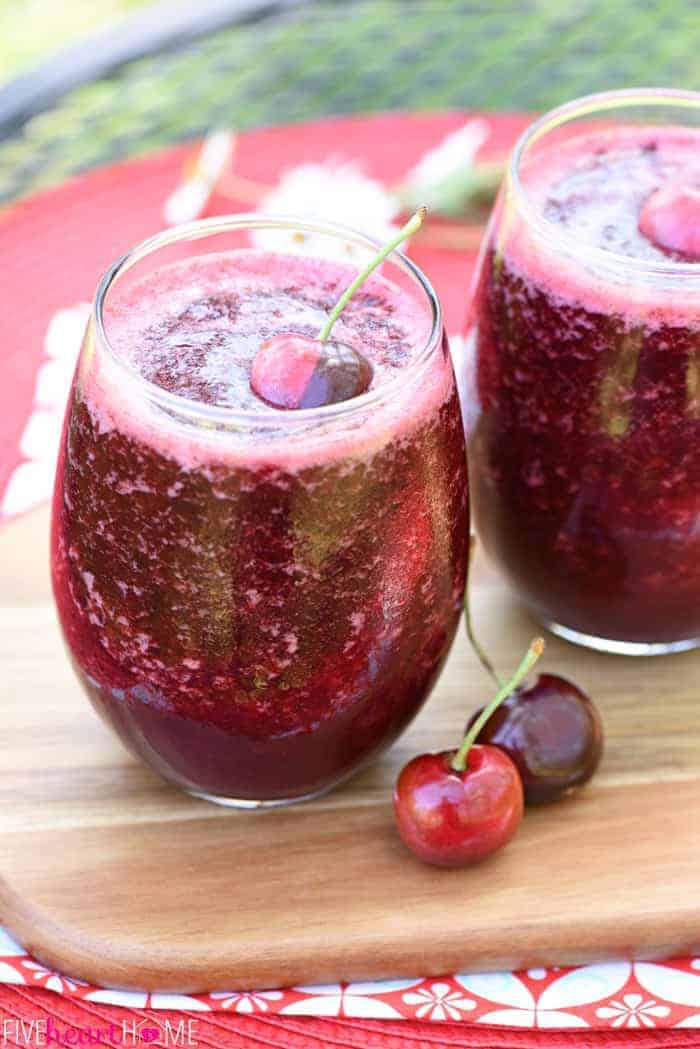 If fresh cherries are sweet and in season, feel free to buy some to pit and freeze yourself for churning into slushies. If not, however, a 16-ounce bag of frozen dark cherries will work just dandy and allow you to enjoy this drink any 'ol time, cherry season or not.
As for the vanilla, it's very, very important to use a good-quality pure vanilla extract (y'all already know my favorite -- *affiliate link). And don't go overboard with it! Start with 1/4 teaspoon, and if you crave a stronger vanilla flavor, add an extra 1/8 teaspoon at a time, tasting between additions. Or if you like, leave out the vanilla altogether to enjoy pure and unadulterated cherry wine slushie bliss. Orrrr -- if your Geman mother taught you from an early age to keep a small bottle of kirschwasser (cherry schnapps) alongside the extracts in your spice cabinet for jazzing up various cherry desserts -- you may even add a splash of that to your slushies for super-charged cherry flavor. After all, German mothers aren't afraid of a little kirschwasser in their wine slushies...or their Black Forest Cherry Cakes. 😉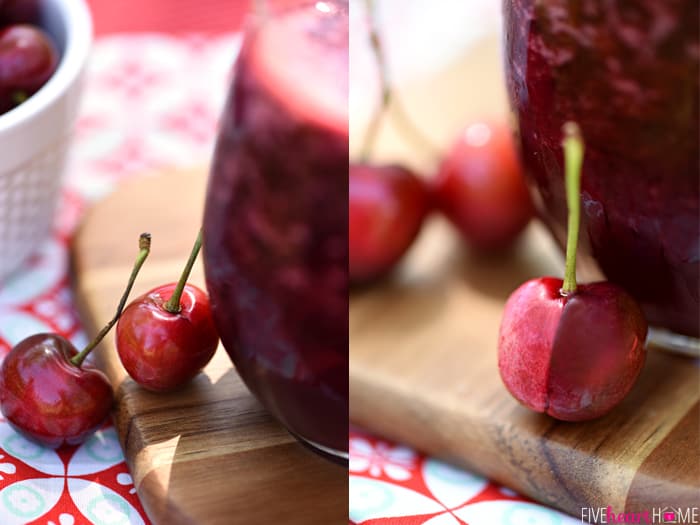 So who's ready for a boozy frozen beverage? I foresee myself enjoying Cherry Vanilla Wine Slushies all spring and summer long. In fact, if you'll excuse me, the kids are finally in bed and I think I hear a container of leftover burgundy goodness calling me from the freezer...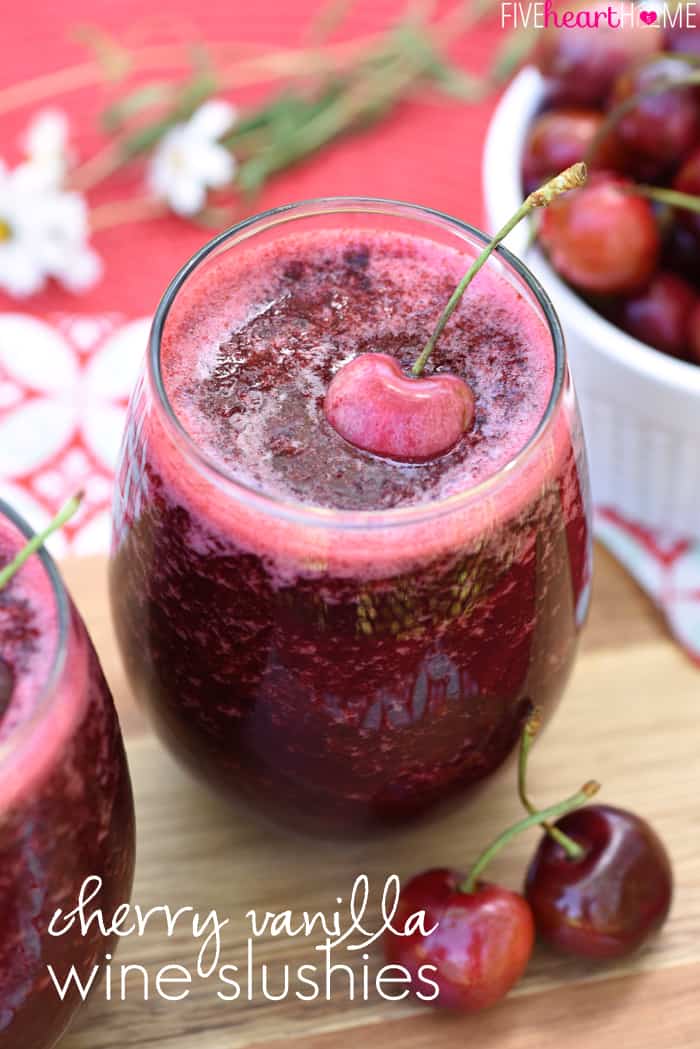 Cherry Vanilla Wine Slushy Recipe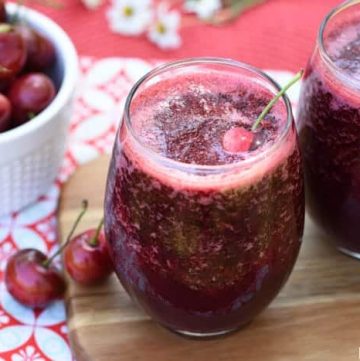 Cherry Vanilla Wine Slushies
Fruity wine slushies are a refreshing way to cool off when the weather heats up, and this Cherry Vanilla version is scrumptious with its juicy dark cherries, sweet Moscato, and hint of pure vanilla!
Print
Pin
Rate
Servings:
4
(approximately 8-ounce) servings
Ingredients
1

16 ounce bag frozen pitted sweet cherries

2

cups

chilled Moscato

,

or Reisling, or your favorite light/fruity white wine

1/4

teaspoon

good-quality pure vanilla extract
Instructions
In a blender, combine frozen cherries, chilled wine, and vanilla. Purée until completely smooth. Serve immediately. If a thicker slushie is preferred, pop mixture in the freezer for a bit, stirring occasionally, until desired consistency is reached.
Notes
You may use fresh cherries if they are in season, but be sure to pit them and freeze them first.
Calories:
169
kcal
|
Carbohydrates:
24
g
|
Protein:
1
g
|
Fat:
1
g
|
Saturated Fat:
1
g
|
Sodium:
1
mg
|
Potassium:
252
mg
|
Fiber:
2
g
|
Sugar:
15
g
|
Vitamin A:
75
IU
|
Vitamin C:
7.9
mg
|
Calcium:
15
mg
|
Iron:
0.4
mg
More Frosty Beverages