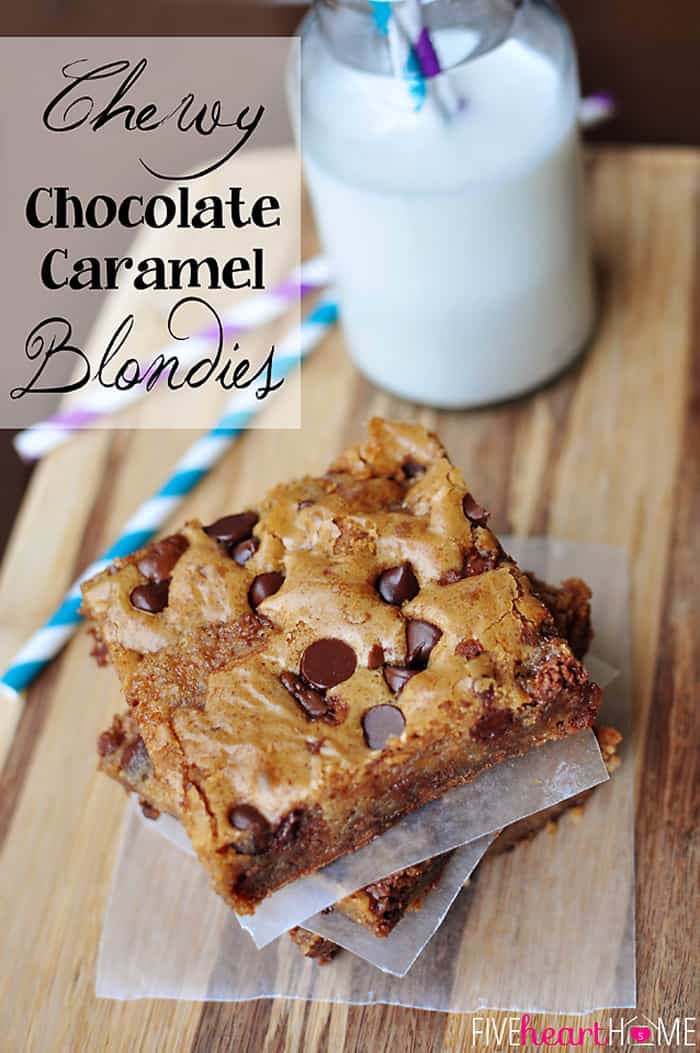 Anything but basic, these dense and chewy Caramel Blondies can be customized to your liking! This version is studded with gooey, chocolatey caramel.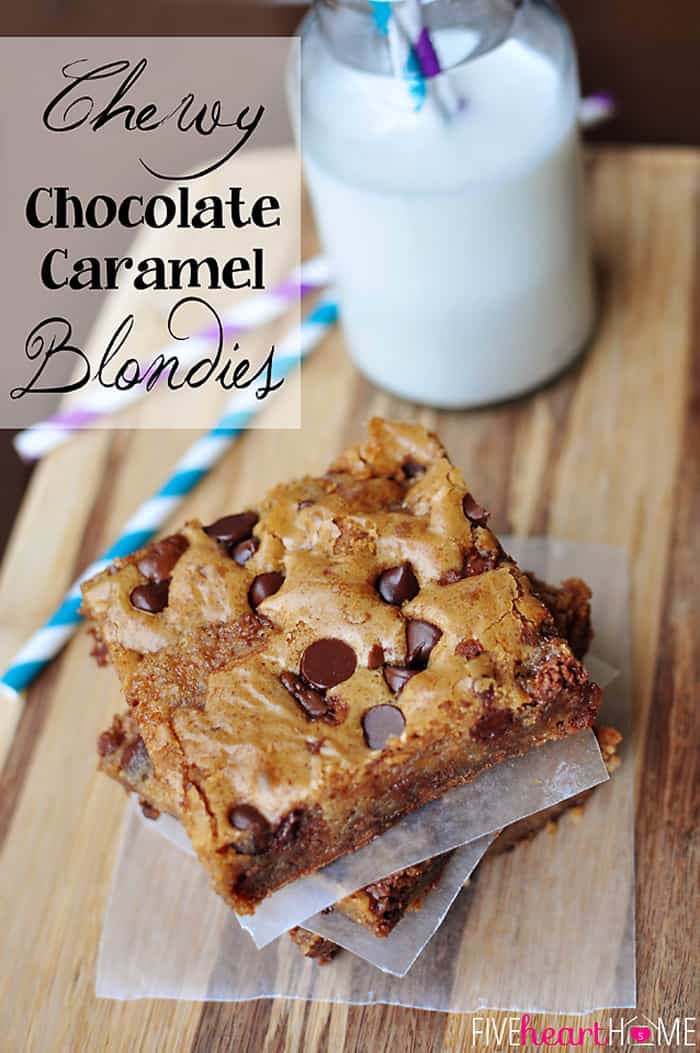 So today was a rough day for blogging. I originally had plans to post a recipe for cinnamon bread, but when I baked it over the weekend, I decided it hadn't turned out "pretty" enough for a photo shoot. So I gave one loaf away and my family happily began whittling away at the rest, and I resolved to revisit that recipe another day with hopes for a more photogenic swirl of cinnamon.
Plan B was to bake a special twist on apple pie. I've actually been baking this particular pie for years and did a test run last week. But again, at the time I decided that the pie needed to be a little bit taller to photograph well. So once more, with no complaints from my family, we chowed down on that apple pie and I had plans to bake it again today, while increasing the apple filling and the super-secret topping for more photogenic results.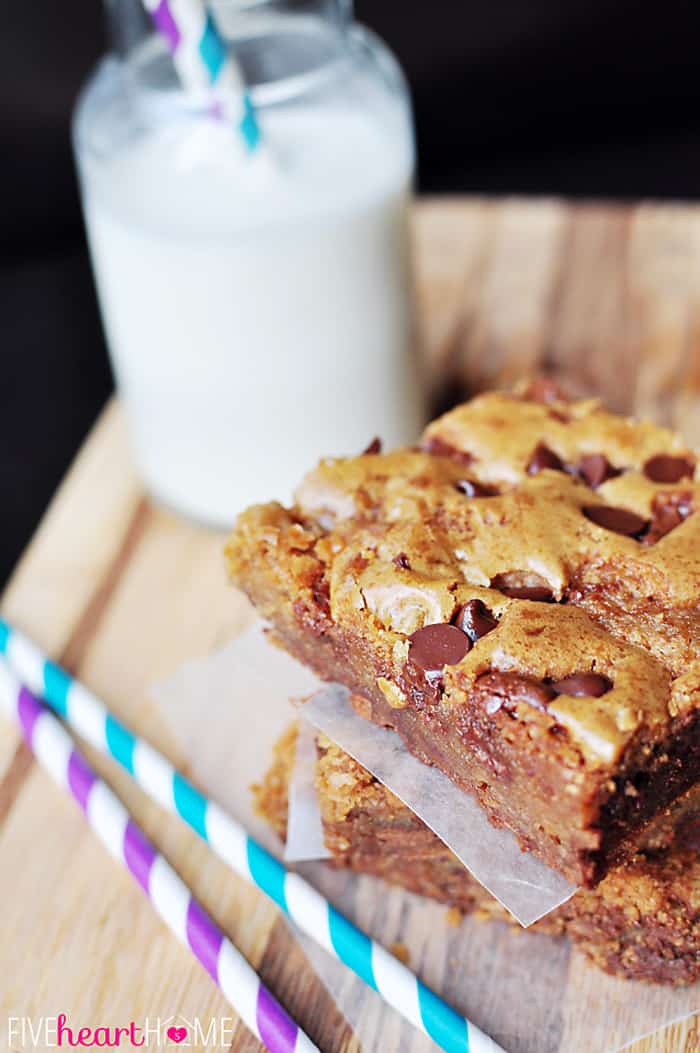 Well, for some reason, making those tweaks altered the fundamental chemistry of the recipe, because when I went to cut into my pie, I was shocked to discover apple soup! Has this ever happened to y'all? I need to do some research, but I'm assuming that my extra apples ended up releasing additional moisture, resulting in watery pie (which, incidentally, still tasted great). Again, no argument from my family. They are more than happy to eat my mistakes.
Alas, it was back to the drawing board again for today's blog post, (which, by this point, almost ended up being tomorrow's blog post). For this attempt, I went with another classic recipe from my repertoire. I still wanted to jazz it up for y'all, but I kept my fingers crossed in hopes that I wouldn't end up with another kitchen failure.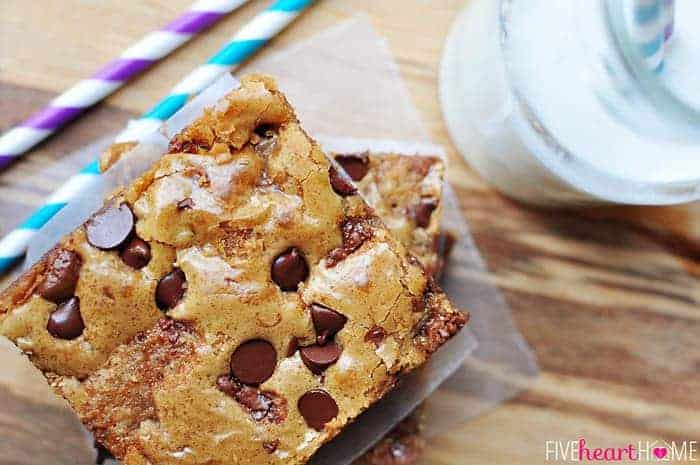 Well, the third time was apparently the charm, because these Caramel Blondies, interspersed with chocolate chips and chewy, gooey chunks of caramel, came out great. Hallelujah and amen.
This Caramel Blondie recipe is fast, easy, and straightforward to whip up. Its ingredients are simple, but it never disappoints. There is no leavening in this recipe, which means that these bars don't rise, but therein lies their beauty. You see, they turn out dense, moist, and chewier than your average chocolate chip cookie. And equally exciting...this recipe only dirties one bowl, people! In my mind, that elevates it a notch or five right there.
But what makes this recipe extra fun are all of the variations you can create out of the basic batter. These buttery bars are amazing whether you stud them with a mixture of semi-sweet and milk chocolate chips, or M&Ms, or peanut butter chips and chopped peanuts, or white chocolate chips with dried cranberries and toasted pecans, or coconut with macadamia nuts, or in today's case, chopped up caramel-stuffed chocolates. Honestly, the list of possibilities could go on and on.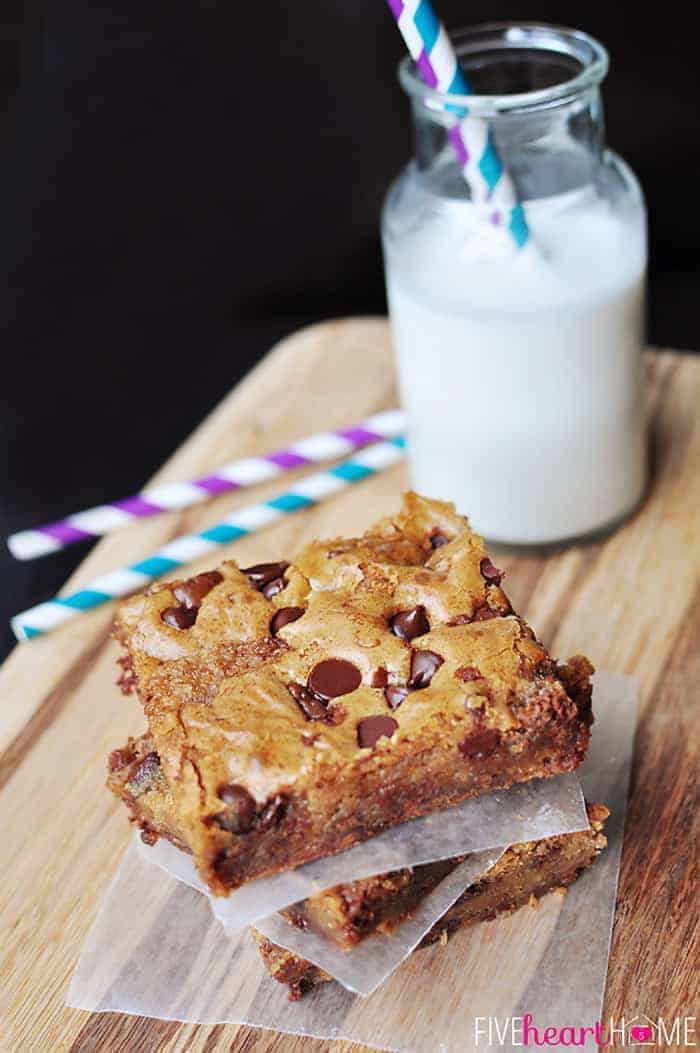 But the best part of this week's kitchen debacles? I -- er, we -- get to alternate eating these chewy, chocolatey Caramel Blondies with slices of not-so-attractive cinnamon bread and wedges of (still tasty) waterlogged apple pie. I may be worn out after all of the mishaps, but so long as my kids benefit from the imperfect outcomes, I think that they would argue for as many baking blunders as I care to make.
Fortunately for all of us, these blondies definitely do not fall into the blunder category. But commiserate with me a bit here today. What's your biggest recipe failure? 😉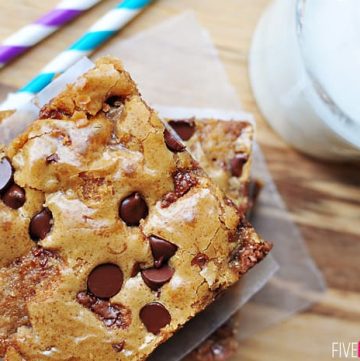 Caramel Blondies
Anything but basic, these dense and chewy Caramel Blondies can be customized to your liking! This version is studded with gooey, chocolatey caramel.
Print
Pin
Rate
Ingredients
1/2

cup

(1 stick) butter

,

melted & cooled

1

cup

light OR dark brown sugar

1

egg

1

teaspoon

vanilla extract

1

cup

all-purpose flour

1/4

teaspoon

salt

1/2

cup

chocolate chips

,

divided

1/2

package (approx. 5 ounces) caramel-centered chocolates, frozen

,

such as Hershey's, Dove, or Rolos
Instructions
Preheat oven to 350°F. Coat an 8 by 8-inch baking pan with butter or non-stick cooking spray. Unwrap frozen caramel chocolate candies and roughly chop.

In a large bowl, mix together melted butter and brown sugar. Beat in egg and vanilla until well incorporated. Blend in flour and salt until just blended. Fold in half of the chocolate chips and all of the chopped caramel chocolates.

Scrape batter into prepared pan, smooth the top, and sprinkle with the remaining 1/4 cup chocolate chips. Bake for 20 to 25 minutes or until center is set.

Remove pan to a wire rack and cut once cooled.
Notes
I typically double this recipe, bake it in a 9 by 13-inch pan, and start checking for doneness at 25 to 30 minutes (it may take even a bit longer). It seems to me that the center ends up a bit softer when I bake it in a larger pan, which we like. However, if you prefer a firmer center but still want to double the recipe, just divide your batter between two 8 by 8-inch pans instead.
These are very dense, moist blondies that may look a tad underdone when you pull them out of the oven, but they will continue to firm up as they cool. After you bake them the first time, you'll have a better sense of how long to bake them in order to achieve your desired level of doneness.
Calories:
275
kcal
|
Carbohydrates:
39
g
|
Protein:
3
g
|
Fat:
12
g
|
Saturated Fat:
8
g
|
Cholesterol:
37
mg
|
Sodium:
154
mg
|
Potassium:
63
mg
|
Fiber:
1
g
|
Sugar:
30
g
|
Vitamin A:
287
IU
|
Vitamin C:
1
mg
|
Calcium:
47
mg
|
Iron:
1
mg
Adapted from How to Cook Everything
More Easy Sweet Treats