A Taco Crescent Ring is a tasty way to use up leftover chicken or holiday turkey, mixed with black beans, corn, & cream cheese, flavored with zesty taco seasoning, and wrapped in flaky crescent roll dough for an easy yet impressive appetizer or main course!

This evening marked the first time in several weeks that I didn't serve a slow cooker meal for dinner...and I have to say, my kids seemed a little excited that I was firing up the oven for a change. Little did they know, however, that the star ingredient in this Chicken Taco Crescent Ring came from the slow cooker -- ha! Plus it wasn't chicken at all...it was leftover turkey from a Thanksgiving crock pot recipe that I've been working to perfect for the cookbook. As a result, I have a lot of diced turkey breast destined for the freezer in the near future, so I decided to use up a bit with this new creation.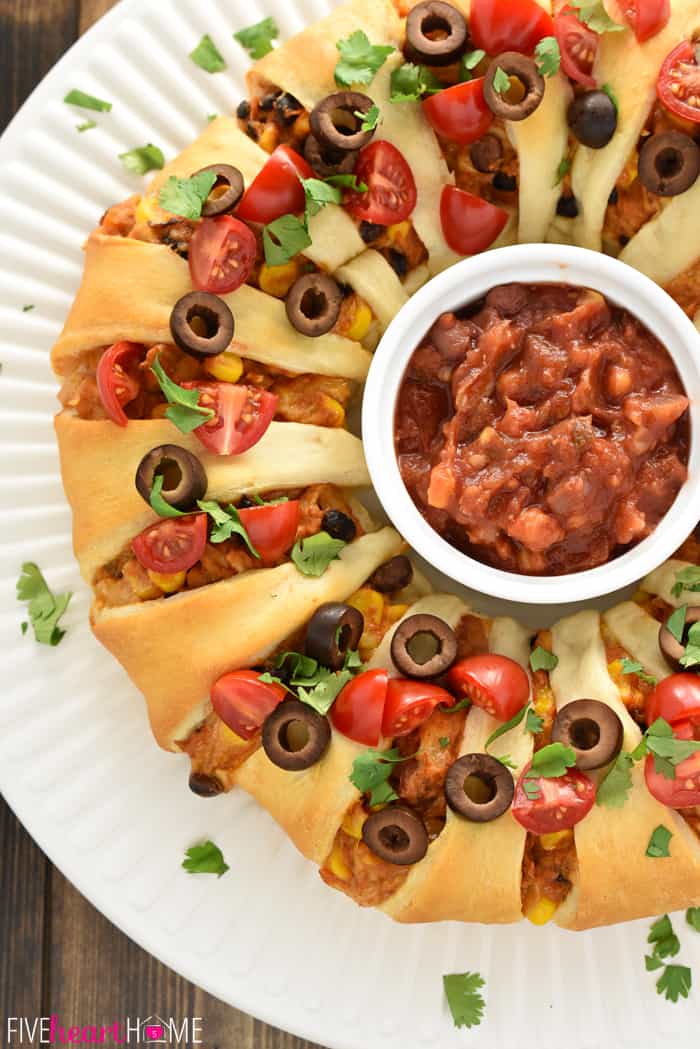 What is a Taco Crescent Ring?
Technically, Taco Crescent Rings are not new creations...they've been around forever (thank you, Pampered Chef), filled with taco-seasoned ground beef and shredded cheese and topped with stereotypical taco toppings.
But for being so cliched, this culinary invention is dang tasty, so it seemed a natural fit when I was trying to figure out what to do with my abundant leftover turkey (three giant turkey breasts and counting...I promise I'm getting these recipes just right for y'all!). 😉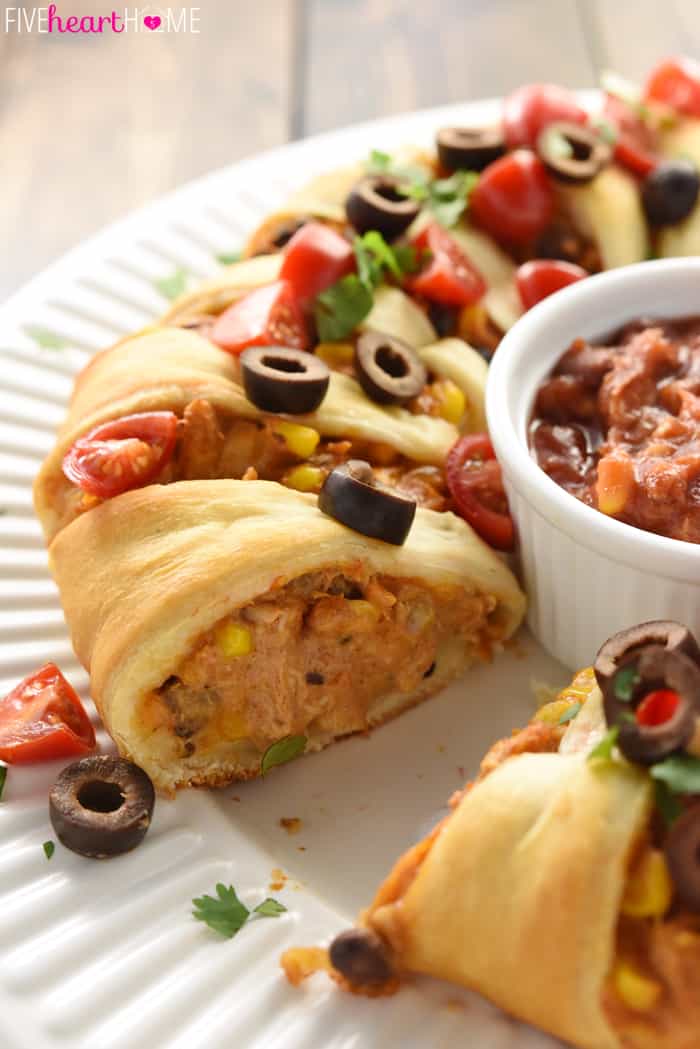 So after I took photos of my glorious *Turkey* Taco Crescent Ring, I plated it up and fed it to my eagerly waiting family for dinner. And in between big bites, my 8-year-old was quick to point out something that hadn't occurred to me before:
"This tastes a lot like that other recipe you have on your blog."
"Other recipe? Which one?"
"You know. The one with the chicken taco stuff and the crescent rolls."
Ahhhh, that one. Yep, he was totally right. In my current state of being overwhelmed and sleep deprived thanks to my upcoming deadline, I'd completely forgotten that my Creamy Chicken Taco Hand Pies have a similar flavor vibe going as compared to today's recipe.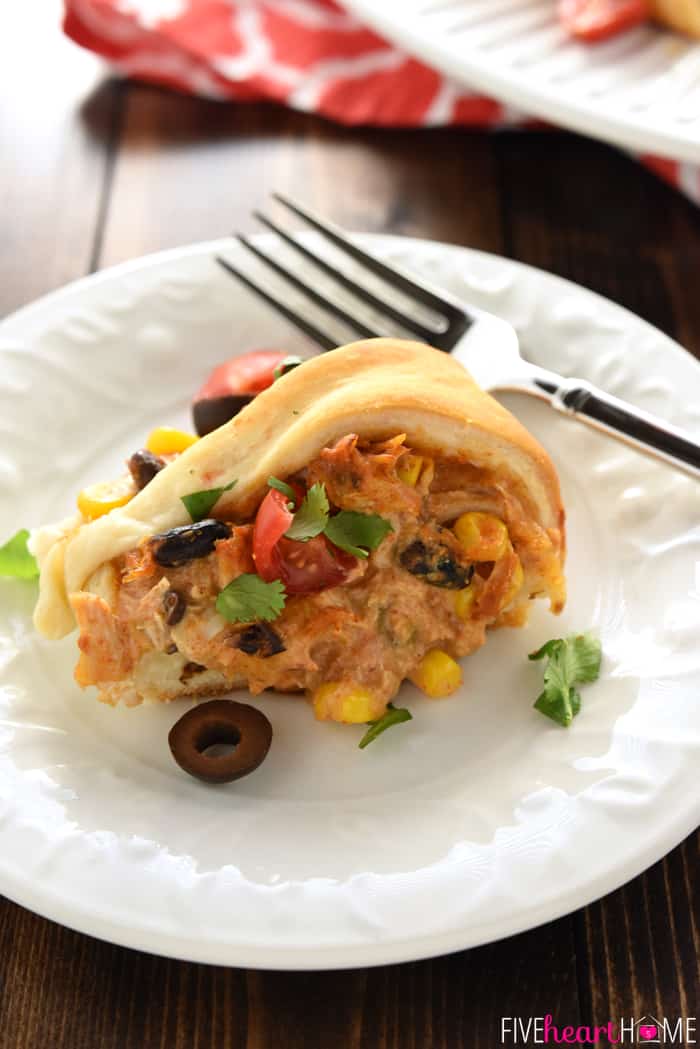 Ingredients
But with this Taco Crescent Ring, in addition to the obligatory crescent roll dough, I incorporated black beans and corn along with the chicken...and let's not forget the addition of cheddar cheese! A touch of taco-seasoned cream cheese binds everything together, and then BOOM.
Assemble that baby and count down the minutes until it's baked!
How to Assemble a Taco Crescent Ring
In this case, I think pictures speak louder than words... 😉

Recommended Crescent Rolls
Isn't she purty? And so, so tasty -- truly -- because in what universe do cream cheese and crescent roll dough not make anything delicious?
And while crescent rolls are one of those convenience items that I like to keep in the fridge to lend versatility to breakfast, lunch, or dinner, I do try to stay as "real food" as possible and buy the all-natural version by the Immaculate Baking Company (and that's not an ad...I just love that brand).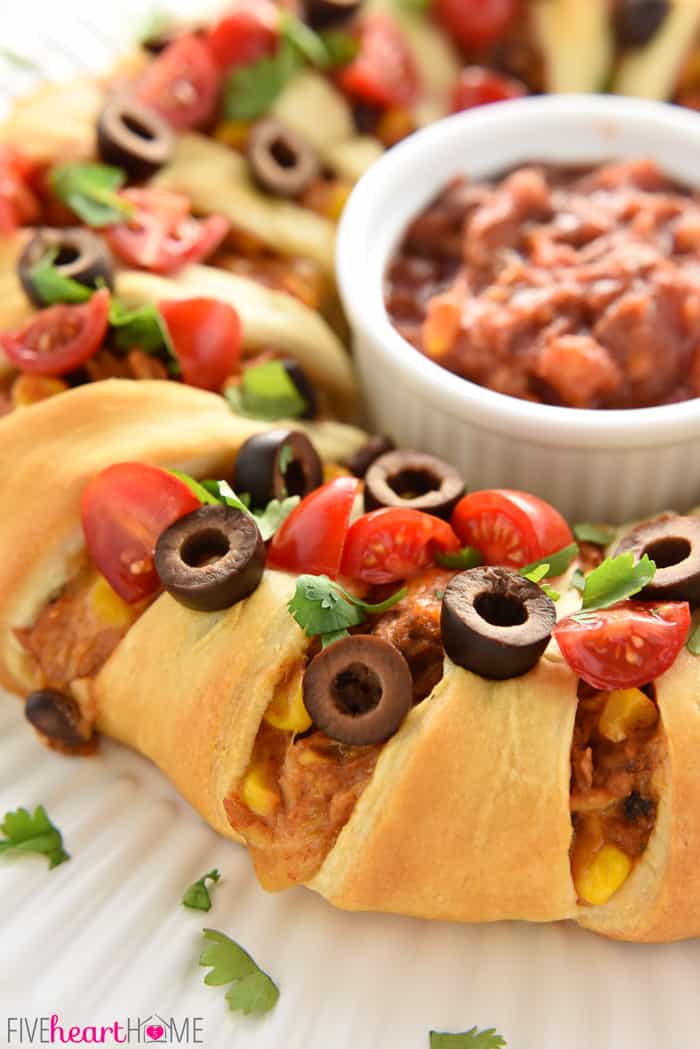 So save this recipe for when you have that leftover Thanksgiving turkey in the near future...or a rotisserie chicken that yearns for new purpose in life...or forgo the leftover concept altogether and poach a few chicken breasts real quick-like!
However you arrive at your chicken/turkey for this Taco Crescent Ring, rest assured that the whole concoction will be eagerly gobbled up, whether the lucky recipients happen to be sick of the crock pot or not... 😉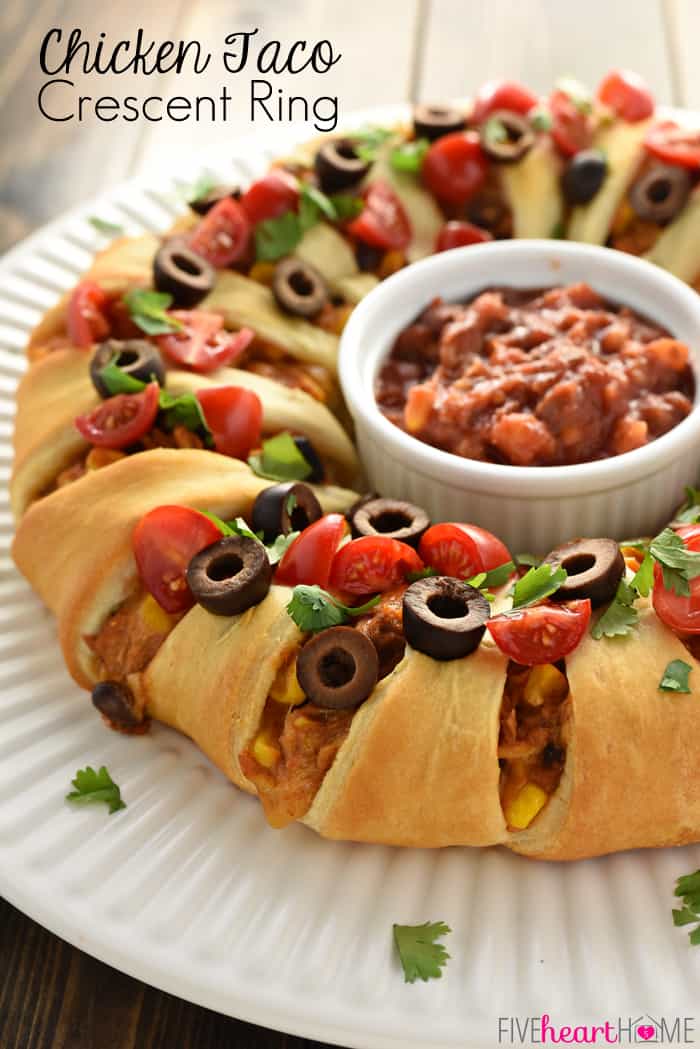 More Taco-Inspired Recipes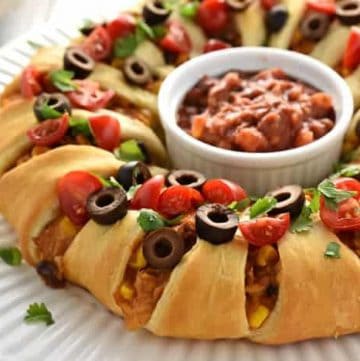 Chicken (or Leftover Turkey!) Taco Crescent Ring
A Taco Crescent Ring is a tasty way to use up leftover chicken or holiday turkey, mixed with black beans, corn, & cream cheese, flavored with zesty taco seasoning, and wrapped in flaky crescent roll dough for an easy yet impressive appetizer or main course!
Print
Pin
Rate
Servings:
8
servings (as a main dish)
Ingredients
1 ½

cups

diced cooked chicken or turkey

¾

cup

canned black beans

,

rinsed & drained

½

cup

frozen corn

,

thawed in a colander under warm running water

4

ounces

cream cheese

,

at room temperature

1

cup

shredded sharp cheddar cheese

2 to 3

tablespoons

Homemade Taco Seasoning,

or 1 store-bought packet

2

cans

(8-ounces each)crescent rolls
OPTIONAL GARNISHES:
diced tomatoes, sliced black olives, chopped cilantro, sour cream, salsa
Instructions
Position rack in center of oven. Preheat oven to 375°F.

In a large bowl, combine diced chicken/turkey, black beans, corn, cheddar cheese, cream cheese, and taco seasoning. Mix until well combined.

Open both cans of crescent rolls and separate dough into a total of 16 triangles. Set out a large pizza pan or baking sheet. With the long points pointing outward like sun beans, arrange the triangles so that their short sides form a 5-inch circle in the center. The triangles will overlap.

Use a spoon to mound the chicken/turkey mixture along the inner half of the crescent rolls. Then bring the outer point of each triangle down over the top of the chicken/turkey mixture and tuck the dough under the interior circle.

Bake for 20 to 25 minutes or until golden brown. Allow to cool for at least 5 minutes before garnishing with tomatoes, black olives, and cilantro. Serve warm with salsa and/or sour cream.
Notes
If the chicken/turkey mixture is too thick to mix, add a splash of water or salsa to make it easier to stir, but don't add too much or it will become runny and ooze out of the crescent ring while baking.
When arranging the triangles, I keep them evenly spaced by laying them out like a compass...north, south, east, and west. Then I fill in northeast, southeast, southwest, and northwest. Then I put the remaining triangles in the 8 spaces between the first 8 triangles.
You may mix up the chicken/turkey mixture ahead of time and refrigerate until you're ready to assemble your crescent ring.
Calories:
374
kcal
|
Carbohydrates:
29
g
|
Protein:
16
g
|
Fat:
23
g
|
Saturated Fat:
11
g
|
Cholesterol:
53
mg
|
Sodium:
785
mg
|
Potassium:
181
mg
|
Fiber:
2
g
|
Sugar:
6
g
|
Vitamin A:
480
IU
|
Vitamin C:
1.9
mg
|
Calcium:
125
mg
|
Iron:
1.6
mg