Baked Chicken Parmesan Meatballs feature ground chicken rolled in Parm & covered in flavorful marinara sauce...perfect as an appetizer, over pasta, or on subs!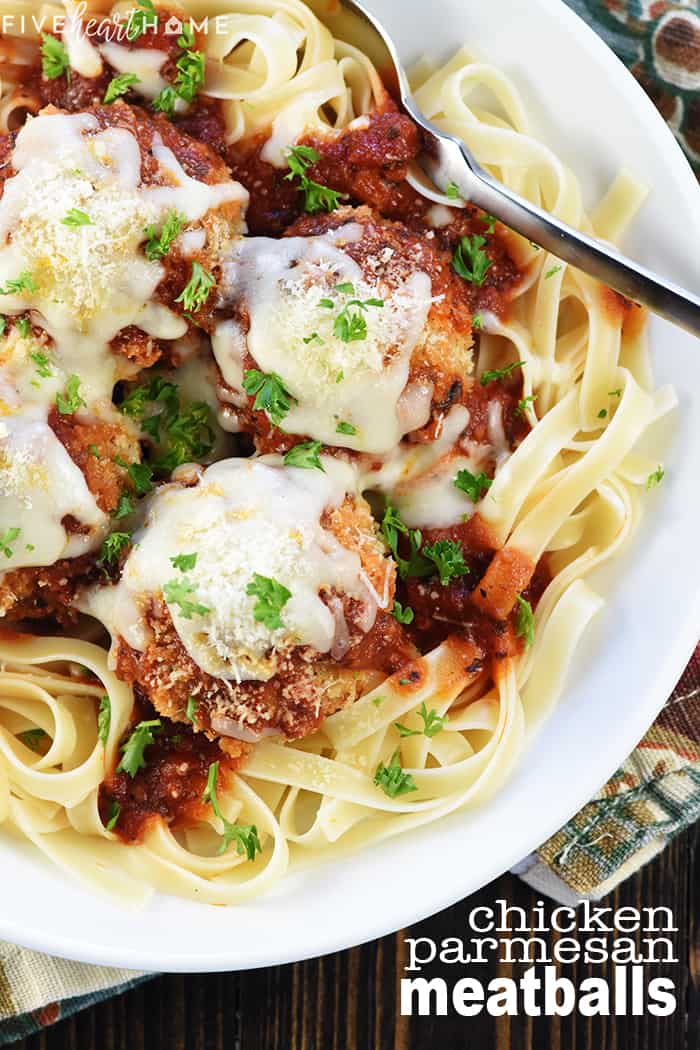 Coming at y'all today with an easy, tasty dinner recipe! Because I don't know about you, but after a long, hectic summer of little to no cooking, this whole back-to-school thing has me menu planning and dinner making like a BOSS. Or at least like a mama whose kids don't particularly need to see another frozen pizza or Chick-Fil-A nugget any time soon.?
Chicken Parmesan Meatballs were on our first week o' school menu last week. And let me just tell you, they went over swimmingly! Chicken Parmesan is one of my all-time favorite Italian-inspired meals, but I wanted to put a new spin on it. Because who would argue...meatballs are just FUN to eat!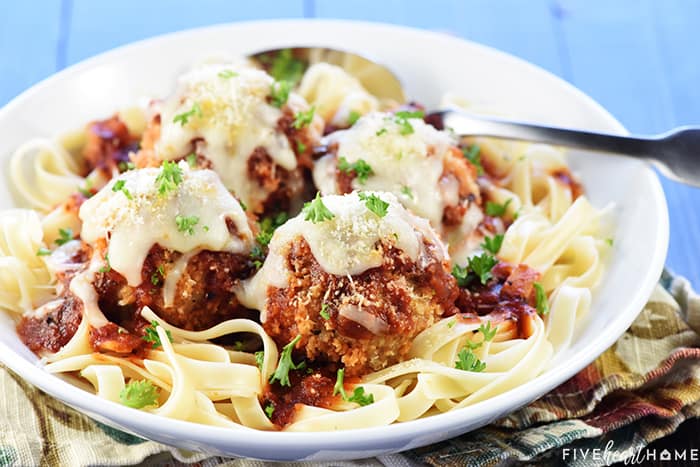 Ingredients
These meatballs were super easy to throw together using ground chicken, Panko breadcrumbs, freshly grated Parmesan, and some herbs and seasonings.
How to Make Chicken Parmesan Meatballs
To make this recipe, I quickly mixed up all of the ingredients and formed the mixture into meatballs.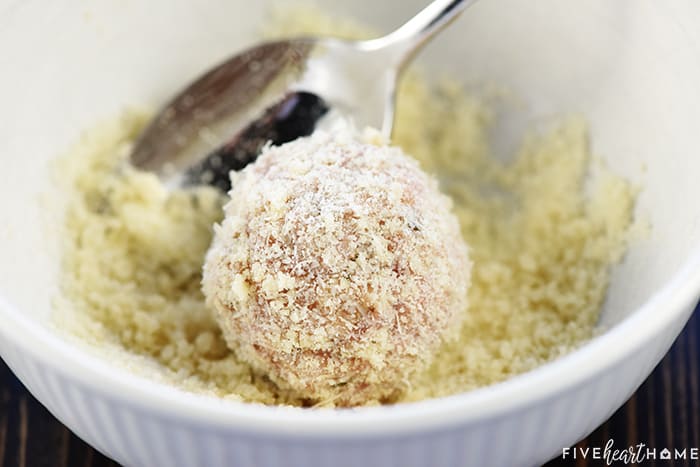 I decided to roll the meatballs in additional Parm + breadcrumbs, à la real Chicken Parmesan, before arranging on a baking sheet and popping in the oven for about 15 minutes.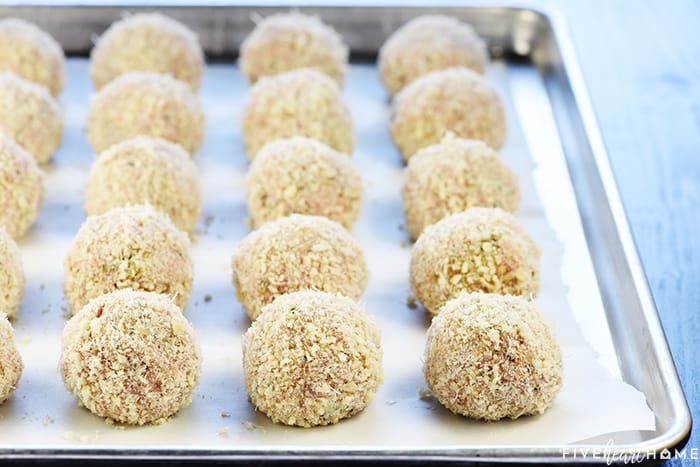 Then I added a few extra minutes under the broiler to brown them up. Simple, right?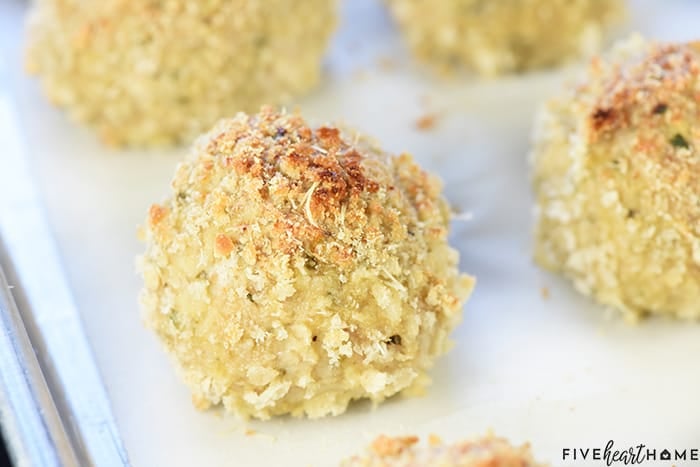 I slid the whole batch of tender, juicy meatballs into a bubbling skillet of warm marinara sauce. If you've got a homemade batch of marinara in the freezer, well...GO, YOU! But if you use a store-bought jar of sauce, that will work just dandy, too. As long as you read the ingredient label, you should be able to find plenty of jarred marinara options made with real ingredients.
Turn the meatballs in the warm sauce to coat, sprinkle with mozzarella and even more Parmesan, and cover the skillet until the cheese is nice and melted.
Serving Options
And then? Decide just how you'd like to serve these bad boys!
Will you set out toothpicks (or fancy-wooden-skewers-bought-only-for-food-photography) with your Chicken Parmesan Meatballs and serve them as appetizers?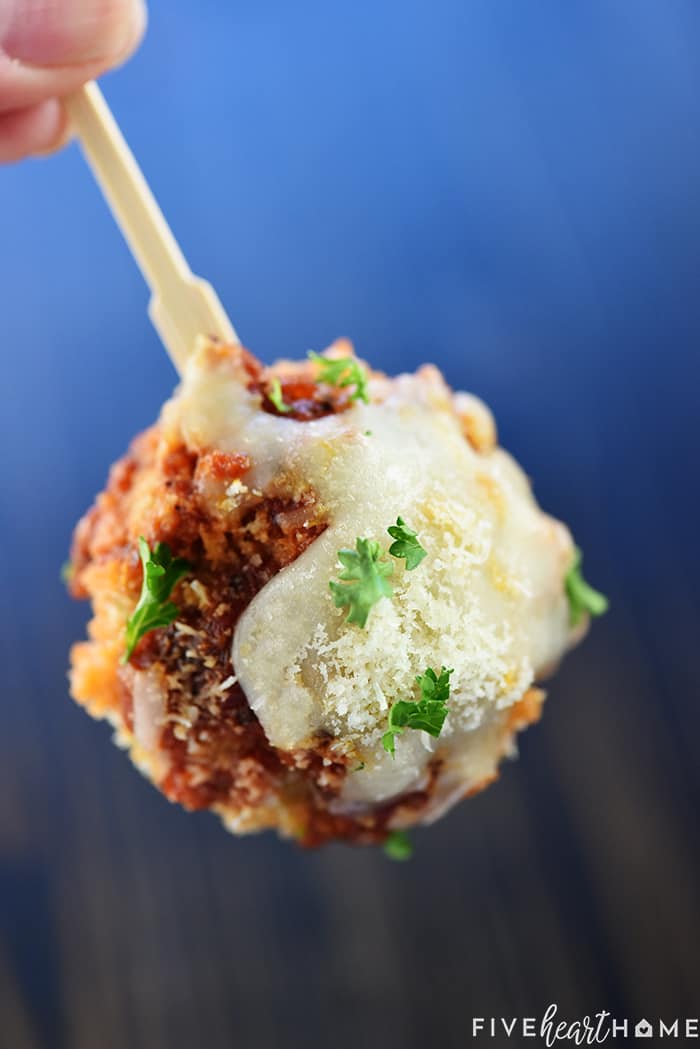 Will you scatter your ground chicken meatballs over a glorious bed of pasta for pure comfort food bliss?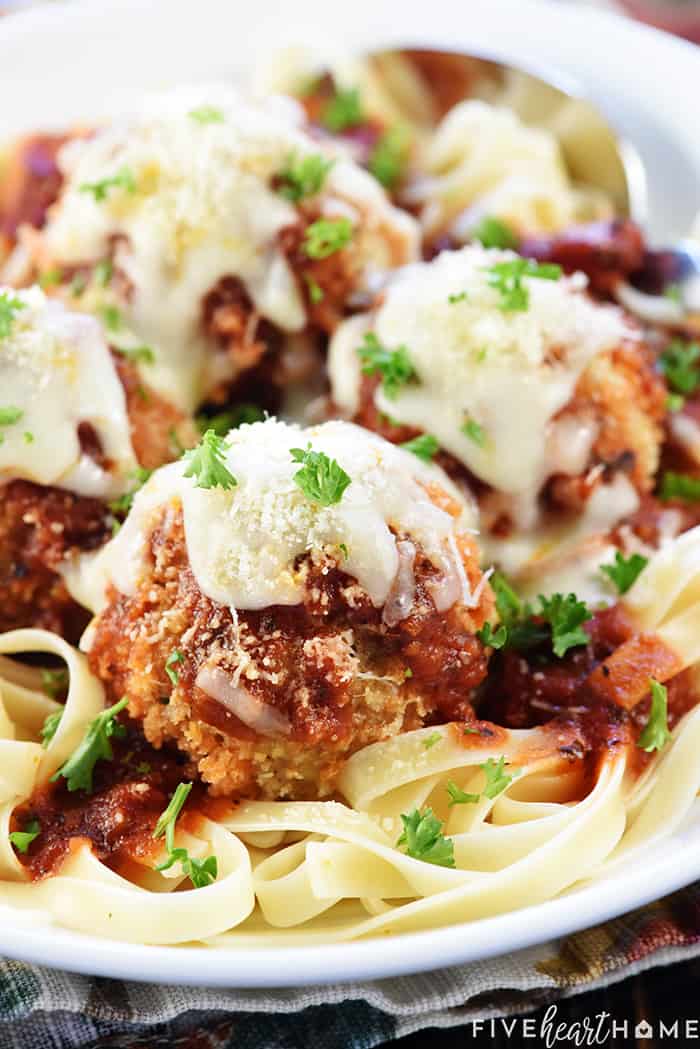 Or will you pile them onto soft sandwich rolls for drool-worthy meatball subs?
My family voted for the latter option and none of us were disappointed! Such a warm, hearty, satisfying meal at the end of a long summer -- er, day.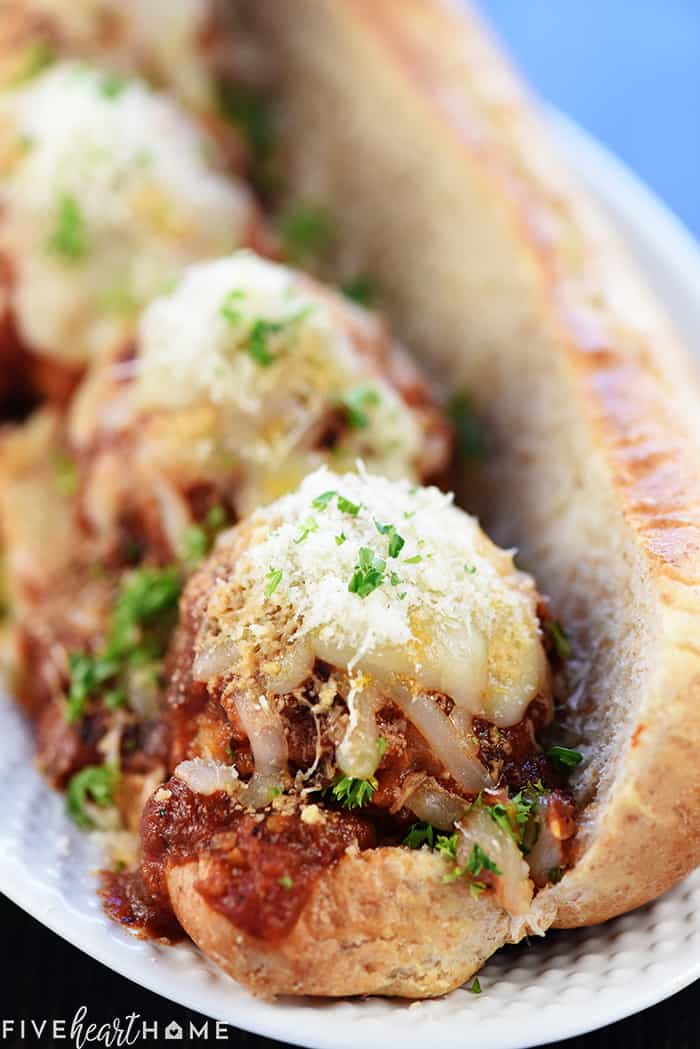 Helpful Tips, Tricks, & Equipment
The sheet pan used for this recipe measures 18- by 13- inches with a 1-inch rim, commonly referred to a half sheet pan. I line mine with foil or parchment paper for easier clean-up.
I prefer baking my meatballs in the oven because it's less messy and it's less work. Baked meatballs don't necessarily get those dark, crispy edges of pan-fried meatballs, but they do bake up beautifully as the grease drains out. And if you line your baking pan as suggested, clean up is a snap!
Feel free to use ground turkey in place of ground chicken, if you wish.
Using a 3-tablespoon cookie scoop, I got 21 meatballs that each measured about 2 inches across. If your meatballs are much larger or smaller, you may find that the baking time needs to be tweaked.
Since I'm paranoid about raw chicken, I bake my meatballs with a digital food thermometer inserted into one of them. That way I know exactly when they're getting close to a safe internal temperature of 165°F, but I don't risk overcooking/drying out.
If serving meatballs over pasta, feel free to increase the marinara sauce as desired. However, keep in mind that it may also be necessary to finish the recipe in a large pot or Dutch oven instead of skillet.
Instead of adding your meatballs to a skillet of warm marinara sauce as directed, you may heat some marinara in a saucepan and simply spoon it over the baked meatballs (as in the case of meatball subs on sandwich rolls).
If you'd like to make your own batch of Homemade Italian Seasoning, combine 2 tablespoons dried parsley, 2 tablespoons dried basil, 2 tablespoons dried oregano, 1 tablespoon dried thyme, and ½ teaspoon dried rosemary. Store in an airtight container. I actually usually double the recipe and store in a reuseable spice container.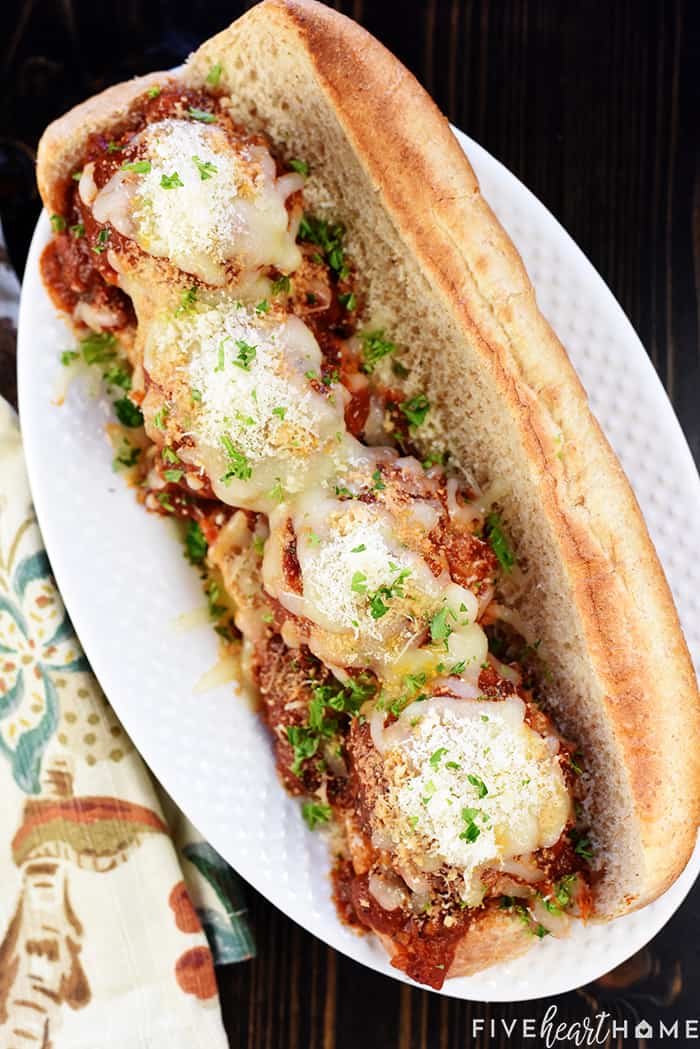 So are your kiddos back to school yet?
Are you embracing the return of a routine?
And are you scrambling for new dinner ideas?
If so, I hope these Chicken Parmesan Meatballs will make the cut!
More Italian-Inspired Recipes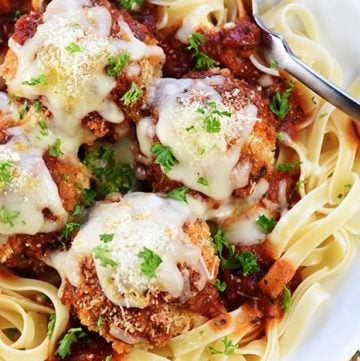 Chicken Parmesan Meatballs
Baked Chicken Parmesan Meatballs feature ground chicken rolled in Parm & covered in flavorful marinara sauce...perfect as an appetizer, over pasta, or on subs!
Print
Pin
Rate
Ingredients
2

pounds

ground chicken OR turkey

1 ¼

cups

grated Parmesan cheese

,

DIVIDED

1

cup

Panko breadcrumbs

,

DIVIDED

2

eggs

,

lightly beaten

3

tablespoons

Italian seasoning

,

DIVIDED

1

tablespoon

Worcestershire sauce

1

teaspoon

garlic salt

½

teaspoon

onion powder

Freshly ground black pepper

,

to taste

1

(24-ounce) jar marinara sauce

Pinch

of sugar

1

cup

shredded mozzarella cheese
Instructions
Preheat oven to 400°F. Line a large rimmed baking sheet with foil or parchment paper and set aside.

In a large bowl, combine ground chicken, ¾ cup Parmesan, ¾ cup Panko breadcrumbs, eggs, 2 tablespoons Italian seasoning, Worcestershire sauce, garlic salt, onion powder, and pepper. Use your hands to gently mix ingredients until thoroughly combined but not packed down. Scoop meat into 3-tablespoon mounds (I use a 3 T. cookie scoop) and gently roll into balls (which should measure between 1 ½ and 2 inches across for about 21 meatballs).

In a small bowl, combine ¼ cup Parmesan cheese and remaining ¼ cup Panko breadcrumbs. Roll each meatball in the mixture until coated on all sides.

Arrange meatballs on prepared baking sheet, at least an inch apart. Bake meatballs for 15 minutes. Broil for an additional 2 to 3 minutes (watching closely!) until meatballs are golden brown on top with an internal temperature of 165°F. Remove to a paper towel-lined plate to drain any grease.

While meatballs are baking, pour marinara in a large, deep skillet (12- to 14-inch diameter). Season with remaining 1 tablespoon Italian seasoning and a pinch of sugar. Bring to a low simmer over medium heat. Once the meatballs are cooked and drained, carefully place them in the skillet of warm sauce, turning each meatball so that all sides are coated. Sprinkle with mozzarella and remaining ¼ cup grated Parmesan. Cover skillet until cheese is melted. Serve hot as-is, over pasta, or on sandwich rolls for meatball subs.
Calories:
459
kcal
|
Carbohydrates:
17
g
|
Protein:
43
g
|
Fat:
24
g
|
Saturated Fat:
10
g
|
Cholesterol:
217
mg
|
Sodium:
1630
mg
|
Potassium:
1298
mg
|
Fiber:
3
g
|
Sugar:
6
g
|
Vitamin A:
920
IU
|
Vitamin C:
8.3
mg
|
Calcium:
419
mg
|
Iron:
4.5
mg