Almond Joy Granola features cocoa-laced, honey-sweetened oats, toasted with coconut and sliced almonds and studded with chocolate chips for an energy-boosting snack or breakfast treat!

I love coming up with new incarnations of my all-time favorite granola recipe, but would you believe that I've never before forayed into chocolate territory? Today seems like a good day to rectify that, though…so say hello to Chocolate Coconut Almond Granola, otherwise known as Almond Joy goodness in granola form!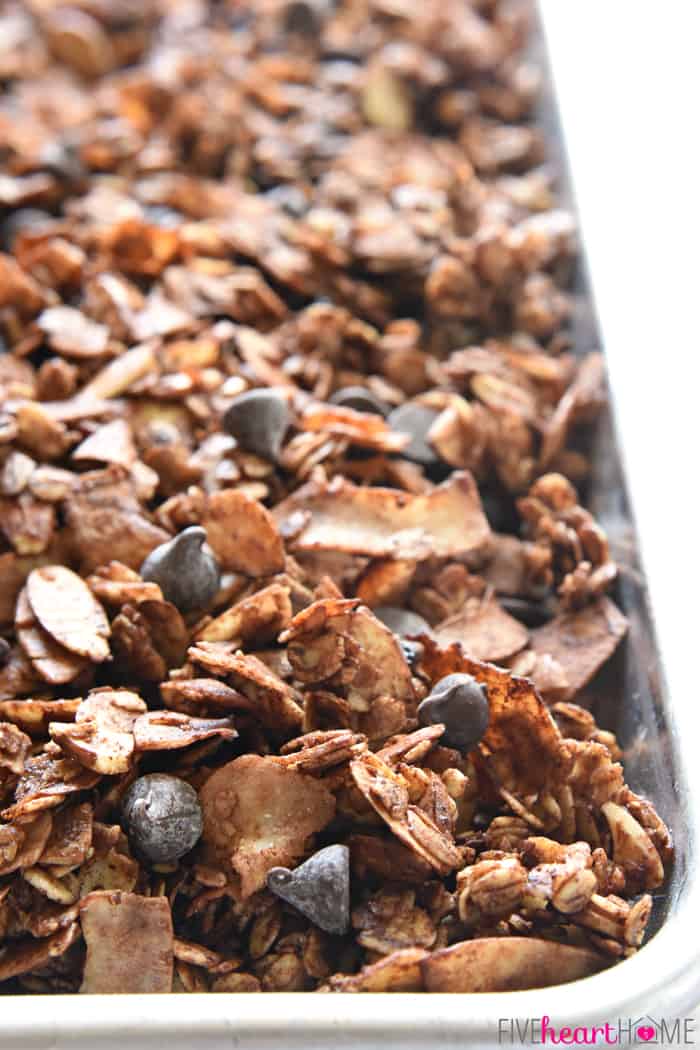 I mean, what's not to love about an Almond Joy? There's the tropical coconut…the crunchy almonds…the creamy chocolate. So why not throw in some toasty oats and call it breakfast?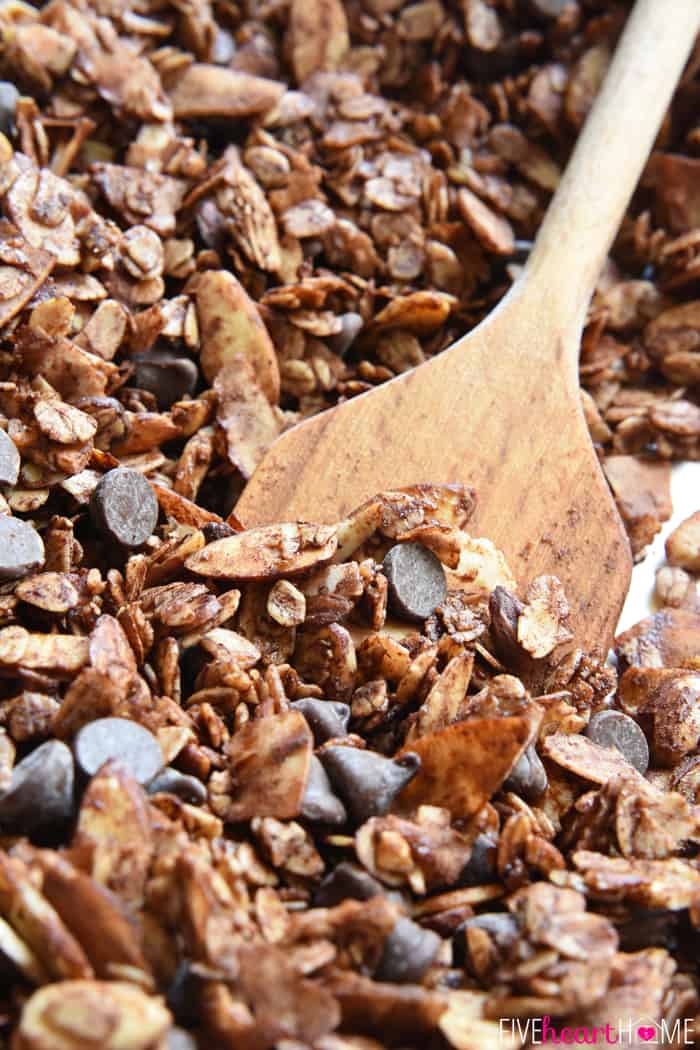 This Almond Joy Granola boasts two forms of chocolate…unsweetened cocoa powder stirred right into the coconut oil, and semi-sweet chocolate chips, stirred into the baked granola after it's had a chance to cool. And while the recipe is primarily sweetened with honey, I did add a smidgeon of brown sugar as well to balance out the unsweetened cocoa.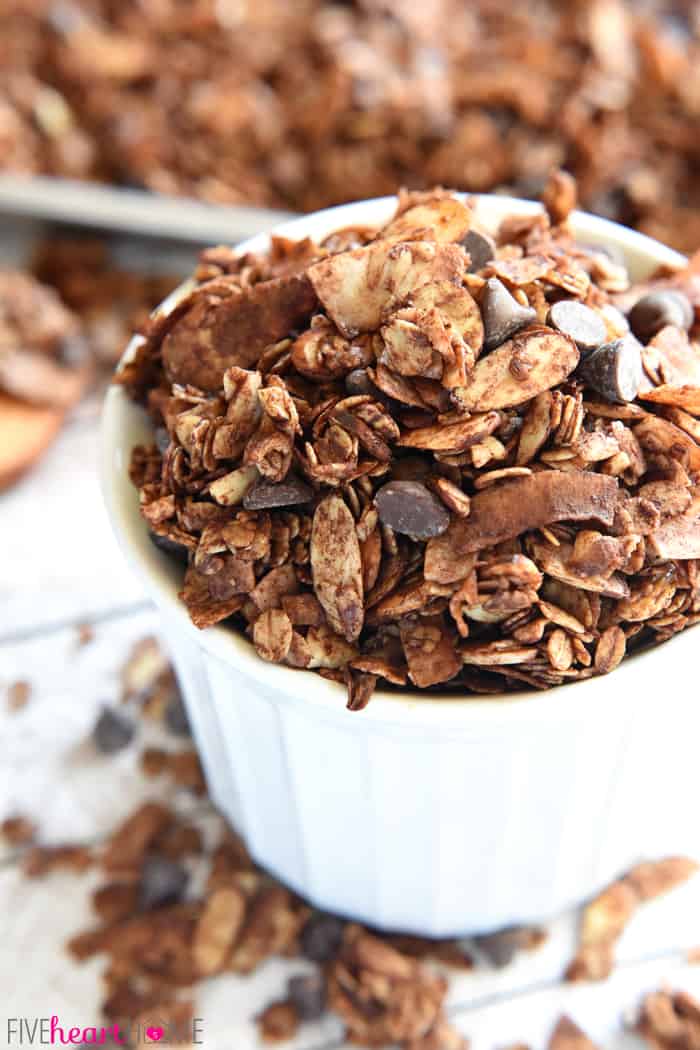 It's up to you, however, whether that brown sugar is even necessary. Leaving it out gives the granola more of a bittersweet flavor, with pops of sweetness from the chocolate chips. Adding it gives a more uniform, sweet-and-chocolatey taste overall. My hubby thought this granola tasted perfect without the brown sugar, but my kids preferred it included (of course). We're only talking about 1/4 cup brown sugar to begin with, so feel free to add all, half, or none…it's really just a small tweak in the grand scheme of the recipe. 😉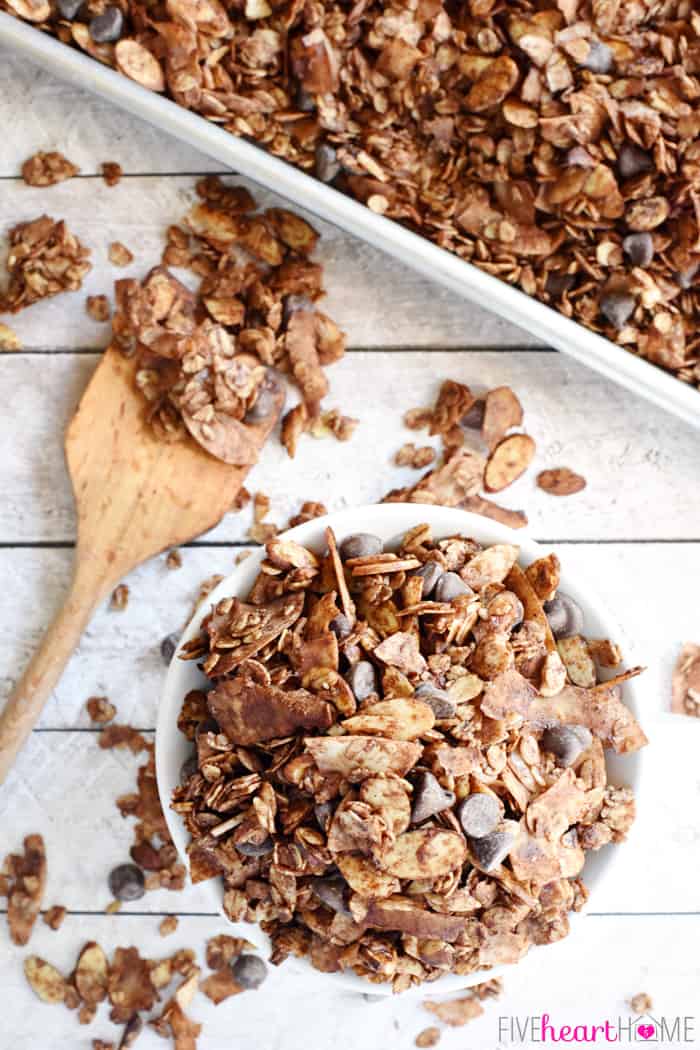 Almond Joy Granola is basically just a gourmet spin on everyday homemade granola. It's healthier than store-bought (because you control the ingredients, my friend), and it's far more economical to whip up a big batch than spend 5 to 10 bucks on a little bag. Plus, it's named after a candy bar, but you get to eat it for breakfast…and who's going to argue with that?!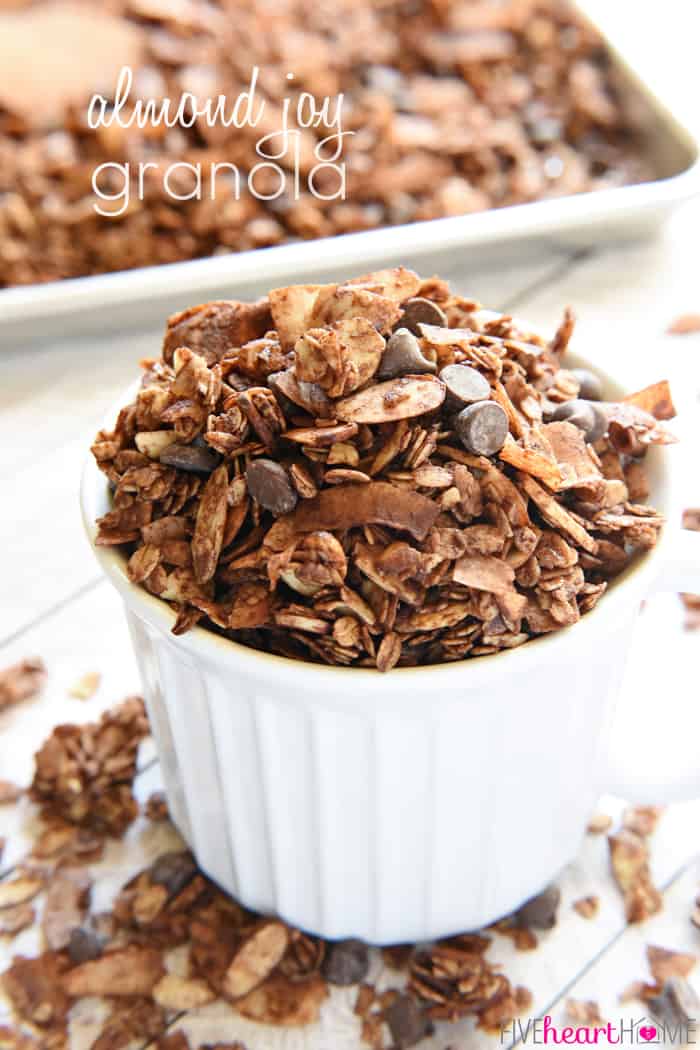 Chocolate Coconut Almond Granola ~ AKA Almond Joy Granola Recipe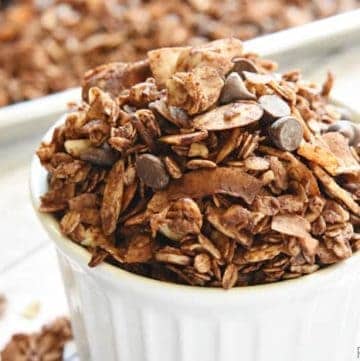 Chocolate Coconut Almond Granola ~ AKA, Almond Joy Granola
Almond Joy Granola features cocoa-laced, honey-sweetened oats, toasted with coconut and sliced almonds and studded with chocolate chips for an energy-boosting snack or breakfast treat!
Print
Pin
Rate
Ingredients
4

cups

old-fashioned oats

2

cups

shredded coconut

2

cups

sliced almonds

2/3

cup

coconut oil

,

melted and cooled

1/2

cup

unsweetened cocoa powder

1/4

cup

packed brown sugar

,

optional

1

teaspoon

pure vanilla extract

1/2

teaspoon

pure almond extract

1/4

teaspoon

salt

1/2

cup

honey

1/2

cup

chocolate chips
Instructions
Position rack in center of oven and preheat to 350°F.

In a large bowl, mix together oats, coconut, and almonds. Measure coconut oil into a large measuring cup and mix in cocoa powder, brown sugar, vanilla, almond extract, and salt. Pour over oat mixture and stir. Drizzle honey over top and stir all ingredients until evenly coated.

Transfer granola onto a 13"x18"x1" sheet pan and spread into an even layer. Bake, stirring and flipping with a wooden spoon every 10 minutes, until the mixture turns a nice, even, golden brown, about 30 minutes total.

Remove granola from the oven and stir frequently as it cools, scraping the bottom of the pan to prevent sticking. Once completely cooled, mix in chocolate chips. Store in an airtight container.
Notes
Measure the honey into the same measuring cup you used for the coconut oil. The residue of the oil helps the honey slide out of the cup without sticking.
The granola will probably need to bake for a total of about 30 minutes, but ovens vary so watch the granola carefully, particularly the first time you make it. If you cut the recipe in half, it will require less time, and if you double it and cook two sheet pans at once (switching racks and rotating pans each time you stir), it will take longer.
Since this granola tends to stick to the pan if not stirred very frequently during the cooling process, I've found that using a Silpat or some parchment paper on the bottom of your sheet pan alleviates this problem (you just have to stir carefully to make sure the granola doesn't wind up stuck under the parchment paper).
Calories:
592
kcal
|
Carbohydrates:
63
g
|
Protein:
11
g
|
Fat:
36
g
|
Saturated Fat:
21
g
|
Cholesterol:
1
mg
|
Sodium:
117
mg
|
Potassium:
412
mg
|
Fiber:
8
g
|
Sugar:
34
g
|
Vitamin A:
20
IU
|
Vitamin C:
0.2
mg
|
Calcium:
98
mg
|
Iron:
3.3
mg
Adapted from Nut & Honey Granola