With just a handful of ingredients, Cilantro Lime Rice is the perfect base for burrito bowls or a delicious side for all of your favorite Mexican recipes!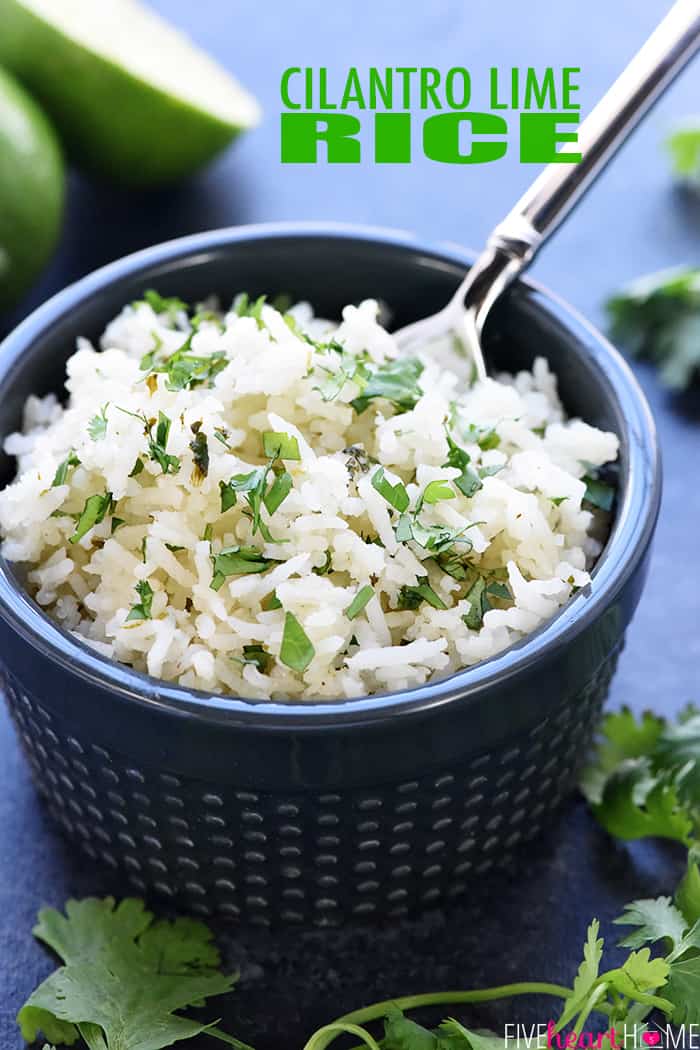 Having attended Texas A&M, FreeBirds was an integral part of my college experience. Now that we take our kids back for Aggie sporting events several times per year, we always make it a point to eat there…even though, technically, there are now locations in Austin and we could just dine there from home. But let's be honest here…enjoying a FreeBirds Monster Burrrito from behind the burnt orange curtain just isn't the same. 😉
For those who are uninitiated, FreeBirds is a lot like Chipotle…except FreeBirds was actually around first! But one thing you can enjoy at both of those fine dining establishments is Cilantro Lime Rice. I always choose it over Spanish Rice when I order – even though I enjoy both – because it's just so fresh and zippy. Cilantro Lime Rice is great as a side, and it's great as a base for burrito bowls or stuffed into burritos.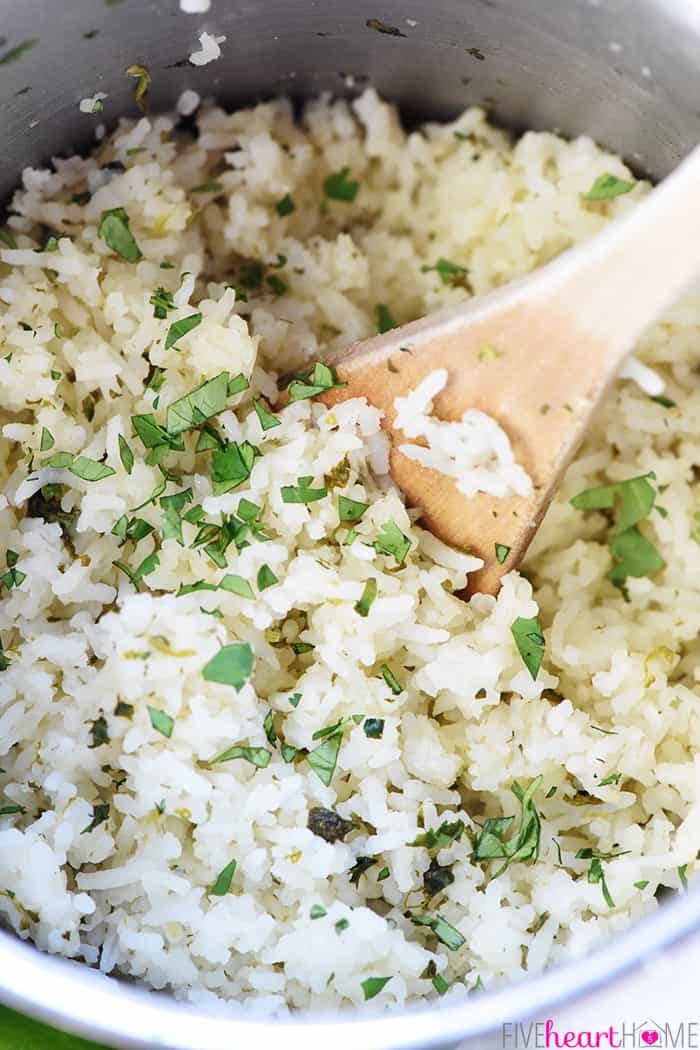 When I discovered that another one of our favorite local restaurants serves Cilantro Lime Rice, it occurred to me that perhaps I should attempt to recreate the recipe at home. After all, I've already perfected my Easy Spanish Rice recipe…why not add another option to the ol' Tex-Mex repertoire?
Failed First Attempt
And so the great experiment began. I initially used my Easy Spanish Rice recipe as a template, creating a cilantro lime puree in the food processor and adding it to the broth when cooking the rice. But once the rice was done, the cilantro had turned all dark and unattractive and the flavor had become muted. Not exactly the pretty, zesty, white and green side dish I was going for.
How to Make It
On my next attempt, I cooked my rice in broth and lime zest, with a bay leaf thrown in for extra flavor (an idea I got from the Chipotle menu).
Then once the rice was cooked, I stirred in finely minced cilantro and fresh-squeezed lime juice. Then I garnished with extra cilantro because, well, my family likes a lot of cilantro. 😉
I definitely preferred the latter method of arriving at Cilantro Lime Rice deliciousness. The flavor was brighter, the texture was better, and the colors were nicer.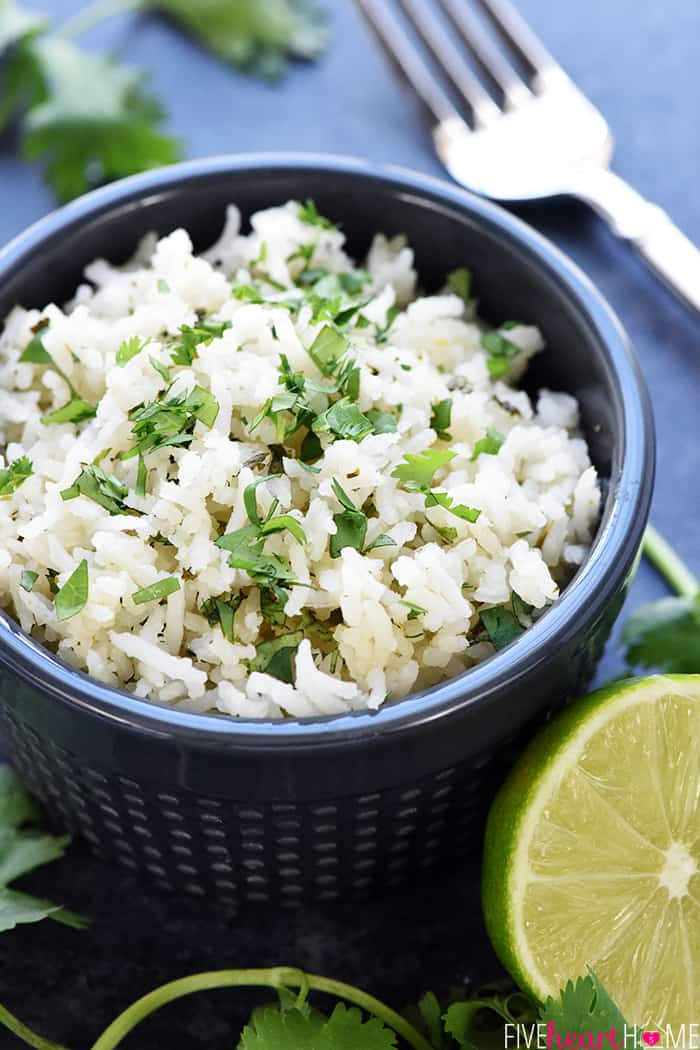 Cilantro Tip
I did learn that cilantro will turn brown after it sits in hot rice for awhile, regardless of anything else. So allowing the rice to cool just a bit before stirring in the cilantro – and serving the dish immediately – will help retain that lovely shade o' green. Sprinkling extra cilantro on top is a nice touch, too.
What Kind of Rice to Use
The other nice thing about this recipe is that you're not limited to one kind of rice… you can use your favorite variety: basmati, jasmine, or even more wholesome long-grain brown rice. Just use the package directions as a guide for cooking time. After all, the fun begins after the rice is perfectly cooked!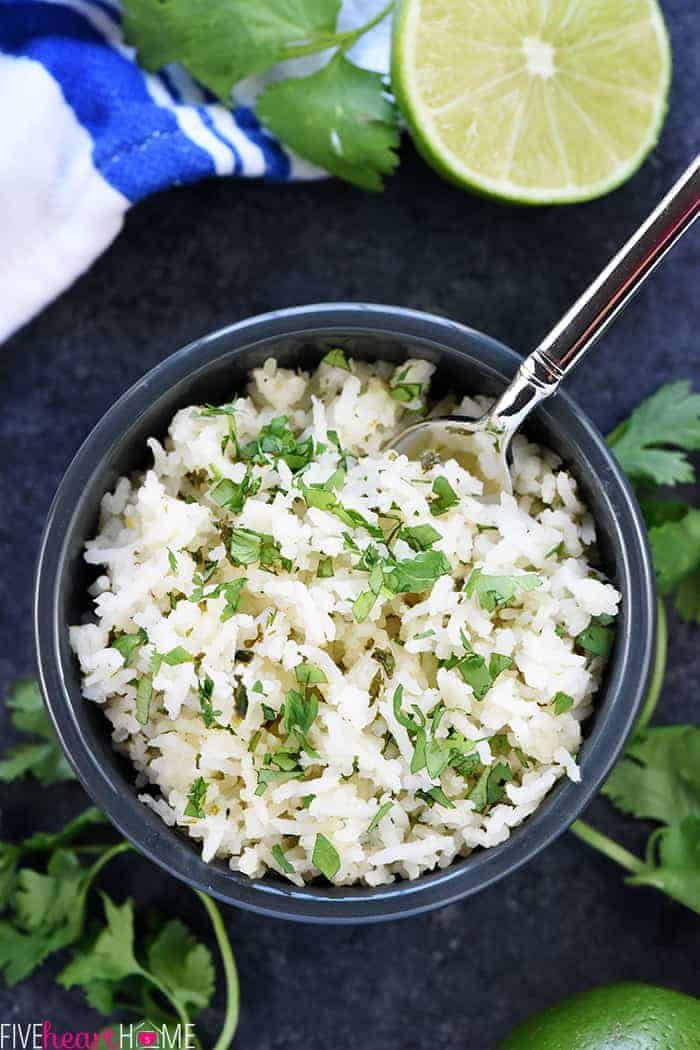 So whether you're a FreeBirds fan...or a Chipotle fan...or a burrito/burrito bowl fan...or a general Mexican/Tex-Mex food fan...Cilantro Lime Rice will make a tasty addition to your recipe box. Enjoy!
More Tex-Mex Favorites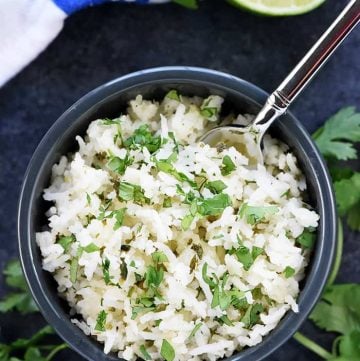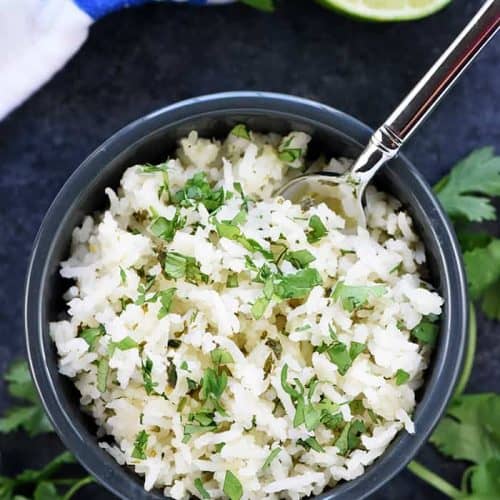 Cilantro Lime Rice
With just a handful of ingredients, Cilantro Lime Rice is the perfect base for burrito bowls or a delicious side for all of your favorite Mexican recipes!
Print
Pin
Rate
Servings:
4
to 6 servings
Ingredients
1

tablespoon

extra-virgin olive oil

1

tablespoon

butter

1

cup

rice

,

jasmine, basmati, long-grain brown rice, or your favorite variety, thoroughly rinsed & drained

1 ¾-2

cups

(Approximately 1 ¾ to 2 cups) chicken broth or stock

,

use the amount indicated in the cooking directions on the package of rice

1

teaspoon

lime zest

½

teaspoon

garlic salt

1

bay leaf

1 ½

tablespoons

freshly-squeezed lime juice

⅓

cup

packed cilantro leaves

,

minced, plus additional for garnish
Instructions
In a medium saucepan set over medium heat, melt together the olive oil and butter. Add the rice and stir to coat with oil/butter. Cook, stirring frequently, for 2 to 3 minutes, until the rice is toasted.

Stir in the chicken broth, lime zest, garlic salt, and bay leaf. Increase heat to high and bring to a boil, stirring occasionally. Stir well, reduce the heat to low, place the lid on the pot, and cook at a gentle simmer for the number of minutes indicated in the cooking directions on the package of rice. If the rice is not quite tender or liquid is not absorbed after that amount of time, replace lid and cook for 2 to 4 minutes longer.

Remove the pot from the heat, leave it covered, and allow to stand for 5 minutes. Fluff the rice with a fork, stir in the lime juice and minced cilantro, and serve immediately, garnishing with additional cilantro if desired.
Notes
You may use vegetable broth/stock instead of chicken broth/stock, if you wish.
Calories:
231
kcal
|
Carbohydrates:
38
g
|
Protein:
3
g
|
Fat:
6
g
|
Saturated Fat:
2
g
|
Cholesterol:
7
mg
|
Sodium:
695
mg
|
Potassium:
135
mg
|
Vitamin A:
175
IU
|
Vitamin C:
9.2
mg
|
Calcium:
19
mg
|
Iron:
0.6
mg
Save
Save