Homemade Chicken Nuggets are made the QUICK AND EASY way, with a copycat "shake and bake" method yielding effortless, tasty nuggets that are a hit with kids and adults alike!

In case you're looking for more kid-friendly dinners, you should definitely try The VERY BEST Sloppy Joes, Pizza Quesadillas, or Turkey Meatloaf Muffins!
Well, we are officially back to school 'round these parts! And I have to admit, I'm feeling mighty organized now that we've resumed a schedule of day-to-day predictability. Of course, talk to me at the end of the week when I'll likely be cursing early alarms and lunchbox packing and weekly menu planning. 😉
But today? Today I sent my kids to school with a healthy breakfast in their bellies and a wholesome lunch in their backpacks. And when they arrived home, I already had dinner planned, prepped, and ready to go. Because if Homemade Chicken Nuggets aren't a great way to cap off the first day of school, I'm not sure what are!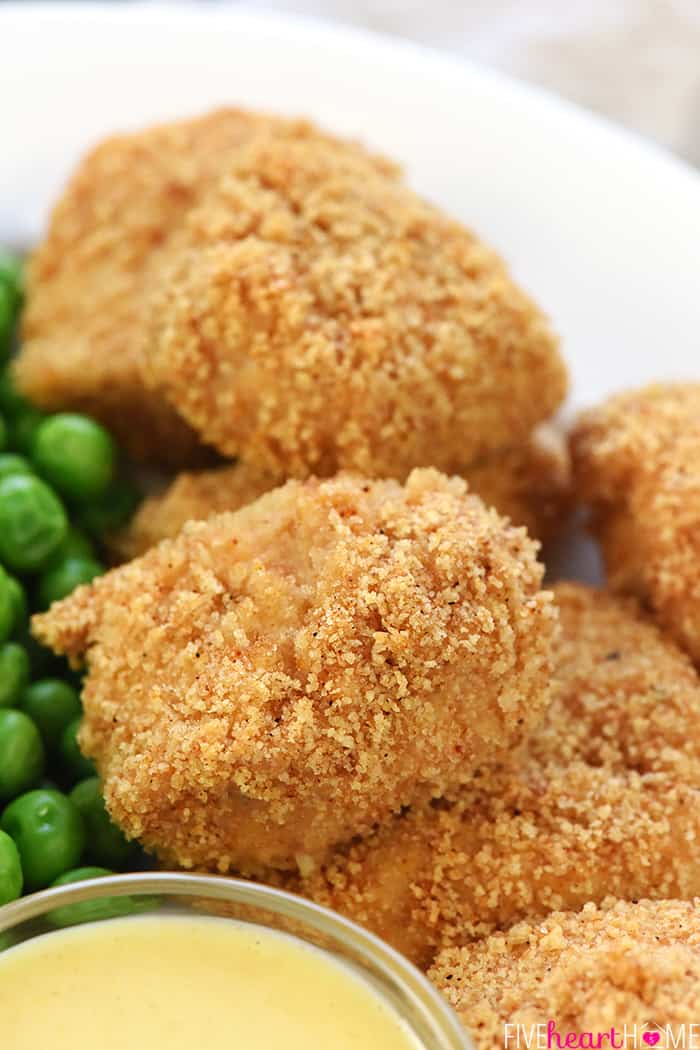 Now, I realize that I already have another version of homemade chicken nuggets/tenders on the blog. Let's face it...my whole family loves 'em -- right down to my pickiest of picky 4-year-old -- and y'all seem to, too!
But one day a few months back, my kids requested Homemade Chicken Nuggets when I didn't particularly have time for dipping and breading.
That's when I remembered the "homemade" baked chicken of my youth, thanks to that little box of wonder known as Shake 'N Bake. 😉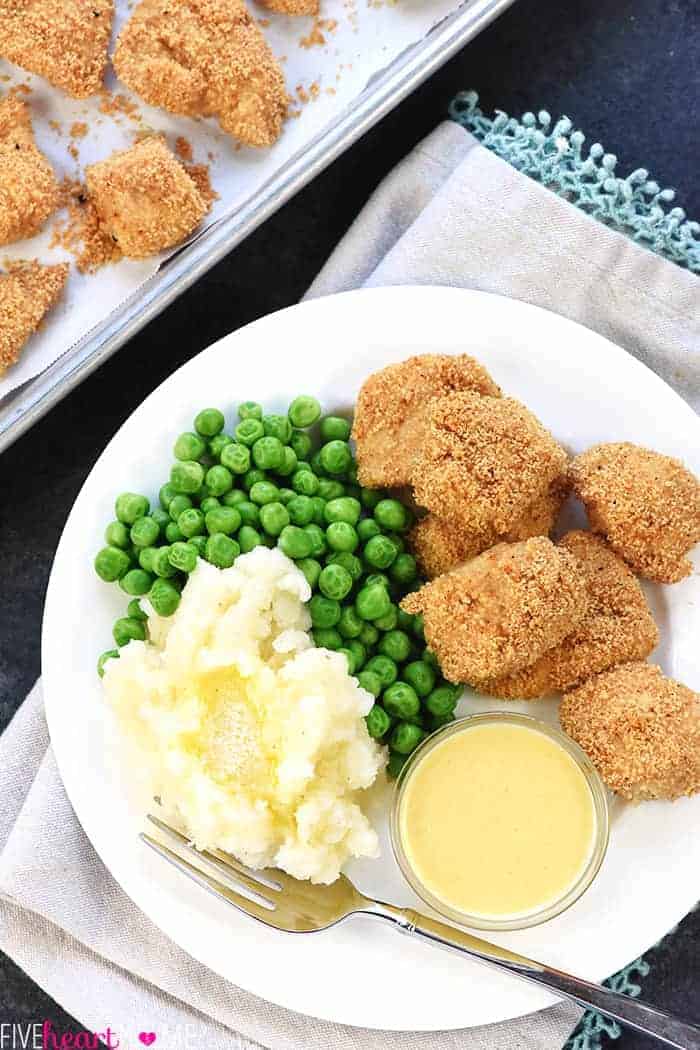 So I wondered...could I could use the same speedy, effortless method originated by Shake 'N Bake, but with natural ingredients instead? I decided to give it a go. And sure enough, the method worked like a charm.
Making the EASIEST Homemade Chicken Nuggets
Y'all aren't going to believe how QUICK and EASY this method is for making Homemade Chicken Nuggets:
Measure breadcrumbs and spices and a super secret ingredient into a gallon-sized plastic bag.
Add cubes of chicken.
Shake the bag until the chicken is evenly coated with the breadcrumb mixture.
Use tongs to remove each nugget to a lined sheet pan.
Bake...and enjoy!
Ready to hear the super secret ingredient that makes the method possible? You need to add a tablespoon of oil (I use extra-virgin olive oil) to the crumbs and spices in the bag, because THIS is what helps the breadcrumb mixture adhere to the chicken. No egg wash, no dipping, no mess required!
Zip the bag and shake vigorously for perfectly-breaded chicken nuggets. Just don't put too many nuggets in the bag at the same time or they won't get evenly coated...I found that shaking 1 pound at a time was an amount that worked well.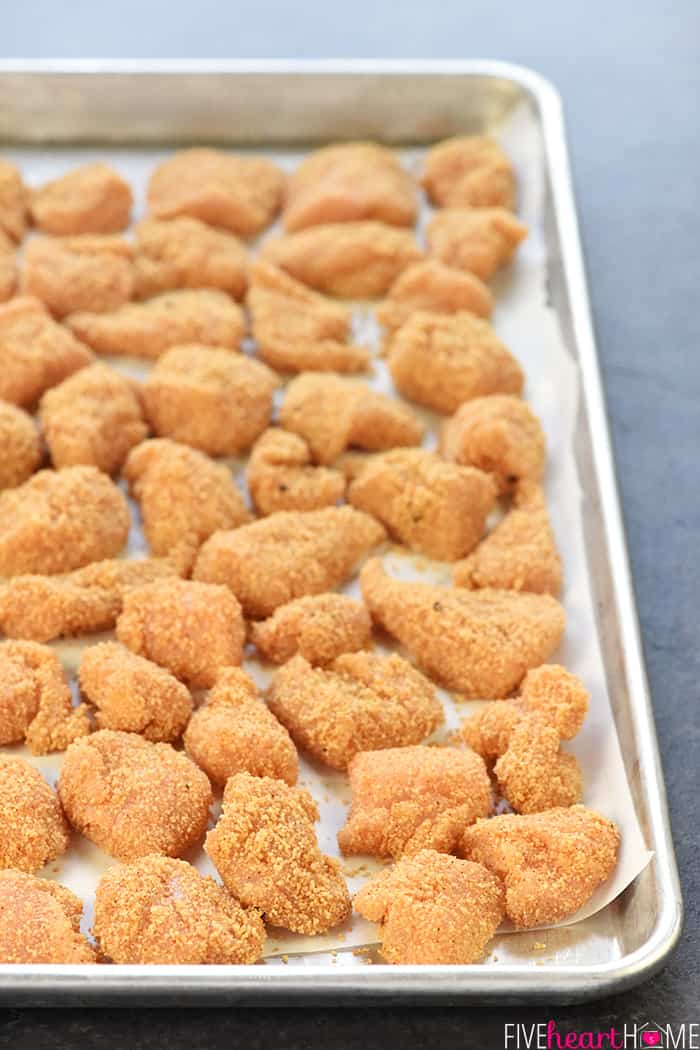 As I mentioned earlier, I first made these copycat "shake and bake" Homemade Chicken Nuggets several months ago...and I've made them half a dozen times since!
I'm not saying that I don't still love the other nugget recipes in my repertoire, but this recipe is just so darn easy. It doesn't dirty a bunch of dishes -- just throw away the plastic baggie when you're done -- and dinner is ready in a flash!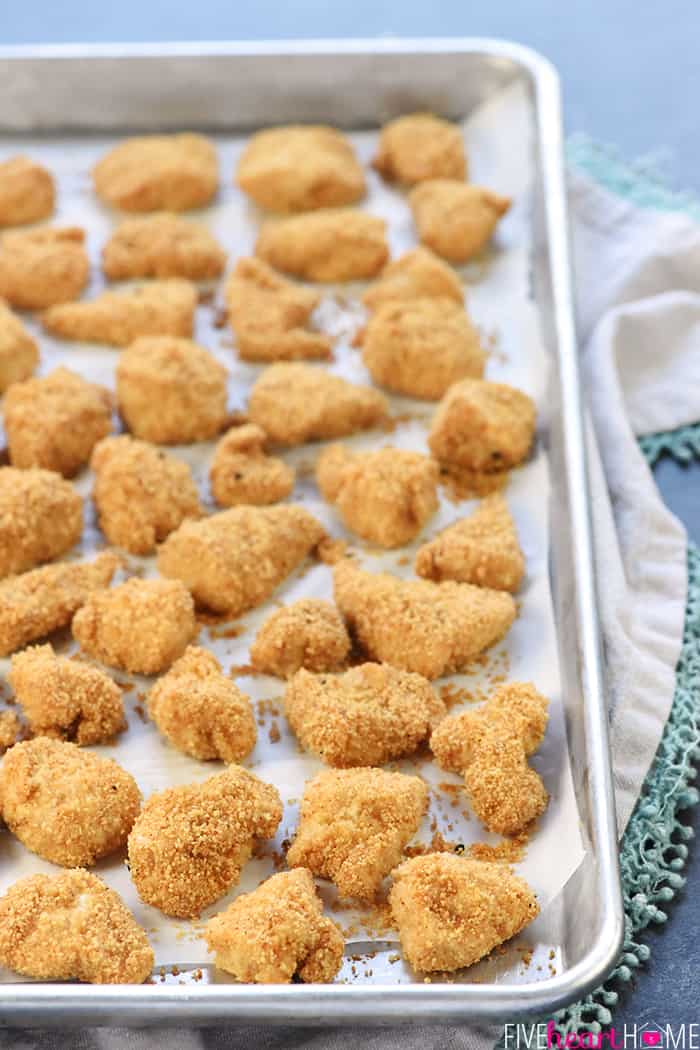 Different "Shake and Bake" Flavors
I also love how simple it is to customize the herbs and spices for different flavors of Homemade Chicken Nuggets.
Prepared per the recipe using your favorite kind of breadcrumbs (I typically use whole wheat breadcrumbs, but Panko are also delicious), we enjoy these nuggets with Greek yogurt-based Honey Mustard Dipping Sauce.
Made with Italian breadcrumbs, the nuggets are delicious dipped in marinara.
And when adding taco seasoning to the breadcrumbs, I like to serve 'em with Creamy Jalapeño Dip or a blend of sour cream and salsa.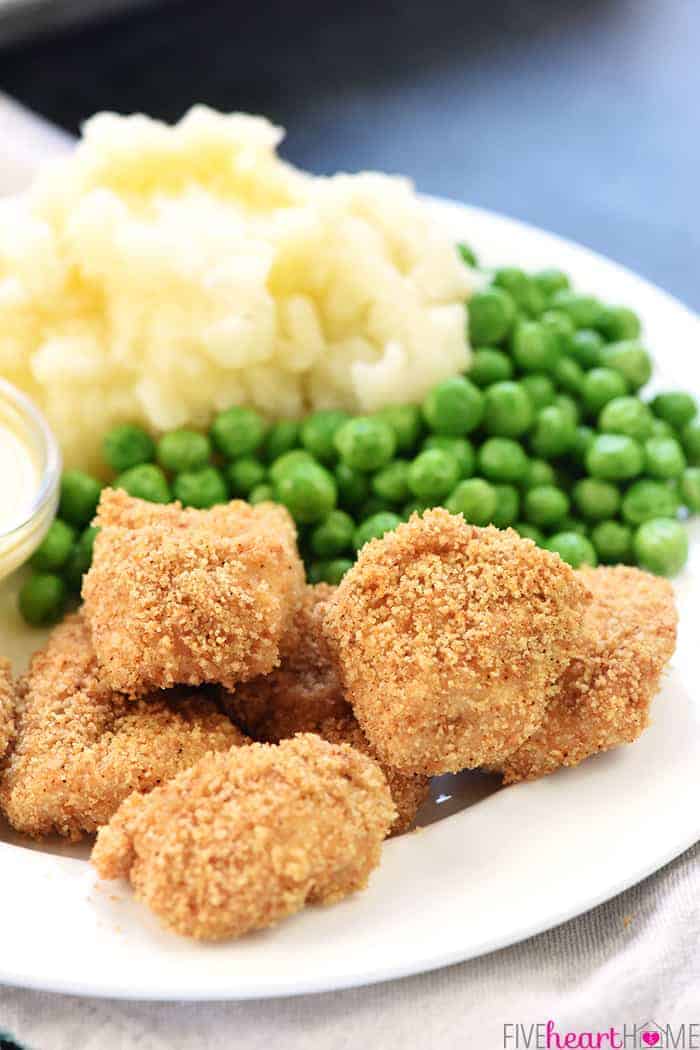 Furthermore, you can use this same treatment for other cuts of chicken -- thighs, drumsticks, wings -- or even as a breading for pork chops. Whatever your mama "Shake 'N Baked" in the 80s, you can do the same now!
So tackle busy weeknights head-on by whipping up Homemade Chicken Nuggets...in no time flat! After all, it's always fun to be a dinnertime hero. 😉

More Kid-Friendly Recipes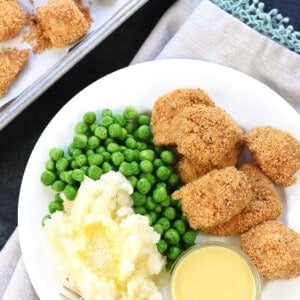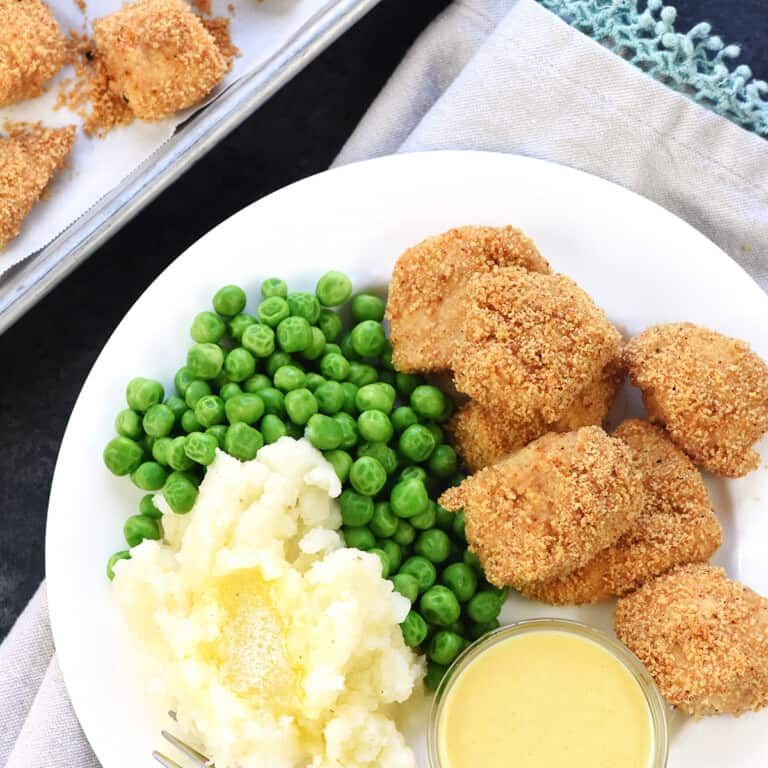 Homemade Chicken Nuggets
Homemade Chicken Nuggets are made the QUICK AND EASY way, with a copycat "shake and bake" method yielding effortless, tasty nuggets that are a hit with kids and adults alike!
Print
Pin
Rate
Ingredients
¾

cup

dried breadcrumbs

1

teaspoon

salt

1

teaspoon

garlic powder

½

teaspoon

onion powder

¼

teaspoon

paprika

Freshly ground black pepper

,

to taste

1

tablespoon

extra-virgin olive oil

,

or vegetable oil

2

pounds

boneless skinless chicken breasts

,

or tenders
Instructions
Adjust the oven rack to the center position and preheat oven to 400°F. Line a large rimmed baking sheet with parchment paper; set aside.

In a gallon-sized plastic baggie, measure the dried breadcrumbs, salt, garlic powder, onion powder, paprika, and pepper. Seal the bag and shake to combine. Add oil to the bag, seal again, and shake until well-incorporated.

Cut the chicken into 1- to 1 ½-inch chunks. Add half of the chicken chunks to the bag of seasoned breadcrumbs. Seal the bag and gently shake, turning the bag to make sure that all of the nuggets are evenly coated. Use tongs to remove each nugget from the bag, shaking excess coating back into the bag, and arrange the nuggets on the prepared baking sheet (close but not touching). Repeat with the remaining chicken chunks.

Bake for 18 to 22 minutes or until the chicken nuggets are completely cooked through but not overdone. Serve warm with Honey Mustard Dipping Sauce or your favorite dipping sauce.
Notes
You may use homemade breadcrumbs (I think dry breadcrumbs made from stale bread work better than moist, fresh breadcrumbs) or store-bought breadcrumbs (I try to find a brand with natural ingredients). I typically make this recipe with plain whole wheat breadcrumbs, but sometimes I use Panko breadcrumbs for crunchier nuggets. However, since Panko breadcrumbs are coarser, you may have to use more Panko crumbs for the same amount of coverage.
Feel free to tweak the herbs and spices to change up the flavor of your Homemade Chicken Nuggets.
You may multiply the breading recipe as desired and then divide it between the corresponding number of freezer baggies. Squeeze out the air and store in the freezer for homemade Shake 'n Bake any time!
Calories:
248
kcal
|
Carbohydrates:
10
g
|
Protein:
34
g
|
Fat:
6
g
|
Saturated Fat:
1
g
|
Cholesterol:
96
mg
|
Sodium:
662
mg
|
Potassium:
591
mg
|
Vitamin A:
85
IU
|
Vitamin C:
1.8
mg
|
Calcium:
32
mg
|
Iron:
1.2
mg
Post originally published on August 21, 2017.
Save
Save