Sweet and spicy Cran-Raspberry Jezebel Sauce, with its bold horseradish kick, is a versatile sauce that can be poured over cream cheese as an appetizer, served alongside holiday ham or turkey, or jarred up for gift-giving!

Who's ready for Thanksgiving? I have yet to decide if I'm more excited about the food, the family, or the football! At any rate, I'm willing to bet that most of you have already planned out and possibly purchased groceries for your Turkey Day menu (and if you haven't, it's not too late to peruse a plethora of Thanksgiving recipe ideas here!).
So you might be wondering why I'm bringing you a variation of cranberry sauce this late in the game? Well, even though we're only days out from Thanksgiving at this point, this Cran-Raspberry Jezebel Sauce ain't your regular cranberry sauce! In other words, it need not be relegated to Thanksgiving only. No siree…this is a recipe that can carry you straight on through the winter holidays, saving the day any time you need a quick party appetizer, or a sweet and spicy condiment to accompany dinner, or a homemade food gift!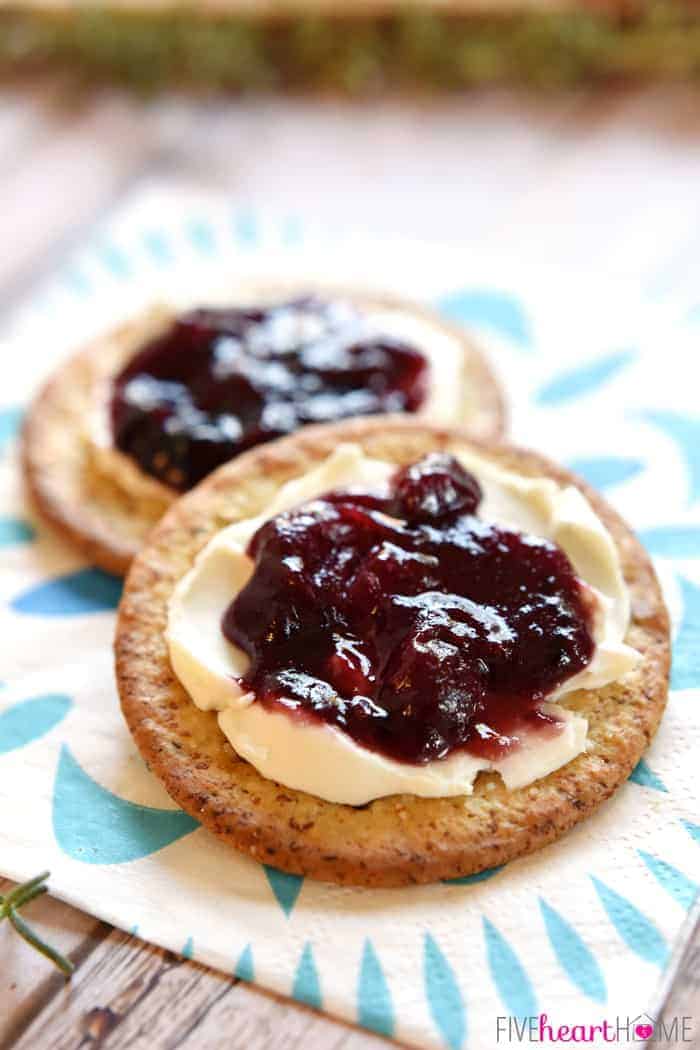 Cran-Raspberry Jezebel Sauce is cranberry sauce with a KICK! That's because — true to its southern Jezebel Sauce reputation — it features a fruity base, a bit of mustard, and good dollop of horseradish. In this variation, you have the tartness of fresh cranberries, the sweetness of seedless raspberry preserves and honey, the tanginess of Dijon, and the bite of prepared horseradish. You might just never go back to ho-hum cranberry sauce again!
Cran-Raspberry Jezebel Sauce is a scrumptious topping for softened cream cheese or baked Brie with a side of crackers. Serve it as an easy appetizer at a party and watch it disappear!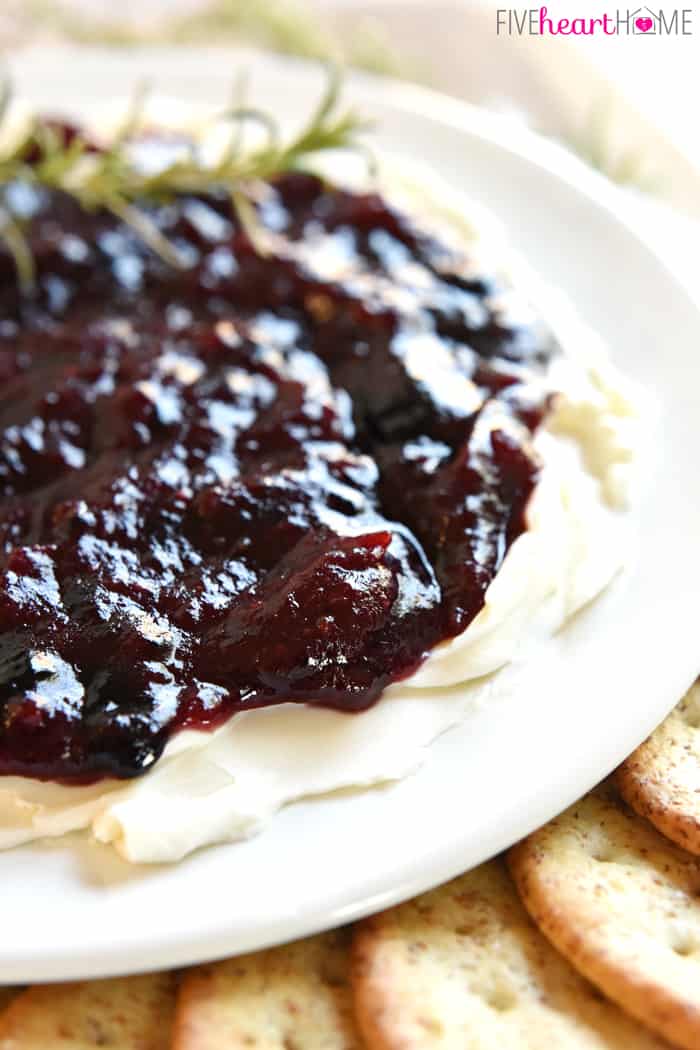 It's also delicious served alongside your holiday main course, whether that's smoked ham, turkey, lamb, prime rib, or just about any savory hunk of meat. Horseradish is traditionally served with beef or added to cocktail sauce for flavor and a bit of heat, but incorporating it with the cranberry/raspberry base creates a versatile sweet and spicy sauce that complements a variety of meats.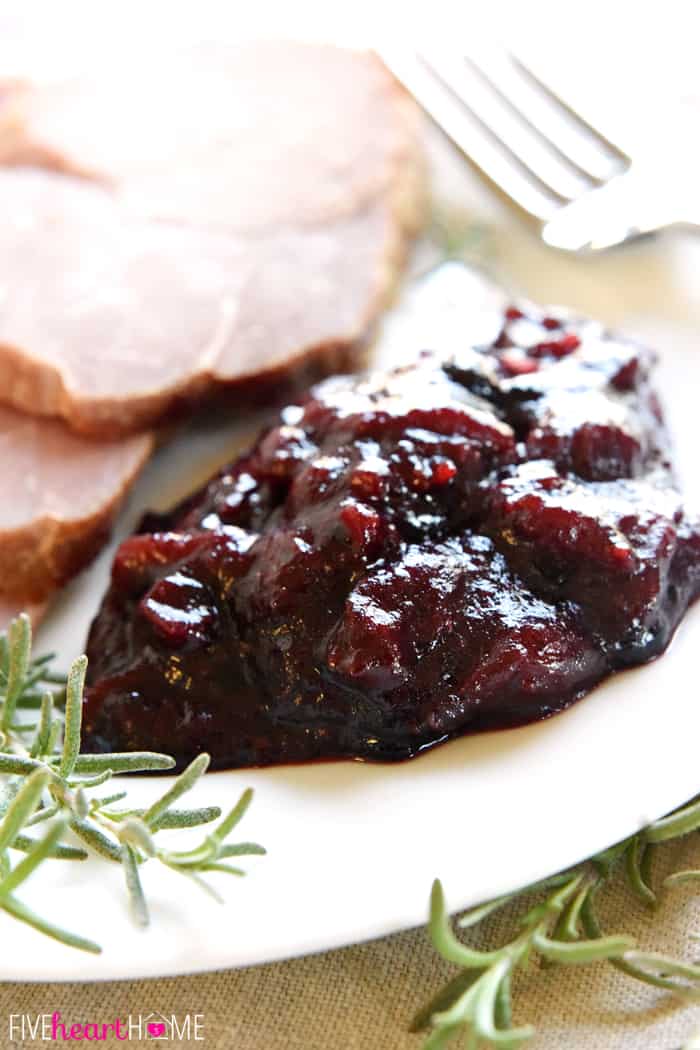 The other fun thing about this Cran-Raspberry Jezebel Sauce is that it makes a fabulous homemade food gift! Not only does it come together in about 15 minutes, but one batch is enough for multiple jar gifts. It would be fun to create an appetizer gift basket including a small jar of this sauce, a block of cream cheese or a wheel of Brie, and a box of fancy entertainer crackers. Or a large jar would be a lovely hostess gift…and could subsequently be enjoyed with the meal!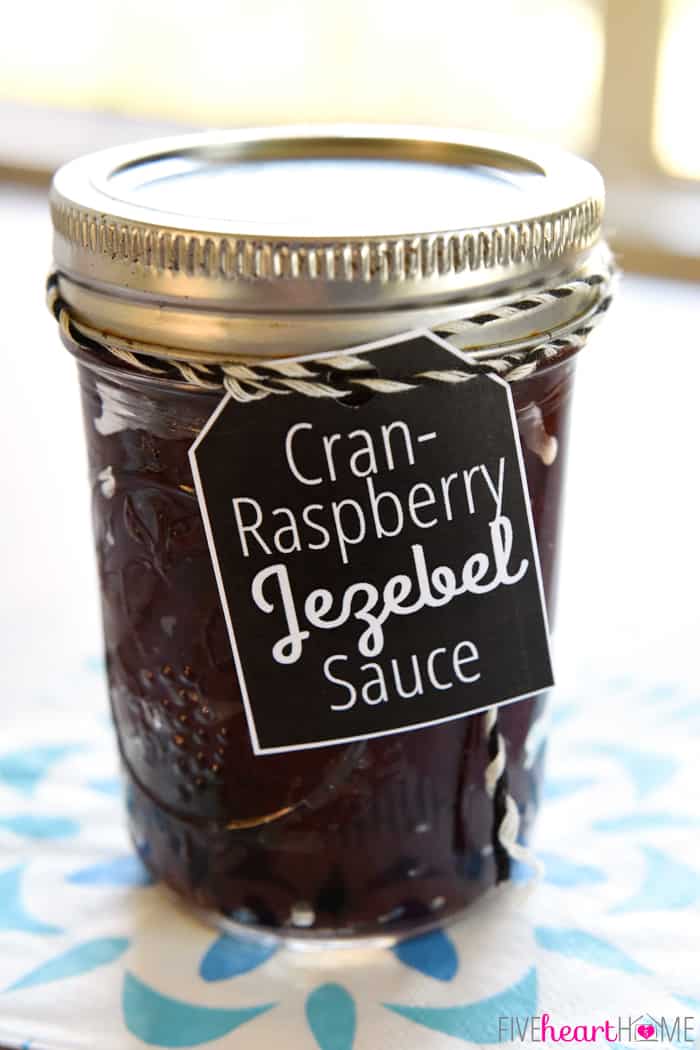 Making this sauce is as simple as cooking down a pot of fresh or frozen cranberries with some brown sugar and honey. After the cranberries have burst and created a thick, glossy sauce, stir in seedless raspberry preserves and Dijon mustard. Then it's time for the not-so-secret ingredient…prepared horseradish! I like to add the horseradish to taste, increasing it a bit at a time, but I typically settle on three tablespoons total.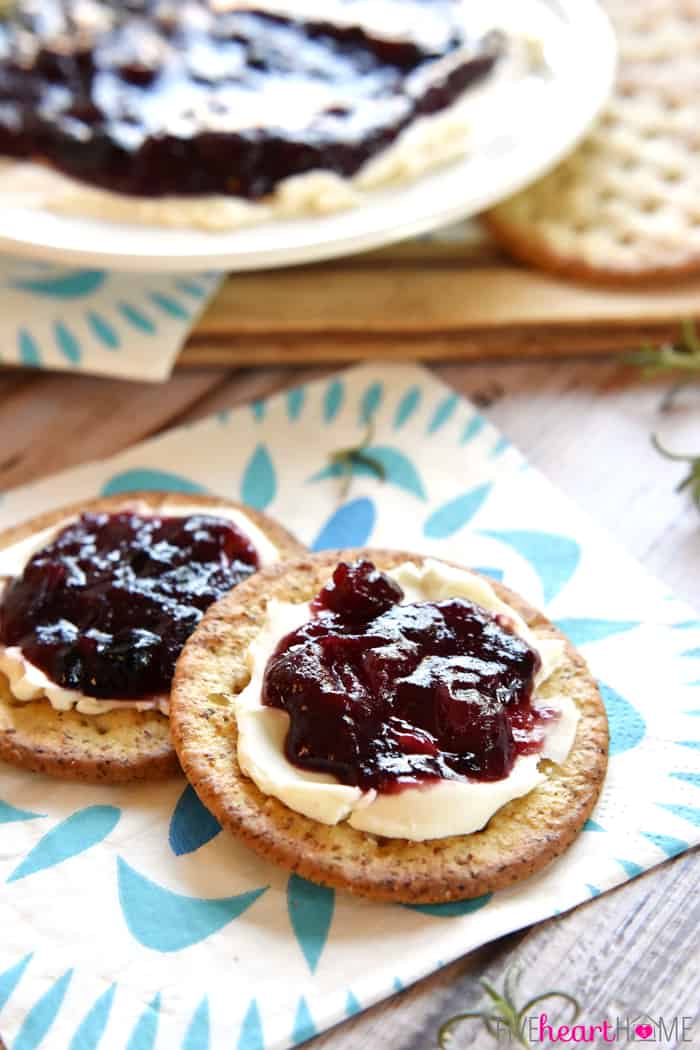 Now allow me to offer the disclaimer here that if you don't care for the taste of horseradish, you probably will not like this sauce. I don't add enough horseradish to make it overly hot and spicy, but the horseradish flavor is definitely prominent nonetheless. If you like horseradish, however, this recipe will be right up your alley! The sweet-tart fruit plus the zingy horseradish is a combo that deliciously enhances smoked and roasted meats. And it's equally tasty when mellowed out with some cream cheese or Brie and slathered on a cracker.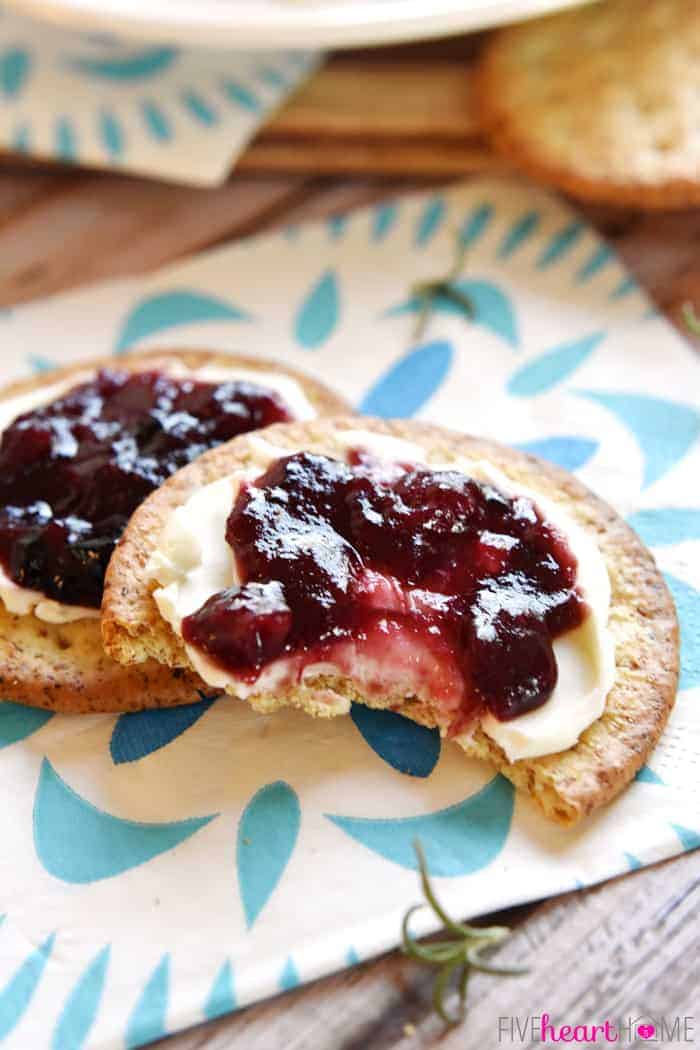 So if you're looking for a new and exciting way to jazz up your cranberry sauce, Cran-Raspberry Jezebel Sauce is a surefire way to wake up your tastebuds! Whether it stars as an appetizer, a condiment, or a homemade gift-in-a-jar, give it a whirl this holiday season!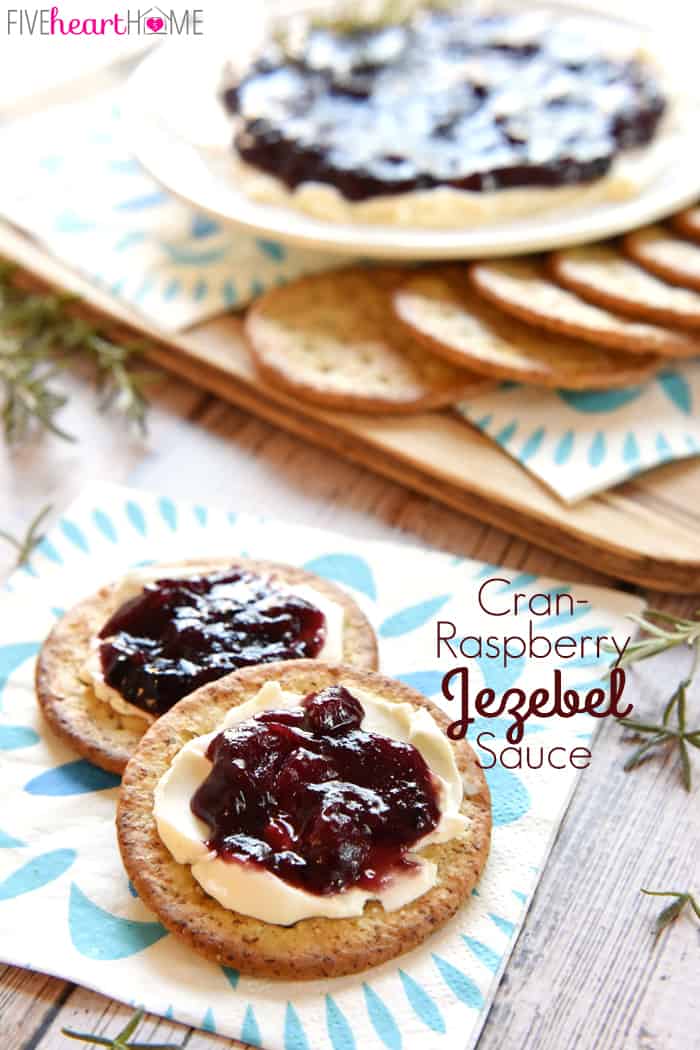 Before I get on with the recipe, I just wanted to wish you all a very happy Thanksgiving! As I reflect on my many blessings, one of the things I'm certainly grateful for is the fact that I get to pour my creative energy into this little food blog for a living and you all support and encourage me with your visits and your comments and by actually making my recipes. So truly…thank you! I'm going to be a little bit light on posting new recipes this week as I enjoy the holiday break with my family, but I'll see y'all back after the weekend with some fun and yummy Christmas recipes! 🙂
More Holiday Recipe Ideas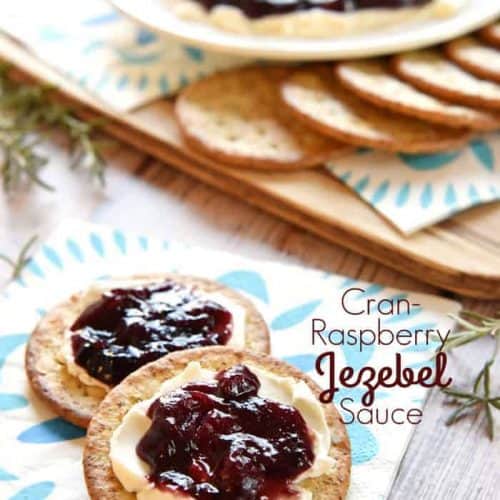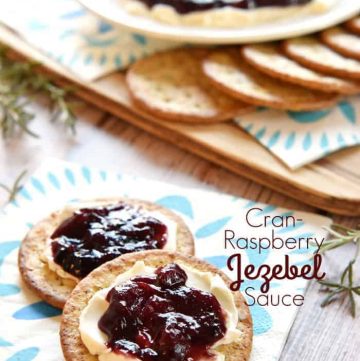 Cran-Raspberry Jezebel Sauce
Sweet and spicy Cran-Raspberry Jezebel Sauce, with its bold horseradish kick, is a versatile sauce that can be poured over cream cheese as a spread for crackers, served alongside holiday ham or turkey, or jarred up for festive gift-giving!
Print
Pin
Rate
Servings:
16
(Approximately 2 1/2 cups)
Ingredients
1

cup

water

1/2

cup

packed brown sugar

1/4

cup

honey

12

ounces

fresh or frozen cranberries

1/2

cup

seedless raspberry preserves

1

tablespoon

Dijon mustard

3

tablespoons

prepared horseradish

,

more or less, to taste
Instructions
In a medium pot set over medium heat, stir together water, brown sugar, and honey until dissolved. Bring to a boil, stirring occasionally. Add cranberries, return to a boil, and cook for 10 to 12 minutes, stirring occasionally. Sauce is done when cranberries have burst and sauce looks thick and glossy.

Remove pot from heat and allow sauce to cool for 5 minutes. Stir in raspberry preserves and Dijon mustard. Stir in 1 tablespoon of prepared horseradish, taste, and then add 1/2 tablespoon at a time until desired amount has been reached. Allow to cool.

Store in an air-tight container in the refrigerator for up to two weeks. Serve over cream cheese or baked Brie with crackers, or alongside smoked or roasted meats. Keep chilled if giving as a gift.
Notes
By "prepared horseradish," I mean a jar whose main ingredient is horseradish, not a horseradish sauce. I used Boar's Head All Natural Horseradish in this recipe, and its only ingredients are horseradish, vinegar, and salt.
Calories:
84
kcal
|
Carbohydrates:
21
g
|
Protein:
1
g
|
Fat:
1
g
|
Saturated Fat:
1
g
|
Sodium:
29
mg
|
Potassium:
45
mg
|
Fiber:
1
g
|
Sugar:
17
g
|
Vitamin A:
15
IU
|
Vitamin C:
4.5
mg
|
Calcium:
11
mg
|
Iron:
0.2
mg
Adapted from Food.com