Cranberry Fluff Salad is a new twist on the classic, with cranberries, pomegranate, pineapple, pecans, coconut, marshmallows, & fresh whipped cream!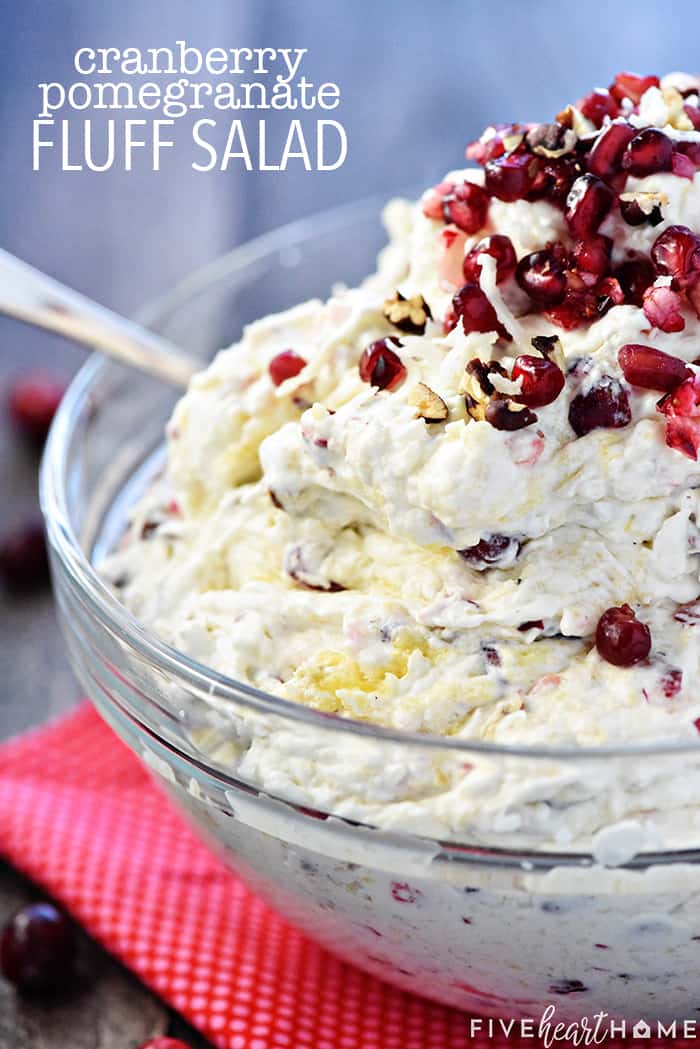 For more scrumptious holiday salads, you'll also love Holiday Honeycrisp Salad, Thanksgiving Salad, and Shaved Brussels Sprout Salad with Pomegranate!
All hail the dessert salad that's not really a salad! Y'all know what I'm talking about, right? At any church potluck, you'll find a rainbow buffet of fruity, fluffy, and/or gelatinous concoctions that would make any grandma proud. And on many a holiday table, you often find the same, expect this time the fluff salad likely features cranberries in order to make it socially acceptable.? Well, say hello to my nod to that recipe...Cranberry Fluff Salad!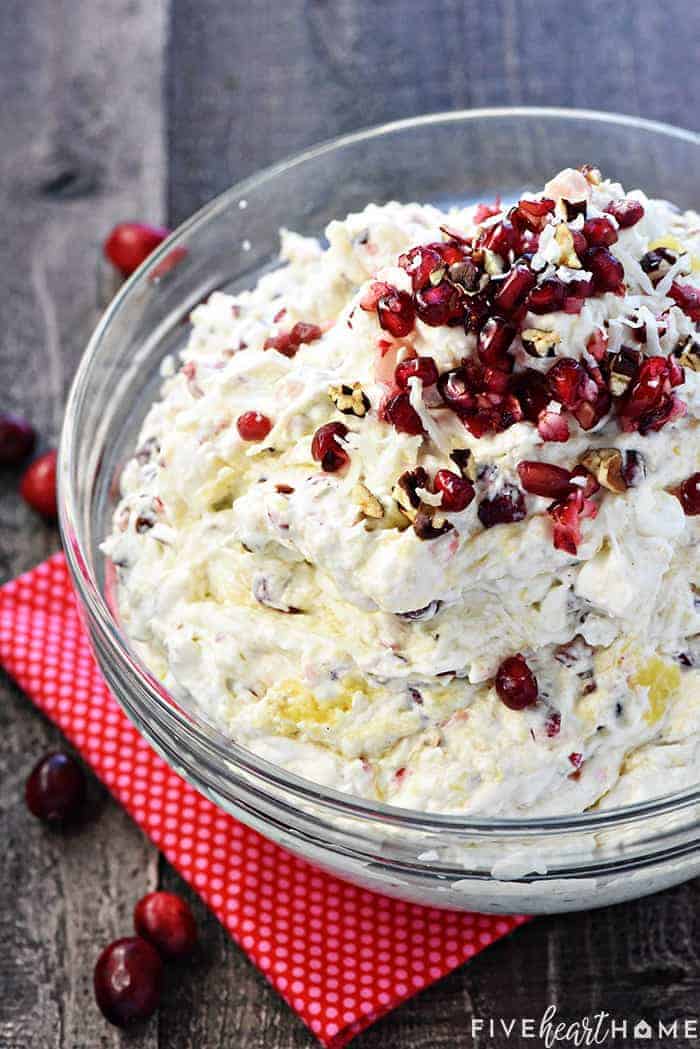 A Fluff By Any Other Name...
This stuff goes by different monikers -- cranberry fluff, cranberry fluff salad, fluff salad, cranberry marshmallow salad...the list goes on and on.
But regardless of what you call it, there are typically some common ingredients across the different variations.

Ingredients
Cranberries. Some folks use cranberry sauce for this component, but I actually prefer using plump, fresh cranberries. Biting into a whole cranberry would be a bit much, however, so I pulse my cranberries in my mini food processor and then mix them with sugar to counter the tartness.

Pineapple. I'm not sure who first put pineapple in these fruity, fluffy salads, but it just tastes right!
Marshmallows. This ingredient is imperative to the ultimate texture of the side dish. Because as the salad sits, the marshmallows soften, providing creamy little bursts of sweetness in every bite.
Whipped Cream. This is the ingredient that holds the whole salad together and makes it, well, fluffy! Cool Whip would certainly be an easy shortcut here, but I prefer using lightly sweetened, freshly whipped cream.
I wanted to add extra texture and flavor to my cranberry fluff salad, however, so I decided to jazz it up with a few additional ingredients...
Pomegranate. Pomegranate arils are just gorgeous little jewels, aren't they? They're also juicy and a bit sweeter than cranberries, making them the perfect addition to this holiday salad.
Nuts. Fluff salads sometimes contain nuts, but I would never consider leaving them out for the texture and crunch that they add! I prefer chopped pecans, but walnuts would be great as well. Just be sure to toast them! This gives them even more flavor and helps them maintain their crunch in a soggy salad.
Coconut. This ingredient is completely optional, but again, I like the chewy texture that it contributes to the salad.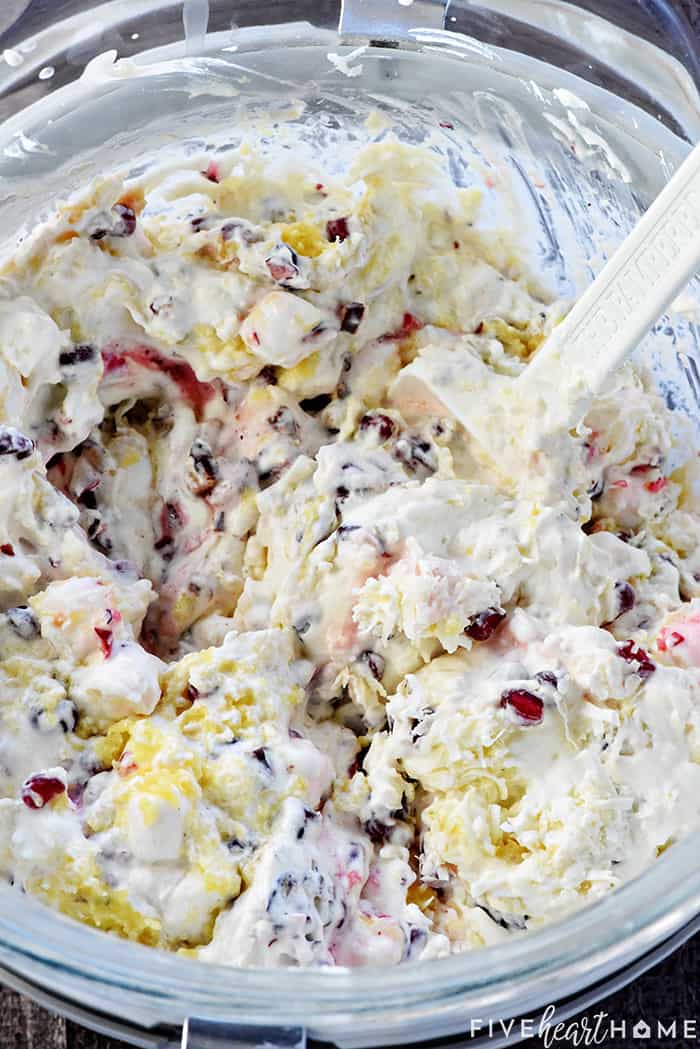 Of course, feel free to tweak the ingredients...this recipe is pretty forgiving. You can add more or less of something or omit it altogether. Make it your own!
I made this particular Cranberry Fluff Salad for the first time this past Thanksgiving and it was a big hit. Dessert has a spot on the dinner plate? My kids were fans. They've already requested it again for Christmas dinner so I do believe this recipe has earned a permanent spot on our annual holiday dinner menus!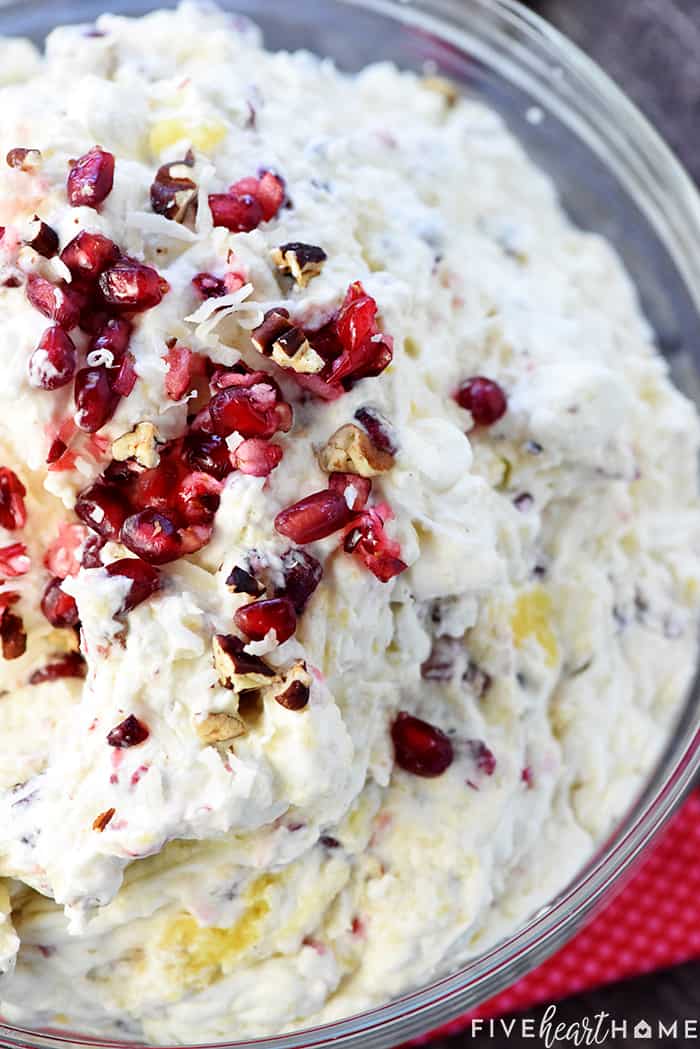 I have to admit that I was slightly hesitant to share this recipe on the blog because it's not exactly my best photography work. I mean, how do you make a blobby, whipped cream-enveloped medley look good in photos? But I garnished the top and called it good! This may not be the most attractive dish on the buffet but I promise that it'll disappear nonetheless.
Do you enjoy a sweet "non-salad salad" as a part of your holiday dinner? Do you already make a traditional recipe that's been passed down through the generations? Or are you open to trying a new and improved version that just so happens to be sweet and tart, crunchy and creamy, and pretty darn yummy? I never turned down that fruity fluffy salad at the Lutheran church potluck in 1986 and I sure wouldn't turn it down today.
Cranberry Fluff Salad for the win!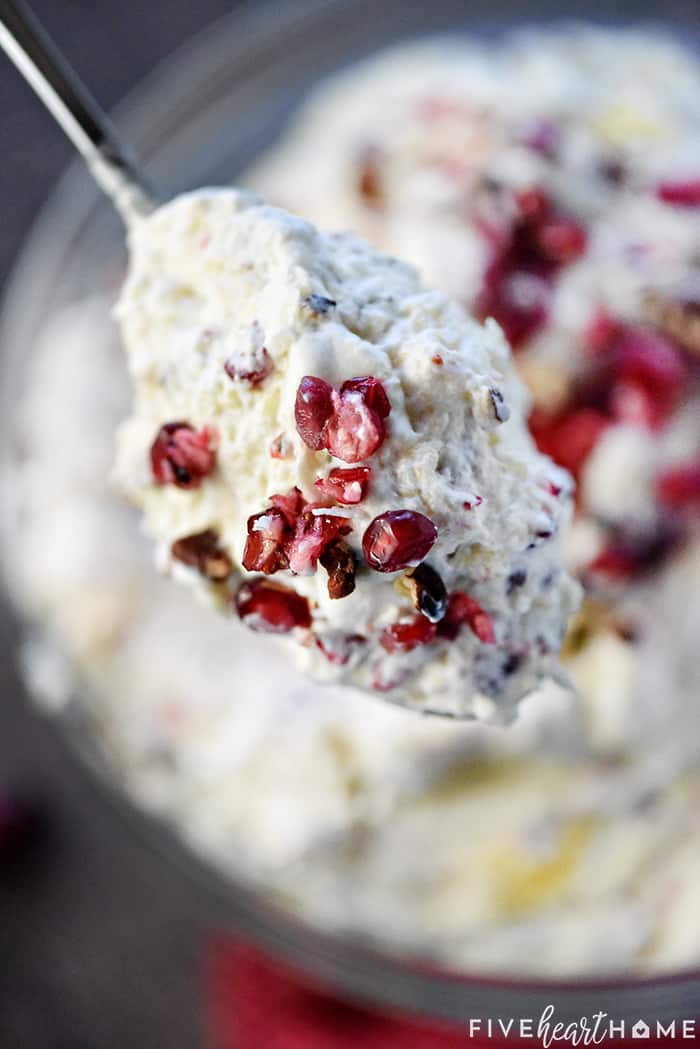 Helpful Tips, Tricks, & Equipment
I chop my cranberries in my trusty mini food processor. Alternatively, you may pulse them in a regular food processor, a blender, or chop by hand with a sharp knife. Just be sure not to overchop them! I aim for small pieces but not mush.
Because this recipe substitutes whole pomegranate arils for some of the chopped cranberries found in typical cranberry fluff recipes, this version may not turn out quite as pink as recipes using solely cranberries.
Heavy cream whips the best in a chilled bowl using chilled beaters...simply pop the bowl and beaters in the freezer for 20 minutes before proceeding.
Whipping your cream into fairly stiff peaks will help the salad hold together. Just be careful not to whip it so long that you make butter!
To toast pecan halves, preheat the oven to 350°. Spread the pecans on sheet pan and bake for 7 to 9 minutes or until fragrant and lightly toasted, watching carefully to prevent burning (already-chopped pecans will toast faster than pecan halves, so check those at 5 minutes). Allow to cool before chopping.
You can serve this salad immediately, but it will probably be a little runny. It's better if you cover and chill for a few hours (ideally overnight) to allow the flavors to meld, the marshmallows to soften, and the whipped cream to thicken, which creates the desired "fluff" effect.
If you like, garnish this dish with a sprinkle of reserved ingredients from the recipe to make it "pretty" and let everyone know what's inside.

More Cranberry and Pomegranate Recipes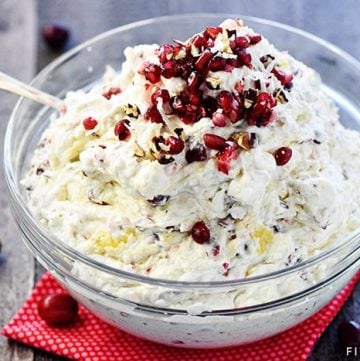 Cranberry Fluff Salad
Cranberry Fluff Salad is a new twist on the classic, with cranberries, pomegranate, pineapple, pecans, coconut, marshmallows, & fresh whipped cream!
Print
Pin
Rate
Ingredients
1 ½

cups

fresh cranberries

½

cup

granulated sugar

2

cups

heavy cream

½

cup

powdered sugar

½

teaspoon

pure vanilla extract

1

cup

pomegranate arils

,

typically the amount from 1 large pomegranate

2

(8-ounce) cans crushed pineapple

1

cup

flaked coconut

1 ½

cups

toasted pecans

,

chopped

2

cups

mini marshmallows
Instructions
In a mini food processor, pulse the cranberries until finely chopped (three or four 1-second pulses). Transfer to a large bowl and stir in the granulated sugar; set aside.

In another bowl, add the heavy cream, powdered sugar, and vanilla. Using beaters or the whisk attachment of a stand mixer, blend ingredients until combined and then beat at high speed until stiff peaks just form, which should take about 1 minute; set aside.

Add the pomegranate arils, pineapple, coconut, pecans, and mini marshmallows to the bowl with the chopped cranberries; stir together. Scrape the whipped cream on top and gently fold into the salad until well combined. Cover and chill for at least 4 hours or overnight before serving.
Calories:
291
kcal
|
Carbohydrates:
26
g
|
Protein:
2
g
|
Fat:
21
g
|
Saturated Fat:
10
g
|
Cholesterol:
41
mg
|
Sodium:
19
mg
|
Potassium:
157
mg
|
Fiber:
3
g
|
Sugar:
20
g
|
Vitamin A:
462
IU
|
Vitamin C:
5
mg
|
Calcium:
34
mg
|
Iron:
1
mg