A base of homemade ranch is flavored with fresh jalapeños, cilantro, and tomatillo salsa in Creamy Jalapeño Dip, a copycat recipe of the popular Chuy's dip!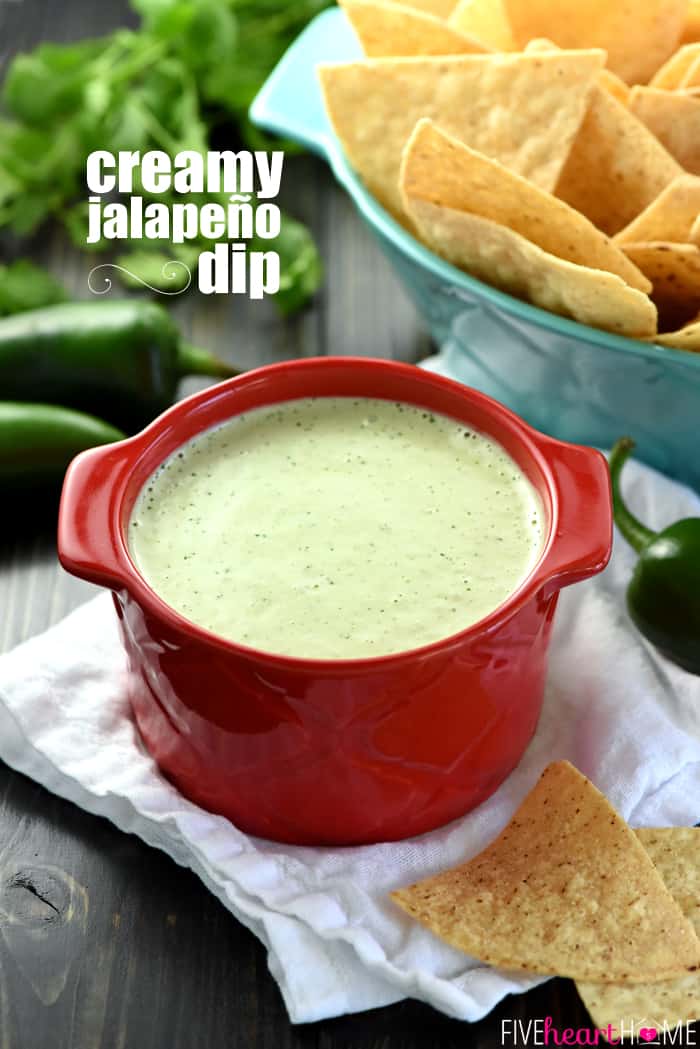 For more scrumptious, Tex-Mex inspired dips, you might enjoy Beef Enchilada Dip, Creamy Salsa Dip, and Zesty Black Bean Dip!
In case you've never had Creamy Jalapeño Dip, it's a bowl of deliciousness served alongside chips and salsa at the eclectic Tex-Mex chain, Chuy's...a restaurant that started in Austin but -- according to my quick perusal of their website -- is now spread across a variety of states (you lucky Ohioans).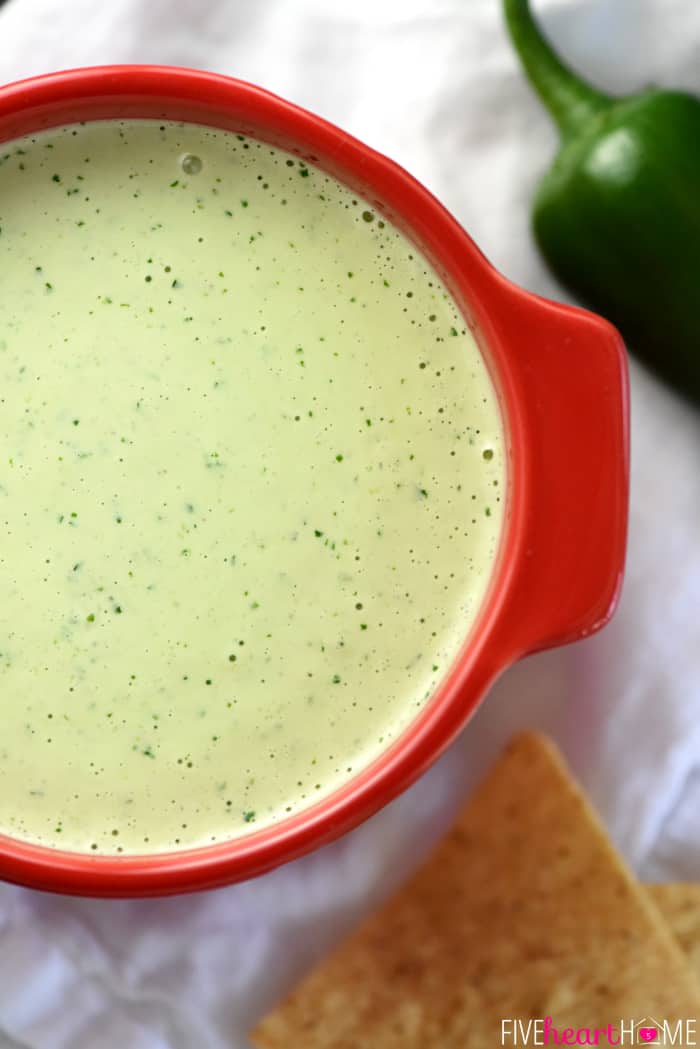 I believe it's well-documented that I've always been a queso girl (and still am to this day, foreverandeveramen), but when they bring out your chips and salsa at Chuy's, they also bring out that aforesaid small bowl of Creamy Jalapeño Dip.
And it's so addictive that I typically situate it at arm's reach and inhale it faster than anyone else at the table.
In fact, it pretty much makes me forget about ordering queso until our crew is at least two bowls in on the jalapeño dip front. It's that good, folks.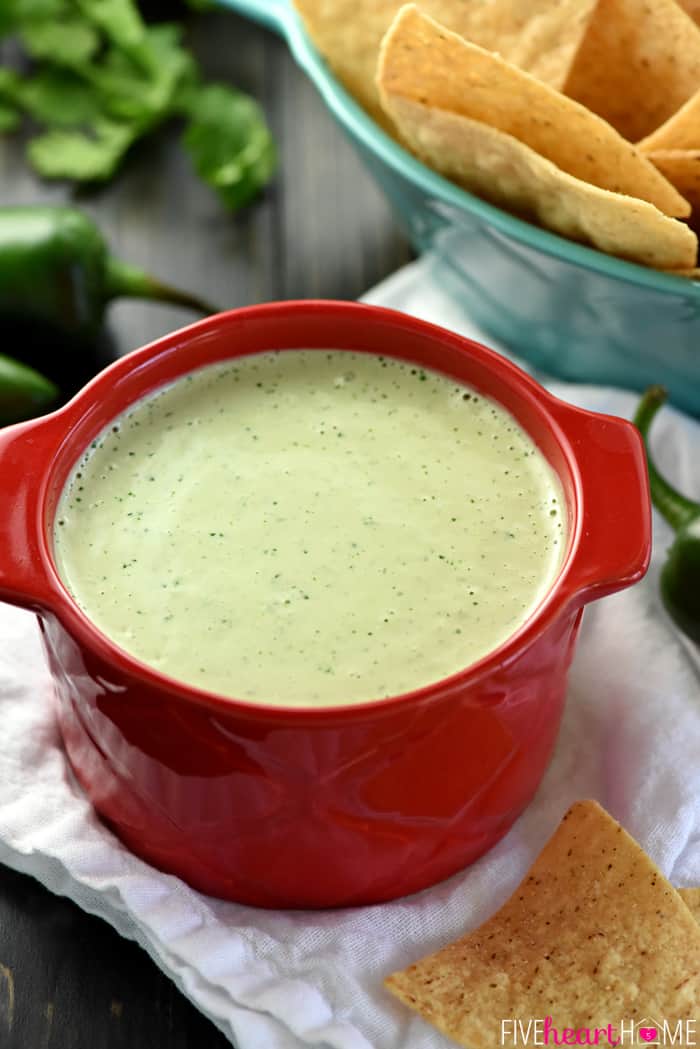 So today, I decided to attempt an at-home copycat version of the recipe.
How to Make Creamy Jalapeño Dip
Most Chuy's Creamy Jalapeño Dip copycats start with dry Ranch dressing packets.
But wanting to keep things a bit more from-scratch, I started with my Homemade Buttermilk Ranch Dressing as a base, which I then flavored with fresh jalapeños, fresh cilantro, and jarred tomatillo salsa. It's quite possible that Chuy's uses fresh tomatillos, but since they're not always easy to find at the grocery store, I figured using salsa would simplify things.
Once you gather your ingredients, simply give everything a good puree in the ol' blender or food processor and voilà...silky, flavorful Creamy Jalapeño Dip!
Don't Skip this Step!
But WAIT...you shouldn't enjoy it quite yet. Sorry!
First you need to chill your dip for at least 4 hours -- preferably 8 or more hours -- to allow the flavors to blend and intensify. Popping it in the fridge will also thicken it up a bit.
The dip at Chuy's is actually fairly runny, as is this copycat when you first blend it up...but chilling will help remedy that.
As for the flavor, I always recommend tasting it just before serving in order to adjust the salt and pepper, if necessary.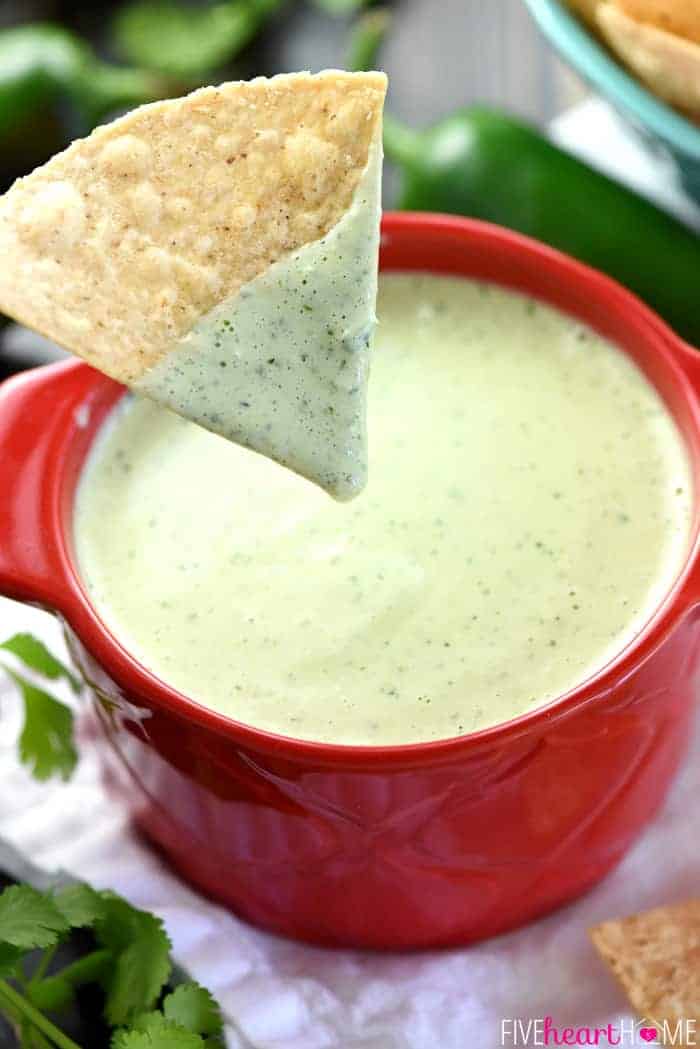 Can You Handle the Heat?
The heat of the jalapeños is likely to intensify a smidge once the dip chills for a while.
Creamy Jalapeño Dip can be made to be fairly mild -- with the jalapeños contributing more flavor than heat -- if you remove the seeds and membranes from the jalapeños before pureeing.
However, if you want a spicy dip, just leave some of those seeds and membranes intact before whizzing everything together. But if you decide to retain all of them, don't say I didn't warn ya!
Other Ways to Enjoy Creamy Jalapeño Dip
If you eat at Chuy's, you can actually get this concoction poured over your enchiladas or burrito or Chuychanga as a sauce.
I think it would also make a fabulous salad dressing.
Or you can simply drain it straight from the bowl, as fast as your little chips will carry it to your mouth. After all, sometimes one's usual vat of queso has earned a well-deserved break.
So what are you waiting for? I'm sure you can think of a reason or two to enjoy some of this Creamy Jalapeño Dip goodness! 😉

More Yummy Dips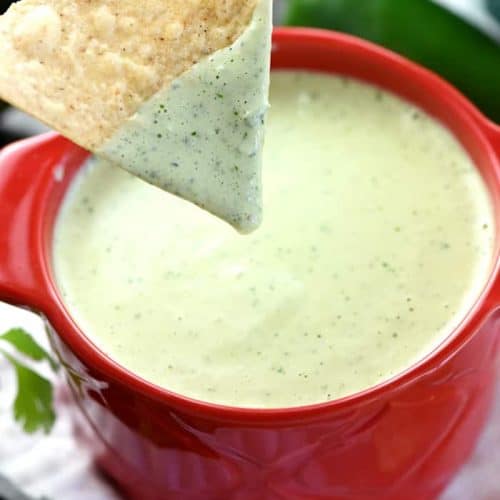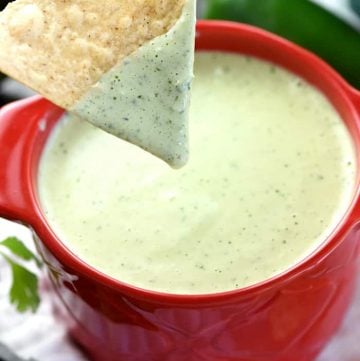 Creamy Jalapeño Dip
A base of homemade ranch dressing is flavored with fresh jalapeños, cilantro, and tomatillo salsa in this Creamy Jalapeño Dip, a copycat recipe of the popular appetizer at Chuy's!
Print
Pin
Rate
Servings:
10
servings (makes 2 cups)
Ingredients
2

fresh jalapeños

,

*see Notes below

⅓

cup

packed fresh cilantro leaves

½

cup

good-quality mayonnaise

½

cup

sour cream

½

cup

buttermilk

⅓

cup

tomatillo salsa

½

teaspoon

garlic powder

¼

teaspoon

onion powder

¼

teaspoon

salt

,

plus more to taste

Freshly ground black pepper

,

to taste
Instructions
In a blender or food processor, pulse the jalapeños until finely minced. Add the cilantro and pulse until chopped. Add the remainder of the ingredients and blend/process until mixture is smooth and completely puréed. Adjust seasonings to taste, adding more salt and pepper if necessary. Cover and refrigerate for at least 4 hours, but preferably longer. Serve with tortilla chips or vegetable dippers.
Notes
Individual jalapeños can vary in their heat levels. That being said, as a general rule:

For a mild dip, scrape out and discard the

seeds & membranes from your jalapeños.

For a medium dip, leave the seeds & membranes intact in one jalapeño and scrape them out/discard from the second jalapeño.
For a spicy dip, leave all of the seeds & membranes intact. Or you can even add an additional jalapeño for extra heat, if that's your preference.

This dip will slightly thicken after chilling in the fridge for several hours. However, it is not intended to be (and will never turn into) an overly thick dip.
Calories:
111
kcal
|
Carbohydrates:
2
g
|
Protein:
1
g
|
Fat:
11
g
|
Saturated Fat:
3
g
|
Cholesterol:
12
mg
|
Sodium:
206
mg
|
Potassium:
55
mg
|
Fiber:
1
g
|
Sugar:
2
g
|
Vitamin A:
210
IU
|
Vitamin C:
3.9
mg
|
Calcium:
26
mg
Originally published on April 21, 2016.