Delicately flavored Cucumber Water with Mint (and optional lime) is a refreshing drink to keep you cool and hydrated, all summer long!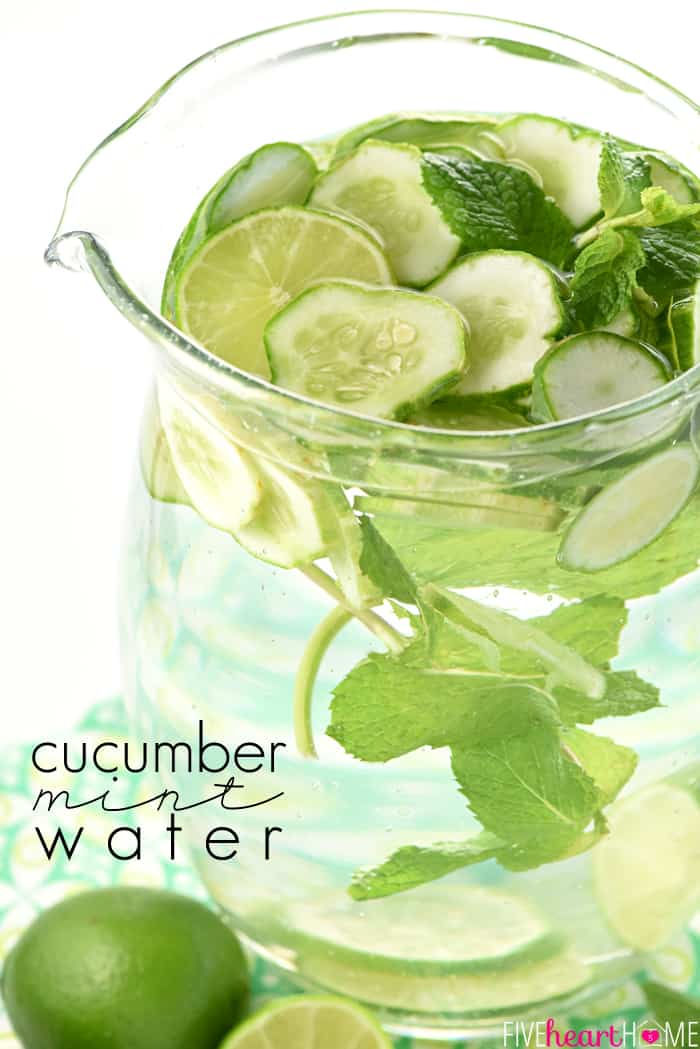 Summer has officially arrived, and Texas has suddenly decided to embrace the turning of the seasons. After an unseasonably mild intro to June (thanks, monsoon season), we have now reached our normal summer temps, hovering close to 100°F. And this summer, more than ever before, I have been craving ice cold water...which leads me to today's post, all about Cucumber Water!
I'll be the first to admit that I'm a terrible water drinker. I typically drink a cup of coffee when I wake up, and then I get busy and sometimes forget to drink anything else until dinnertime, when I realize I'm strangely thirsty. Awful, I know. Even when I remember to drink water, I don't particularly like it and I know I don't drink nearly enough. Water is just so...plain. And dare I say boring? So since I try not to make a habit of sipping on soft drinks or juices or sweetened teas throughout the day, I often end up drinking not much at all.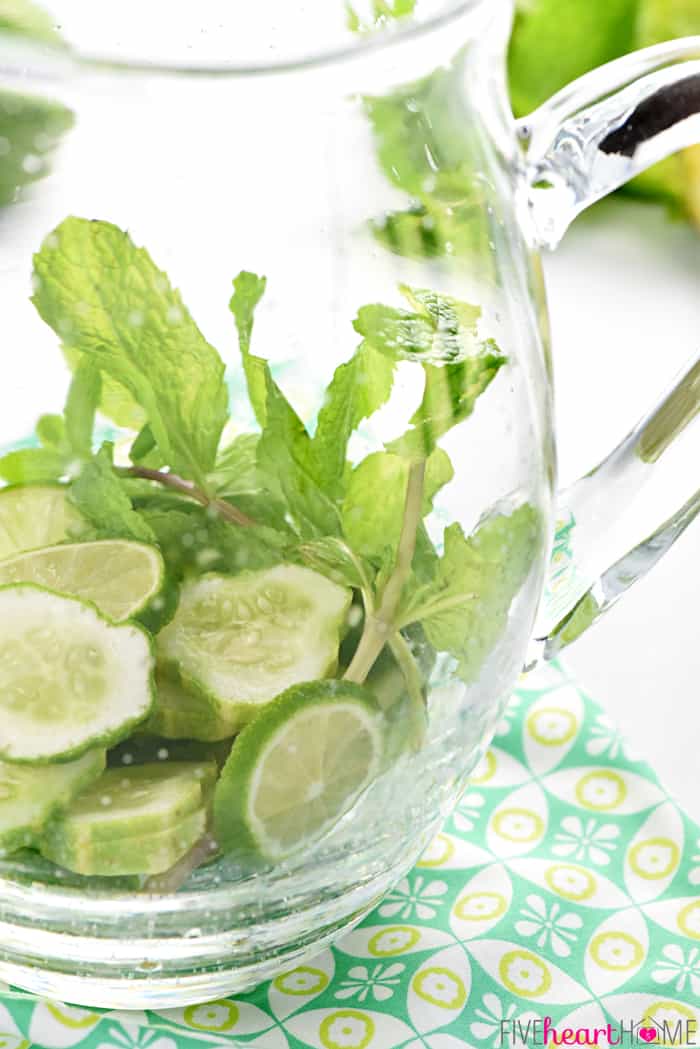 Enter the recent popularity of flavored sparkling water. I have to say that I've been intrigued by its availability and myriad of yummy flavors, and I occasionally have one and enjoy it. However, seeing as how too much carbonation makes me feel bloated, plus I hesitate to drink from BPA-lined cans all day/every day, flavored sparkling water doesn't exactly resolve my need-to-drink-more-water dilemma. But I've discovered that infused water -- like this Cucumber Water -- does!
Why Make Cucumber Water
That's right, folks...admittedly late to the bandwagon, I can now say with certainty that I love water that's been infused with fruit and/or herbs!
It's refreshing.
It's quick, easy, and inexpensive to make.
And it has enough flavor to encourage me to drink far more water than I would if it were plain.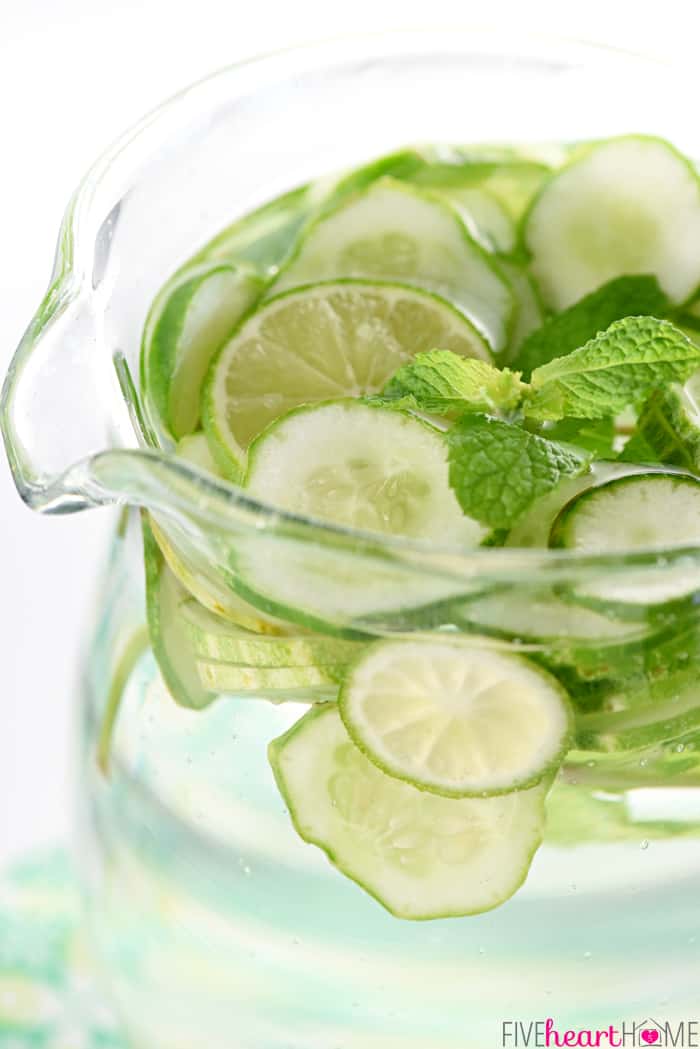 I've tried several flavors already this summer, from melon to berries to pineapple, both with and without herbs. But my favorite combo so far is this Cucumber Water with Mint and -- depending on my mood -- sometimes lime. It was actually inspired by a recent anniversary trip that my husband I took.
As soon as we arrived at the resort and got out of the car a couple of weekends ago, the bellman offered us cool glasses of Cucumber Water to enjoy while we checked in. And boy did it hit the spot (and alleviate my twinge of motion sickness) after spending all morning on a plane and in a car.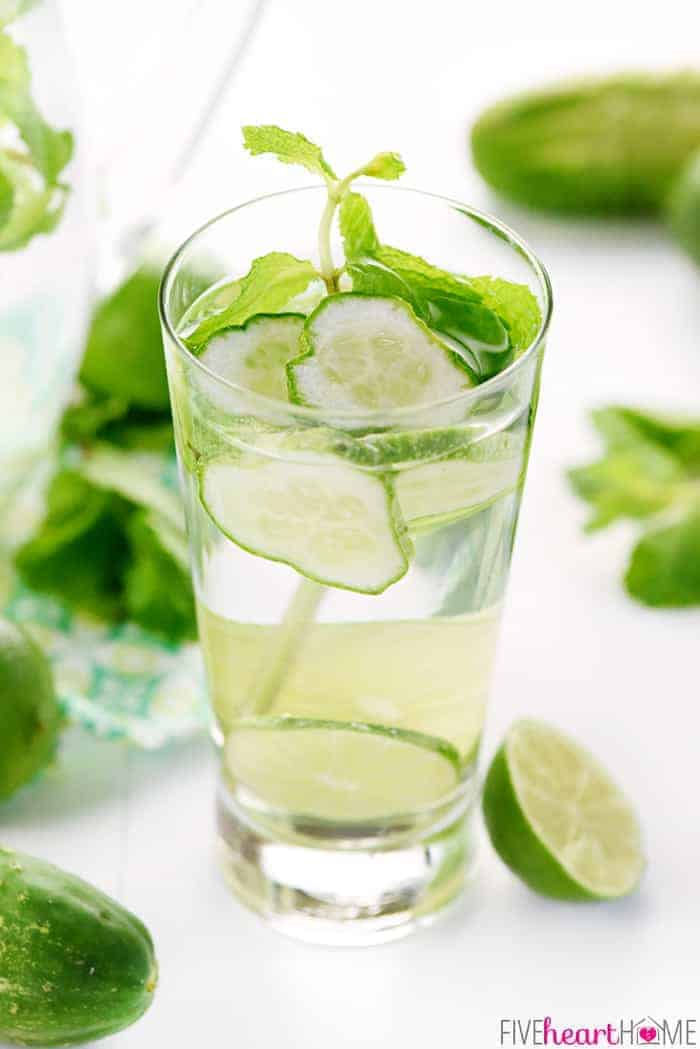 Once we got home from our trip, I used some of my in-laws' overabundant garden cucumbers to recreate a pitcher of this simple goodness for the kids. The threenager wasn't a fan (though that's not saying a lot, seeing as how she's not a fan of much these days), but my boys loved it. They asked if I could add lime next time, since they're fond of squeezing fresh lime juice in their water just like their Daddy.
With or Without Lime
So the next day, I threw a few slices of lime in with the cucumber slices and mint sprigs, which indeed added a nice zing.
However, I quickly learned that the lime will start to turn the water bitter if it infuses too long, so be sure to remove it if the pitcher of water is going to last more than 6 to 8 hours.
I still think I prefer my minty Cucumber Water without lime for a cleaner taste, but I've been alternating both ways and everyone has been happy.
Staying Hydrated
I realize that the health and metabolism-boosting benefits of infused water have been debated, but for me, it comes down to the fact that infusing water with flavor simply encourages my family to drink more of it.
And speaking (typing?) as someone who's chronically dehydrated, that's always a good thing.
So have fun, experiment with your favorite add-ins, stay cool, and drink up this summer! Cucumber Water with Mint and Lime is a great place to start. 🙂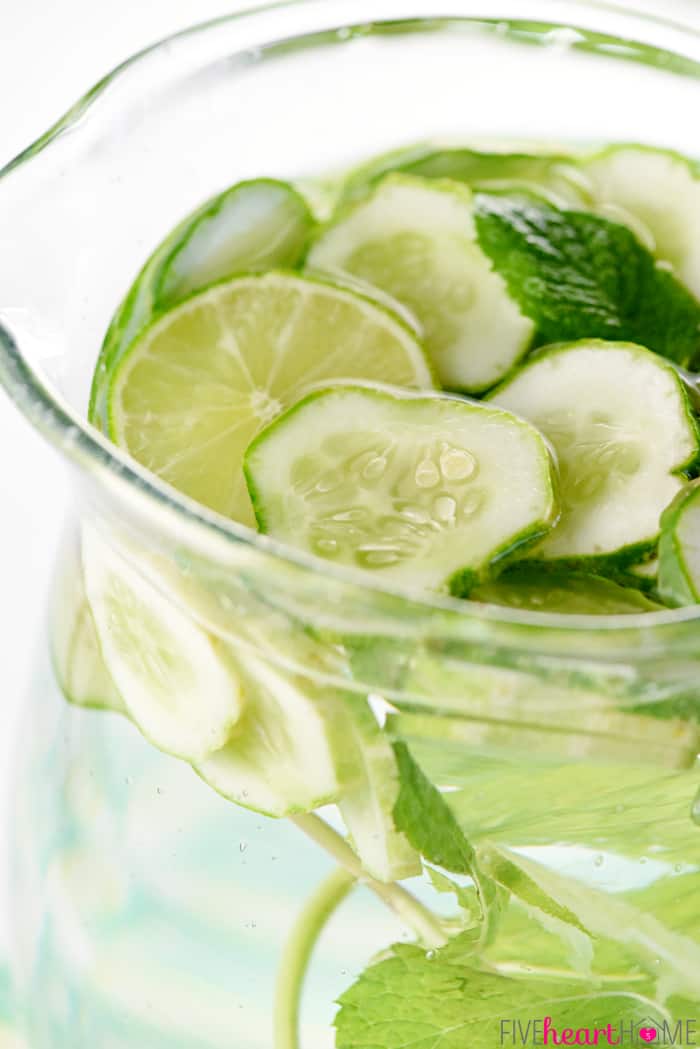 More Refreshing Beverages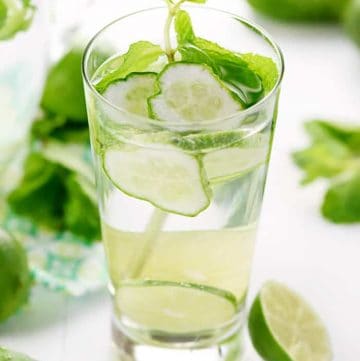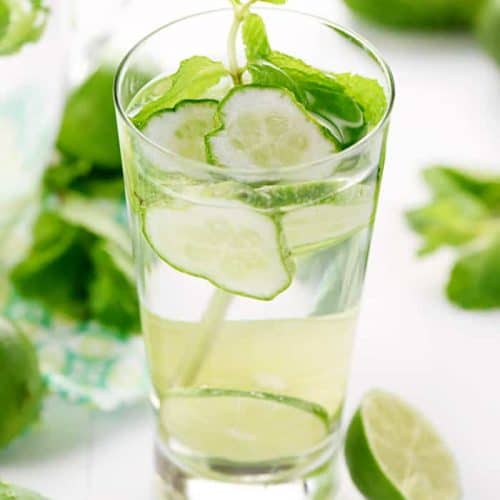 Cucumber Water with Mint
Delicately flavored Cucumber Water with Mint (and optional lime) is a refreshing drink to keep you cool and hydrated all summer long!
Print
Pin
Rate
Servings:
10
to 12 (8-ounce) servings
Ingredients
1

small cucumber OR half of a medium cucumber

,

scrubbed & sliced

2

sprigs fresh mint

,

washed & bruised

½

lime

,

scrubbed & sliced (optional)

10 to 12

cups

cool filtered water
Instructions
Place sliced cucumber, mint sprigs, and lime slices (if using) in a large pitcher. Pour water into the pitcher. Cover and refrigerate for anywhere from 1 to 8 hours (the longer you infuse the water, the stronger the flavor will become). Strain the water into a glass and serve chilled with a slice of cucumber for garnish, if desired.
Notes
When making infused water, I prefer to use well-washed, organic ingredients, so as to avoid any potential pesticides infusing into my water.
If your pitcher of water is going to last more than a day, I recommend removing the lime slices after 6 to 8 hours to prevent the water from turning bitter.
In order to enjoy Cucumber Water without the wait, put a few slices of cucumber, a few mint leaves, a thin slice of lime, and a few ice cubes in a bottle or jar. Fill the bottle/jar with water, seal, shake, and enjoy immediately.
Calories:
5
kcal
|
Carbohydrates:
1
g
|
Protein:
1
g
|
Fat:
1
g
|
Saturated Fat:
1
g
|
Sodium:
13
mg
|
Potassium:
41
mg
|
Fiber:
1
g
|
Sugar:
1
g
|
Vitamin A:
30
IU
|
Vitamin C:
2
mg
|
Calcium:
13
mg
|
Iron:
1
mg
Save
Save
Save
Save
Save
Save
Save