Double Chocolate Coconut Ice Cream is made with coconut milk and ribboned with flecks of semi-sweet chocolate for a decadent, creamy dessert that's also dairy-free.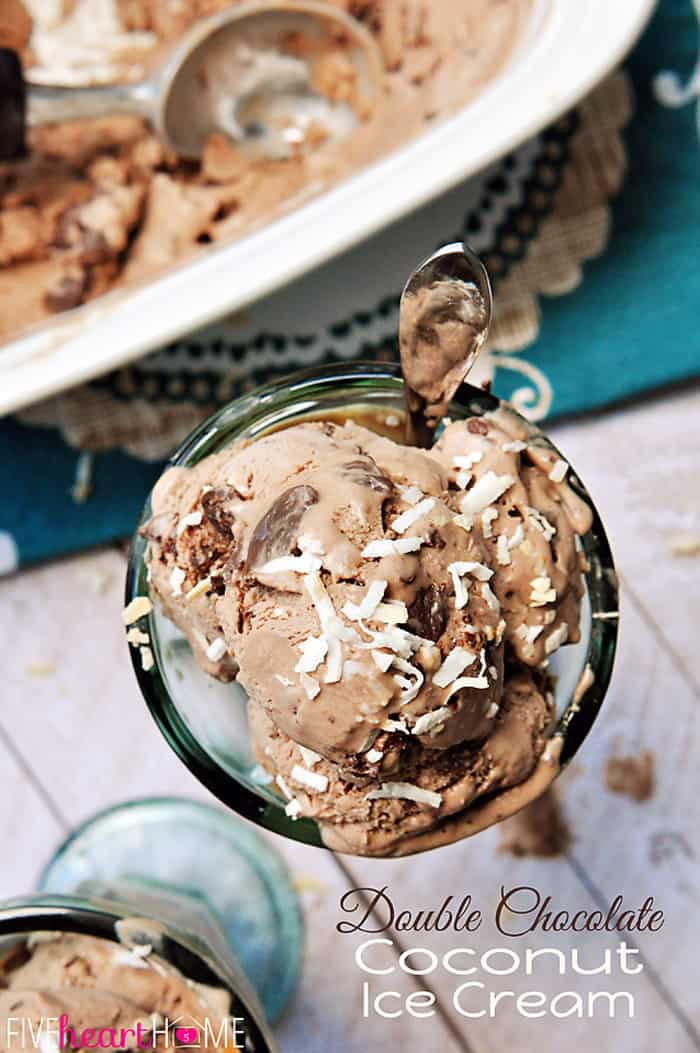 I'm not gonna' lie, folks…ice cream is right up there amongst my least favorite foods to photograph. In fact, this is a post that almost didn't come to be because I just didn't feel that these photos were up to par. But I decided that this recipe was just too good not to share, and even if I made and photographed it on five more occasions, my photos probably wouldn't turn out any better. I guess I'm just meant to eat ice cream, not take pictures of it. 😉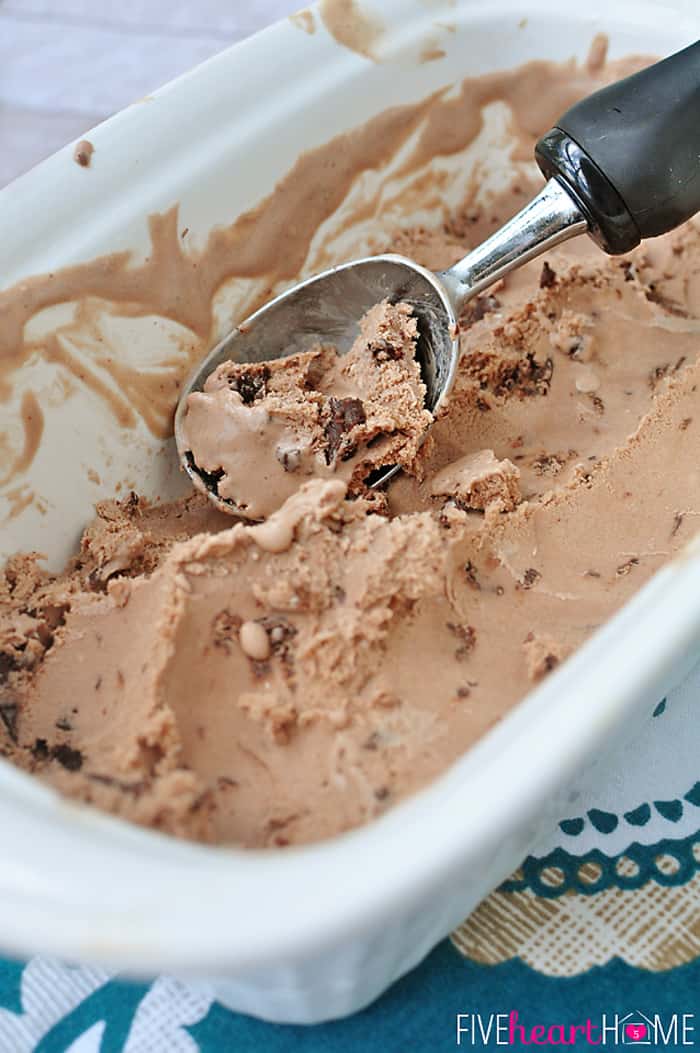 Have you tried ice cream made from coconut milk before? I first discovered it when I had to go dairy-free for almost a year while nursing my milk protein intolerant daughter. In the beginning, going without dairy was really, really difficult. There were so many things I couldn't eat, and when I feel deprived of something, I'm always hungry (even when I'm not).
Slowly but surely, however, I figured out dairy-free substitutes for most of my favorite foods. And after trying ice creams made with almond milk, rice milk, and coconut milk, the coconut milk version was my far and away favorite. Unfortunately, it was also really expensive — like $5 for a tiny pint — so it didn't take me long to figure out that I could enjoy it more often if I made it myself. And guess what? My homemade coconut ice cream tasted even better than what I could buy in the frozen foods section!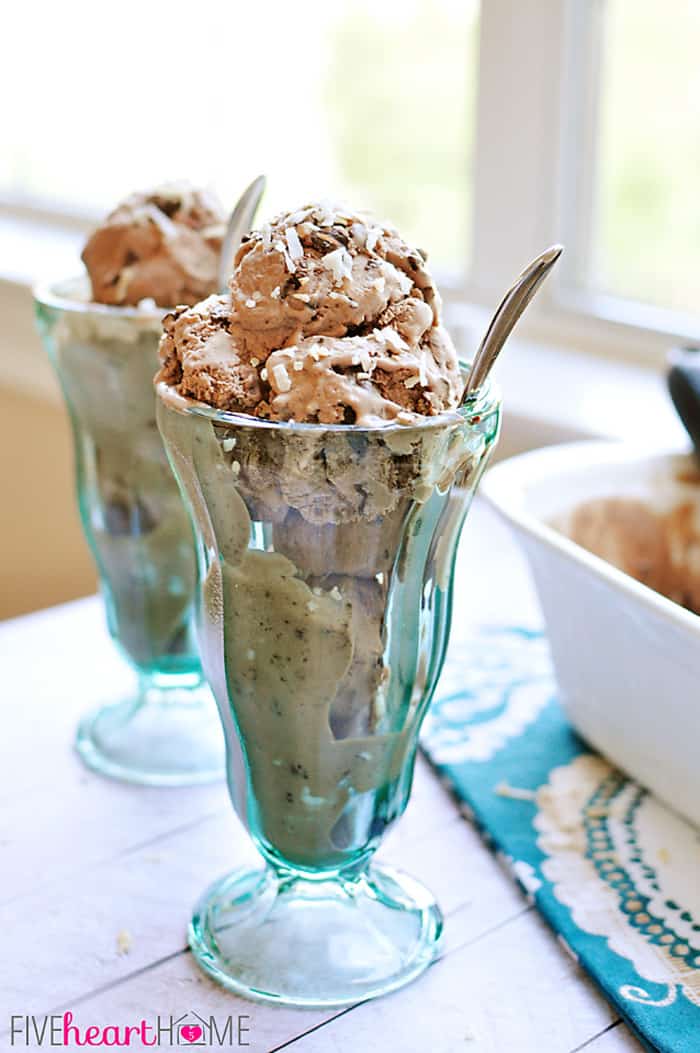 Even better is that I could play with the flavors! When you make ice cream out of coconut milk, there is a definite coconutty undertone. Some flavors are complemented by that coconut, and some kind of clash with it. I quickly determined that chocolate happens to be an excellent addition to coconut milk.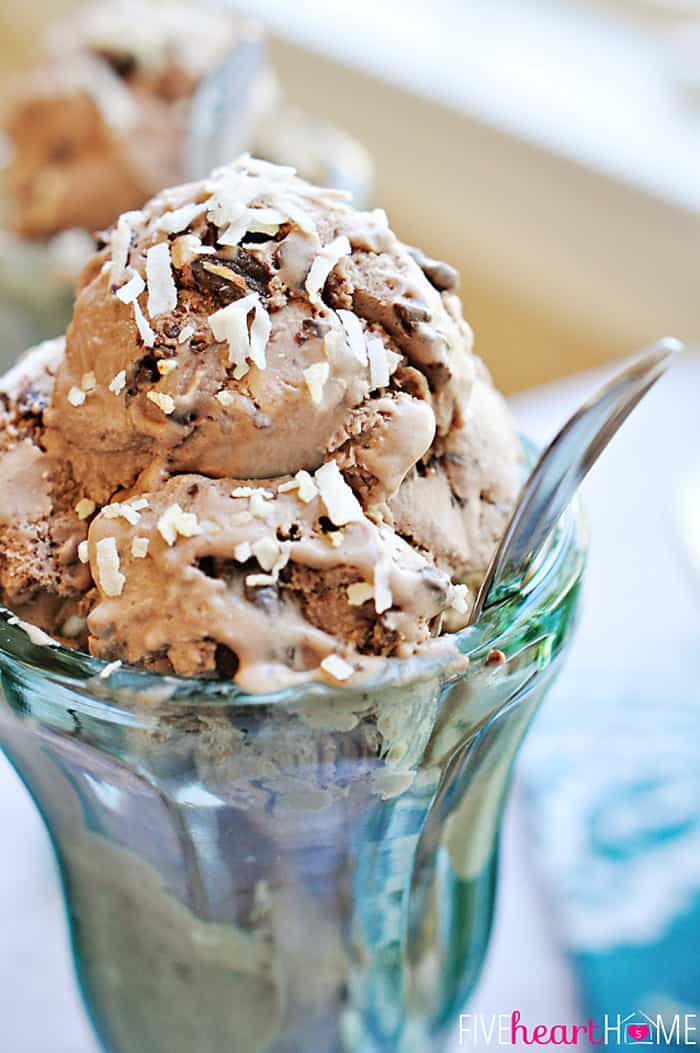 This homemade ice cream is simple to make. The chocolate flavor comes from not only cocoa powder, but also melted chocolate that is drizzled into the churning ice cream just before it's done. The result is little shards of chocolate speckling your batch of ice cream. If you're all fancy and into gelato and such, you may have heard of this chocolate phenomenon referred to as stracciatella, which means little shred in Italian. But rather than giving you a recipe title that you might not be able to pronounce (I know I can't), I decided to keep things simple and go with Double Chocolate. Hope you don't mind. 😉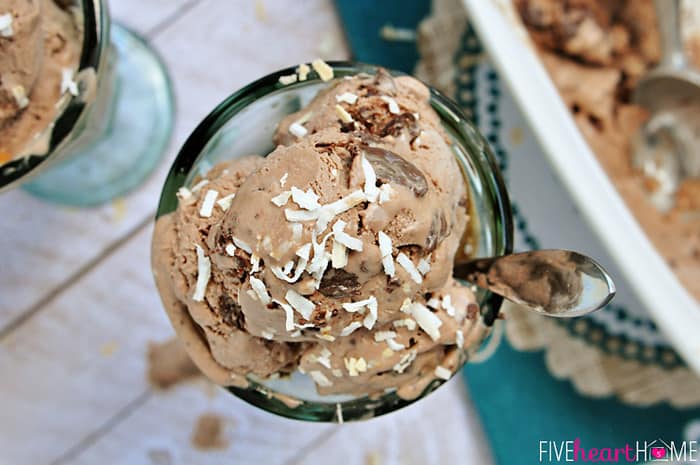 In case you're wondering why this batch of frosty deliciousness proved so frustrating to photograph, it primarily has to do with the fact that homemade ice cream (particularly when made with coconut milk instead of heavy cream) starts out like soft serve and then freezes into a pretty darn solid block once you pop it in the freezer for multiple hours. So I had to decide between taking pictures of ice cream that would melt faster than I could adjust the settings of my camera, or ice cream that was too hard to form into attractive, photogenic scoops. Granted, this ice cream may have been easier to scoop had I taken it out of the freezer after only a couple of hours, but my kids were a-preventin' that, so 24 hours later, I did the best I could. My recommendation? Let your ice cream soften at room temperature for about 15 minutes before you attempt scooping it…unless you're handy with a chisel.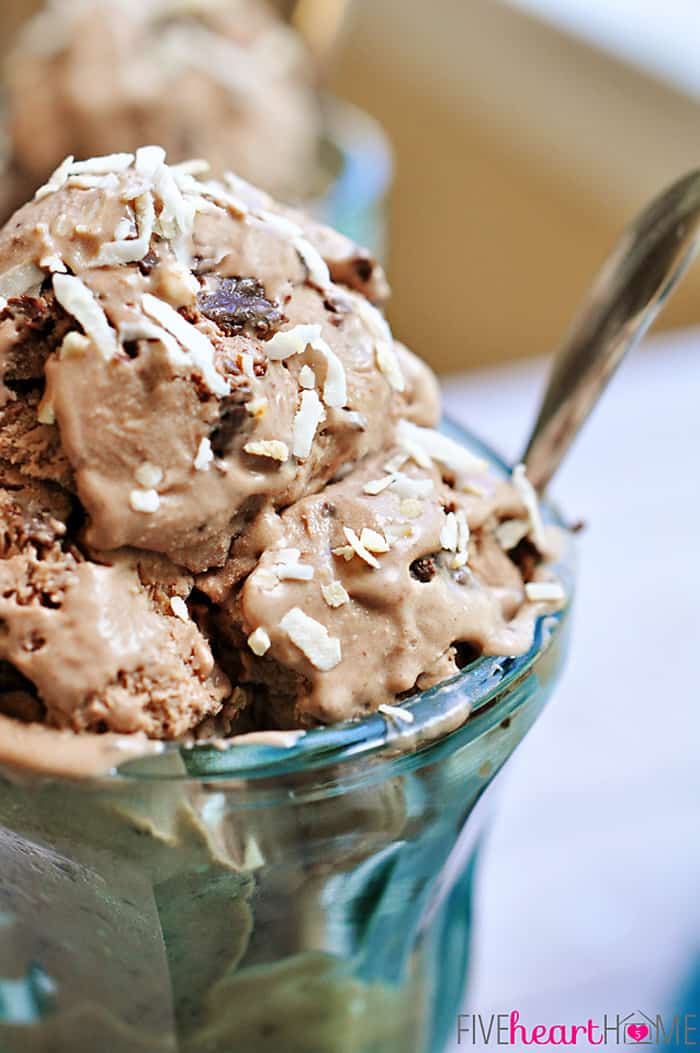 One last note…this ice cream is naturally dairy-free as long as you use dairy-free chocolate. Or you could leave the melted chocolate out altogether if that makes life easier (though slightly less delicious). Or if you don't have an issue with dairy, you can use regular ol' chocolate. My lactose intolerant eldest son can handle the small amounts of dairy found in regular chocolate, but he can't tolerate straight cow's milk or ice cream. So even though I can once again enjoy dairy these days, I frequently make this Double Chocolate Coconut Ice Cream for him. And who am I kidding? I eat it, too…and so does the rest of the family…because, well, it's just that good!
Double Chocolate Coconut Ice Cream Recipe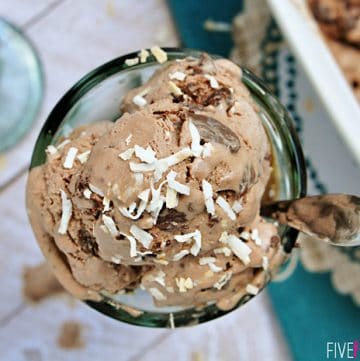 Double Chocolate Coconut Ice Cream
This creamy chocolate ice cream is made with coconut milk and ribboned with flecks of semi-sweet chocolate for a decadent dessert that's also dairy-free.
Print
Pin
Rate
Total Time:
4
hours
10
minutes
Ingredients
2

cans

(13.5-ounces each) good quality, full-fat coconut milk

,

chilled

2/3

cup

sugar

6

tablespoons

cocoa powder

1

teaspoon

vanilla

4

ounces

dairy-free chocolate chips

,

melted and cooled

Toasted coconut for garnish

,

optional
Instructions
In the bowl of a stand mixer, or in a blender or food processor, combine coconut milk, sugar, cocoa powder, and vanilla. Mix or blend/process until smooth and thoroughly combined.

Freeze ice cream in an ice cream maker, following manufacturer's directions. About five minutes before ice cream is done (when it starts pulling away from the sides of the bowl and has reached the stage of adding solid ingredients), slowly drizzle in the melted chocolate. The chocolate should break into shards and spread throughout the ice cream as it finishes churning. If the chocolate solidifies on the arm of the ice cream maker in a big chunk, momentarily turn off the ice cream maker and break up the chocolate with a spoon before continuing.

Serve immediately for a soft serve consistency or cover and freeze for several hours until desired firmness is reached. If ice cream freezes solid, allow it to soften at room temperature for 15 minutes before serving.
Notes
You can usually find cans of coconut milk in the Asian food section of the grocery store. Make sure you don't buy reduced fat coconut milk.
If you don't require dairy-free ice cream, you may use regular chocolate chips or chopped chocolate.
Calories:
445
kcal
|
Carbohydrates:
40
g
|
Protein:
5
g
|
Fat:
34
g
|
Saturated Fat:
28
g
|
Sodium:
18
mg
|
Potassium:
356
mg
|
Fiber:
3
g
|
Sugar:
31
g
|
Vitamin C:
1.2
mg
|
Calcium:
54
mg
|
Iron:
6.3
mg
More Frosty Summer Treats