Easter Salad -- or Strawberry Goat Cheese Salad with Toasted Almonds & Lemon Honey Vinaigrette -- is a beautiful, delicious addition to any spring or summer meal!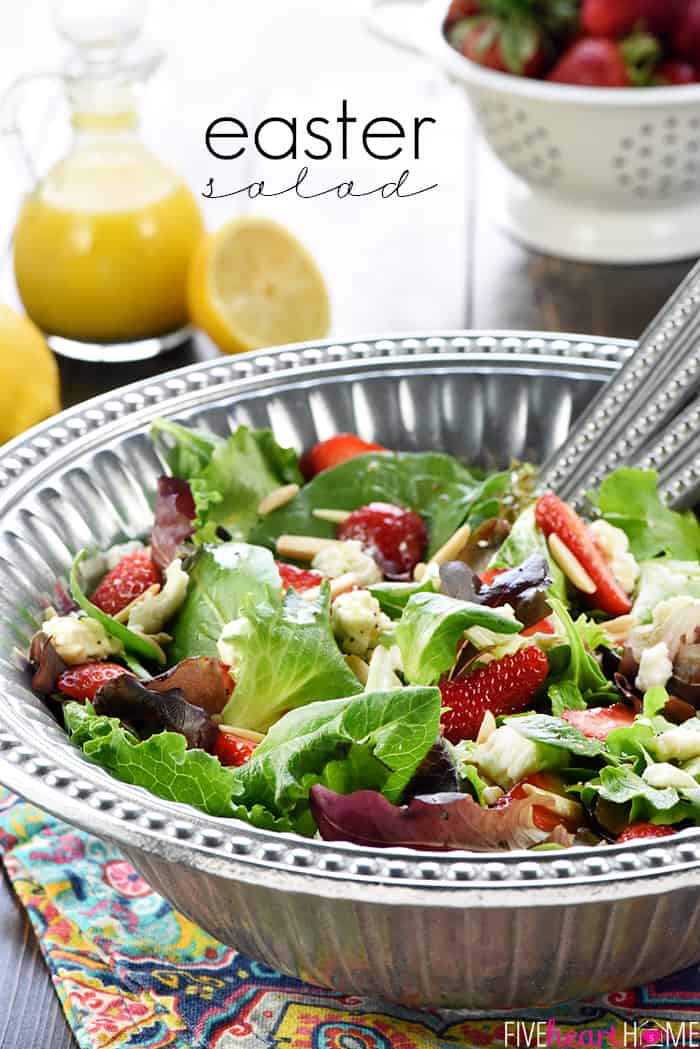 For more berry-licious salads and dressings, you'll also love this sweet and tangy Raspberry Vinaigrette, this bursting-with-blueberries Brain Healthy Salad, and this gorgeous Spring Salad!
I'm of the opinion that every special holiday meal should include a gorgeous, festive, scrumptious salad loaded with seasonal ingredients. And y'all apparently agree, because my Holiday Honeycrisp Salad is one of the site's most popular recipes from Christmas to New Year's, and my Thanksgiving Salad gets lots of attention come November. So why shouldn't Easter get in on the fun?!
When deciding upon the ingredients for this Easter Salad, I wanted to make sure I chose additions that were in season in March and April. Enter strawberries and lemons!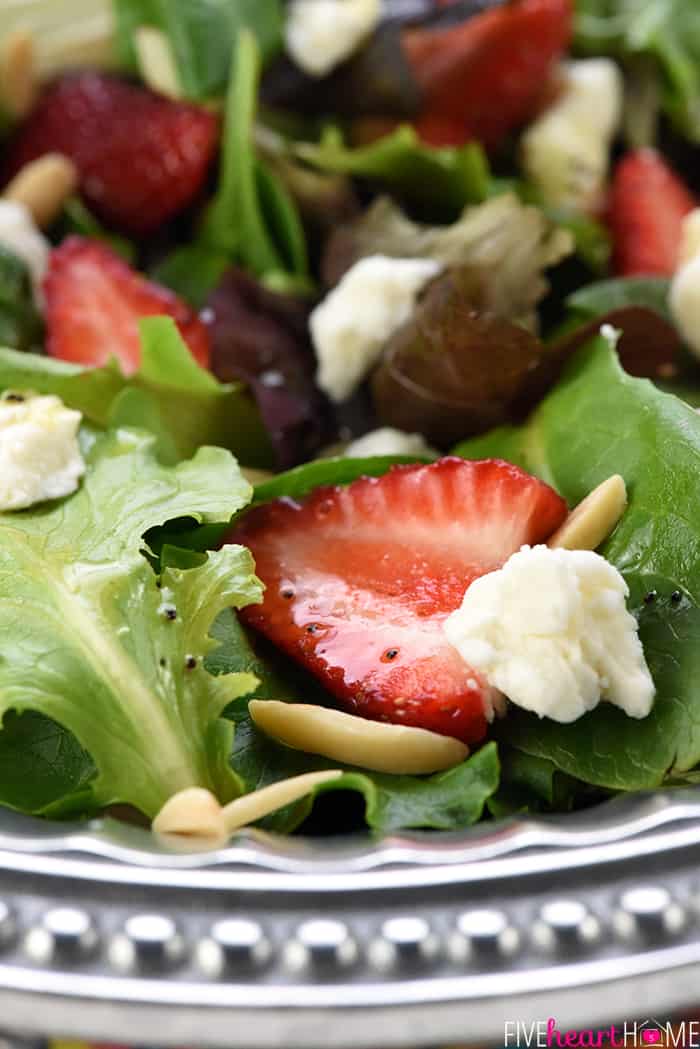 The Formula
Call me predictable, but I tend to follow the same basic formula for many of my salad creations:
lettuce or leafy greens + fruit + cheese + toasted or candied nuts + homemade dressing
You just can't beat the contrast of flavors and textures with this combo...crispy and creamy and crunchy while simultaneously fresh and salty and sweet.

The Ingredients
Now I already have a Strawberry Spinach Salad on the site (and it was actually the first recipe I ever published on Five Heart Home!), so I wanted to make sure this one was different.
Mixed spring greens were an obvious choice for the foundation of a springtime salad.
But in lieu of feta, I opted for crumbles of creamy goat cheese.* Baby goats are born in the spring, right? 😉
And instead of toasted pecans, I decided on toasted slivered almonds. Hey, almonds may not be completely spring-like, but at least they're harvested earlier in the year than other nuts.
And then, as already mentioned, don't forget the fresh, plump strawberries and the vibrant vinaigrette!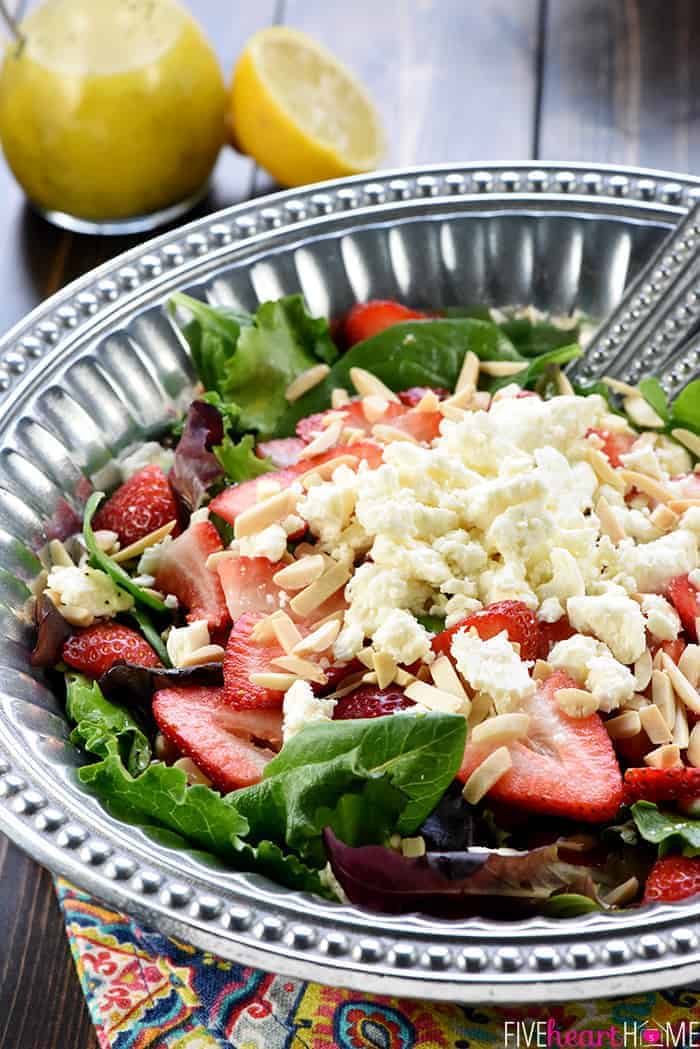 The Lemon Vinaigrette
I concocted a fresh lemon juice-based vinaigrette, kissed with honey and speckled with poppy seeds.
It's bright and refreshing and slightly sweet...the perfect complement to rest of the goodness going on in the salad.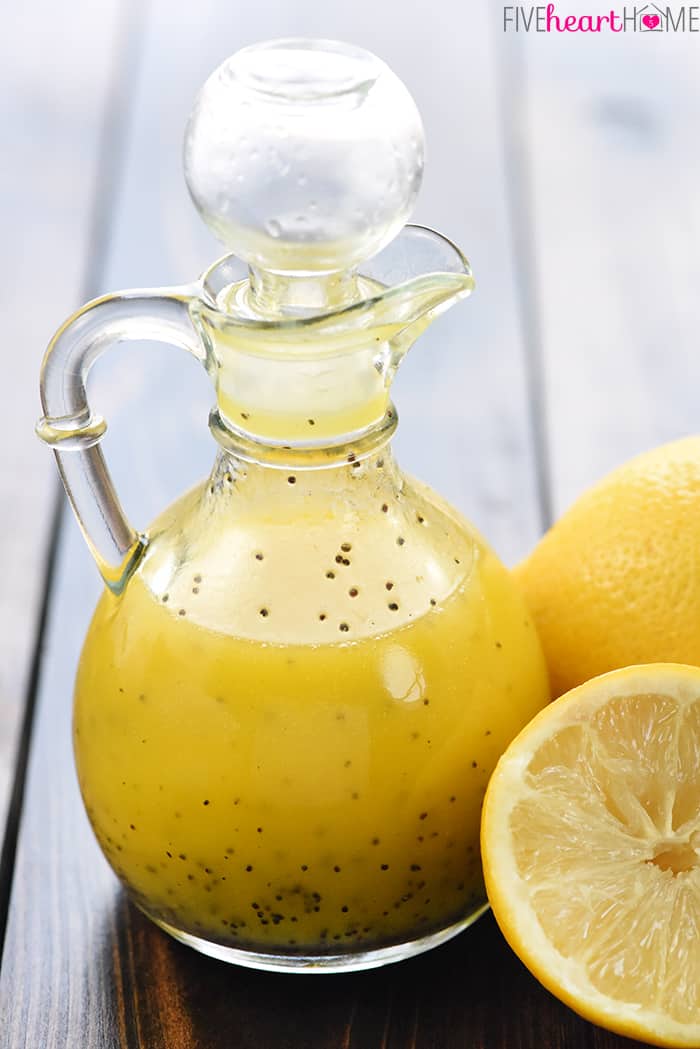 I made this salad while my kids were in school one day and did my best not to add too much dressing for the photos, because I planned on feeding it to my family at dinner that night and I didn't want the leftovers to get too soggy. That didn't end up being a problem, however, because everyone loved it. In fact, my 7-year-old had five helpings!
That's not a typo...FIVE. I told him he was going to make himself sick if he ate too much. He told me that he'd rather have more salad than a chocolate chip cookie for dessert. And then the next day, he told me that his baseball swing was stronger because "he had so much salad in his muscles."
Ummm, if that's not a testament to the deliciousness of this salad, I'm not sure what is.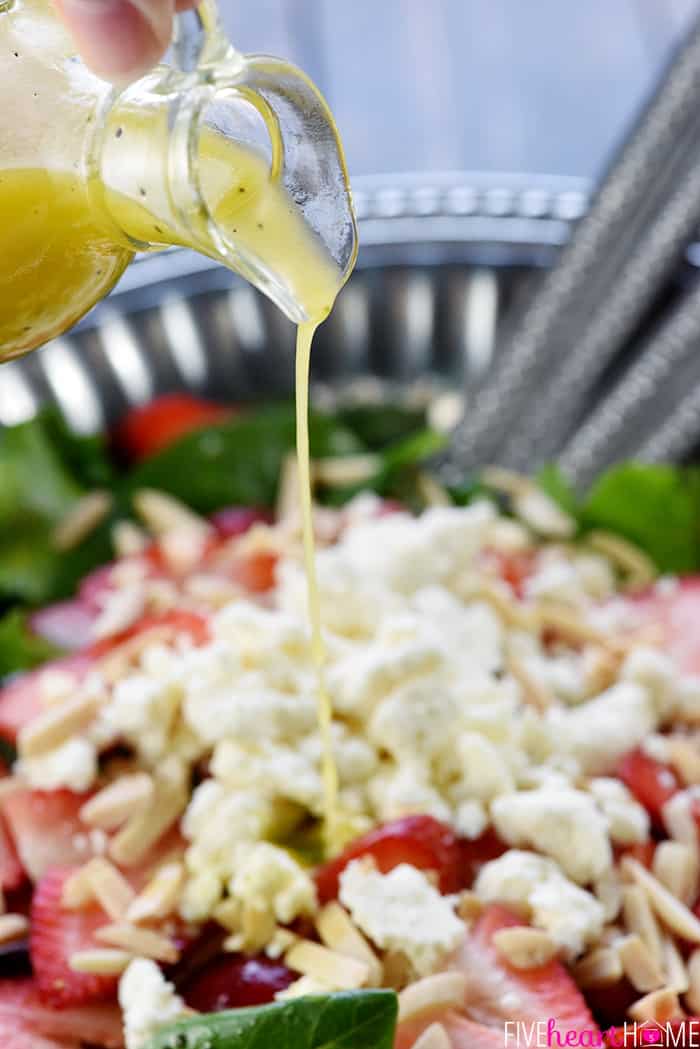 So make this Easter Salad for (wait for it) Easter!
Or make it for steak night.
Or make it on a regular ol' weeknight.
Heck, if it makes you feel better, you can even call it Strawberry Goat Cheese Salad with Lemon Honey Vinaigrette and forget about the whole Easter thing).
Just promise me you'll make it sometime this spring! Or summer. And when you do, let me know if you have any leftovers and I'll send my 7-year-old right over. ;
*DISCLAIMER: I actually don't care for goat cheese. I've spent too much time around real, live goats in my life and I think that goat cheese tastes like licking a goat. However, consummate professional that I am, I shan't allow my bizarre aversion to stand in the way of utilizing an ingredient that most people love. So if you adore goat cheese, pile it on with wild abandon! But if, like me, you abhor goat cheese...well then, you can make this salad with feta instead. Your secret will be safe with me.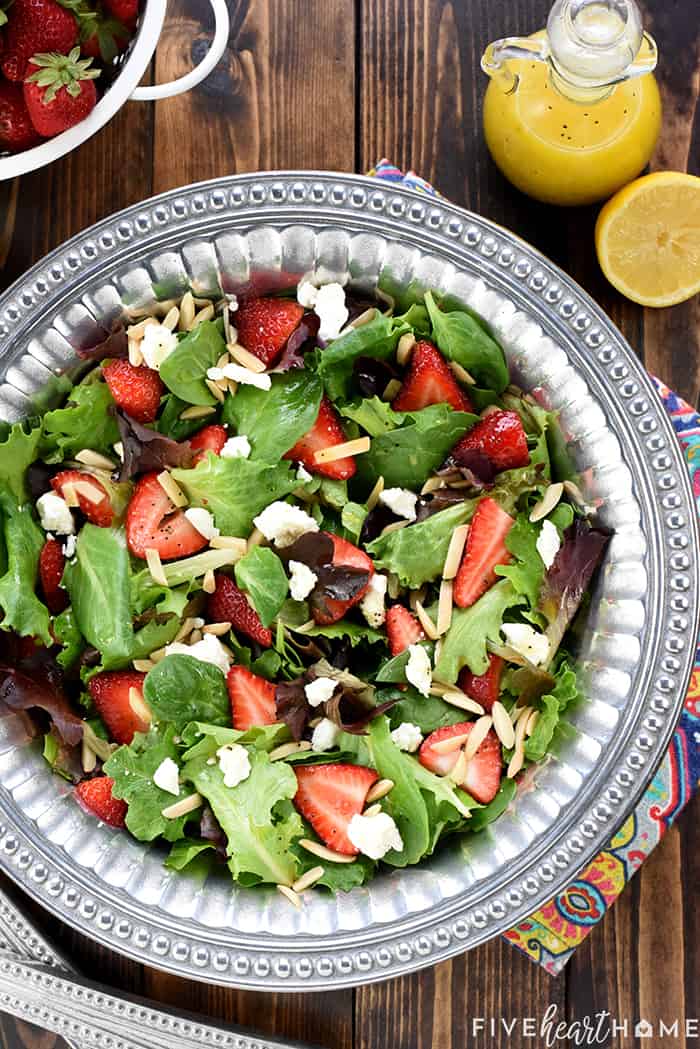 More Easter Sides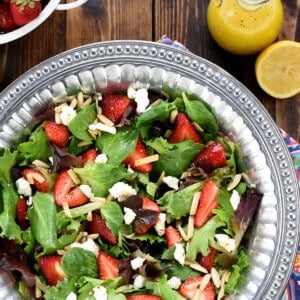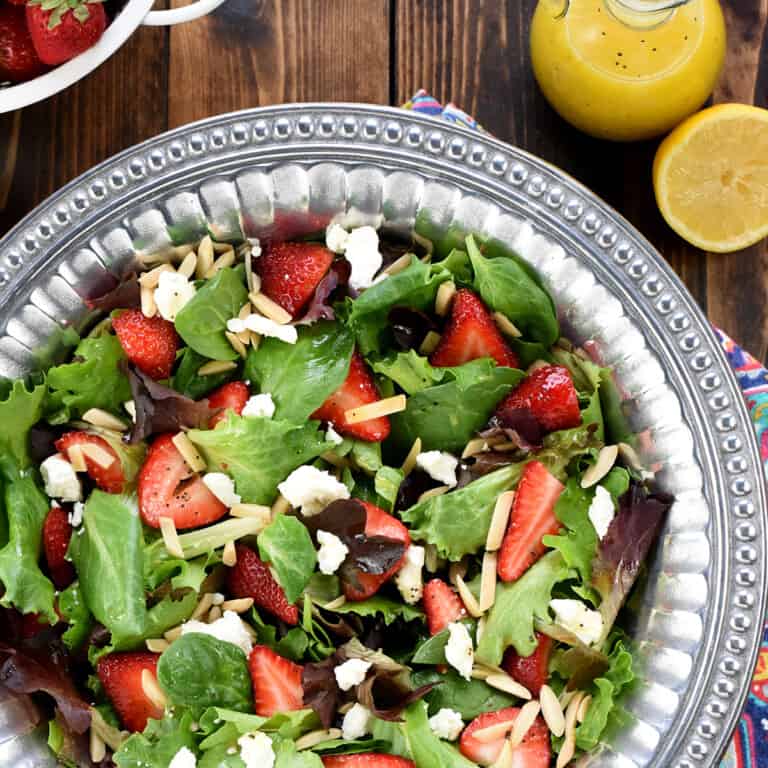 Easter Salad
Easter Salad -- AKA, Strawberry Goat Cheese Salad with Lemon Honey Vinaigrette -- is a beautiful, delicious addition to any spring meal. It features sweet strawberries, creamy goat cheese, and toasted almonds on a bed of mixed greens drizzled with Lemon Honey Vinaigrette!
Print
Pin
Rate
Ingredients
For the Salad
1

cup

slivered almonds

12

ounces

mixed spring greens

16

ounces

strawberries

,

washed, hulled, & sliced

4

ounces

crumbled goat cheese
For the Lemon Honey Vinaigrette
½

cup

sunflower, safflower, OR extra-virgin olive oil (neutral-flavored)

5

tablespoons

freshly-squeezed lemon juice

2

tablespoons

honey

¼

teaspoon

sea salt

,

plus additional to taste

Freshly ground black pepper

,

to taste

1

teaspoon

poppy seeds

,

optional
Instructions
Adjust the rack to the center position and preheat the oven to 350°. Spread the slivered almonds on a sheet pan and bake for 5 to 7 minutes, or until fragrant and light brown, watching carefully to prevent burning. Set aside and allow to cool.

To prepare the vinaigrette, measure all of the ingredients into a Mason jar. Tightly screw on the lid and shake vigorously until everything is thoroughly combined. Alternatively, you may whisk the ingredients together in a medium bowl or blend them in a mini food processor or blender.

To assemble the salad, layer the mixed greens, sliced strawberries, toasted slivered almonds, and crumbled goat cheese in a large bowl. Just before serving, dress with your desired amount of Lemon Honey Vinaigrette and toss until the salad ingredients are evenly coated.
Notes
Toasting the almonds takes a few extra minutes, but it really is worth it as it brings out much more flavor and crunch. If you wish, you may use sliced almonds instead of slivered, or you can substitute your favorite type of nut.
The flavor of the oil is going to come through in the dressing, so try to use a good-quality oil with a neutral flavor. Leftover dressing should be refrigerated. However, if using olive oil, you'll need to remove the vinaigrette from the fridge, allow it to come to room temperature, and shake well before using (olive oil can thicken or solidify once chilled).
If you don't care for goat cheese, you may use crumbled feta (or even blue cheese) instead.
Recipe may be halved for fewer servings.
Calories:
210
kcal
|
Carbohydrates:
11
g
|
Protein:
6
g
|
Fat:
16
g
|
Saturated Fat:
3
g
|
Cholesterol:
6
mg
|
Sodium:
99
mg
|
Potassium:
259
mg
|
Fiber:
2
g
|
Sugar:
5
g
|
Vitamin A:
635
IU
|
Vitamin C:
45
mg
|
Calcium:
75
mg
|
Iron:
1.4
mg
Save
Save