Eggnog Cookies are soft, tender, and delicately flavored with eggnog and spices before being topped with a sweet eggnog glaze and festive Christmas sprinkles!

Every December, I let each of my kids pick out a new Christmas cookie recipe to help me make for our holiday cookie platters. Last weekend, my daughter wanted to make her cookies, so we sat down in front of Pinterest and started a-scrolling. And it didn't take her long to spy some puffy, golden Eggnog Cookies!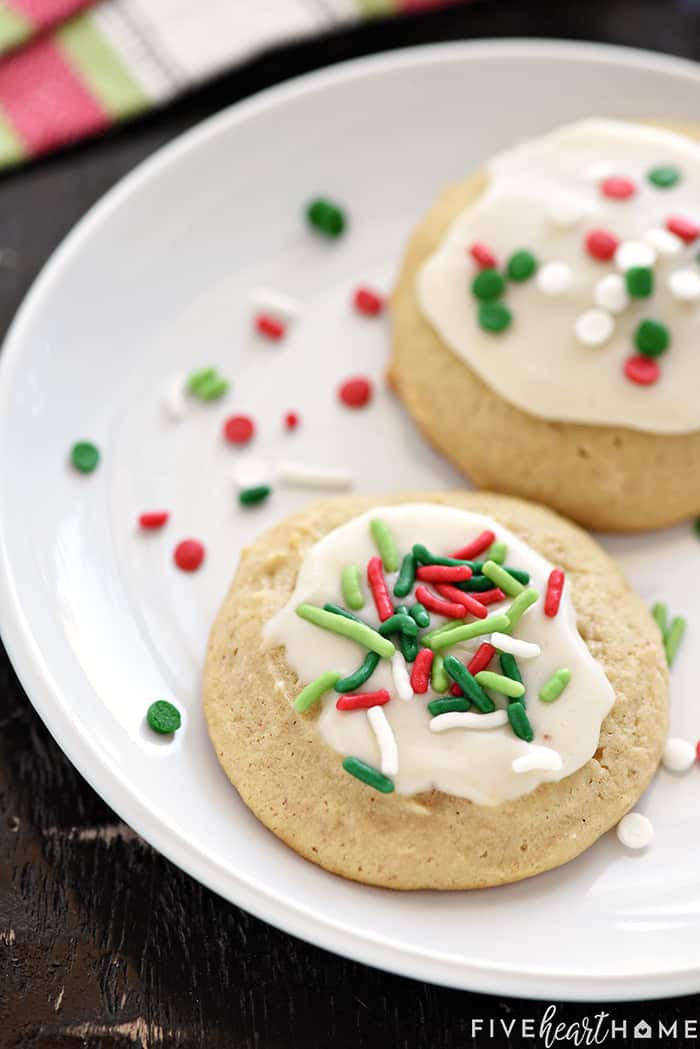 Of course, when I checked that first recipe she picked out, I wasn't entirely impressed. So I researched half a dozen more Eggnog Cookie recipes and ultimately ended up tweaking one to create my own version. And the whole time I was devising my new and improved recipe, my daughter was in the background chirping, "Mommy, can't we just MAKE the cookies now???" Sorry, sweet pea...a food blogger's gotta food blog.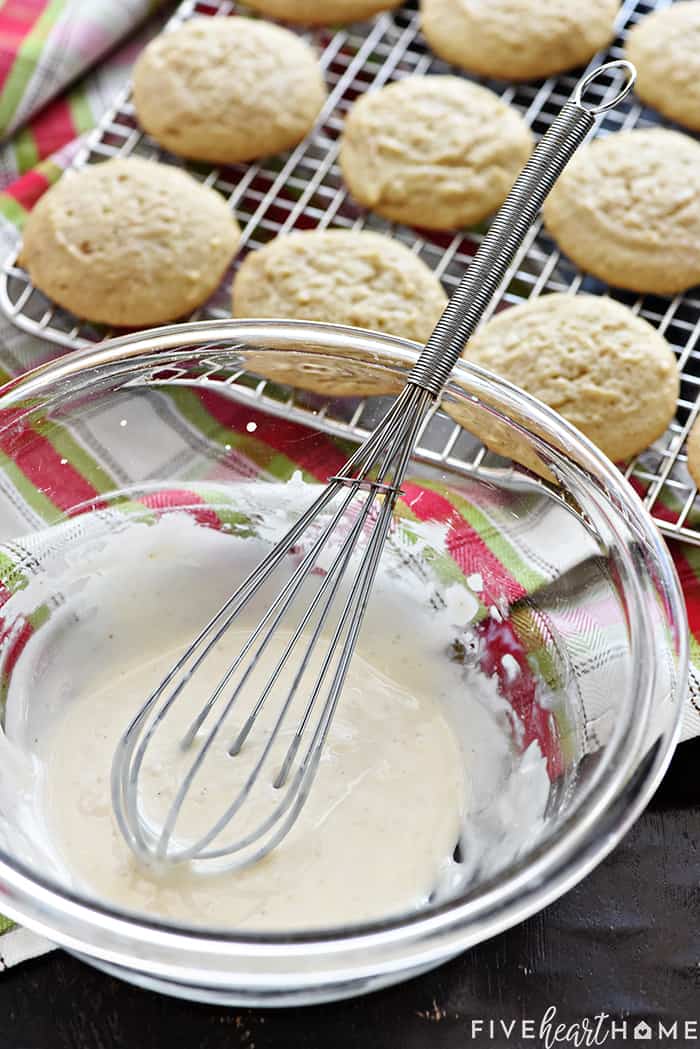 That first batch that we made together on Saturday turned out yummy, but not entirely consistent. I let my girl decorate the cookies to her heart's content and everyone enjoyed them for dessert that night. But not completely satisfied with the results, I tweaked the recipe and made it again on Sunday. Annnd...it was better! So I tweaked the recipe even more and made it once again on Monday. Annnd...it was darn near perfect! So I made the recipe one more time on Tuesday -- just to be sure -- and now I am officially happy with this recipe! And we are officially swimming in a bazillion Eggnog Cookies.?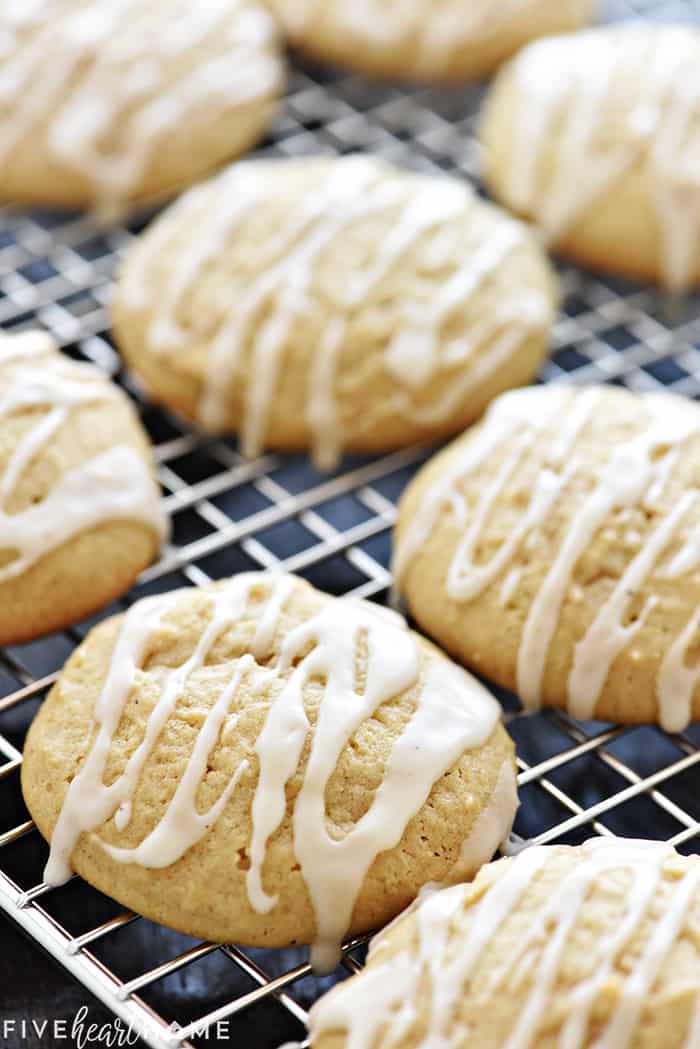 That being said, these Eggnog Cookies do take a bit of finesse for success. But the ultimate flavor and texture makes the minimal effort well worth it! Don't get me wrong...they're not difficult to make by any means. But I wanted to include enough eggnog in the cookie dough to, you know, actually make them taste like eggnog. Yet I didn't want to then add too much flour to absorb all of that extra moisture, or else they'd end up tasting like flour. So in order to achieve optimal eggnog flavor, this cookie dough is wetter than most, but it's not an issue that can't be remedied...just be sure you read the Tips & Tricks section below!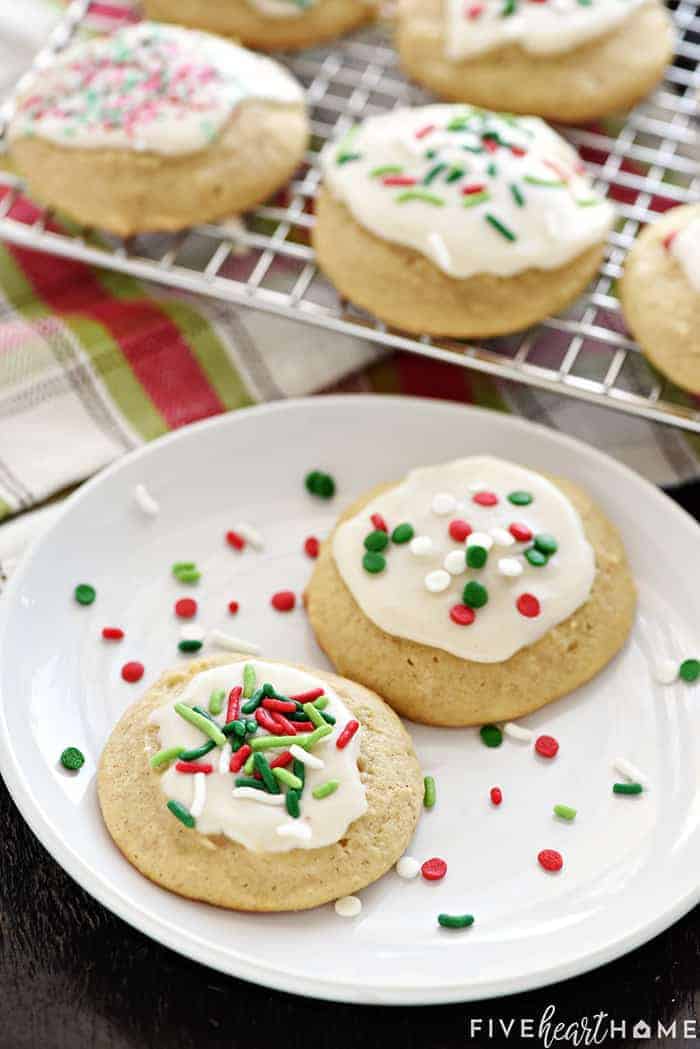 These Eggnog Cookies are not chewy...rather, they're soft and puffy and almost cake-like. They're also on the delicate side. So while they're probably not ideal for packing and shipping, they'll certainly hold up well on a Christmas cookie platter or as a dessert at a holiday party.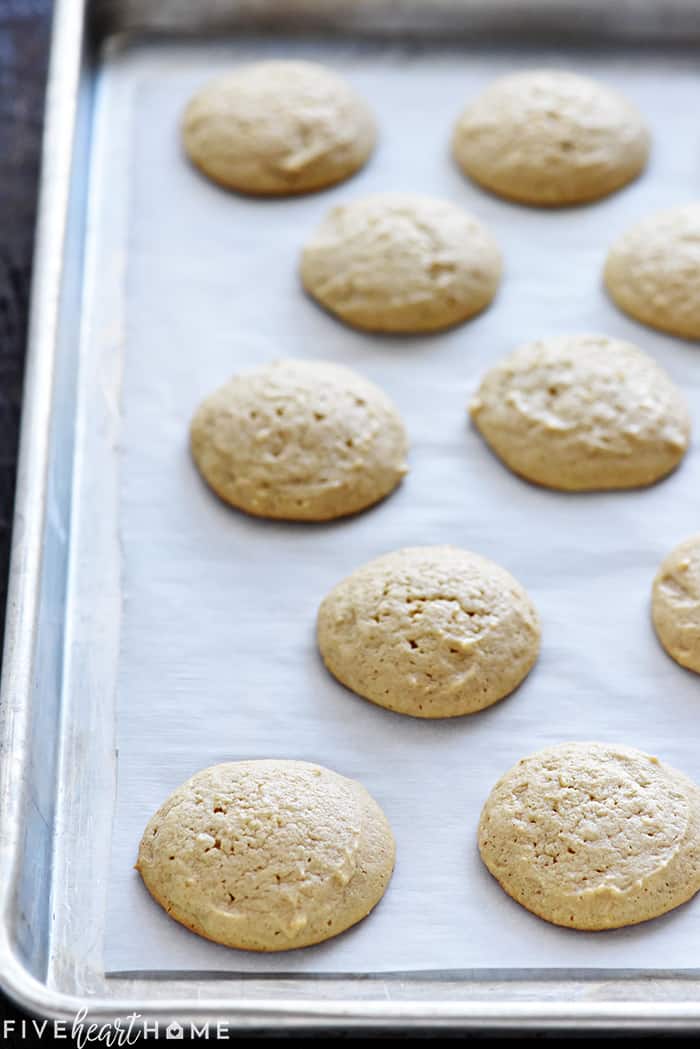 To boost the sweet eggnog flavor of these cookies even more, I urge you not to skip the eggnog glaze! It's as simple as stirring a few tablespoons of eggnog into a bowl of powdered sugar, along with a smidge of vanilla, rum extract, and nutmeg. You can either drizzle the glaze over the cookies, like so...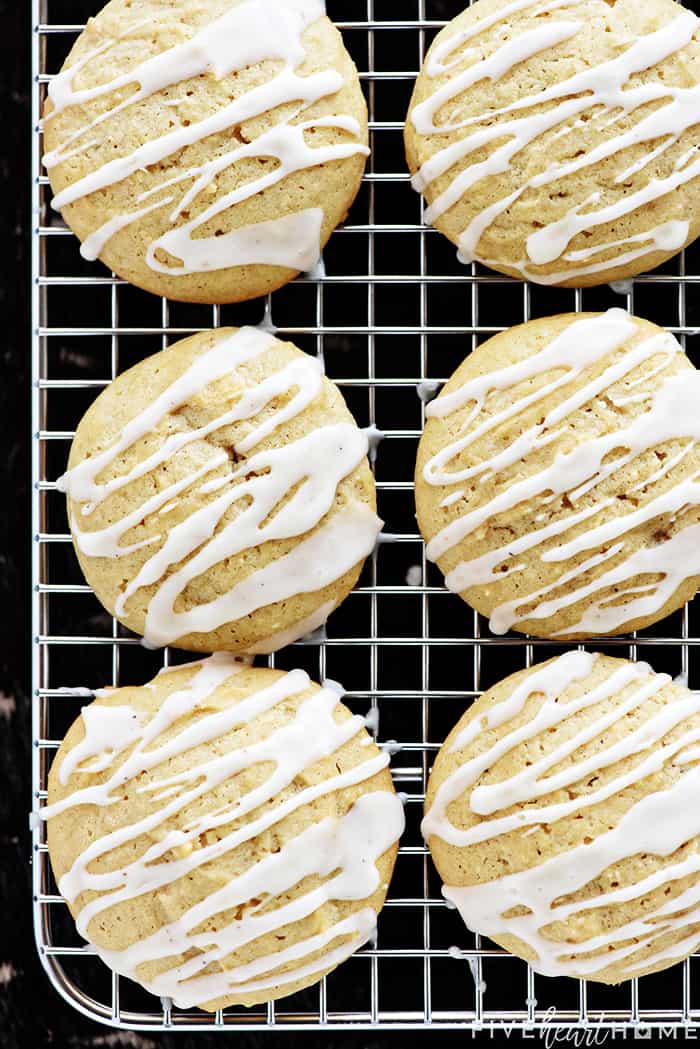 ...or spoon some onto the center of each cookie (for a frosting effect), like so...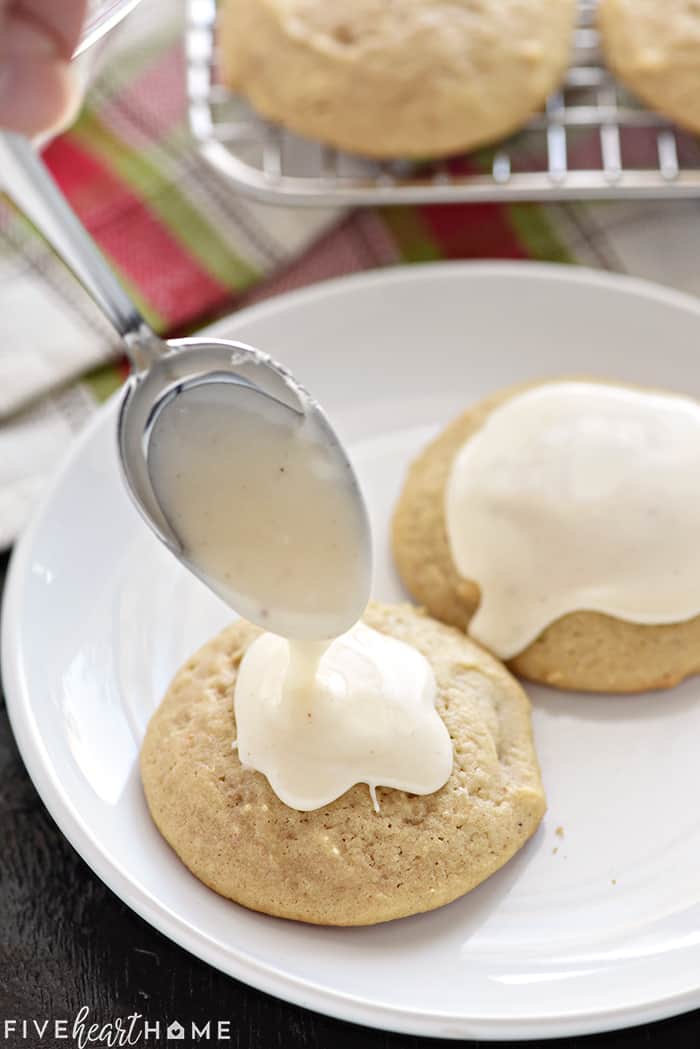 ...and then decorate with colorful sprinkles. So fun and festive!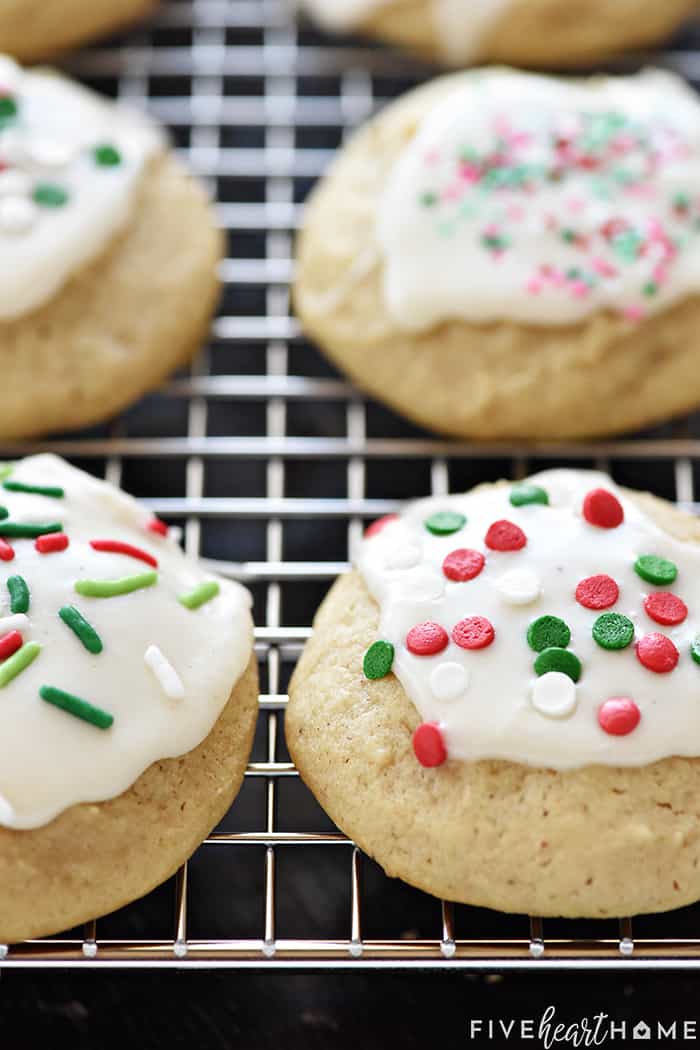 Eggnog is just one of those quintessential holiday flavors, and I'm thrilled to have a new Christmas cookie featuring that flavor to add to our list of must-make recipes each year! Eggnog Cookies are a special seasonal treat, and we'll most definitely be looking forward to enjoying them every December from here on out.?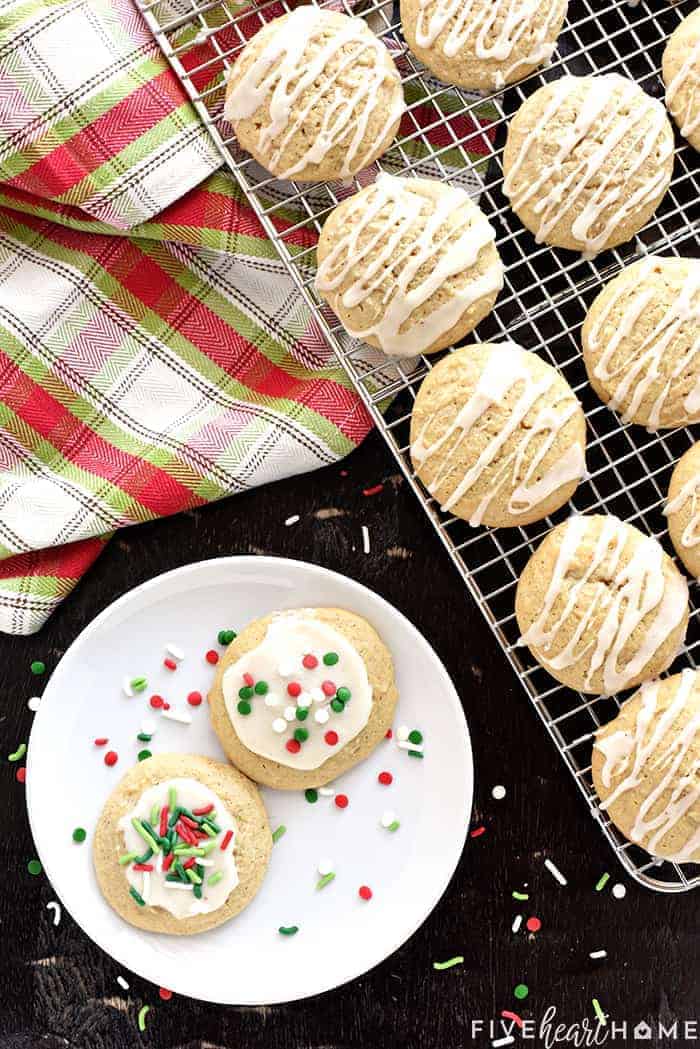 Helpful Tips, Tricks, & Equipment
(some affiliate links below)
I highly recommend baking these cookies on a parchment paper-lined pan to ensure no sticking.
Make sure your ingredients are at room temperature. After you whip your butter and sugars into a creamy frenzy, you don't want the butter to lump back up due to adding cold eggnog!
Blend the flour mixture into the wet mixture thoroughly. If you don't, streaks of eggnog may "run" out of the cookies as they bake.
The rum extract is optional. You can leave it out if you don't have it or don't wish to use it.
This dough will be too sticky to work with right after mixing it together. Scrape down the sides of the bowl, cover with plastic wrap, and chill the dough in the refrigerator for at least two hours (and up to three days).
When you're ready to bake your cookies, scoop some dough with a 1.5-inch (#50) cookie scoop, scraping off the excess dough. And if you don't have a cookie scoop, you can use a tablespoon to make balls of dough instead.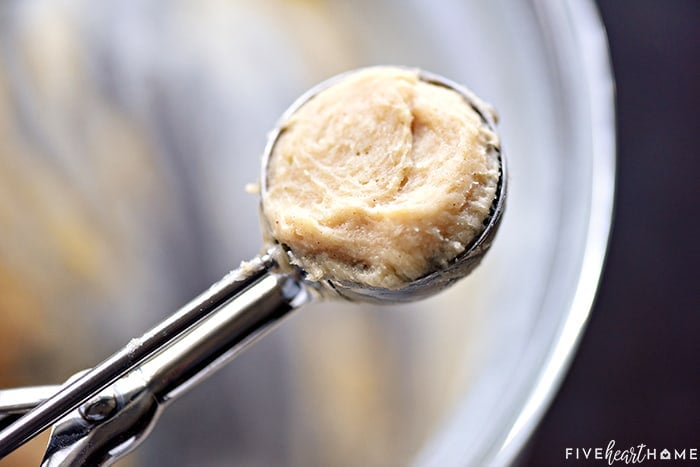 Plop the dough onto the cookie sheet (flat-side down/rounded-side up), spacing the cookies about 2 inches apart. I was able to fit 13 cookies on my rimmed half sheet pan, alternating rows of 3 cookies and 2 cookies.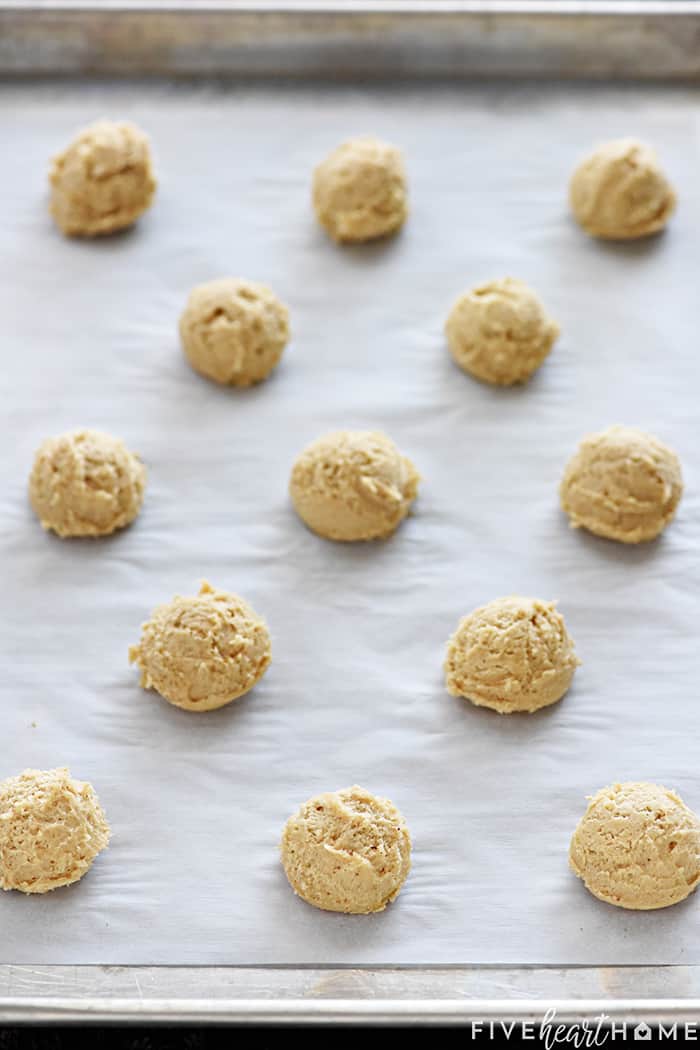 Underbaked cookies may sink. Make sure the cookies are puffy and dry looking in the center before pulling them out of the oven.
Be sure to make your glaze thick enough so that it won't run off of the cookies. Start with 1 tablespoon eggnog and add a teaspoon more at a time until the glaze is smooth and just loose enough to drizzle. You can always add more eggnog for a thinner glaze or add back more powdered sugar for a thicker glaze.
The amount of glaze in this recipe is enough to drizzle an entire batch of cookies. You may need to make extra glaze if you wish to "frost" all of the cookies and decorate with sprinkles. But you can always start out with the original amount of glaze and see how far that gets you before making a quarter- or half-recipe more.
If decorating with sprinkles, sprinkle them immediately after glazing each cookie, because if the glaze starts to set too much, the sprinkles won't stick!
Once the glaze is completely hardened, cookies may be gently stacked for storage. However, I recommend putting a sheet of wax paper between layers to prevent them from sticking together as they sit.

Eggnog Cookies Recipe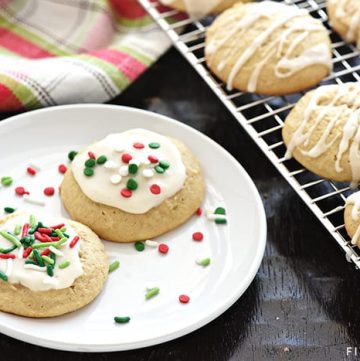 Eggnog Cookies
Eggnog Cookies are soft, tender, and delicately flavored with eggnog and spices before being topped with a sweet eggnog glaze and festive Christmas sprinkles!
Print
Pin
Rate
Servings:
48
1/2 to 4 dozen
Ingredients
3 1/4

cups

all-purpose flour

1

teaspoon

baking powder

1

teaspoon

baking soda

1

teaspoon

ground cinnamon

3/4

teaspoon

ground nutmeg

1/2

teaspoon

salt

1

cup

(2 sticks) butter

,

at room temperature

3/4

cup

brown sugar

1/2

cup

granulated sugar

1

cup

eggnog

,

at room temperature

1

egg

,

at room temperature

1 1/2

teaspoons

pure vanilla extract

1/2

teaspoon

rum extract

,

optional
FOR THE GLAZE:
1 1/2

cups

powdered sugar

2 to 4

tablespoons

eggnog

1/2

teaspoon

pure vanilla extract

1/4

teaspoon

rum extract

,

optional

1/8

teaspoon

nutmeg

Christmas sprinkles

,

optional
Instructions
In a medium bowl, whisk together the flour, baking powder, baking soda, cinnamon, nutmeg, and salt; set aside. In a large bowl, use an electric mixer to blend together the butter, brown sugar, and granulated sugar until light and smooth, about 1 minute. Blend in the eggnog, egg, vanilla, and rum extract until well-combined. Gradually mix in the flour mixture until fully-incorporated, scraping down the sides of the bowl halfway through. Tightly cover the bowl with plastic wrap and refrigerate for at least 2 hours.

Place rack in center position of oven. Preheat oven to 350°F. Line a rimmed sheet pan with parchment paper.

Remove the cookie dough from the refrigerator and scoop into balls (you can use a tablespoon or a 1.5-inch cookie scoop). Arrange the cookies 2 inches apart on the prepared baking sheet. Bake for 11 to 13 minutes or until the cookies are puffed up and set in the center. Remove the pan from the oven and allow the cookies to cool for 10 minutes before transferring them to a rack to finish cooling.

Once the cookies are cool, measure the powdered sugar, 2 tablespoons eggnog, vanilla, and rum extract into a medium bowl. Whisk together until combined, adding additional eggnog one teaspoon at a time until the glaze is just thin enough to drizzle. Glaze the cookies and decorate with sprinkles as desired. Allow the glaze to set completely (for several hours) before storing in an airtight container.
Notes
See "Tips & Tricks" above recipe (in post) for helpful hints.
Calories:
108
kcal
|
Carbohydrates:
16
g
|
Protein:
1
g
|
Fat:
4
g
|
Saturated Fat:
3
g
|
Cholesterol:
17
mg
|
Sodium:
87
mg
|
Potassium:
34
mg
|
Fiber:
1
g
|
Sugar:
10
g
|
Vitamin A:
135
IU
|
Vitamin C:
1
mg
|
Calcium:
17
mg
|
Iron:
1
mg
Adapted from AllRecipes
More Yummy Christmas Cookies