Sometimes I get sidetracked in craft stores.  And that's exactly what happened recently when I ran into Michael's for a picture frame and came out with supplies for a project that I hadn't even realized was brewing in my head.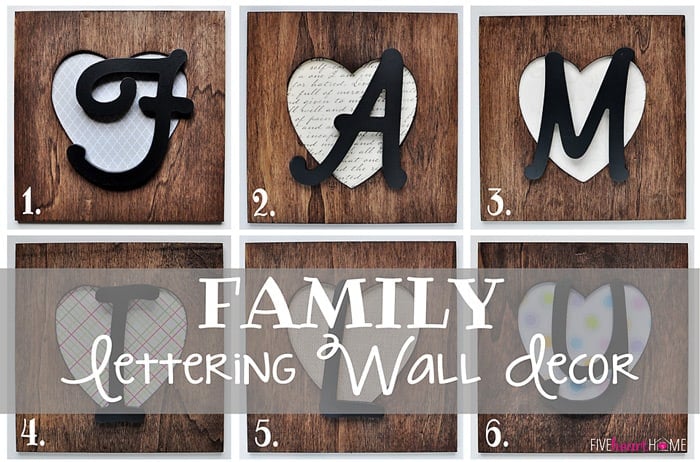 Ever since I put up my gallery wall of family photos, I've been looking for some sort of wording to go above the arrangement of frames.  And if epiphanies can happen in craft stores, well then, a couple weeks ago, I had one in Aisle 8. Before I knew it, the cashier was ringing up my basket of assorted supplies, including unfinished picture frames, wooden letters, and scrapbook paper.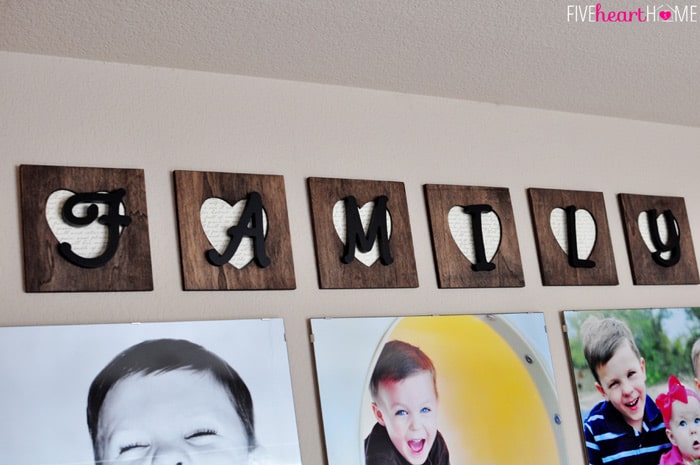 My plan was to stain the frames, glue the wooden letters over the photo openings, and then put scrapbook paper (in lieu of photos) behind the letters.  My reasoning?  So that the paper could be changed out to match the appropriate decor/season/holiday.
Throwing a birthday party or a bridal or baby shower?  Swap out the scrapbook paper to match your color scheme.  Is your home decked out for the holidays?  Why not take it just one step further and back these letters in red and green?  Are you a football-obsessed household that bleeds the color of your favorite team?  Then let it be known come football season with some scrapbook paper-bedecked lettering!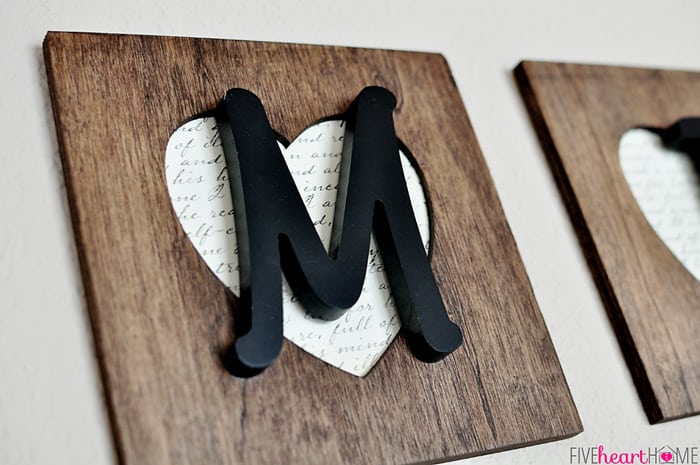 I decided to spell the word "FAMILY," but you could just as easily spell out your last name or make these letters in your child's first name for his or her bedroom, or create any other word or phrase that suits your fancy or you care to put on a wall.  The color scheme of your frames and letters is also completely customizable.  Use spray paint instead of stain if you prefer.  As for the frames and letters you use, just play with shapes and sizes until you find something that works well together.  I liked the heart-shaped openings of these frames and the way the letters fit those openings while still allowing you to see that they are hearts.
As for how I made these, it was very straightforward.  Here goes.  First I bought my supplies.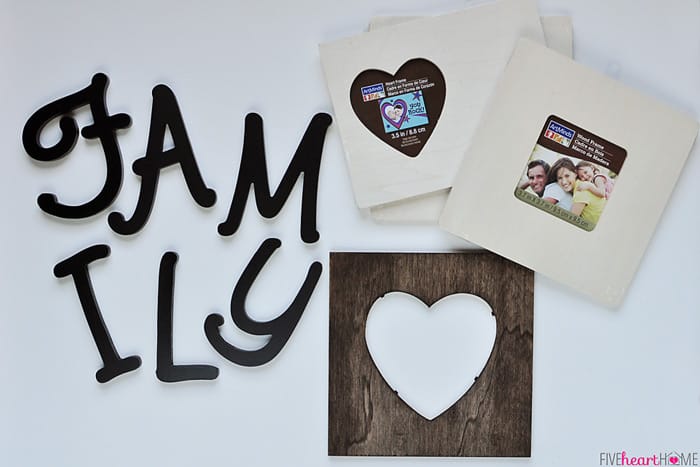 Next I used a sponge brush to paint a coat of stain onto each frame and I immediately wiped it off with an old rag.  My husband thought I could have left the stain on longer before wiping it off, but I didn't want the stain to get too dark lest the black letters not show up against the frames.  And being the wise man that he is, he said, "Okay, honey, whatever you think."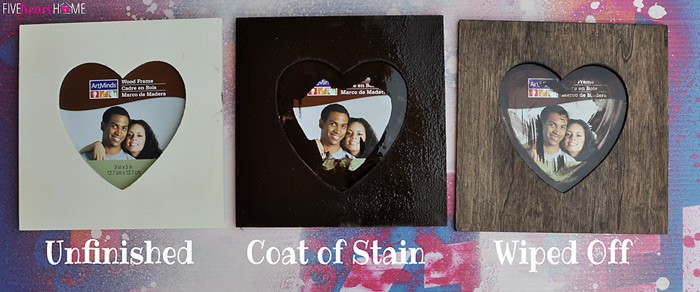 Next I used some wood glue to glue just the edges of the letters to the frame where they made contact.  I quickly wiped off any glue that squeezed out when I pressed down on the letters.  Here is an oh-so-helpful picture of the brand of stain I used and the type of glue.  A hot glue gun would work equally well.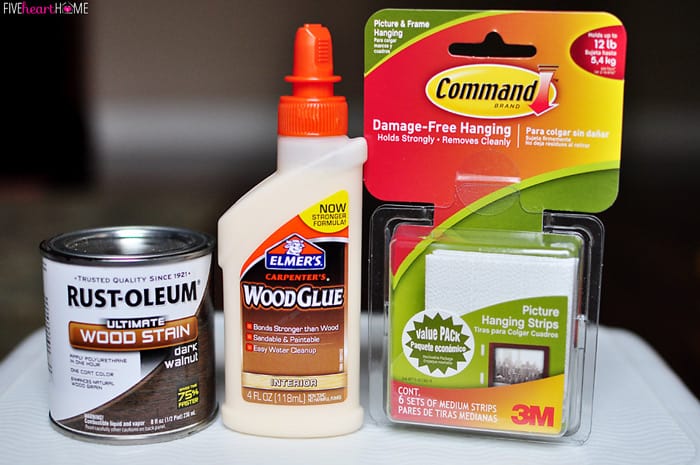 While the letters dried, it was time to decide which scrapbook paper backing would look the best.  For my everyday decor, I was trying to decide between choices #1, #2, and #3.  Even though #3 looks blank here, it actually had a beige-ish embossed floral print to it.  I ultimately went with #2, which looks like the script from an old love letter or something.  But therein lies the beauty of this
project.  If I change my mind about the look I'm going for, it's as easy as swapping out my scrapbook paper.  I even think using an old map would be fun!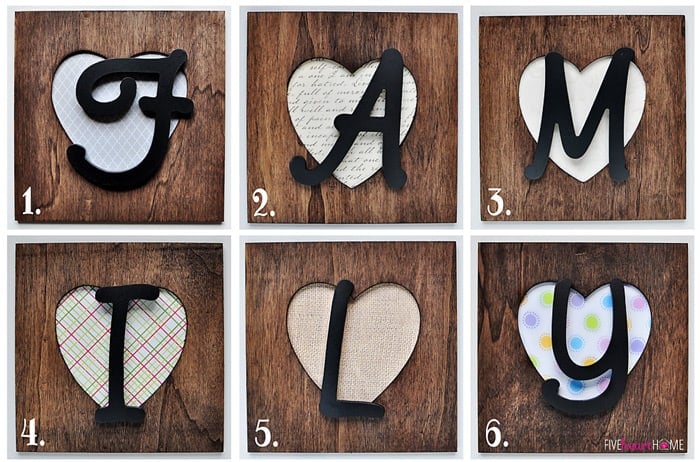 For the bottom three options, I wanted to show you some of the ways you could switch out the scrapbook paper for different seasons or occasions.  #4 is looking festive for Christmas, #5 is a burlap-looking paper that I think would be fitting in the fall around Thanksgiving, and #6 is a pastel print that would be cute for a baby shower.  You get the point.  Let your imagination run wild!
Hanging these suckers was pretty effortless using the Command Picture Hanging Strips from a couple photos back.  They initially seemed a tad intimidating when I looked at the back of the package and saw that the directions involved about a dozen steps.  But they're basically velcro strips and much less complicated than the instructions would lead you to believe, and supposedly you can remove them later with nary a mark left behind on the wall.  We shall see.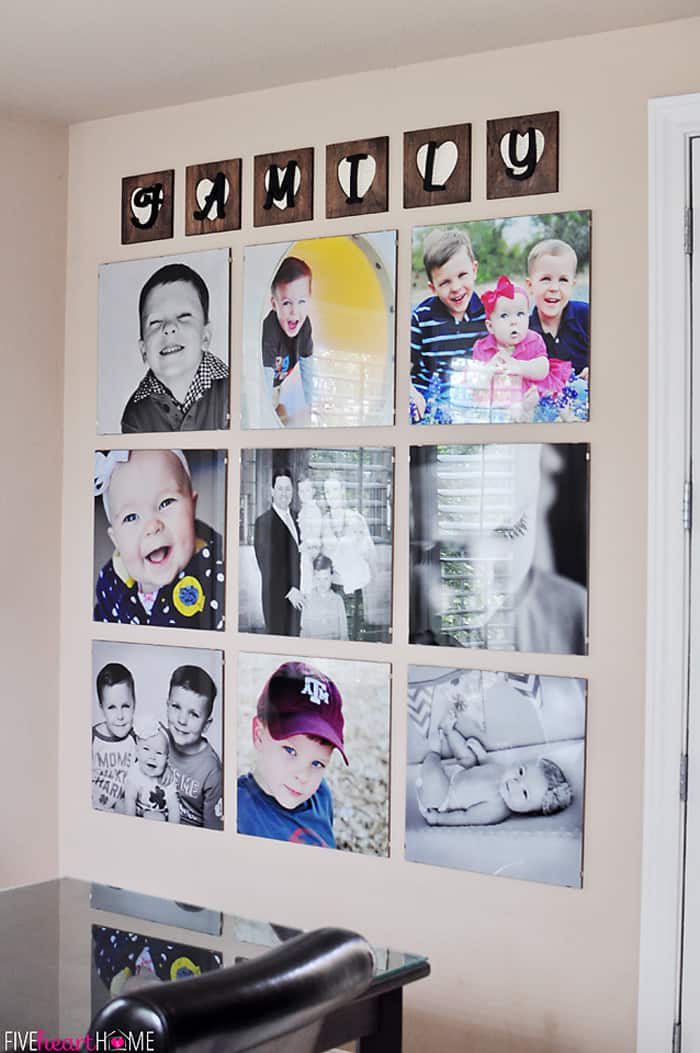 So there you have it.  A quick, easy project to help your walls make a statement.  I'd love to see how any of you take this idea and make it your own!