This Family Photo Wall, featuring a stunning gallery of 20-inch square frames, is a great way to showcase memories and sure to be the focal point of any room!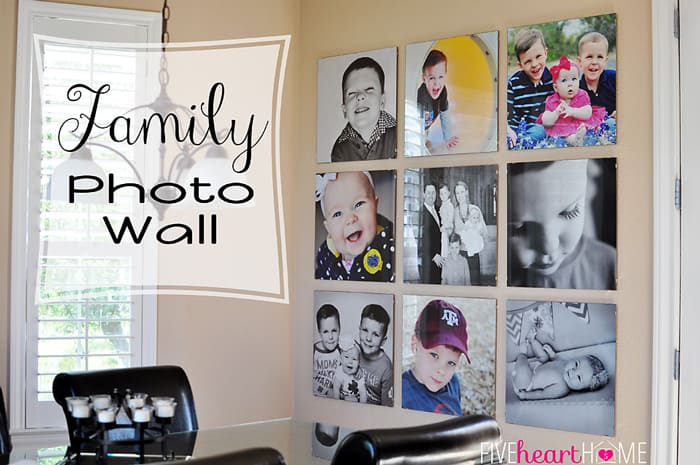 Several years ago, I decided to put up a family photo wall à la famous and fabulous photographer Tara Whitney. And it was love at first sight. Just sitting at the kitchen table with those huge, cheery pictures made me happy. My boys never tired of pointing out new details they noticed or asking questions about what was happening when the photos were taken.
But then eight months ago we added baby #3, and something (or rather, someone) was missing from our gallery wall of family photos. Ever the model of efficiency, it only took me about 7 1/2 months to put together an update, and though I hardly thought it possible, I now love looking at the whole shebang even more.
Determining a layout and which photos to feature was the fun part. I tend to take way too many pictures of my kids, but for a project like this, that compulsion came in rather handy. I couldn't decide on black and white or bright and colorful, so I ultimately opted for a mix.
How to Make a Family Photo Wall
I ordered three boxes (4 to a box) of 20×20-inch square clip frames from Quadro Frames. This left me with a few leftover frames that I used elsewhere in my house. Despite being packed really well, a piece of glass in one of the boxes was broken. However, the issue was quickly resolved via e-mail and I soon received a replacement pane.
Photo Printing Tips
When I need large and/or high quality prints, I typically order my photos from Nations Photo Lab. I've always had positive experiences with this company. They regularly run great sales (I always wait until the print sizes I need are at least 50% off), the ordering process is easy, and the photo quality is excellent. For this photo wall, I ordered color corrected prints in a metallic finish. Since my computer monitor is not calibrated, I like to ensure that my colors won't be off when I'm blowing up a photo to such large dimensions. And the metallic finish is sharp and bright while adding a nice depth to the photos. I'm sure I would be equally pleased ordering from some of the other quality photo printers out there — Mpix comes to mind as another company that I've heard good things about — but I don't know if NPL's sale prices can be beat.  When you're talking about ordering nine large prints, costs quickly add up.
But how do you ensure that your photos remain sharp and clear when you blow them up to giant 20x20s (or larger)? Pop over to this tutorial to learn a resizing trick in Photoshop that allows you to increase print size without losing resolution!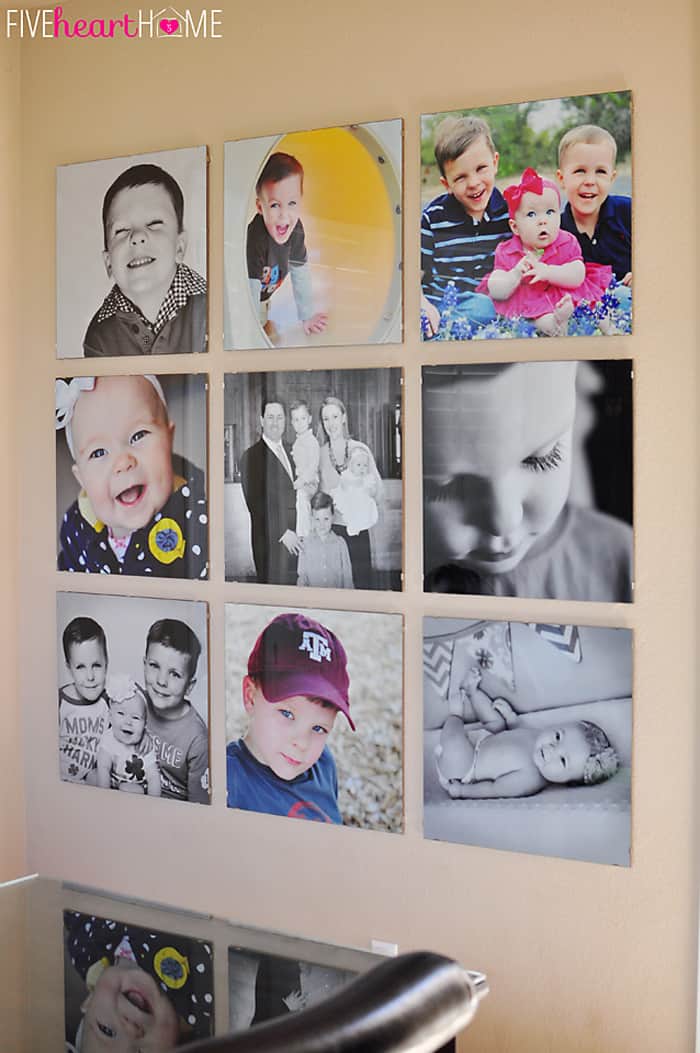 This family photo wall is particularly dramatic because of the dimensions of the photos and the size of the overall display, but it could easily be replicated in a smaller space using 10- or 12-inch square photos. Of course, smaller photos wouldn't serve the dual purpose of camouflaging smudges and stains on a wall of unforgiving flat paint in too-close-proximity to a cute but food-slinging high chair occupant. I can promise you that pureed peas wipe off of picture frame glass more easily than the wall. In fact, maybe I should consider hanging additional rows of pictures floor to ceiling…
So sorry…where was I? Keep in mind that the above photos depict my most recent, updated display. When I first hung this gallery, I added a TTV (Through the Viewfinder) effect to my pictures using Photoshop and tutorials linked in Tara Whitney's blog post.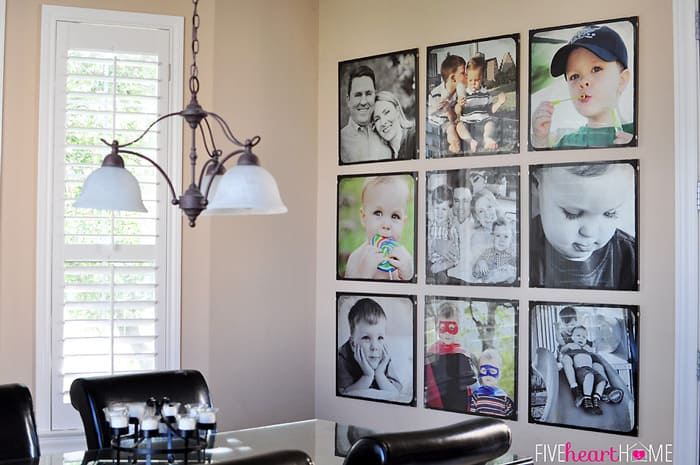 This TTV technique adds a digital overlay to each photo to make it appear that it was taken "through the viewfinder" of an old camera. The edges of the viewfinder create a thin black frame and the dirt, splotches, and scratches of the aged lens are also visible across your photo. Of course, if you have a 3-year-old, be prepared to field repeated questions about why the pictures you hung have black marks all over them. Whatever. Some people just don't appreciate fine art.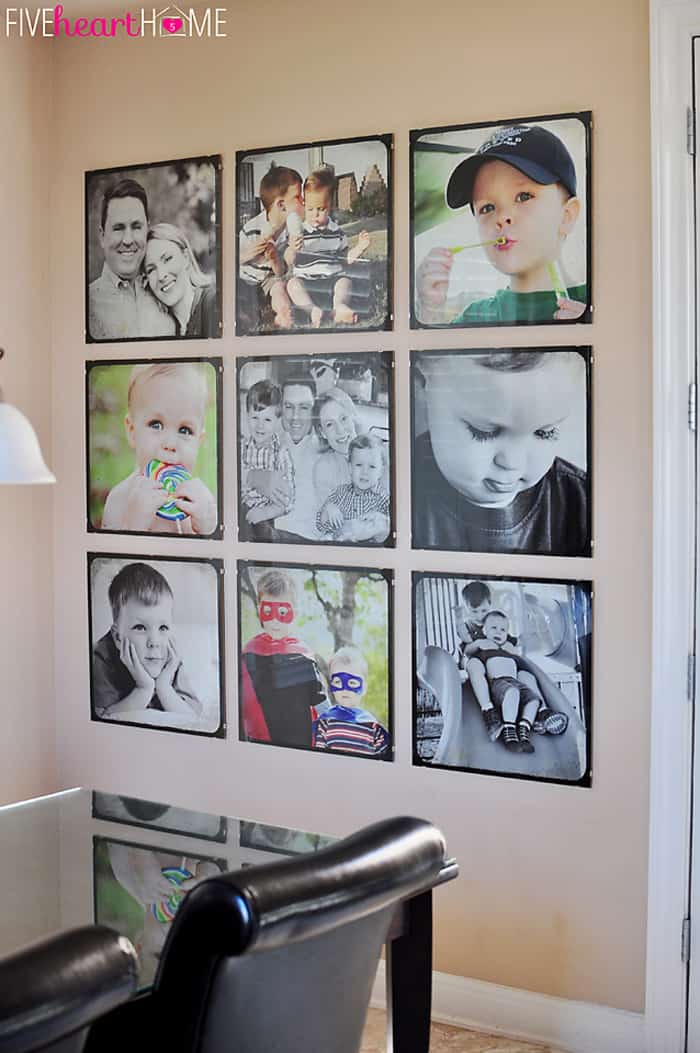 The TTV enhanced photos looked striking and artsy and I adored the appearance of the overall display, but when it came time to update pictures, I decided to change things up and go with a cleaner look. So which do you prefer? With or without the TTV overlays?
A good family photo gallery wall brightens a room and captivates everyone who spends time studying it. But most importantly, it is an ideal canvas to feature the people, places, and things closest to your heart. I hope that this photo display has inspired you!