Happy June, friends! Would you believe that today marks two years since I shared my very first recipe here on Five Heart Home?! Hard to believe…but definitely something to celebrate, don't you think?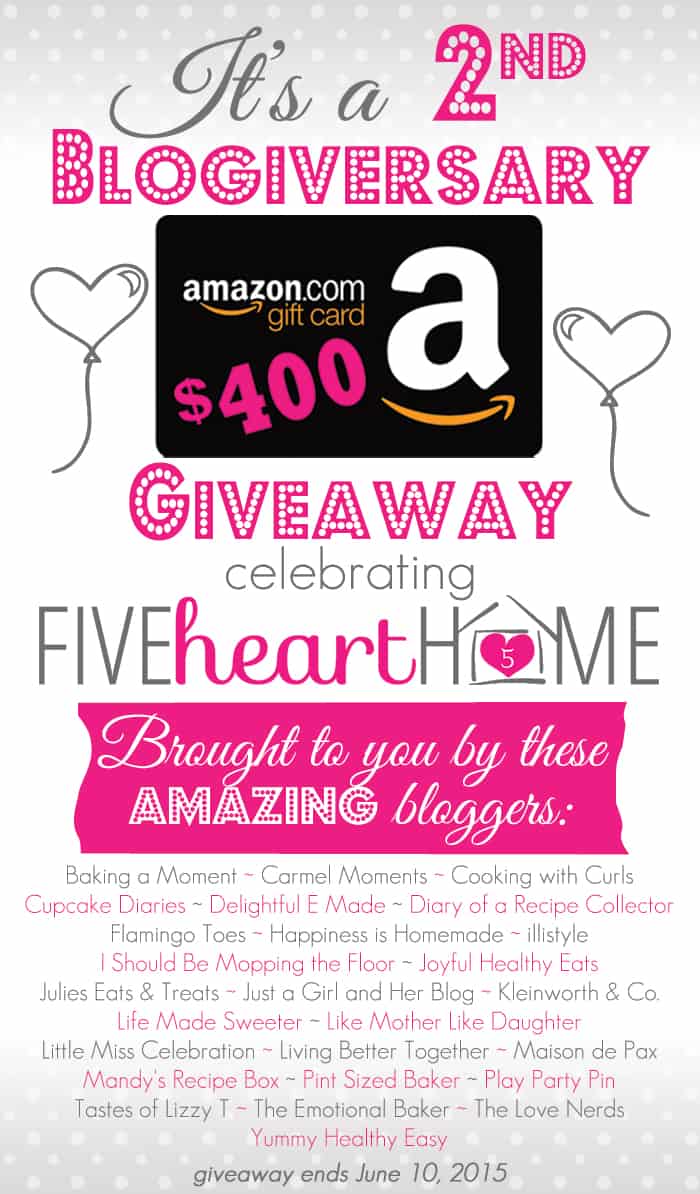 When I hit 'Publish' on my very first blog post back on June 1, 2013, I never imagined that — two short years later — I would be where I am now. I honestly didn't have a clue what I was doing (or what I was getting myself into) back then. I didn't realize that blogging could be so gratifying or motivating or exhausting or addictive. I didn't know that I would develop personal connections to my wonderful readers. I had no idea that blogging is an actual industry full of bloggers who form a tight-knit community. And it's been an honor and a privilege over the past two years getting to know so many of the other creative minds who are along for this same crazy ride!
Honestly? I pinch myself every day that this is my job. It's hard work and I put a lot of hours into it, but I genuinely love it. And I can't thank you all enough for making it possible by visiting and reading and commenting and making my recipes and sharing my site! You all are the reason that Five Heart Home has grown exponentially over the past two years, and I am so grateful for your support.
So I think it's only fitting that we celebrate today with a big giveaway! Some of my very best blogging buddies are joining up with me today to give away a $400 Amazon eGift Card. How exciting is that?! And seriously, y'all, these ladies are not only super sweet, but they're incredibly talented. I'm always impressed by their content but, more than that, I'm proud to call them friends.
If you're anxious to get to the giveaway, feel free to scroll on down to the Rafflecopter. Otherwise, pardon me for a brief moment while I do a quick 2-year-blogiversary recap by-the-numbers. I thought it might be fun to review a few of the highlights and statistics from Five Heart Home's first two years!
431

The number of posts published during 5HH's first two years…who knew?

7,766,895
The number of pageviews those posts have received…whoa, Nelly.
4.5
The average number of hours of sleep I get each night since morphing the jobs of stay-at-home mom and food blogger. (I'm hoping this statistic improves during year #3…)
3,820
The number of blog post comments I've received in the past two years. (And while I'm sure I've missed a few, I've honestly attempted to reply to all of them.)
274
The number of comments received by Five Heart Home's most-commented-on recipe ever. Let's just say that lots of people really love this bread…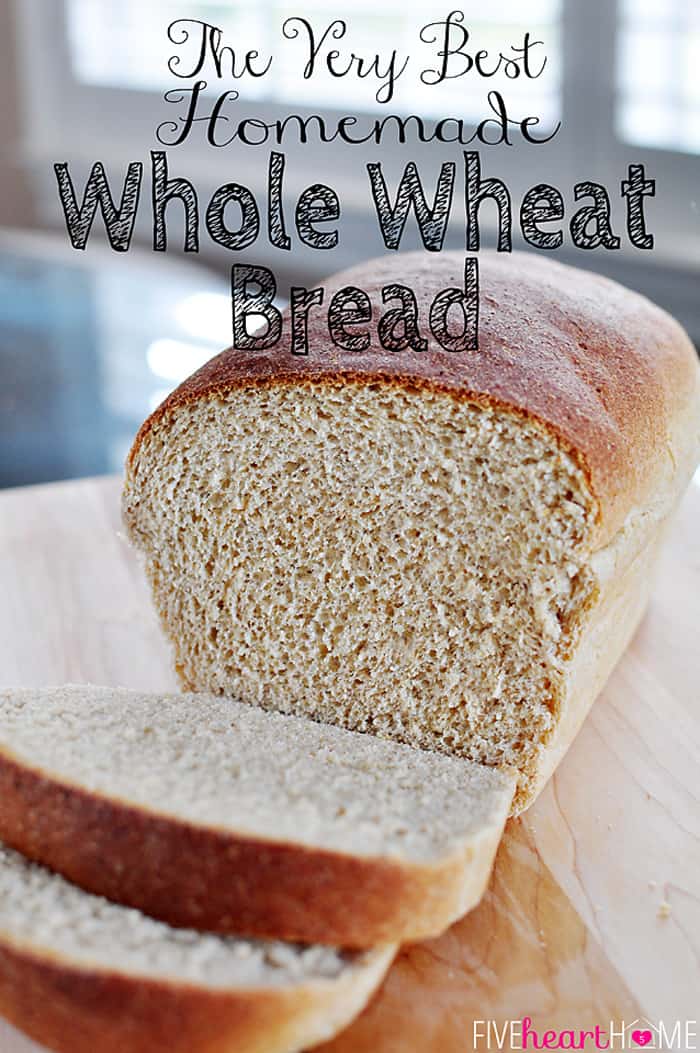 However, the prize for Most Popular Post of All Time undoubtedly goes to this one…

This S'mores Dip recipe has been most viewed, most pinned, most featured…you name it. And it makes me laugh because, not only is it ridiculously simple to make, but it was also an afterthought when another s'mores recipe idea I had didn't work out. So I made this instead, just in time for National S'mores Day…and boy am I glad I did!
5
The number of social media accounts that I attempt to juggle…some (Instagram and Pinterest — my favorites!) more successfully than others (Twitter — I don't get it). Facebook and Google+ (meh) are the other two.
232
The number of different countries from which Five Heart Home readers have originated. (I'd like to give a big shout-out to the lone soul who's visited me from Antarctica! Who knew they had internet there?)
26
The number of amazingly talented bloggers helping to sponsor today's fabulous giveaway! These gals are seriously awesome…click on the links below to see for yourself! 😉
Baking a Moment ~ Carmel Moments ~ Cooking with Curls ~ Cupcake Diaries
Delightful E Made ~ Diary of a Recipe Collector ~ Five Heart Home ~ Flamingo Toes
Happiness is Homemade ~ I Should Be Mopping the Floor ~ illistyle
Joyful Healthy Eats ~ Julies Eats & Treats ~ Just a Girl and Her Blog ~ Kleinworth & Co.
Life Made Sweeter ~ Like Mother Like Daughter ~ Little Miss Celebration
Living Better Together ~ Maison de Pax ~ Mandy's Recipe Box ~ Pint Sized Baker
Play Party Pin ~ Tastes of Lizzy T ~ The Emotional Baker
The Love Nerds ~ Yummy Healthy Easy
So who's ready to earn lots of chances to win a big ol' eGift Card for some cold, hard, Amazon cash? Simply follow the participating bloggers on Pinterest using the Rafflecopter below for multiple entries to win! And THANK YOU again for your encouragement and support of Five Heart Home over these first two years…my readers are truly THE BEST!
This giveaway is sponsored by Five Heart Home,
in collaboration with the participating blogs listed above.
See Rafflecopter for terms and conditions.

* * * * * * * * * *