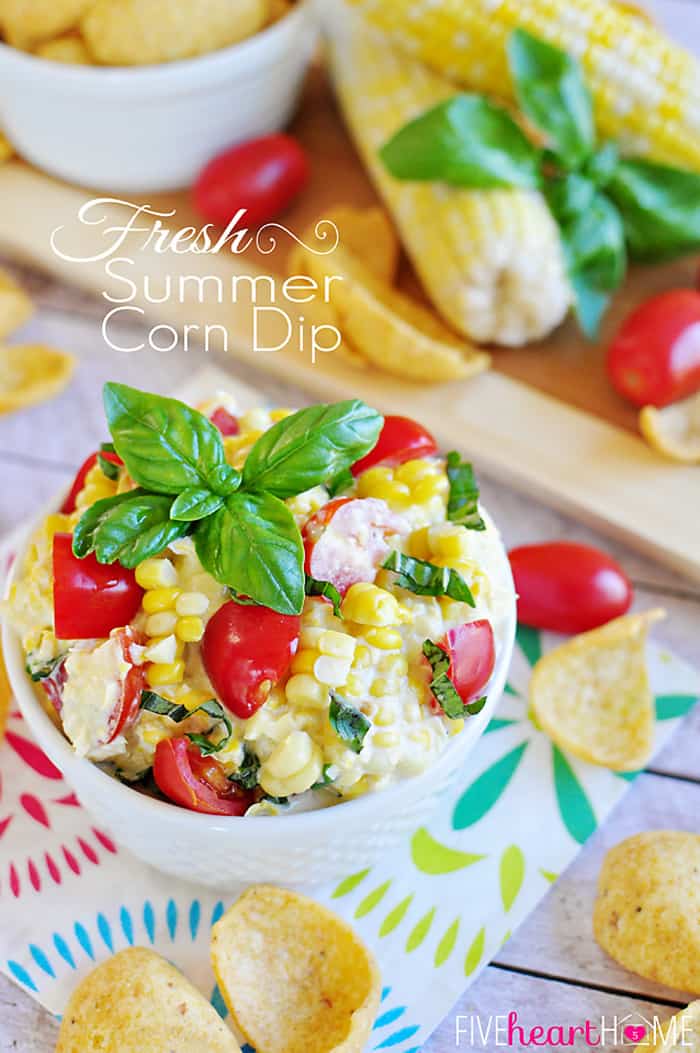 This cool and creamy Fresh Summer Corn Dip — featuring roasted sweet corn, juicy tomatoes, and vibrant ribbons of basil — is the perfect appetizer to kick off barbecues, potlucks, and picnics all summer long!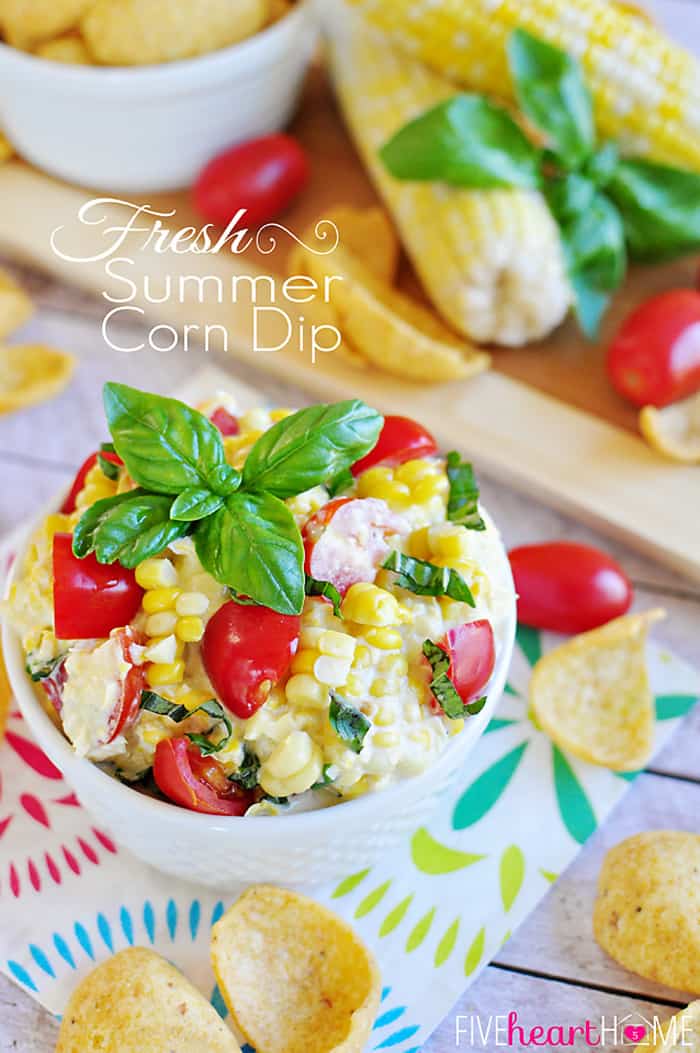 So what do you do when you have an excessive amount of leftover roasted corn, grape tomatoes, and fresh basil from what was possibly the most amazing tortellini pasta salad known to mankind? Well, you could make another batch of said pasta salad, and it would be equally delicious the second time around. Or you could throw caution to the wind and use those same ingredients to create something entirely new. Can you guess which one I did?
Y'all. This may very well be one of the best dips I have ever scooped up with a corn chip and stuffed in my mouth! Truly…and that's saying a lot, because I've ingested more than my share of cheesy, gooey, decadent dips in my day.
But this one is a little bit different. It's creamy, but not in a heavy way. It's bursting with fresh ingredients. It's served chilled. But what I think really sets it apart is its conglomeration of flavors, textures, and even colors. You have sweet roasted corn, sliced off the cob, in all its crisp-tender glory. You have juicy tomatoes that pop in your mouth when you bite into them, whose acidity is a perfect balance to the sweet corn. And you have a smidgeon of cream cheese and gorgeous ribbons of fresh basil tying everything together. And the salty chips with which you are free to scoop up copious amounts of this summery goodness? What could be better?
Are you convinced that you need to make this dip ASAP? Because you do! And don't bypass this amazing recipe just because you don't want the hassle of shucking fresh corn, because it doesn't have to be a hassle! In case you missed it, I recently posted a tutorial on the BEST way to cook fresh corn on the cob (without having to deal with the sticky, messy silk). So be sure to check it out!
I'm honored to have been asked to share a monthly contributor post this summer over at Uncommon Designs, so today you get to go see Trish and Bonnie for this recipe! In case you've never visited Uncommon Designs before, it's all about creating the extraordinary out of ordinary, everyday things, from DIY and crafts to recipes to party planning and more. There are always so many cute ideas over there! I hope you'll take a little time to look around after you hop over for this recipe. 🙂
More Summer Favorites
Double Chocolate Coconut Ice Cream {Dairy-Free}
Grilled Sweet Corn with Italian Herb Butter