Are you ready for a surprise? I'm sharing a sweet treat today that doesn't involve pumpkin. Shocking, right? I'll admit…I go a little pumpkin crazy each fall, but occasionally I still whip up some non-pumpkin goodies like these…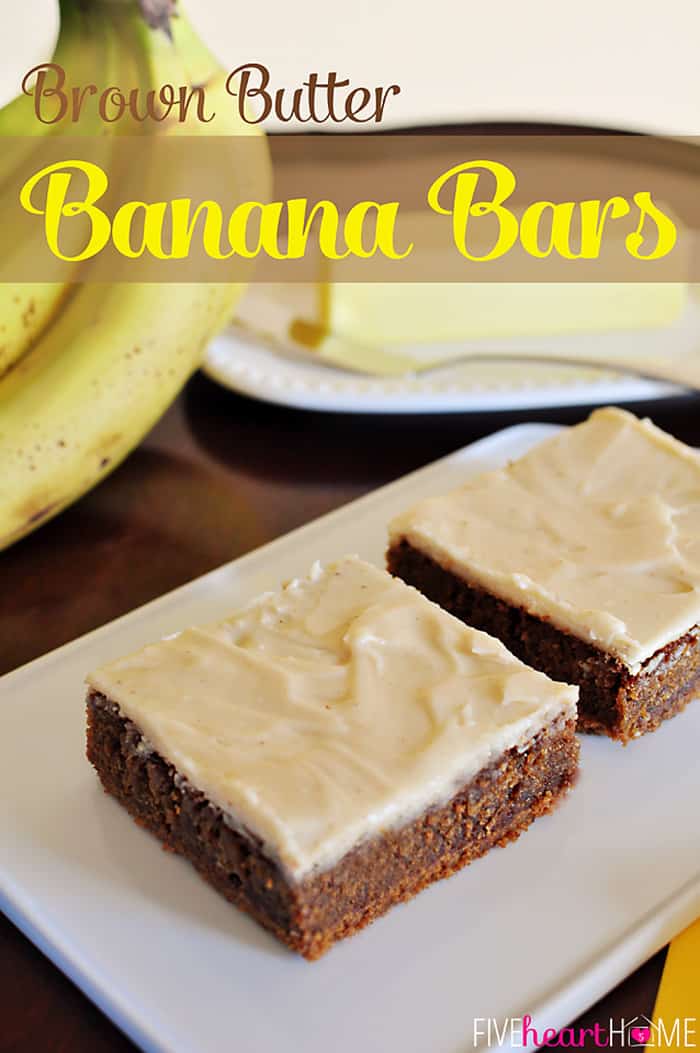 Say hello to Brown Butter Banana Bars. With a brown butter graham cracker crust. And brown butter frosting. If you think these bars are over the top with nutty, caramelized brown butter goodness…well, my friend, you would be right.
When I have a few overripe bananas on the counter, I typically like to make banana bread before the fruit flies congregate to carry them away. But sometimes a girl gets tired of banana bread, ya know? So that's when I come up with other delectable uses for my mushy bananas.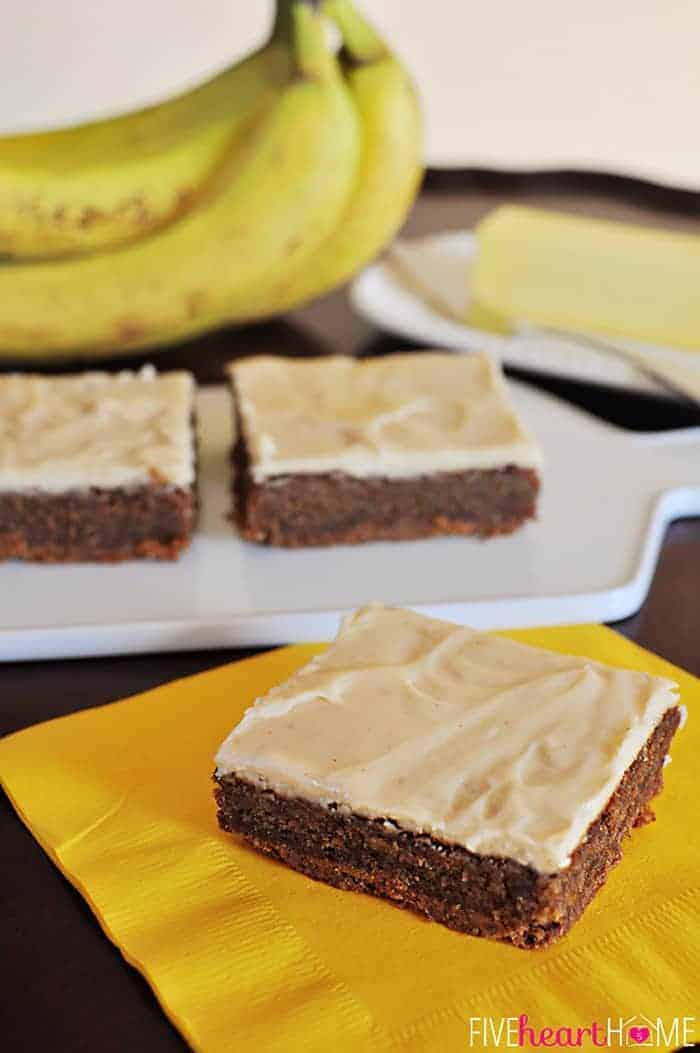 This recipe was born of that dilemma. I'd always wanted to bake something using brown butter, and I had a feeling that it would pair quite nicely with bananas. My tastebuds are here to assure you that my assumption was correct.
If you've never experimented with brown butter before, it's pretty much exactly what it sounds like. You basically cook butter until it starts to smell nutty and turn a deep golden brown. In this state, it lends a depth of flavor that ordinary melted butter would not impart. It makes your final dish taste toasty and caramelized. And these bars give you a triple whammy of brown butter, featuring it not only in the banana bar layer, but also in the crust and the frosting. That's right, folks…with three mouthwatering layers, these banana bars are downright addictive.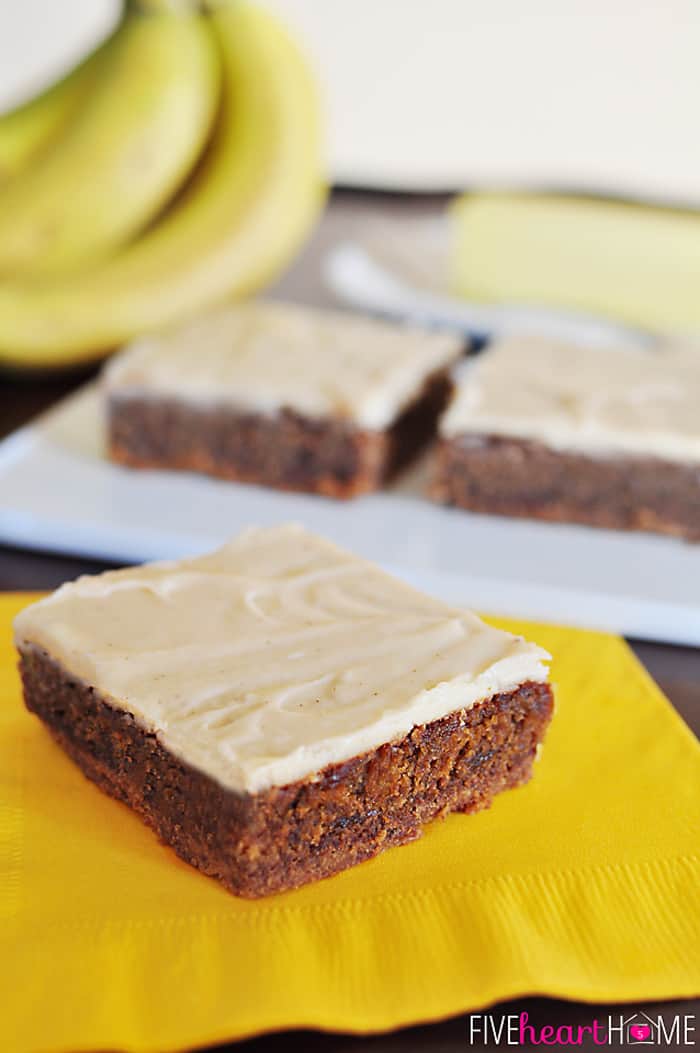 I'd never made a banana bar with a crust, and I can now see that I've been missing out. The crunchy graham cracker crust is salty sweet with the nuttiness of the brown butter shining through. It's the perfect contrast to the soft, almost chewy banana bar layer. And while the frosting is certainly sweet, its sugary flavor is balanced by its toasty brown butter base.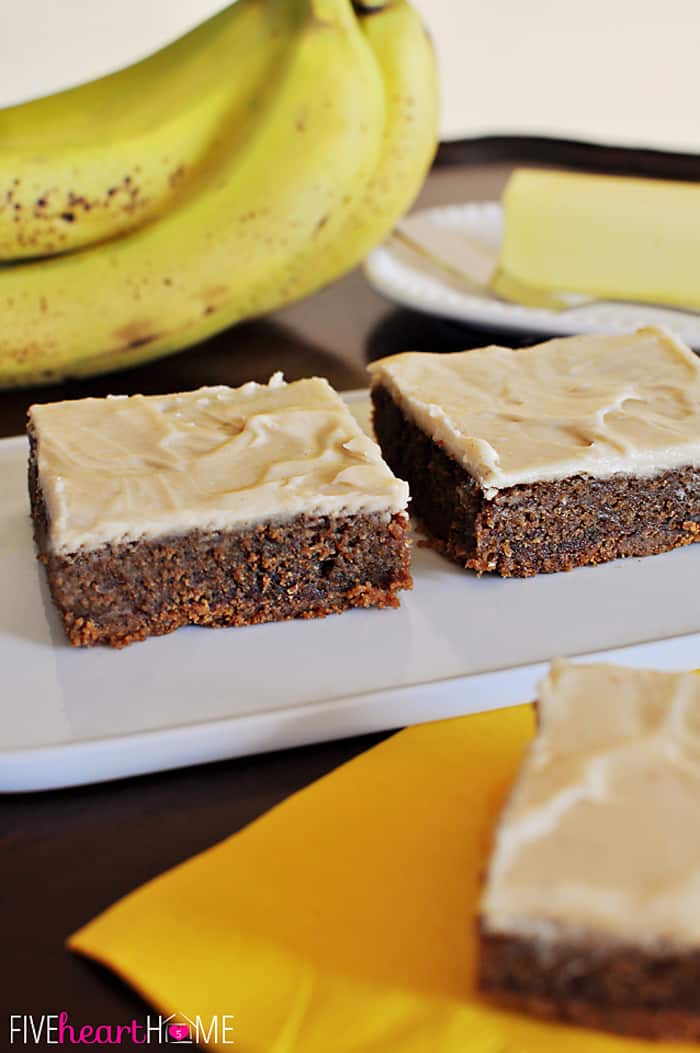 My first foray into brown butter was not only a success, but it already has me brainstorming what else I can make with this golden goodness. So have I convinced you to try it yet? I hope so! You won't regret the few extra minutes it takes to brown your butter in return for such a depth of flavor. Just like I'm not regretting stepping away from the pumpkin for a day so that I could take care of some past-their-prime bananas.
Brown Butter Banana Bars with a Graham Cracker Crust
Brown butter gives these banana bars a deep, caramelized flavor, enhancing the toasty graham cracker crust, the soft banana bar layer, and the sweet frosting.
Ingredients
For the crust:

7 ounces graham crackers (about 12 1/2 graham cracker sheets, or 3 cups store bought graham cracker crumbs)
1/4 cup dark brown sugar
1/4 teaspoon salt
1/2 cup brown butter (*see Tips & Tricks below)
For the bars:

1 cup all-purpose flour
1/2 teaspoon salt
2 very ripe bananas, mashed
2 large eggs
2 cups dark brown sugar
2 teaspoons vanilla
3/4 cup brown butter
For the frosting:

1/2 cup brown butter
2 cups powdered sugar, sifted
2 teaspoons pure vanilla extract
2 to 4 tablespoons milk
Instructions
Preheat oven to 375°F. Use a tablespoon of softened butter to generously grease a 9-inch by 13-inch baking pan.
In the bowl of a large food processor, process graham crackers to achieve fine crumbs. Add brown sugar and salt and process until well blended. Add melted butter and pulse until mixture resembles wet sand. Dump mixture into the prepared pan and press down into an even layer. Bake for 8 to 10 minutes or until firm and lightly golden. Remove pan to a wire rack to cool slightly.
Lower the temperature of the oven to 350°F.
In a medium bowl, whisk together flour and salt. In a large bowl, blend together bananas, eggs, brown sugar, and vanilla. Whisk in brown butter until all ingredients are well incorporated. Slowly blend in flour mixture until well blended, but do not overbeat. Pour banana mixture into baked crust. Bake for 45 to 55 minutes or until a toothpick inserted in the center comes out clean (but not wet). Cool pan completely on a wire rack before frosting.
To prepare frosting, pour remaining 1/2 cup of brown butter into a bowl. Add powdered sugar, vanilla, and 2 tablespoons of milk. Beat until smooth, adding additional milk a little bit at a time if frosting is too thick. Spread frosting onto cooled banana bars.
Notes
HOW TO MAKE BROWN BUTTER: To make enough brown butter for this entire recipe, slice 3 1/2 sticks of unsalted butter into tablespoon-sized pieces and place in a heavy-bottomed pan or skillet. Set pan over medium-low heat and stir constantly as butter melts and begins to foam. After a few minutes, you will notice the butter turning golden and brown specks beginning to form. When the foam subsides and the butter begins to smell nutty, remove it from the heat. You want your butter to be a deep golden brown, but you don't want it to burn! If the butter starts to blacken or tastes burnt, it's gone too far and you'll probably want to start over rather than ruining the rest of the recipe. When butter is browned, remove from heat and set aside to slightly cool.
I pour the required amount of brown butter into a measuring cup when I'm ready to make each component of the banana bars, and any dark brown sediment remaining at the bottom of the pan, I leave behind.
https://www.fivehearthome.com/frosted-brown-butter-banana-bars-with-a-graham-cracker-crust/
https://www.fivehearthome.com ~ All recipes and images on Five Heart Home are copyright protected. Please do not use without my permission. If you would like to feature this recipe, please rewrite the directions in your own words and give proper attribution by linking back to this blog.
Banana bars adapted from NY Times.
Frosting adapted from Martha Stewart.
♥More banana goodness…
Banana Breakfast Cookies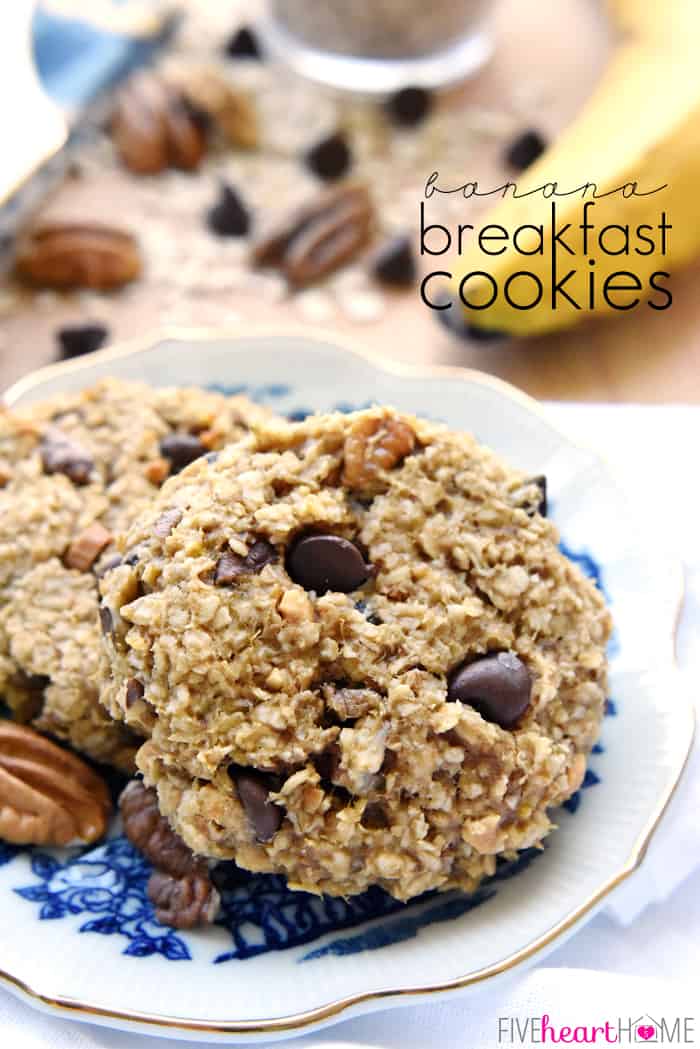 Healthy Chocolate Almond Banana Smoothie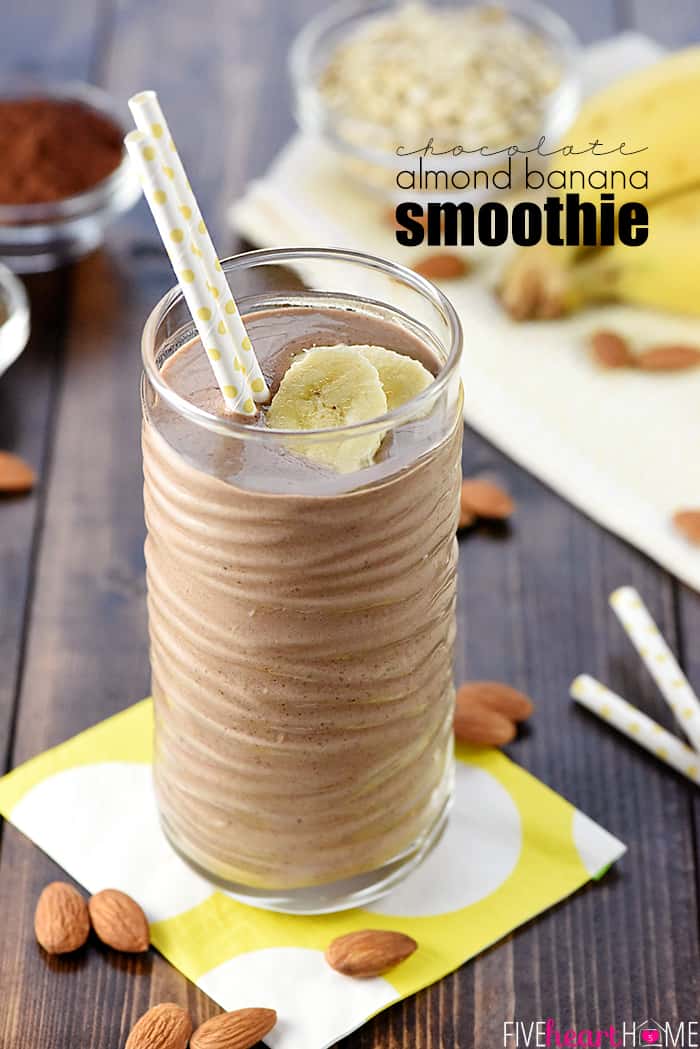 Triple Chocolate Banana Bread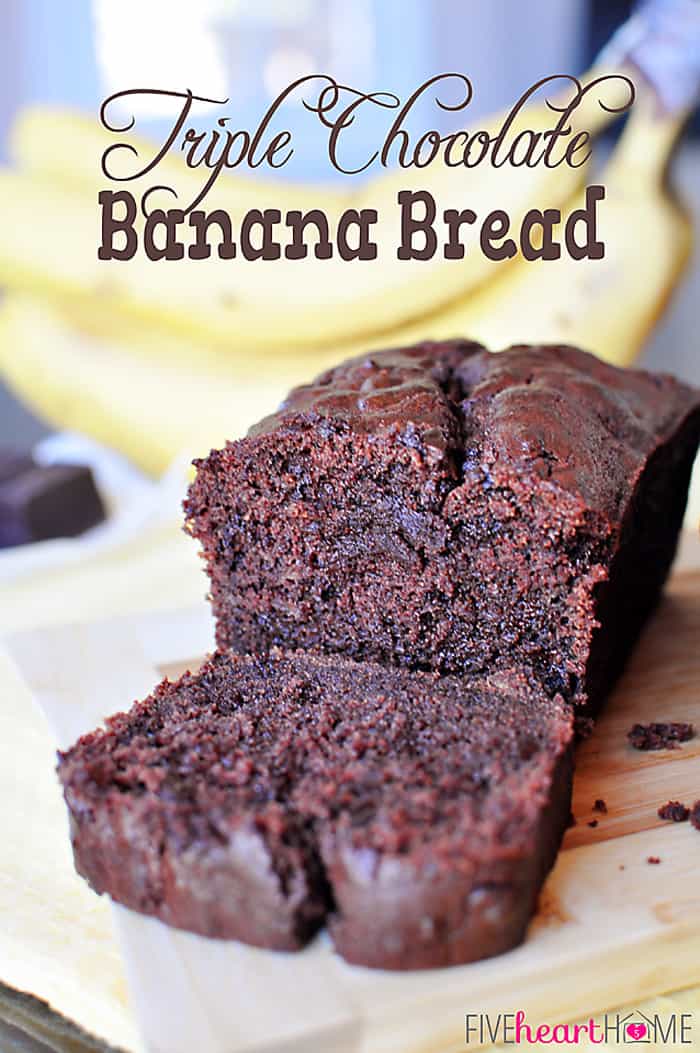 Tropical Banana "Ice Cream"