A creamsicle-like orange filling is perfectly complemented by a sweet and salty pretzel crust in this delightful frozen pie that's ideal for welcoming (or dreaming about) warmer weather!
This Friday happens to be March 14 — or 3.14 — otherwise known as Pi Day. So since I'm a nerd to celebrate, I made you a pie!
But this isn't just any pie. Like many of you, I'm ready for to bid farewell to winter for good! Thus, I decided to create a chilly, citrus-infused pie reminiscent of one of my favorite summertime treats. If we think warm thoughts, warm weather is sure to follow, right?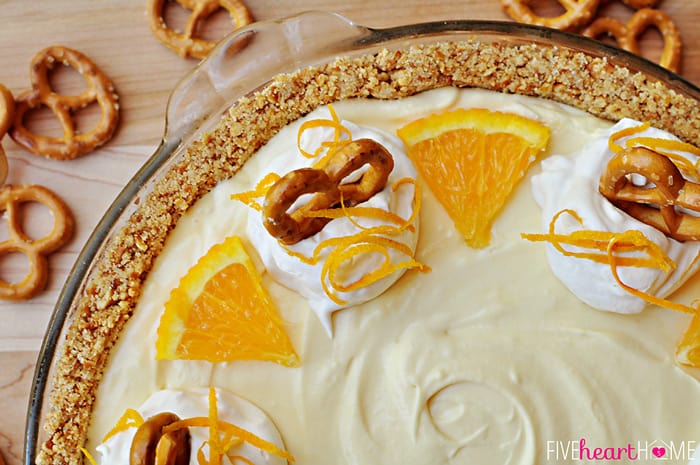 If you're a fan of creamsicles, I'm willing to bet you will love this pie! I decided to translate those tangy orange popsicles — with their sweet vanilla ice cream interiors — into a pie filling incorporating fresh whipped cream, cream cheese, powdered sugar, orange juice concentrate, and vanilla. And then, because I'm a fan of a little salty with my sweet, I thought it would be tasty to pair my filling with a pretzel pie crust.
Apparently I have a thing for citrus pie fillings and pretzel crusts, although truth be told, I could eat a bowl of crushed pretzels, sugar, and butter with a spoon and be perfectly content. Adding actual pie filling at that point is merely a bonus.
Before I get on with this oh-so-simple recipe, I feel obligated to mention that my Creamsicle Pie photo shoot was cut short when this happened: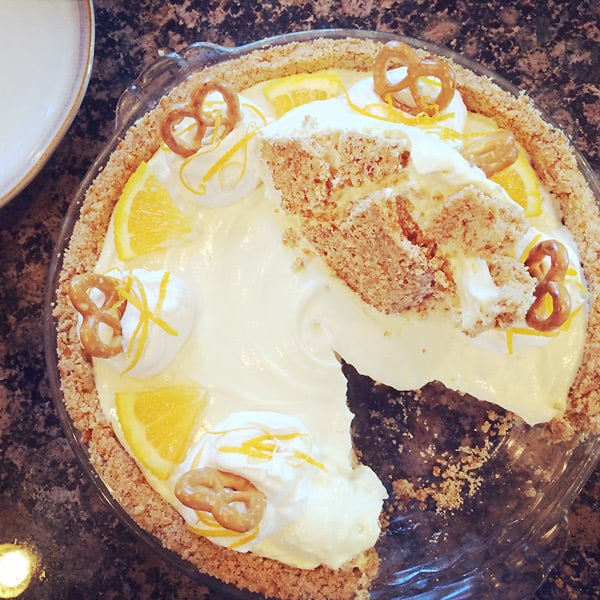 If you follow me on Instagram, you may have already seen this catastrophe. I'm not referring to the catastrophe of my unfortunate Instagram filter choice, which made my oranges look like lemons. Noooo, after snapping a few shots of my whole, unblemished pie, I wanted to take some pictures of an individual slice of pie. Alas, when I lifted that perfect slice out with my pie server, it slid off the server and plopped upside-down, right on top of the rest of the pie.
So please humor me by pretending that I've just inserted a photo of an individual slice of pie, beckoning you to take a bite.
And now I've positioned that slice with the pie plate in the background, showcasing the missing piece, as sunlight streams through the window and birds chirp a spring-like tune (I know you wouldn't actually be able to hear the birds through a photo, but you're using your imagination here, right? So bear with me.).
And now there's a fork on the plate with a bite missing from the slice. Okay, maybe two bites.
And now…you can stop pretending.
I appreciate you humoring me, friends! And I apologize for asking you to rely on your imagination for a moment there, though I must admit that you saved me considerable time this evening editing that many more photos. 😉
Before we go, here's one more real picture to thank you for your troubles.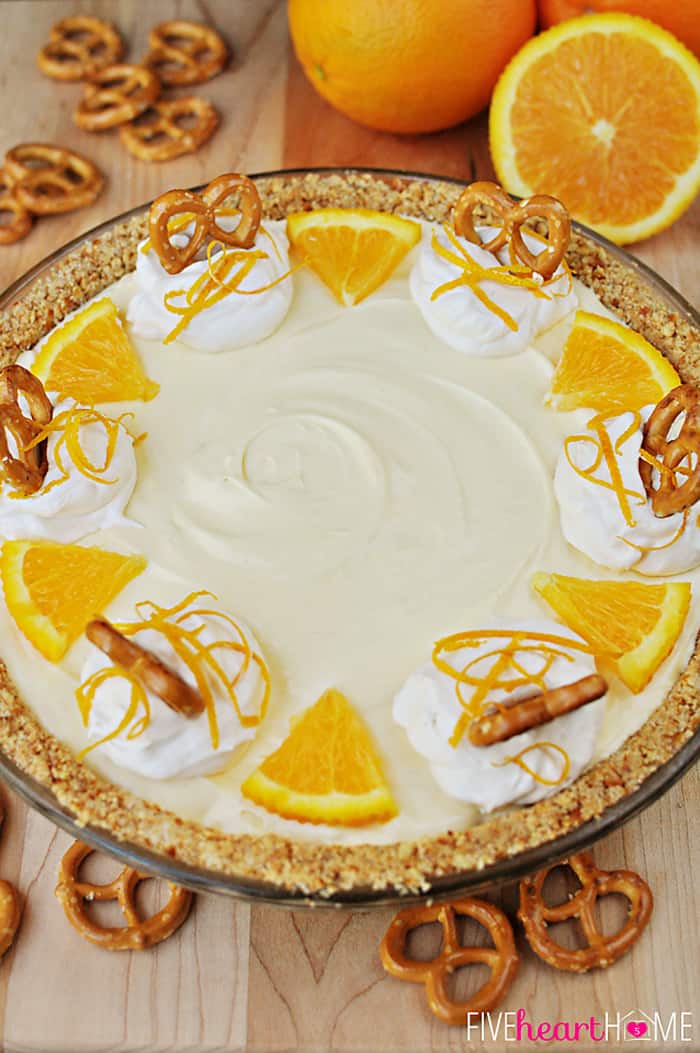 Happy Pi Day later this week! Even a non-math aficionado like myself can appreciate this kind of pi celebration. 😉
Frozen Orange Creamsicle Pie with Pretzel Crust Recipe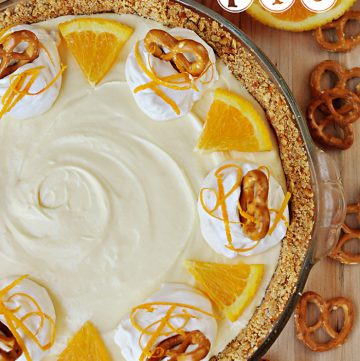 Frozen Orange Creamsicle Pie with a Pretzel Crust
A creamsicle-like orange filling is perfectly complemented by a sweet and salty pretzel crust in this delightful frozen pie that's ideal for welcoming (or dreaming about) warmer weather!
Print
Pin
Rate
Total Time:
6
hours
35
minutes
Ingredients
FOR THE CRUST:
5

ounces

salted pretzels

,

finely crushed in a blender or food processor

1/2

cup

sugar

10

tablespoons

butter

,

melted
FOR THE FILLING:
1

cup

heavy cream

1 1/2

cups

powdered sugar

,

divided

2

teaspoons

vanilla

8

ounces

cream cheese

,

at room temperature

6

ounces

frozen orange juice concentrate

,

thawed

Additional whipped cream

,

orange slices, and mini pretzels (for garnishing), if desired
Instructions
FOR THE CRUST:
Preheat oven to 325°F. Mix together pretzel crumbs, sugar, and melted butter. Press into the bottom and up the sides of a 9-inch pie pan. Bake for 15 minutes or until lightly browned. Allow to cool completely.
FOR THE FILLING:
Pour heavy cream into a large bowl along with 1/4 cup powdered sugar and vanilla. Use an electric mixer to beat the cream until stiff peaks form. Scrape whipped cream into a separate bowl and set aside.

Without cleaning mixing bowl, beat cream cheese and remaining 1 1/2 cups powdered sugar until smooth. Blend in orange juice concentrate and beat until well incorporated. Gently fold 1/4 of whipped cream into orange juice mixture. Repeat with remaining whipped cream, working 1/4 at a time and taking care not to overmix.

Pour filling into cooled pie shell and smooth top. Freeze for 6 hours or overnight. Remove from freezer 15 minutes before serving to allow to soften slightly for slicing. Garnish with fresh whipped cream, orange slices, and/or mini pretzels, if desired.
Calories:
565
kcal
|
Carbohydrates:
59
g
|
Protein:
5
g
|
Fat:
35
g
|
Saturated Fat:
21
g
|
Cholesterol:
110
mg
|
Sodium:
453
mg
|
Potassium:
229
mg
|
Fiber:
1
g
|
Sugar:
44
g
|
Vitamin A:
1335
IU
|
Vitamin C:
29.5
mg
|
Calcium:
61
mg
|
Iron:
1.1
mg
More Frozen Treats