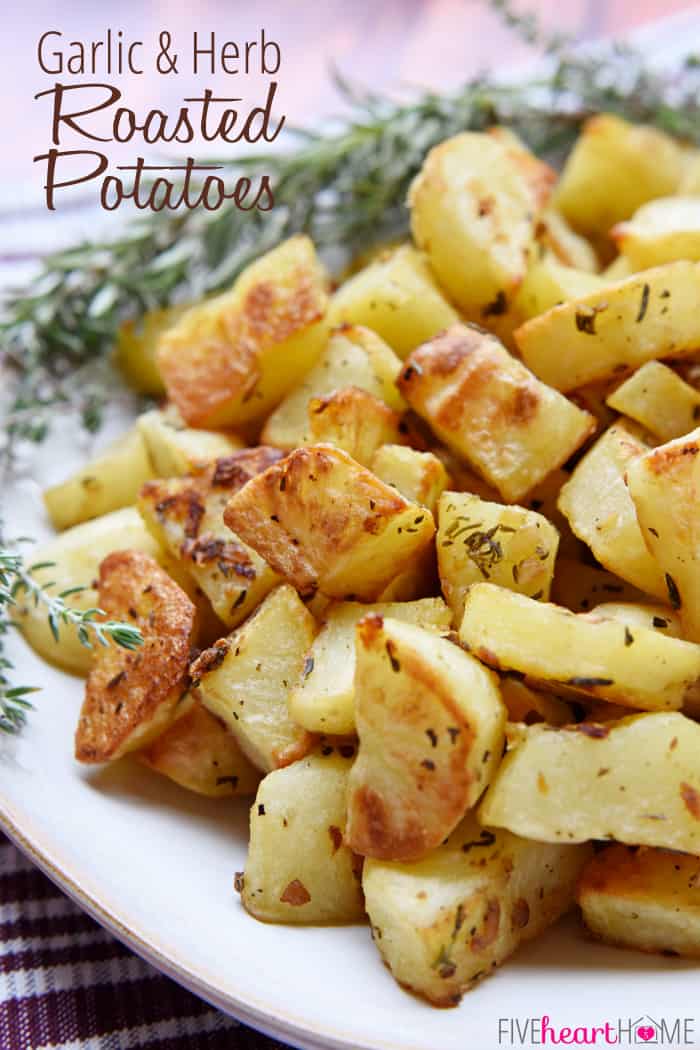 Simple, delicious Garlic & Herb Roasted Potatoes are crispy on the outside, fluffy on the inside, and loaded with flavor, thanks to garlic, fresh rosemary, and fresh thyme!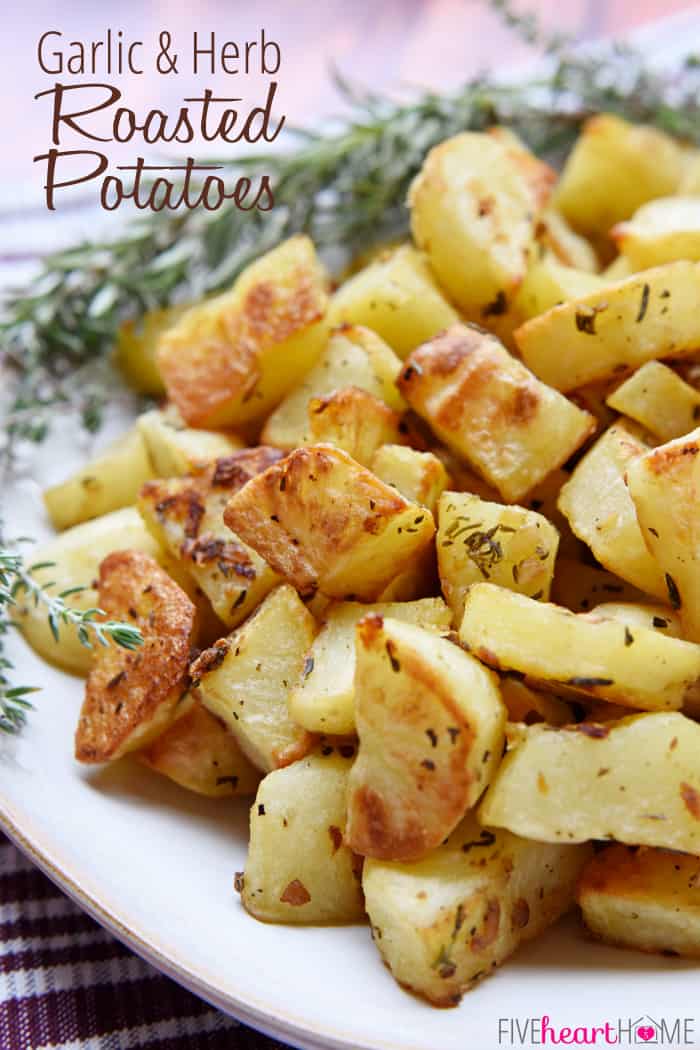 I've said it before and I'll say it again...roasting is my favorite way to cook vegetables! Roasting not only enhances the texture, but it also brings out a deep flavor and natural sweetness in just about any veggie.
And potatoes? Well, as much as I love 'em mashed, I have to admit that they turn from ho-hum to downright magical after a nice stint in the hot oven!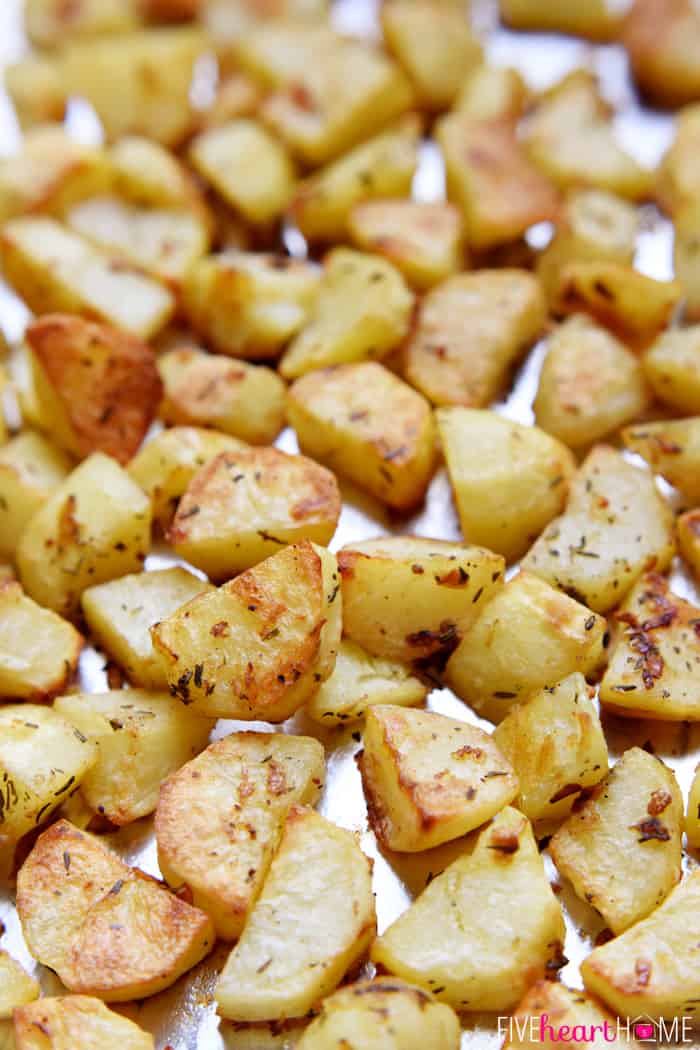 Ingredients
Aside from their crispy, crunchy exteriors and soft, fluffy interiors, these Garlic & Herb Roasted Potatoes are easy to infuse with lots of extra flavor!
Potatoes. Peeled or unpeeled -- it's up to you! -- and cut into 1-inch chunks. I prefer Yukon Golds or russets for roasting.
Olive oil.
Salt + pepper.
Fresh garlic. Minced.
Your favorite fresh herbs. Minced.
I happen to love using a combination of fresh rosemary and fresh thyme on my potatoes. In addition to their amazing flavor, the aroma of these potatoes cooking in the oven is out of this world!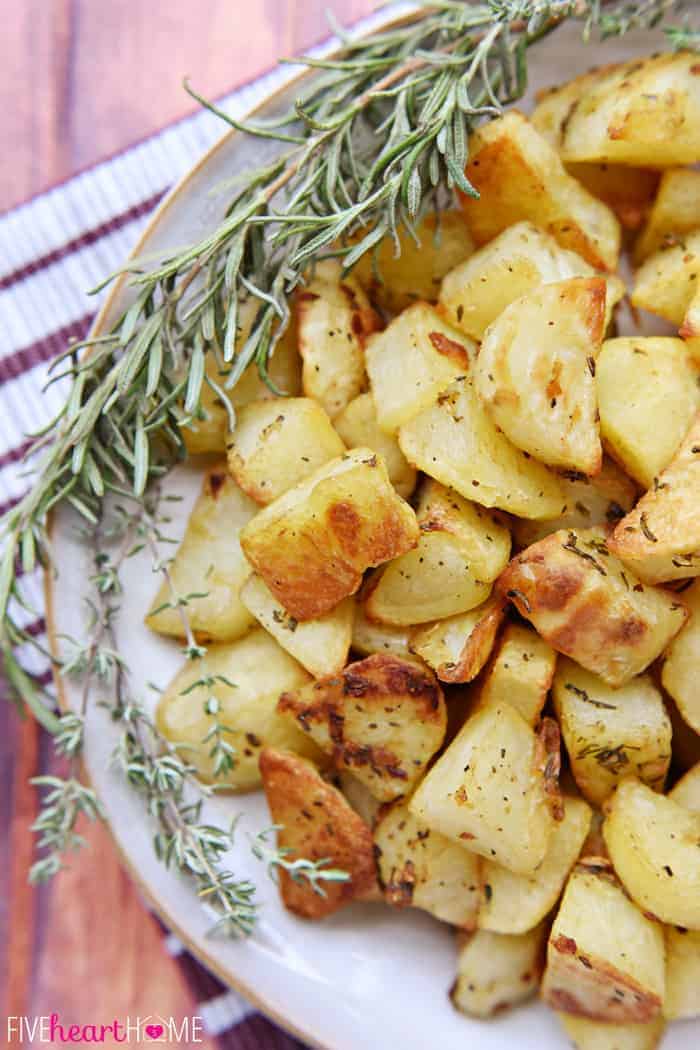 How to Make Garlic & Herb Roasted Potatoes
And have I mentioned how easy they are to make?
Cut your potatoes into chunks.
Toss in a bowl with some olive oil.
Season with the remaining ingredients.
Stir everything together and then dump the whole shebang onto a sheet pan.
Roast at a high temp, stirring every 15 minutes or so.
Coating the Potatoes Evenly
Incidentally, I've made roasted potatoes before by tossing the ingredients together straight on the baking sheet, but I never seem to get the potatoes evenly coated with olive oil using this method and some potatoes inevitably end up sticking. So I would definitely recommend mixing everything up in a big bowl and then transferring to your baking sheet.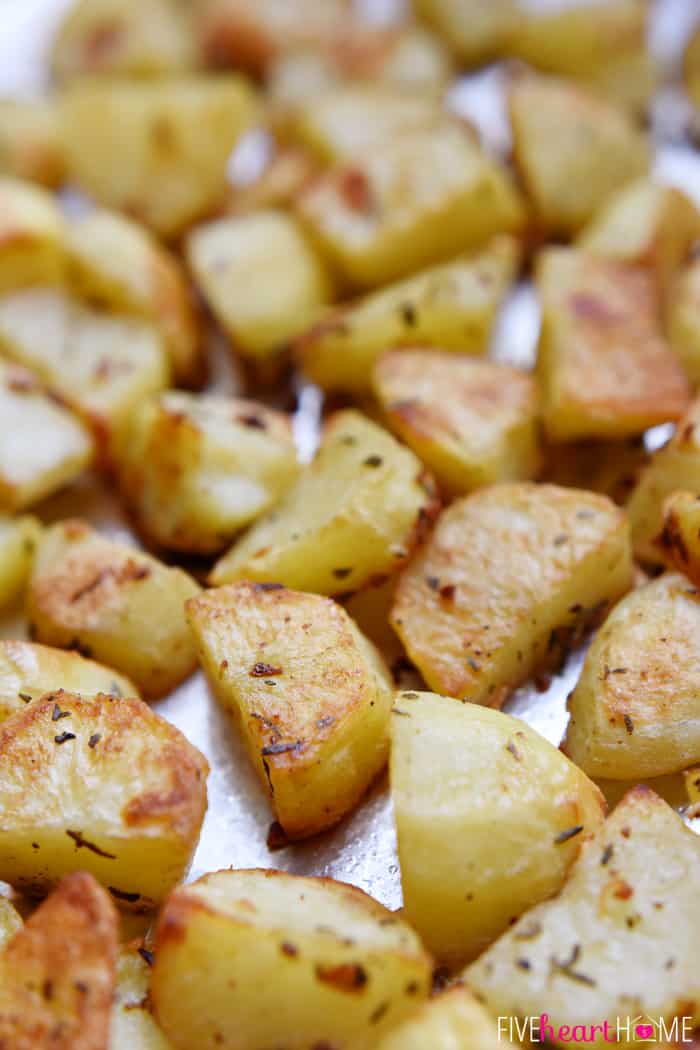 Lining the Pan
Another thing I've learned over the years is that, as much as I love to line my baking sheet with foil to mitigate any clean-up, this trick doesn't really apply when roasting potatoes. The reason? Because every 15 minutes, you're going to scrape any stuck potatoes/garlic/herbs from the bottom of the pan using a metal spatula, and foil would just tear.
That being said, if you wish, parchment paper can be used to line your pan to prevent sticking.
Flipping for Even Cooking
Flipping the potatoes is important so that they have a chance to evenly brown over the total cooking time...and so that the garlic and herbs don't burn.
The first time you make this recipe, keep a close eye on everything, particularly for that last 15-minute increment. A few bits of garlic might get a little too dark, but overall, the ingredients should cook pretty evenly as long as you intermittently use a metal spatula to move them around.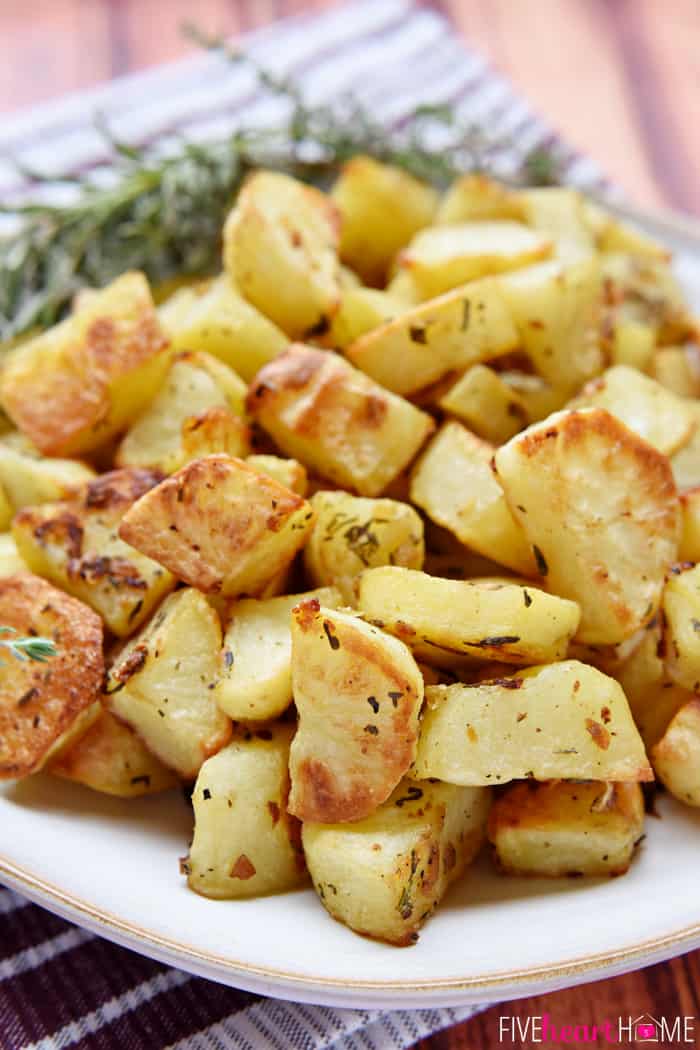 This is one of those recipes that proves how simple, basic ingredients can be transformed into something incredible. Use your favorite herbs to change things up, and be sure to make twice as many potatoes as you think you're going to need because they are completely addictive!
These Garlic & Herb Roasted Potatoes are easy enough to throw together for a busy weeknight yet tasty enough to serve to guests. My kids love them (albeit with ketchup) and my hubby and I have been known to eat half of these little morsels straight off the pan before dinner is even served. Don't say I didn't warn you! 😉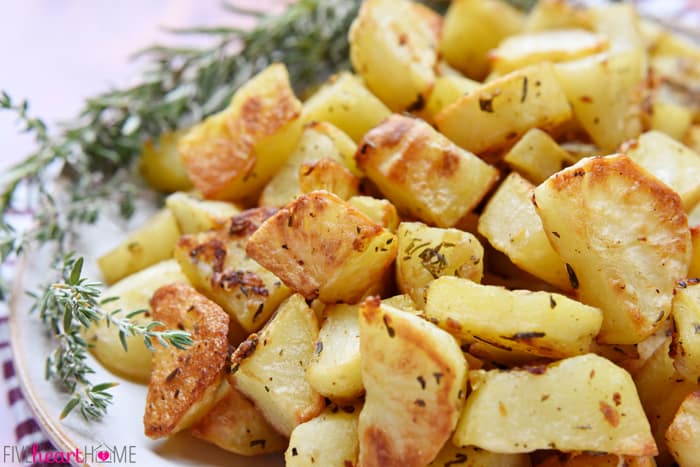 More Potato Recipes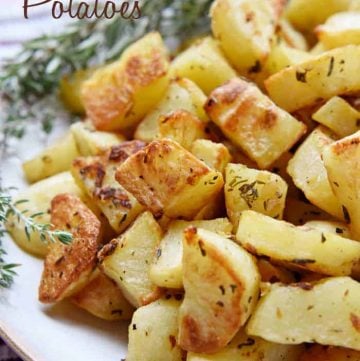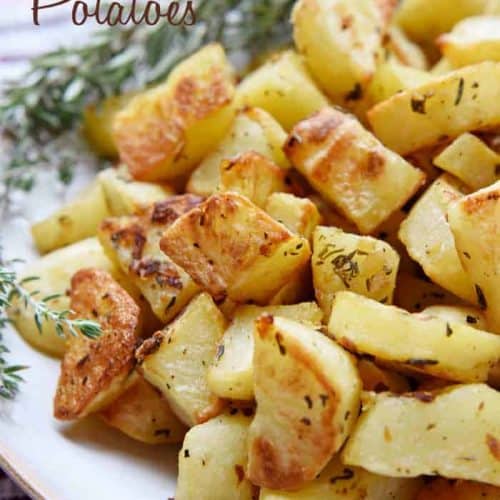 Garlic and Herb Roasted Potatoes
Simple, delicious Garlic & Herb Roasted Potatoes are crispy on the outside, fluffy on the inside, and loaded with flavor, thanks to garlic, fresh rosemary, and fresh thyme!
Print
Pin
Rate
Ingredients
2

pounds

potatoes

,

cut into 1-inch chunks

2

tablespoons

olive oil

¾

teaspoon

salt

Freshly ground black pepper

4

cloves

garlic

,

minced

1

tablespoon

minced fresh rosemary & thyme

,

or your favorite herbs
Instructions
Position oven rack in center of oven and preheat to 400°F.

In a large bowl, combine potatoes and olive oil. Stir to coat potatoes. Evenly sprinkle with salt, pepper, minced garlic, and minced herbs. Stir well until all potatoes are evenly coated with seasonings and herbs. Transfer potatoes to a large rimmed baking sheet and spread out so that they are in a single layer.

Cook for 15 minutes. Remove pan from oven and use a metal spatula to scrape any stuck bits. Stir everything around and flip all of the potatoes over. Repeat, cooking for 15 minutes and scraping/stirring/flipping again. Repeat one last time, but for the last 15 minutes, watch the potatoes closely. To prevent small pieces from burning, you may have to scrape/stir/flip every 5 minutes or so until the potatoes are tender and nicely browned. The total cooking time should be around 45 minutes.

Remove potatoes from oven and, if necessary, season with additional salt and pepper, to taste. Serve immediately.
Calories:
200
kcal
|
Carbohydrates:
30
g
|
Protein:
6
g
|
Fat:
7
g
|
Saturated Fat:
1
g
|
Sodium:
460
mg
|
Potassium:
959
mg
|
Fiber:
6
g
|
Sugar:
1
g
|
Vitamin A:
85
IU
|
Vitamin C:
29.6
mg
|
Calcium:
81
mg
|
Iron:
7.7
mg