Hello, friends! I typically have a new recipe for you on Sundays, but I shared one yesterday instead to make room for something extra-exciting today! Are you feeling lucky? I hope so, because today we're celebrating St. Paddy's Day with a BIG, awesome giveaway!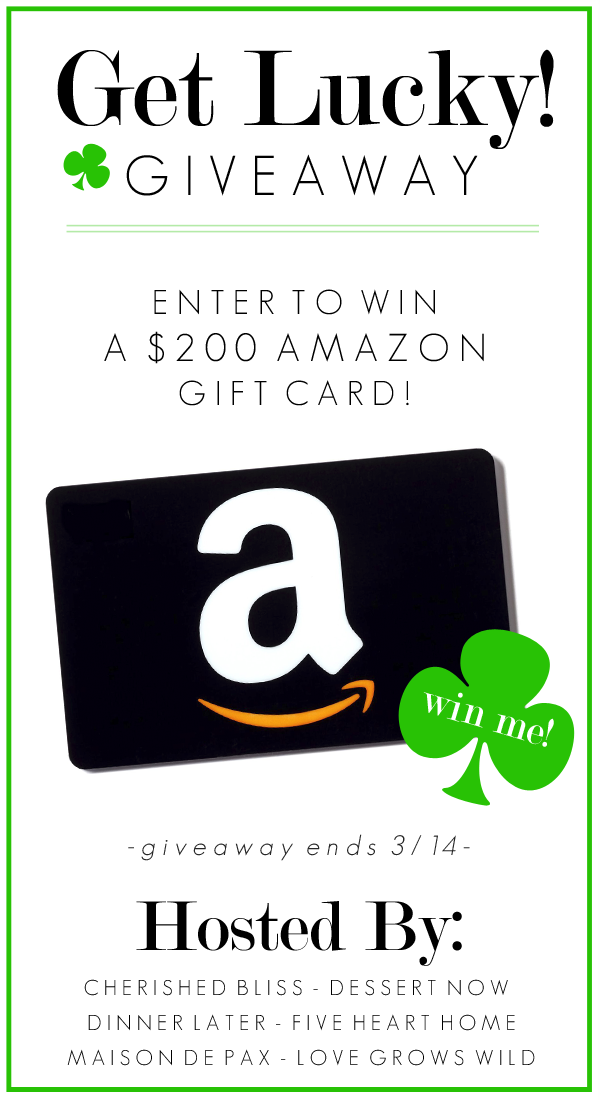 As many of you already know, I'm a proud member of the Love Grows Wild creative team, and today we're teaming up to give away a $200 Amazon gift card to one lucky reader! How fun would it be to win $200 to spend however your little heart desires?!
Amazon happens to be my go-to place to shop, because having goodies delivered directly to my doorstep preserves my sanity…which is the complete opposite of any shopping experience involving the wrangling of three young children. So yay, Amazon!
Meet the creative team:
Cherished Bliss
Dessert Now, Dinner Later
Five Heart Home
Maison de Pax
Love Grows Wild
Each of the ladies on the team is incredibly talented, so I hope you'll take a minute to hop over and see what they've been up to when you have a chance!
Enter the giveaway using the form below:
May the luck o' the Irish be with you! Happy St. Patrick's Day from the Love Grows Wild creative team!
0