Happy Monday, everyone! I don't usually post first thing Monday morning, and I do have a new recipe headed your way later this evening, but today I'm participating in a fun little blog hop!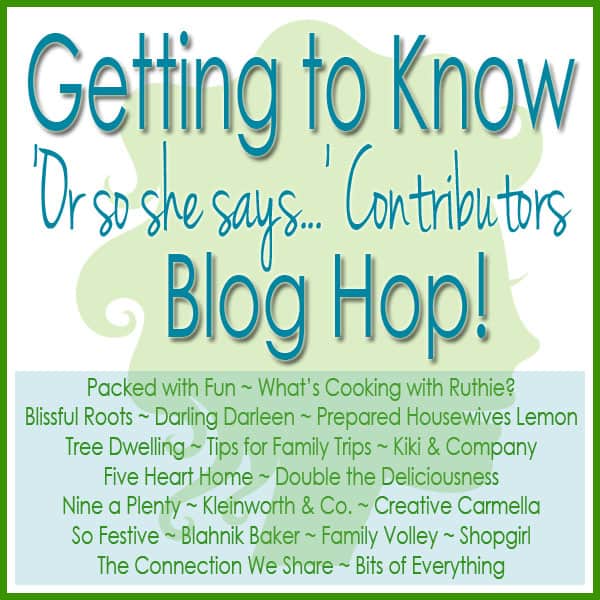 Some of you already know that I'm a monthly recipe contributor at a few different blogs this year, one of them being for Mariel over at Or So She Says, a treasure trove of ideas related to family, crafts, recipes, travel, parenting, inspiration, and so much more! Mariel thought it would be fun to do a little Q&A-style, getting-to-know-you blog hop with all of the ladies on the contributor team. So I'm going to answer the questions, and then you'll have a chance to visit some of these other amazing, talented bloggers and get to know them a little better as well!
Sound fun? Let's get started!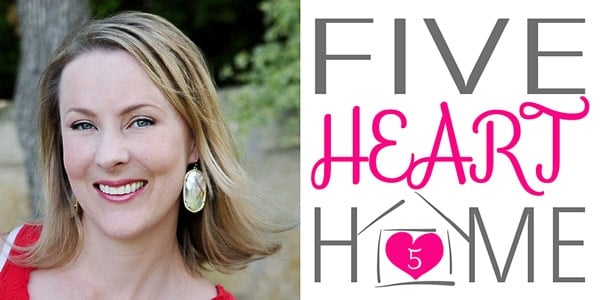 1. What inspired you to start your blog?
Well, I initially started blogging as a creative and intellectual outlet after six years of staying home with my kids. Writing was always my favorite subject growing up (and my favorite subject to teach during my years as a first grade teacher). I've also always enjoyed cooking and baking, as well as sharing my food and recipes. I started becoming obsessed with interested in photography several years ago with the arrival of my first baby, but alas, my kids have become rather tired of acting as my primary photo subjects. So it quickly became evident that running a food blog would be a natural way for me to merge my plethora of interests and talents…and now my kids get a break from the camera as I photograph their dinner instead. 😉
2. What are your favorite and least favorite things about blogging?
My favorite would be the connections I've made with readers, and the close friendships I've developed with other bloggers. I also love, love, love hearing from people who enjoy particular recipes or share with me that my site makes it easy for them to feed their families homemade meals that aren't too difficult or time consuming. Least favorite thing about blogging? Hands down, that would be dealing with the technological side of it. Let's just say that's not my forte.
3. Tell me in only 20 words…20 things you love.

God, family, friends, USA, Texas, A&M, summertime, football, chocolate, queso, margaritas, music, massages, beaches, organization, babies, cats, cooking, reading, traveling
4. What is the one recipe you are most often asked to share? Please share it with us!
In real life, that would be my Best Ever Vanilla Texas Sheet Cake Cupcakes with Cream Cheese Frosting. I can't serve them without being asked for the recipe!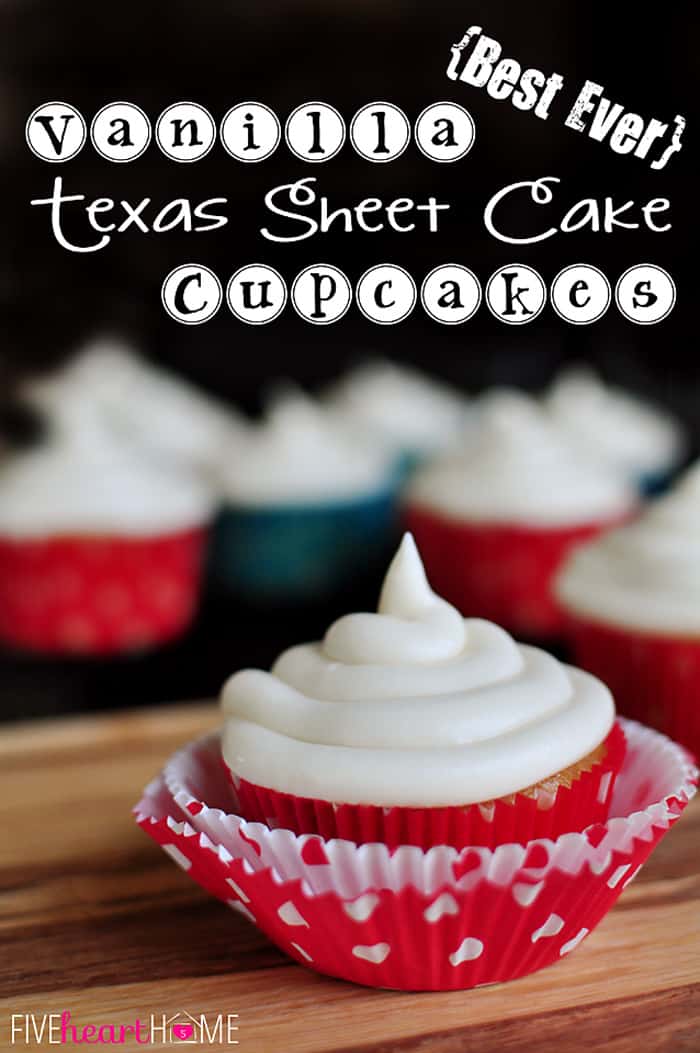 5. What are your five favorite beauty products right now?

Hmmm…that's a tough one for me. I'm a foodie, not a beauty blogger, and the idea of dragging three kids to the mall to buy my makeup makes me shudder. So most of my beauty products come from ordering online, the grocery store, or Target. I know, I know…fancy. So I hope y'all don't mind, but I'd be more in my element sharing five of my favorite kitchen gadgets instead! P.S. Affliliate links below…I just wanted to show you the items I'm talking about, but if you end up purchasing any of them through my links, I stand to earn a few pennies. 😉

(1.) A microplane ~ so handy, so versatile…for citrus zesting, grating Parmesan/garlic/etc.;
(2.) This time of year, I use the heckfire out of my ice cream maker;
(3.) Cookie scoops, in all shapes & sizes ~ I use them for cookie dough, muffin batter, shaping meatballs, and on and on;
(4.) An inexpensive kitchen scale is so useful, particularly when you're developing recipes and have to be, you know, precise and stuff; and finally
(5.) A full-sized food processor is definitely a splurge, but I use it just about every day, second only to my Kitchen Aid Stand Mixer.
6. What's your personal mantra(s)? Something you tell yourself on a regular basis?
The days are long, but the years are short. Parenting three young children day in and day out can wear a mama down — physically, mentally, and emotionally — but I try to remind myself how quickly time is flying by and that I need to savor every special moment while I can, on the hard days as well as the fun ones.
7. What movie made you laugh more than any other?
Probably National Lampoons Christmas Vacation…primarily because I watch it every year so it's gotten the most cumulative laughs out of me. 😉
8. If you could recommend one family vacation, what would it be?
I love family vacations where there's not too much pressure to see and do…I want to be able to throw the schedule out the window in a way that we rarely can at home and just have time to relax and hang out as a family, without a to-do list. So I think beach vacations are pretty perfect for that!
9. What goals are you currently working on?
Geez, the list is never-ending…I'm a major work in progress. But a few things at which I'm always striving to improve include exercising more patience (with my kids and in life in general), achieving a better balance of work and family time (it's hard to keep them separated when you're a work-at-home mom), cutting myself some slack in the perfectionism department, and adopting a more hands-free approach to life (this book is eye-opening). (*affiliate link)
10. Please share links to 3 blog posts that are special to you (or favorites of yours), and explain why.
Isn't choosing a favorite blog post akin to picking a favorite child? Yikes…how to decide…
Okay, my favorite recent recipe from this summer was probably my Tortellini Pasta Salad with Tomatoes, Basil, & Fresh Corn. Such fresh, seasonal ingredients made for a delicious dish, and all of those gorgeous colors made it really fun to photograph: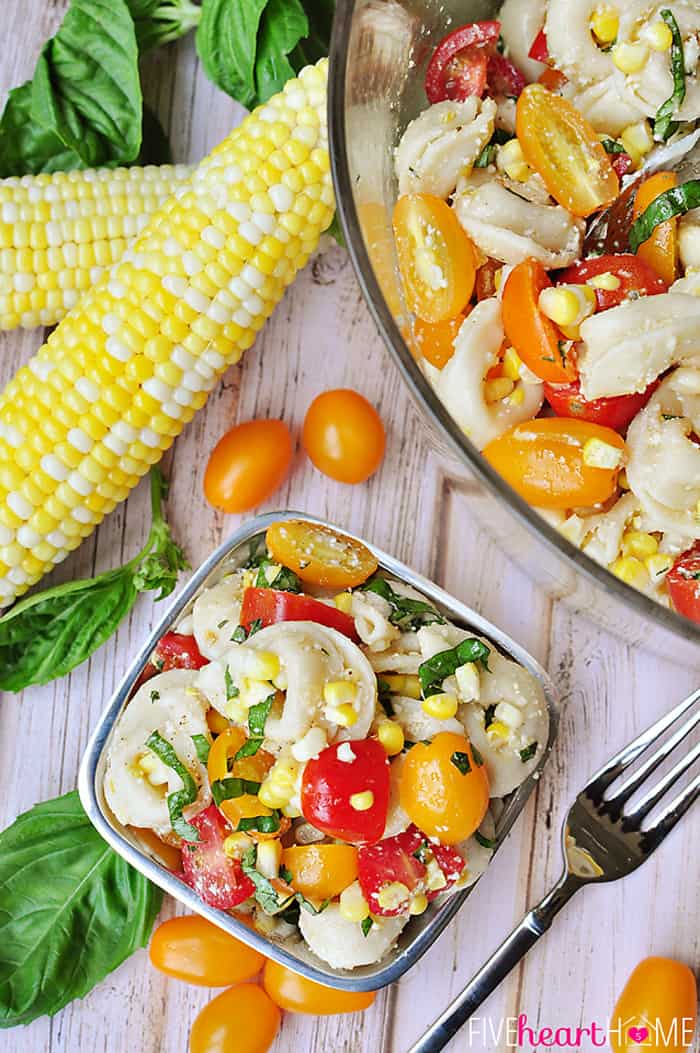 Five Heart Home's "slogan," if you will, is Quick and easy, family-friendly, real-food recipes. I really do feel that most of the recipes I post fall under this umbrella. As a busy mom, I rely on my crock pot a lot, so slow cooker recipes end up being some of my favorite ones to share (not to mention, they're always popular…guess I'm not the only busy one out there!). I make these super simple Slow Cooker Chicken & Black Bean Tacos all the time. It only takes a few minutes to toss the ingredients into the crock pot and the resulting tacos are so yummy when you jazz them up with a variety of toppings.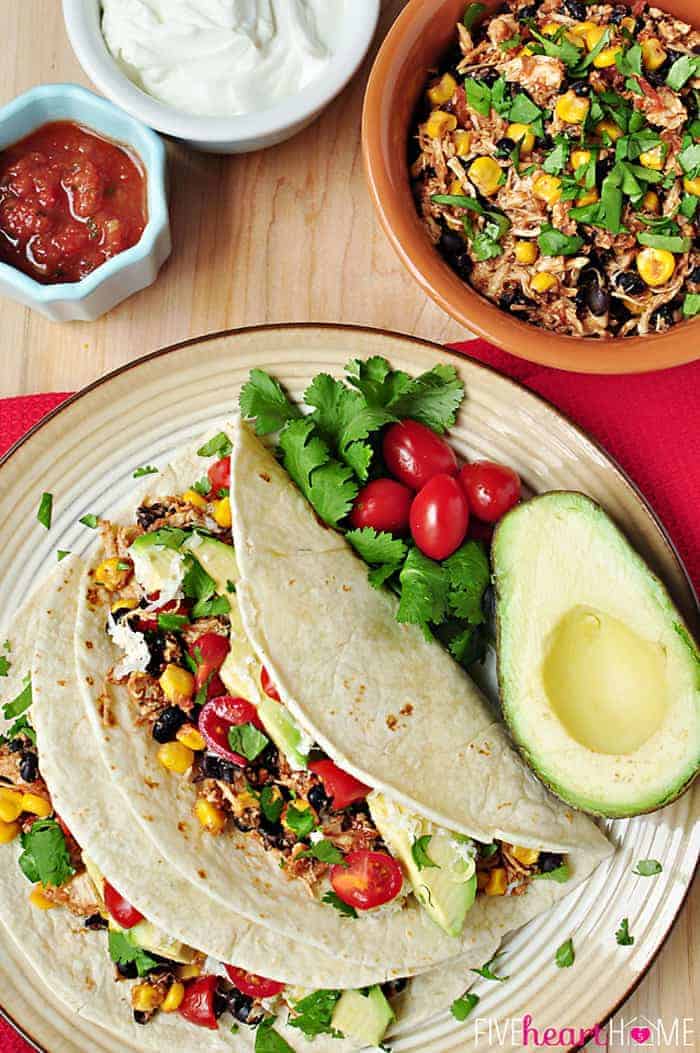 I also have to make sure that my recipes will appeal to three particular kiddos, who are almost 2, 5, and 7. I try to always have easy-to-prep, homemade snacks and breakfasts on hand for them so that I can keep the processed foods I buy to a minimum. A favorite treat of my brood would be these Chewy No-Bake Granola Bars with Coconut Oil. And have I mentioned my love affair with coconut oil? That makes these an even bigger winner in my book.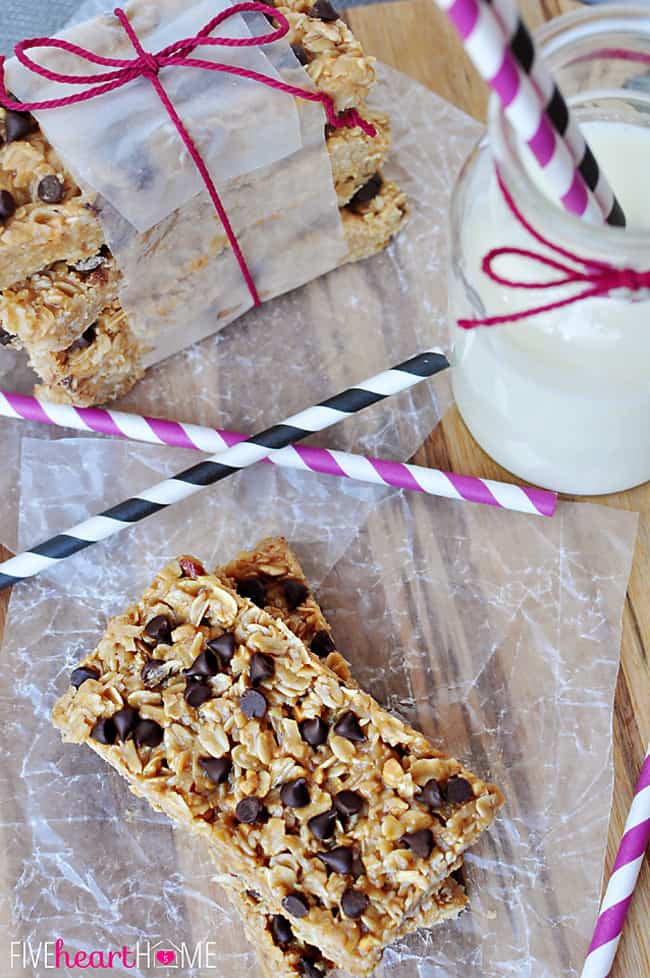 Well, that about wraps it up, y'all. Thanks for sticking with me today! Hopefully you learned a little something new about the gal behind the blog. 😉
The really exciting news is that now you can hop over to the blogs of the other fabulous ladies on the Or So She Says contributor team to see how they answered these same questions! Every single one of these bloggers is amazingly talented with consistently high-quality content. In fact, I'm willing to bet that if you click on the links below, you'll find some new blogs to follow!
Participating Blogs:
Cooking with Ruthie ~ Blissful Roots ~ Lemon Tree Dwelling
Tips for Family Trips ~ Five Heart Home ~ Double the Deliciousness
Nine a Plenty ~ Creative Carmella ~ So Festive! ~ Family Volley
Bits of Everything ~ Kiki & Company ~ Blahnik Baker
Additional Contributors (not in blog hop):
Packed with Fun ~ Darling Darleen ~ Prepared Housewives
Kleinworth & Co. ~  Shopgirl ~ The Connection We Share
And be sure to come back next Monday for a big, awesome GIVEAWAY sponsored by this fabulous group of bloggers! I'll give you a little hint…the giveaway is related to question #8 above, and it's huge!!! For an even bigger hint, the giveaway includes of a bunch of our hand-selected favorite books for the winner to read on his/her relaxing California vacation from Get Away Today! Ooops…guess I let the cat out of the bag. 😉 At any rate, I promise…YOU DON'T WANT TO MISS IT!
Have a great week, friends!