Greek 7-Layer Dip is a Mediterranean spin on the beloved, classic recipe, with layers of hummus, dill-infused Greek yogurt, tomatoes, cucumbers, black olives, red onion, and feta cheese!

7-Layer Dip is one of those quintessential party recipes that's easy to make, familiar to most people, and guaranteed to be a hit. But since most of us already have a recipe or twelve for the classic, Mexican-inspired version of 7-Layer Dip, I decided to swap out Mediterranean ingredients for a new twist on a beloved classic!
Just like the original, Greek 7-Layer Dip starts with a layer of mashed beans. But here's where I give you options!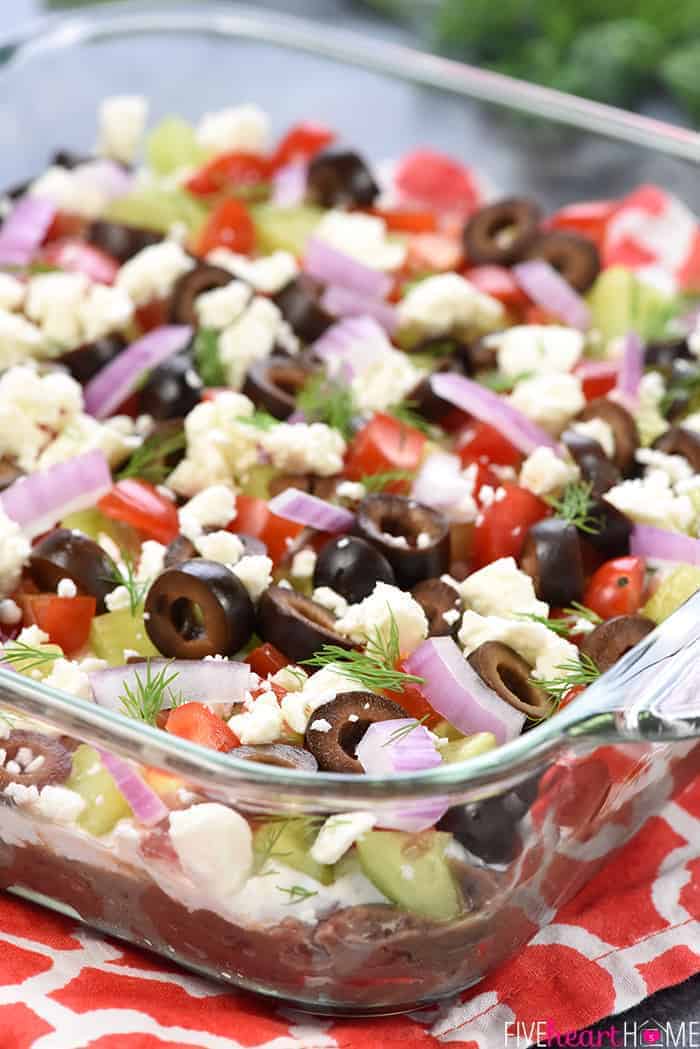 The obvious route would be to use a layer of Greek-lovin' hummus — either store-bought or homemade. However, when I recently wanted to make this dip, I quickly realized that I was out of chickpeas. I did have a can of refried black beans on hand, so I seasoned them with garlic powder and a few dried herbs instead. The result was different than using hummus but just as tasty! Black beans are what you see pictured in today's post, but know that you are definitely welcome to use hummus if you prefer.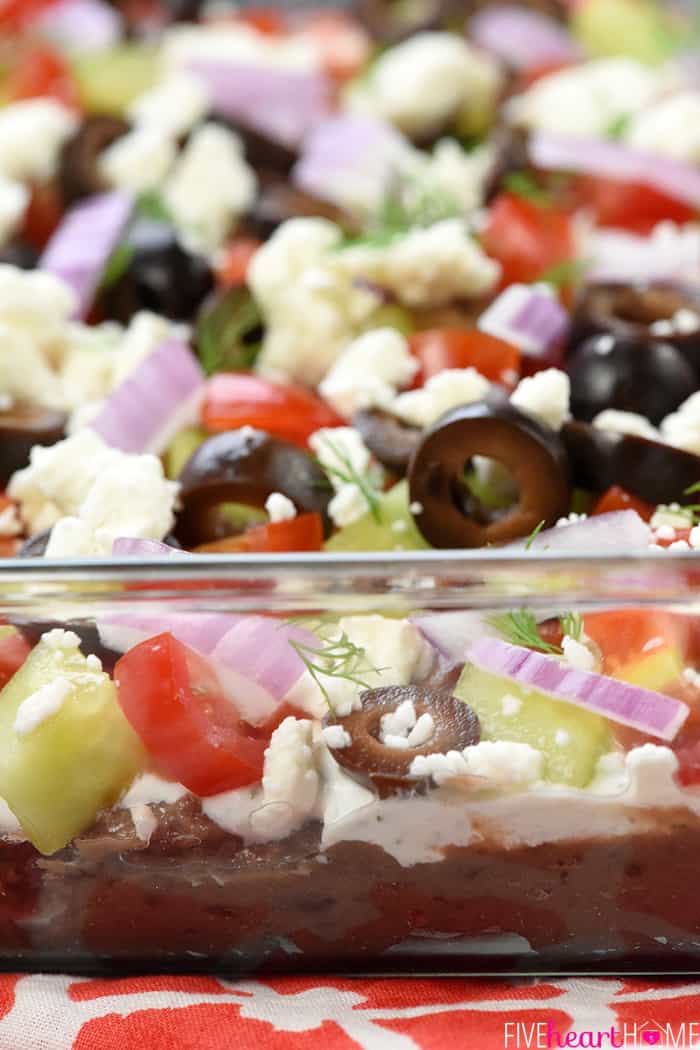 The next layer of 7-Layer Dip is typically creamy. Instead of traditional sour cream, I borrowed inspiration from my Dreamy Dill Dip and mixed equal amounts of sour cream and Greek yogurt, plus fresh dill, garlic salt, and apple cider vinegar.
Then come the veggies…chopped tomatoes, diced cucumbers, sliced black or Kalamata olives, and minced red onion*! Keep in mind, however, that tomatoes and cucumbers both release a lot of water. So I like to assemble the first two layers of my dip, cover the dish, and allow it to chill in the fridge. I chop or dice my veggies at this point and then refrigerate those as well if it's going to be awhile before serving.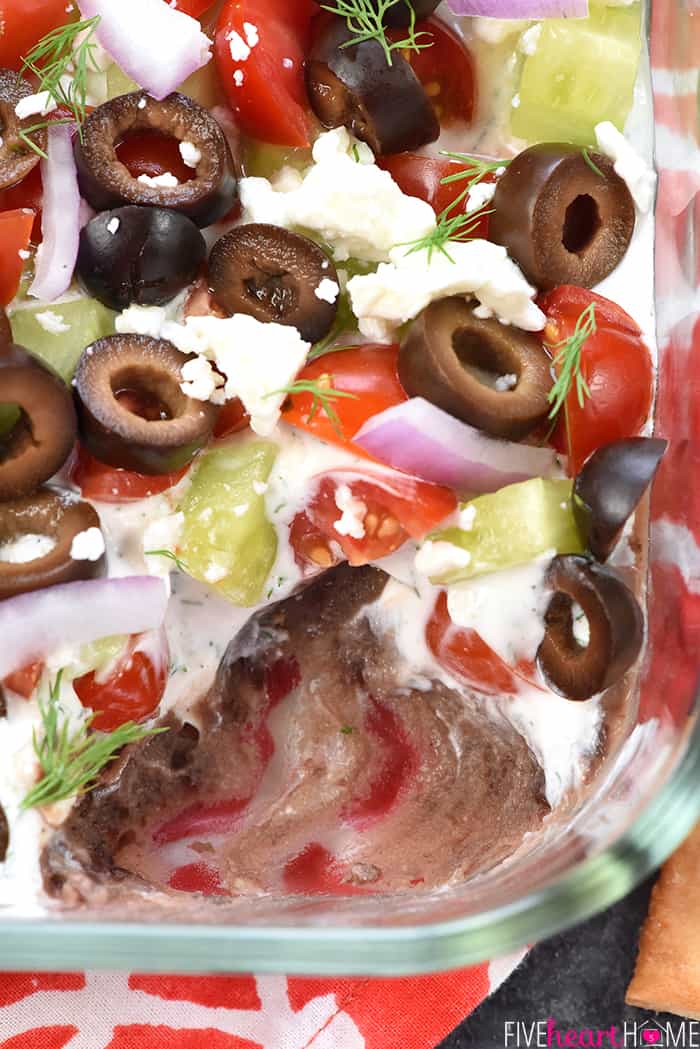 Then, just before serving, I discard any liquid that has drained off the tomatoes and cucumbers before layering the rest of the dip. This prevents that water from leaking all over the top of the dip after it's been sitting for awhile, and it also reduces the chance that any leftovers will turn into a watery mess.
For the final layer, I sprinkle crumbled feta cheese on top, and perhaps a few sprigs of dill as garnish. And then it's time to dig in! You can use store-bought pita chips, homemade pita wedges, or raw veggies.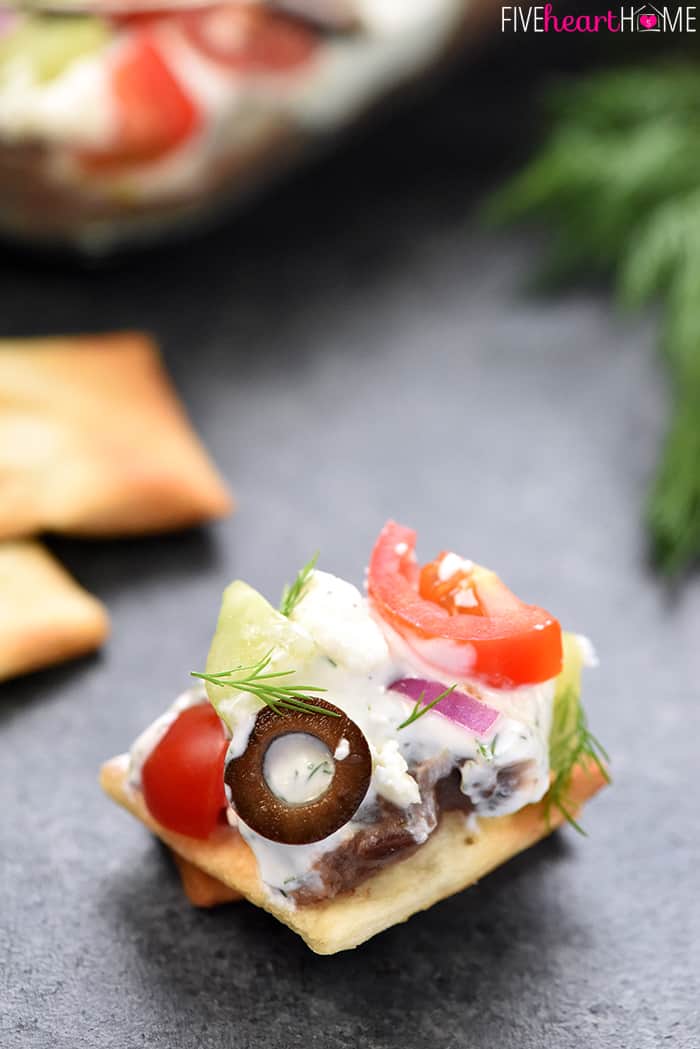 I think cool and refreshing Greek 7-Layer Dip would make a fabulous appetizer for a cookout or a delicious poolside snack. It's got elements that are both crunchy and creamy, and it's bursting with an array of Mediterranean flavors. It's so, so yummy, y'all…it would be the perfect addition to your Memorial Day or 4th of July spread, and it would be a hit at any summer celebration or get-together. Opa!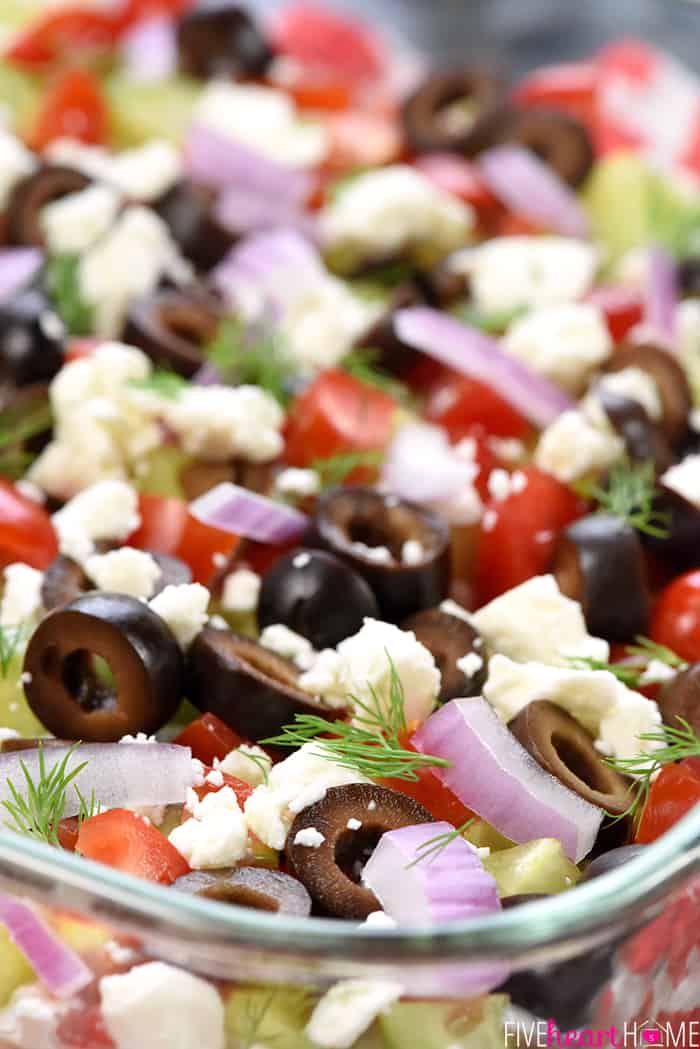 *KEEPING IT REAL ALERT: As someone who abhors raw onions, you may notice that I sliced them in significantly larger pieces and used less than called for (for photography purposes only, mind you) so that they'd be easy for me to pick off later. Yep, my preferred Greek 7-Layer Dip actually only has SIX layers. I did save back some minced red onions (in a triple layer of sandwich baggies) in the fridge so that my onion-loving family members could add them to their portions of dip without tainting the whole recipe with vile onion fumes. Fist bump for my fellow onion haters… 😉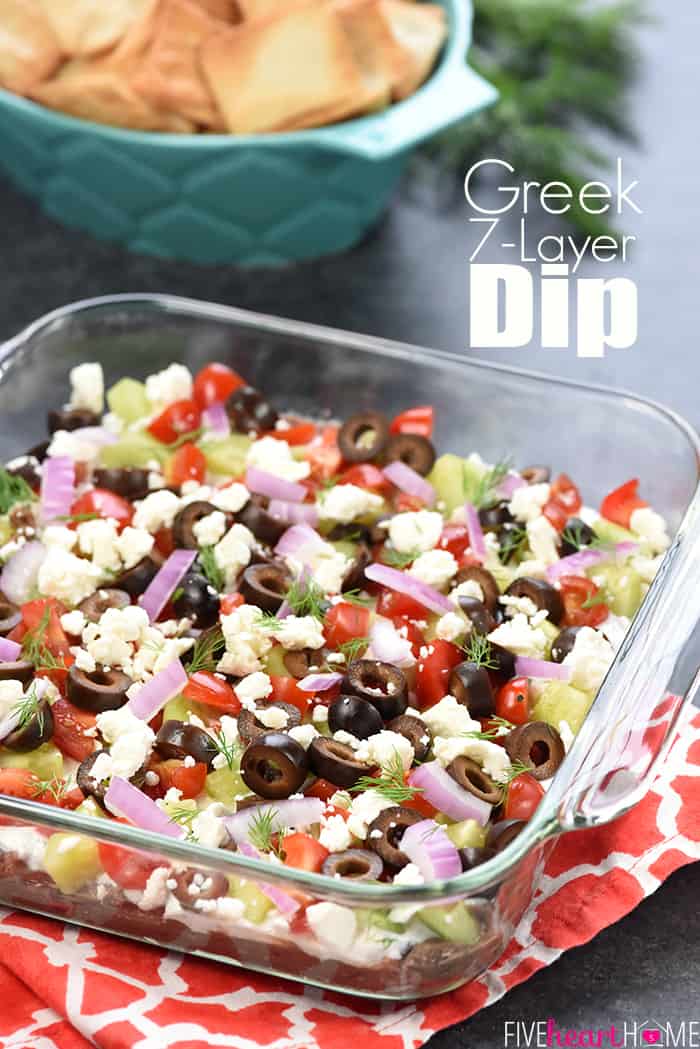 Greek 7-Layer Dip is a Mediterranean spin on the beloved, classic recipe, with layers of hummus, dill-infused Greek yogurt, tomatoes, cucumbers, black olives, red onion, and feta cheese!
Ingredients
Layer 1:

1 (15-ounce) can refried black beans
1/2 teaspoon garlic powder
1/4 teaspoon dried oregano
1/8 teaspoon dried basil
1/8 teaspoon dried thyme
Salt & freshly ground black pepper, to taste
~OR~

1 1/2 cups hummus (store-bought or homemade)
Layer 2:

1/2 cup Greek yogurt
1/2 cup sour cream
2 tablespoons fresh minced dill
1/2 tablespoon apple cider vinegar
1/2 teaspoon garlic salt, plus more to taste if desired
Freshly ground black pepper, to taste
Layers 3-7:

3/4 cup chopped tomato
3/4 cup chopped cucumber
1/2 cup sliced/chopped Kalamata olives (OR a drained, 2.25-ounce can of sliced black olives)
1 to 2 tablespoons minced red onion
1/4 cup crumbled feta cheese
Sprigs of fresh dill, for garnish (optional)
Pita chips, Homemade Pita Wedges, and/or raw veggies, for dipping
Instructions
In a bowl, mix together the refried black beans, garlic powder, oregano, basil, thyme, salt, and pepper until well blended. Evenly spread the black bean mixture (or hummus, if using that instead) in the bottom of an 8- by 8-inch dish.
In another bowl, mix together the Greek yogurt, sour cream, fresh minced dill, apple cider vinegar, garlic salt, and pepper. Evenly spread over the black bean/hummus layer.
Cover and refrigerate for several hours to allow flavors to meld. In the meantime, chop the tomatoes, cucumber, olives, and red onion. Store in separate bowls or baggies and refrigerate until ready to serve the dip.
Just before serving the dip, transfer the tomatoes to a colander and drain well, then sprinkle them over the Greek yogurt/dill layer. Repeat this step with the cucumbers, making sure that as much water as possible has been drained away from them. Sprinkle the sliced olives, the diced red onion, and finally the crumbled feta cheese over the dip. Garnish with sprigs of fresh dill, if desired, and serve immediately with pita chips, homemade pita wedges, or raw veggies. Cover and refrigerate any leftovers.
Notes
I used about 1/2 of an English cucumber to yield 3/4 cup. If using a regular cucumber, you'll want to slice it lengthwise and scoop out the seeds with a spoon before chopping. You may also wish to sprinkle your chopped cucumbers with a little bit of salt to draw even more water out of them before popping them in the fridge to drain.
https://www.fivehearthome.com/greek-7-layer-dip/
https://fivehearthome.com ~ All recipes and images on Five Heart Home are copyright protected. Please do not use without my permission. If you would like to feature this recipe, please rewrite the directions in your own words and give proper attribution by linking back to this blog.
♥More delicious dips…

Creamy Jalapeño Dip {Chuy's copycat recipe}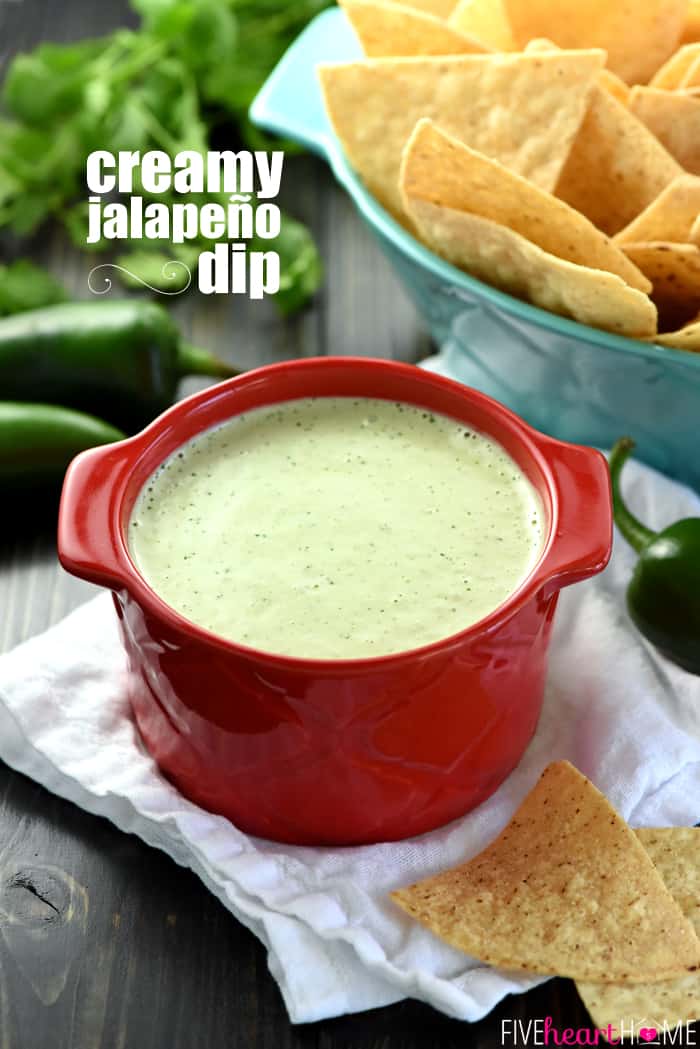 Tex-Mex Fresh Corn Dip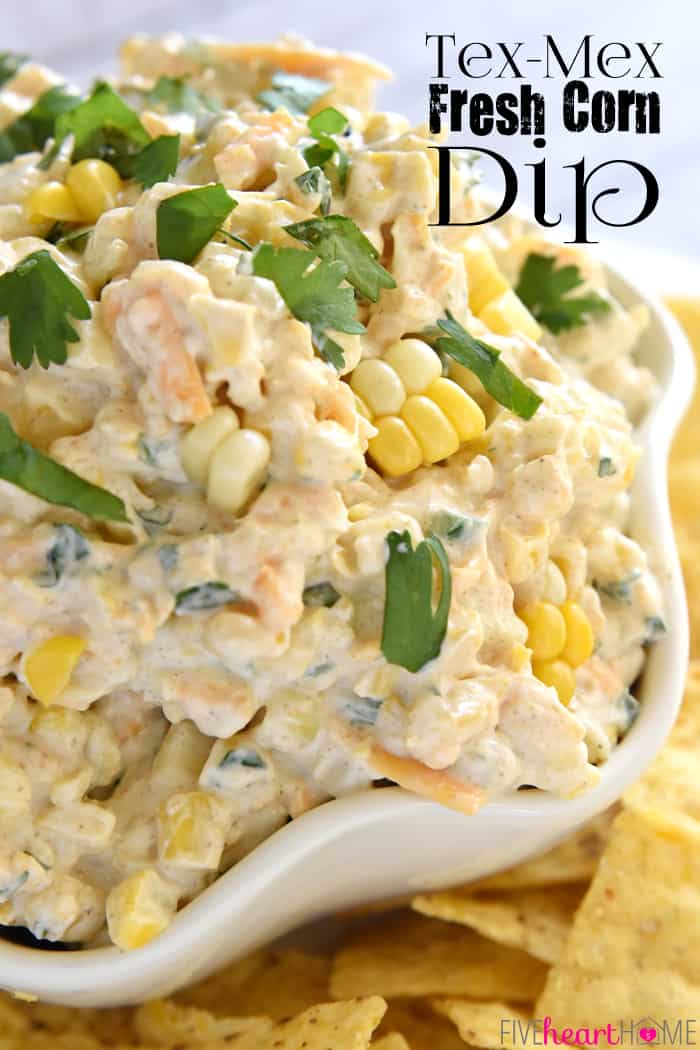 White Bean Dip with Jalapeño & Cilantro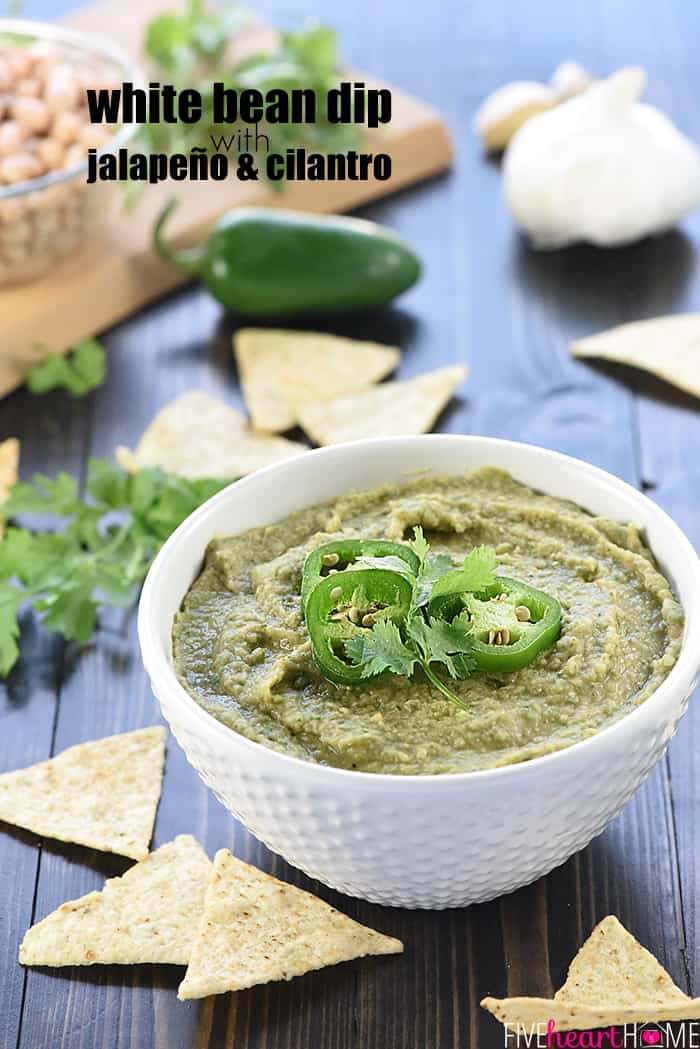 S'mores Dip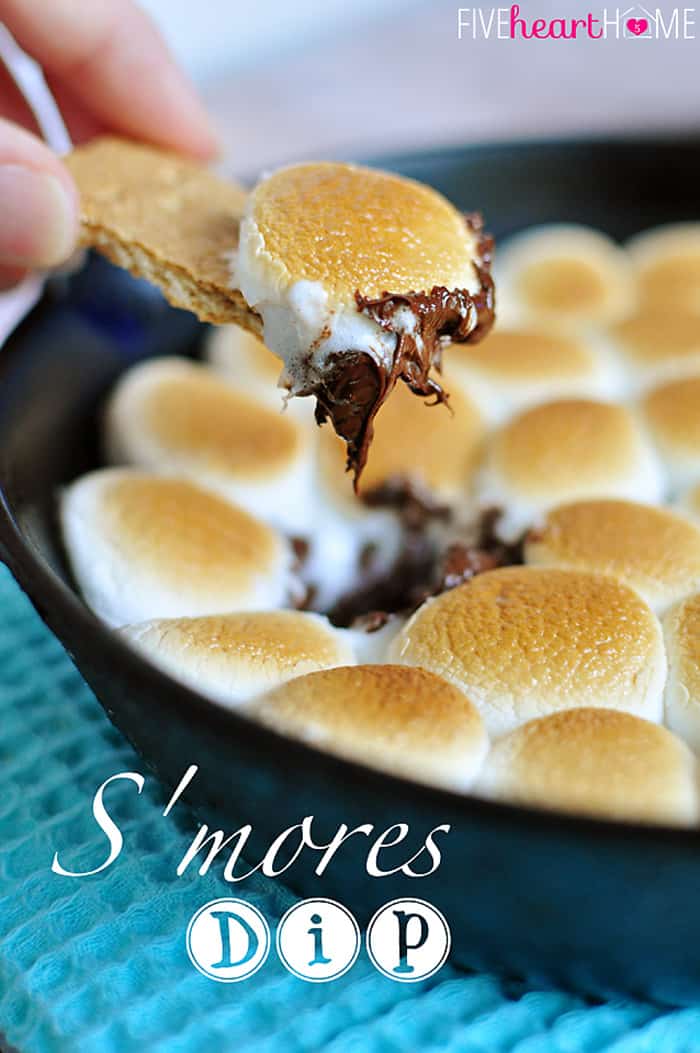 Save
Save
12