There's not much you can do to improve upon fresh corn on the cob. But if you felt up to the challenge, might I suggest grilling it (or oven-roasting it!) and then melting herb-studded butter and Parmesan cheese over the top?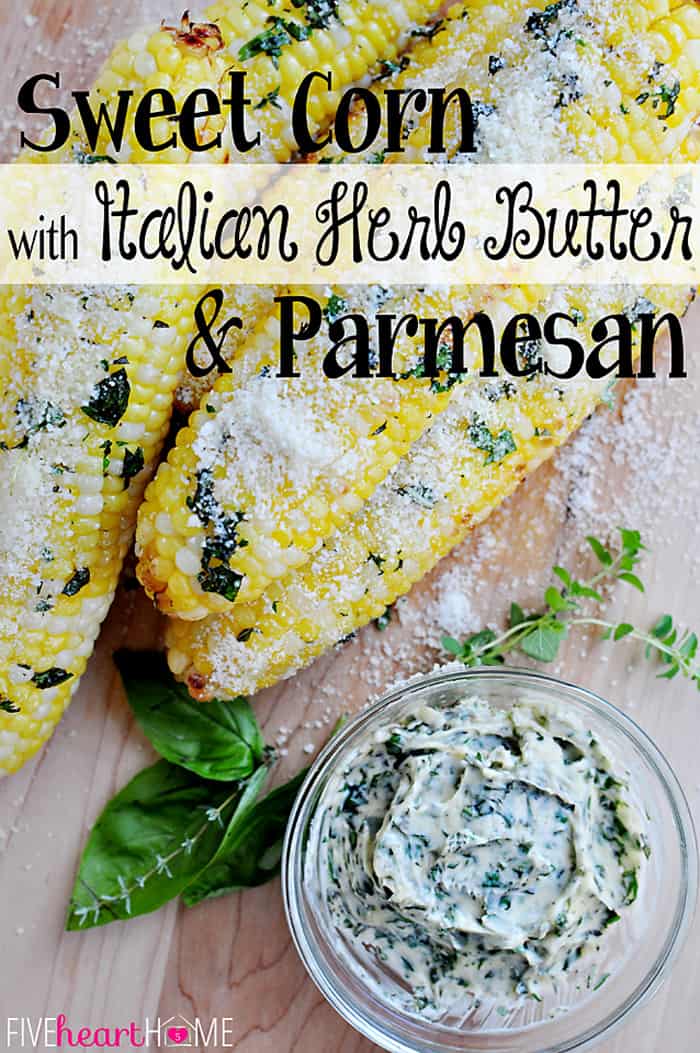 Last weekend my in-laws bought a bunch of fresh sweet corn from a roadside produce stand and were kind enough to share some with us. We already had plans to grill chicken for dinner that night, which I was thinking we'd Caprese up with some melted mozzarella, sliced tomatoes, and fresh basil. So I decided it might be tasty to give our corn on the cob some Italian flair as well!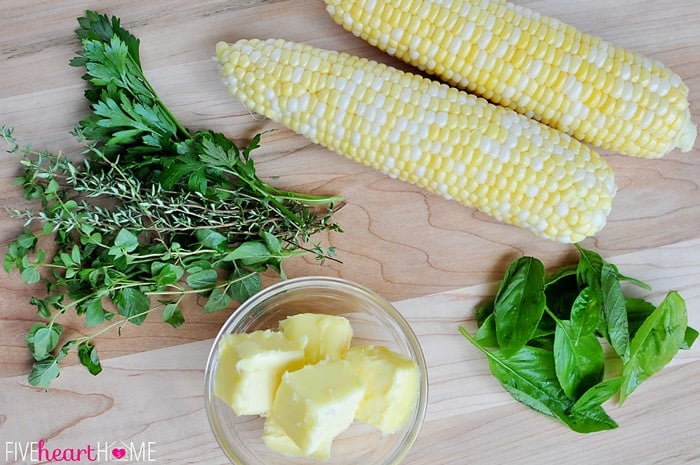 Sadly, the cilantro in my herb garden is dying back from the heat, but my other herbs are still going strong and I'm always trying to come up with ways to make use of them. That's why I decided to use a combination of basil, oregano, parsley, and thyme in this herb butter.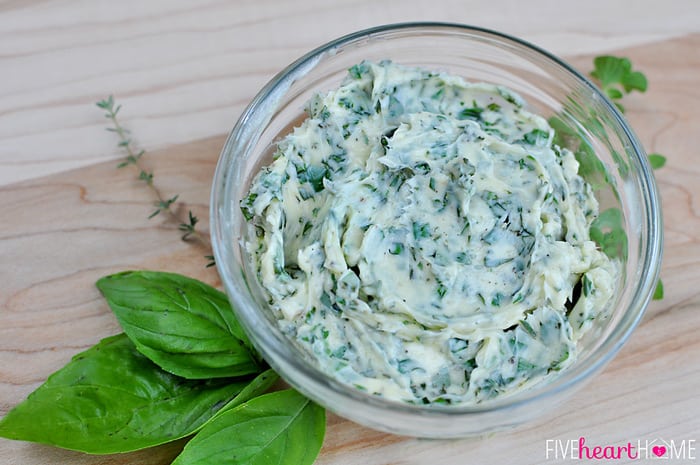 In this case, minimal effort resulted in maximum flavor. The sweet corn tasted even sweeter in contrast to the salty butter and Parmesan cheese, and the combination of Italian herbs perfectly complemented our Caprese chicken sandwiches. As an added bonus, the corn sure looked purty all dressed up like that.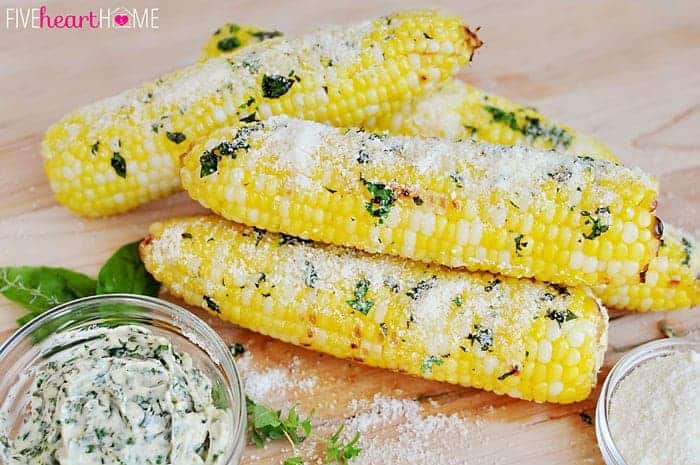 You could easily switch out these herbs for your favorites, and even try a different cheese. Dill + feta, cilantro + cotija…the possibilities are endless. I think the next time I make herb butter, I might even toss in some finely minced garlic…mmmm. Have fun experimenting, and come back and let me know if you come up with a combination worth sharing!
Grilled Sweet Corn with Italian Herb Butter & Parmesan Cheese
Fresh sweet corn on the cob is grilled, slathered with an Italian herb butter, and topped with Parmesan cheese.
Ingredients
4 ears fresh corn on the cob
4 tablespoons salted butter, softened
1/2 tablespoon minced fresh basil
1/2 tablespoon minced fresh oregano
1/2 tablespoon minced fresh parsley
1/2 tablespoon minced fresh thyme
Freshly ground black pepper
Instructions
To grill corn in husks:

Leave ears in husks, trim silk off the top, and soak in cold water for 30 minutes. Shake off water and grill for 25 to 30 minutes over direct medium heat, turning every five minutes or so.
To grill husked corn:

Remove husks and silk and brush with a little olive oil or melted butter. Grill over direct medium heat for 10 to 12 minutes, turning every few minutes.
To grill corn in foil:

Remove husks and silk. Place each ear of corn on a square of foil and wrap tightly. Grill over direct medium heat for 15 to 20 minutes, turning every few minutes. Unwrap carefully as the steam will be very hot!
To make herb butter:

Mix chopped herbs into softened butter. Season with pepper, to taste. Stir until butter is smooth and well combined. (Alternatively, you may place herbs, softened butter, and pepper in a food processor to chop and mix.) Spread herb butter over hot corn and serve immediately.
Notes
If you use the grilling in foil method, you may opt to spread some butter on the corn before wrapping it tightly in foil (so that the butter doesn't leak out).
Instead of grilling, you may cook corn by bringing a large pot of water to a boil, adding corn, lowering heat, and simmering for 3 to 5 minutes or until tender.
https://www.fivehearthome.com/grilled-sweet-corn-with-italian-herb-butter-parmesan-cheese/
https://www.fivehearthome.com ~ All recipes and images on Five Heart Home are copyright protected. Please do not use without my permission. If you would like to feature this recipe, please rewrite the directions in your own words and give proper attribution by linking back to this blog.
More delicious corn recipes…
Corn, Tomato, & Avocado Salad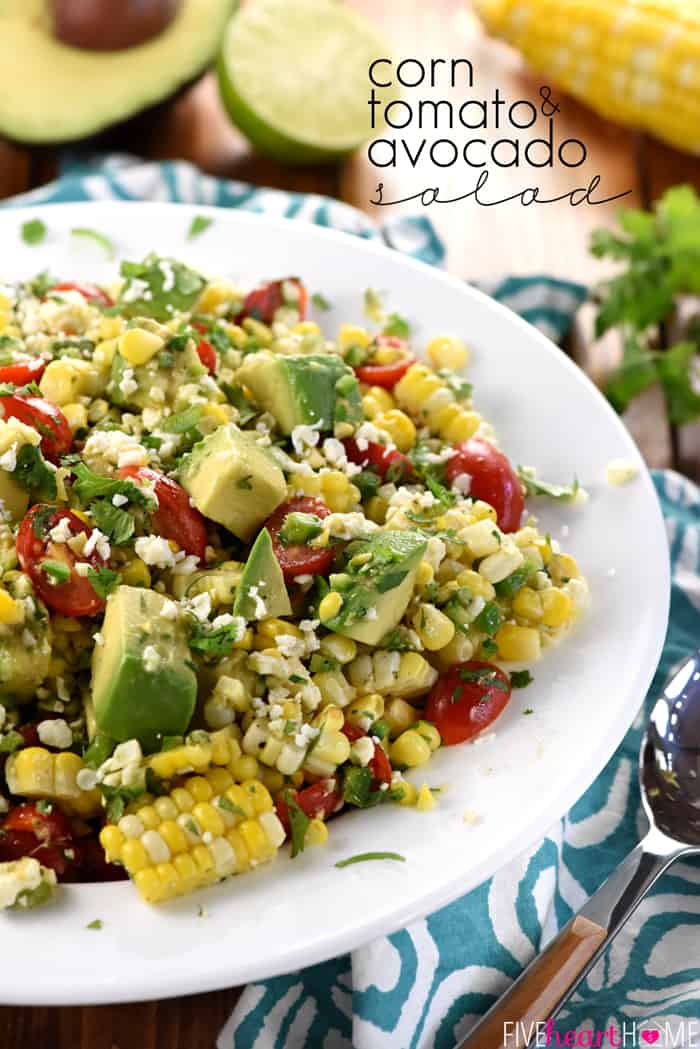 Tortellini Pasta Salad with Tomatoes, Basil, & Fresh Corn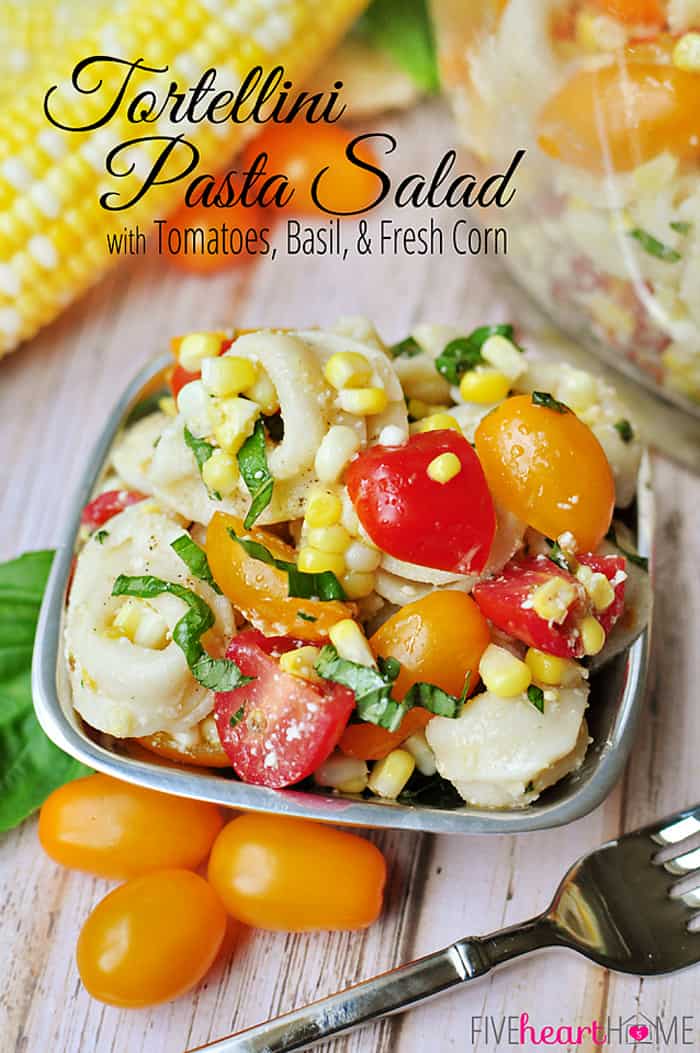 Tex-Mex Fresh Corn Dip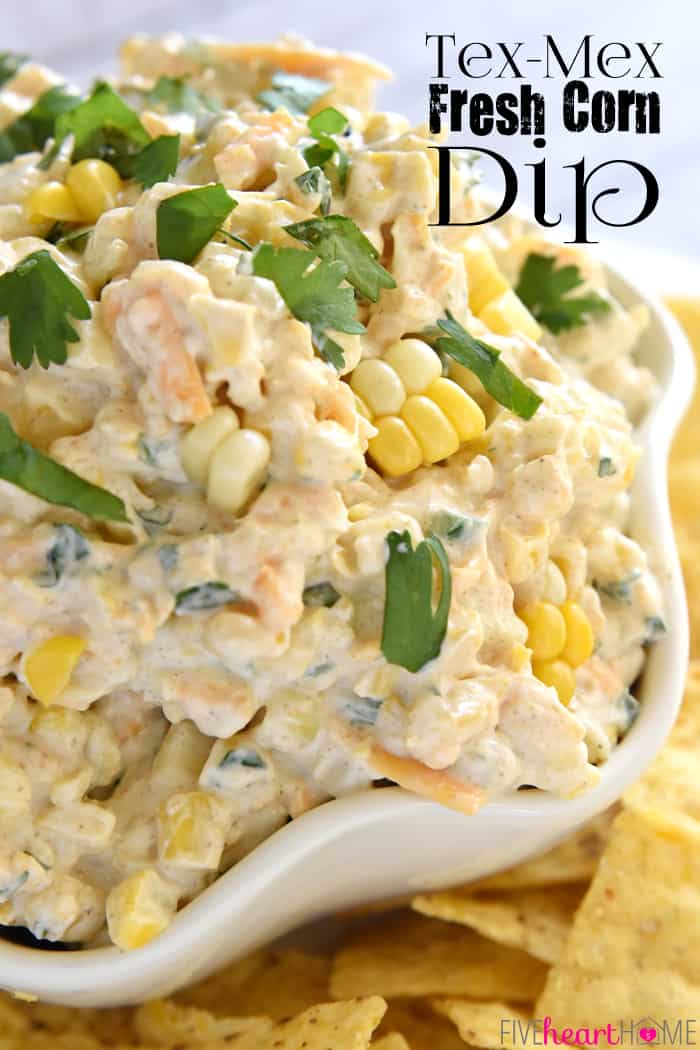 Fiesta Pasta Salad