Halloween Cookie Pops start with Nutter Butters, Oreos, chocolate coating, candy eyes, and sprinkles to create adorable bats and mummies!

I always enjoy creating cute, sweet, holiday-themed treats for and with my kid and last Christmas, I made some festive cupcake toppers using Nutter Butter sandwich cookies. They were such a hit that it got me brainstorming which Halloween characters I could bring to life using Nutter Butters. The first ideas that popped into my head were bats and mummies, and I have to say…I just love the way these Halloween Cookie Pops turned out!
Have you experimented with Nutter Butters before? Their hourglass shape lends itself to so many fun creations! Not only are these cookie pops cute, but they're simple to make. The hardest part is placing the sprinkles for the bat mouth and fangs, but I have a trick to make that a little easier. Read on… 😉
So I think the best way to illustrate this "recipe" is to walk y'all through some pictures of the process. These Halloween Cookie Pops don't require a recipe as much as a succession of steps!
If you have candy coating or candy melts, that makes this recipe really easy. If you don't, however, no worries…you can also use melted chocolate chips with a little bit of vegetable shortening stirred in, which helps the chocolate set and harden.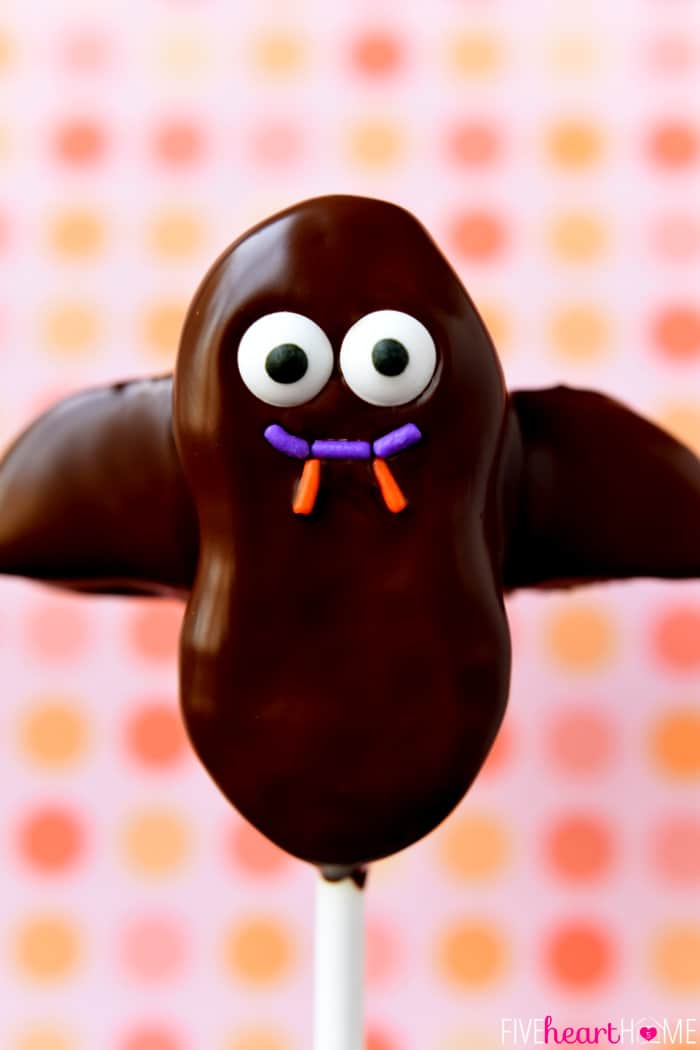 I found Vanilla Candiquick at the grocery store to use for my mummies, but there wasn't a chocolate equivalent. So for the bats, I used a heaping tablespoon of vegetable shortening stirred into every 1 cup of semi-sweet chocolate chips. I just put the chips and shortening in a glass bowl and microwaved for 30 seconds at a time, stirring well in between each interval, until the chocolate was melted and smooth. (For the vanilla candy coating, I followed the melting directions on the package.)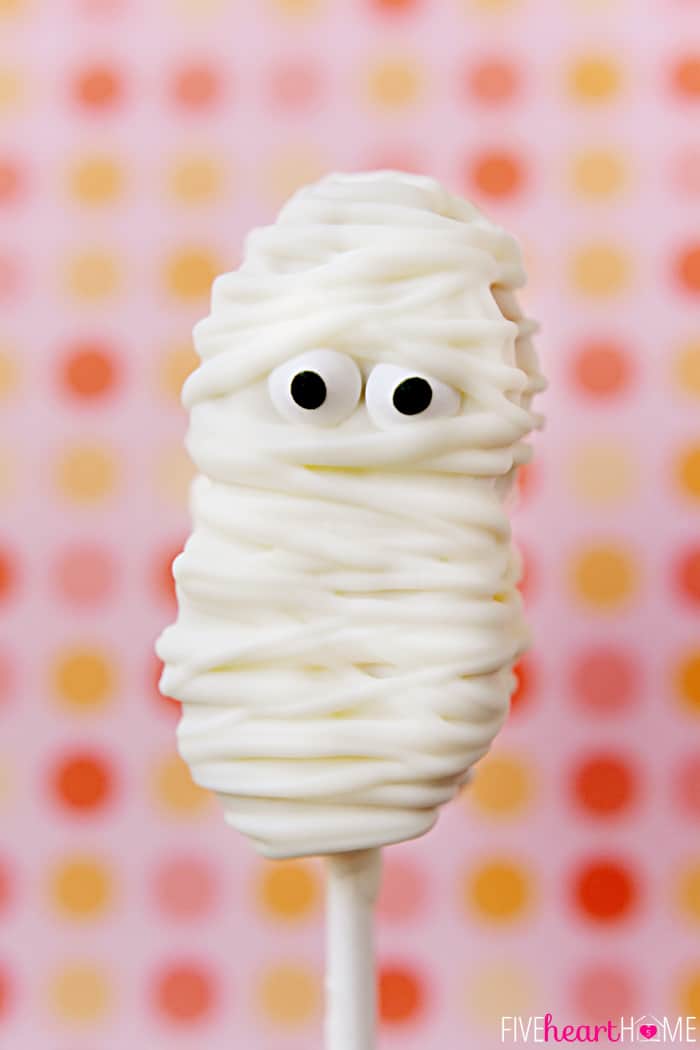 Once the chocolate was melted, I took apart the Nutter Butter cookies, pressed a lollipop or cookie pop stick in the center of the filling, and spread a bit of melted chocolate on top. Then I placed the top back on the cookie, made sure it was adhered to the melted chocolate, and let it rest for several minutes until completely hardened and set. Make sure you give it enough time…the last thing you want is for your cookie to fall off the stick when you're trying to dip it!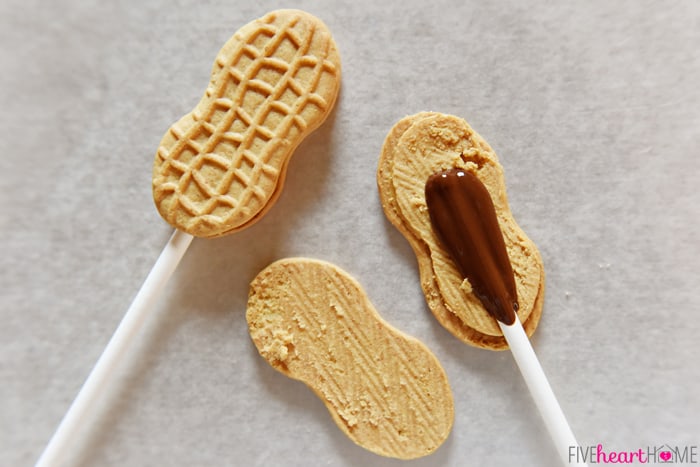 While the cookies are drying, take apart some Oreos (or your favorite round sandwich cookies),  scrape off the filling (nobody has to be privy to how you inhale it dispose of it), and use a sharp knife to cut them in half. You may have some breakage, in which case you will have to take one for the team and eat the sad, imperfect pieces. So sorry…it's a tough job, but somebody's got to do it.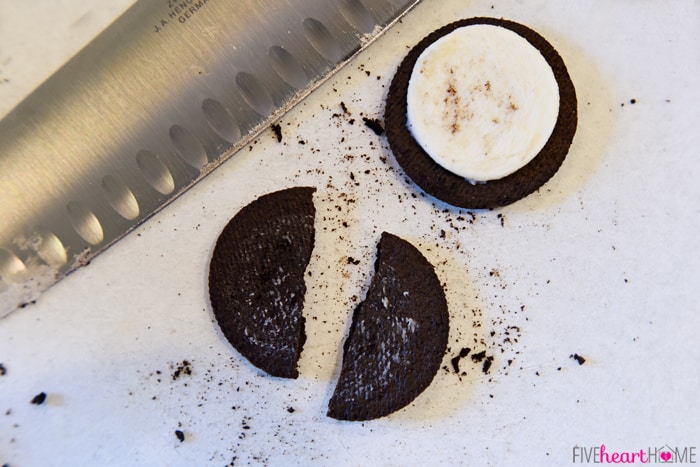 Take your Oreo halves and use a fork to dip them in the melted chocolate, allowing as much chocolate as possible to drain between the tines back into the bowl.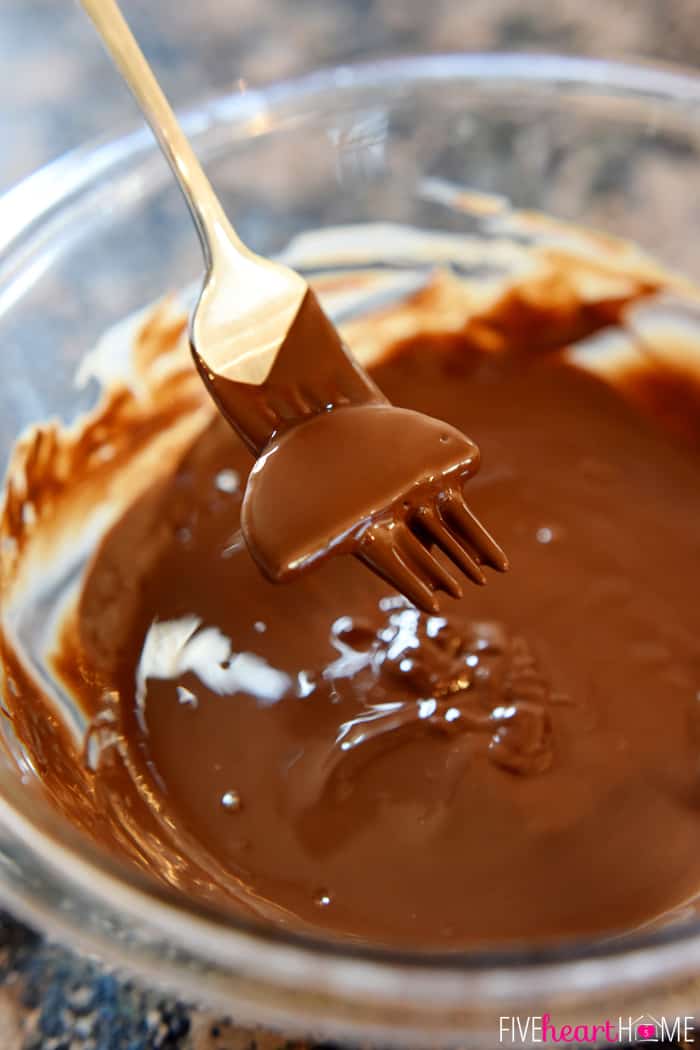 Arrange your chocolate-dipped Oreo halves in pairs on a wax paper or parchment paper-lined baking sheet, so that the corners touch and the flat bottom edges are aligned.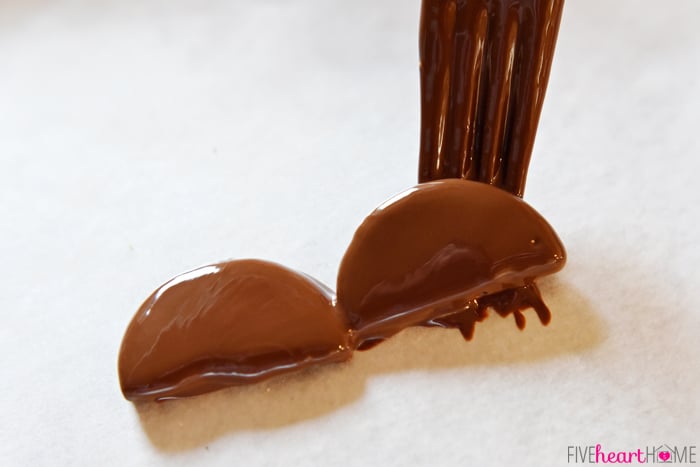 Once your cookies-on-a-stick are set, dip those in the melted chocolate as well, using a spoon to cover any bare spots. (If your bowl of melted chocolate starts to thicken or harden at any point, you can zap it in the microwave for an additional 30 seconds and stir again.)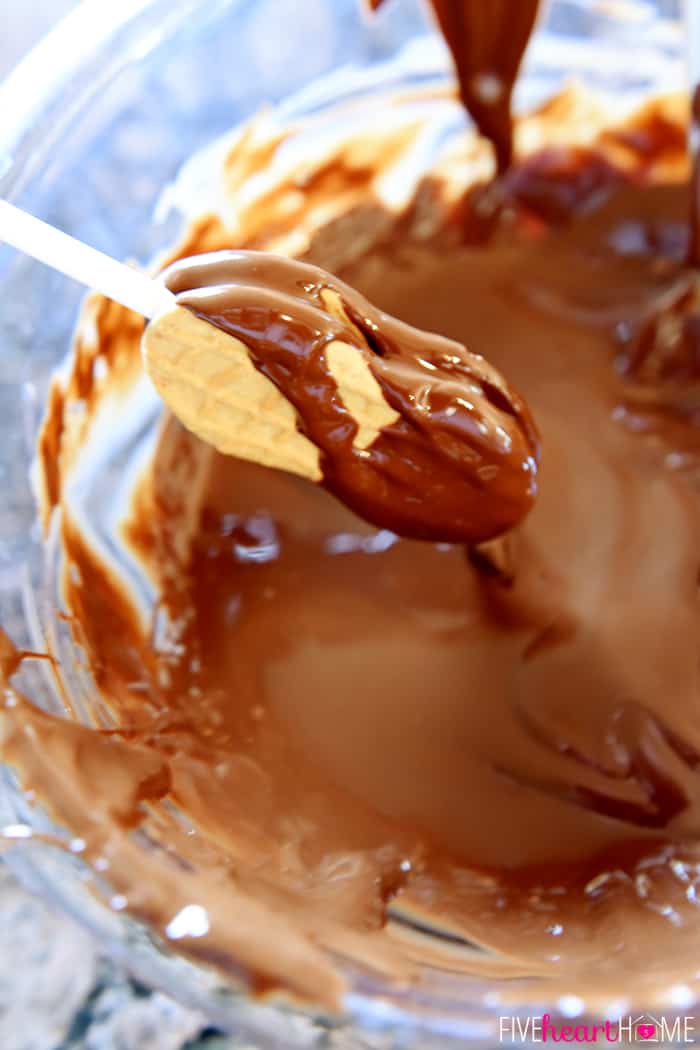 Take your dipped Nutter Butter (the bat's body) and lay it on top of your dipped Oreo halves (the bat's wings). I use a broken Oreo piece (assuming there are any left — ahem) to prop up the bottom of the stick so that the Nutter Butter can lay flush on the Oreos while the chocolate sets.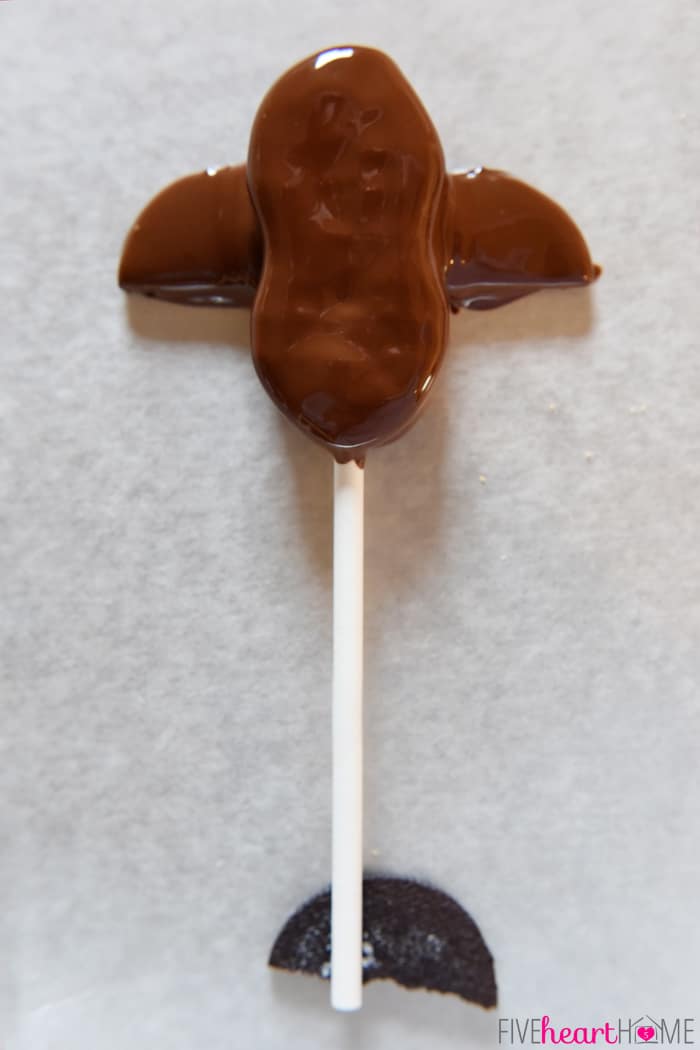 While the chocolate is still wet, place candy eyes on the bat's face. Then put a teensy bit of vegetable shortening on the tip of a toothpick and use it to pick up individual sprinkles.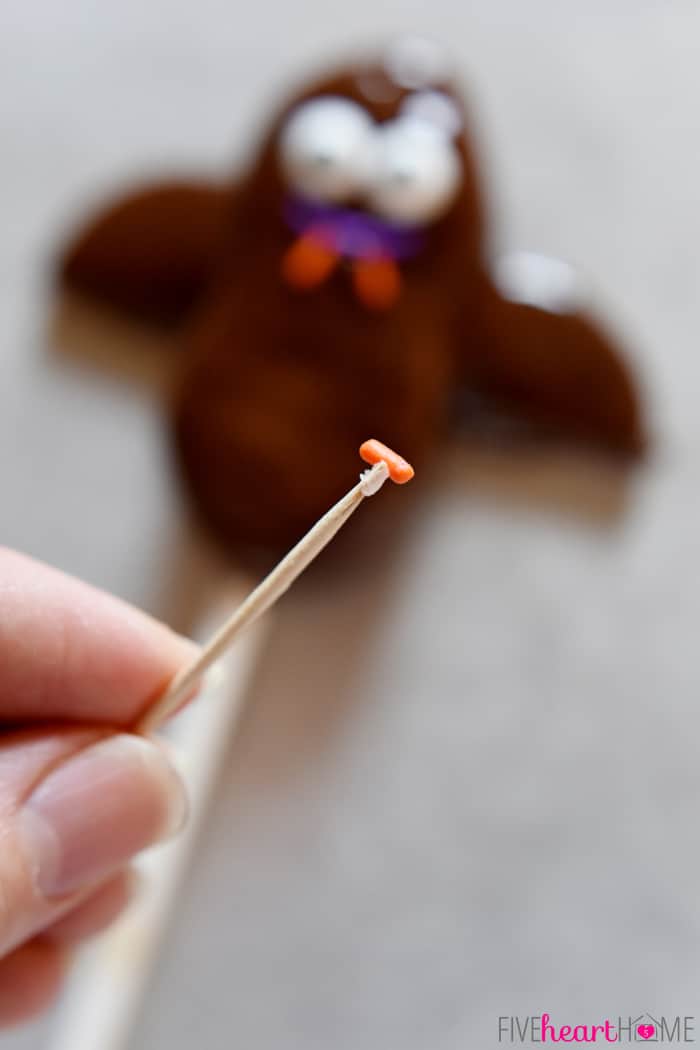 Arrange the sprinkles into a little mouth with fangs hanging down. Feel free to get creative here! I used sprinkles that I already had on hand, so depending on what's in your pantry, your cute little bat faces may end up looking slightly different than mine. 😉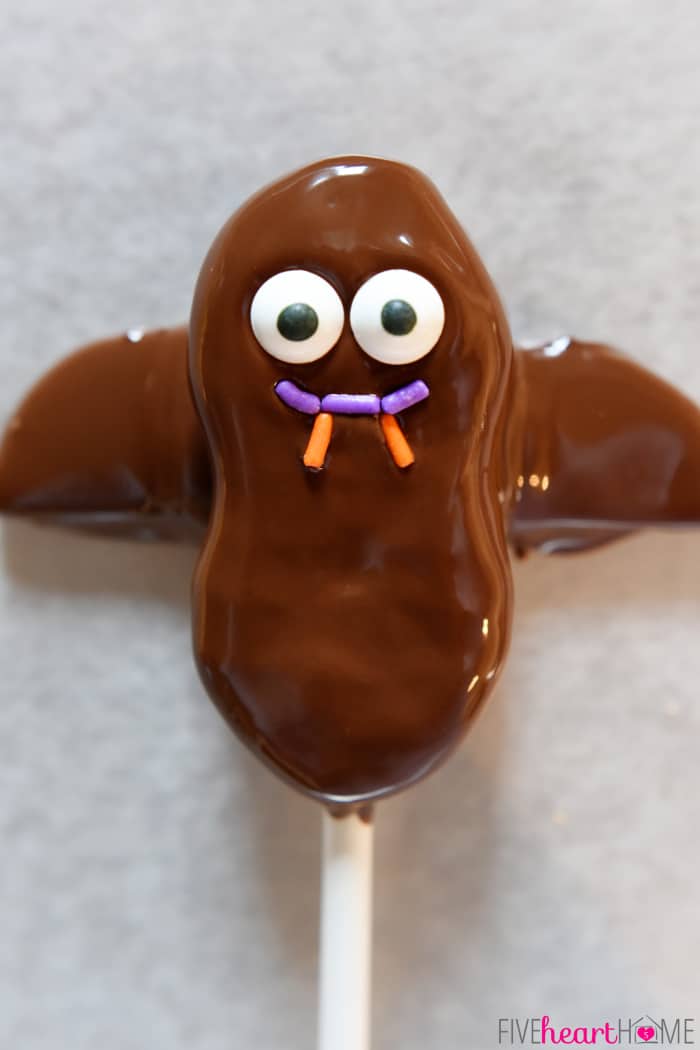 Once your bats are all assembled, give them a nice, long time to dry before you attempt to peel them off of the wax paper.
While your bats are setting, melt your vanilla candy coating in another bowl. Follow the same steps for assembling your cookie pops, allow them to harden, and then dip your Nutter Butters in melted candy coating.
Once you've dipped as many mummy cookie pops as you wish to make, place the candy eyes. Then scrape the remaining vanilla candy coating into a plastic baggie. Twist up the top and cut a teensy hole in the corner of the bag. Drizzle lines back and forth all over your white-dipped Nutter Butters to resemble the bandages of a mummy. Be sure to leave a space for the eyes to peek out!
Allow the cookies to completely dry and harden. When you peel them off of the wax paper, there will likely be a bunch of vanilla candy "strings" extending from every side.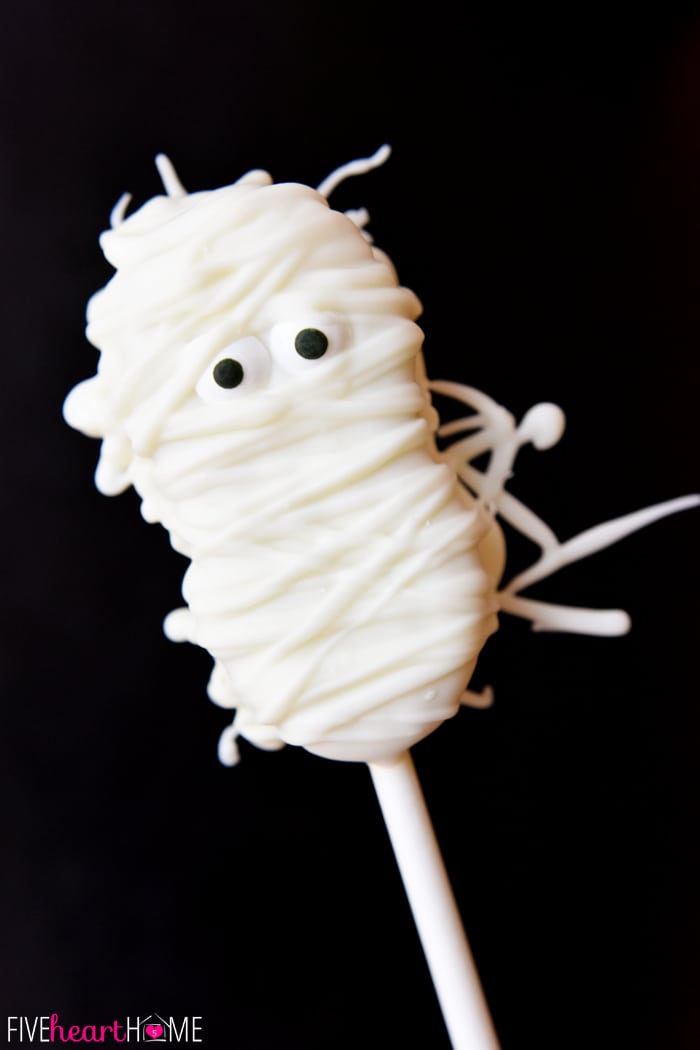 Use a small, sharp knife to cut off any extraneous pieces. Again…if you properly dispose of the evidence, nobody will ever know that they existed. 😉
And that's it! Now you're ready to enjoy a whole arsenal of Halloween Cookie Pops! Make as many as you wish. I found that I could make about 5 bats for every 1 cup of chocolate chips and 5 mummies for every 8 ounces of candy coating. Those are just estimates, but hopefully that will give you some idea of how much melted chocolate you'll need depending on how many cookie pops you want to make!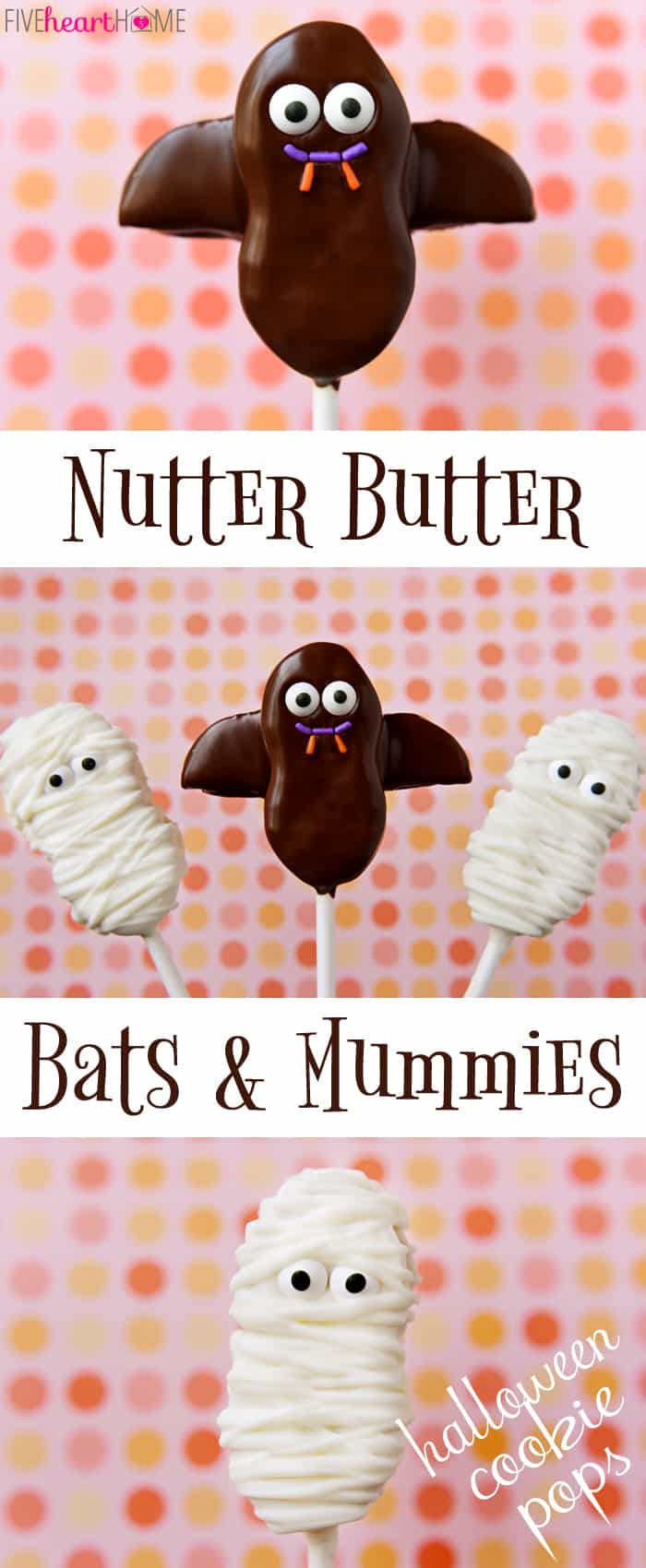 Make these Nutter Butter Bats and Mummies with your kiddos…or surprise you kiddos with them! Serve them at a Halloween party. Wrap the cookie part in cellophane baggies, all lollipop-style, and share them as Halloween treats with classmates or friends. The possibilities are truly endless!
Post originally published on October 10, 2014.
* * * * * * * * * *
More Cute Halloween Treats

Jack-o'-Lantern Stuffed Peppers
Trick or Treat ~ Free Halloween Printable