This healthy Oatmeal Smoothie -- made with ground oats, yogurt, and frozen fruit -- has a thick, creamy texture. Try an oat smoothie in blueberry muffin or peach cobbler flavors, or use your favorite fruit!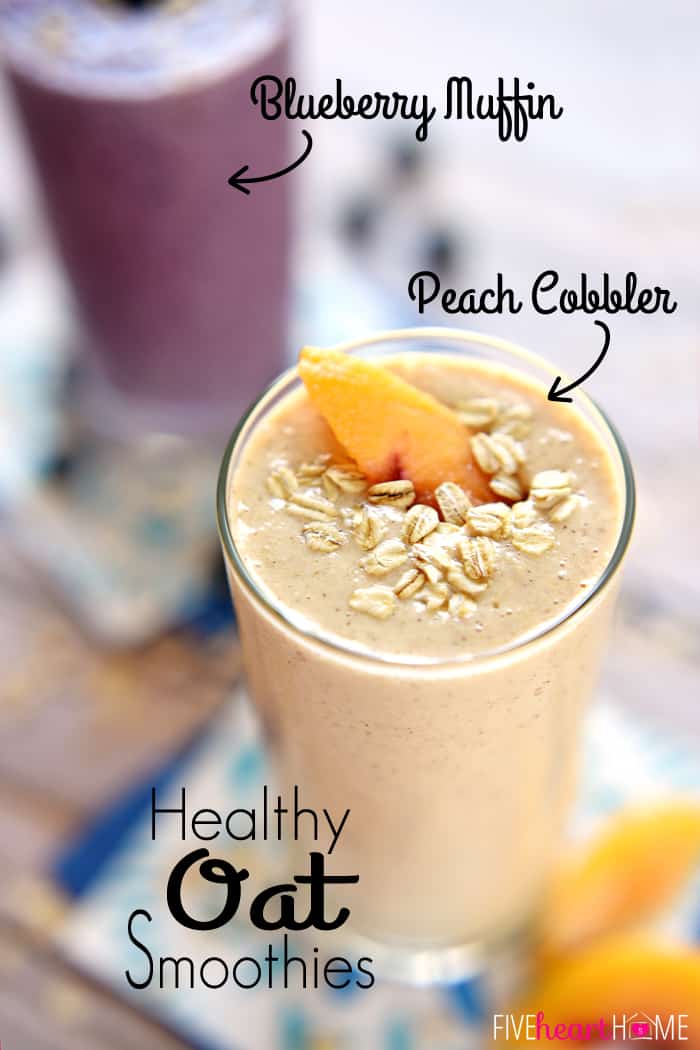 If you enjoy wholesome, delicious, fruity smoothies, you'll also love my Chocolate Banana Smoothie, Pumpkin Pie Smoothie, and Brain-Healthy Blueberry Smoothie!
I recently discovered the most delicious and most filling breakfast smoothie recipe of my life...a healthy Oatmeal Smoothie! I am so excited to share this recipe with y'all. These particular oat smoothies taste just like a blueberry muffin and just like peach cobbler. It's almost eerie, really, how a blended beverage can taste like a baked good, but it does...these do!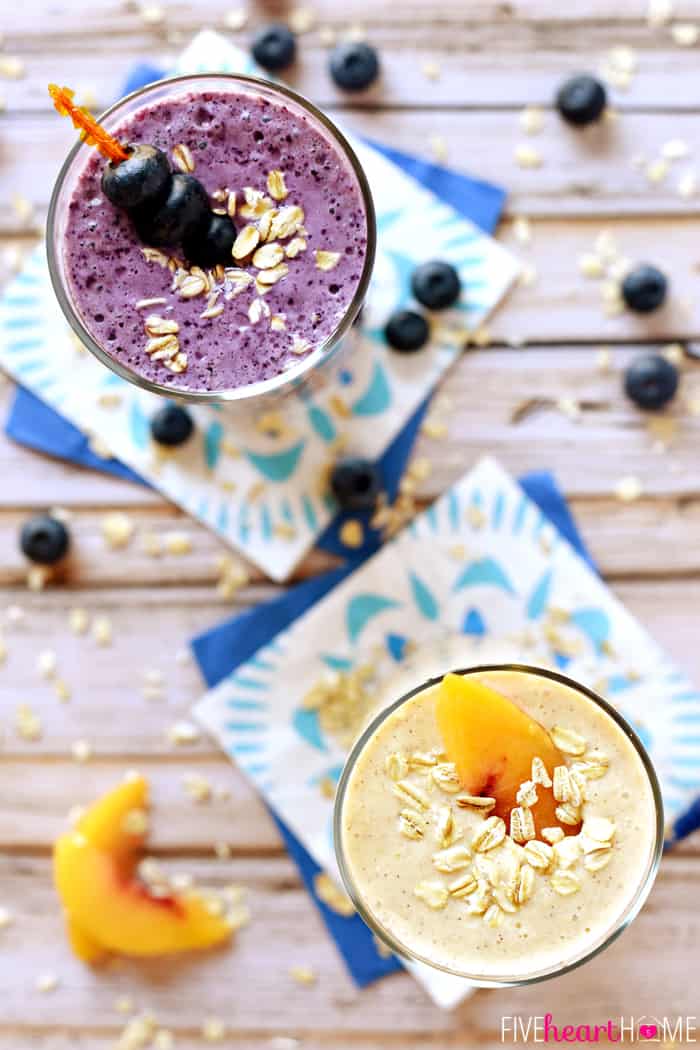 I'd been seeing oatmeal smoothie recipes for a few years now, but I have to admit that I never felt compelled to experiment with adding raw oatmeal to my typical smoothie base of frozen fruit and yogurt.
And then came along my daughter who, at the sweet and compliant age of two, decided that she didn't want to eat anything besides cheese popcorn, cheese sandwiches, cheese quesadillas, peanut butter crackers, and the occasional apple slice. We're talking breakfast, lunch, and dinner here, people. The wide variety of fruits and veggies that she happily ingested as a baby? Well, apparently her tastebuds took a hiatus from those flavors. So until her interest in venturing outside of the beige-to-orange color palette returned, I had to get creative at making sure the stubborn child was not subsisting on carbs and cheese alone.
Enter Oatmeal Smoothies!
You see, most days she would drink a smoothie, so I had the idea of sneaking in some oats, since that seemed a more fitting breakfast than cheese popcorn. And you know what? She fell for it liked it! And actually, so did my older kiddos...and so did I. So I've been making oat smoothies ever since. 🙂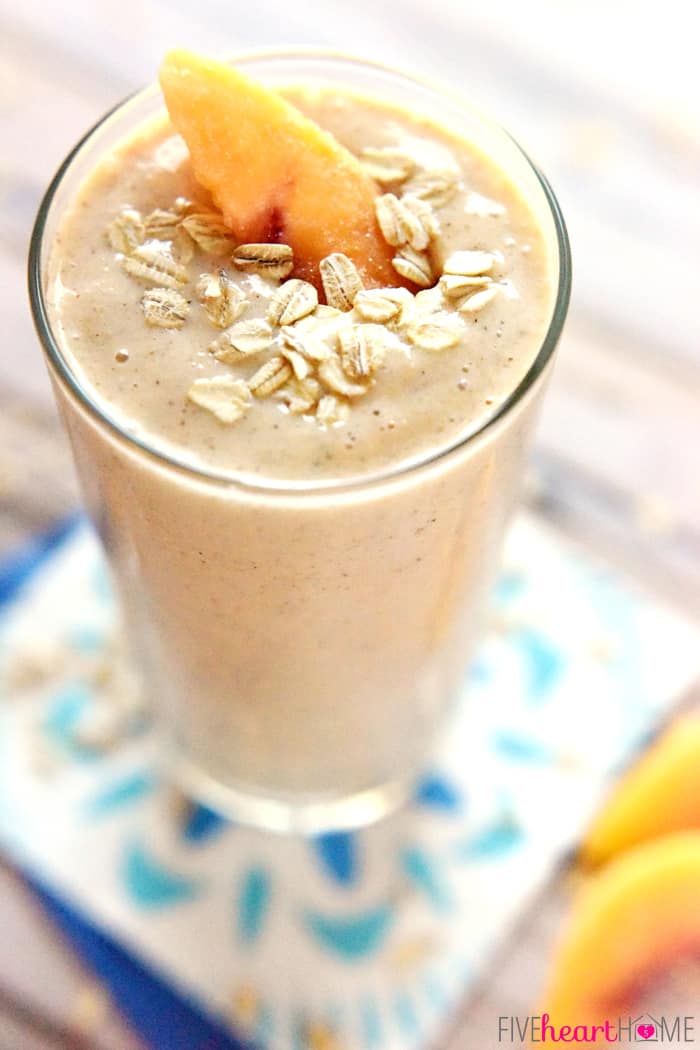 Reasons to Make Oat Smoothies
They're thick and silky and definitely more hearty, keeping you fuller for longer.
Oats boost the fiber, protein, and select vitamins and minerals of a plain fruit smoothie.
And they're yummy! Since the oats lend an undertone like some type of baked good is ground up in there, I've experimented over the years to expand upon those flavors even more!
Ingredients
Just a few basic ingredients are all you need to make a wholesome, delicious Oatmeal Smoothie: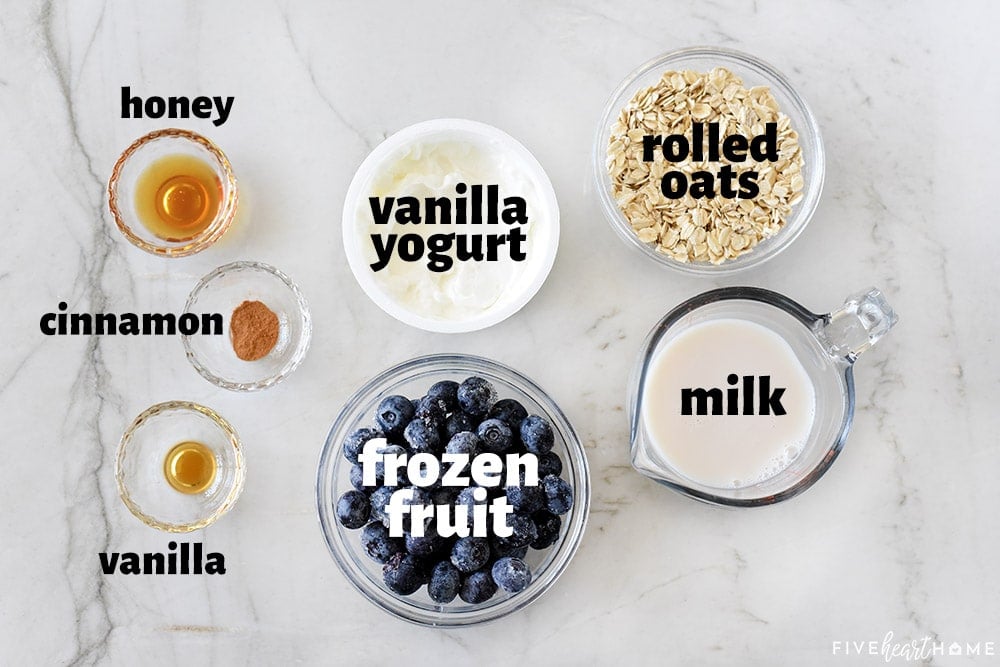 Oats. I typically use regular (old-fashioned) rolled oats. You may certainly use quick oats instead (since they're going to be ground up in your blender either way). Just keep in mind that since quick oats start out finer (and, thus, more of them get packed into a measuring cup than rolled oats), you may want to start with slightly less than the ½ cup called for in this recipe.
Frozen fruit. Blueberries and peaches are highlighted in this recipe, but you can certainly experiment with your favorite frozen fruit. And feel free to scroll down a bit and check out the "Flavors" heading below if you need some inspiration! I definitely recommend using frozen fruit for a nice, cold smoothie without the dilution of ice. I typically buy bags of frozen fruit to keep in the freezer, but if I have fresh fruit that's overripe or about to go bad, I'll wash it, cut it up, put it in a baggie, and freeze it for future smoothie-making.
Vanilla yogurt. You may use whole milk, low-fat, or Greek varieties, depending on your preference. You could also opt for a non-dairy yogurt. Or if you'd like to use plain yogurt (instead of vanilla), consider slightly upping the honey and vanilla to compensate.
Milk. Again, use your favorite kind, though I do recommend starting with an unsweetened choice. I typically use unsweetened almond milk when making smoothies, but you can use regular (whole/2%/skim) milk, oat milk, or just about any mild-flavored non-dairy milk that you like.
Honey. The amount of honey can be tweaked depending on the sweetness of your chosen fruit and whether or not your yogurt and/or milk are sweetened. But the honey is certainly optional, if you wish to omit it.
Pure vanilla extract + cinnamon. It really is as simple as adding a smidge of pure vanilla extract and a sprinkle of cinnamon to make a regular Oatmeal Smoothie taste like a baked treat! The amount of cinnamon should be slightly increased to mimic any baked good that typically contains more cinnamon (such as peach cobbler, as explained in the recipe card).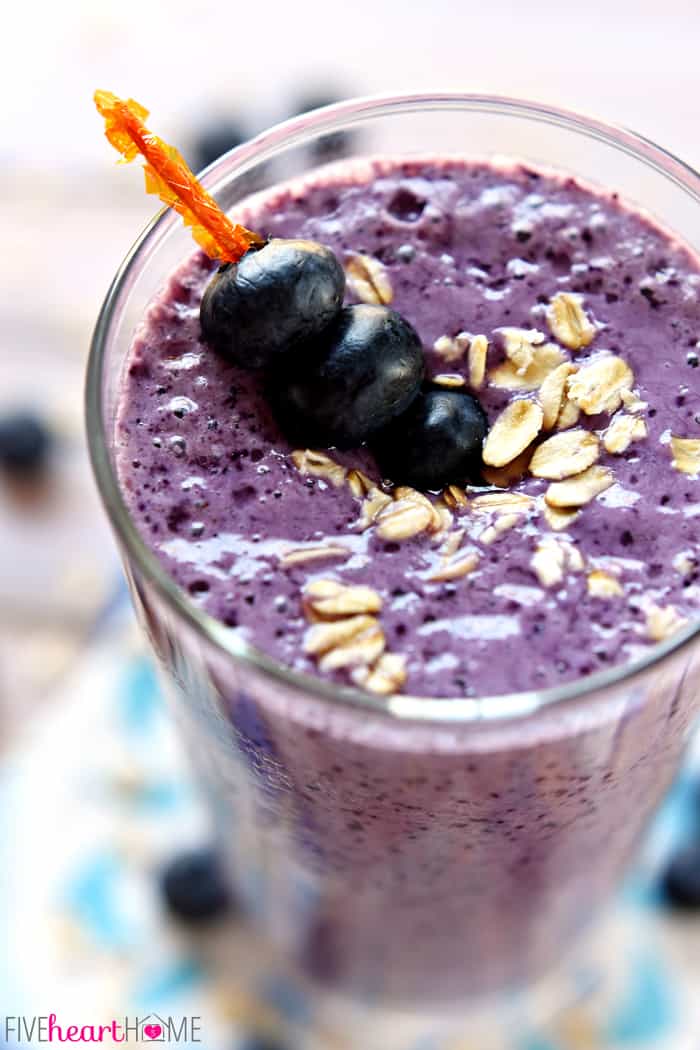 How to Make an Oatmeal Smoothie
First, grind your oats in the blender until they turn into a fine powder. The goal is to harness the nutrition and thickening power of ground oats without getting chunks of whole oats through your straw. 😉
No need to clean out the blender after this step. Just add the rest of the ingredients and blend until smooth!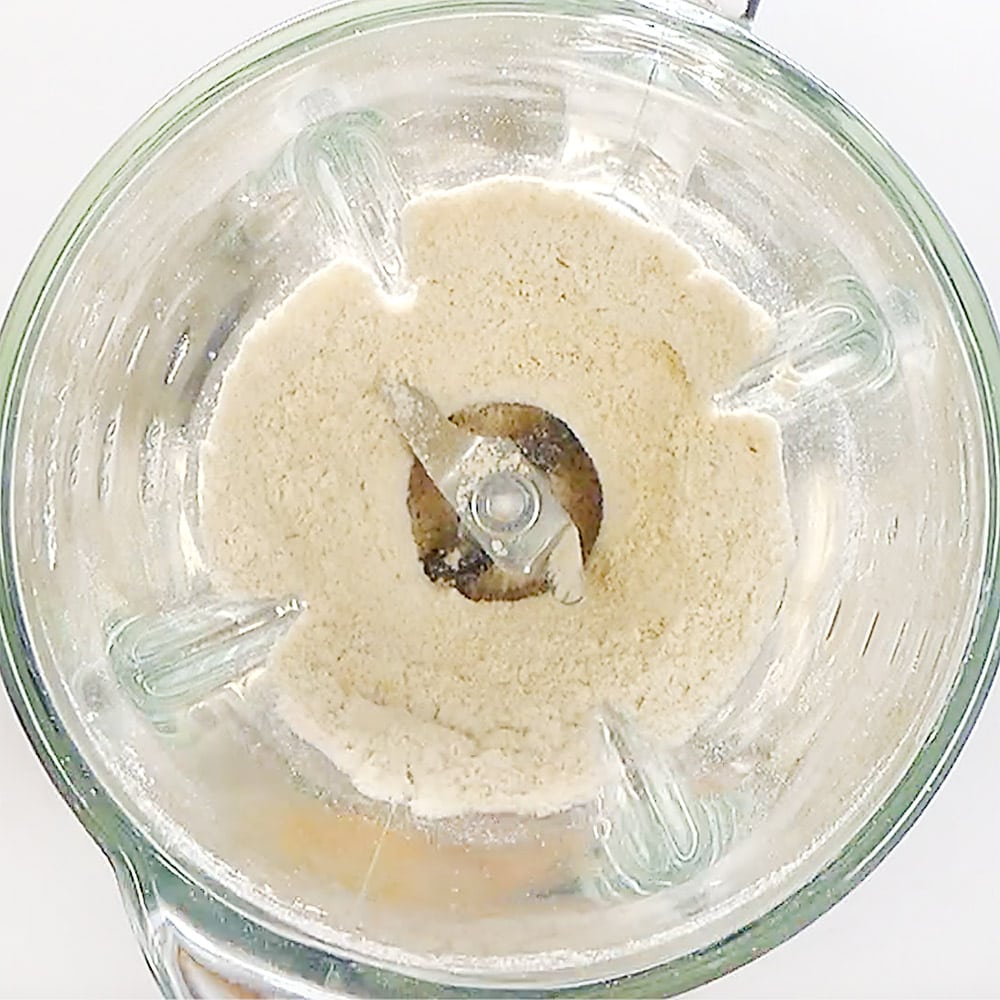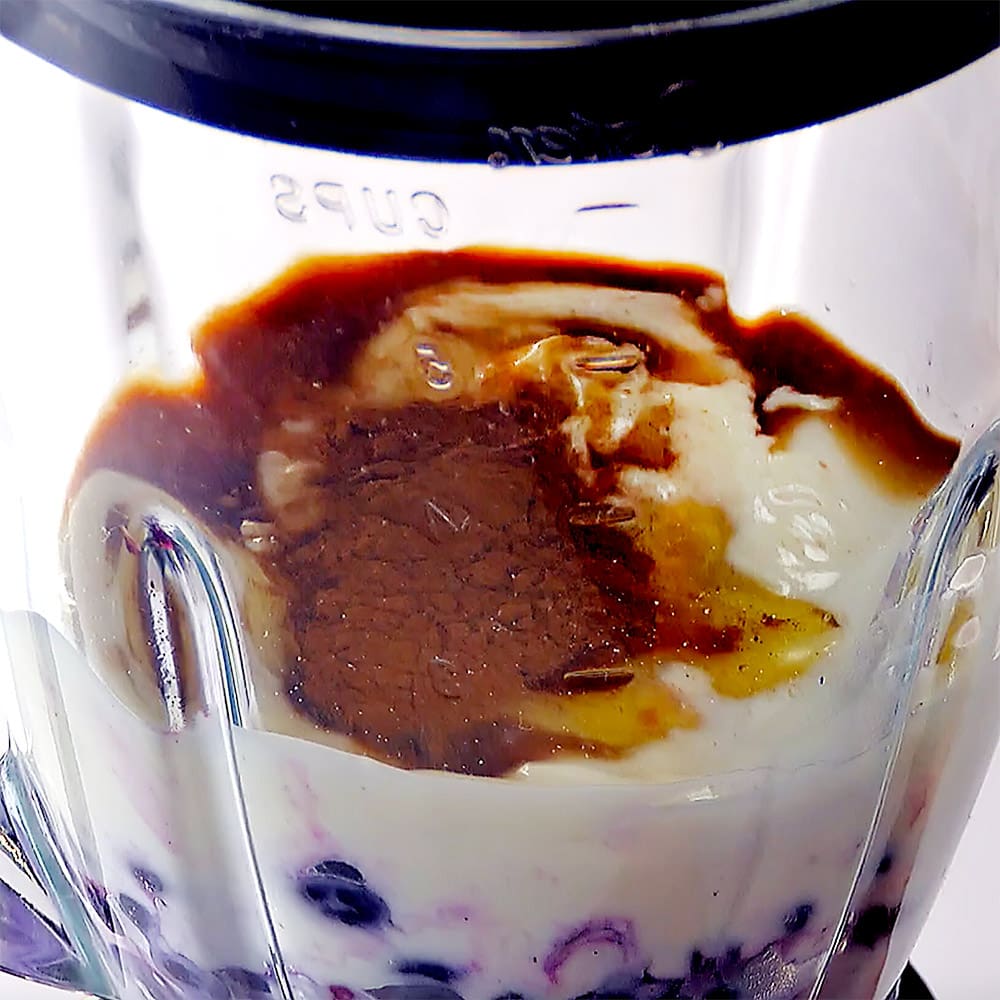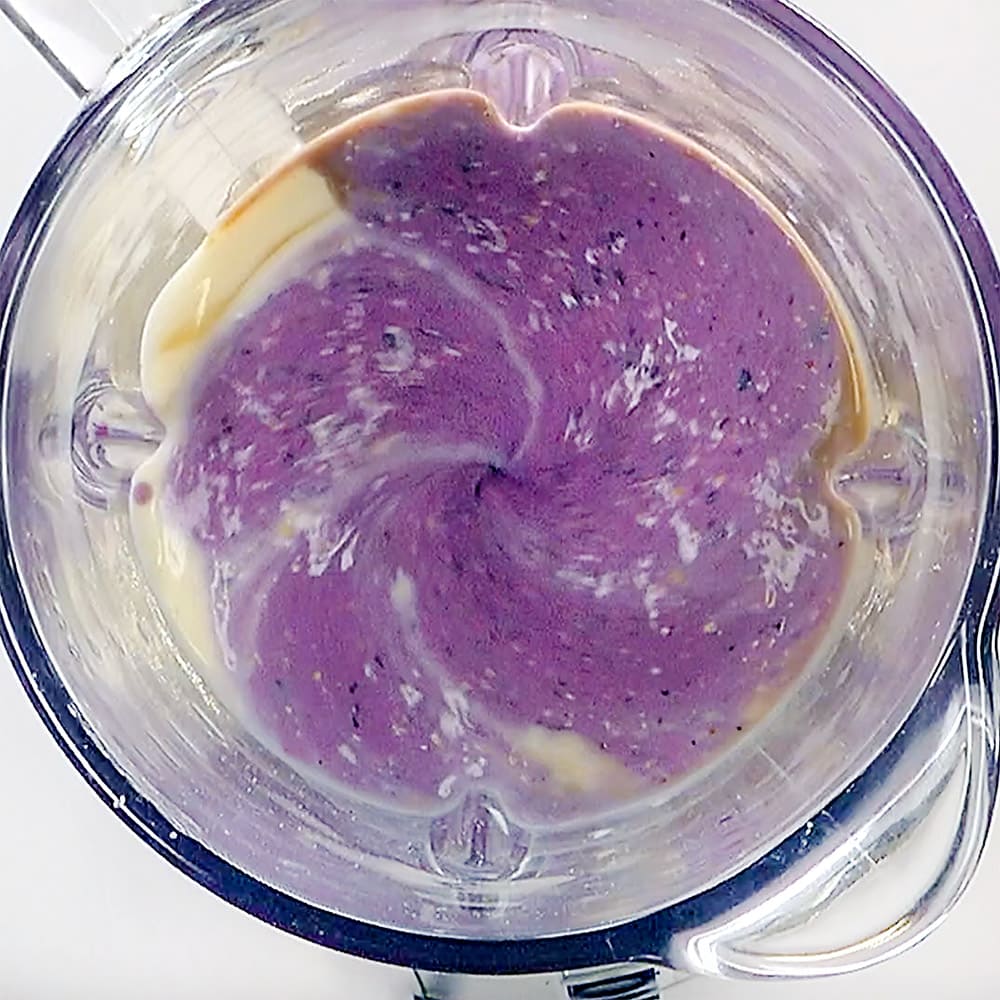 And that's it! Quick and easy.
Flavor Ideas
My family adores the Blueberry Muffin and Peach Cobbler Smoothies shared here today.
And though shared in a separate post, I also regularly make them Strawberry Shortcake Smoothies.
But you can truly swap your favorite frozen fruit into this oat smoothie base to make your own baked-treat-remniscent smoothie.
Cherry crisp...pineapple upside-down cake...banana bread...the possibilities are endless!
I am telling, y'all...it's hard to believe that smoothies can taste like baked treats but these honestly do!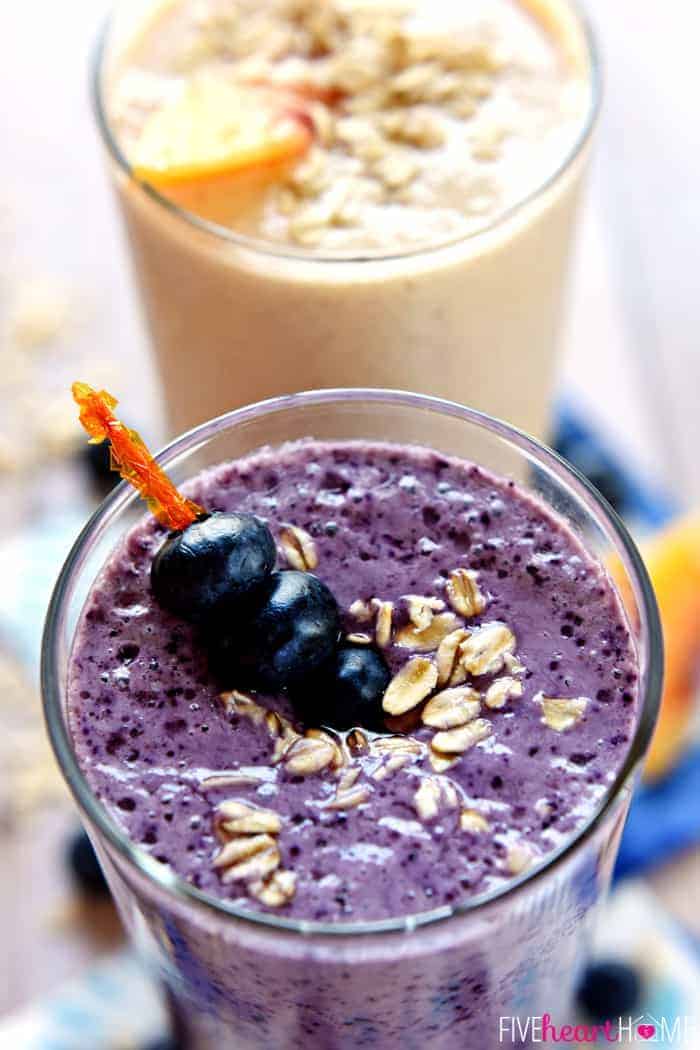 So does anyone else want to get on the quick/easy/healthy breakfast bandwagon with me? I think we can do it, y'all...with the flavors of blueberry muffins and peach cobbler, to boot! 😉
So whether you whip them up for yourself, your kiddos, or your entire family, I think you'll love a healthy Oatmeal Smoothie...in your favorite flavor, of course! 🙂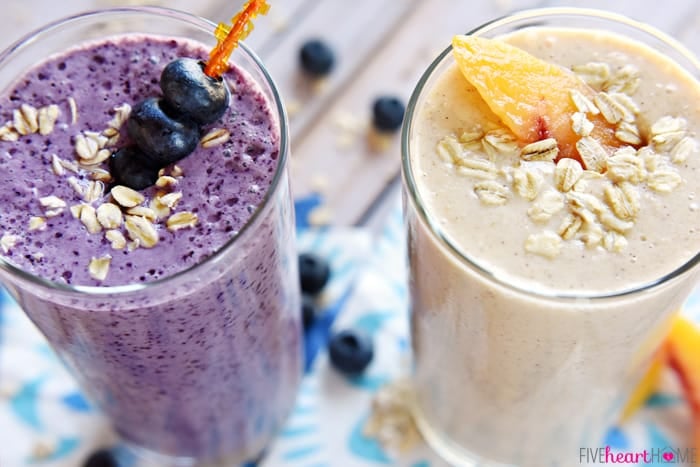 More Healthy Breakfast Recipes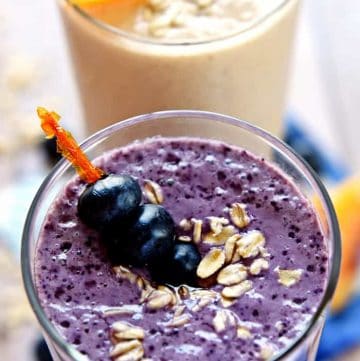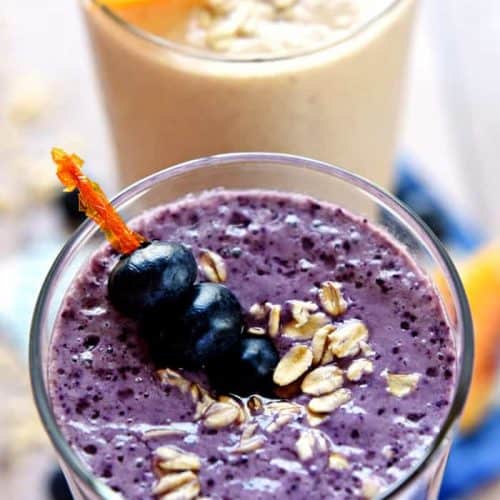 Healthy Oatmeal Smoothie
This healthy Oatmeal Smoothie -- made with ground oats, yogurt, and frozen fruit -- has a thick, creamy texture and tastes like your favorite baked good!
Print
Pin
Rate
Servings:
2
servings (approximately 12-ounces each)
Ingredients
½

cup

old-fashioned rolled oats

1 ½

cups

frozen blueberries OR sliced frozen peaches

,

OR your favorite frozen fruit

1

cup

vanilla yogurt

½

cup

unsweetened milk

1

tablespoon

honey

,

more or less, to taste

¼

teaspoon

pure vanilla extract

¼ to ½

teaspoon

ground cinnamon

,

*see NOTES below
Instructions
Measure oats into blender. Blend until ground into a fine powder.

Add frozen fruit, vanilla yogurt, milk, honey, vanilla, and cinnamon. Blend until completely smooth. Serve immediately.
Notes
You may use nonfat, lowfat, regular, or Greek vanilla yogurt. If using plain yogurt (instead of vanilla), you may need to slightly increase the honey and vanilla extract in your smoothie.
You may use whole milk, 2%, skim milk, almond milk, oat milk, or your favorite type of non-dairy milk.
Feel free to experiment with substituting different kinds of frozen fruit.
If the baked good you are mimicking is more cinnamon-y, use the greater amount of cinnamon in your smoothie. For example, when I make a Blueberry Muffin Smoothie, I add ¼ teaspoon of cinnamon. But when I make a Peach Cobbler Smoothie, I increase the amount of cinnamon to ½ teaspoon.
Calories:
287
kcal
|
Carbohydrates:
56
g
|
Protein:
10
g
|
Fat:
4
g
|
Saturated Fat:
1
g
|
Cholesterol:
6
mg
|
Sodium:
165
mg
|
Potassium:
427
mg
|
Fiber:
5
g
|
Sugar:
37
g
|
Vitamin A:
113
IU
|
Vitamin C:
12
mg
|
Calcium:
302
mg
|
Iron:
1
mg
This post was originally published on January 1, 2015, and updated on January 3, 2021, and January 13, 2022.