Breakfast is said to be the most important meal of the day. And if you start your day with Herb Baked Eggs, I guarantee that it will also be the most delicious.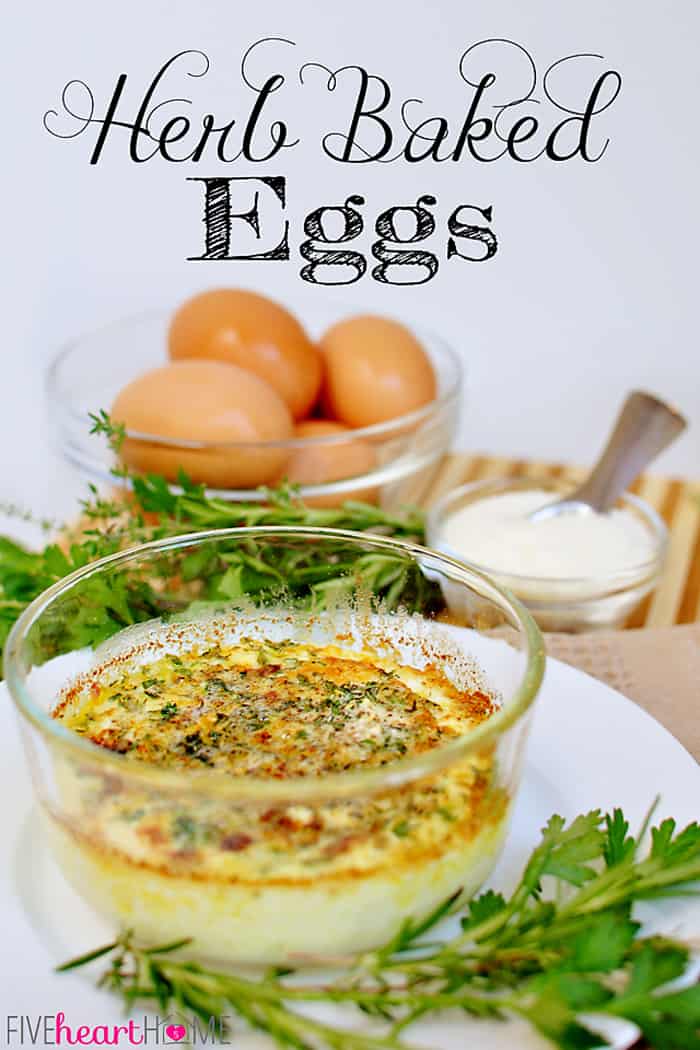 You can't go wrong with a Barefoot Contessa recipe, folks. Many moons ago, when I was a child-free newlywed with spare time to actually do things like — oh, I don't know — watch TV, the Food Network was on a lot at our house. A lot. Back then, Alton, Tyler, Giada, Bobby, Paula (miss you, Paula!), Rachel, and Ina were the background noise to our day pretty much every Saturday and Sunday (except during college football season, of course). But you want to know a little secret? Ina has always been my favorite.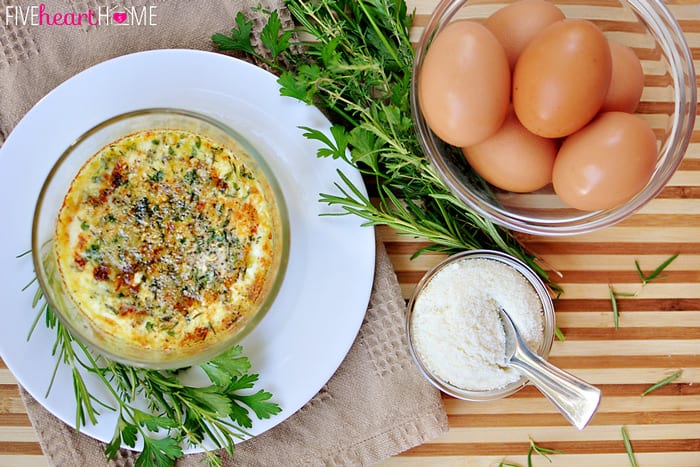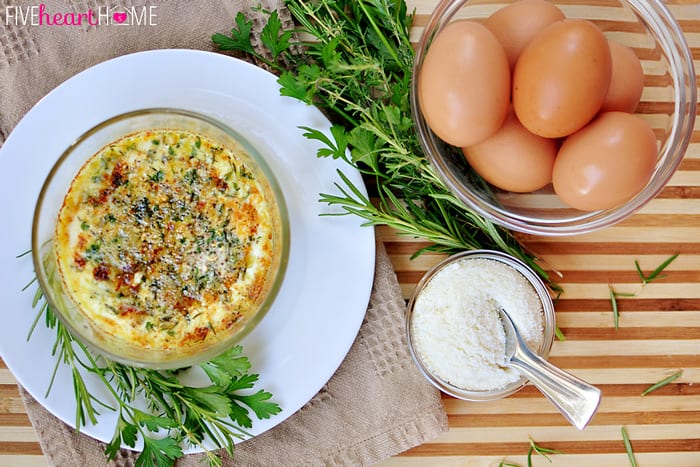 Ina's life in the Hamptons seems so idyllic. Who else can host a half dozen friends for brunch, zip over to the local farmers' market in her Beamer convertible to buy a basket of fresh plums suited for the tart that she's going to whip up for this afternoon's picnic on the beach, and then head home to set up a tablescape in her backyard (while her florist friend comes over to arrange armfuls of fresh peonies) for her intimate Friday night (perfectly) roast chicken dinner with Jeffrey?
But you know what's even more impressive than all that? I don't think I've ever tried a Barefoot Contessa recipe that wasn't amazing. And this one is no exception.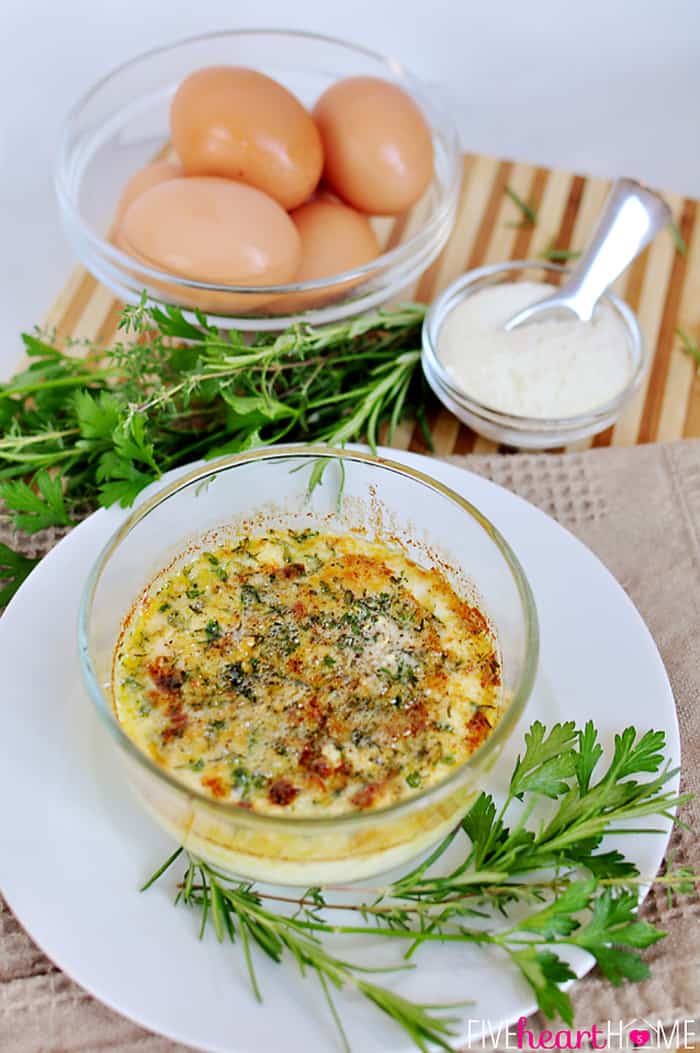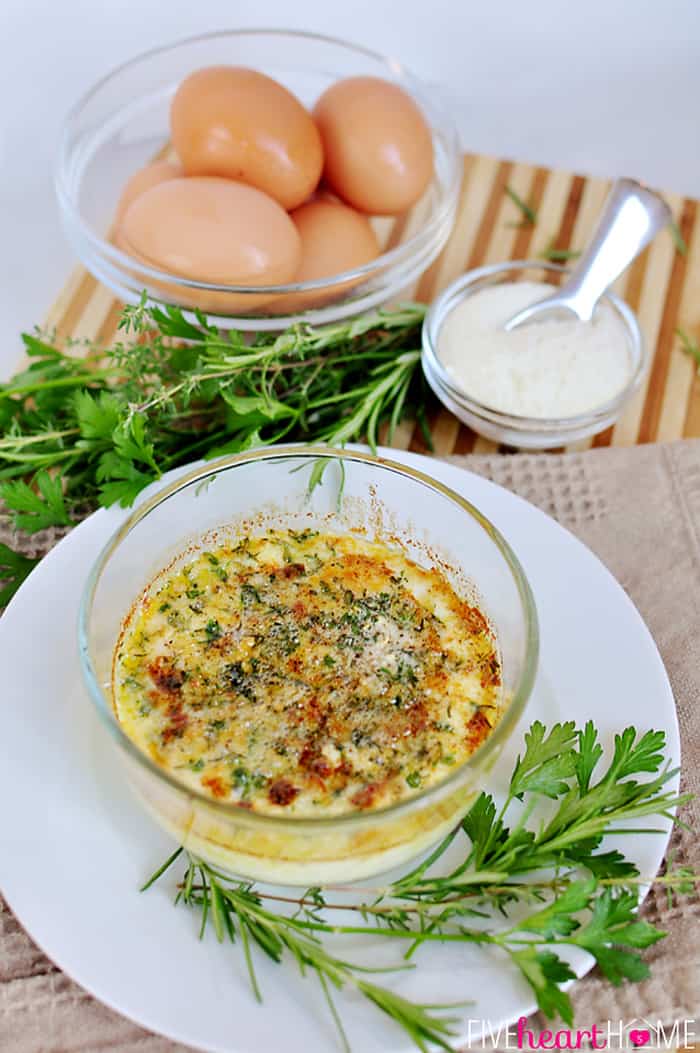 I can vividly remember watching the episode that featured this recipe. Eggs like you would eat at a Parisian sidewalk cafe? Sign me up! And y'all, they are as delectable as they sound. Coddled in butter and cream, topped with fresh garlic, herbs, and Parmesan cheese, and broiled to perfection, this is about the tastiest preparation of humble ol' eggs that I've ever encountered.
On top of that, the recipe is simple and straightforward. But that doesn't mean it's without its caveats. These baked eggs can definitely be a bit persnickety based on a number of variables, primarily your particular oven's broiler and the type of dishes/ramekins you use. The first time I made this recipe at our former house, it came out perfectly. But the first time I made it at our current house (different oven), the egg whites were still runny at the end of six minutes. I adjusted the recipe accordingly to work in our new oven, and all was well with the world once more. But then on another occasion, I didn't think twice about using different, smaller-yet-deeper ramekins. Yet again, my eggs required more time.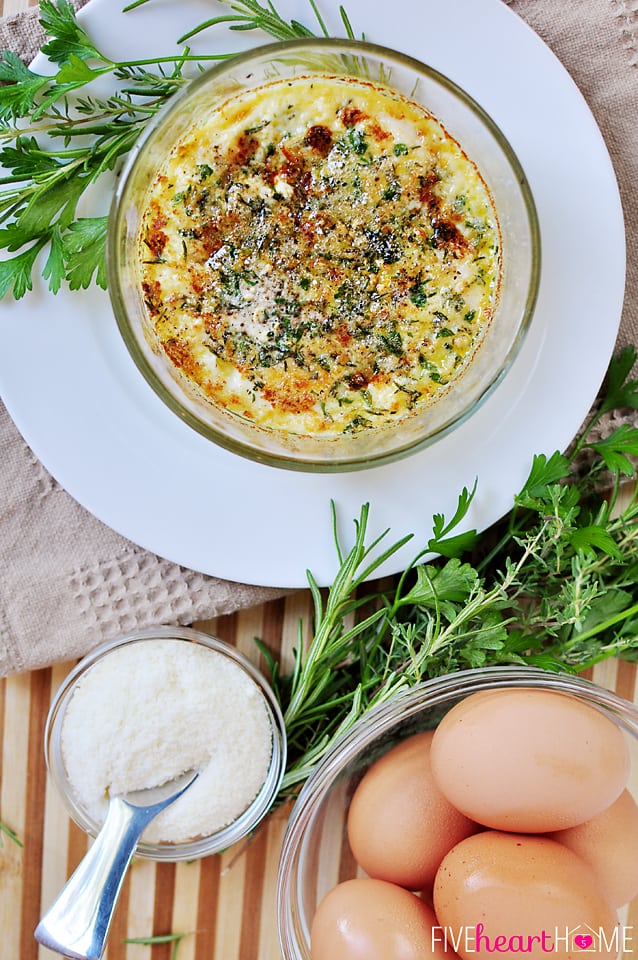 I'm telling you all of this not to scare you off from this recipe, but to let you know that it may take some trial and error to get it just right. I've found that my eggs cook more evenly when I use larger, more shallow dishes as opposed to smaller, deeper ones.  But if my egg whites still aren't quite done after broiling for five to six minutes, I turn off the oven, move them to a lower rack (so that the bubby, golden top doesn't get too dark), and let them sit in the hot oven for a few additional minutes or as long as it takes for the whites to firm up to my liking (without the yolks getting overdone), checking every minute or so.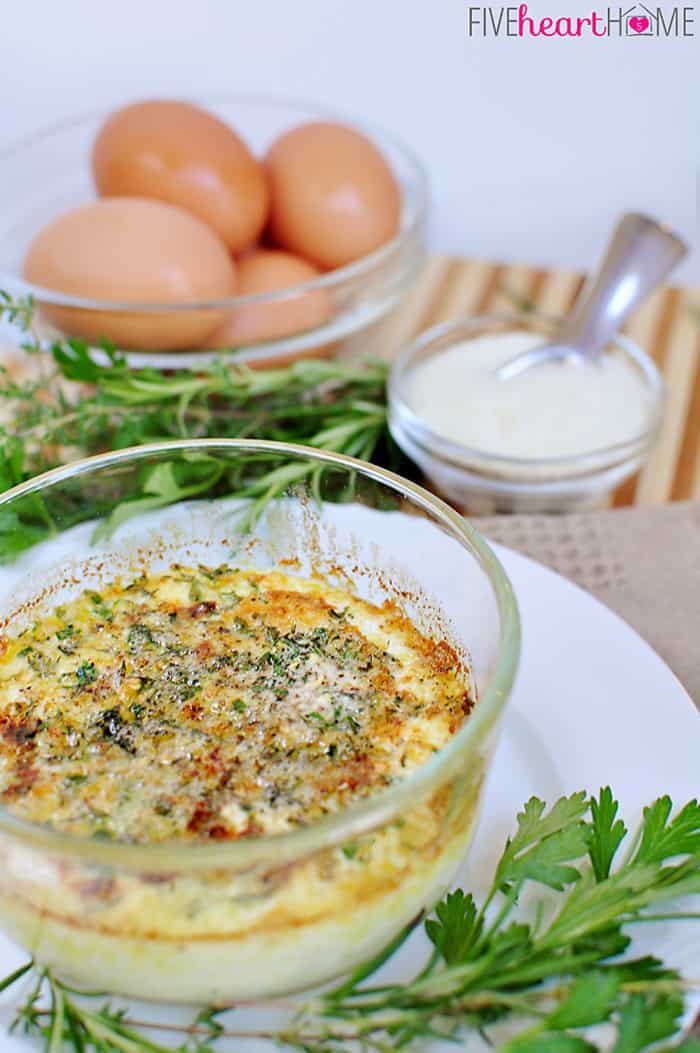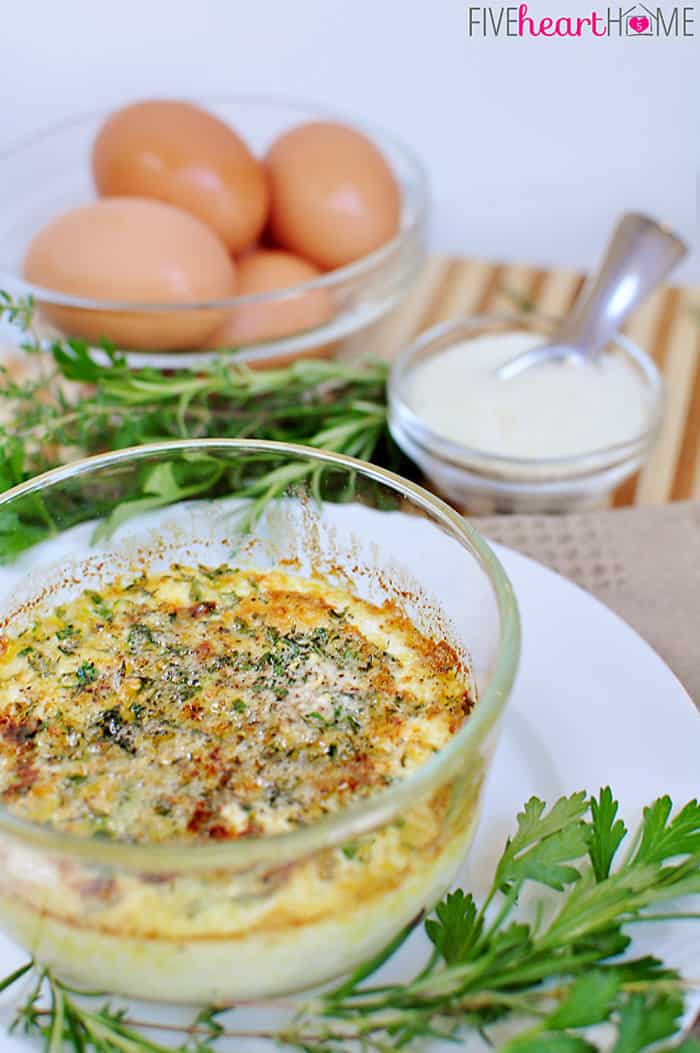 The bottom line is that this recipe is beyond worth the experimentation it may require to perfect. I can't tell you how dreamy and oh-so-French these eggs taste. If you like creambuttercheeseherbsandgarlic, you will be in heaven…and your house will smell like heaven.
Another bonus? This dish is completely customizable. I would highly recommend sticking to the original recipe the first time you make it, but then feel free to switch out the types of herbs, sprinkle with Gruyère, add cooked and crumbled bacon…the glorious possibilities are deliciously endless. Furthermore, the fabulous flavor of these eggs would never betray the fact that this recipe is deceptively simple and, from start to finish, done in 15 minutes.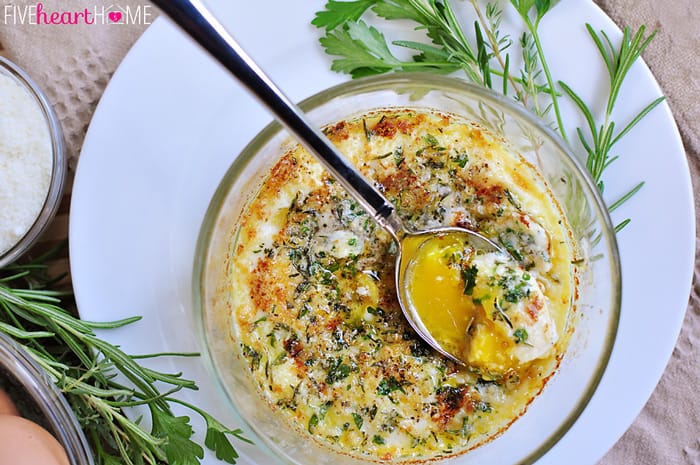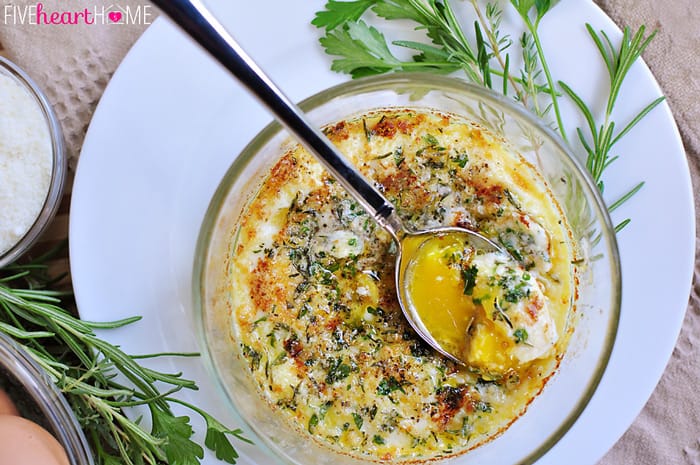 Now you tell me…how easy is that?!
Adapted from Ina Garten.
This post is linked to the following parties: Totally Tasty Tuesdays #22 at Mandy's Recipe Box, Tuesday Talent Show #94 at Chef in Training, Terrific Tuesday #73 at Adventures of a DIY Mom, Lil Luna Link Party 137 at Lil Luna, What's In Your Kitchen Wednesday #32 at Kitchen Meets Girl, Live Laugh Linky #71 at Live Laugh Rowe, Weekend Potluck #26 at 4 Little Fergusons, Hookin Up With HoH #158 at House of Hepworths, Sundae Scoop Link Party #90 at I Heart Naptime, Sunday Linky #18 at Suburbs Mama, and Saturday Dishes: Breakfast at Call Me PMc.