Happy almost-December, friends! The holidays are officially here and I'm excited to share my 3rd annual Holiday Gift Guide for Foodies to simplify your gift giving (and wish list making!) this season. 😉 But this year, there's a little twist…

…I've compiled a list of awesome cookbooks! As someone who reads cookbooks like novels — seriously, I have two of them in-progress on my nightstand this very minute — I'm always thrilled to buy or receive a new cookbook. I almost always have at least a couple of them on my personal wish list. And I figure that some of you are probably like me…or at least you have friends and/or family on your shopping list who are like me. 😉
So this year, rather than rehashing a gift guide full of my favorite cooking-related tools, gadgets, and accessories, I'm instead going to share with you some of my favorite cookbooks, some of which I own and some of which I can't wait to get and some of which I'm totally intrigued by. Sound fun? Then let's get started…

How to Celebrate Everything: Recipes and Rituals for Birthdays, Holidays, Family Dinners, and Every Day in Between by Jenny Rosenstrach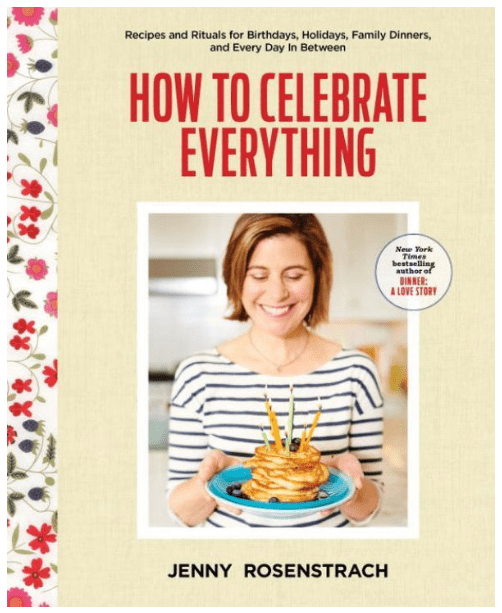 Jenny Rosenstrach's Dinner: A Love Story was one of the first food blogs I ever started "following," before I even really understood what a food blog was. And while the recipes I tried always turned out great, it was the storytelling that first drew me in. True to form, I read Jenny's latest cookbook straight through from cover to cover. Even better, this cookbook tugged at my heartstrings because its whole premise is creating family traditions centered around food. LOVE.
Barefoot Contessa Foolproof by Ina Garten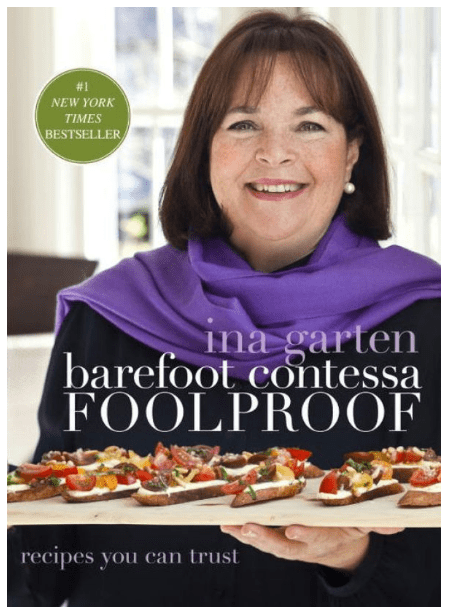 Ina Garten is my food idol. And the reason? Her recipes are gorgeous and delectable yet fundamentally simple, and all of them are tested and perfected to the point of being — you guessed it — foolproof. So for me, this cookbook epitomizes everything that's wonderful about Ms. Garten. Now how fabulous IS THAT?!
(And I don't have it yet, but Ina's newest cookbook Cooking for Jeffrey is definitely on my wish list. Those two lovebirds are the just cutest…)
The Homesick Texan's Family Table: Lone Star Cooking From My Table to Yours by Lisa Fain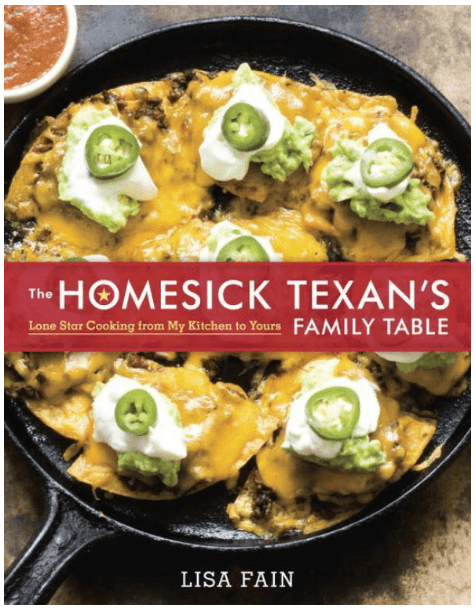 This is the second hit cookbook from another blogger whose storytelling I simply adore. And if you recall my affinity for queso and margaritas, you can probably surmise that I also love the down-home, comforting recipes that fill this cookbook.
The Science of Good Cooking by Cook's Illustrated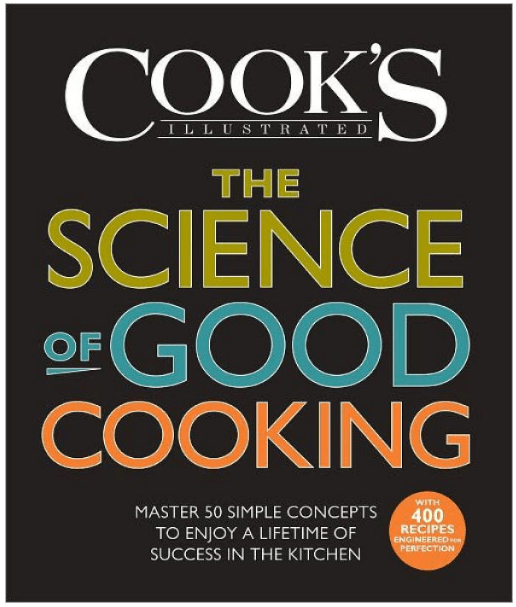 I consider any cookbook by Cook's Illustrated to be kitchen gold. But since I'm a nerd at heart, I especially love this scientific approach to cooking fundamentals that ensure recipe success. Such an interesting and informative read for novices and pros alike!
The Smitten Kitchen Cookbook by Deb Perelman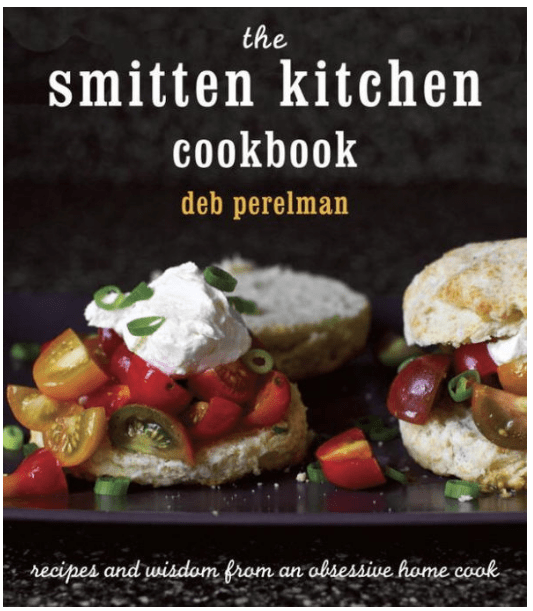 With approachable, tasty recipes from the same warm, witty voice that permeates the popular blog of the same name, this cookbook is a treasure.
Real Food Slow Cooker Suppers by Samantha Skaggs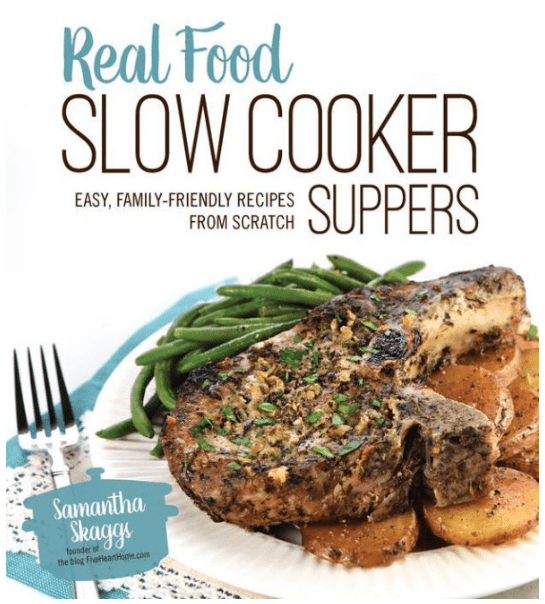 Hey! How did that one slip in here??? Wellllll, y'all knew I had to include it on the list. 😉 But seriously, it's been so much fun (and just a tad bit surreal) to cook dinners for my family from my very own cookbook. Since all of these recipes rely on the slow cooker, I can always fit them into my busy schedule…and I don't have to worry about any icky processed ingredients because they aren't included in the cookbook.
My kids already have their often-requested favorites, but it's particularly special when friends and family and followers make a recipe and then let me know how much they loved it! I'm truly so touched and honored by everyone's support…makes all of the blood, sweat, and tears I put into this cookbook (lots and lots of tears) worth it. 😉
Perfect Party Food by Dianne Phillips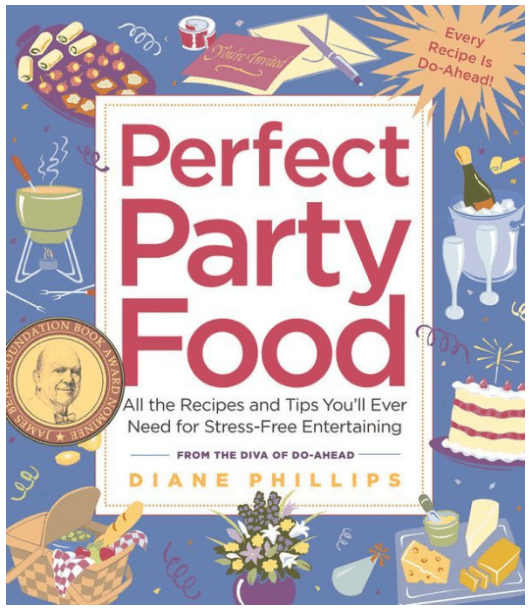 I've had this cookbook for years and it's one of my favorites for entertaining. The recipes are straightforward and delicious, and helpful tips are provided for making everything ahead of time.
Austin Entertains by The Junior League of Austin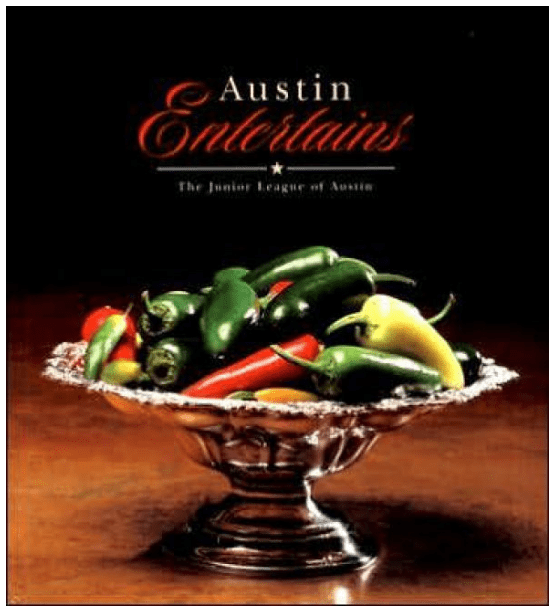 Another go-to for party planning, I received this cookbook as a gift way back before I was married or had kids. It's loaded with menus of scrumptious party-type recipes as well as little snippets of Austin lore. This is one of those cookbooks that's fun to cook from and fun to read, particularly if you're an Austinite (or Texas-phile). 😉
The Art of Pie by Kate McDermott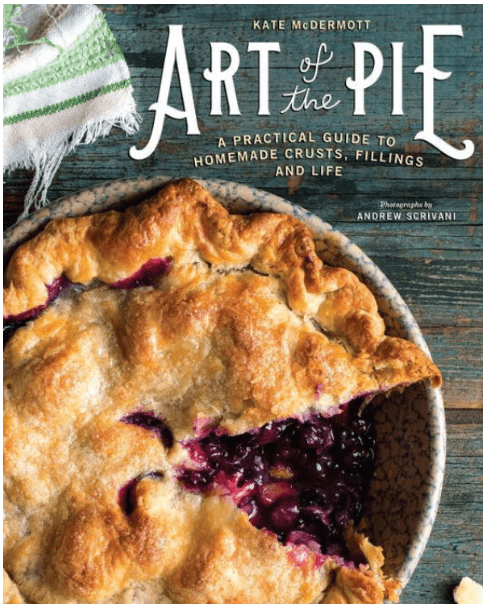 I first encountered this cookbook while watching lots of In the Kitchen with David as I prepared for my own QVC segment. Since then, this "baking bible" of sorts has received plenty of acclaim and positive reviews. And as someone whose husband's favorite dessert starts with P and ends with I-E, I'm hoping Santa will slip this cookbook into my stocking.
The Asian Slow Cooker by Kelly Kwok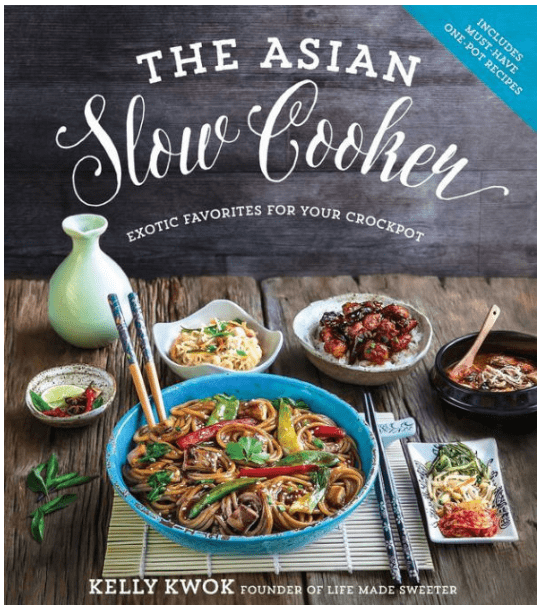 Y'all may have already seen my review of a recipe from this cookbook last week, but my lovely blogging friend Kelly's new cookbook is seriously fantastic if you happen to be a fan of easy recipes and Asian cuisine. Who knew traditional take-out could be so simple to make at home?! As a bonus, the photography in this cookbook is stunning.
Christmas with Southern Living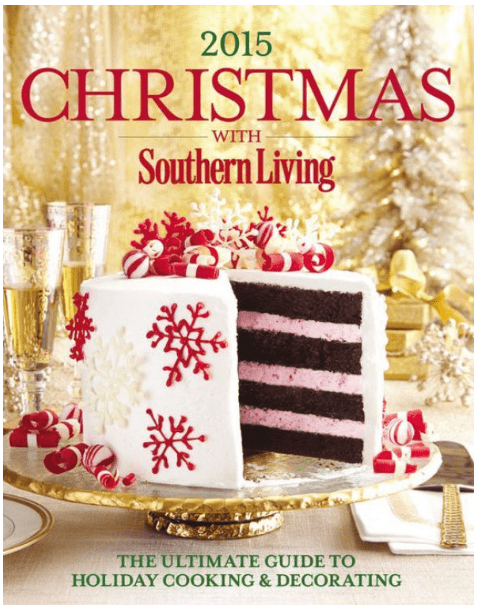 I have a couple of different Southern Living Christmas cookbooks from past years and I love paging through them for both recipes and inspiration. They're full of holiday menus, homemade gifts from the kitchen, and simple decor ideas, and they always get me into the spirit of the season.
The I Heart Naptime Cookbook by Jamielyn Nye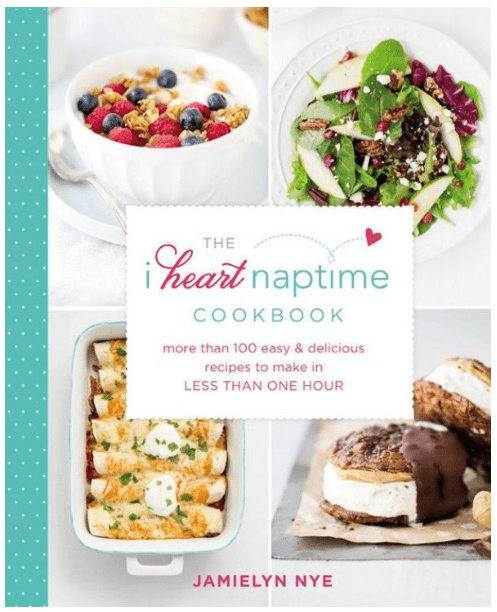 This cookbook is full of tried-and-true, simple and straightforward, family favorites from my sweet blogger friend, Jamielyn. For added fun, there are cute, easy crafts scattered throughout!
Around My French Table: More Than 300 Recipes from My Home to Yours by Dorie Greenspan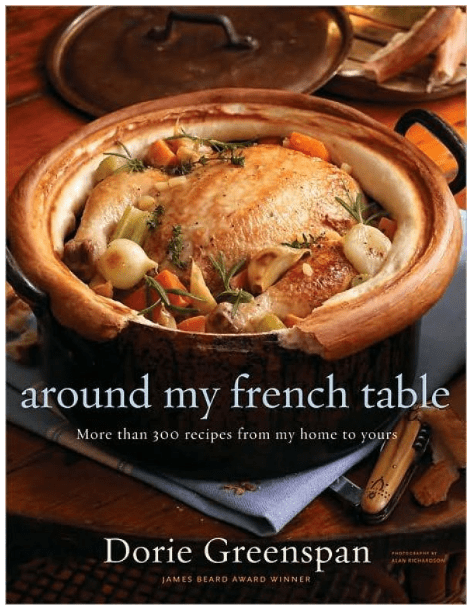 Excellent ingredients. Simple preparations. Mouthwatering results. The French know what they're doing…and so does Dorie! This is a cookbook for those who savor cooking and eating.
These last five cookbooks aren't ones that I currently own or that particularly subscribe to my own personal cooking style. However, they've all received critical acclaim and tons of rave reviews, so I thought that these might appeal to some of y'all…  🙂
The Skinnytaste Cookbook: Light on Calories, Big on Flavor by Gina Homolka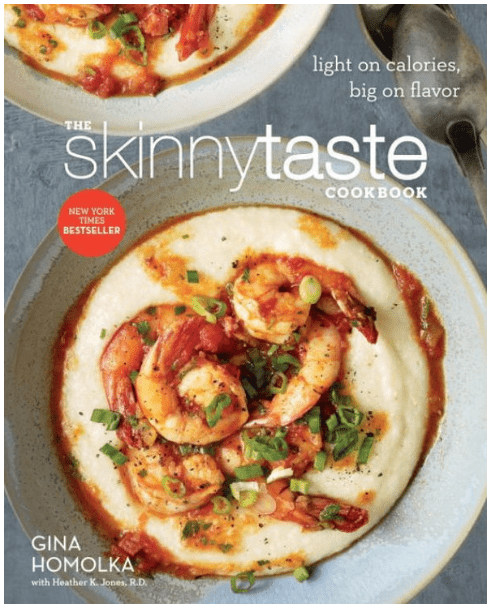 A New York Times Bestseller loaded with lightened-up recipes that taste like the real deal, this cookbook was written with additional input from a registered dietician.
Well Fed: Paleo Recipes for People Who Love to Eat by Melissa Joulwan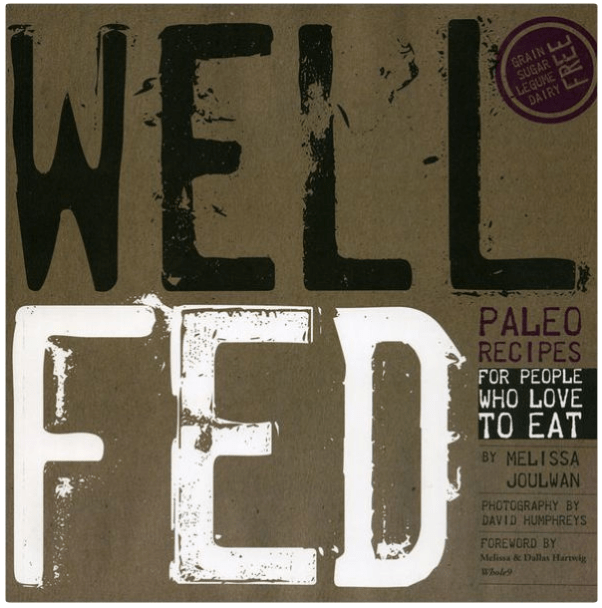 As much a how-to guide as a cookbook, this resource teaches even newbies how to prepare healthy, delicious, paleo recipes as quickly and efficiently as possible.
Pure Delicious: More Than 150 Delectable Allergen-Free Recipes Without Gluten, Dairy, Eggs, Soy, Peanuts, Tree Nuts, Shellfish, or Cane Sugar by Heather Christo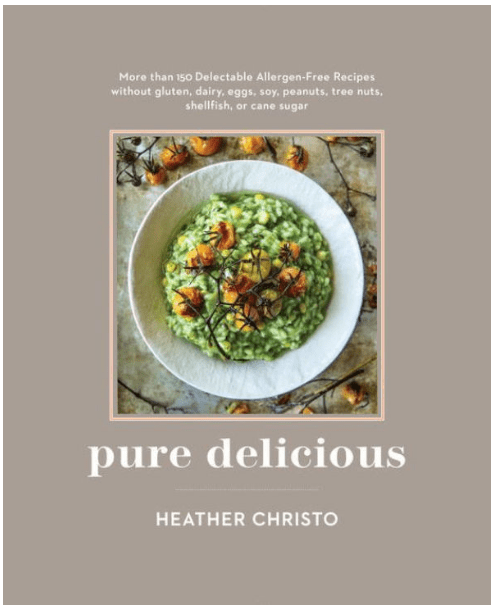 I think that the title pretty much covers it. 😉 But seriously, for anyone who needs allergen-free recipes, this beautiful cookbook of drool-worthy recipes just might change your life.
The Love and Lemons Cookbook: An Alphabet-to-Zucchini Celebration of Impromptu Cooking by Jeanine Donofrio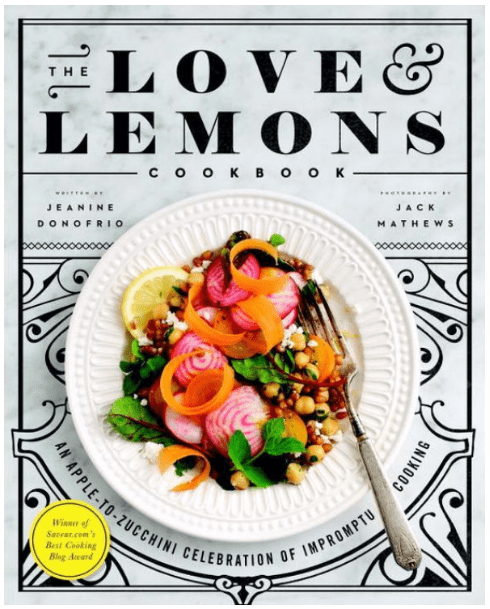 Whether you're a vegetarian or you simply need more vegetables in your life, this lovely cookbook has ideas for preparing anything and everything you could possibly bring home from the farmers market.
The Oh She Glows Cookbook: 100 Vegan Recipes to Glow from the Inside Out by Angela Liddon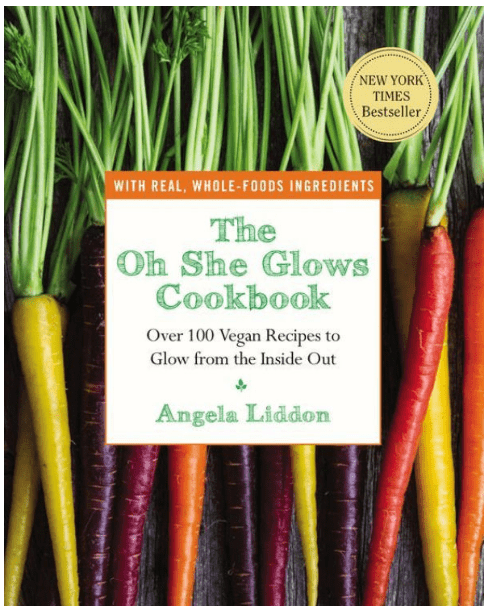 This popular vegan cookbook features inventive and delicious, plant-based recipes, many of which are gluten-free.
* * * * * * * * * *
So what do you think? Which of these gems do you already own? Which one piques your interest the most???
If you're still interested in seeing some of my favorite kitchen, cooking, and foodie-type gadgets, you can check out last year's Holiday Gift Guide HERE.
Quite a few folks have already told me that they're giving my cookbook as Christmas gifts (!!!), and they've asked for my recommendations on slow cookers and slow cooker accessories to accompany the cookbook. You can see my favorite slow cooker-related goodies HERE.
* * * GIVEAWAY! * * * (giveaway has now ended)

Speaking of slow cookers, I'm giving away a copy of Real Food Slow Cooker Suppers (with a personally autographed book plate) to one lucky friend who comments on this blog post!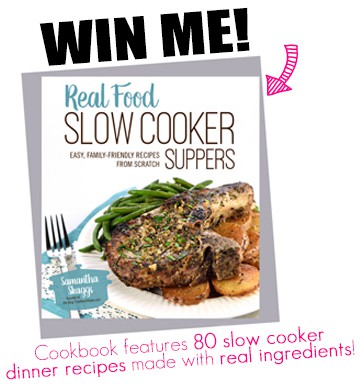 You can simply say 'hi' or you can share your thoughts on today's featured cookbooks or you can let me know what's on your list for Santa! The giveaway is open to U.S. residents and will run until December 8th. It's my small way to once again thank y'all for all of your support…and to wish you all a very happy holiday season! Good luck!!!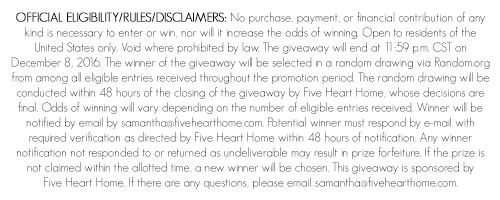 * * * * * * * * * *
Save
Save
Save
Save
Save
Save
Save
Save
Save
Save
Save
Save
Save
Save
Save
Save
Save
Save
Save