This gorgeous Holiday Honeycrisp Salad is full of flavor and texture, with fresh apple slices, crunchy toasted pecans, chewy dried cranberries, zippy blue cheese, and a tangy-sweet apple cider vinaigrette. It's perfect as a Christmas salad, a Thanksgiving salad, for a dinner party, or as part of a regular weeknight dinner!


Well, friends...with fall well under way, the holiday countdown is officially on! That means my thoughts are currently on Thanksgiving. And this salad, y'all? It has to go on your Turkey Day menu this year! But not only does it make a delectable Thanksgiving Salad this month, you should also go ahead and just plan on making it as a Christmas salad next month!
Let's face it...holiday meals are usually a bit over-the-top when it comes to rich, decadent foods. However, sometimes it's hard to actually eat all of that decadence in one sitting...at least without risking a stomach ache. So perhaps it might be nice to have a lighter menu option somewhere between the buttery mashed potatoes and the 17 varieties of pie.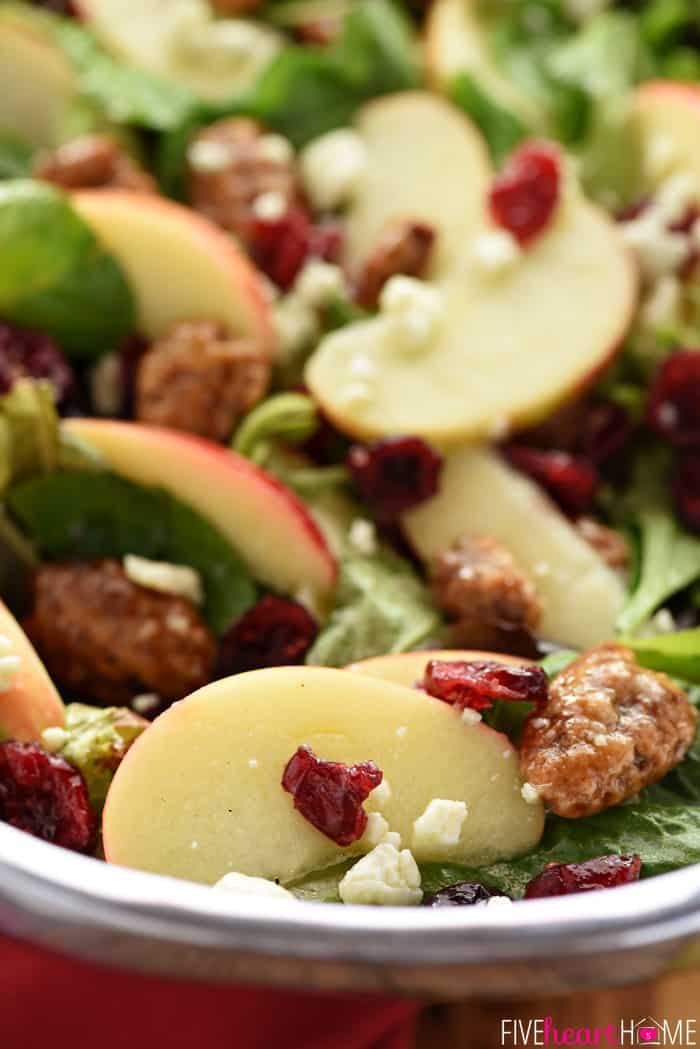 That's where this Holiday Honeycrisp Salad comes in. Seriously, let's all observe a moment of silence to appreciate how gorgeous and vibrant and perfect this salad is.
The colors...the contrasting textures...the sweet/salty/tangy flavors. This recipe has it all.
And like I said, not only is this recipe the perfect Thanksgiving salad, but it would make a splendiferous Christmas salad as well. I mean, helloo-oo? Ready-made red, green, and white color scheme!
I have always had a thing for green salads that are simultaneously fruity, nutty, and cheesy, but in the past, said salads have typically revolved around berries. That being said, if I'm ever at a restaurant with an apple or pear salad on the menu, I almost always order it, because YUM. So if I'm willing to shell out big bucks for a plate of greens and apples at a restaurant, why not recreate that same deliciousness at home for a fraction of the cost?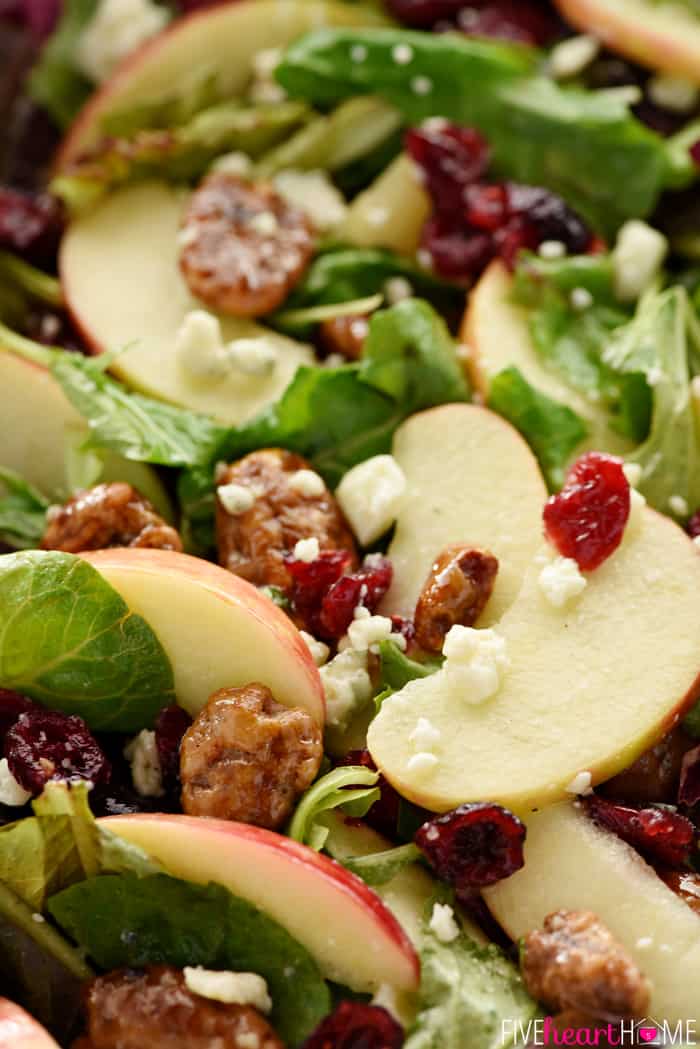 I chose Honeycrisp apples for this salad because they are, in my humble opinion, the most glorious and delectable apple to ever grace the face of the earth. Yep, I kinda like them, from their sweet flavor to their appealing color to their perfectly crisp texture. I also appreciate that, once cut, they don't brown as quickly as certain other varieties.
However, I realize that not only can Honeycrisps be expensive, but they also have a limited growing season. So if these best apples ever aren't available, feel free to use your favorite back-ups. Pink Lady or Gala would be lovely. Or Granny Smith if you're going for a little pucker in your salad. Or you could even mix and match different types of apples within the salad!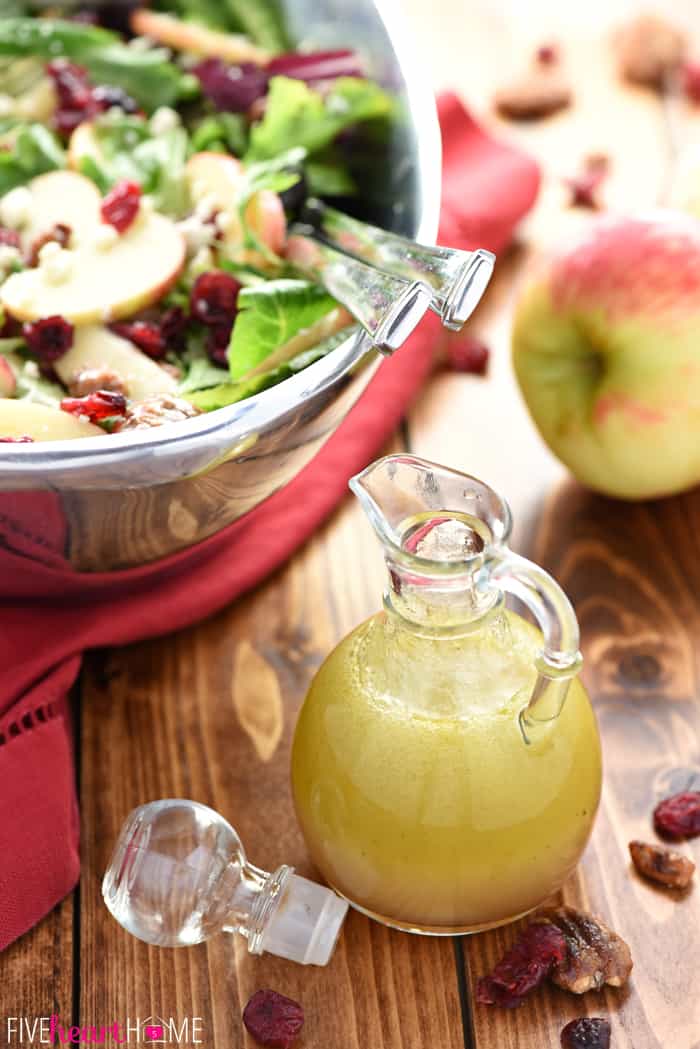 Christmas Salad / Thanksgiving Salad Ingredients
The other ingredients in this Holiday Salad are customizable as well. So let's take a moment to break it on down, shall we?
Salad greens. I used a spring mix in this here salad, but baby red and green romaine, baby spinach, arugula, or a combo of any of the above would be just dandy.
Apples. I suggest Honeycrisps or Honeycrisps. Or something else if those are out of season. 😉
Nuts. Pecans, walnuts, or even almonds would be yummy. I highly recommend toasting your nuts for maximum flavor. Orrrr you can get really fancy and whip up some candied nuts for even more salad pizzazz, which is what I did to the pecans in this salad. I have two favorite ways to candy nuts, and you can find those methods here and here. Just keep in mind that candied nuts will make your salad sweeter than simply toasting them would.
Dried Fruit. I typically keep dried cranberries in the pantry, but dried cherries would also be a tasty addition.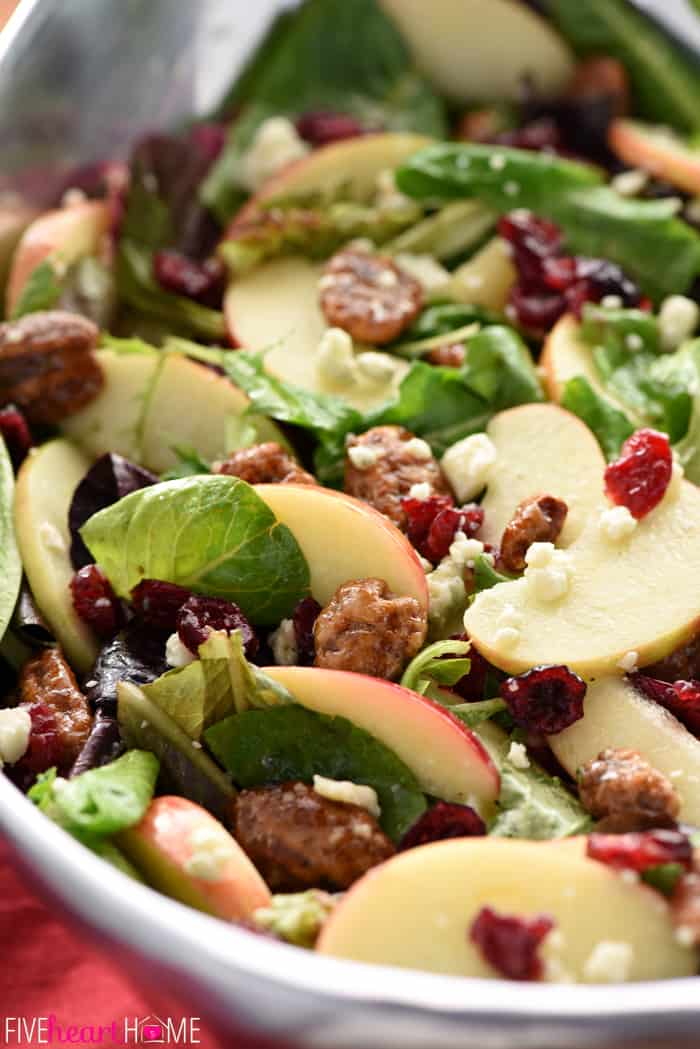 Cheese. I enjoy blue cheese in not-too-large doses, but I really feel like it's perfect in this salad. Its pungent saltiness is the perfect balance to the other ingredients. However, if you're not a fan of blue, feel free to substitute feta or even goat cheese. I just think that crumbled cheese is an important component of this salad, as it adds saltiness and creaminess to the sweet and crunchy.
Vinaigrette. And finally, the dressing! I adapted the proportions of this entire salad from my beloved Strawberry Spinach Salad (the first recipe EVER posted here at Five Heart Home!). So while I was at it, I took the Blush Wine Vinaigrette from that recipe and turned it into an Apple Cider Vinaigrette. I simply switched the type of vinegar, swapped out the water with apple cider/apple juice, and used honey instead of sugar. You can use a light vegetable oil or extra-virgin olive oil, keeping in mind that EVOO has a stronger flavor and will noticeably thicken when you refrigerate your dressing. That's okay, though...just let it come to room temperature, shake well before serving, and it will be good as new. Finally, feel free to tweak the honey in the dressing to your taste, and consider slightly reducing it if your apple cider or juice is sweetened.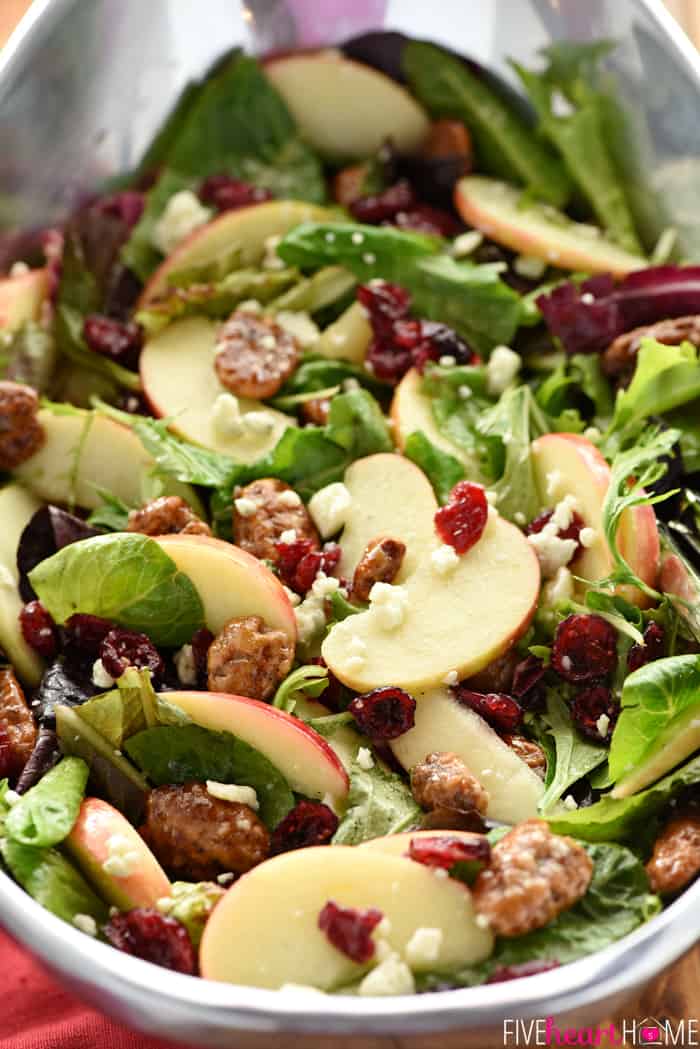 How to Make Holiday Honeycrisp Salad
This salad is simple to make. Better yet, several of the steps can be done ahead to save time during your Christmas or Thanksgiving cooking spree. More details can be found in the "Notes" section at the bottom of the recipe.
Shake (or whisk) together the vinaigrette.
Toast the pecans.
Wash and dry the salad greens (if they aren't already).
Cut the apples and shake the slices with lemon juice to keep them from turning brown.
Just before serving, layer the ingredients in a big, gorgeous salad bowl, drizzle your desired amount of vinaigrette, toss everything together, and enjoy!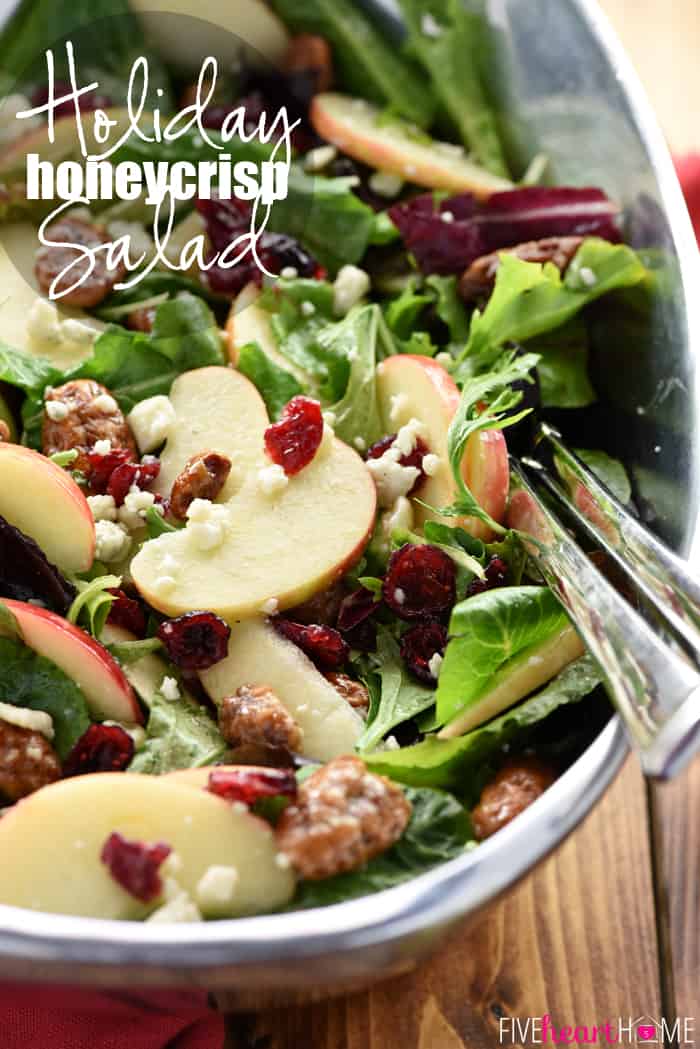 So are y'all ready to try this Holiday Honeycrisp Salad? Make it as a Thanksgiving salad. Make it as a Christmas salad. Make it for a dinner party or on a regular ol' Tuesday night. But if you make it, be prepared to add it to your annual holiday menu and/or your regular salad rotation. Because it's just that good!
The Perfect Christmas Salad Recipe!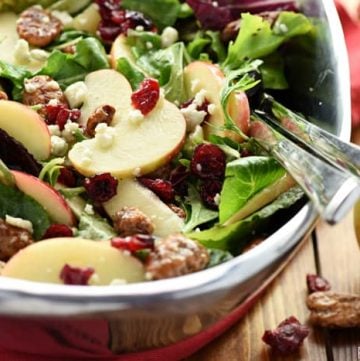 Holiday Honeycrisp Salad
This gorgeous Holiday Honeycrisp Salad is full of flavor and texture, with fresh apple slices, crunchy toasted pecans, chewy dried cranberries, zippy blue cheese, and a tangy-sweet apple cider vinaigrette. It's perfect as a Christmas salad, a Thanksgiving salad, for a dinner party, or as part of a regular weeknight dinner!
Print
Pin
Rate
Servings:
8
to 10 servings
Ingredients
½

cup

light vegetable oil

,

such as sunflower or safflower OR extra-virgin olive oil

¼

cup

apple cider vinegar

¼

cup

unsweetened apple juice OR apple cider

2 to 3

tablespoons

honey

1

tablespoon

lemon juice

½

teaspoon

salt

Freshly ground black pepper

,

to taste

3

medium Honeycrisp apples (about 1 pound)

,

thinly sliced

Juice of ½ lemon

12

ounces

salad greens

,

spring mix, baby spinach, arugula, baby romaine, OR a combo of your favorites

1

cup

pecan halves

,

toasted or candied

¾

cup

dried cranberries OR dried cherries

4

ounces

crumbled blue cheese
Instructions
To prepare Apple Cider Vinaigrette, measure oil, apple cider vinegar, apple juice/cider, honey, lemon juice, salt, and pepper into a mason jar. Tightly screw on lid and shake vigorously until everything is thoroughly combined. Alternatively, you may briskly whisk the ingredients together in a medium bowl, or blend them in a blender or mini food processor.

Place apple slices in a large plastic baggie and squeeze the fresh lemon juice (from the lemon half) over them. Close bag and shake to coat. In a large salad bowl, layer salad greens, apple slices, pecans, dried cranberries, and blue cheese. Just before serving, dress with desired amount of Apple Cider Vinaigrette and toss until salad ingredients are evenly coated.
Notes
You may prep the individual components of this salad ahead of time and then assemble everything just before serving.
A day or two ahead of time:
Make the vinaigrette and store in the refrigerator. Before using, allow it to come to room temperature and then shake well.
Toast the pecans, allow to completely cool, and store in an airtight container.
Wash and dry the salad greens (if they're not already washed).
A few hours ahead of time on the same day:
Cut the apples and shake the slices with a generous amount of lemon juice. Squeeze the air out of the bag and store in the refrigerator until you're ready to assemble the salad. Honeycrisp apples will typically hold their bright color (shaken with lemon juice) for several hours. Other varieties of softer apples (such as Gala) will brown more quickly, so those shouldn't be sliced and shaken with lemon juice until just before serving.
Calories:
280
kcal
|
Carbohydrates:
24
g
|
Protein:
5
g
|
Fat:
20
g
|
Saturated Fat:
9
g
|
Cholesterol:
11
mg
|
Sodium:
356
mg
|
Potassium:
238
mg
|
Fiber:
3
g
|
Sugar:
17
g
|
Vitamin A:
635
IU
|
Vitamin C:
15
mg
|
Calcium:
93
mg
|
Iron:
1
mg
Post originally published on November 5, 2015
More Christmas Salad & Thanksgiving Salad Ideas