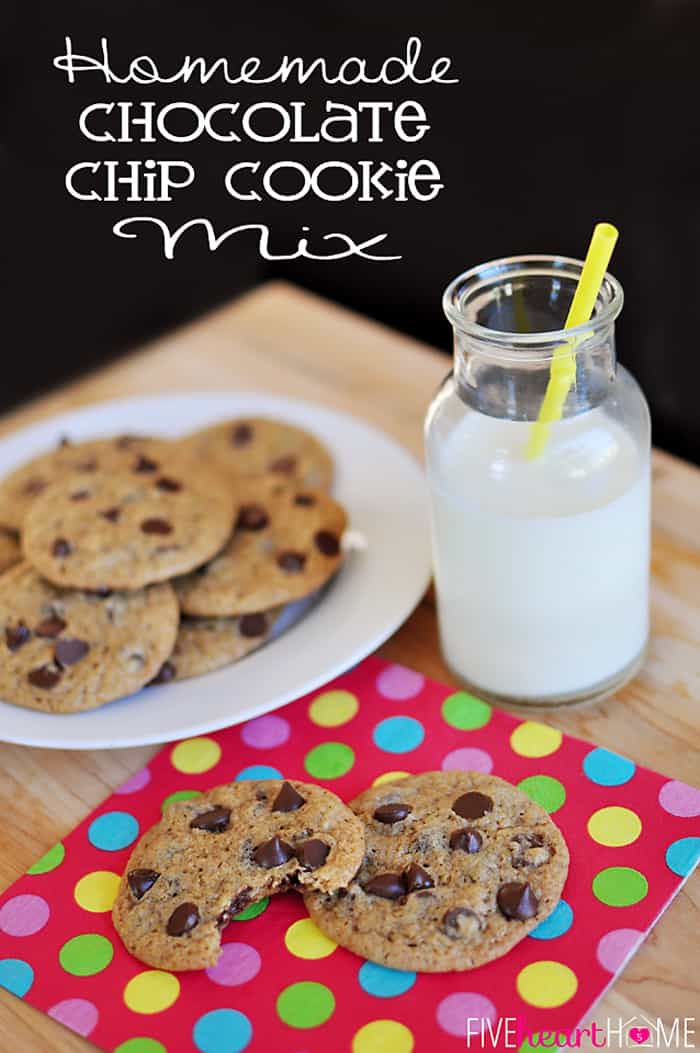 Homemade Chocolate Chip Cookie Mix is an easy pantry mix for whipping up delicious chocolate chip cookies from scratch. Just add butter, eggs, & vanilla for fresh, warm cookies in a flash!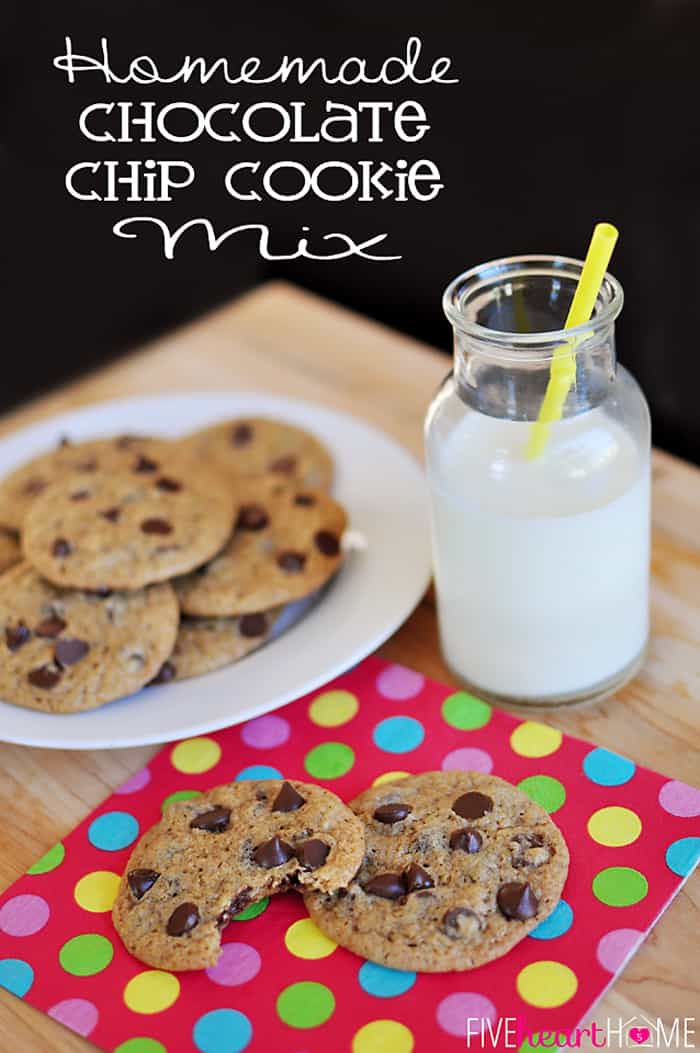 If you enjoy saving time by stocking your pantry with easy, homemade, all-natural baking mixes, you'll also love Chocolate Cake Mix, Whole Wheat Waffle Mix, and Cornbread Mix!
So...raise your hand if you've ever found yourself volunteering (or volunteered) at the last minute to bake something sweet for your child's school, a church potluck, or a bake sale? The only problem is, that last minute part meant that you were a little short on time or ingredients and you found yourself tempted to repackage some brownies from the bakery section of the grocery store and call it a day (hypothetically speaking, or course).
Well, this need not be a problem ever again! Enter your new BFF: Chocolate Chip Cookie Mix! This homemade mix will allow you to whip up a batch of warm, fresh chocolate chip cookies faster than you could otherwise zip to the grocery store and back!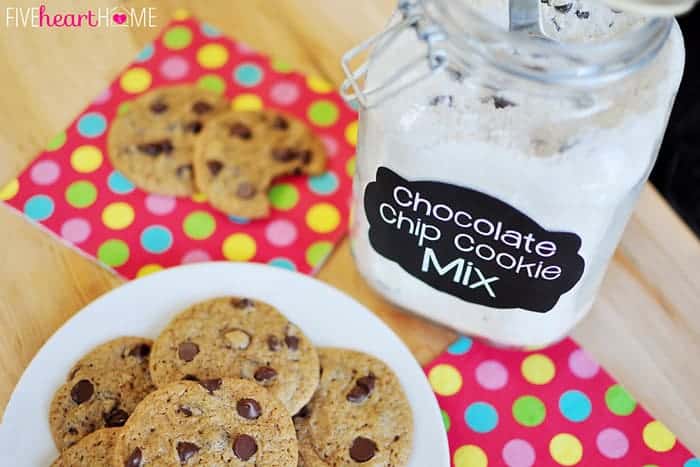 Why Make Your Own Mix?
Now, of course, you can already buy bags of cookie mix in the baking aisle, right next to the boxed cake mixes. Heck, you can even buy refrigerated, pre-formed cookie dough that you just have to pull apart and pop in the oven.
But if you like the idea of controlling your own ingredients while still maintaining the advantage of speed and convenience, homemade mixes are the way to go!
Throwing together a mix takes no longer than making a single batch of said recipe, but it saves you the time of pulling ingredients out of cabinets, measuring out everything, and cleaning all of the utensils multiple times down the road. Now tell me...how can you argue with that?
My family has been reaping the advantages of this post over the past week because I did lots of research and experimentation -- AKA, I baked dozens upon dozens of chocolate chip cookies -- in order to get this Cookie Mix just right. After basing my multiple trials on different recipes and various methods, I think I finally came up with a winner. You see, I've been stocking my pantry for awhile now with various homemade mixes, but I had yet to put together a homemade Cookie Mix. So this new recipe is going to be a time-saver for me as much as I hope it is for you!
Cookie Mix Yield
This recipe makes enough for four separate batches of chocolate chip cookies.
If you make small, tablespoon-sized cookies, you'll get about four dozen cookies per batch.
Please note that this Cookie Mix does tend to get compacted while sitting in the pantry and most of the chocolate chips may migrate towards the bottom. So for best results, be sure to stir/fluff up the baking mix before measuring it out.
Finally, measure out 4 scant cups of mix to make your batch of cookies. Any more and your cookie dough will be too crumbly. You can always stir in a tad more melted butter if you end up using a bit too much dry mix. My dough was slightly crumbly when I mixed it together but it held together just fine when I rolled it into balls and flattened them out on my cookie sheet.

Trial & Error
In the spirit of full disclosure, the photos here are representative of one of my earlier trials. I took all of these pictures thinking I had found my final recipe, but then I wasn't happy with how the cookies were already starting to dry out by the next day. So I went back to the drawing board with the recipe, but I didn't have the time or energy to take a bunch of pictures again. My three children and my sanity thank you for your understanding... 😉
Suffice it to say that the cookies that result from this mix don't spread out as much as the ones in the above pictures. They end up being thicker and, as a result, slightly smaller. But they also end up chewier and don't dry out so quickly, and that's what I was ultimately going for. Just for comparison's sake, here's a picture of some unbaked and baked cookies from the new and improved recipe.
Can you see how much thicker and more textured they are? Also keep in mind that I didn't stud the tops of this batch with extra chocolate chips for more photogenic cookies. That's a trick for you if you're ever interested in your chocolate chip cookies looking "pretty," with whole chocolate chips peppering the tops, as opposed to all of the chips being buried within the cookie dough.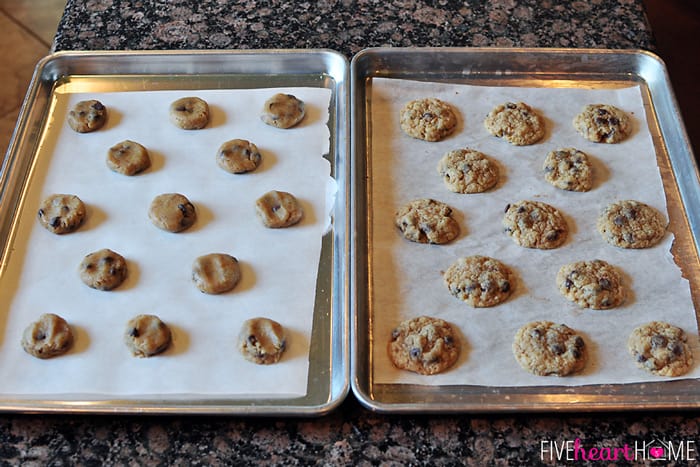 "Pretty" Chocolate Chip Cookies
All I did to get the below look was stick five or six chocolate chips on top of each ball of dough before popping them in the oven. As the cookies spread out, so did the chocolate chips, and the final result was bakery-looking cookies. Of course, this was just for aesthetics and entirely unnecessary...these cookies are equally yummy either way.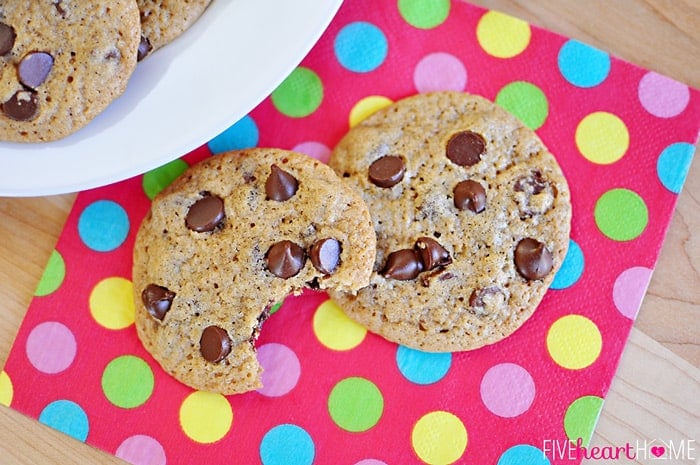 Tips & Tricks
And now some tips for the best results!
Melt your butter over low heat on the stove or at reduced power in the microwave so that it doesn't get too hot. You don't want your butter to be overly warm when you make your cookie dough, and by not heating it up too much to begin with, you save yourself the time of waiting for it to cool.
As for the eggs, I know it's a pain to use a whole egg plus one yolk, but it really does make for a chewier cookie that remains moist over time. I experimented with two whole eggs and the cookies did, indeed, dry out more quickly.
Some of you have already seen me wax poetic about my favorite type of vanilla extract, and in my opinion, chocolate chip cookies are another one of those recipes that really benefits from a high quality variety of this ingredient.
Another key to making these cookies chewy (aside from not overbaking) is to allow the cookies to cool completely on the pan. If you don't have enough cookie sheets to do so, at least let the cookies cool as long as possible on the pan, and then perhaps consider removing them to a large plate or other solid surface (rather than a cooling rack) to finish cooling.
I'm so excited to have this homemade Chocolate Chip Cookie Mix in my arsenal that I can hardly wait for the next time I'm called upon to do some last-minute baking! Waiting for them to bake is by far the longest part of making these cookies, and that suits my busy schedule just fine. 😉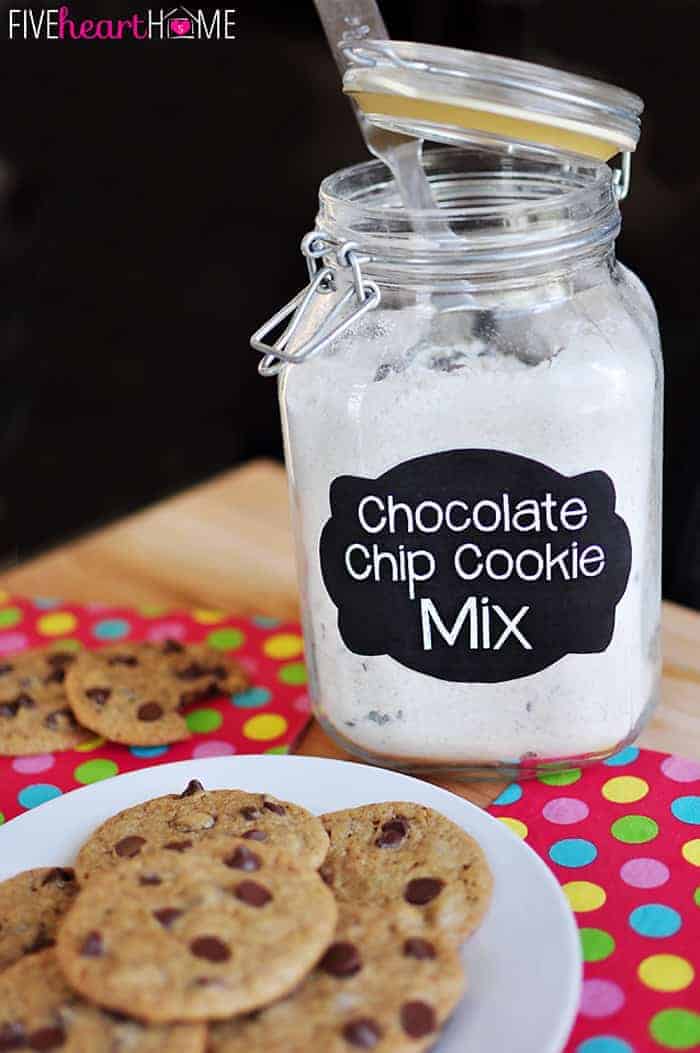 More Homemade Mixes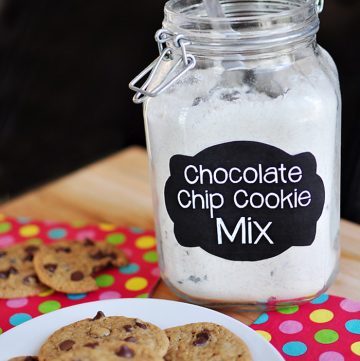 Chocolate Chip Cookie Mix
Homemade Chocolate Chip Cookie Mix is an easy, from-scratch pantry mix. Just add butter, eggs, and vanilla for warm, fresh chocolate chip cookies in a flash!
Print
Pin
Rate
Servings:
48
small cookies (or 18 large cookies) in ONE BATCH of cookie mix (total recipe yields 4 batches)
Ingredients
For the Chocolate Chip Cookie Mix:
8 ½

cups

all-purpose flour

2

teaspoons

baking soda

2

teaspoons

salt

4

cups

packed brown sugar

,

light OR dark

2

cups

white sugar

6

cups

semisweet chocolate chips

,

about 36 ounces (3 bags)
For the cookie dough:
4

scant cups of Chocolate Chip Cookie Mix

¾

cup

(1 ½ sticks) unsalted butter

,

melted & cooled

1

egg + 1 egg yolk

2

teaspoons

pure vanilla extract
Instructions
For the Chocolate Chip Cookie Mix:
In a large bowl, whisk together flour, baking soda, salt, and sugars until well blended. Stir in chocolate chips. Store in an airtight container.
To make the cookie dough:
Adjust oven rack to center position. Preheat oven to 325°F. Line cookie sheets with parchment paper (or spray with nonstick cooking spray).

Fluff/stir cookie mix to aerate and redistribute the chocolate chips. Measure 4 scant cups of Chocolate Chip Cookie Mix into a bowl, using a knife to level each cup. By hand or with an electric mixer, blend in cooled melted butter, whole egg, egg yolk, and vanilla. Mix until combined.

Use a tablespoon or small cookie scoop to measure out cookie dough and roll it into a ball. Place ball on prepared cookie sheet and flatten slightly. Repeat, spacing cookies two inches apart.

Bake for 9 to 11 minutes or until edges of cookies are starting to turn golden brown and centers are puffy yet set. Remove from oven and allow cookies to cool completely on cookie sheets.
Notes
To make LARGE cookies, use a scant ¼ cup of dough. Roll it into a ball and slightly flatten out on the cookie sheet. Space cookies 2 ½ inches apart and bake for 15 to 18 minutes.
Calories:
104
kcal
|
Carbohydrates:
14
g
|
Protein:
1
g
|
Fat:
5
g
|
Saturated Fat:
3
g
|
Cholesterol:
11
mg
|
Sodium:
39
mg
|
Potassium:
46
mg
|
Fiber:
1
g
|
Sugar:
9
g
|
Vitamin A:
96
IU
|
Calcium:
9
mg
|
Iron:
1
mg
Adapted from Baking Illustrated.