Ranch Dressing Mix is an easy, DIY, dry ranch seasoning mix, perfect for whipping up homemade salad dressing, dip, or flavoring other recipes!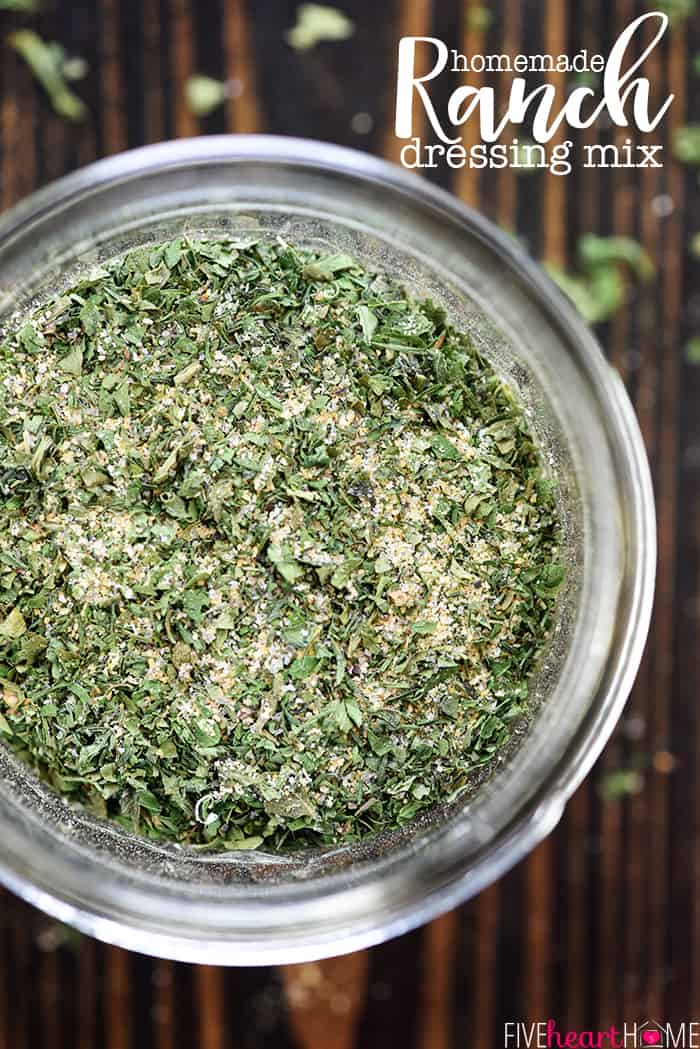 I've been making The BEST Homemade Buttermilk Ranch Dressing for years, and it's seriously one of my family's favorite ways to enjoy a salad, not to mention one of my most popular blog recipes. But sometimes when I'm craving ranch dressing, I don't have fresh herbs on hand. So why did it takes me so many years to translate my favorite ranch recipe into a from-scratch, pantry staple, seasoning mix...AKA, Ranch Dressing Mix?!
Ranch Seasoning
This Homemade Ranch Dressing Mix is basically like the little packets of ranch seasoning mix you can buy at the grocery store.
The problem with Hidden Valley Ranch seasoning and similar store-bought dry mixes is that the ingredients are not exactly natural or straightforward.
I mean, I already know I want to avoid MSG...but some of those other ingredients I can't even pronounce! So I often turn to making my own seasoning mixes and spice blends.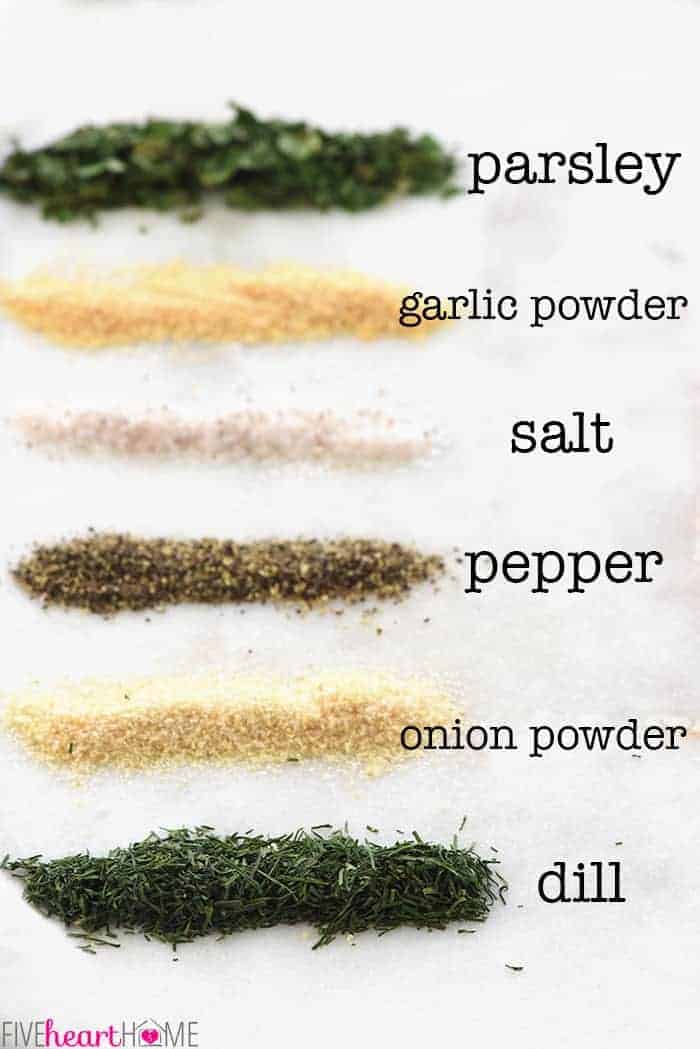 Ranch Dressing Mix Ingredients
Not the case with this Homemade Ranch Dressing Mix. This stuff contains nothing more than dried herbs and spices:
Parsley.
Dill.
Garlic powder.
Onion powder.
Salt.
Pepper.
That's it!

How to Make It
Making ranch seasoning mix is ridiculously easy.
Simply measure out your dried herbs and spices. Then whizz for a few seconds in a blender or food processor!
Now, you're not aiming for a fine powder here. Rather, you want to break down the dried parsley flakes just enough that they stay distributed throughout the other ingredients.
Because if you don't process this mix just a bit, the garlic powder, onion powder, salt, and pepper tend to sift straight down through the dried herbs and end up at the bottom of the jar. And it's better when a "mix" actually stays mixed!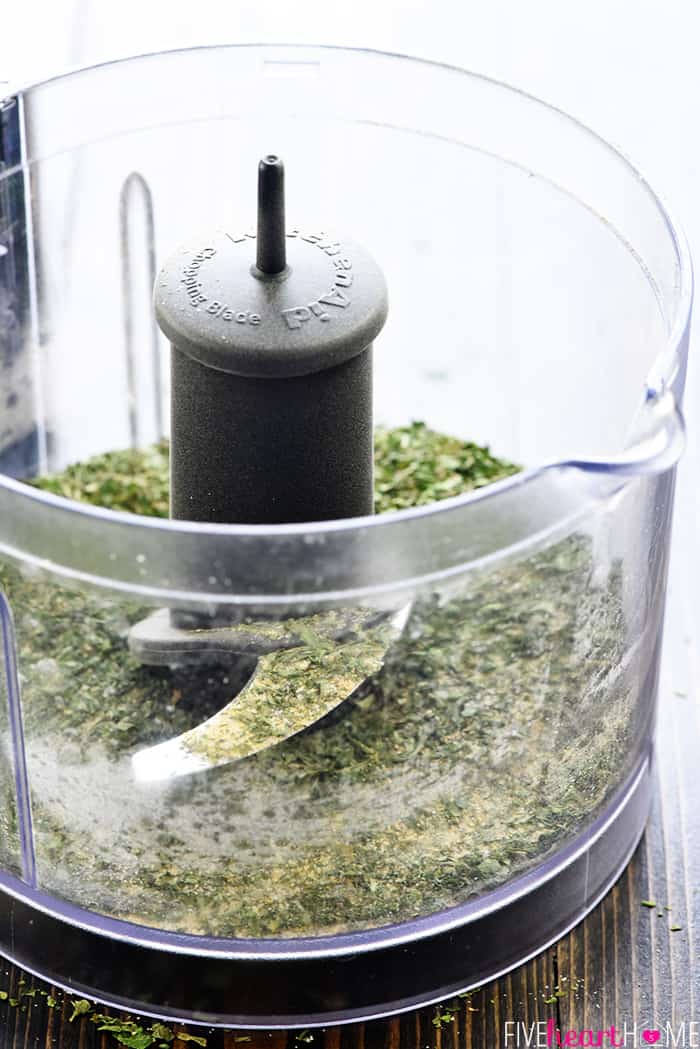 How to Use It
You can use this Ranch Dressing Mix as ranch seasoning in recipes where you'd usually rely on those little aforementioned packets.
Or, to make ranch salad dressing, simply whisk 1 ½ tablespoons of dry mix together with equal parts buttermilk, sour cream, and mayonnaise, plus a splash of apple cider vinegar and Worcestershire sauce.
So long as you use all-natural mayo and Worcestershire, your ranch will contain nary an artificial ingredient!
And the results? Delicious.
This homemade ranch seasoning mix adds a zip of flavor to soups, breadings, and so much more.
And as a salad dressing, it's divine.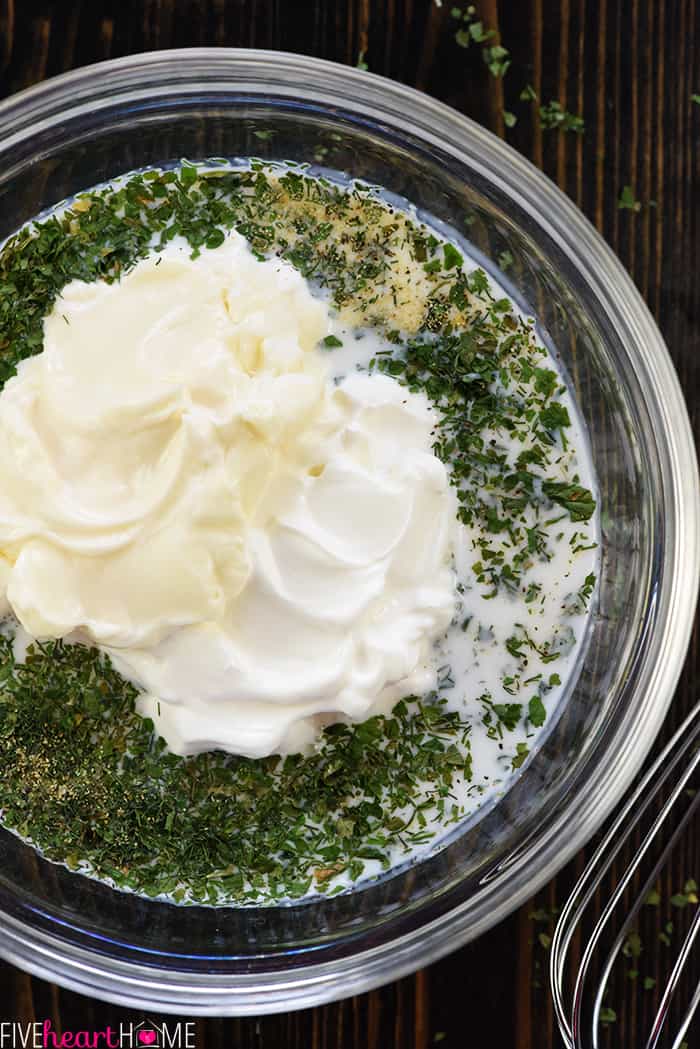 Having a jar of Ranch Dressing Mix in the pantry is super convenient for whipping up fresh, natural ranch salad dressing at a moment's notice!
It also allows you to make recipes calling for ranch seasoning without relying on store-bought, artificial ingredient-laden, dry seasoning packets.
I hope you'll give this simple, tasty, homemade pantry staple a try!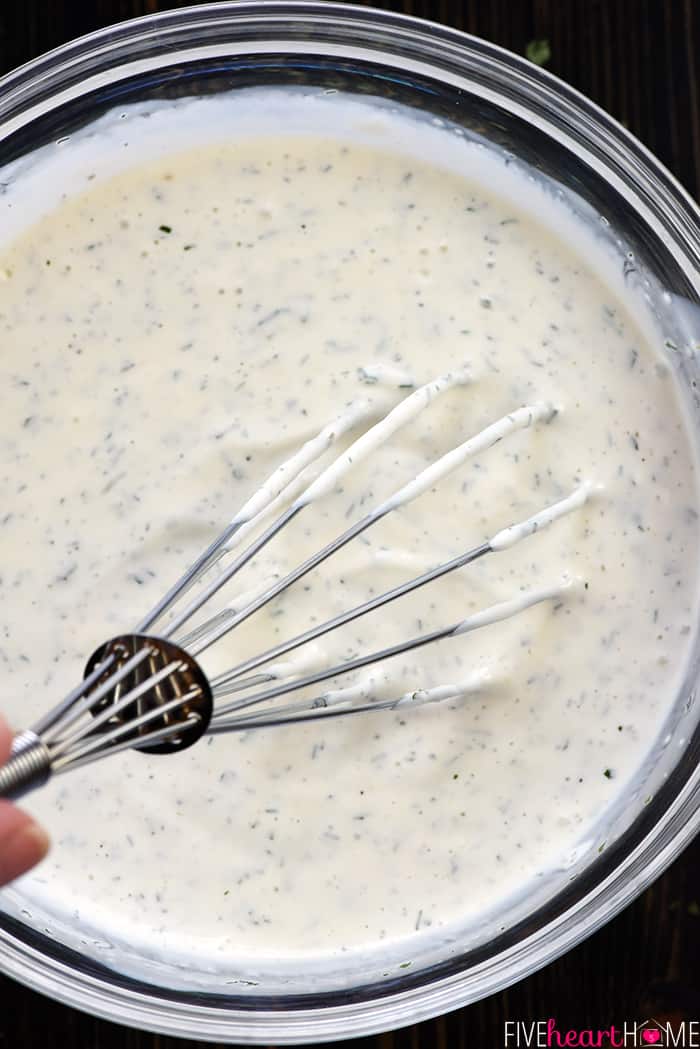 Helpful Tips, Tricks, & Equipment
My favorite type of salt (that I use for basically everything and is pictured in this post) is Redmond Fine Sea Salt. But this recipe is great using regular table salt as well!
Even though blending or processing this recipe helps the ingredients to stay incorporated, it's still a good idea to shake your Ranch Dressing Mix (to make sure it hasn't settled and separated) before measuring it out.
To make a single batch of ranch seasoning, reduce the measurements as follows:

1 tablespoon dried parsley
½ teaspoon dried dill weed
½ teaspoon garlic powder
¼ teaspoon onion powder
¼ teaspoon salt
⅛ teaspoon freshly ground black pepper

Homemade ranch dressing always tastes best if you make it at least a few hours ahead of time and pop it in the fridge to allow the flavors to blend. I always think it tastes mayonnaise-y right after I make it. But after chilling (for a minimum of 4 hours, but preferably for 8 hours), it tastes like delicious, creamy RANCH!
No worries if you don't have buttermilk on hand when you make ranch dressing! You can either use regular milk, or make your own buttermilk:

Pour 1 ½ teaspoons of lemon juice (or white vinegar) into a 1-cup liquid measuring cup.
Fill the measuring cup up to the ½-cup line with milk (whole milk is preferred but low-fat/skim milk will work).
Allow to sit for 5 to 10 minutes before proceeding with recipe.

More Tasty Homemade Salad Dressing Recipes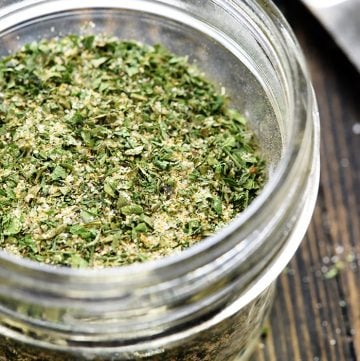 Ranch Dressing Mix
Homemade Ranch Dressing Mix is an easy, DIY, dry ranch seasoning mix, perfect for whipping up homemade ranch salad dressing or flavoring other recipes!
Print
Pin
Rate
Servings:
4
batches of dry seasoning (1 ½ tablespoons each)
Ingredients
4

tablespoons

dried parsley

2

teaspoons

dried dill weed

2

teaspoons

garlic powder

1

teaspoon

onion powder

1

teaspoon

salt

½

teaspoon

freshly ground black pepper
Instructions
Measure ingredients into a blender or mini food processor. Blend/pulse a few times until slightly broken down and well combined. Transfer the mixture to a small jar or other airtight container. Shake the seasoning mix well before measuring it out.
Notes
Use 1 ½ tablespoons Homemade Ranch Dressing Mix as a substitute for a 1-ounce store-bought packet in recipes calling for dry ranch seasoning.
The Nutrition Facts are for 1 ½ tablespoon dressing mix (the equivalent of one store-bought "packet"), which makes one batch of dressing.
TO MAKE A BATCH OF HOMEMADE BUTTERMILK RANCH DRESSING:

Whisk together ½ cup mayonnaise, ½ cup sour cream, ½ cup buttermilk, ½ teaspoon apple cider vinegar, ½ teaspoon Worcestershire sauce, and 1 ½ tablespoons Homemade Ranch Dressing Mix; stir until until well combined.
Cover and refrigerate for at least 4 hours (preferably 8 hours or overnight).
Add additional salt and/or pepper to taste before serving, if desired. If consistency is too thick, thin out the dressing with a splash of additional milk or buttermilk.
Calories:
14
kcal
|
Carbohydrates:
2
g
|
Sodium:
592
mg
|
Potassium:
88
mg
|
Vitamin A:
70
IU
|
Vitamin C:
2.7
mg
|
Calcium:
32
mg
|
Iron:
0.8
mg
Post originally published on May 18, 2018, and updated on May 2, 2020.

Save
Save