Homemade Taco Seasoning is easy to make with all-natural ingredients…perfect for your favorite tacos or Mexican food recipes!

Homemade Taco Seasoning is one of the very first recipes I ever shared when Five Heart Home was an itty-bitty baby blog almost five years ago. So seeing as how this is one of my personal all-time favorite, most-often-made recipes…and seeing as how I have since shared a ton of other recipes that call for taco seasoning…and seeing as how Cinco de Mayo is right around the corner…I thought it might be time for a revamp! From updated tips and tricks to new photos to a spiffy new recipe video, you'll find it all below.

What is in Taco Seasoning?
My Homemade Taco Seasoning includes the following:
chili powder
cumin
paprika
garlic powder
onion powder
dried oregano (I actually prefer Mexican oregano, if I have it)
red pepper flakes for heat, OR chipotle chile pepper powder for smoky heat (and, of course, this ingredient is optional if you prefer a mild seasoning)
salt
black pepper
cornstarch (optional…see Tips & Tricks below for an explanation of this one) 😉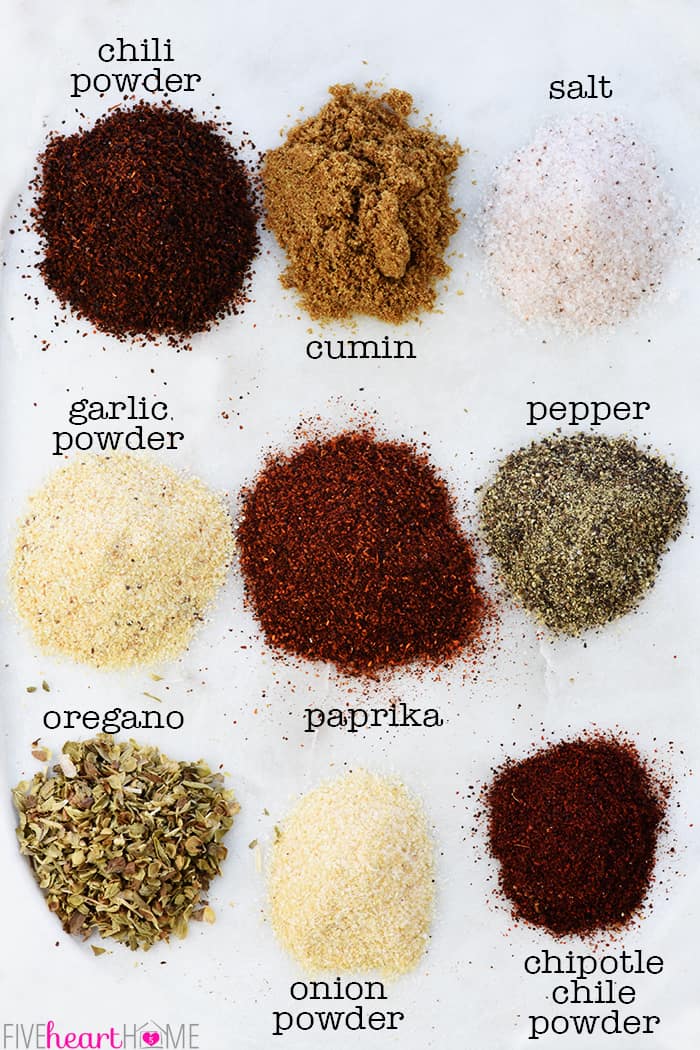 Why Make Homemade Taco Seasoning
If you haven't started making your own DIY taco seasoning yet, the time is now! It's easy, economical, and, since you are in control of the ingredients, you get to avoid the excessive salt, MSG, preservatives, and other unsavory additives often found in store bought taco seasoning.
I go through a lot of taco seasoning in my kitchen, folks. So for me, the other advantage of throwing together my own mix is that I can make it in bulk. My family loooves our Tex-Mex! So whether I'm whipping up beef or chicken tacos, burritos, enchiladas, chalupas, or some version of a Mexican casserole, having a big jar of homemade taco seasoning in the pantry makes getting dinner on the table that much quicker (and healthier!).

This recipe makes the equivalent of about eight of those little packets from the grocery store. Those packets get expensive, so making your own Homemade Taco Seasoning actually ends up being more economical! Stored in an airtight jar or container, a batch of this recipe will last a long time. If you don't use taco seasoning all that often, you might want to cut the recipe in half…but I use this mix so frequently that I usually double the recipe.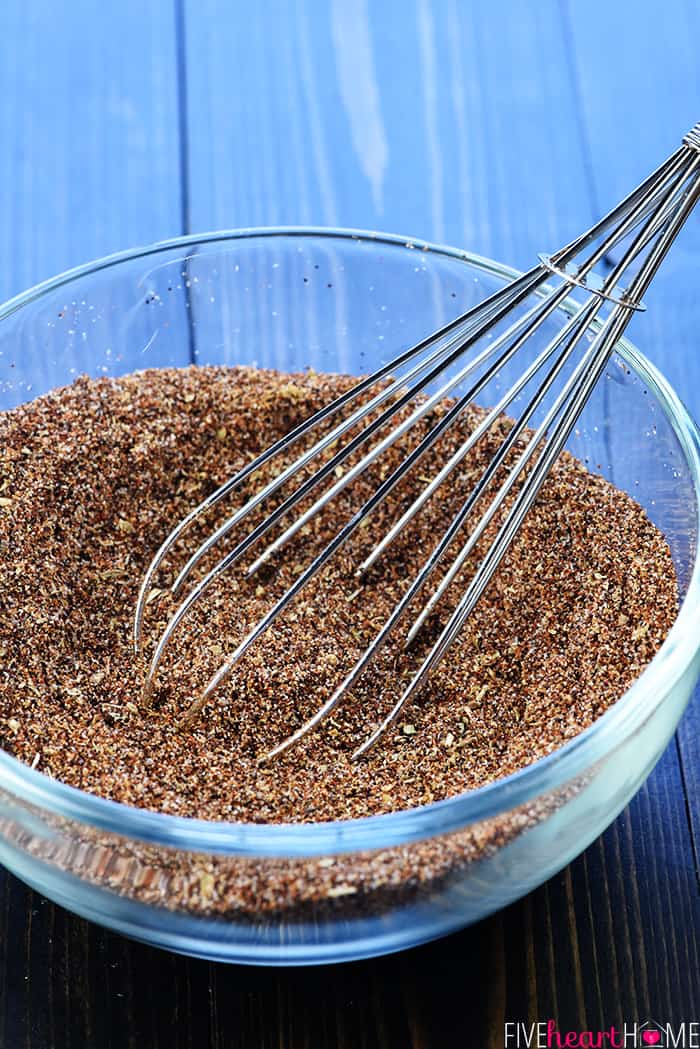 How to Make Taco Seasoning
It really is as simple as measure and stir, y'all! Since I'm regularly whipping up a batch of Homemade Taco Seasoning, I actually printed out the ingredient list and taped it right to my spice shaker. Now when my shaker is empty, I can just look at the label, measure the ingredients into a bowl, whisk them up, and pour them right back into the shaker!
A final plus to making your taco seasoning is that you can tweak the spices or the proportions to your liking. Adjust the cumin or decrease the salt, if you wish. Make it mild or make it spicy. The choice is yours!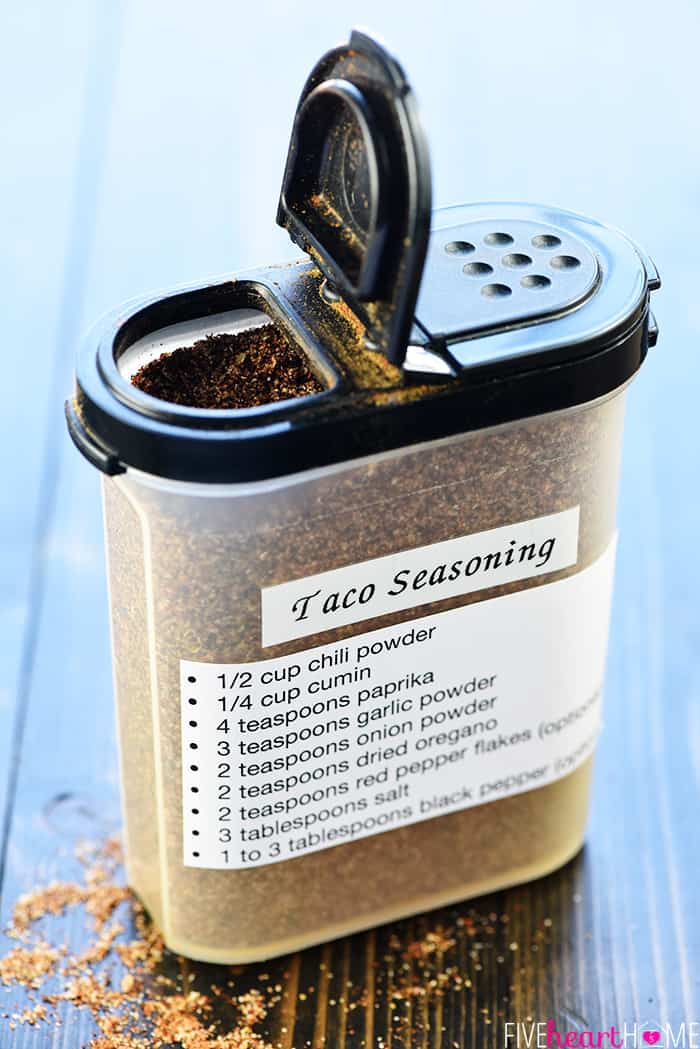 How Much Taco Seasoning Per Pound of Meat?
I would say that three tablespoons of this homemade spice blend is equivalent to one store-bought packet of taco seasoning mix. So when I'm seasoning a pound of ground beef or turkey — or using this mix in a recipe that calls for a packet of taco seasoning — I use three tablespoons.
That being said, you can certainly use less if you prefer. You might want to start out by seasoning your pound o' meat with 2 tablespoons of Homemade Taco Seasoning and then adding more to taste.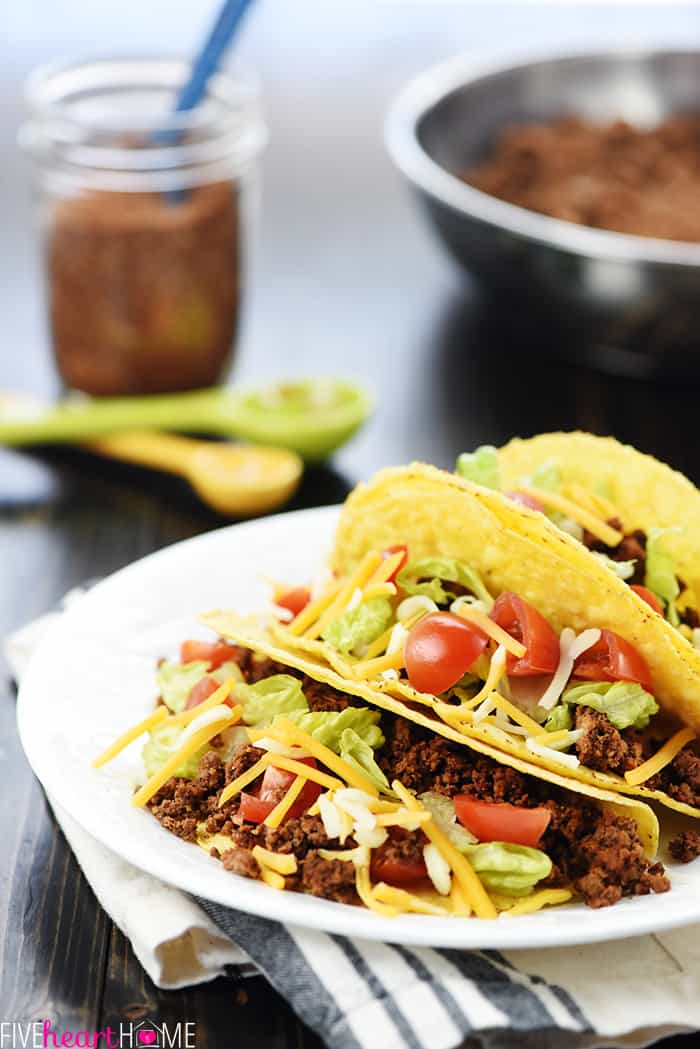 So go forth and make Homemade Taco Seasoning! It's an effortless, homemade pantry staple that will make you wonder why you ever bought the packaged stuff (and pssst…you may never buy it again?)!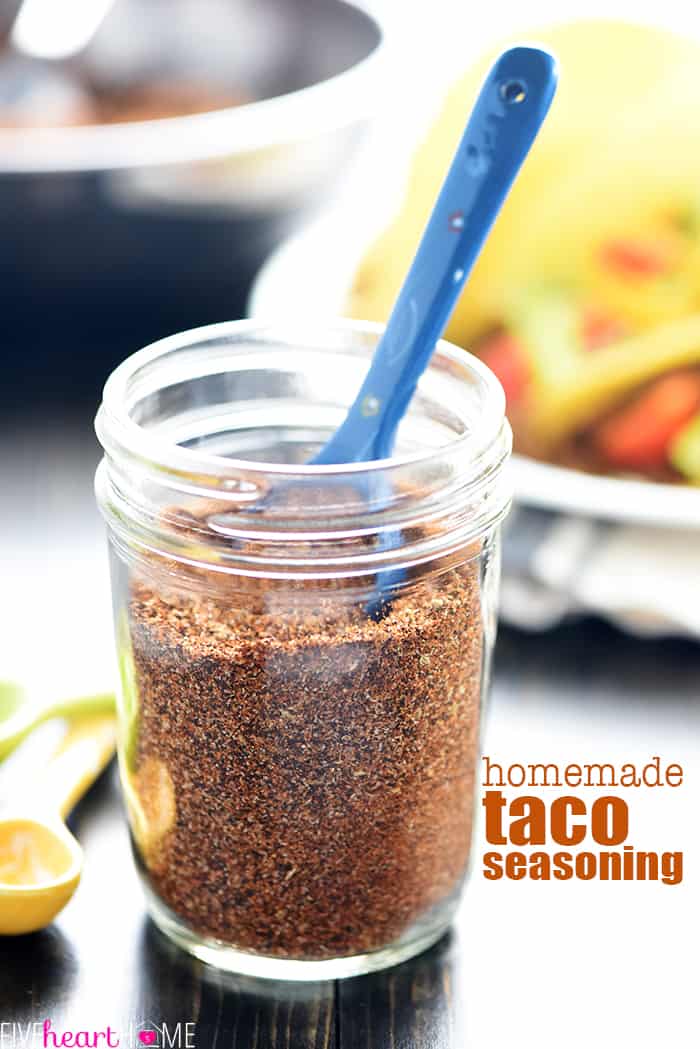 Helpful Tips, Tricks, & Equipment for Making Taco Seasoning

(some affiliate links below)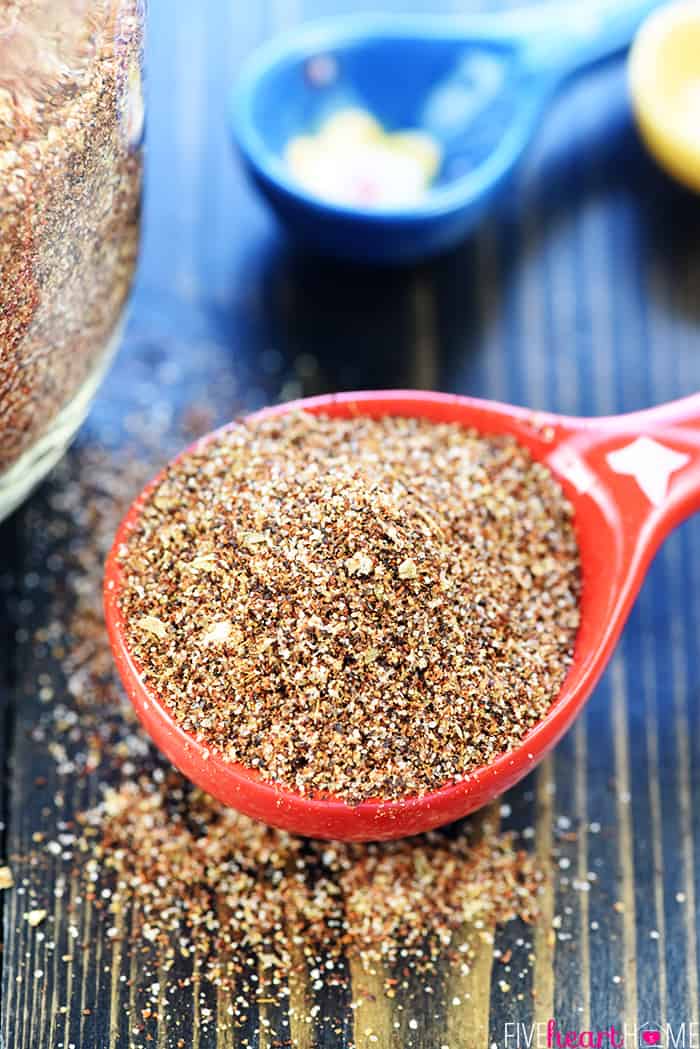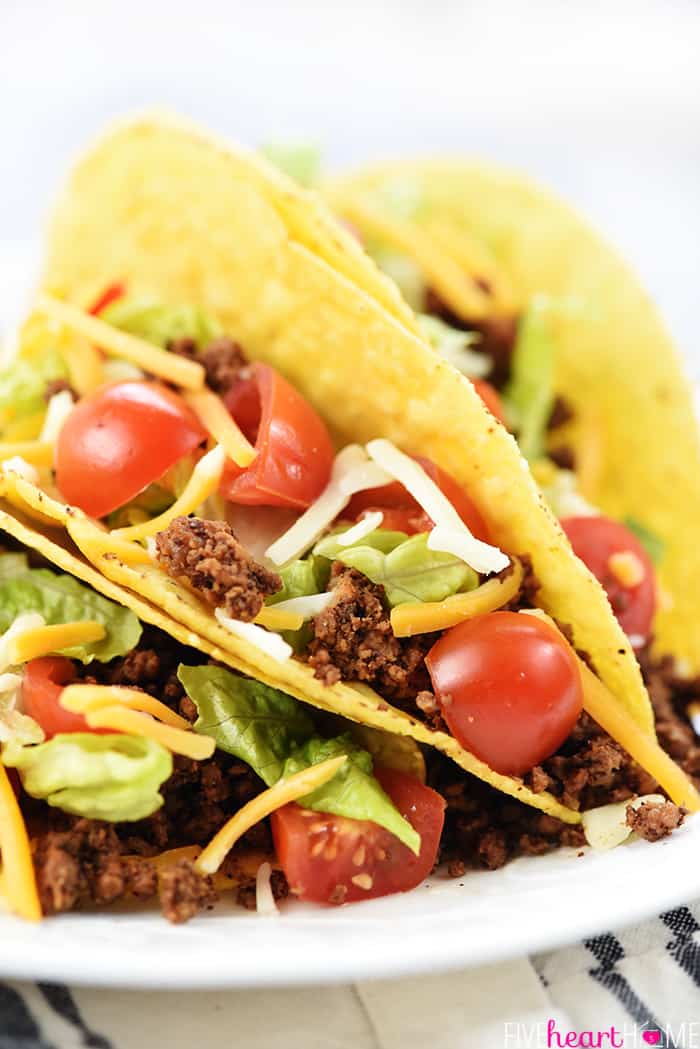 Taco Seasoning Recipe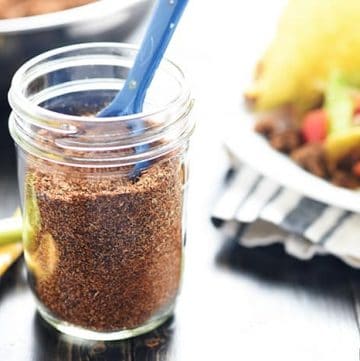 Homemade Taco Seasoning
Homemade Taco Seasoning is easy to make with all-natural ingredients...perfect for your favorite tacos or Mexican food recipes!
Print
Pin
Rate
Servings:
48
servings -- a full batch (about 8 ounces) is approximately equivalent to 8 store-bought packets of taco seasoning, and there are 6 individual servings per packet
Ingredients
1/2

cup

chili powder

1/4

cup

cumin

4

teaspoons

paprika

3

teaspoons

garlic powder

2

teaspoons

onion powder

2

teaspoons

dried oregano (OR Mexican oregano)

1 to 2

teaspoons

red pepper flakes (OR chipotle chile pepper powder)

,

OPTIONAL (for heat)

3

tablespoons

salt

1 to 2

tablespoons

black pepper

,

depending on desired heat level

3

tablespoons

cornstarch

,

OPTIONAL (see Notes below)
Instructions
In a medium bowl, whisk together all of the ingredients until thoroughly combined. Store in an airtight container.

To use, brown one pound of ground beef (or ground turkey or shredded chicken, etc.). Sprinkle 2 to 3 tablespoons of taco seasoning over meat, to taste. Stir in 1/2 cup water, bring to a simmer, and cook over low heat until the water has been absorbed.
Notes
The cornstarch is optional. It causes the taco seasoning to really cling to the meat when the water is added and reduced down. Instead of 3 tablespoons cornstarch for this batch of taco seasoning, you could instead use 1/3 cup flour to achieve the same thickening effect. If you don't use cornstarch or flour, the step of adding and then cooking down the water is probably not necessary.
Calories:
3
kcal
|
Sodium:
436
mg
|
Potassium:
7
mg
|
Vitamin A:
85
IU
|
Calcium:
2
mg
|
Iron:
0.1
mg
Post originally published on June 14, 2014.
↓↓↓The original photo from that post↓↓↓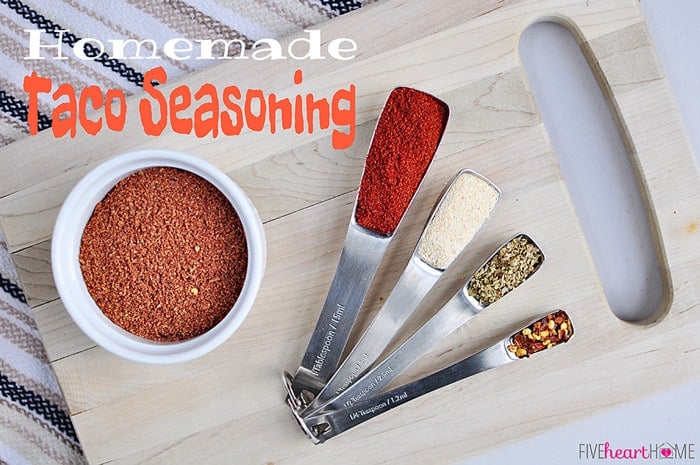 Recipes that use Homemade Taco Seasoning