Little cups of chocolate make cute receptacles for marshmallows, whipped cream, or your favorite hot cocoa toppings in these fun and tasty Hot Chocolate Floaters!

How in the world is Christmas already upon us? The halls are decked, the presents are (not quite) wrapped, and the kids are out of school and eagerly counting down to the big day. And while it's been a busy December around here without much time for holiday baking and treat making, we're doing our best to make up for it this week!
When my kiddos wrapped up school last Friday, I decided to kick off the holiday break with a festive Hot Chocolate Bar of sorts. I whipped up a big, decadent pot of homemade hot cocoa and brainstormed as many garnishes as I could come up with. But to make things extra special, I had a batch of Hot Chocolate Floaters waiting in the freezer to top each mug of cocoa!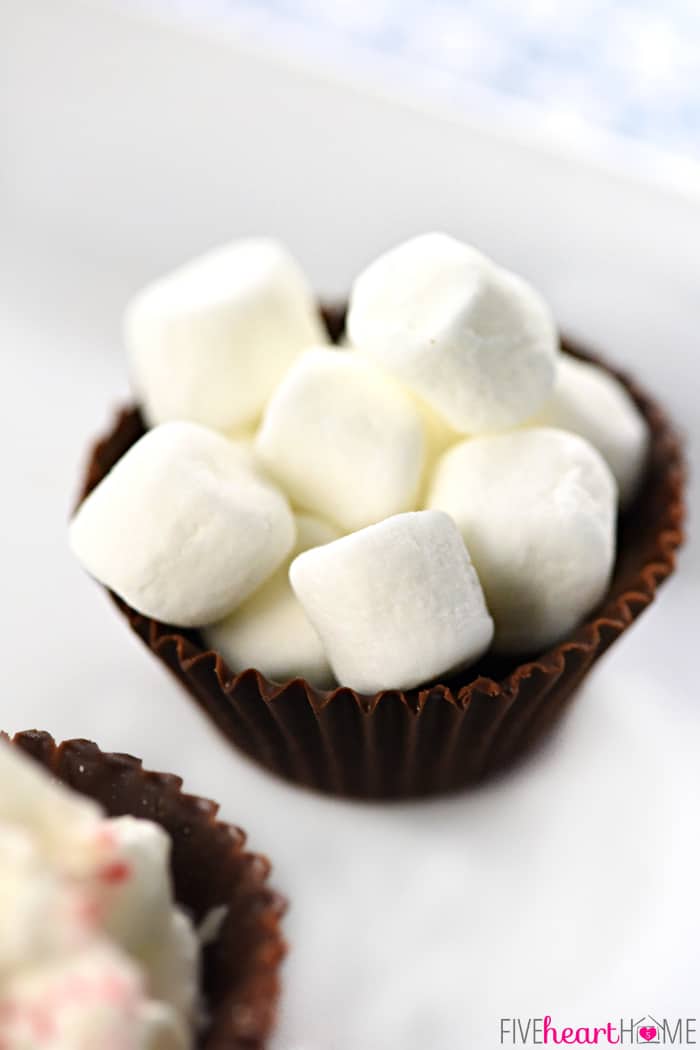 Hot Chocolate Floaters seem fancy but they're actually very simple. All they require is melting some chocolate chips and spooning the melted chocolate into mini muffin liners, making sure the sides are generously coated. Then just pop the little muffin cups into the freezer until set and carefully peel off the paper liners. Voilà! Little cups 'o chocolate perfect for filling with all of your favorite hot chocolate garnishes.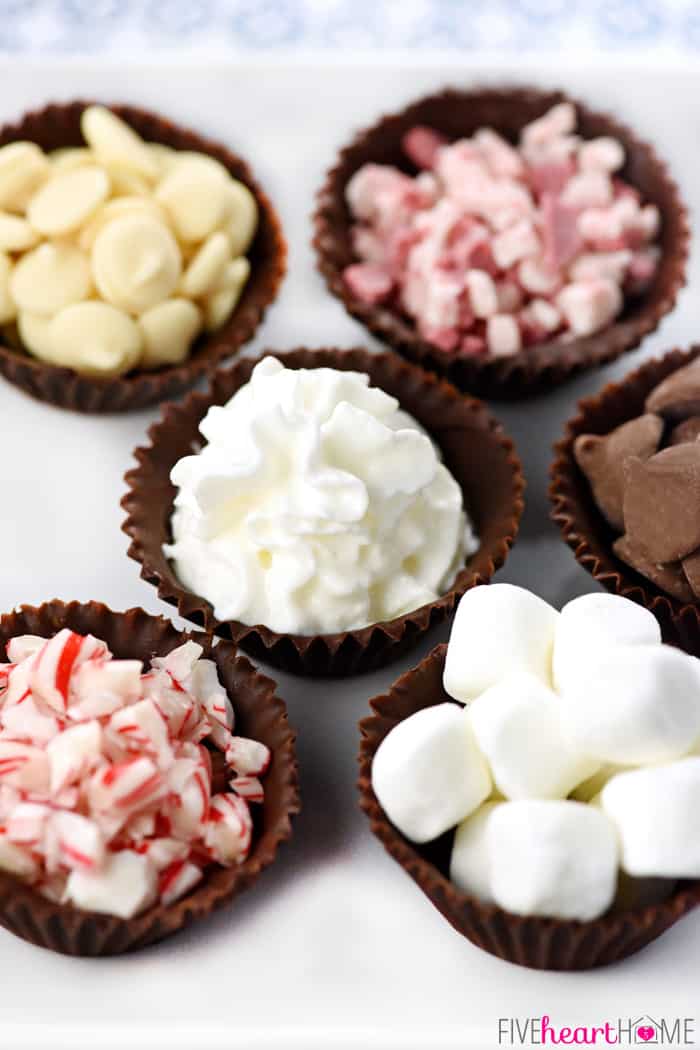 I call these little guys floaters, but bear in mind that they technically only float when filled with something light and airy like marshmallows or whipped cream. Even with a light filling, they will still melt and sink, mind you…but the speed at which this occurs is based on the temperature of your hot chocolate. And let's be honest…part of the fun of this recipe is watching the chocolate dissolve and the marshmallows spread across the top of your drink!

However. Should you fill your Hot Chocolate Floater with something more substantial — say crushed candy canes or chocolate chips — get ready to watch the whole shebang sink like a lead balloon! It's still fun to plop your chocolate cup of goodies into your hot cocoa and stir it all up until nice and melted…but the floating part of floaters doesn't really apply when using heavier toppings. I have to admit that I was initially expecting all of my Hot Chocolate Floaters to act like little boats, but that didn't exactly turn out to be the case. Live and learn, people…live and learn. 😉
So for a happy medium between floating and festive, feel free to fill your Hot Chocolate Floaters with frothy whipped cream and then lightly sprinkle with crushed candy canes or sprinkles or something merry and bright. Or keep things classic with mini marshmallows. Both options are tasty and fun!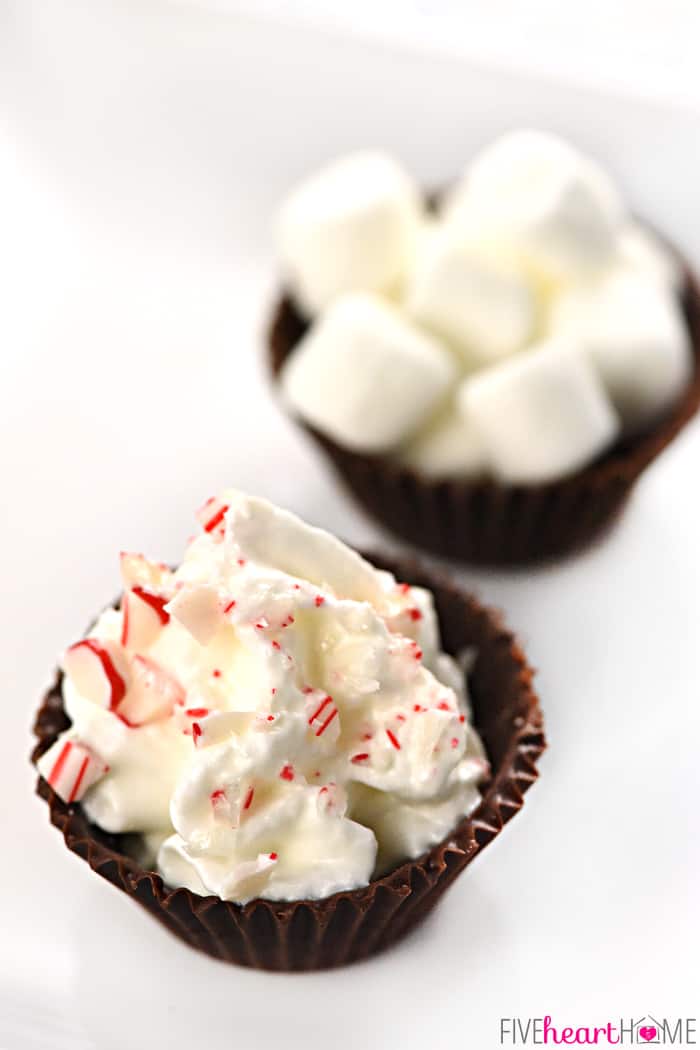 I have two quick tips when making these cute guys. First off, make sure your melted chocolate is spread into a thick, even layer extending all the way to the top edges of the muffin cup. I prefer to use a small spoon to spread the melted chocolate (because I think it results in a thicker layer in just one try), but you can also use a small brush to paint on the chocolate instead. If your chocolate cups have any thin areas after setting, you'll want to spread/paint another layer of chocolate in those areas.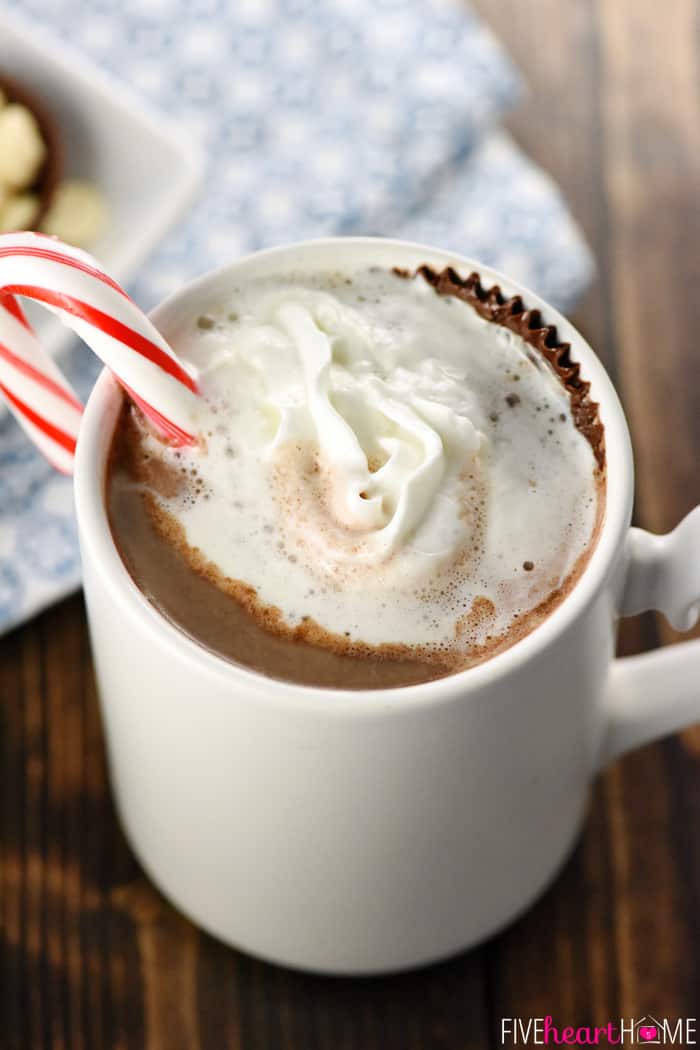 And finally, after allowing the chocolate cups to completely harden, be sure to tear off the paper liners very slowly and carefully so as not to break the chocolate. Alternatively, if you have silicone mini muffin liners or cups, you can spread or paint chocolate inside those instead of paper liners. The hardened chocolate cups should pop right out.
Have fun with these Hot Chocolate Floaters, y'all! Let the kids help make them, mix up the type of chocolate that you use (milk chocolate, semisweet chocolate, white chocolate, or swirl them together if you're feeling really rebellious), fill 'em with whatever tickles your fancy. And in case I don't talk to you before Friday…we wish you a merry Christmas and a happy hot chocolate season! 🙂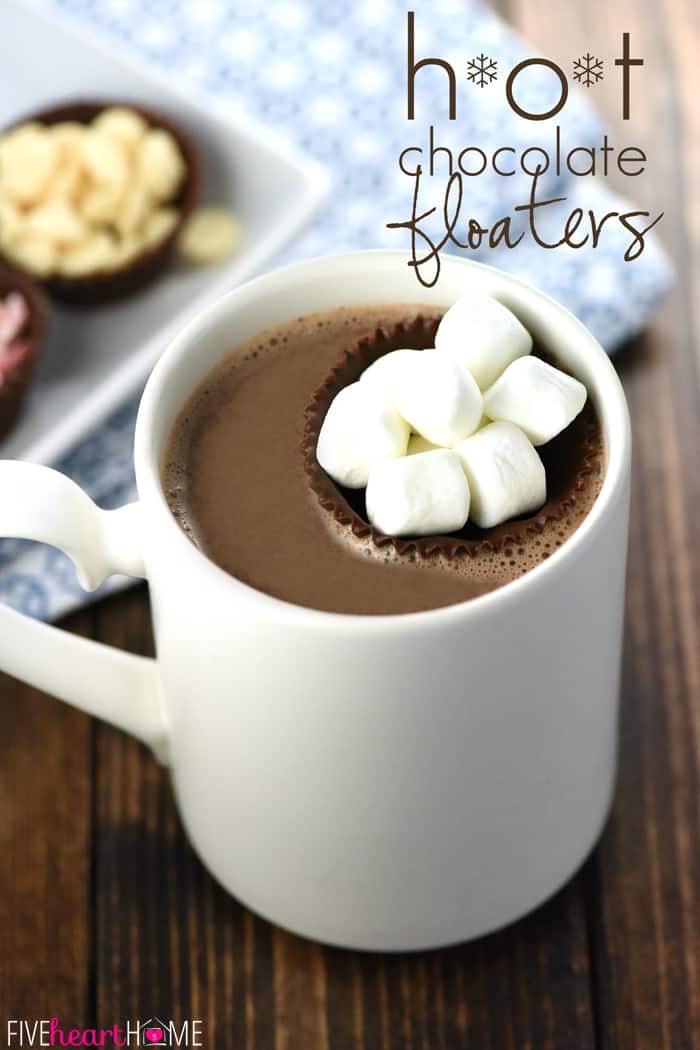 Hot Chocolate Floater Recipe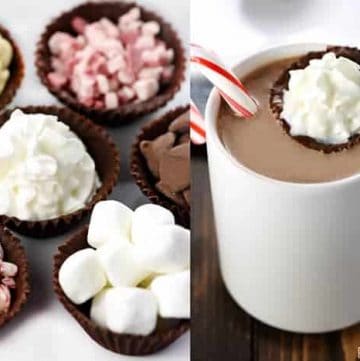 Hot Chocolate Floaters
Little cups of chocolate make cute receptacles for marshmallows, whipped cream, or your favorite hot cocoa toppings in these fun and tasty Hot Chocolate Floaters!
Print
Pin
Rate
Total Time:
4
hours
15
minutes
Servings:
12
chocolate cups
Ingredients
1/2

cup

chocolate chips

1

teaspoon

vegetable shortening

Your favorite hot chocolate garnishes

,

such as mini marshmallows, whipped cream, crushed candy canes, chocolate chips
Instructions
Line a miniature muffin pan with 12 paper, foil, or silicone mini muffin liners (or arrange liners on a baking sheet).

Place chocolate chips and shortening in a microwave-safe bowl. Microwave for 45 seconds; stir chocolate well. Microwave for another 30 seconds; stir until chocolate is smooth. (If necessary, microwave in additional 15-second increments, stirring between each one, until chocolate is completely melted and smooth.)

Use a small measuring spoon (or a small soft brush) to completely coat the inside of each mini muffin liner with chocolate. Place muffin pan in refrigerator for 30 minutes. Check for any thin areas in the chocolate and spoon or brush on more melted chocolate as necessary, making sure that the layer of chocolate around the top edge of the liner is thick enough. Return pan to refrigerator and chill for 4 hours or until completely firm. Alternatively, you may place pan in the freezer for less time, until chocolate is completely hardened.

Carefully peel the liner off of each chocolate cup (or pop chocolate cups out of silicone liners). Store chocolate cups in the freezer until ready to use.

Fill chocolate cups with preferred hot chocolate garnishes and float on top of mugs of hot chocolate.
Notes
Hot Chocolate Floaters will float the longest if kept frozen until the last minute, filled with light garnishes (such as mini marshmallows or whipped cream), and placed on top of not-overly-hot hot cocoa. They will dissolve and/or sink quickly if filled with heavy toppings or placed in extremely hot hot cocoa. But that's okay, too, because they're fun and tasty either way! 😉
Calories:
41
kcal
|
Carbohydrates:
5
g
|
Protein:
1
g
|
Fat:
2
g
|
Saturated Fat:
1
g
|
Cholesterol:
1
mg
|
Sodium:
5
mg
|
Fiber:
1
g
|
Sugar:
5
g
|
Vitamin A:
15
IU
|
Calcium:
9
mg
|
Iron:
0.1
mg
Inspired by Taste of Home Celebrations cookbook.
More Wintertime Drinks