Hot Pimento Cheese & Bacon Bread features creamy, homemade pimento cheese studded with bacon and jalapeños, spread onto French bread, and baked until bubbly!

I've got some Thanksgiving recipes on the horizon next week, but today I'm saying — nay, shouting — HAPPY FRIDAY with a creamy, cheesy, decadent, loaded-with-flavor appetizer or snack…Hot Pimento Cheese & Bacon Bread!
That title right there pretty much says it all, doesn't it? Zesty pimento cheese — made with cream cheese, mayo, extra-sharp cheddar, and pimentos — is combined with crispy, salty diced bacon and fresh minced jalapeños. The mixture is spread onto a split loaf of soft French bread, and those bread halves are then baked until hot and bubbly, à la French bread pizza. The result is melty and cheesy and oh-so-delicious!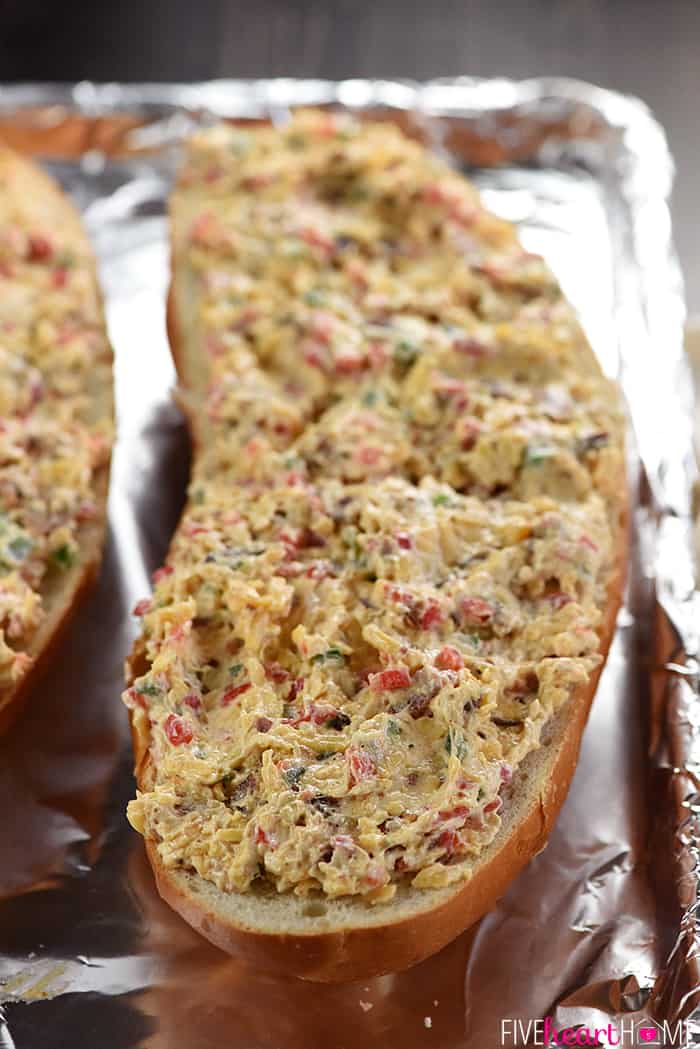 This recipe idea was actually inspired by one of the most popular appetizers on Five Heart Home, Pimento Cheese & Bacon Mini Cheese Ball Bites. The pimento cheese in that recipe has a base of softened cream cheese, which allows the mixture to be rolled into little balls. Traditional pimento cheese relies more heavily on mayonnaise, but since I was planning to bake today's version, I decided to leave the cream cheese ratio as-is…after all, cream cheese is fantastic when mixed into hot dips or spreads. The aforementioned cheese ball bites are actually rolled in a mixture of diced bacon and jalapeño, but for this recipe, I decided to mix those ingredients right into the spread for the bread. Finally, I left the chopped, toasted pecans out of this incarnation, but you could certainly sprinkle some on top of your baked bread for extra flavor and crunch.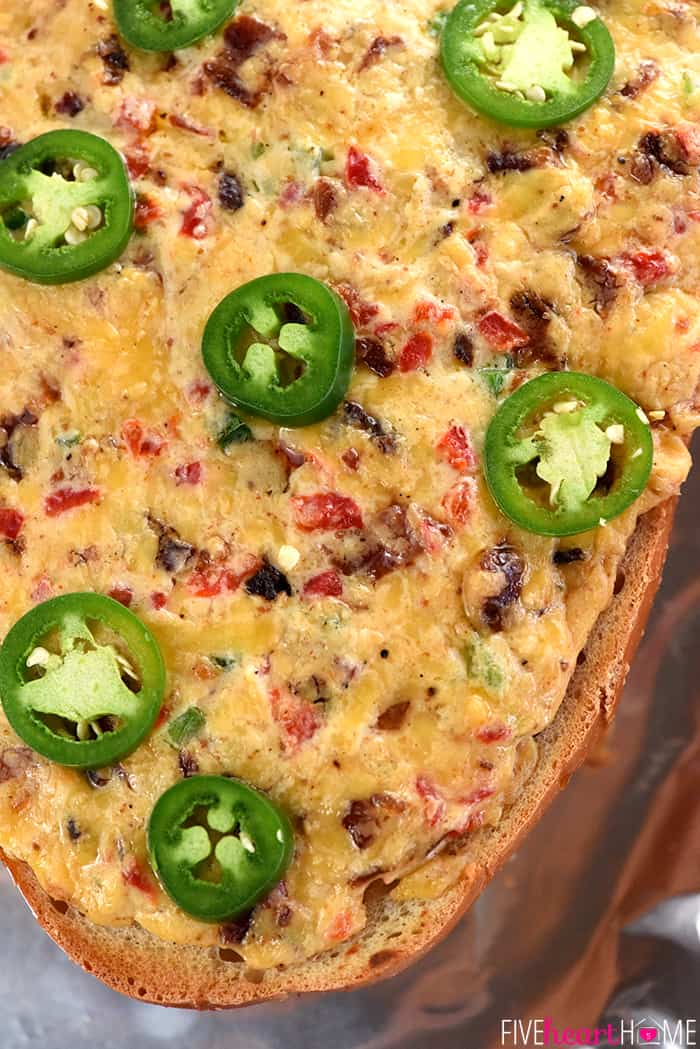 I can think of so many tasty applications for this Hot Pimento Cheese & Bacon Bread in the upcoming months. The first thing that pops into my head is, of course, football season! My college team decided to take a nosedive with the arrival of November (which is, sadly, par for the course every season), but that hasn't changed the fact that my family still likes to watch football games and, well, eat gameday-friendly grub. And what a mouthwatering game-watching snack this would be! It would also be fun for family movie or game night. It would be a hit at your next appetizer-heavy party or get-together. It would be a special treat to serve turkey-fatigued houseguests over Thanksgiving weekend. It would be a quick-to-disappear Christmas or New Year's Eve appetizer. And then don't forget about the SuperBowl! With that, I do believe we've come full circle. 😉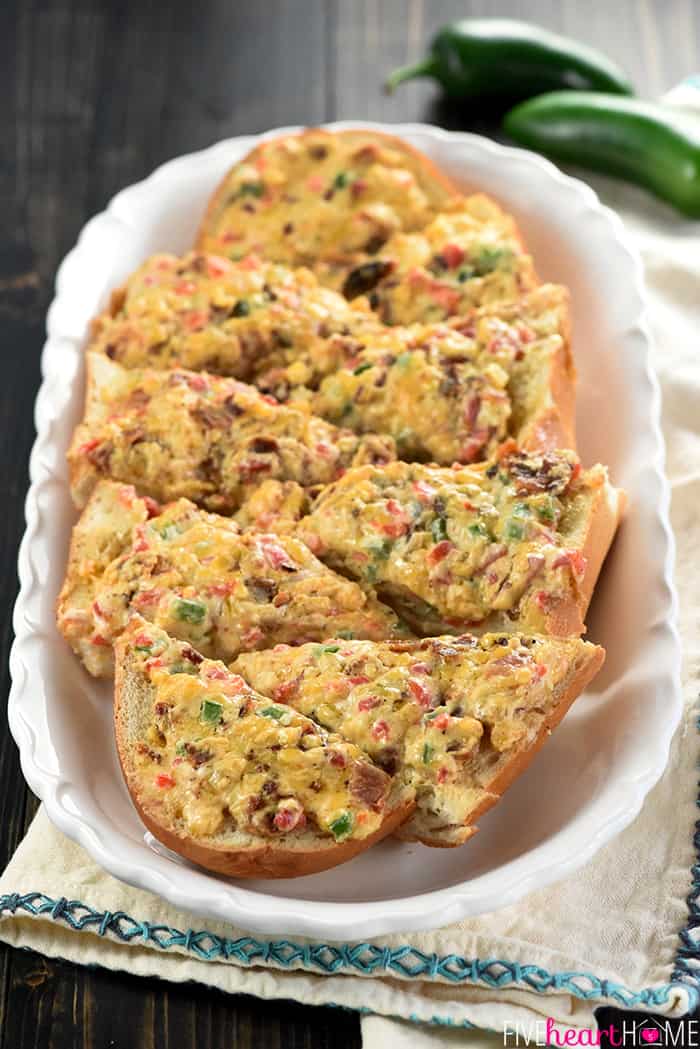 Before we get on with the recipe, I feel obligated to apologize for the oddly misshapen French bread in these photos, most evident in the pre-baked photo towards the top of the post. My grocery store has the kind of French bread that they bake fresh all day long and set out still warm from the oven, so it's sold in those brown paper bags with the top end left open so that the steam can escape. Being the certified germophobe that I am, it's always kind of grossed me out that a non-washable food item that I buy at the grocery store isn't hygienically sealed, but I try to pick a loaf from the bottom of the pile that's least likely to have been sneezed on and not think about it too much. Then I do my best to fold over the top of the bread bag so that there's less chance for germ exposure as I move through the grocery store and ultimately check out. Okay, okay…I suppose I'm still thinking about it until I'm safely home…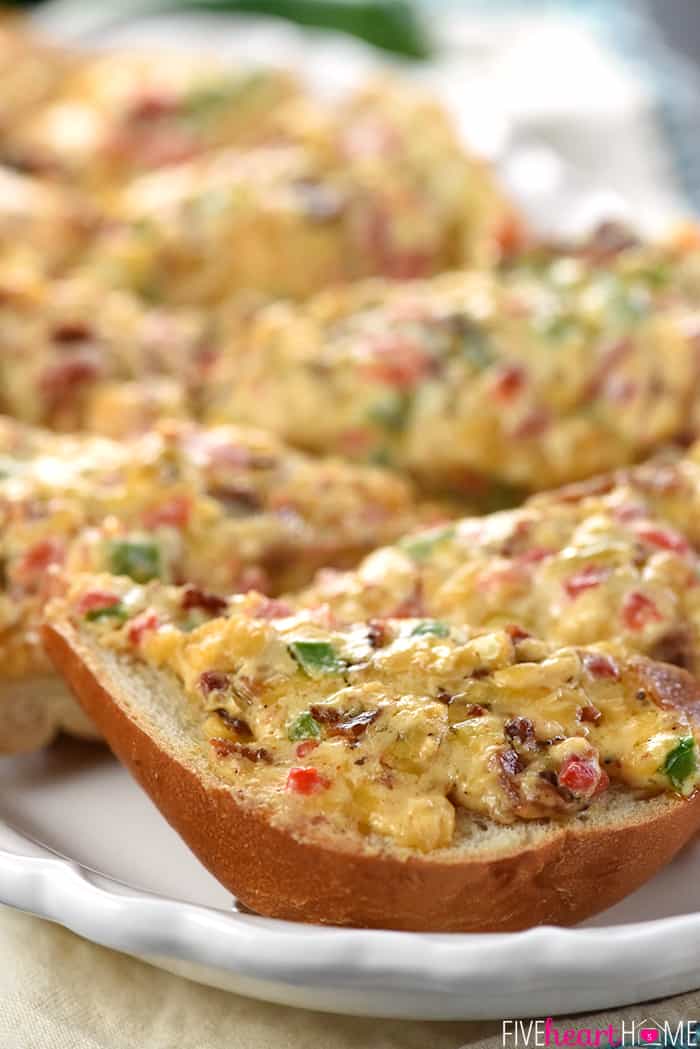 Anyway, earlier this week when I bought the French bread for this recipe, I picked out a loaf that I thought was nicely shaped and aesthetically pleasing for photography purposes, and then I followed my usual protocol for keeping it germ-free. A bit later, however, as I was inserting my credit card at the check-out register, I noticed that the checker had haphazardly tossed my bag of bread as he scanned it and, as a result, the whole loaf slid out of the bag and onto the conveyor belt. Oh horror of horrors. I looked down and tried to mask my look of utter disgust as he appeared to be oblivious to whatever the problem could be.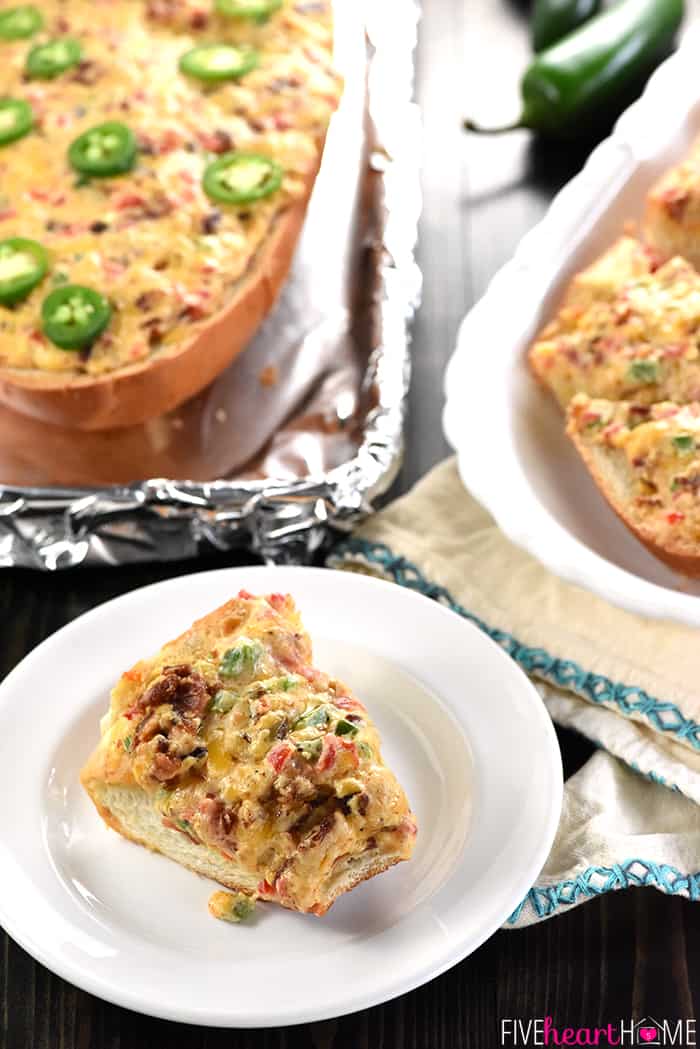 Me, gingerly: "Um, do you think it would be okay if I got another loaf from the bakery real quick?"
Him: *blank stare*
Me, halfway muttering: "You know, because the bread slid out of the bag…and touched the dirty conveyor belt…and stuff."
Him: *blank stare*
Lucky for me, the grocery bagger was keen enough to realize that I didn't fancy consuming a loaf of bread that had rested on a surface probably more germ-infested than a bathroom floor. So he cheerfully whisked up the bread and said, "I'd be happy to get you another loaf, ma'am…be right back!"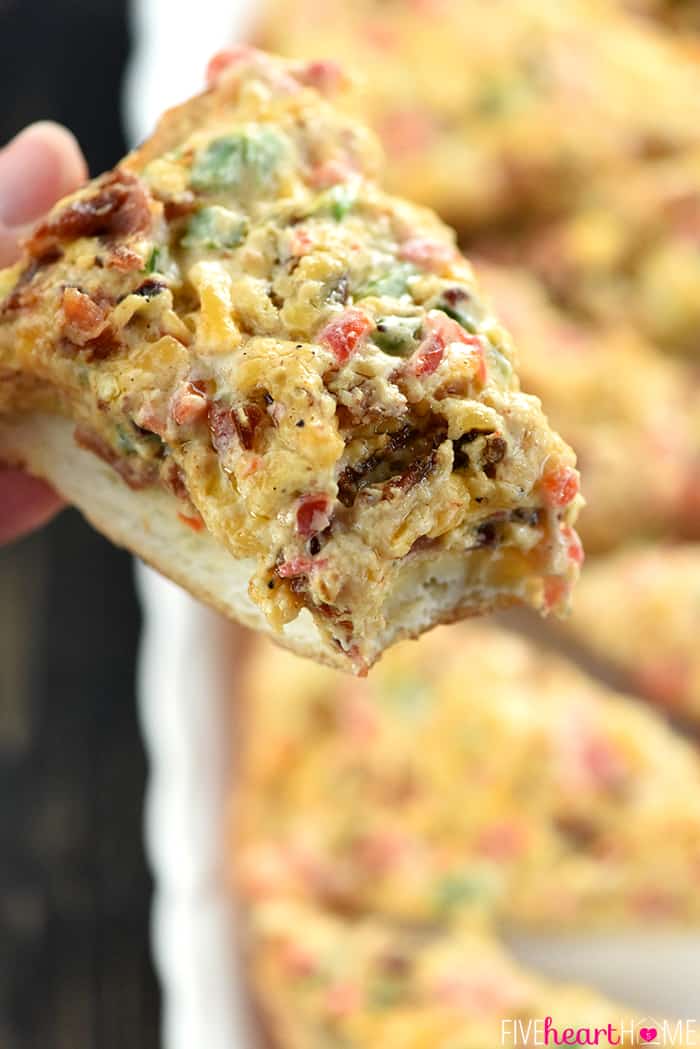 Thank you, observant HEB bagger…thank you. Alas, he did not pay as close attention as I would have to the uniformity of the loaf he picked out. Heck, he probably didn't even get it from the bottom of the pile! But I suppose that's okay. Wonky-shaped bread for these photos is a small price to pay for a loaf that wasn't potentially laced with ebola.
And with that appetizing segue…do you love pimento cheese as much as we do? Have you ever made it homemade or have you gotten "creative" in how you serve it?  Well, now's your chance! Think of an excuse to try this Hot Pimento Cheese & Bacon Bread and try it SOON! Just be sure to carefully choose your check-out line at the grocery store… 😉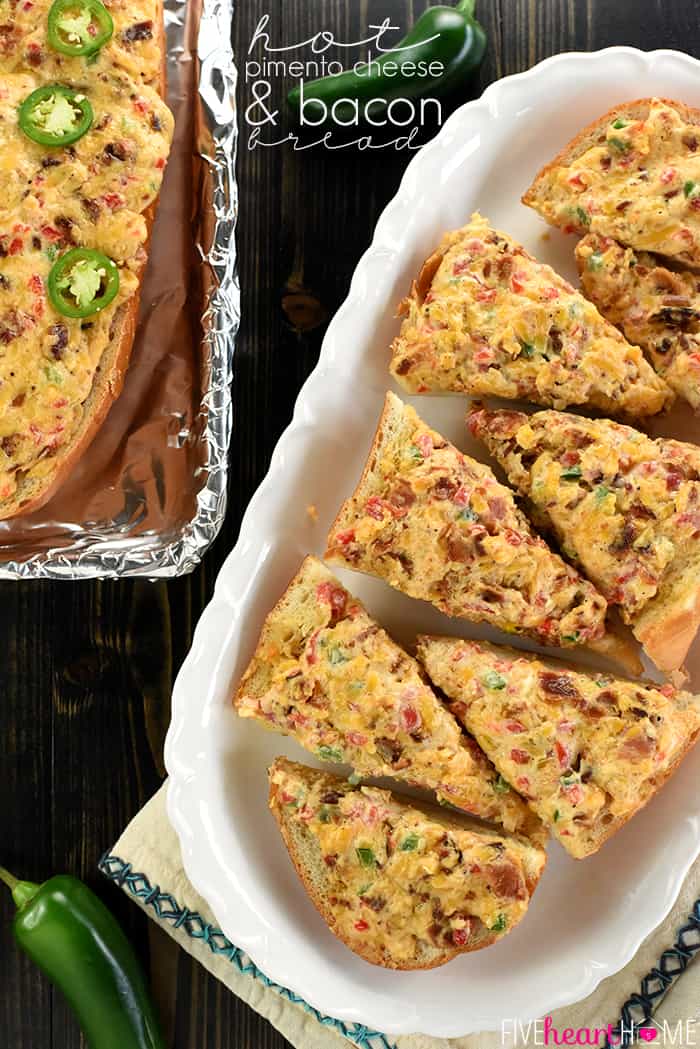 Hot Pimento Cheese & Bacon Bread Recipe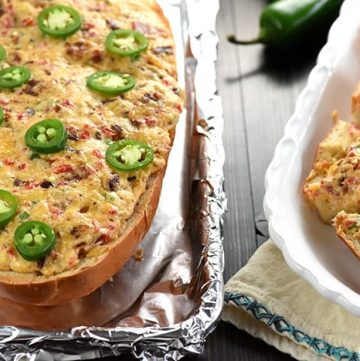 Hot Pimento Cheese & Bacon Bread
Creamy, homemade pimento cheese is jazzed up with crispy bacon and zippy jalapeños, spread onto French bread, and baked until bubbly in this drool-worthy Hot Pimento Cheese & Bacon Bread appetizer!
Print
Pin
Rate
Servings:
12
servings (as an appetizer)
Ingredients
8

ounces

cream cheese

,

at room temperature

1/4

cup

mayonnaise

1

teaspoon

Worcestershire sauce

1/2

teaspoon

Dijon mustard

1/2

teaspoon

garlic salt

1/4

teaspoon

onion powder

1/4

teaspoon

ground cayenne pepper

8

ounces

extra-sharp cheddar cheese

,

freshly grated

1

jar

(4-ounces)diced pimentos

,

drained

12

ounces

bacon

,

cooked until crisp and finely diced

1 to 2

jalapeños

,

minced (seeds & membranes removed for mild)

Salt & freshly ground black pepper

,

to taste

1

loaf soft French bread
Instructions
Place rack in center position of oven and preheat to 350°F. If desired (to minimize clean-up), line a large rimmed baking sheet with aluminum foil

In a large bowl, use an electric mixer to beat cream cheese until smooth. Beat in mayonnaise, Worcestershire sauce, Dijon mustard, garlic salt, onion powder, and cayenne. Scrape bowl and mix in grated cheddar, diced pimentos, diced bacon, and minced jalapeños until well combined. Season with salt and/or black pepper, to taste.

Slice French bread in half lengthwise (so that there's a top half and a bottom half). Place pieces cut-side-up on prepared baking sheet (if the top half is too rounded, you may slice off a thin piece so that it sits flat). Equally divide the pimento cheese mixture between the two halves and spread it into a thin layer.

Bake for 30 minutes or until heated through and bubbly. Transfer to a cutting board, slice with a sharp knife, and serve hot.
Notes
If you remove the seeds and membranes from the jalapeños and very finely dice them, they shouldn't be spicy. Leave the seeds and membranes intact for heat. Use as much jalapeño as you wish based on your personal preference.
I garnished the top of this loaf with sliced fresh jalapeños primarily for photography purposes. 😉 The next time I make this recipe, however, I plan on topping it with some candied jalapeño slices. Feel free to do the same!
Calories:
390
kcal
|
Carbohydrates:
20
g
|
Protein:
13
g
|
Fat:
28
g
|
Saturated Fat:
12
g
|
Cholesterol:
61
mg
|
Sodium:
671
mg
|
Potassium:
162
mg
|
Sugar:
1
g
|
Vitamin A:
720
IU
|
Vitamin C:
8
mg
|
Calcium:
171
mg
|
Iron:
1.7
mg
More Cheesy Appetizers
Save
Save
Save
Save
Save
Save
Save
Save