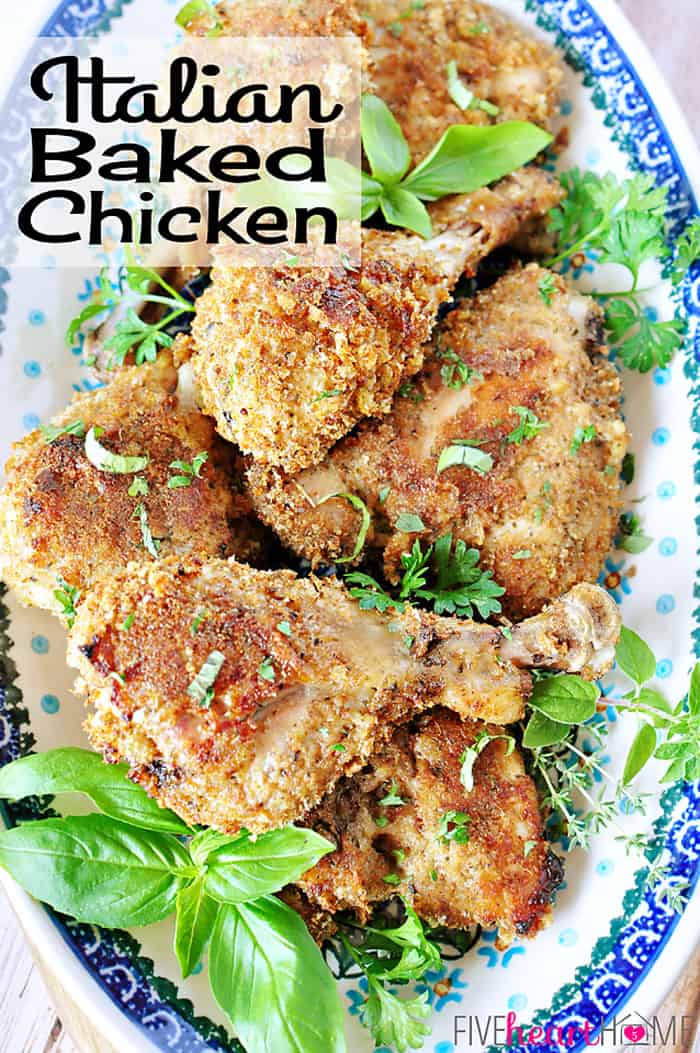 With its crunchy coating of homemade seasoned breadcrumbs, Baked Italian Chicken is not only juicy and flavorful, but it's oven-ready in minutes!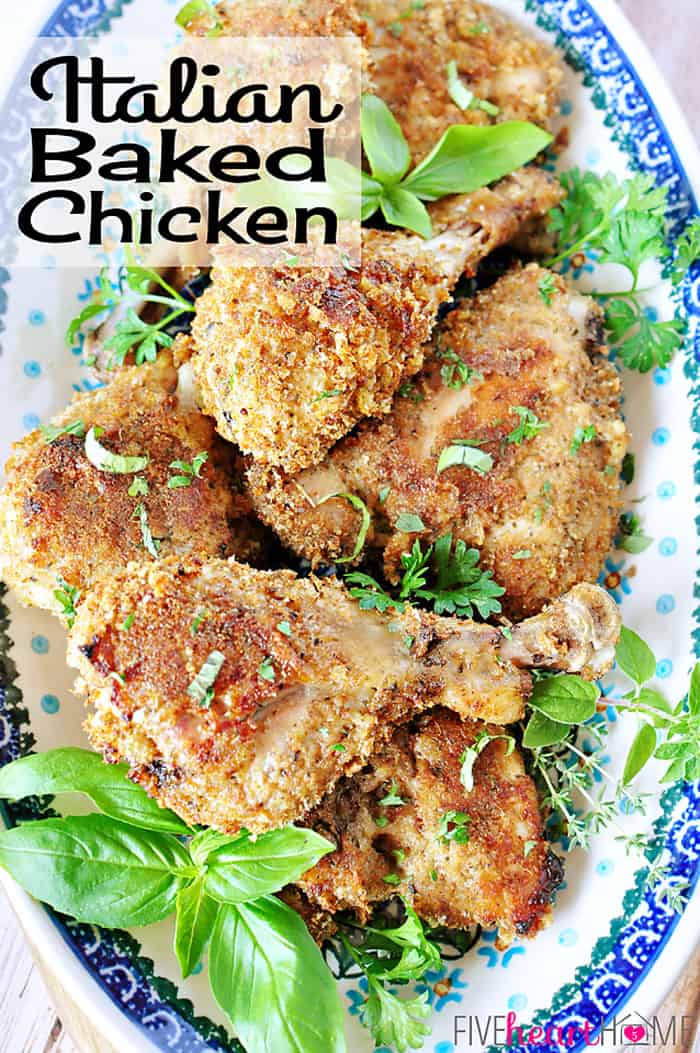 There's just something so classic and comforting about a baked chicken dinner, wouldn't you agree? When I was a child, such a dinner was typically attributable to Shake 'n Bake, and while undeniably tasty, we didn't really pay too much attention to ingredient lists back in the 80s. But these days, I do tend to stick with ingredients that I can pronounce, and I'm not crazy about feeding preservatives and additives to my family when I can avoid it.
So what's a baked chicken lovin' gal to do? Well, make your own seasoned breadcrumb coating, of course! Now this Baked Italian Chicken recipe is not intended to replicate Shake n' Bake. However, much like that fine culinary experience of my childhood, this chicken boasts a flavorful, crunchy coating that keeps the meat nice and juicy.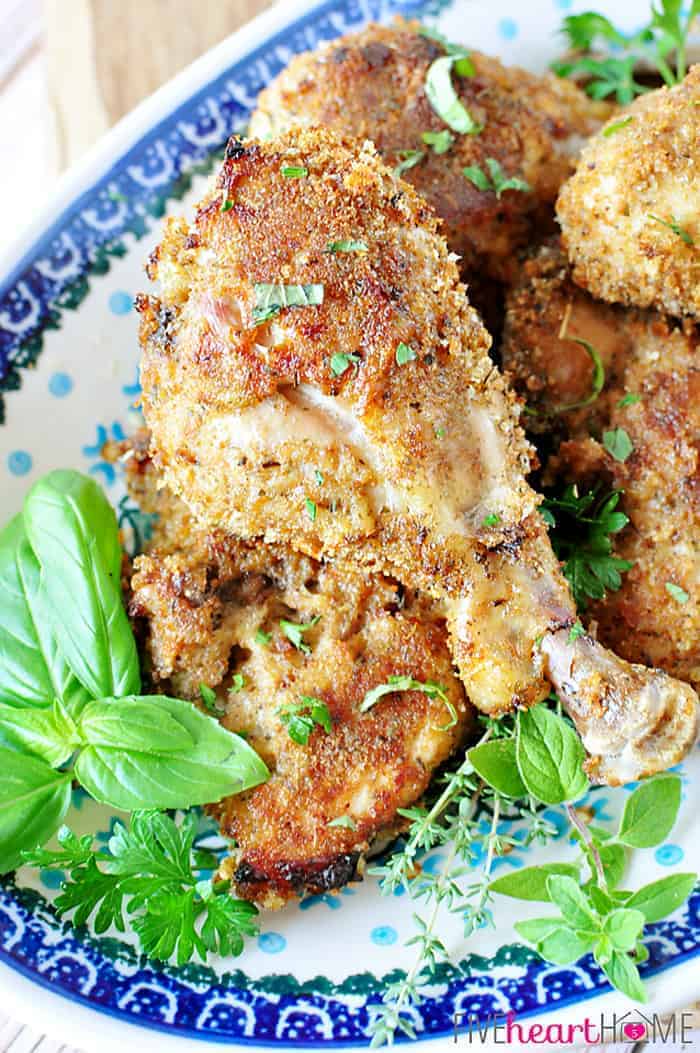 This Baked Italian Chicken was inspired by a lunch that I ate at a kiddie birthday party a few years ago. At the time, I was pregnant with my daughter...and I don't know about you other mamas out there, but for me, nothing in the world ever tastes as good as when I'm pregnant and hungry. So I may have ingested multiple pieces of chicken at that party. And then I possibly fantasized about the chicken once I got home. I finally broke down and e-mailed my friend to ask if her sweet Italian mom (who had baked the chicken) might have pity on a ravenous pregnant woman and share the recipe with me.
She did! So I baked it, and it was just as good as I remembered. And in the years to follow, I have made this Baked Italian Chicken countless more times, and guess what? It has been equally delicious every time since, no pregnancy hormones required!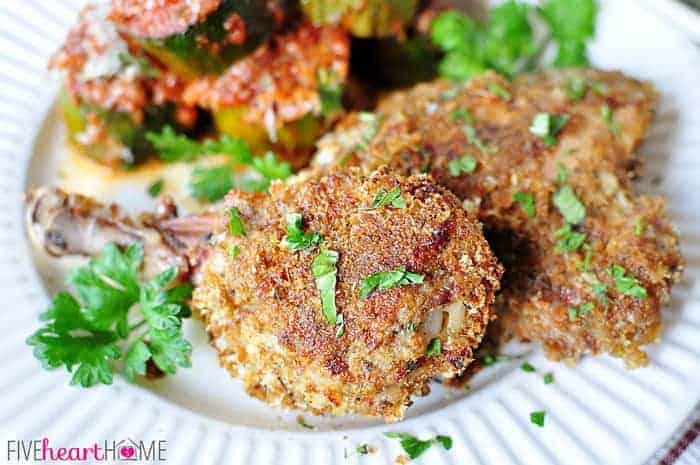 Ingredients
Like most good cooks who work from memory rather than a recipe, my friend's mom shared a list of ingredients and somewhat vague directions with me. I've since quantified ingredient amounts and refined the prep process, making it easy for me to share this Baked Italian Chicken recipe today, inspired by that memorable birthday party meal.
I use my own Homemade Italian Breadcrumbs to make this chicken, which means that I can control the ingredients, sodium, and ultimate flavor without having to worry about icky preservatives or artificial additives.
I definitely recommend using bone-in chicken for this recipe, because it retains more moisture and flavor as compared to boneless. My favorite cut would be chicken thighs, but my kids love drumsticks, so I usually do a combo of both. If you're a white meat fan, feel free to go for chicken breasts, but keep an eye on the cooking time...chicken is done when its internal temp hits 165°F, which may happen closer to 45 minutes than an hour with bone-in breasts.
Aside from chicken and breadcrumbs, the only other ingredients you need to make this Baked Italian Chicken are olive oil and spices (specifically, garlic powder, salt, and pepper).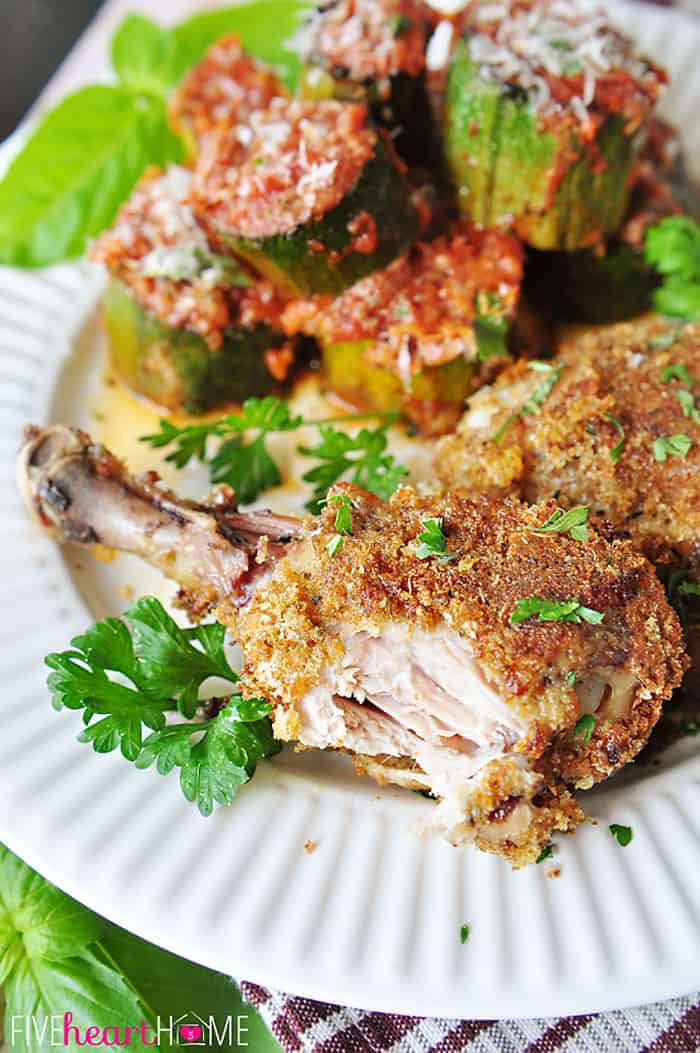 Prepping the Chicken
Whether you leave on the skin is up to you.
It sure is tasty when it crisps up underneath that crunchy breadcrumb coating, but I typically go the healthier route and remove it.
Since it's rare for me to find bone-in, skinless chicken at the grocery store, I usually buy it with skin and just pull off the skin myself before breading the chicken. Kitchen shears are a girl's best friend in this process.
How to Make Baked Italian Chicken
Making this recipe is simple!
Preheat the oven, line a sheet pan, and remove the skin from the chicken, should you so wish.
Measure the olive oil into a shallow dish and mix in the seasonings.
Pour the breadcrumbs into another dish.
Bread the chicken pieces by dipping each one into the oil and then pressing into the breadcrumbs.
Arrange on your pan and bake until golden brown, flipping one time
And that's all, folks...you're ready to enjoy a Baked Italian Chicken FEAST!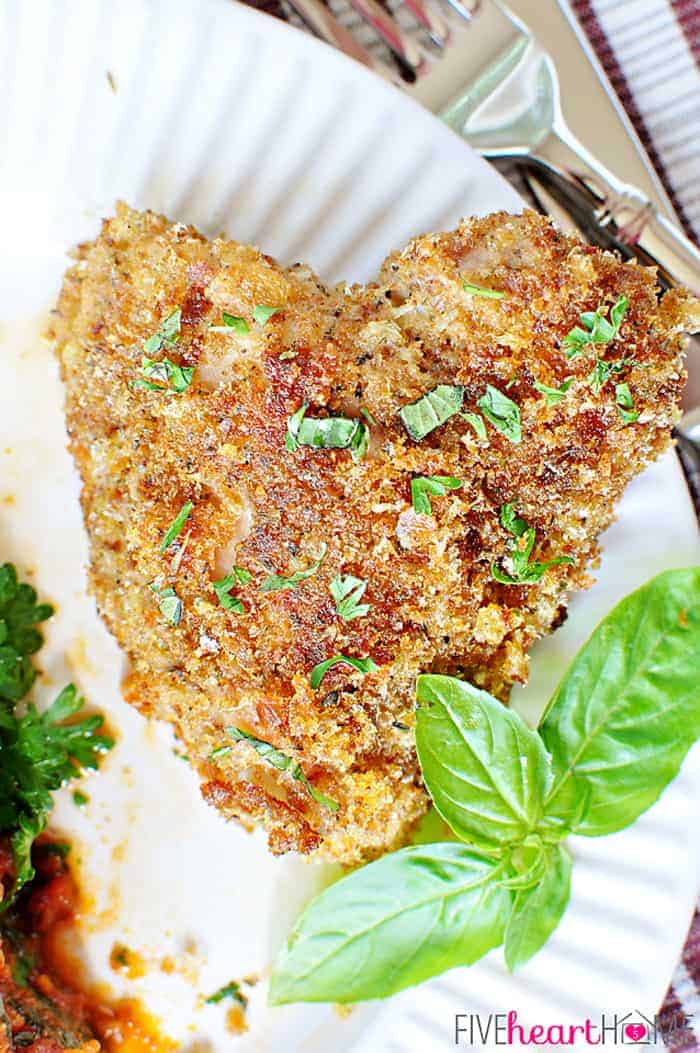 Baked Italian Chicken is a simple, scrumptious, classic dinner that your whole family will love.
But don't take my word for it...try it! You'll quickly determine that it's the stuff of happy, chicken-eating dreams...preggo or not. 😉
More Easy Baked Chicken Dinners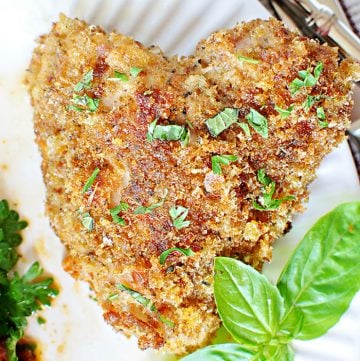 Baked Italian Chicken
With its crunchy coating of homemade seasoned breadcrumbs, Baked Italian Chicken is not only juicy and flavorful, but it's oven-ready in minutes!
Print
Pin
Rate
Ingredients
3 to 3 ½

pounds

bone-in chicken thighs & drumsticks

,

approx. 8 to 9 pieces

⅓

cup

olive oil

½

teaspoon

salt

½

teaspoon

garlic powder

Freshly ground black pepper

2 to 2 ½

cups

Homemade Italian Breadcrumbs,

or storebought
Instructions
Preheat oven to 375°F. Line a large, rimmed baking sheet with heavy-duty aluminum foil. Prepare chicken by removing skin, if desired.

In a medium bowl, combine olive oil, salt, garlic powder, and pepper. In another bowl or shallow dish (like a pie plate), measure out 2 cups of Italian breadcrumbs. (Measure an additional ½ cup of breadcrumbs and leave them in the measuring cup so that you can easily add them to the bowl if additional crumbs are necessary, but they don't get contaminated with raw chicken juice in case you don't need them.)

Dip a piece of chicken in the olive oil mixture, coating it on all sides. Place chicken in breadcrumbs and turn and press it into crumbs until evenly breaded. Place on baking sheet. Repeat with remaining chicken pieces.

Bake for 40 minutes. Using a metal spatula and/or tongs, carefully turn each piece of chicken over and bake for an additional 10 to 20 minutes, or until chicken is done (reaching an internal temperature of 165°F).
Notes
Bone-in chicken breasts may be used as well, but since white meat cooks faster than dark, check for doneness sooner.
Calories:
563
kcal
|
Carbohydrates:
35
g
|
Protein:
32
g
|
Fat:
32
g
|
Saturated Fat:
8
g
|
Cholesterol:
141
mg
|
Sodium:
989
mg
|
Potassium:
422
mg
|
Fiber:
2
g
|
Sugar:
3
g
|
Vitamin A:
235
IU
|
Vitamin C:
2
mg
|
Calcium:
105
mg
|
Iron:
4
mg